The Best Basic Piezoresistive Pressure Sensors from MicroSensor: Are you tired of Piezoresistive Pressure Sensors that wear out quickly?
If yes, then look at microsensors MPM280AU, MPM289, and MCM201.
Microsensors and Piezoresistive Pressure Sensors have gold-plated flat membrane construction. And you can't bet against the durability of bigger and slightly elevated diffusion silicon die.
Equipped with a 2.0mA DC power supply, pressure sensors may monitor pressures from zero to 1000 bar.
Besides, they allow Laser clipping techniques for thermal equalization and zero correction. If you are wondering which piezoresistive pressure sensor to pick, this post will discuss the three best piezoresistive pressure sensors and where they may be used.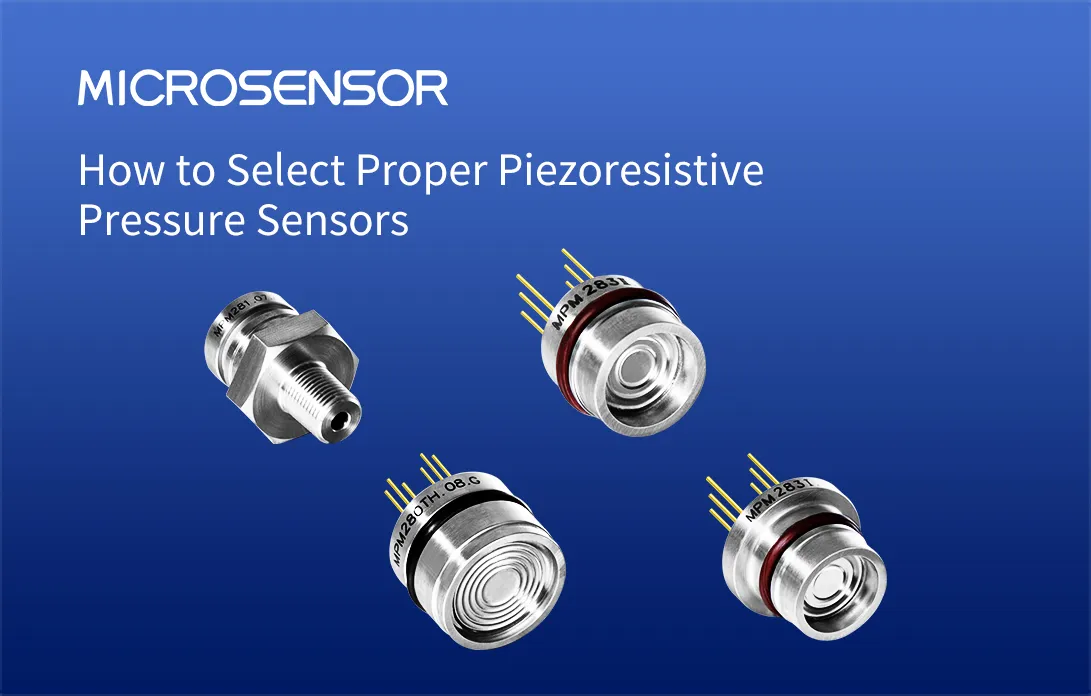 The MPM280AU pressure sensor for hydrogen measurements has gold plating to prevent embrittlement.
But, the diffusion silicon piezoresistive pressure-sensitive chip was computer-tested and fabricated with zero-point correction and temperature compensation for accuracy.
MPM280A may produce hydrogen, Gas, liquid pressure measurement, and Pressure calibration.
The stainless steel MPM289 has high-stability silicon die and independent design fitted in a 19mm stainless steel 316L housing.
Go for it if you need a sensor that uses laser trimming techniques for temperature compensation and zero correction.
Also, MPM283 Pressure Sensor measurements also pass through the 316L diaphragm and into the silicon die.
Further, the 25g MPM289 can be connected via a Kovar pin or 100mm silicon rubber flexible wires. Not to worry, its measurement ranges are from 0 to 1000 bar, whether in gases or liquids.
Then its temperature compensation runs between 0 to 70℃. It is ideal for industrial process control, Gas and liquid pressure measurement, and pressure calibrator applications.
You may crave reliable Piezoresistive Sensors with independent constriction and precise temperature compensation.
The MCM201 with a silicon die and PT100 temperature element dares you to take a turn. Its measurements are accurately done in a Ф19mm stainless steel 316L package.
Yet, much attention is given to compensation, circuit correcting, and zero-point deviation.
In unison, all these features contribute to a precise pressure range of 0~0.35 bar to 1000 bar pressure reading and conversion to an electrical signal for monitoring.
The MCM201 runs on  ≤2.0mA DC  which may be connected to a Kovar pin or silicon rubber flexible wires.
Further, the MCM201 sensor's input impedance is at  2kΩ8kΩ, while the output is 3.5kΩ6kΩ. On the other hand,  the response range is 10%~90 %, proving capabilities to measure gauge, absolute, and sealed gauge pressure.
But, it offers an error range of ±0.5℃ for temperature. Finally, this  Φ19mm standard OEM pressure sensor is suitable for industrial process control, pressure observation meter, cooling equipment, aviation, and navigation inspection.
And there it is, ladies and gentlemen, the MPM281 High Stability Pressure Sensor, with a pressure range from 0 to 1000 bar, available in gauge, absolute, or sealed gauge formats.
This sensor comes with a constant current or voltage power supply, making it a versatile option for industrial process control, level measurement, and Gas or liquid pressure measurement.
With its isolated construction and various medium measurement capabilities, this sensor provides precise and accurate readings, even in demanding environments.
What's more, this pressure sensor features a whole stainless steel 316L housing with a diameter of Ф19mm and a wide compensated temperature range of -10℃ to 80℃, ensuring long-term stability with a deviation correction of just ±0.1%FS/year.
And that's not all, folks, as the MPM281 also boasts an impressive response time of less than 1 MS and an insulation resistor of 100MΩ@100V DC.
So, whether in the cooling equipment and air conditioning industry, or aviation and navigation inspection, the MPM281 High Stability Pressure Sensor is the reliable and precise choice for all your pressure checking meter, pressure calibrator, and liquid pressure system needs.
This sensor has been strictly inspected and tested, making it a top-of-the-line option for all high-demand pressure measurement occasions.
Conclusion
You may search the entire market and online platforms but not get something similar to microsensors or piezoresistive sensors.
If you have been searching for precise and reliable calibrators of hydrogen, gases, and liquids, It's game over with microsensors.
Their sensors feature an isolated construction, temperature compensation, and zero correction.
These components are ideal for process control, level measurement, and pressure calibration. Lastly, with strict testing and inspection, you are guaranteed long-term stability and excellent reliability.
Best Basic Piezoresistive Pressure Sensors from MicroSensor – Newshub360.net
Related Post
Credit : www.Newshub360.net