Top 10 Highest Goal Scorers in the World 2022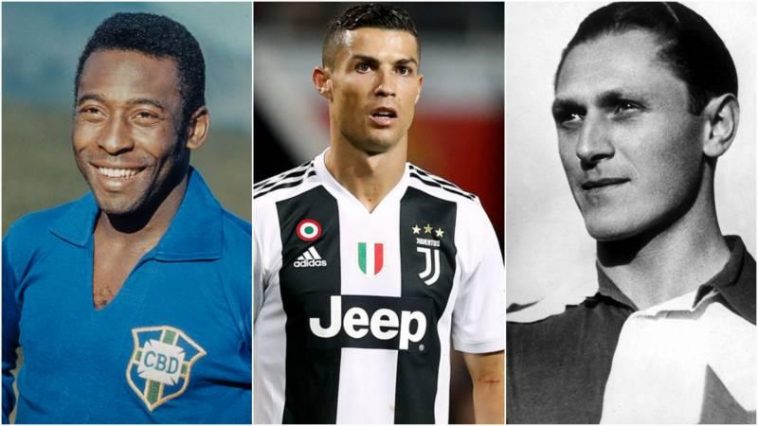 Highest Goal Scorers in the World 2022 : Cristiano Ronaldo and Lionel Messi may be nearing the twilight of their illustrious careers, but for the time being, they are still netting goals at an alarming rate.
During the previous season, Juventus striker Cristiano Ronaldo extended his incredible run, scoring a spectacular hat-trick in a 3-1 victory over Cagliari in March. It increased the 36-year-career old's tally to 770 goals, three more than Pele's record of 767 goals in OFFICIAL matches throughout his illustrious career.
Pele congratulated Ronaldo on his achievement, but he insists that his actual number is in excess of 1,200. Such assertions have been heavily criticized. Despite the fact that the magnificent Ronaldo has risen up the all-time scoring records in recent years, he and his great opponent Messi continue to trail behind Austrian-Czech legend Josef Bican.
Whatever the case, one thing is certain: the superstar combo who are still on the field today are among the best to ever do so.
They still have a few years left in them before they can retire, and they both intend to work hard to move up the rankings even further. Messi passed Germany legend Gerd Muller in April to climb up to sixth place on the all-time list, while Ronaldo has moved up to second place after surpassing Romario's goals.
Both will need to maintain their high levels of productivity for some time to catch up with Bican. These are the Top 10 Highest Goal Scorers in the World 2022.
10. Tulio Maravilha – 575 goals (1988-2019)
Brazil's journeyman forward was a striker with a keen eye for goal.
Tulio's playing career spanned approximately 40 clubs, and he only recently decided to call it quits.
9, Uwe Seeler – 575+ goals (1953-1978)
When it comes to goals, the German great was prolific for Hamburger, but he struggled to convert his efforts into trophies.
He scored twice in his one and only match for Cork Celtic in 1978, which was his first and last professional appearance.
8. Ferenc Deak – 576+ goals (1940-1957)
During their prime, he was one of Hungary's best players and a legend in his native country, if not as much elsewhere in the world.
Deak averaged more than three goals per game during his time at Szentlorinci AC, which is incredible.
7. Gerd Muller – 734 goals in 793 games (1962-1981 )
The striker's most significant goal came in Germany's 2-1 victory against the Netherlands in the 1974 World Cup final in Munich.
Muller is also Bayern Munich's all-time leading goal scorer, with a tally that is more than double that of the next greatest.
6. Lionel Messi  – 744 goals in 920 games (2003-present)
Messi is a true one-club legend, having earned several honors to go along with his countless goals for Barcelona over the course of his career.
The Argentinean still has a couple more years to add to his already impressive score.
5. Ferenc Puskas – 746+ goals in 754+ games (1943-1966 )
Puskas, another Hungarian legend, is now known for bestowing the honor for the most beautiful goal of the year with his name.
He made his reputation in Budapest before going on to establish himself as a legend at the Real Madrid.
4. Pele – 767+ goals in 831 games (1957-1977)
One of the finest players in history and a three-time World Cup champion.
When Pele played for Santos, he averaged nearly a goal per game in 656 competitive games, however he claimed to have scored more than 1,000 goals during his career.
But it is commonly acknowledged that hundreds of those goals came during tours or friendly matches.
Pele asserts that he has scored more goals than Cristiano Ronaldo.
3. Romario – 772 goals 994 games (1985-2007)
Romario was instrumental in leading Brazil to World Cup victory in 1994, scoring five goals in the process.
He had a distinguished playing career at a number of elite clubs all around the world.
2. Cristiano Ronaldo – 782 goals in 1073 games (2001-present)
A modern-day great who has played for Manchester United, Real Madrid, and most recently Juventus.
'CR7' has dominated the game from the beginning and is still going strong now.
Is it possible for him to catch up to Bican before the race is over?
1. Josef Bican – 805+ goals in 530+ games (1931-1956)
With 395 goals in 217 games for Slavia Prague, Bican holds the record for the most goals scored in football history.
During his playing career, he is estimated to have scored close to 1,500 goals in total.
Highest Goal Scorers in the World 2022 – Newshub360.net
CHECK THIS OUT:
♦  Top 10 Highest Paid Footballers in South Africa And Their Salaries
♦  Top 10 Highest Paid Footballers at Mamelodi Sundowns 2022
♦  Top 10 Highest-Paid Footballers at Kaizer Chiefs [ Billiat is 2nd ]
♦   Top 10 Highest Paid Footballers at Orlando Pirates 2022
♦  Top 10 Richest Football Clubs in South Africa [ Kaizer Chiefs is 2nd]
Credit : www.Newshub360.net