Top 10 African Countries With The Most Passionate Soccer Fans
African Countries With The Most Passionate Soccer Fans. Soccer fans are undoubtedly a great set of people that makes the game more exciting, they also form a big part of football culture in the continent, which has been very evident in every soccer competition held on the continent and outside the four walls of Africa.
Over the years soccer fans have proven to be one inseparable friend with footballers, while soccer stars also over time have insisted that they would be nothing without their fans in the stadia.
In fact, when talking about soccer fans either male or female the atmosphere in the stadia is usually electrifying, noisy, and exciting to behold, adding glamour to the game with their various unique cultured, customized outfits and more importantly their charismatic beauty and cuteness.
CHECK THIS OUT :
♦  Top 10 Highest-Paid Footballers at Kaizer Chiefs [ Billiat is 2nd ]
♦  Top 10 Highest Paid Footballers at Mamelodi Sundowns 2021
♦  Top 10 Highest Paid Footballers in South Africa And Their Salaries
Although fans ain't allowed to access the stadium presently due to the global pandemic (COVID-19) which has dealt seriously with all sporting events across the globe, we cannot forget the passion and devotion the fans bring into the game which is worth a thousand applaud.
Here, you will meet African Countries With The Most Passionate Soccer Fans.
10. Burkina Faso Fans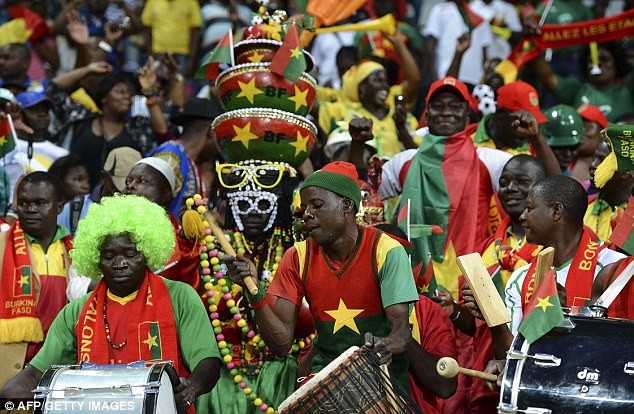 The Burkinabe fans have always proved to be one of the most decorated, colorful, and vibrant football fans on the continent, and they've never shied away from their witty ways of expressing love for their team and the players. They're one of the most exuberant fans on the continent, always smiling, and dancing to the rhythm of music played in stands to cheer their team to victory.
Currently, they may not have some of the finest or popular players in Africa, but they do have a decent team that could rival any team in Africa, and perhaps in Europe.
Trust me, they also have what is enough to capture your attention even when their players ain't doing well, which is their stunning vibrant fans in the stands.
9. Ghana Fans
The Black Stars of Ghana fans often come with beautiful smiles, dark complexion, perfect curves, and full cheeks anytime they're out on the pitch to cheer their team.
It is a known fact that Ghana has the reputation of being one of the best and favorite teams on the continent you would probably pick to win the AFCON or rival any team both in Europe or Africa, anytime, any day when any competition comes to town.
Their vibrant colors and vociferous atmosphere generated through drums, maracas, and so on create a jubilant atmosphere that is just impossible to not smile at.
CHECK THIS OUT : Top 10 Highest Paid Coaches in South Africa 2021