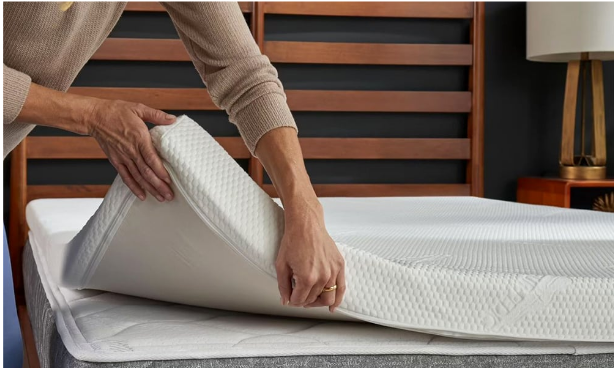 Are you tired of having sleepless nights and discomfort when you wake up? It's time to elevate your sleeping experience!
Imagine slipping into a cloud-like haven of ease, where each dawn is a welcome getaway. But the genuine query is this: How can you create a peaceful sleeping environment out of your regular mattress without spending a fortune?
Let's explore the world of mattress toppers and reveal the techniques for getting the best possible sleep. As we delve into the world of mattress toppers and their materials, get ready to learn the secret to unmatched comfort and support that will have you daydreaming of limitless possibilities.
Prepare yourself for the most significant sleep revolution!
Let's begin by exploring different types of mattress topper materials.
Types of Mattress Topper Materials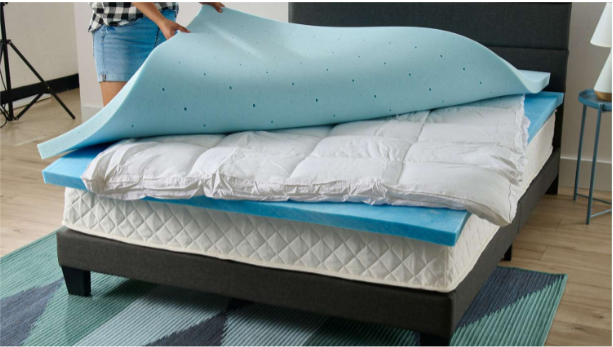 Mattress toppers are available in a range of materials to suit various requirements.
Memory foam, latex, wool, cotton, feathers, and polyurethane foam are some of the most popular materials for mattress toppers. Due to its ability to relieve pressure points and give body-cradling support, memory foam is a popular material for mattress toppers. Another popular substance is latex.
To add additional cushioning and support, mattress toppers can also contain fiber fillings made of wool, cotton, and other materials. Similar to memory foam, polyurethane foam is less costly and less dense.
Before Choosing a mattress topper, take a look at different types of mattress topper materials and their usage.
Memory Foam
 Mattress toppers made of memory foam are made of a viscoelastic material that
conforms to the shape of your body and offers excellent pressure relief and support.
 They adapt to the shapes of your body, minimizing pressure areas and fostering healthy spinal alignment.
 Memory foam is a good option for people who don't want to disturb one another while they sleep because it absorbs motion.
 It has exceptional durability and has a long lifespan.
 Memory foam toppers have anti-dust mite properties, are hypoallergenic, and frequently have cooling gel incorporated into them to control temperature.
Latex
 Latex mattress toppers, renowned for their durability and all-natural qualities, are made from the sap of rubber plants.
 They are incredibly comfortable and supportive, molding your body while still feeling springy.
 Toppers made of latex are intense and can last long without losing their support or shape.
They are the perfect option for people with allergies or asthma because they naturally resist mold, dust mites, and allergens.
 Since latex toppers are very breathable, improved airflow and temperature control are possible.
Feather and Down
 Down and feather mattress toppers provide a luxuriant and soft sleeping surface.
 They have a velvety and cozy feel since they are composed of natural materials, typically a combination of feathers and down.
 Toppers made of feathers and down offer superb insulation, keeping you warm during the cooler months.
 They are practical for people who prefer to switch positions as they sleep because they are light and simple to fluff.
 They have excellent airflow and breathability, which reduces heat retention.
Wool
 Wool mattress toppers offer a cozy and airy sleeping surface and are naturally
hypoallergenic.
 They control body temperature by wicking away sweat and allowing for appropriate airflow.
 Wool material provides exceptional insulation, keeping you comfortable year- round.
 They are suitable for allergy patients because they resist mold and dust mites.
 With the proper maintenance, wool throws can survive for many years.
Cotton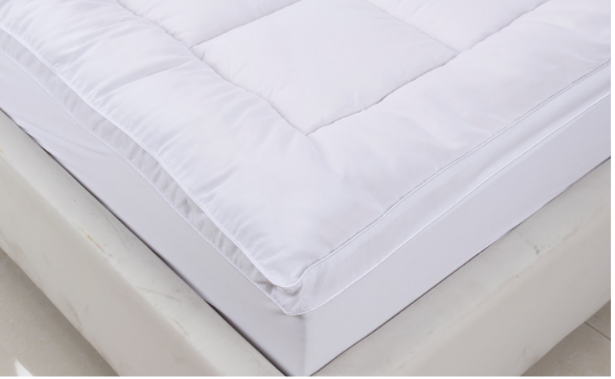 Cotton mattress toppers offer a soft, comfy sleeping surface that is natural and breathable.
 They provide good ventilation and airflow, making for a cooler sleeping environment.
 For anyone with allergies or sensitivities, cotton is hypoallergenic and appropriate.
 Usually lightweight and straightforward to maintain, these toppers.
 Compared to other materials, cotton toppers are a more affordable choice.
Polyurethane Foam
 Mattress toppers made of polyurethane foam are renowned for their supporting
and contouring qualities.
 They relieve pressure by evenly distributing bodily weight.
 Polyurethane foam is firm and can hold its shape for a long time.
 As a result of the motion isolation provided by these toppers, companion movements are less disruptive.
 You can customize them based on your preferences because they come in various densities.
Benefits of Various Mattress Topper Materials
Here are the benefits of various mattress topper materials that you should consider before choosing a mattress topper:
Memorable Foam
Excellent support and pressure relief
Hugs body curves for better spinal alignment
Allows Motion separation for peaceful sleep
Hypoallergenic and dust mite-resistant
 Long-lasting toughness
Latex
 Supportive and bouncy while being resilient
 Excellent form retention, and durability"
 Innately resistant to allergens and hypoallergenic
 Both breathable and thermoregulatory
An excellent choice for people with allergies or asthma
Down and Feather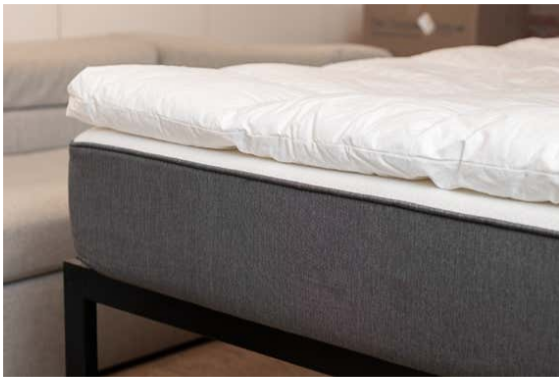 Opulent and plush sleeping surface
 Excellent thermal insulation
 Light and simple to fluff
Good breathability and airflow
Gives off a warm, cozy feeling
Wool
Innately resistant to allergens and hypoallergenic
Adjusts temperature for comfort
Excellent breathability and moisture-wicking
Long-lasting and resilient
Ideal for people who have allergies
Cotton
Breathable and helps the air circulate well
Natural hypoallergenic, and appropriate for those with sensitive skin
Provides a Sleeping surface that is cozy and soft
Easily maintained and portable
Offers a reasonable choice
Polyurethane Foam
 Provides superb support and shaping
Distributes body weight evenly, relieving pressure spots"
Lasting and holds its shape over time
Minimizes the transmission of motion for uninterrupted sleep
Adaptable based on preferred densities
Considerations in choosing a mattress topper should include comfort, support, breathability, durability, and cost. Understanding the benefits of various materials can help you make an informed choice that suits your unique sleeping needs and preferences.
The ideal mattress topper material for you will ultimately rely on your requirements and tastes. Decide what you want or need from your topper first, and then determine which material will best satisfy those demands.
Conclusion
In conclusion, boosting your sleep quality requires picking the appropriate mattress topper material. Memory foam, latex, feather and down, wool, cotton, and polyurethane foam are only a few materials with different benefits.
Cotton is breathable and inexpensive; wool regulates temperature; memory foam relieves pressure; latex is resilient; feather and down offer luxury, and polyurethane foam offer adaptable support.
Consider your needs and preferences to make an informed choice and improve your sleep. The ideal mattress topper material is here to ensure peaceful dreams!
Mattress Topper Materials: Which One is Right for You? – Newshub360.net
Related Post

Credit : www.Newshub360.net