The 8 Must-Stay Hotels and Resorts in Upstate New York 2023: If you've ever been to the Northeastern United States, you know that New York is more than just the Big Apple.
A paradise for couples and families with children, Upstate New York is a playground for nature enthusiasts with a variety of pleasant locations to discover.
It also provides a warm hideaway for upscale travelers. Here, Saratoga Springs, Johnstown, the Adirondack Park, Lake Placid, and the Thousand Islands are a few of the most well-liked tourist destinations.
With fishing and swimming in the summer, swimming in the winter, enjoying snow sports in the autumn and blooming flowers in the spring, this location is perfect to visit all year round.
Gourmet restaurants, regional artists, one-of-a-kind shopping options, and cosy lodging are all available throughout the year.
These are some of the resorts and hotels you absolutely must visit while visiting Upstate New York.
8 Must-Stay Hotels and Resorts in Upstate New York 2023
1. The Sagamore – Bolton Landing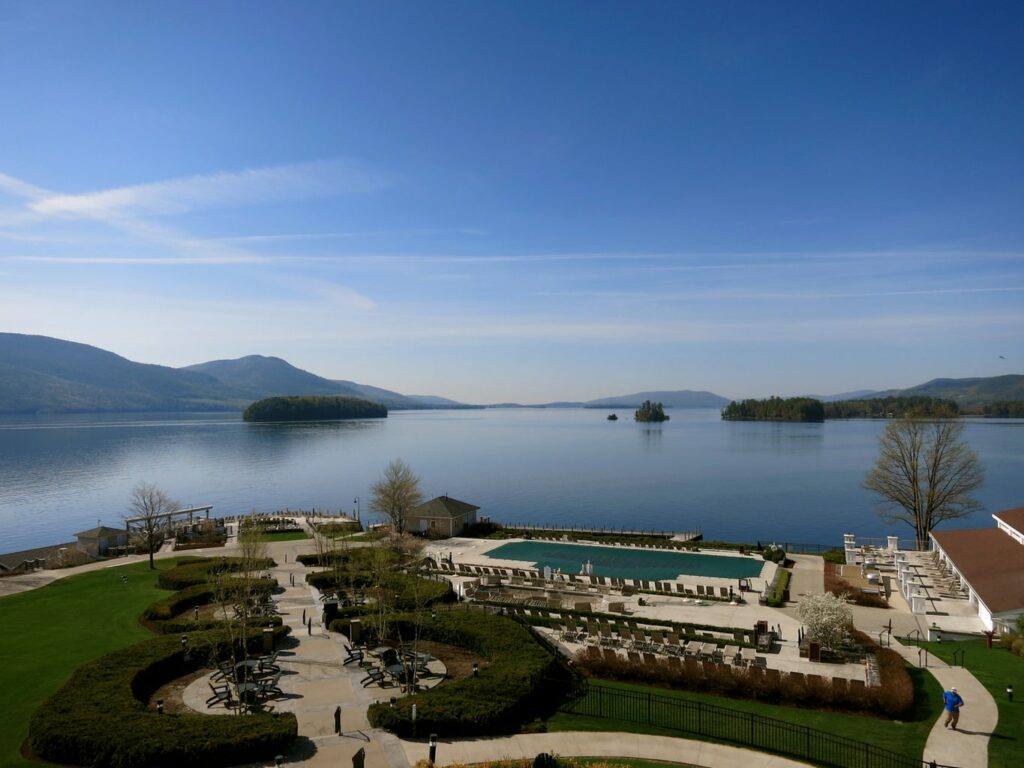 The Sagamore is one of Upstate New York's most renowned and historic resorts. Even the National Register of Historic Places included it!
The resort, which is more than a century old, is well located to look out over picturesque Lake George. Even though it has undergone updates and renovations, it nonetheless exudes the same timeless appeal that has long attracted Manhattan's elite to its doorstep.
Indulge in a spa treatment, play golf or tennis, go fishing off the resort dock, or go hiking in the Adirondacks from this AAA Four-Diamond resort.
The ancient hotel offers magnificent guest rooms, including opulent suites with views of the lake and gardens. For a longer stay, you can also reserve a lodge room or suite, the Hermitage private luxury suite, or a two-bedroom apartment.
Key Amenities:
Suites with Lake George and garden views
1883 hotel on National Register of Historic Places
18-hole golf course
2. Mohonk Mountain House – New Paltz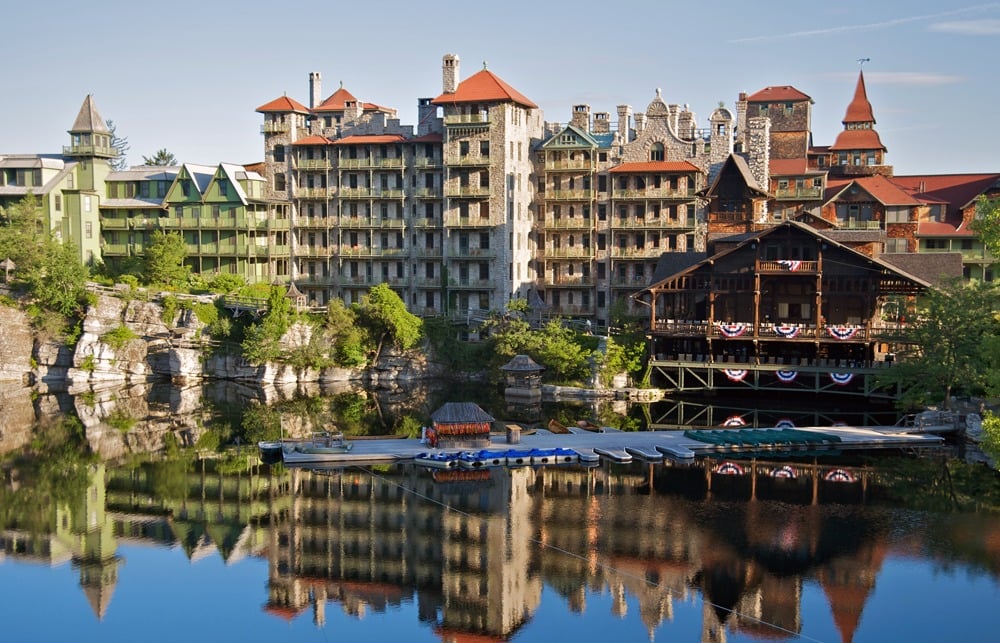 In New Paltz, the Mohonk Mountain House is more akin to a castle perched atop a cliff and surrounded by tranquilly and wilderness you wouldn't anticipate to find in New York.
Even though it is only 90 minutes north of New York and close to the Catskills, it seems like a faraway place. Built in 1869, this National Historic Landmark offers a classy Victorian feel.
There are a variety of dining options available for breakfast, brunch, lunch, and supper, as well as rooms, suites, and cottages.
Even if you don't reserve a lodging to spend the night, Mohonk makes a fantastic day excursion from the Hudson Valley for activities like tennis, hiking, rock climbing, ice skating, and other seasonal sports.
Key Amenities:
All-inclusive pricing with farm-to-table dining and activities
Rooms, suites and cottages in National Historic Landmark
 Spa with treatments, yoga and meditation
3. Geneva On The Lake Boutique Resort Hotel – Geneva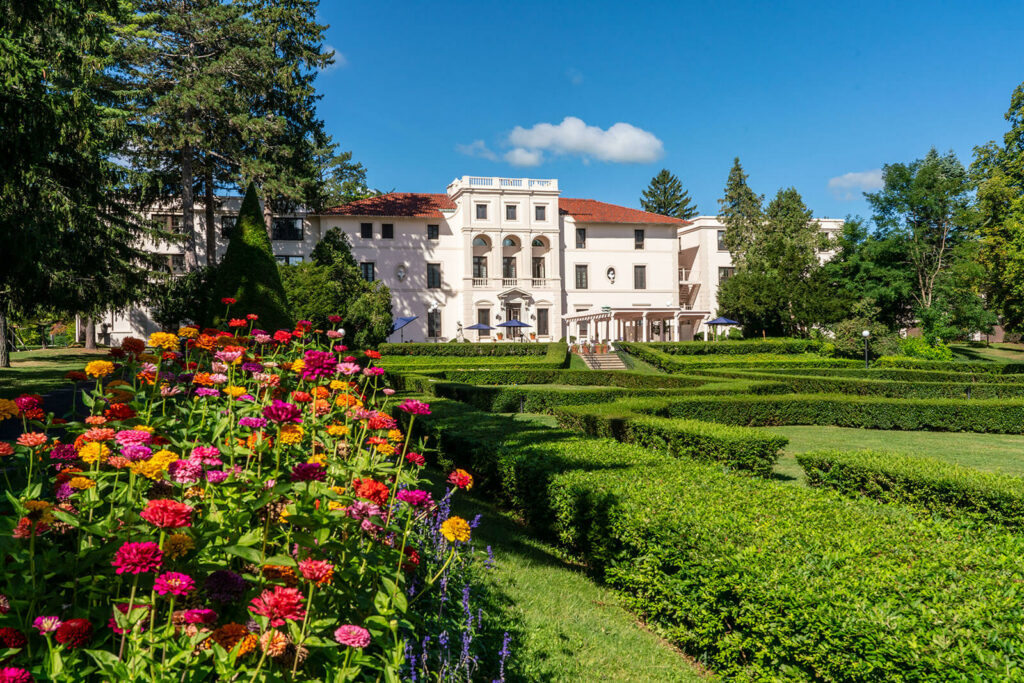 An Italian-style mansion with a rich history, opulence, and regional culture is called Geneva on the Lake. For more than 30 years, Geneva on the Lake has been awarded the AAA Four-Diamond Award and is recognised on the National Register of Historic Places.
It's near the top of Seneca Lake and is a great starting point for touring Upstate New York's wine region.
The architecture and décor are rooted in Italian style and design, which harmonises beautifully with the region's superb food and wine.
Breakfast and lunch can be taken outside on The Terrace, and there are a dozen distinct hotel and suite choices available.
Key Amenities:
Mansion on National Register of Historic Places
 Farm-to-table dining
Outdoor pool
4. The Point – Upper Saranac Lake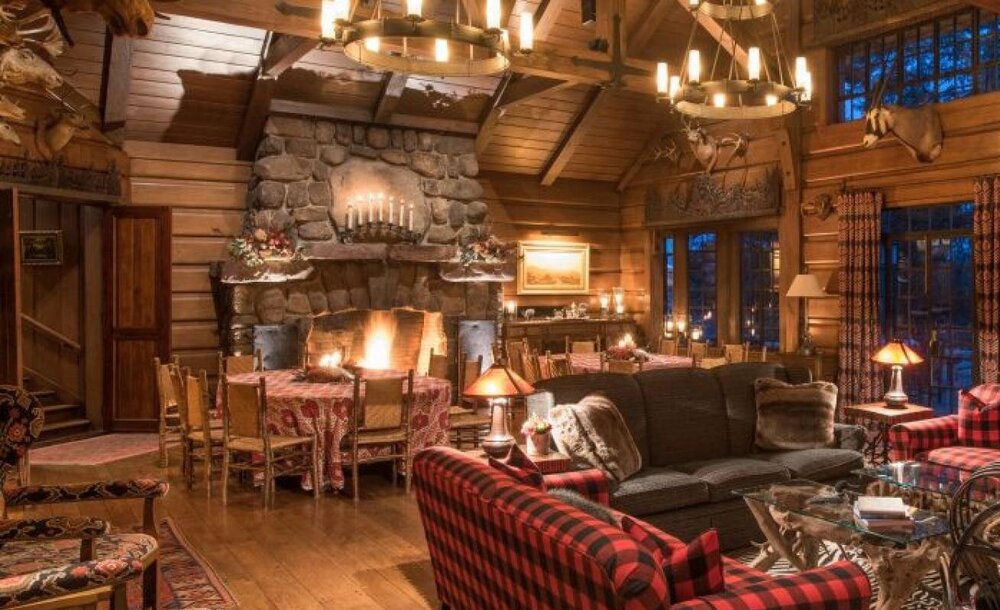 Look no further than The Point in Upstate New York for isolated log cabin-style lodgings with access to boats and upscale amenities.
It is safe to say that the historic Rockefeller Great Camp in the Adirondacks is the epitome of "rustic luxury."
The days of exquisite dining, with private picnics and fireplaces to set the mood, don't even end with breakfast in bed.
At The Point, there are four buildings with comfortable guest rooms with exquisite antiques, 19th-century oil paintings, and tranquil lake views.
Key Amenities:
Guest rooms with antiques and lake views
Complimentary bars and fireplace lounges
Limited Wi-Fi for minimal distraction
5. Gideon Putnam – Saratoga Springs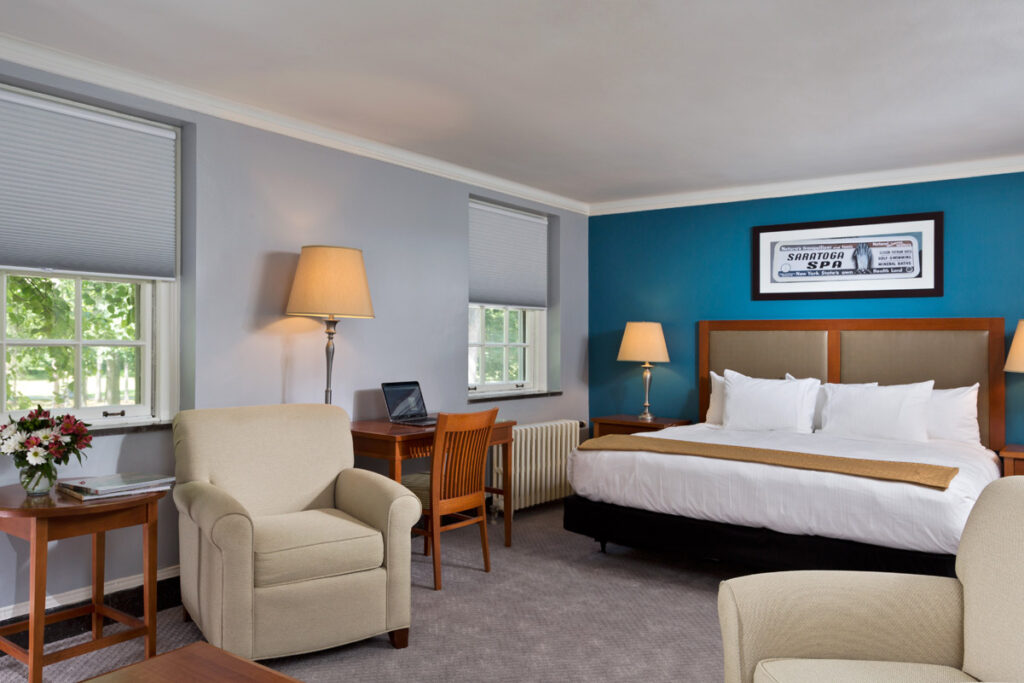 The Gideon Putnam is one of the best hotels in the area. Saratoga Springs was once renowned for its therapeutic spring waters, as the name suggests.
This resort, which was built in 1935, is situated next to the thoroughbred horse racing track in Saratoga Spa State Park.
The Saratoga Performing Arts Centres showcase renowned performances like the New York City Ballet and the Philadelphia Orchestra, making it a great destination for art enthusiasts to stay.
Nearby, in Saratoga's downtown, is a thriving nightlife scene.
Key Amenities:
Located in Saratoga Spa State Park
Spa with mineral baths and treatments
Outdoor pool and bike share
6. Lake Placid's Mirror Lake Inn Resort and Spa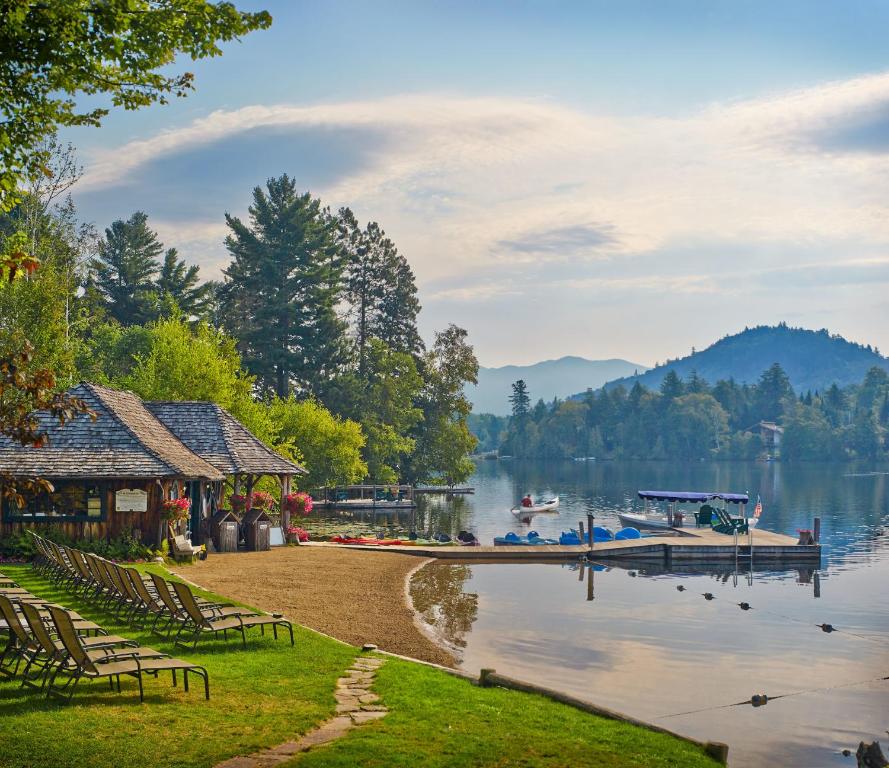 The Mirror Lake Inn Resort and Spa, which is located in the Lake Placid village and is only 30 minutes from I-87, is another great destination to stay in Upstate New York.
The warm walls and vintage fixtures provide all the luxuries of modern amenities for visitors. Reading by the fireplace, enjoying an afternoon tea, and receiving a restorative body massage at the on-site spa are some of the most popular ways to unwind.
Small to midsize corporate retreats and business conferences are also frequently held here. With a private ice skating rink, world-class skiing nearby, a private natural beach for swimming, and a world-class golf course as well, it truly is a resort for all seasons.
Only a short stroll will take you to downtown Lake Placid.
Key Amenities:
Private ice skating rink
Natural beach
Spa with salt therapy
7. Diamond Mills Hotel & Tavern – Saugerties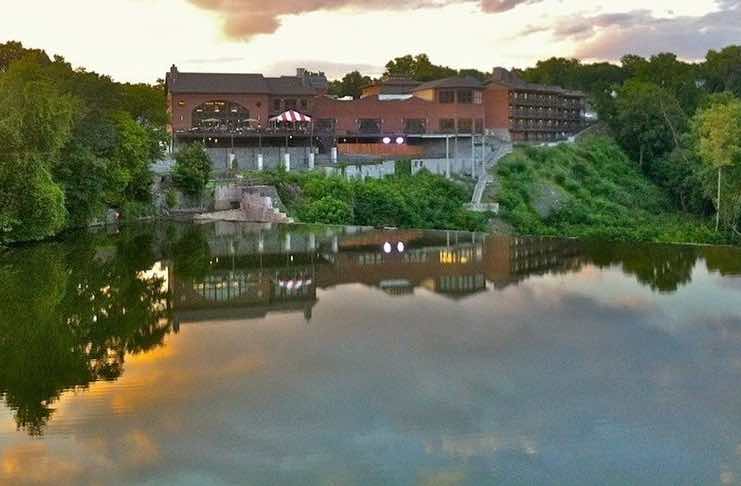 In the village of Saugerties, New York, between the Catskill Mountains and the Hudson River, there is a boutique hotel called Diamond Mills that also has a modern American restaurant.
Private balconies and views of Esopus Falls are provided in the intimate assortment of guest rooms. Visitors who want to stay longer in the neighbourhood might reserve an extended-stay flat.
Due to the big ballroom's nearly 7,000 square feet of event space and 400 guest seats, this location is well-liked for conferences and weddings.
Key Amenities:
Rooms with private balconies overlooking waterfall
Complimentary breakfast
Farm-to-table restaurant with indoor/outdoor eating
8. Elk Lake Lodge – North Hudson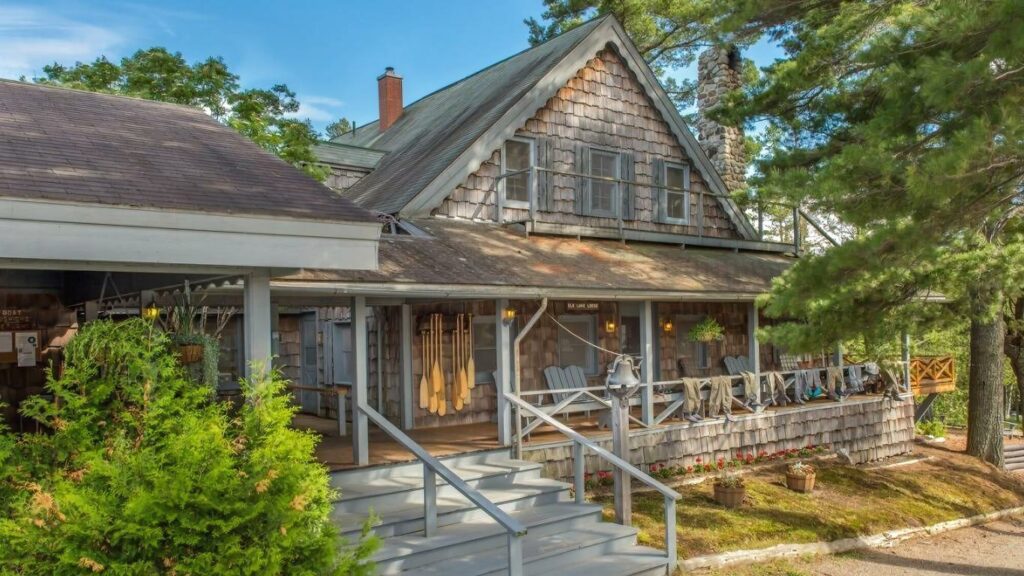 The Elk Lake Lodge, which is open between May and October but is closed during the winter, will appeal to nature lovers.
There are delightful cottages to stay in as you unwind along the tranquil and private Elk Lake, as well as the main lodge, which was constructed in 1904, for a small number of visitors.
For hikers who enjoy a little luxury after a long day on the path, this is the ideal location. There are 12,000 acres of private forest preserve and 40 miles of hiking paths nearby.
There is also on-site dining available for visitors.
8 Must-Stay Hotels and Resorts in Upstate New York 2023 – Newshub360.net
Related Post

Credit: www.Newshub360.net