Top 8 Spa Resorts in New Mexico 2023: When you visit New Mexico, one of the most incredible yet underrated spa holiday locations, you'll see why it's the ideal location for rest and refreshment.
The beautiful scenery, fashionable cities, and chill attitudes here are ideal for a weekend escape with sights to inspire you and a tranquil atmosphere to keep distractions at bay.
There are several spa resorts spread out around the state that mix a beautiful stay with treatments you'll adore to help you achieve your inner calm.
Check out our recommended New Mexico spa resorts.
Top 8 Spa Resorts in New Mexico 2023
1. Ojo Caliente Mineral Springs Resort & Spa, Ojo Caliente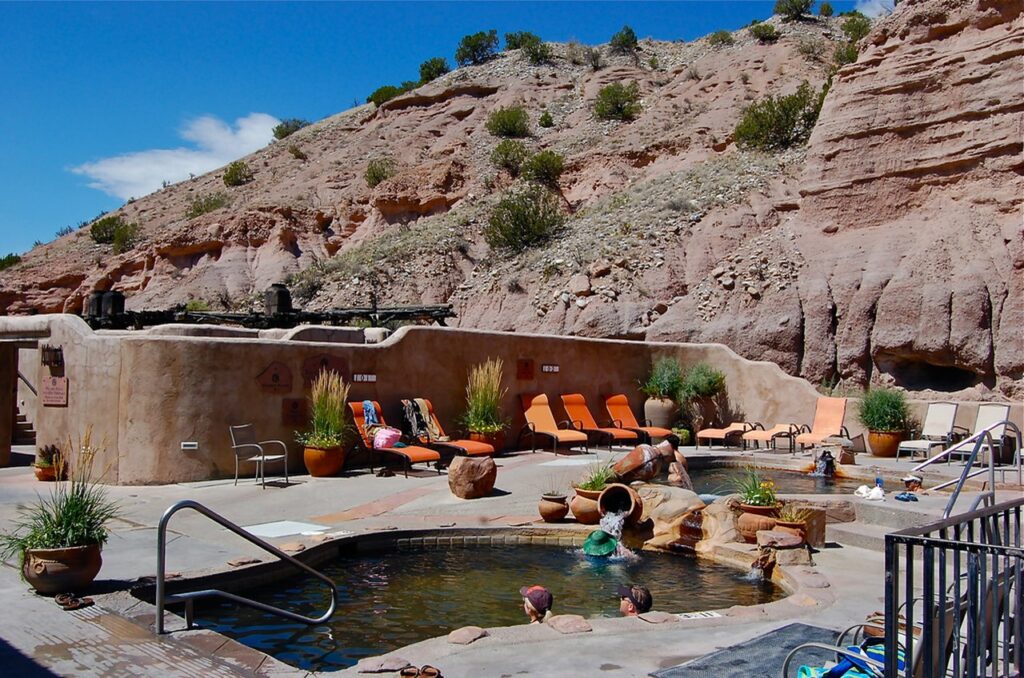 The top-rated resort in New Mexico for couples is this secluded spa, which is breathtakingly gorgeous. Hot springs resort Ojo Caliente Mineral Springs Resort & Spa features therapeutic mineral waters in several pools on the grounds.
You can either spend the night to get the complete experience or pay a daily rate to soak. You can benefit from nourishing massages, skin care procedures, rejuvenating body therapies, and spa packages in addition to private soaks.
Visitors can stay in suites and cottages, as well as a historic hotel and an RV park. At the hotel, meals are served in the Artesian Restaurant, which also has a wine bar.
Other well-liked activities around here include yoga, riding, hiking, and birding.
Key Amenities:
Accommodation in suites and cottages or at the on-site RV park
Multiple pools with healing mineral waters
Spa with a menu of massages, skin care treatments, restorative body therapies, and spa packages
On-site restaurant and wine bar
2. El Monte Sagrado, Taos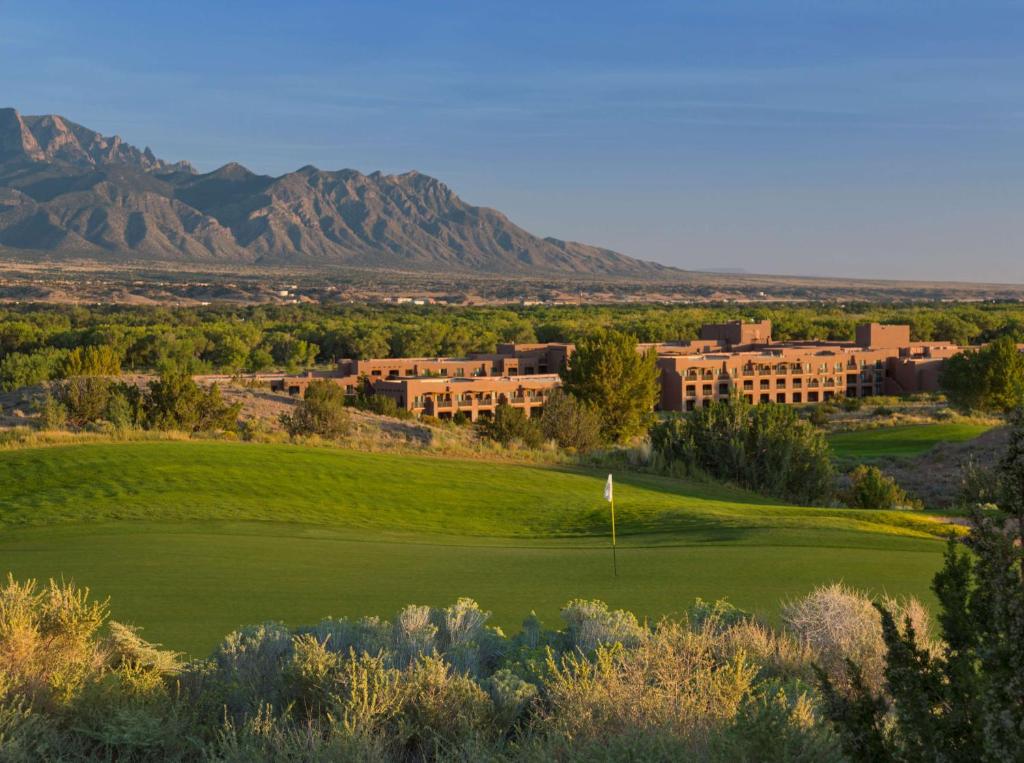 One of the top luxury desert resorts in the world is located in Taos, New Mexico, which is also known for its ski resorts. Staying in El Monte Sagrado will allow you to enjoy a relaxing, restorative environment.
Ten treatment rooms, a cosy couple's apartment, an indoor pool, a hot tub, and a 24-hour fitness centre are available. Standard rooms, hot tub suites, and casitas are available as lodging.
Eat at the acclaimed De la Tierra Restaurant and indulge in speciality beverages at the Anaconda Bar. At the resort, there is also room for parties and meetings.
Key Amenities:
On-site spa with romantic couple's suites for treatments
Access to an indoor pool, hot tub, and 24-hour fitness center
Accommodations range from hot tub suites to standard rooms and casitas
Award-winning restaurant and bar on the property
3. La Posada de Santa Fe Resort & Spa, Santa Fe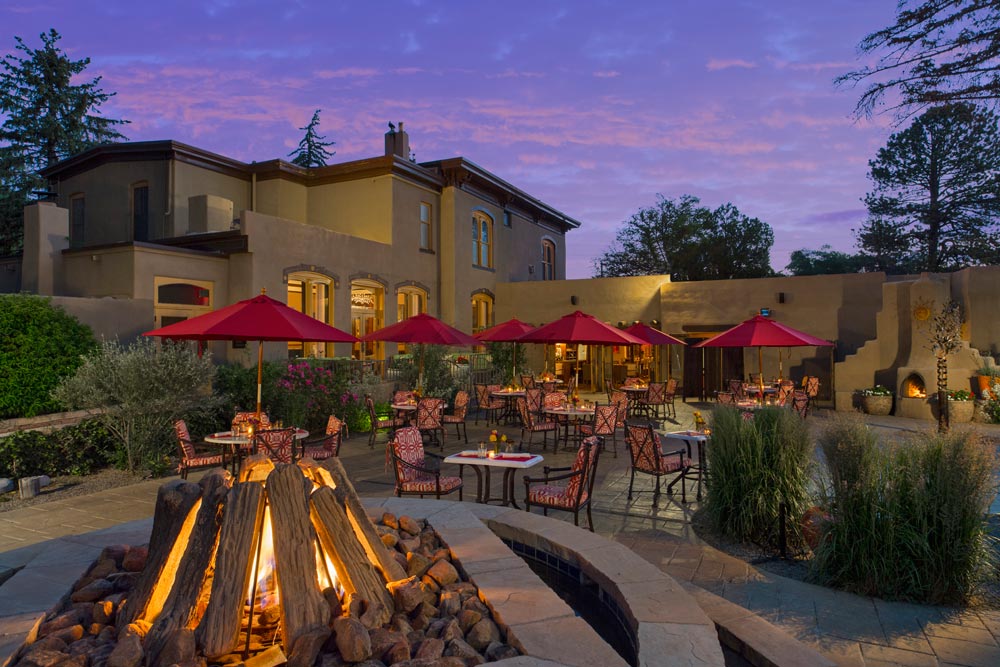 La Posada de Santa Fe Resort & Spa is one of the several spa resorts in the wellness-oriented city of Santa Fe.
Spa Sage has a full-service salon, offers massage and facial treatments in addition to offering Pilates and yoga on the weekends and a fitness centre.
This peaceful resort, perfect for both couples and families, is close to the historic square, includes a seasonal outdoor pool and hot tub, numerous bars and restaurants on-site, and an on-site art gallery.
Stay in one of the more than 230-year-old, meticulously refurbished casita-style rooms or suites.
Key Amenities:
On-site spa with massage and facial services, plus a full-service salon
Access to a fitness center and yoga and pilates classes on the weekends
Outdoor seasonal pool and hot tub
Multiple bars and restaurants on-site
4. Hyatt Regency Tamaya Resort & Spa, Santa Ana Pueblo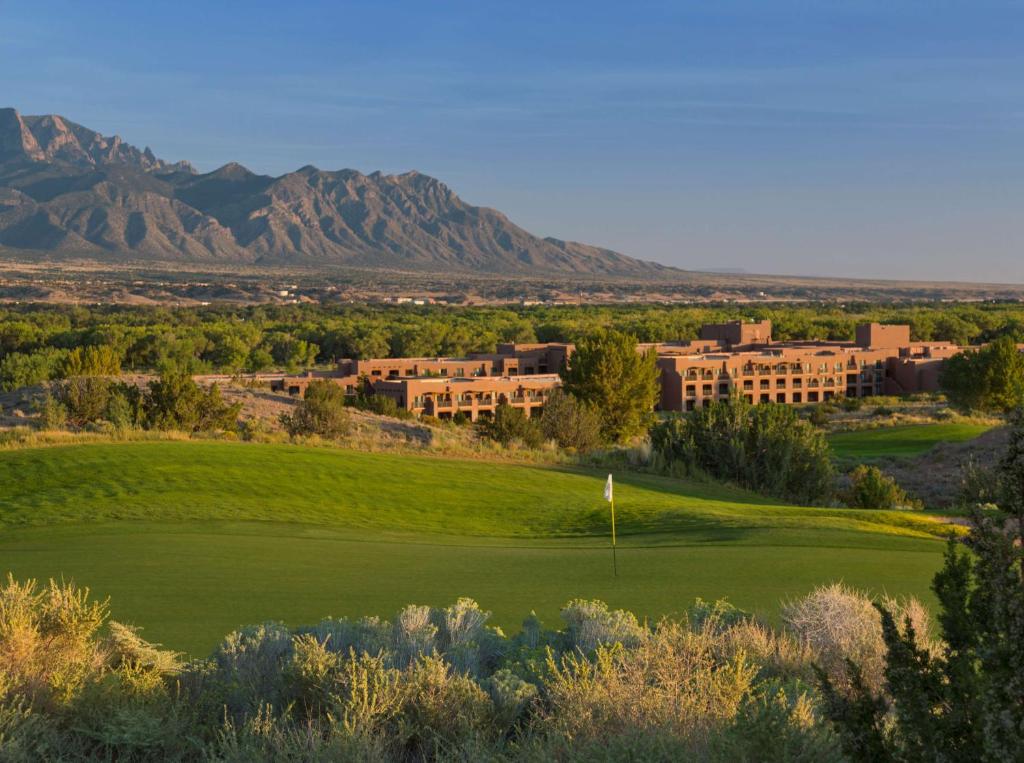 The Hyatt Regency Tamaya Resort & Spa in Santa Ana Pueblo is among New Mexico's top hotels. Numerous restaurants, three heated outdoor pools, a whirlpool, roomy suites, a rich history and culture, and more may all be found here.
There is a yoga studio, a spa and salon that offers a variety of treatments, a 24-hour gym, a golf club with a championship course, two tennis courts, and horseback riding available for your wellness.
This resort accepts pets and offers a variety of cultural and artistic activities, including hot air balloon rides.
Key Amenities:
Heated outdoor pools and a whirlpool
Access to a yoga wellness studio, 24-hour gym, golf club, and tennis courts
Multiple restaurants on-site
5. Edelweiss Lodge & Spa, Taos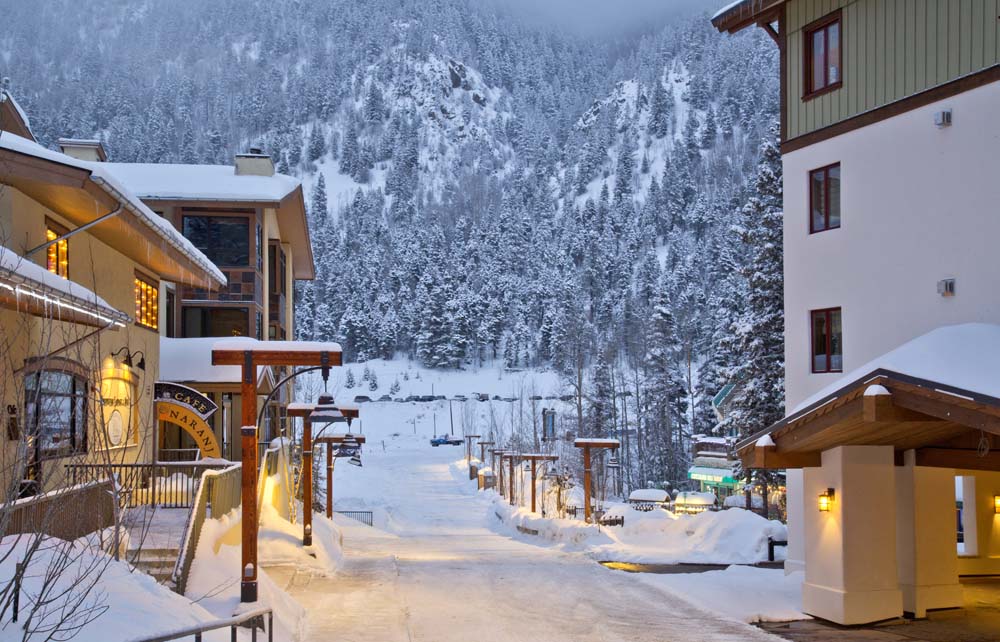 Book a spa resort vacation at the Edelweiss Lodge & Spa to take advantage of body cleanses, natural facials, and customised deep tissue massages.
Small-group wellness retreats are ideal here. Here, visitors can stay in ski-in/ski-out accommodations with quick access to the slopes.
Stay at a hotel room or vacation condo with one, two, or three bedrooms, eat at Blonde Bear Tavern, work out in the fitness centre, and explore lovely Taos.
Key Amenities:
Spa with a menu of deep-tissue massages, all-natural facials, and body scrubs
Accommodation in one-, two-, and three-bedroom vacation condos or hotel rooms
Ski-in/ski-out access
6. Inn & Spa at Loretto, Santa Fe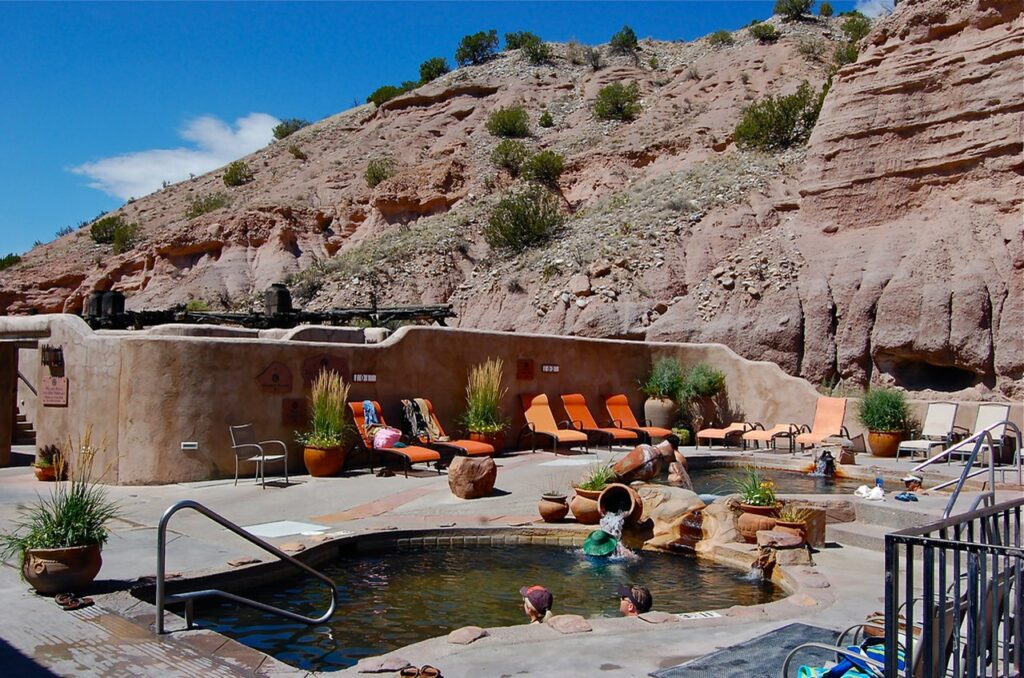 At the base of the Sangre de Cristo Mountains, The Inn & Spa at Loretto is a fantastic Santa Fe lodging choice. Stay here for a true taste of the Southwest and to rejuvenate your body, mind, and soul in the spa.
You can also take advantage of the many on-site dining and drinking options, such as the cafe, tasting room, and tap room.
This hotel offers contemporary guest rooms, including a rooftop suite, in addition to a heated pool that is open all year long and a location close to the well-known Loretto Chapel.
When lodging here, you'll be one block from Santa Fe's famed plaza.
Key Amenities:
Year-round heated pool with sun loungers
Spa with a menu of essential oil-infused treatments and massages
Multiple dining and drinking options on-site, including a cafe, tasting room, and a tap room
7. Sandia Resort & Casino, Albuquerque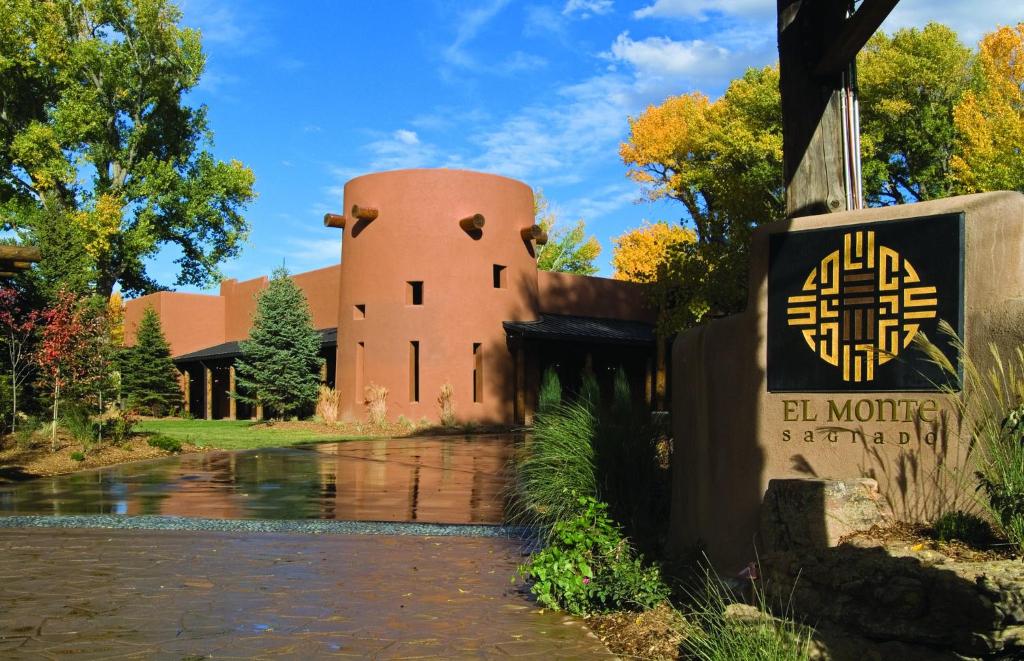 Additionally, guests to Albuquerque will appreciate the Sandia Resort & Casino's on-site Green Reed Spa. In addition to massages, this spa also provides facials, waxing, wraps, and soaks.
There are also available indoor and outdoor meditation spaces. The hotel is eco-friendly, with a view of the stunning Sandia Mountains, and is a popular location for live entertainment like DJs and concerts.
On-site amenities include a number of dining establishments, a casino with a broad selection of games, and the longest 18-hole golf course in New Mexico, which is 7,772 yards long.
Key Amenities:
Spa with a menu of massages, facials, waxing, wraps, soaks, and more
Indoor and outdoor meditation rooms available
Frequently hosts live entertainment, including concerts and DJs
Home to a casino, 18-hole golf course, and multiple restaurants
8. The Lodge at Cloudcroft, Cloudcroft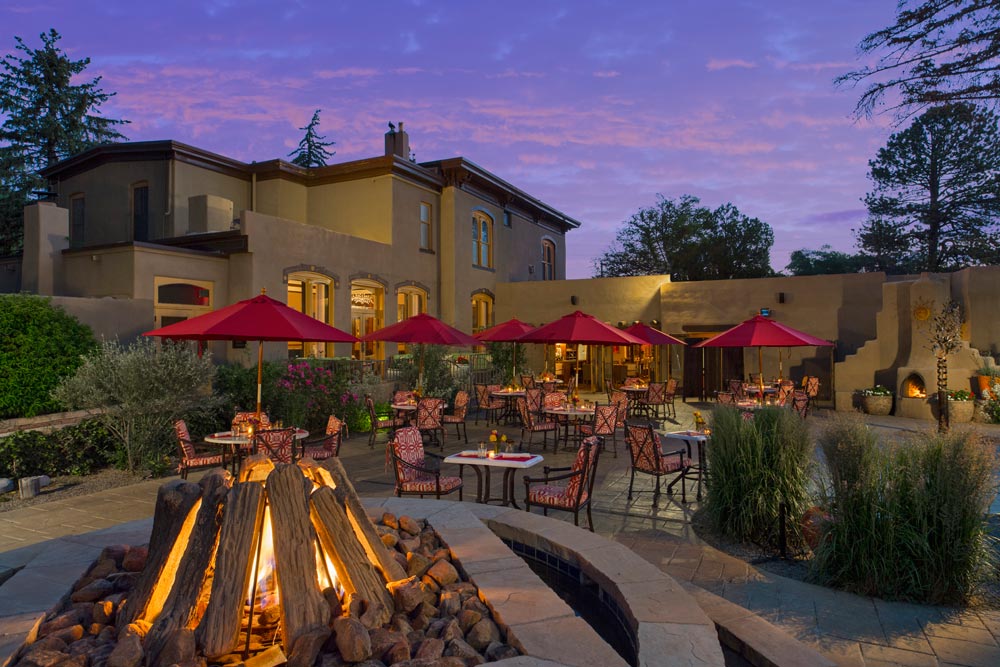 The Lodge at Cloudcroft, in Cloudcroft, New Mexico, is a highly regarded spa that provides massages, facials, full-body skincare, express services, and combo body treatments.
For amorous couples, there are also unique packages available. You'll stay in one of the comfortable guest rooms or suites and can partake in Rebecca's restaurant's savoury delights as well as its Sunday champagne brunch.
There is a golf course nearby that is open from April to October, as well as a meeting and conference room.
Key Amenities:
On-site spa offering massages, facials, full-body skincare, and body treatments
On-site dining options, including a Sunday champagne brunch
Home to a golf course and a meetings and events space
9. The Inn of the Five Graces, Santa Fe
Top 8 Spa Resorts in New Mexico 2023 – Newshub360.net
Related Post

Credit: www.Newshub360.net