Most Expensive Restaurants in Miami 2023:There are many things that make Miami famous, including its beaches with white sand, its neon-lit nightlife, its Art Deco architecture, and its Latin American flavor.
But in addition to this, it is a well-known destination for fine dining and is home to a number of restaurants that are considered to be among the best in the world.
It is home to more than 5,000 restaurants serving food from all over the world, such as Cuban cafeterias, Spanish tapas bars, local farm-to-table diners, Japanese ramen establishments, and a great deal more.
The following are some of the top restaurants in Miami that you won't want to pass up, and they can be found all throughout the city, from downtown to Miami Beach and beyond.
Miami has long been known as a playground for the rich and famous.
The city is home to a large number of luxurious hotels, resorts, and dining establishments that cater to those with upscale preferences.
In instance, Miami is home to dozens of high-end fine dining venues, each of which can charge upwards of a hundred dollars per person for a single dinner.
We have selected 10 of Miami's finest and most costly restaurants that provide an exceptional dining experience and have put them on this list.
These restaurants are fantastic options if you are willing to blow your entire vacation budget on a single dinner and have no regrets about it.
Most Expensive Restaurants in Miami
1. Bourbon Steak by Michael Mina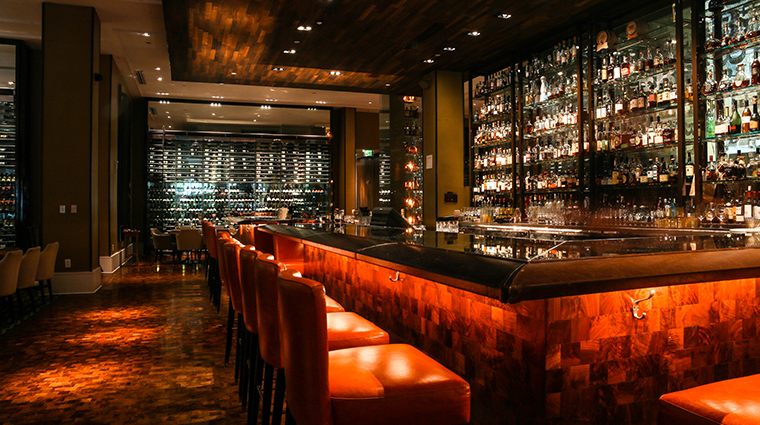 One of the most exclusive and pricey dining establishments in Miami is Bourbon Steak Miami, which was created by Michael Mina.
The eating area of the restaurant is cozy without being overly cramped, and it features a sizable open kitchen. Even though it's a casual atmosphere, you can still have an elegant night out in the city if you like to.
The menu includes a raw bar stocked with a variety of fresh seafood and steaks of Prime quality.
You can't go wrong with any of the options on the menu, but the maple-glazed duck breast served with cipollini onions and swiss chard is a particular highlight of the selections.
If you want to just hang out and have some cocktails or appetizers before dinner, you may do so in the lounge area of Bourbon Steak Miami, which is equipped with low seating and couches.
Ask to be placed in a private booth that provides complete solitude so that you can enjoy your dinner in style and feel like a VIP. This is the best way to get the most out of your dining experience.
2. Nobu Miami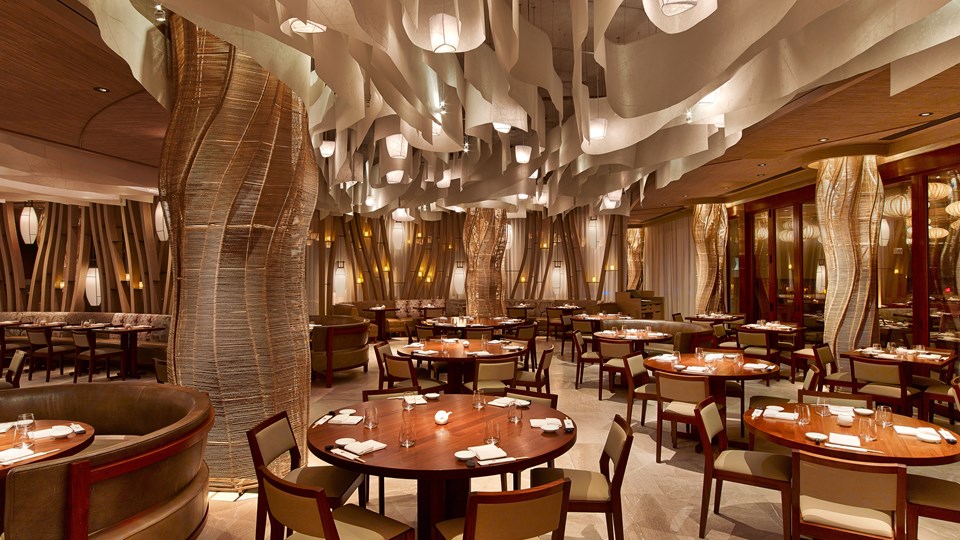 One of the most exclusive and pricey dining establishments in Miami is called Nobu Miami.
It should come as no surprise that Nobu is one of the most popular restaurants in Miami given that it serves some of the most delectable cuisine in all of South Florida and boasts a cool and seductive ambiance.
Dinner, happy hour, and brunch are all served with delectable dishes and drinks at Nobu, which is located in Eden Roc at the Nobu Hotel Miami Beach.
If you're having trouble deciding what to get from Nobu's menu — which contains a variety of dishes from around the world, such as Japanese, Peruvian, and traditional American meals — don't stress about it.
To ensure that you get a true experience of everything that Nobu has to offer, the chefs will make an omakase plate for you that features a variety of dishes from which you can choose to sample each one.
And if you want to drink like a real local, give one of the restaurant's specialty cocktails a try. For a genuinely upgraded dining experience on Miami Beach, go with a bottle of wine from Nobu's wide wine list, or try one of the restaurant's specialty cocktails.
3. Zuma (Most Expensive Restaurants in Miami)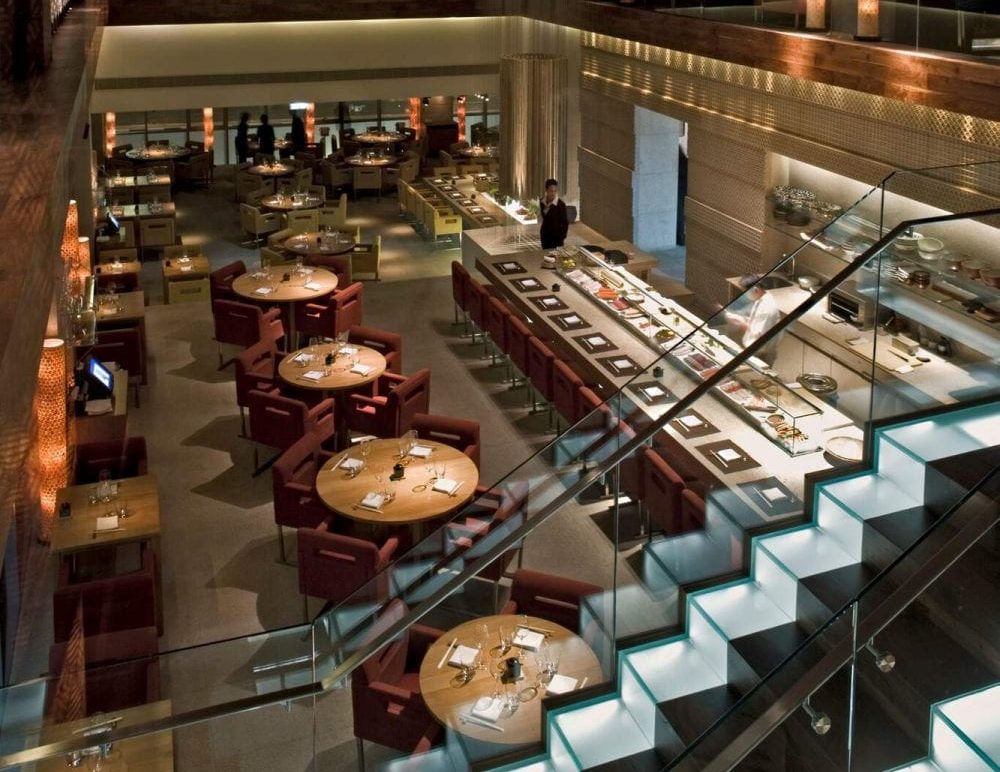 Zuma in Miami is an exquisite Japanese restaurant. The cuisine is extremely reminiscent of that served at Nobu or Blue Ribbon, but it has its own distinctive twist that distinguishes it from the fare served at other restaurants in the city.
Since Zuma's cuisine is comprised entirely of tiny plates, it is recommended that you visit the restaurant with a large group of people who are ready to share everything.
There are several fantastic meat meals available, such as the gingery chicken, which is cooked to perfection and is both soft and juicy. If you are a fan of fish, you will find a variety of excellent sushi alternatives to choose from.
In addition, Zuma is home to some of the city's finest sake, and the restaurant's sommelier is more than happy to assist you in selecting an exquisite bottle to pair with your meal.
The interior design of Zuma unquestionably places it at the very pinnacle of the ranking of the very greatest restaurants in Miami. There is outdoor seating where you can take in the breathtaking scenery while dining, since the restaurant is situated just on the river in the downtown area.
Inside, there is a bar area where you can watch cooks create your food, and there are a lot of lovely details like chandeliers and marble floors throughout the rest of the establishment.
The costs at this establishment are comparable to those seen in upscale eateries located in any large metropolis. For a full supper, you should plan on spending at least one hundred dollars per person, and that does not include beverages.
4. NAOE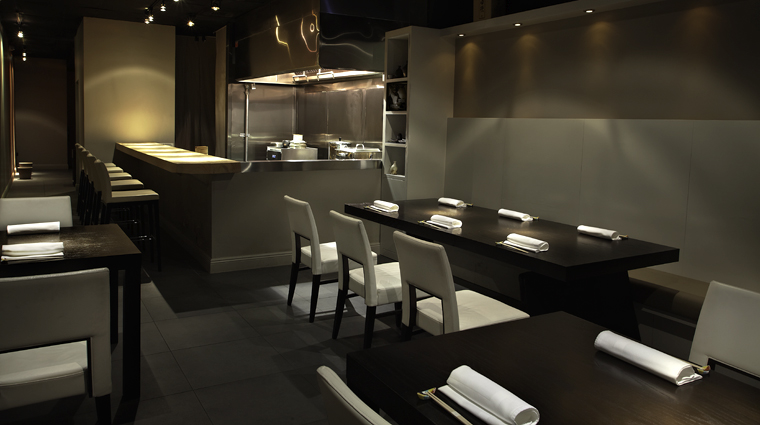 NAOE is widely considered to be both one of Miami's finest and most costly restaurants. It also has a reputation for being one of the most difficult clubs to join.
Even though there are many high-end dining establishments located around the city, the sushi bar in Brickell is one of the few that can truly compete.
But the quality of the food isn't the only draw here. It's all because to Chef Kevin Cory, who's responsible for making this dining experience truly one of a kind across the entirety of South Florida.
The eatery can be found on the second level of a nondescript office building with limited parking on the surrounding streets, which tend to fill up rapidly.
The inside is not overly furnished, giving the impression that you are having supper in someone's home. This might be an uncomfortable situation if Cory did not have a kind and outgoing attitude.
Even though it's been almost 13 years since the restaurant opened, dinner service didn't begin until just lately.
The omakase menu is dynamic and adapts to the changing of the seasons, but it will always include a selection of raw and cooked fish in a variety of preparations.
5. Pao by Paul Qui (Most Expensive Restaurants in Miami)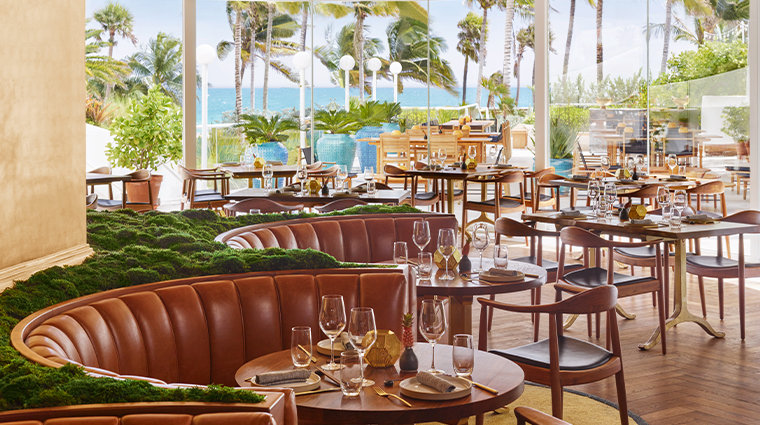 When it comes to a sophisticated evening out with a significant other, Pao by Paul Qui is one of the most recommended restaurants in the Miami area.
Pao is the restaurant to go to if you want an experience that will last with you forever and is unlike anything else you've ever had. It's probably not for you if you're seeking for a peaceful evening out or if you're trying to keep your spending in check.
Pao by Paul Qui is a restaurant that can be found on the ground level of the Faena Hotel in Miami Beach. The name of the restaurant comes from the Portuguese word for bread, which is one of the things that chef Paul Qui is particularly skilled at making.
The cuisines of Japan and Vietnam take center stage on his extensive pan-Asian menu, which features dishes from all throughout Asia.
Because the menu is updated so frequently, each individual dining experience at Pao is one of a kind. It also means that we do not have any images of what to expect (the menu is not even posted online), but we can assure you that the quality of the meal is consistently high across a wide variety of preparation methods.
6. Hakkasan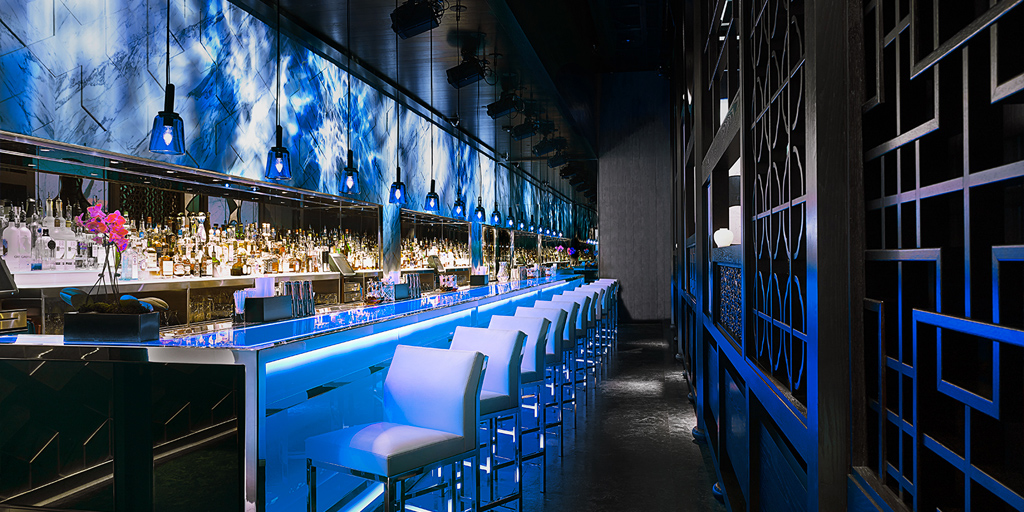 It is one of the most costly restaurants in Miami, but it is also one of the most prestigious Chinese restaurants in the city. It has an exquisitely furnished interior, and the atmosphere is quite intimate and sensual.
They have an impressively large selection of wines, and the quality of their service is outstanding. People who are looking for a place to eat a wonderful lunch for two will find that this establishment is ideal because the costs are affordable and the location is quite convenient.
Traditional Chinese cuisine is offered at Hakkasan, and one of the meals available is roast duck, which can be ordered whole and then cut at the table by the chefs.
Because they only use all-natural spices in their cuisine and never add any artificial preservatives or MSG to any of their dishes, you can be assured that every mouthful will contain just fresh ingredients and will not contain any additives that are manufactured in a lab.
7. Le Sirenuse Miami (Most Expensive Restaurants in Miami)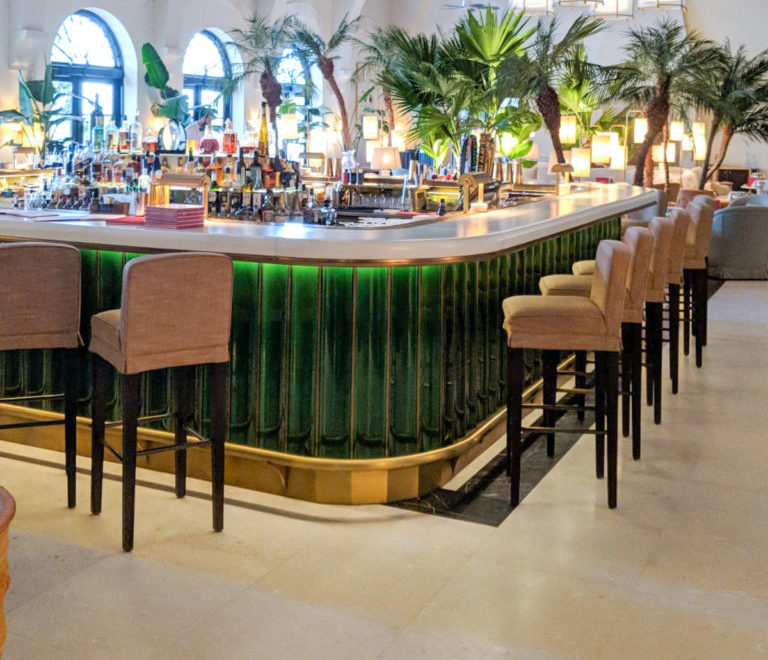 Le Sirenuse Miami is a stunning restaurant that provides patrons with the opportunity to dine in the open air.
It is one of the most expensive restaurants in Miami, but it offers a breathtaking panorama of Biscayne Bay and the skyline of the city.
The restaurant can be found on the water's edge within the Four Seasons Hotel at The Surf Club. The Positano-based chefs of Le Sirenuse were responsible for the cuisine served within the establishment.
The restaurant has an atmosphere reminiscent of the Italian Riviera and serves Italian food in a relaxed setting.
It has seats both inside and outside, but more people are gravitating toward eating outside due to the fact that they want to try something new when they go out to dine.
Because people have been unable to go to bars because of lockdowns and restrictions imposed by COVID-19, the restaurant also serves excellent cocktails, which have gained a lot of popularity as a result.
The menu features a wide variety of foods, including fresh pasta dishes that are prepared on a daily basis by Chef Antonio Mermolia.
Grilled Branzino, Gnocchi Alla Romana, and Grilled Bistecca are three of their most well-known dishes.
8. Il Gabbiano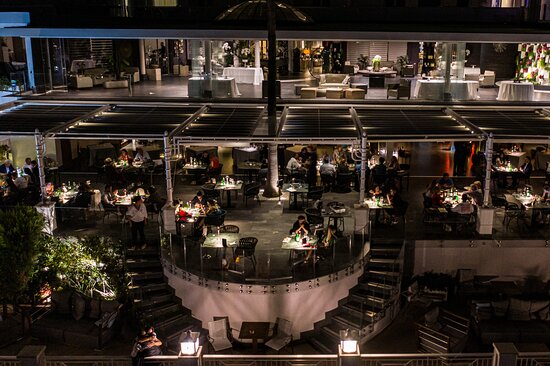 Il Gabbiano, which can be found in the middle of Miami, is widely considered to be one of the finest restaurants in all of Miami.
This restaurant is open for lunch and dinner and features an extensive menu that focuses on Italian cuisine. The authenticity and flavor of the meal here cannot be beat.
Since Il Gabbiano has a laid-back vibe, you are welcome to come in your most comfortable pair of jeans and T-shirt.
However, if you are seeking for a night out that is more on the sophisticated side, you will also find that here. Because they enjoy the atmosphere, many guests choose to dress formally when dining here.
Anyone who enjoys authentic Italian food will find Il Gabbiano to be a satisfying eating option.
In addition to robust entrees made with beef and pork, the menu features a wide selection of mouthwatering seafood alternatives.
As a result of the extensive wine list, it is simple to finish off a meal with a flavorful beverage when dining at this establishment.
9. Cipriani Downtown Miami (Most Expensive Restaurants in Miami)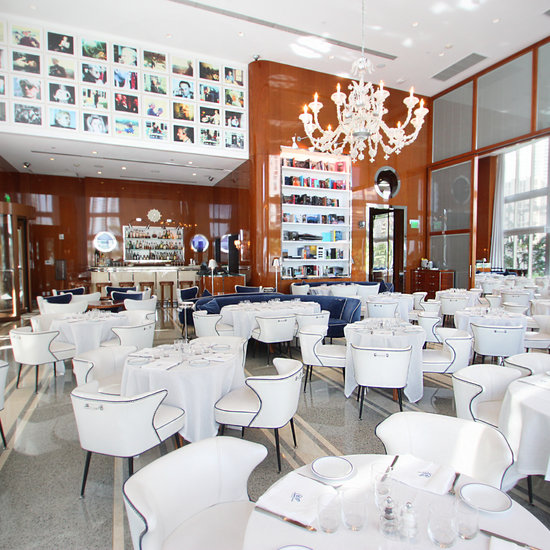 Cipriani Downtown Miami is widely considered to be both one of the city's finest and most costly restaurants.
The restaurant provides guests with a sophisticated, high-end dining experience that is infused with a dash of Miami flair.
Cipriani Downtown Miami is the place to be if you want to make a night out with your loved one, your family, or your closest friends memorable.
It should come as no surprise that this restaurant is a favorite of both locals and tourists alike given its sophisticated yet welcoming ambiance and its commitment to preparing traditional Italian cuisine using only the highest quality ingredients.
Lunch, supper, and meals served late at night are all available at Cipriani Downtown Miami.
The upmarket restaurant's patrons have their choice from a comprehensive menu that features a great number of traditional Italian dishes.
Guests are welcome to choose from among a selection of different beverages and wines to accompany their meals at the establishment.
10. Il Mulino New York – Miami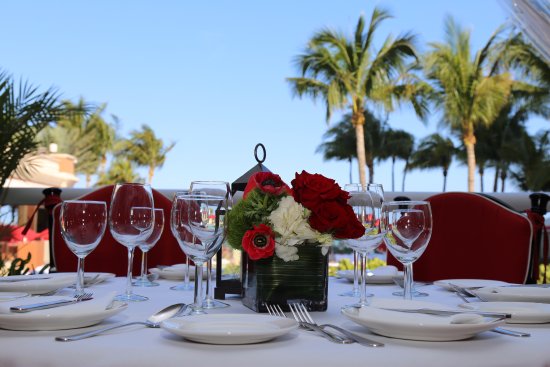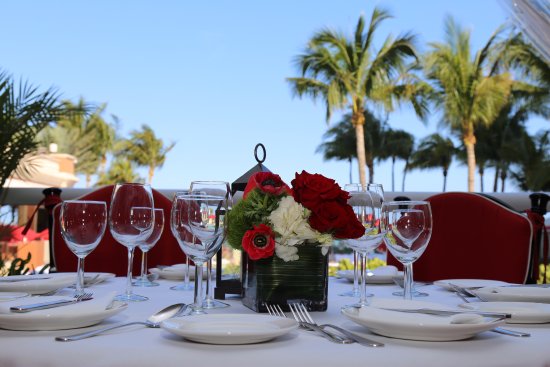 Il Mulino New York is a well-known Italian restaurant that provides a setting that is both cozy and elegant, and it serves meals prepared in the classic style. It can be found within the Fontainebleau Hotel, which is situated on Collins Avenue.
Since it first opened its doors, Il Mulino has solidified its reputation as one of the most prestigious dining locations in Miami. Here, guests can indulge in a sumptuous and unforgettable dining experience while taking in breathtaking views of South Beach's coastline.
Il Mulino takes great pleasure in the fact that it provides its customers with only the freshest and best quality ingredients, all of which are brought in from Italy to maintain the restaurant's reputation for authenticity.
Il Mulino provides everything you need for a wonderful meal that will leave you willing to return for more, including an extensive wine list, homemade pasta and desserts, a wide selection of fresh seafood dishes, and an amazing wine list. All of these items can be found on the menu.
Most Expensive Restaurants in Miami 2023:Newshub360.net
Related Post
♦ 13 Most Expensive Cities to Live in California 2023
♦ 10 Richest Cities in Michigan Based on Median Income 2023
♦ 10 Best Places to Live on East Coast of Florida 2023
♦  15 Top Fox News Anchors Female to Watch 2023
♦  20 CNN Female Anchors You Need to Watch in 2023
♦  11 Dr Pepper Commercial Actors and Actresses 2023
♦  15 Funny Numbers to Prank Call and Prank Hotlines 2023
♦  20 Scary Numbers to Call: You Should Never Call Them
♦  14 Actors and Actress in GEICO Commercials 2023
♦  10 Liberty Mutual Commercial Actors and Actresses 2023
♦  10 Best Slavery Movies on Netflix for Black History Month 2023
Credit :www.Newshub360.net