Different Types of Scarves You Can Wear. The use of scarves as a fashionable accessory dates back many years. Over the course of several decades, the numerous applications have evolved.
They were used as head covers by ladies in the 1950s and 1960s who styled their hair using vintage curling irons and were popular throughout those decades.
They also play a role in accessorizing garment ensembles, lending dashes of color and textural variety to the overall look.
Scarves are worn by everyone, including men, women, and children. We can stay warm in the winter with the help of scarves, which also help us look fashionable throughout the year.
Scarves come in a wide variety of shapes, sizes, and varieties. You may get a sense of what's popular in the scarf market right now by taking a look at the following twenty distinct styles of scarves that are available to buy.
Types of Scarves You Can Wear 2023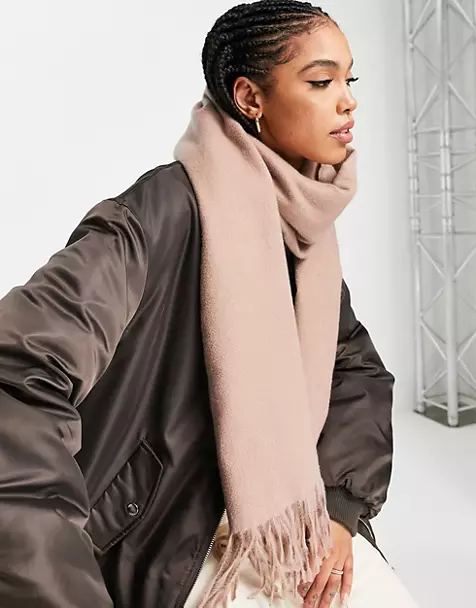 20. Winter Scarves
According to Thread Curve, winter scarves can be made from a wide variety of materials and can have a variety of various styles.
They are united by a single aspect in common. They are designed to assist shield you from the cold and keep you warmer as a result of their use.
Wool, alpaca, felt, fleece, and polyester are the five most popular materials that are utilized in the production of winter scarves.
They are designed to be worn when the weather is cooler so that you can stay warm, but they are also frequently used as trendy accessories that serve the dual aim of keeping you warm while also adding a dash of color or sophistication to your overall clothing look.
19. Beach Scarves
The majority of other types of scarves are smaller than beach scarves. They are designed to be worn around the waist after a swim and are manufactured to be sufficiently large for this purpose.
They are most commonly observed throughout the months of June, July, and August. They are a component of casual beachwear that can also be used when going for a walk to ward off a chilly breeze or as a fashion accent with clothing that are often worn during the summer.
Large beach scarves can also be used to cover exposed sections of a bathing suit, making them a handy item to have on hand for walking directly from the pool to a restaurant in a resort environment for lunch or supper.
18. Headscarves
Nearly every aspect of the human body can be covered with a scarf. Headscarves are garments that are designed to be worn on the head in particular.
They are useful for preventing damage to your hair from elements such as dirt and sunshine, and they can also help you keep your locks under control on windy days.
Some ladies choose to cover their hair with scarves as a sign of chastity and purity in accordance with their religious beliefs.
They conceal a hairstyle that is difficult to control on days when your hair is acting up. The use of headscarves is widespread across the globe and serves a variety of functions, including that of a fashion ornament and a form of defense. They are available in a wide range of sizes and fabrics.
17. Satin Scarves (Types of Scarves You Can Wear 2023)
Scarves made of satin can be crafted from satin fabric that is derived either from silk or from polyester.
These scarves have a glossy finish and are made from luxury materials; they are a great accessory that can be worn with both casual and fancy outfits.
Scarves made of satin have the ability to transform an ordinary look into one that is party-ready. Although scarves made of satin are most frequently wrapped around the neck as a fashion accent, the fabric can also be wrapped over the head in this manner.
Because it helps to keep the skin and hair from losing moisture, satin is known for the positive effects it has on one's health.
During the night, some people choose to sleep with a satin scarf draped over their heads. When brushed against the skin, satin imparts an elegant and opulent sensation that makes one feel pampered and at ease.
16. Alpaca Scarves
Alpaca scarves are manufactured from Alpaca fibers. It is common knowledge that alpaca wool is lighter than the wool that would be produced by sheep while also being warmer.
Extremely effective protection against the cold can be found in scarves crafted from this material. Because the fibers are resistant to water as well as other forms of stains, the fabric is long-lasting, which is why some people love it.
Scarves made of alpaca are typically a little bit more expensive than traditional scarves made of wool. However, the quality of scarves made of alpaca is higher due to the fact that they are lighter, more resistant to stains, and provide more warmth.
Because of its lack of irritant properties, alpaca has become a popular alternative to wool among those who suffer from wool allergies. In recent years, alpaca has emerged as one of the most sought-after materials for winter scarves.
15. Cotton Scarves (Types of Scarves You Can Wear 2023)
According to Treasurie, if you are seeking for a fashion accessory that is not heavy and is composed of thin, natural fibers, then cotton scarves are an excellent choice to consider.
Cotton has traditionally been the material of choice for scarves. It is available in a plethora of hues, surface textures, and pattern configurations.
Cotton is one of the most adaptable textiles, and it is not difficult to locate scarves made of cotton either on the internet or in traditional stores.
You can discover scarves that go with any outfit, from casual wear to more formal attire, because there is an abundant supply of them and a wide variety of options to choose from.
Cotton fabric is a versatile material that is simple to manipulate to create one-of-a-kind design effects. In order to create a one-of-a-kind addition to your wardrobe, you can even give cotton scarves pleats by pressing them.
When the weather gets warmer or you live in a hot climate, one of the most common choices for an accessory is a cotton scarf.
14. Chiffon Scarves
Chiffon is the fabric that is used to make scarves made of chiffon. They stand apart from other scarves due to the draping quality of the cloth, which is otherwise standard.
It is less cumbersome to deal with and lessens the impact of the mass. Scarves made of chiffon can be worn in a variety of ways.
They can be made to look more appealing as fashion accessories by having different kinds of lace or embroidery stitched onto them in a variety of patterns. When worn in solid hues, they are also stunning and provide a burst of color to any stylish item.
You can get them in pretty much any hue or pattern you can think of. They lend a touch of femininity and delicacy to any ensemble, and they are versatile enough to be worn with either casual or elegant garb.
However, chiffon scarves do come with a few limitations that you should be aware of. Because the substance is oily and slippery, they frequently lose their footing and fall.
It is not possible to pin chiffon cloth into place because doing so will cause the fabric to get damaged. It is still a well-liked option, particularly for the creation of sophisticated gowns and blouses.
13. Net Scarves (Types of Scarves You Can Wear 2023)
Scarves made of net are a less traditional style of scarf, but they are gaining popularity as an accessory to pair with streetwear and gothic clothes.
They are available in a variety of fabrics and frequently have a fashion detail added to the edges, such as lace, sequins, or chains, to make them more interesting and thrilling to wear.
The most popular placement of a net scarf is around the wearer's neck, which draws attention to the accompanying patterns.
12. Cashmere Scarves
Scarves made of cashmere are considered to be among the most luxurious and expensive of all fashion accessories.
Cashmere scarves are available in a wide range of sizes and can be wrapped in a variety of ways, including around the neck, atop the head, or as shawls worn over the shoulders.
When shopping for a cashmere scarf, it is imperative that you exercise extreme caution because con artists frequently imitate this material and sell fake versions of it off as the real thing.
Cashmere is not inexpensive, so if you come across a deal that seems too good to be true, you can assume that it is.
Because of its opulent look and cozy nature, cashmere is quickly becoming one of the most sought-after materials for making scarves.
The fabric is delicate and needs to be handled with a bit more care than usual, but it is absolutely worth the effort.
11. Velvet Scarves (Types of Scarves You Can Wear 2023)
Scarves known as velvet scarves are crafted from dense fabric that has a velvety gloss. The fabric has a dense pile and, due to the richness of its appearance, is typically worn with elegant apparel.
This is because of the fabric's rich appearance. The majority of velvet scarves, depending on their thickness, have an extraordinarily drapey quality and lend themselves to a variety of postures and style options.
The majority of these chic scarves are of the shorter variety because they have the potential to become rather hefty.
They provide warmth and coziness, but due to their heaviness, they are typically not worn for extended periods of time. Although it has been reported that the fabric might cause irritation to delicate skin, velvet scarves are difficult to top when it comes to its opulent appearance.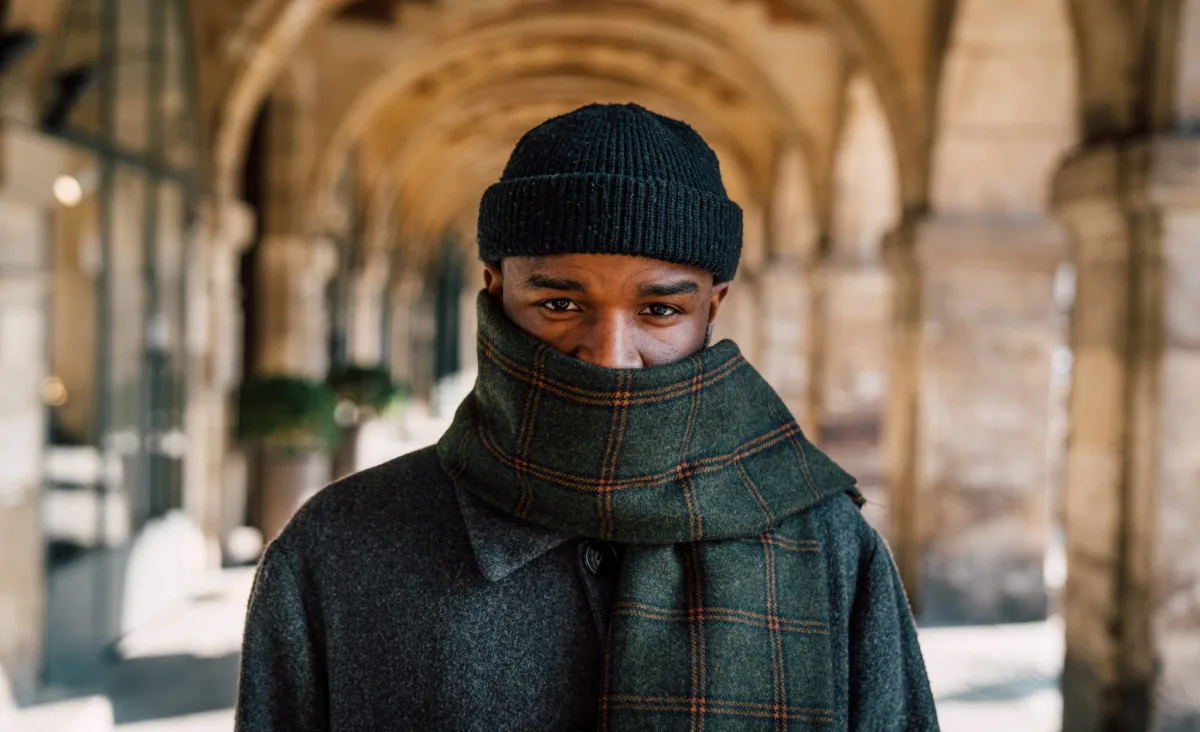 10. Wool Scarves
According to Sew Guide, wool scarves are nearly never used outside of the winter months because of their inability to keep the wearer warm.
Scarves made of wool can be found in a range of different widths and lengths. In order to achieve a more manageable weight, they are almost always combined with other types of fibers in the fabric.
They are offered in a wide range of hues and patterns to choose from. Scarves made of wool are available in a variety of sizes, including small, medium, and big, and can be wrapped around the head, the neck, or the shoulders.
9. Bandana Scarves (Types of Scarves You Can Wear 2023)
Although bandana scarves are most commonly associated with western culture, they are also commonly seen paired with various styles of streetwear.
The bandana scarf is a square-shaped piece of printed cotton fabric that is folded into the bandana shape. Although they are worn around the neck the most of the time, they can be worn in a variety of places to alter the overall appearance of an ensemble.
Bandana scarves can be worn over the neck or on the head as a "do-rag" to shield the head from the sun and keep hair in place, respectively. Biker culture has embraced them to a large extent as well.
8. Crinkled Crepe Scarves
Scarves made with crinkled crepe fabric have an appearance that is similar to that of being crushed or crimped.
The end effect is a look that is textured, which may bring a lot of life to an outfit that is otherwise drab. The textiles are available in a wide range of hues as well as designs.
Some scarves made of crinkled crepe also come with fringe around the edges, which adds an additional layer of texture to the accessory.
7. Tasseled Scarves (Types of Scarves You Can Wear 2023)
Any variety of scarf that has tassels or pompoms adorning the edges is referred to as a tasseled scarf.
This particular variety of scarves can be found in any color or pattern, but they are typically large enough to be wrapped around the shoulders in the manner of a shawl. The tassels incorporate a fresh and texturally varied element into the overall design.
6. Fleeced Scarves
Scarves made of fleece fabric are called fleeced scarves. These are cozy scarves that were designed to be used during the colder months of the year.
Fleece is a type of fabric that can be purchased for a low price and comes in a wide variety of colors and designs.
Scarves made of fleece can be wrapped around the neck or worn over the head. It is one of the most frequent types of winter scarves that can be purchased from merchants in the modern day.
5. Regular Scarves (Types of Scarves You Can Wear 2023)
According to Inspire Uplift, normal scarves are also referred to as "old scarves." [Citation needed] It's an older, more conventional style. It gave birth to a contemporary variety of scarf styles, including updated variations on infinity, snood, and cowl scarves.
Scarves are pieces of fabric that are typically rectangular in shape and can be wrapped around the neck twice. Some of them have lace or fringes on the corners of their edges.
4. Cowl Scarves
One style of scarf that is wrapped around the neck is known as a cowl. This particular variety of winter scarf has a substantial amount of drape.
Scarves worn as cowls can be made from a variety of materials, including jersey, wool, pashmina, and other warm textiles.
As a fashion accessory, cowl scarves look fantastic when paired with dressier clothing. They are positioned so that they lay on the back of the neck and over the crown of the head.
3. Infinity Scarves
The infinity scarf is quite comparable to the cowl scarf; however, instead of forming a single circle, it produces a double circle that represents infinity, hence the name.
Although they have less drape than cowls, infinity scarves nonetheless wrap around the neck twice to create a distinctive look.
They are a type of warm scarf that is designed to be worn in cold weather in order to ward off the chill. Leather and other animal skins are the materials that are most frequently used to make infinity scarves.
2. Snood (Types of Scarves You Can Wear 2023)
A snood scarf is comparable to a cowl scarf, but it differs in that it possesses an additional characteristic that a cowl does not.
Because they are a hybrid of a scarf and a hood, snoods are known by their unique name, which comes from the combining of the two elements.
Because it envelops both the head and the neck, the snood is an excellent choice for wearing throughout the colder months.
It is a fashionable style that is now trending and is frequently used as a dual-purpose accessory to enhance the look of any outfit with a touch of luxury while also serving to keep the wearer cozy and warm throughout the winter months.
1. Triangle Scarves
The scarf in the shape of a triangle is one of the oldest known styles. It is a piece of fabric that is worn as an accessory to a fashion wardrobe rather than for the purpose of keeping the wearer warm.
Scarves in the shape of a triangle have the shape of a triangle. They are available in a range of sizes to suit your needs. They can be draped over the shoulders like a shawl or used as a head covering instead.
You might even drape one around your neck with it. Cotton is the material that is used to make the vast majority of triangle scarves; however, you can also find ones made of pashmina and feature cross-stitching. They also come in a variety of other appealing sorts of fabric.
You can experiment with wearing triangle scarves in a variety of ways to find out which styles complement your one-of-a-kind persona best.
They can be set up in a number of different ways at your discretion. Men and women alike appreciate accessorizing with triangle scarves as they are versatile and comfortable to wear.
They are designed to fit either a man or a woman and can be worn over the shirt or as a dickie underneath it. Scarves in the shape of triangles are extremely flexible fashion accessories since they may be tied in dozens of different ways.
Different Types of Scarves You Can Wear 2023:Newshub360.net
Related Post
Credit :www.Newshub360.net