Top 8 Rarest Stuffed Animals 2023: Throughout our childhoods, each of us played with a wide variety of toys, including several different Lego sets, Malibu Barbie, very dainty tea sets, plushies, rocking horses, Nerf guns, and a great deal more.
However, stuffed toys will forever have a unique and significant place in the hearts of their owners. They are almost universally the first toy that everybody ever plays with or carries around.
What began as a simple pincushion has turned into something that comes with sophisticated functions such as music, speech, rhymes, and more. Stuffed toys have also seen significant change over the course of the past century.
Have you ever considered the possibility that these toys have some sort of worth? Collectors and enthusiasts place a high value on stuffed toys that have been around for a long time because they can fetch a decent price and are highly sought after.
Do you ever wonder whether or not anything you've hidden away in your attic would turn out to be actually valuable? I'm willing to wager that you won't be expecting to find what you do find.
The following is a selection of unique and collectible varieties of stuffed toys.
Top 8 Rarest Stuffed Animals 2023
1. Teddy Ruxpin – Somewhat Rare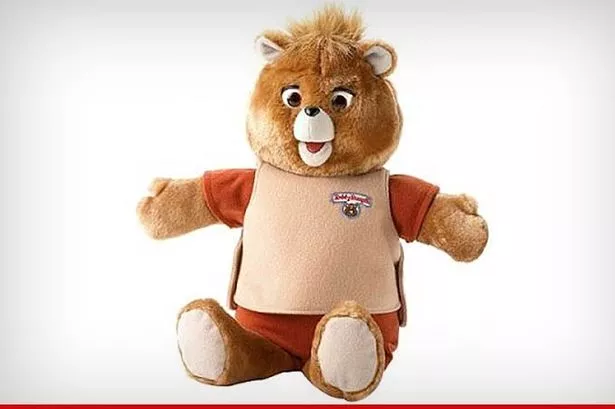 Year: 1985
Animal: Bear
Manufacturer: World of Wonders
This one is a good example of a plush animatronic bear and should be categorized as such. Through a built-in audio cassette system that is sewn into the back of the book, it narrates children's stories.
In the late 1980s, these bears were an enormous commercial success. One of them that is still in its original form fetches more than a thousand dollars on the market nowadays.
2. Royal Blue "Peanut" Elephants – Somewhat Rare
Year: 1995
Animal: Elephant
Manufacturer: Ty Inc.
This incredibly adorable beanie baby elephant is a sought-after collection due to its adorableness. Because of an error in the production process, two thousand of these were made with a deeper pigment than was intended, and as a result, they have a gorgeous inky royal blue color.
The name "Peanut" is extremely desirable, and it has peach-colored ears, black button eyes, and a colored tail. The asking price can go as high as $5,000 in some cases.
3. Claude the Crab Beanie Baby – Considered Rare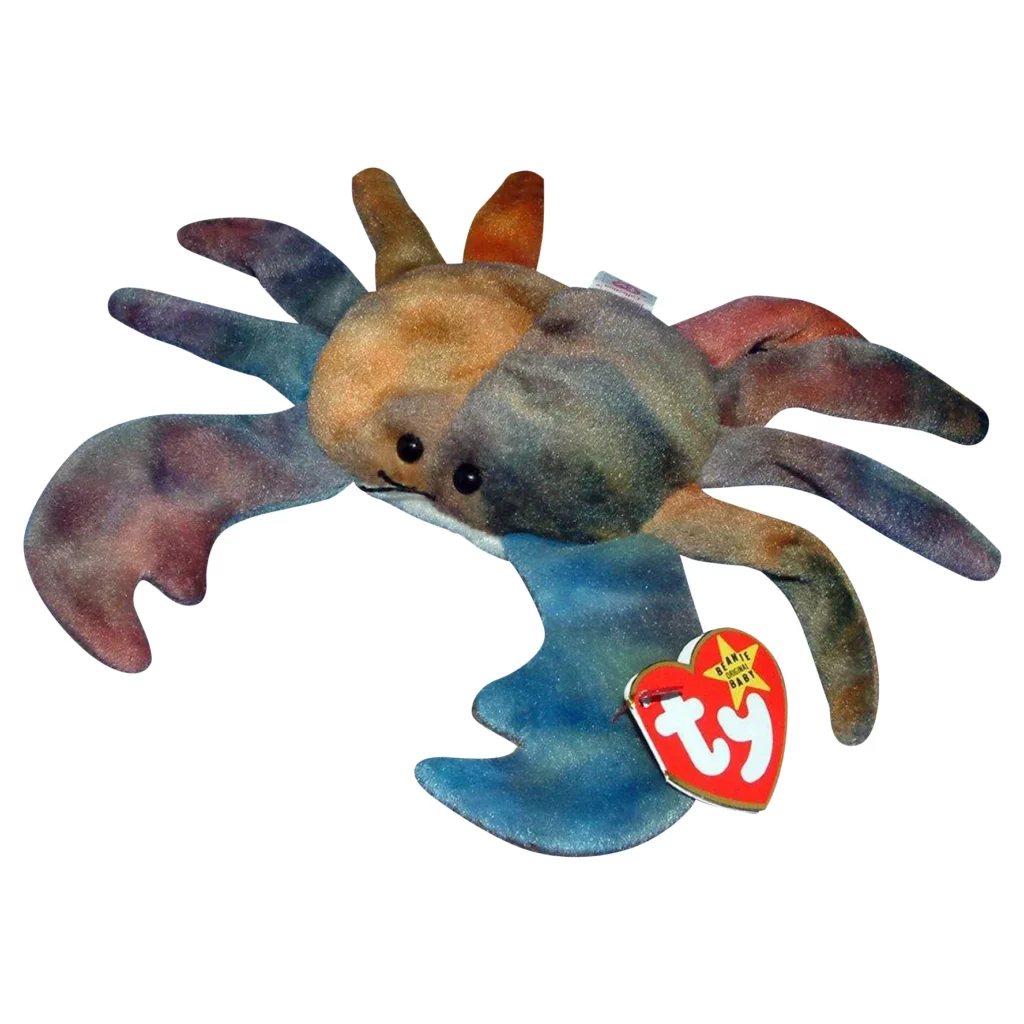 Year: 1996
Animal: Crab
Manufacturer: Ty Inc.
Who would have believed that mistakes would result in goods being worth so much more many years later? This, surprisingly enough, is the tale of the lovable beanie that is known as Claude the Crab.
Some of these multicolored crustaceans are extremely valuable due to the peculiar typographical errors that appear on their tush tags.
These faults consist of nothing more than a single space before an exclamation mark. As of right now, one of them can go for as much as $5,000 because it is regarded as a rare and distinctive beanie baby toy.
4. Princess Diana Beanie Baby – Rare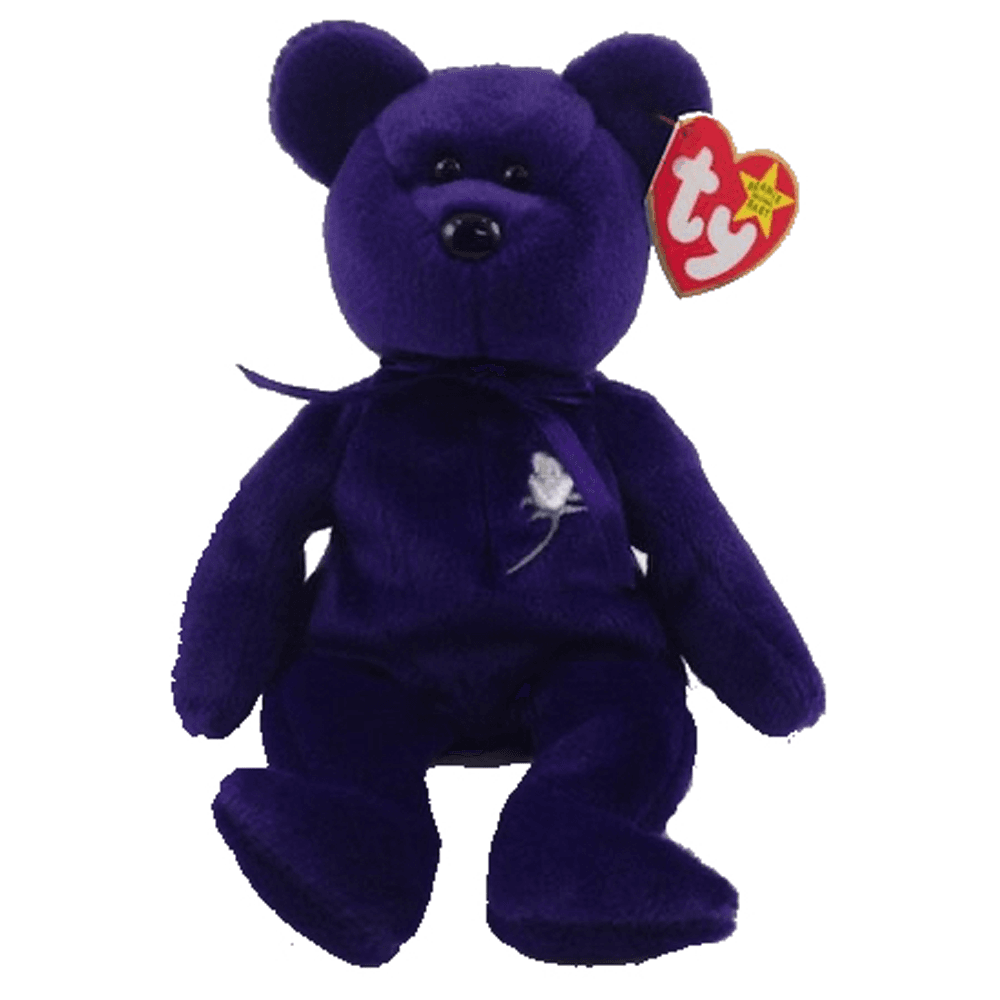 Year: 1997
Animal: A Teddy Bear
Manufacturer: Ty Inc.
When it was first released in 1997, the purple Beanie Baby called Princess Diana Bear rapidly became a hit, but unfortunately, that same year was also the year that she passed away.
It was a limited edition that was put together, especially for the purpose of raising money for her Memorial Fund.
What was initially estimated to cost between $5 and $7, but quickly became a legend among resellers.
The fact that shops could only sell a few at a time contributed to the widespread misconception that there was a finite amount available. In this day and age, it is considered to be deserving of vintage status, particularly if the bear is made of polyvinyl chloride (PVC). The year 2019 saw the sale of one of these Princess bears for the price of ten thousand dollars.
5. Steiff PB 28 Rod Bear – Super Rare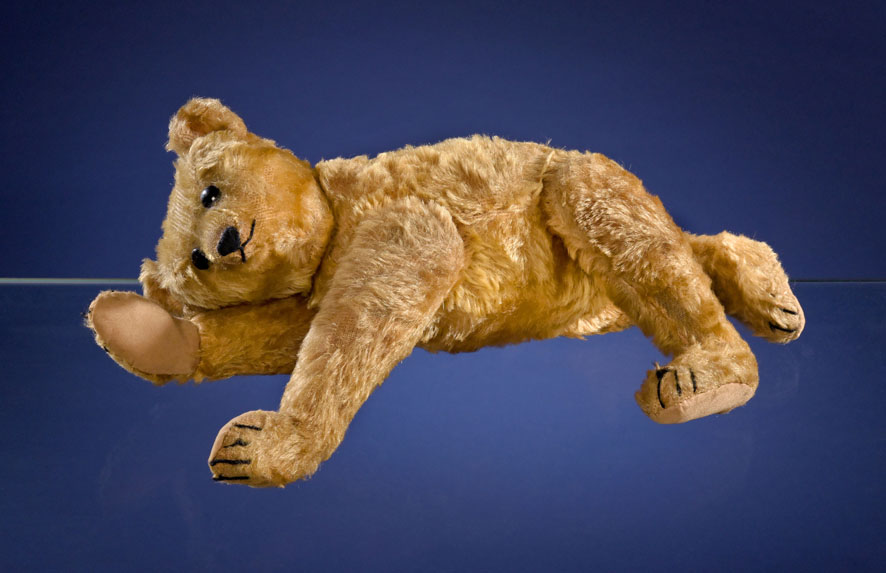 Year: 1904
Animal: Bear
Manufacturer: Steiff
These Steiff teddies are among the company's oldest surviving production models. 1904 saw the release of the PB 28 series, of which just a few complete examples exist today.
As a piece of collector's merchandise, they command a very high price. An auction in 2006 saw the sale of one of them for close to $35,000 dollars.
The bears earned the nickname "rod bears" due to the fact that each of their leg joints consisted of a metal rod.
6. Furby – Considered Rare
Year: 1976
Animal: Frog
Manufacturer: Fisher-Price
Do you remember those toys that looked like frightening birds? The sight of their eyes was enough to give anyone nightmares.
These bird toys from the 1990s have an appearance that can only be described as creepy and are now quite valuable.
The price of a Furby in pristine condition might reach up to $400. On eBay, one of the Millennium Edition Furbys was purchased for the staggering price of $4500.
You can classify your Furby as a rare item if it is in excellent condition, still possesses its original packaging, possesses a specific characteristic, or was produced in a limited run.
7. Steiff Harlequin bear – One of a Kind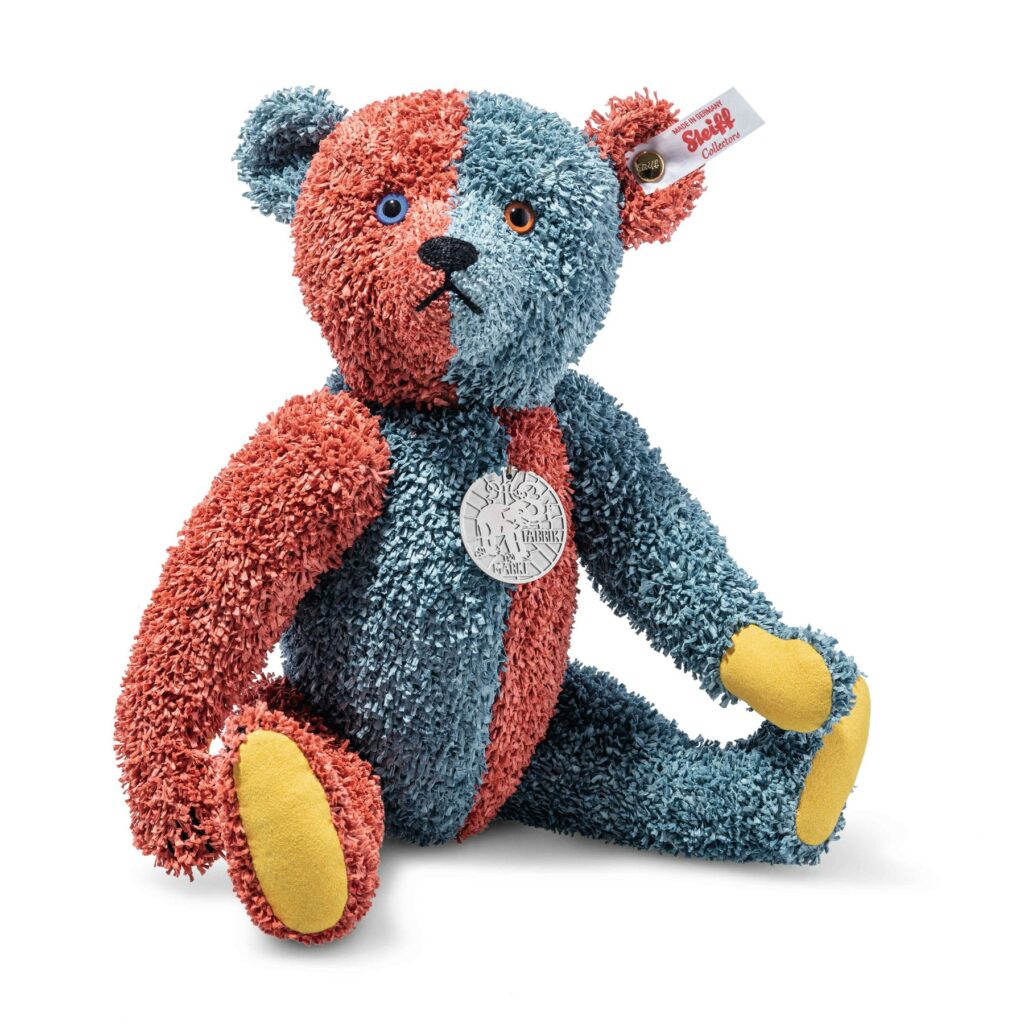 Year: 1925
Animal: Bear
Manufacturer: Steiff
Only one example of this basic tri-colored Harlequin bear was produced by Steiff in 1925 as a sample for the company, and it is still in existence today.
At the annual Steiff Festival in 1999, it was put up for auction, and a collector named Paul Greenwood purchased it for a staggeringly high price of almost $83,000. However, Greenwood would subsequently be convicted of fraud, and his whole collection would be sold at auction.
8. Steiff & Louis Vuitton bear – Most Rare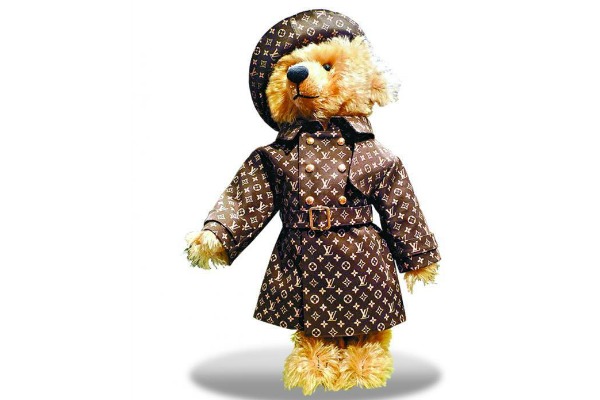 Year: 2000
Animal: Bear
Manufacturer: Steiff & Louis Vuitton
What would you do with a teddy bear that was worth $2.1 million? Does it sound crazy? Yep! In the year 2000, Louis Vuitton and Steiff formed a partnership to collaborate on the design and production of a designer teddy bear.
The outcome was, as was to be expected, the most costly bear in the world. Talk about living the high life: not only does the teddy bear sport a Louis Vuitton-branded designer coat and hat, but he also carries a wonderfully cute small version of the brand's iconic suitcase.
Jessie Kim, who is well-known in the art-collecting community in Korea, is the person who currently owns this piece of artwork.
The bear can now be found in the Teddy Bear Museum in Jeju, which is located in Korea. What a dapper grizzly bear. The Steiff and LV bear is unquestionably the most costly and rare stuffed animal in existence.
Top 8 Rarest Stuffed Animals 2023  [UPDATED]- Newshub360.net
Related Post

Credit: www.Newshub360.net