The 20 Best Restaurants in Mexico City 2023: The vibrant restaurant scene in Mexico City has long been bursting at the seams with tasty street cuisine and tastefully traditional restaurants.
Yet these days, the city is also teeming with native chefs who have eschewed the traditions and training of European cuisine in favor of innovative and entertaining twists on every facet of Mexican cuisine.
When combined with the expanding local and artisanal food movement, which is responsible for obtaining fish directly from the coast, growing fruits and vegetables nearby, and reviving heirloom corn for the finest handmade tortillas, it creates an exciting food scene with an endless variety of options available in every price range and neighborhood.
The 20 Best Restaurants in Mexico City 2023
1. Madre Café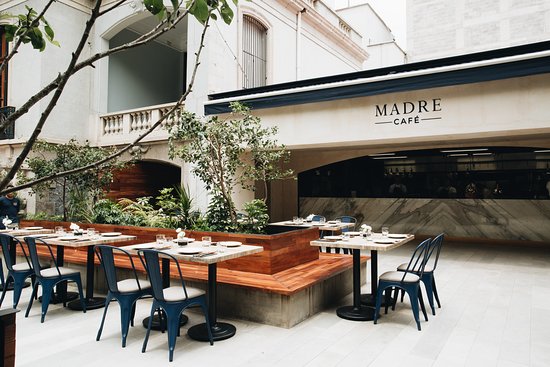 One of the most stylish cafes in Mexico City, Madre Cafe can be found in the Roma Norte neighborhood and offers customers everything they could possibly need in a coffee shop.
It's the ideal place to stop for brunch after a night spent exploring the vibrant nightlife of Mexico City, but as it's open until midnight, you can also visit it in the middle of the night if you choose.
There are a few dishes at Madre Cafe that really stand out. For example, the French toast and the airy pancakes that can be stuffed with items like compote de bananes, Nutella, or mascarpone butter.
Another customer favorite is the assortment of carajillos, which are alcoholic coffee drinks mixed with different types of liquor. I really suggest going for the taro carajillo since not only is it tasty, but it is also exquisitely prepared.
2. Churrería El Moro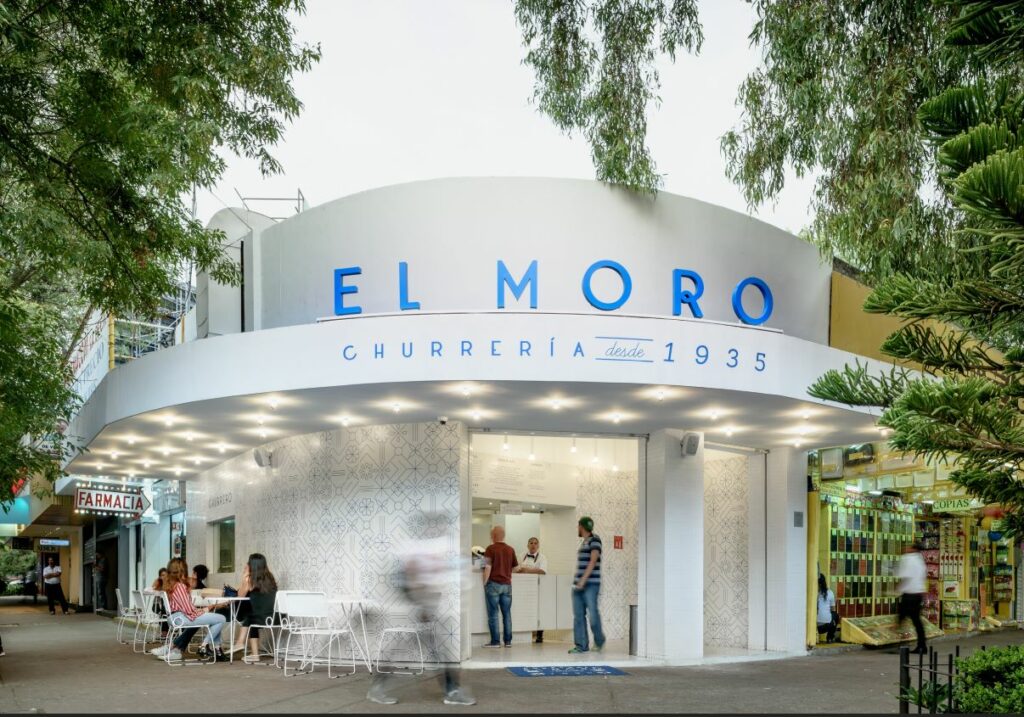 When traveling to Mexico City, tourists shouldn't leave without trying at least one churro. In point of fact, we even include it on our list of the top things to do in CDMX. Churreria El Moro is the greatest spot to acquire them from, in our opinion.
El Moro is well-known in and around Mexico City for its exceptional churros and a variety of unique types of hot chocolate. You're never too far away from these incredible churros thanks to the fact that El Moro has seven separate outlets spread out around the city.
El Moro is an exceedingly busy place due to the fact that it is such a well-liked destination, particularly if you go to the Centro Historico region. You will have to wait in a line that is very long, but I assure you that it will be well worth your time.
3. Huset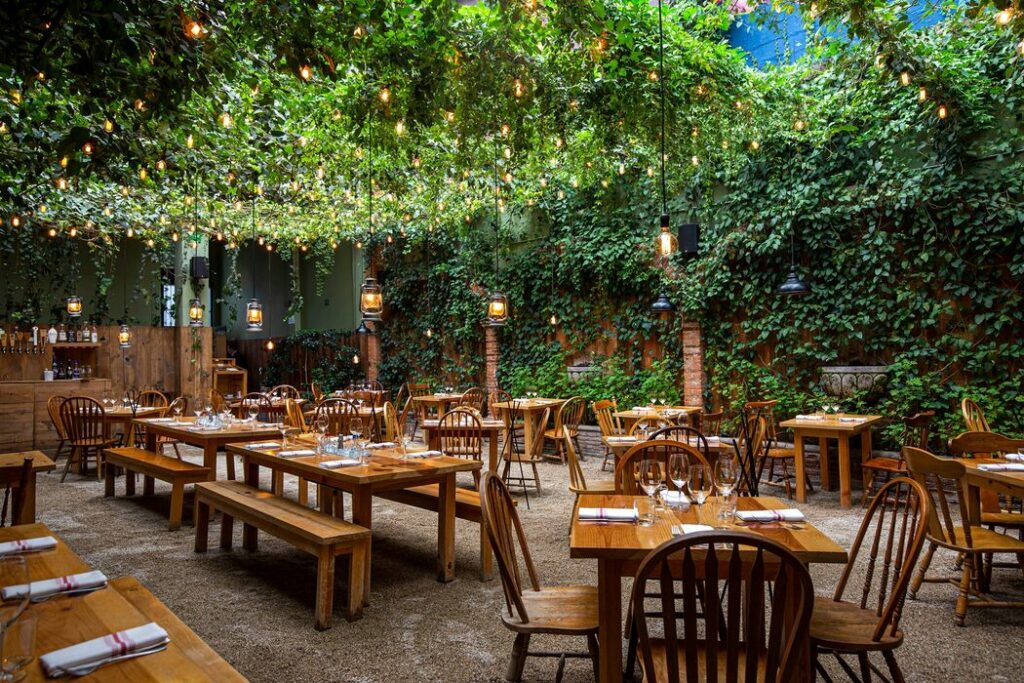 The food and drinks from around the world that are served at Huset have been expertly crafted. But the atmosphere is what really sets it out as one of the top restaurants in Mexico City, and that's why it deserves to be on this list. That can never be topped.
The restaurant Huset, which can be found in the Roma area, is adorned with the kinds of minute details that make you exclaim, "Wow, now this is fine dining!" From a dining room floor that was cleverly designed to look like a chessboard to a patio rooftop that was covered in green vines and twinkling lights.
Be sure to get the avocado pizza and the chocolate cake for dessert if you can find them when you get there if they are on the menu. At Huset, the cuisine is always evolving to make use of whatever seasonal ingredients are currently available.
4. Restaurante Rosetta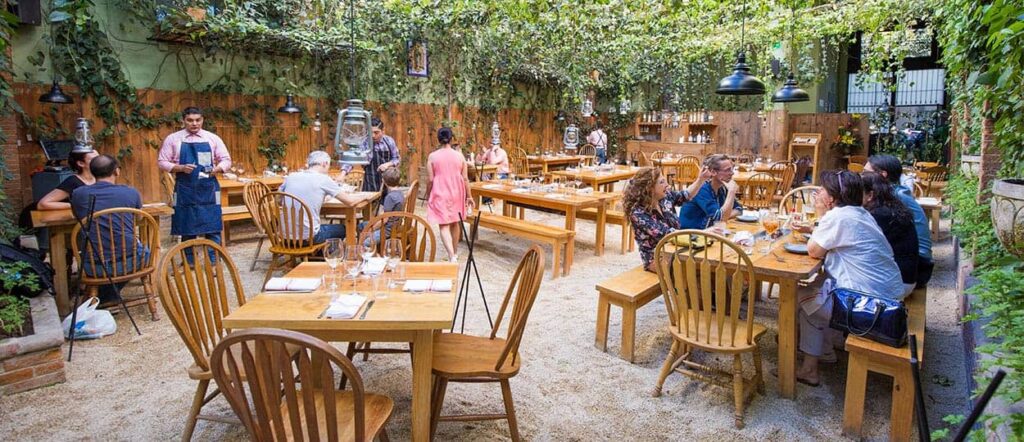 Across all of Latin America, Restaurante Rosetta is famous for elevating the standard of traditional Mexican cuisine to an entirely new level.
Elena Reygadas, who works as the head chef at this establishment, strikes the ideal balance between the visually appealing and flavorful qualities of the dish.
If it doesn't make them one of the top restaurants in Mexico City, then I don't know what does. If they don't have a Michelin star, then they must be doing something wrong.
The restaurant takes full advantage of Mexico City's penchant for greenery by situating itself in a Cuauhtémoc home that has been meticulously renovated. The entire location is replete with flourishes of verdant vegetation in a variety of sizes and shapes.
The beef carpaccio al pastor and the braised beef rib with polenta are two dishes that come highly recommended from me. Yet, you really can't go wrong with anything that the chef Elena Reygadas prepares for you to eat.
5. Café Nin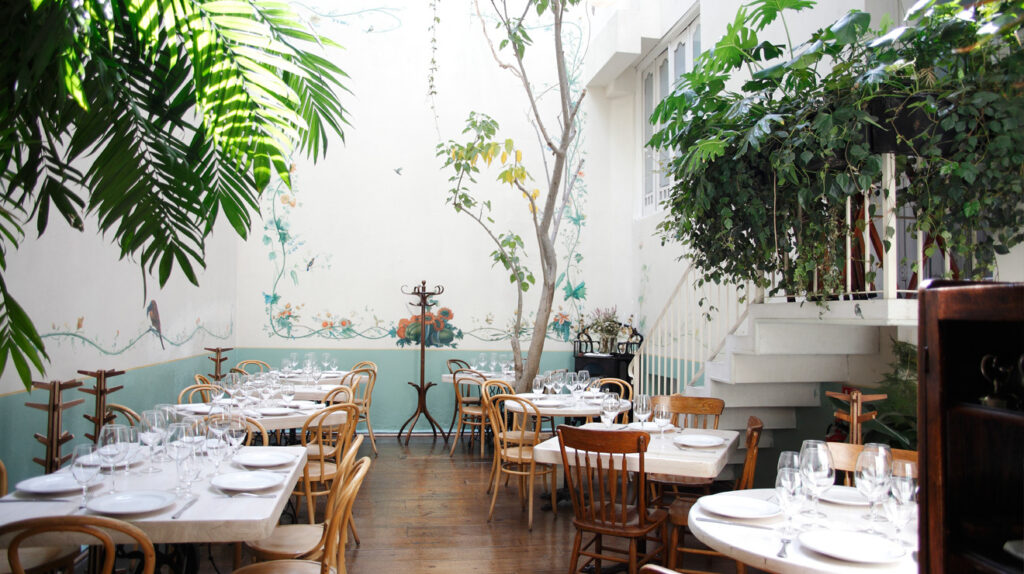 You'll quickly realize that many of Mexico City's hippest cafés, including Café Nin, are among the city's finest dining establishments.
The front of Café Nin features an abundance of greenery and flowers. Then, when you enter the dining room, you are instantly taken to an upscale restaurant with exposed brick and chandeliers. The entire restaurant is bathed in natural light and has an air of sophisticated sophistication throughout.
The breakfast, lunch, and supper options at Café Nin are even more impressive than the establishment's ambiance. Quiche for breakfast, tuna tostadas for lunch, and quail with baby corn for dinner are some ideas to consider.
If you have a craving for some baked goods, you can also find those at Café Nin – the rosemary and sugar bun or the cardamom roll are two options that come highly recommended by me.
6. Maximo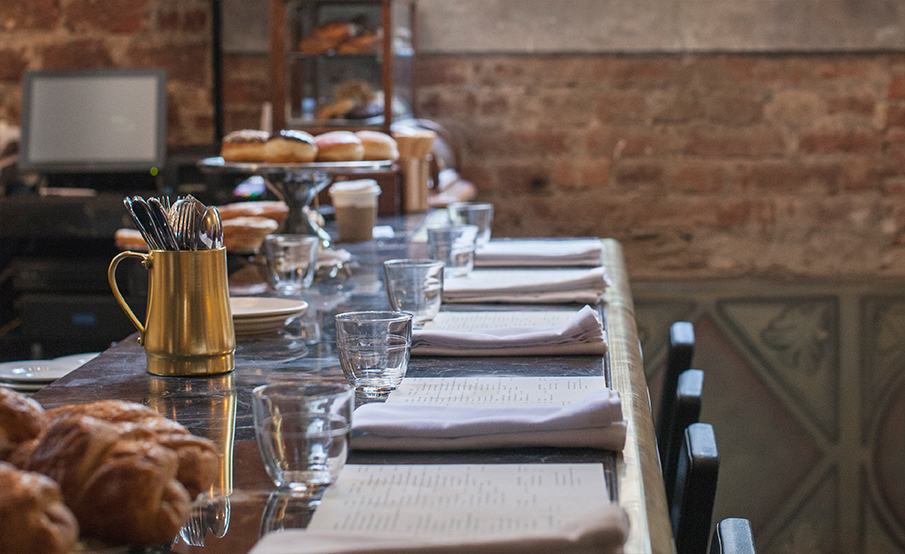 Maximo is situated in the hip and happening Roma neighborhood of Mexico City, and it unquestionably lives up to the expectations of being in one of the most hip and happening parts of the city.
The menu at Maximo is rather comprehensive, with selections ranging from grilled bass with artichoke to BBQ fried chicken created using local ingredients. Other dishes on the menu include grilled octopus and grilled shrimp.
You owe it to yourself to indulge in Maximo's tasting menu, which can be had for 3,200 pesos if this is your first visit to the restaurant and you want to give yourself a little something special (158 USD).
The tasting menu features six mouthwatering specialties from the world of fine dining, such as banana bread topped with caviar, escamotes served with Comté cheese, wagyu beef steak, and s'mores topped with guava and sweet toffee made from goat's milk.
7. Pasteleria Ideal
Mexico City is home to a large number of bakeries, also known as pastelerias, and residents have their pick of a diverse selection of these establishments all across the city. In light of all the available options, I have to say that I have a strong preference for Pasterleria Ideal.
Going to Pasteleria Ideal will in and of itself be a novel experience for you because you are a foreigner. Clients peruse a display area, select the baked products they wish to purchase, and then bring a silver tray full of sweets to the counter to have them packaged. Because they offer such a wide variety of delicious pastries, customers of Pasteleria Ideal may always find something to their liking.
8. Blanco Colima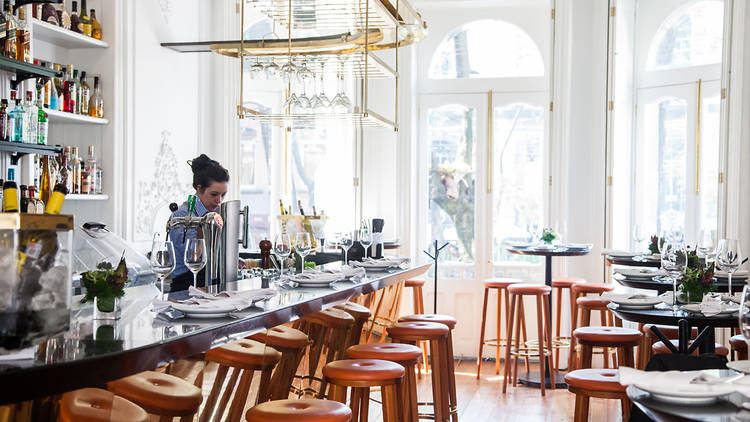 Blanco Colima is regarded as one of the most outstanding dining establishments in Mexico City on account of its hip ambiance, high-end cuisine, and vast drink menu. It is generally agreed upon that Blanco Colima is one of the best restaurants in Mexico City due to the outstanding cuisine that it serves.
It is highly recommended that you go to Blanco Colima if you are in the mood for some inventive cocktails that have been masterfully prepared; however, you should be aware that the menu at this establishment changes depending on the time of year. Once you're there, and if they have it available for purchase, you should definitely give the Whispering Angel cocktail a shot if you can find it.
9. La Docena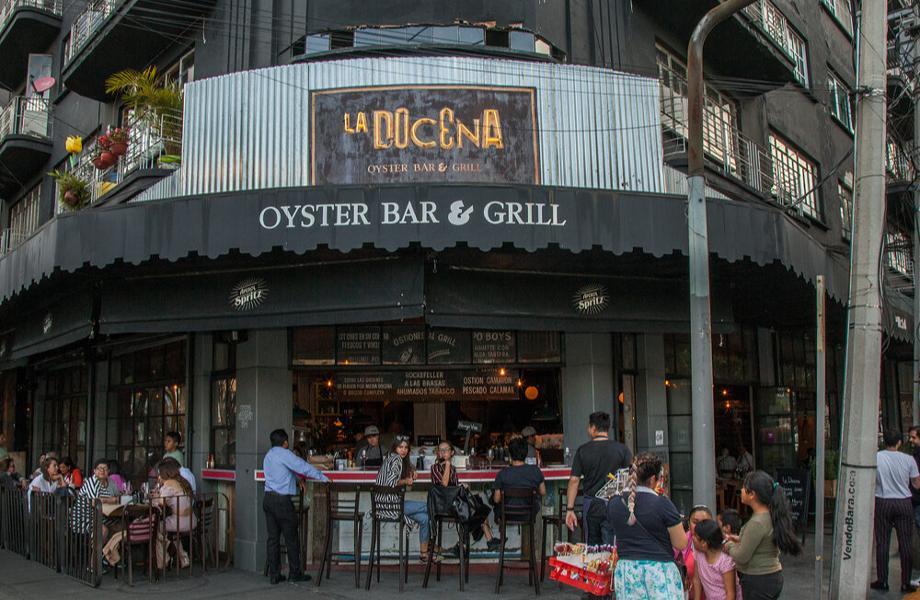 Although though Mexico City is quite a distance from the ocean, you won't have any trouble finding delectable seafood at restaurants such as La Docena.
But, not only is the seafood at La Docena delicious, but the bar also serves up some of the best beverages around, and the ambiance is chill, so you can relax and enjoy your meal there.
The oysters at La Docena are renowned to be some of the best in the world, but you shouldn't miss out on the grilled octopus (puplo a las brasas) or the tuna tostadas while you're there (tostadas de atun).
10. Páramo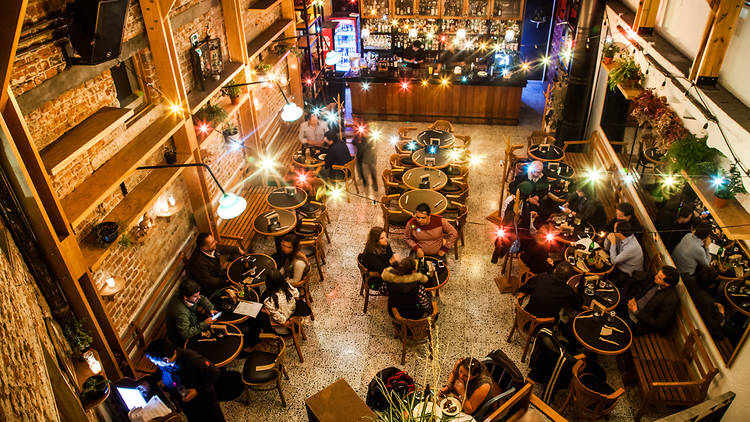 If you are thinking about taking a vacation to Mexico City, I'm willing to guess that you are looking forward to stuffing your face with delicious Mexican cuisine. Paramo is an excellent way to get your meal started.
It is without a doubt one of the top restaurants in Mexico City that serves traditional cuisine, and it is an excellent location to try out a good number of the items that are on my list of the best dishes that can be found in Mexico City.
Páramo offers a wide selection of traditional Mexican comfort cuisine, such as tacos and chalupas, but each of these traditional dishes is prepared in a way that is distinctively their own. To give you an example, take their Costa Azul tuna loin taco; it's completely original and out of this world.
Páramo's beautiful dining room is definitely worth seeing in itself. Customers are able to dine directly under the starry sky thanks to the restaurant's fully see-through rooftop, which also contributes to the "wow" element of the establishment.
11. Merotoro
At Merotoro, when your waitress brings out your food, you will undoubtedly let out a small gasp of astonishment when you notice exactly how stunning the presentation of your dish is.
The fact that each meal is a true culinary masterpiece is, in my opinion, what sets this establishment apart as one of the top restaurants in Mexico City.
Merotoro's menu is organized by courses. Because of this, putting together your own personal tasting menu for supper will be a breeze.
For the first course, I would opt for toast topped with nopal stew, and for the second course, I would choose lamb sausage with bean stew. Then, for the main course, I would order braised eggplant, and for dessert, I would have almond cake with chocolate ice cream.
12. Miralto
La Torre Latino Americano, which is one of the tallest structures in the country, is home to the restaurant Miralto, which serves cuisine from all over the world. Throughout dinner, you will be treated to extremely breathtaking views of Mexico City.
In addition to that, the quality of the foreign cuisine served at Miralto makes it one of the most highly regarded dining establishments in Mexico City.
Those who have had their fill of tacos and are looking for something different to eat will find that this restaurant is the ideal choice. In Miralto, you can always get a margarita and enjoy the panoramic view while you look out over the city, even if you aren't hungry.
13. The Callejeros
While you're in Mexico City, you're going to find yourself at a lot of different taco stands, but you should make sure that at least one of them is Los Callejeros.
The restaurant Los Callejeros can be found in the Historic Center, and although they offer a wide selection of beef meals, they are most well-known for the extensive variety of tacos that they offer.
In addition to the traditional animal fillings for tacos, such as chicken and pork, they also provide a wide variety of meatless and vegetarian fillings. For vegetarian enthusiasts, I'd recommend the chile Rellenos de queso taco.
Also, Los Callejeros is incredibly inexpensive. Each of their tacos costs less than 20 pesos, which is equivalent to one dollar, making it an ideal restaurant for tourists on a tight budget who are attempting to see Mexico City on the cheap.
14. Broka
Because to its delicious food, excellent cocktails, and overall intimate atmosphere, Broka is widely regarded as one of the most outstanding restaurants in Mexico City. I believe that it is among the top restaurants in the entire city for a romantic dinner for two. It just has that ethereal quality to it.
The menu at Broka is updated frequently, particularly in response to upcoming holidays or shifts in the weather. There are occasions when they even provide a selection of samples along with the tasting menu. When you go to Broka, you should absolutely look over their menu options on their website to have a better idea of what they have to offer.
15. Limosneros
The inventiveness of the plates at Limonsneros sets it apart from the other top restaurants in Mexico City that are considered to be among the city's best. The traditional cuisine of Mexico City are given a daring new twist at Limonsneros, which uses ingredients from from Mexico's neighboring areas.
Not only do they display their food in a manner that is out of this world, but the interior decor of the restaurant itself is also very astounding. The rock walls and rope ceiling give it a very unique appearance, which is unlike any other restaurant that I have ever eaten at before.
In the event that you choose to eat at Limosneros, make it a point to order the milpa sour cocktail as well as the taco sampling menu, provided that it is offered at the time of your visit.
16. Azul Historico
If you are a visitor to Mexico City who is looking for somewhere to eat, then you have most likely come across the name Azul Historico more than once in your research.
Because of its notoriety throughout the region, Azul Historico has worked hard to establish itself as one of the most highly regarded restaurants in Mexico City.
That notoriety is completely deserving. They offer mouthwatering delicacies that adhere to both traditional and modern interpretations of Mexican cuisine.
In spite of this, my absolute favorite thing about Azul Historico is the enchanted environment that they've crafted inside of their restaurant. When night falls, the dining room is adorned with trees that shine brightly thanks to the lighting. It is very much like eating in the middle of the woods.
17. La Esquina Del Chilaquil
If you want to sample some deliciously carbohydrate-heavy street food in CDMX, one of the best locations to dine is at La Esquina Del Chilaquil.
The Chilaquil Torta has made La Esquina Del Chilaquil, a street food vendor, famous all over the world. The Chilaquil Torta is La Esquina Del Chilaquil's claim to fame.
This hybrid of two well-known Mexican meals is essentially a sandwich that can be prepared with either red or green chilaquiles as the filling (tortilla chips with red or green sauce).
It may appear straightforward, but man oh man, it really is rather remarkable.
The hours of operation for La Esquina are restricted from 8:00 AM to 12:00 PM. You should also be informed that La Esquina Del Chilaquil is incredibly popular, and so in order to acquire your torta, you will most likely have to wait in a big line, but the wait will be worth it.
18. El Vilsito
When I found out about the idea of El Vilsito for the first time, I thought it was one of the most interesting things I had ever come across.
El Vilsito is a typical auto repair shop by day, but after the sun goes down, it transforms into one of the most highly regarded taco restaurants in all of Mexico City. Many will vouch for how good the al pastor tacos are at this hipster taqueria, which is the epitome of cool.
After a late night on the town, many people head to the El Vilsito restaurant for a bite to eat because it is open until 5 AM on the weekends and until 3 AM during the weekdays. This makes it a popular choice for those looking for a late-night snack.
19. Pujol
When you begin looking for the greatest restaurants in and around Mexico City, you will most likely find Pujol to be one of the first locations you come across. It is the restaurant in Mexico City that comes the closest to earning a Michelin star.
Visitors adore the restaurant Pujol because of the innovative ways in which it uses traditional ingredients to produce magnificent dishes. Really, each and every dish screams that it was prepared in a five-star restaurant.
The wine list at Pujol is of world-class quality and features selections from across North America. Moreover, the restaurant offers a variety of tasting menus. I highly recommend going for a taste of their taco omakase tasting menu, which is modeled by the customs of Japan.
20. Taqueria Miranda
If someone were to ask me, "Where can I get a taco that is considered to be one of the best examples of street food?" They should go to Taqueria Miranda. I'll point them in the right direction.
I found out about Taqueria Miranda by chance while I was out walking my dog because they recently opened a location just around the corner from where I live.
You'll be able to recognize it when you see it since there is always a large group of people milling about the stand and eating tacos.
At Taqueria Miranda, you can get handcrafted fresh tortillas, a big selection of different kinds of meat, and a bar piled high with toppings to choose from.
My personal favorite is their traditional tacos with al pastor, which are wrapped in a corn tortilla and topped with a little bit of green salsa, pickled red onion, and lime juice.
Best Restaurants in Mexico City  2023 :Newshub360.net
Related Post
Credit :www.Newshub360.net