In today's digital age, direct mail marketing can be perceived as an ineffective real estate marketing tool.
However, postcards remain a reliable way to reach potential customers and provide them with information about your business.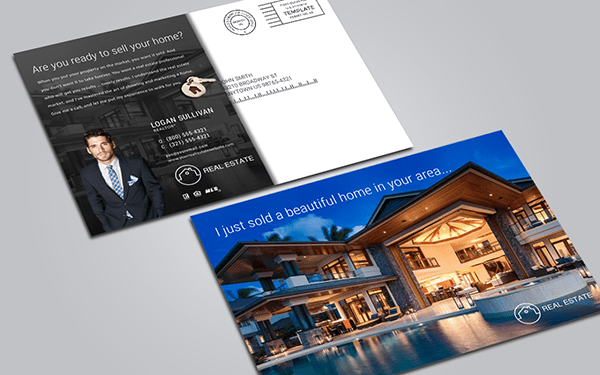 Not only are postcards more cost-effective than other forms of direct mail methods, but they have the potential to generate higher engagement and better ROI.
From increased visibility to developing customer relationships, practical real estate postcard ideas can increase your sales and help you stand out from the competition.
Read this article to learn about the main benefits of sending postcards for your real estate marketing strategy. Also, find some of the best ideas for a real estate postcard that can prove helpful for your business. 
Personalization is Possible
One of the best things about a postal card is that you can personalize them to your target audience. This means that you can include a handwritten or typed message and a photo or image that will resonate with your recipients.
Nowadays, where marketing messages are often generic and impersonal, opting for personalized real estate postcards can make all the difference.
This level of customization ensures that your cards stand out from the rest and that your target audience will take notice of these excellent real estate postal cards. Overall, opting for marketing via postcards is an excellent idea for affordability and versatility. 
Sending cards is one of the most inexpensive marketing tools available to real estate agents. You can reach many clients with your marketing message with just a few cents per card.
Postcards are also easy to design and print, so you can quickly and easily start your marketing campaign.
Some inexpensive marketing options for real estate agents include attending local events, using social media to reach potential clients, email marketing, and using flyers or brochures to advertise your services. Additionally, you can partner with local businesses to offer discounts or other incentives in exchange for referrals.
A Versatile Form Of Marketing
There are many benefits of sending postcards for real estate marketing. One of the essential bonuses is that they are highly versatile.
They can be used to market any property, from single-family homes to multi-million dollar estates. Postcards can also be used to target specific audiences, such as first-time home buyers or luxury home buyers. 
Sending cards is an excellent option if you're looking for a way to make your real estate marketing stand out.
Postcards are a personal and tangible way to reach your target audience, and they can be customized to fit your brand and marketing goals. In this manner, postcards are a refreshing change.
They help you stand out from the competition and make a long-lasting impression on your recipients.
Besides, these are physical objects your recipients can hold onto and refer back to. It makes them more memorable than an email or online ad that can be easily forgotten or ignored.
Some Real Estate Postcard Ideas
Here are some great examples of real estate postcard ideas to help you get started.
Feature a photo of the property for sale or lease – Some trusted companies offer postcards tailored to your needs for your real estate business. You can choose a full color on both sides of the postcard and opt for high gloss stocks with varying sizes. 

Include a brief description of the property, including its location, size, and unique features – Some online companies offer pre-built templates at highly affordable prices. Most businesses choose from these pre-built ideas and templates and are ready for customizing information. 

Highlight any special deals or incentives that are being offered – You can look for companies that provide the facility of customization of postcards and maintaining sophistication. 

Include contact information so that interested parties can get in touch. 
Conclusion
So, postcards are an extremely effective and affordable marketing tool for real estate agents. They are easy to personalize and can be sent to many people with little effort.
Postcards also have a high response rate, so you will likely see results from your campaign.
4 Benefits Of Sending Postcards For Real Estate Marketing – Newshub360.net
Related Post

Credit: www.Newshub360.net