The top 10 Best Basketball Hoops for Kids and Toddlers: I hope that at the end of this article you will have a better understanding of how to select the best basketball hoop for your kids.
The one that is best for you will be contingent on a variety of factors and choices, and I will go over all of those aspects with you so that you can make an informed choice.
The ages of your children and their sizes are going to help you narrow down your options so that you can locate something that is an incredible pick for your family.
You will realize that we have selected our top 10 picks from the available possibilities for the best basketball hoops for children that are now available on the market.
Malcolm Gladwell, a social psychologist, revealed a stunning finding about human behavior in his book "Outliers." It appeared that children do not inherit a natural talent for any one sport.
Their success can be attributed to the fact that they started doing sports at a young age. Because 10,000 hours of practice is the minimum required to become an expert in any given field, the competition to achieve this goal is effectively a race.
Consequently, investing in a basketball hoop for your child is unquestionably a smart option, whether you hope your child will grow up to be the next LeBron James or Lisa Leslie or you simply want to form a stronger connection with them through the game.
You'll find all the information you need to make an informed purchase and get the very finest basketball hoop for your child in this guide:
Top 10 Best Basketball Hoops for Kids and Toddlers
1. Silverback NXT: Portable Basketball Hoop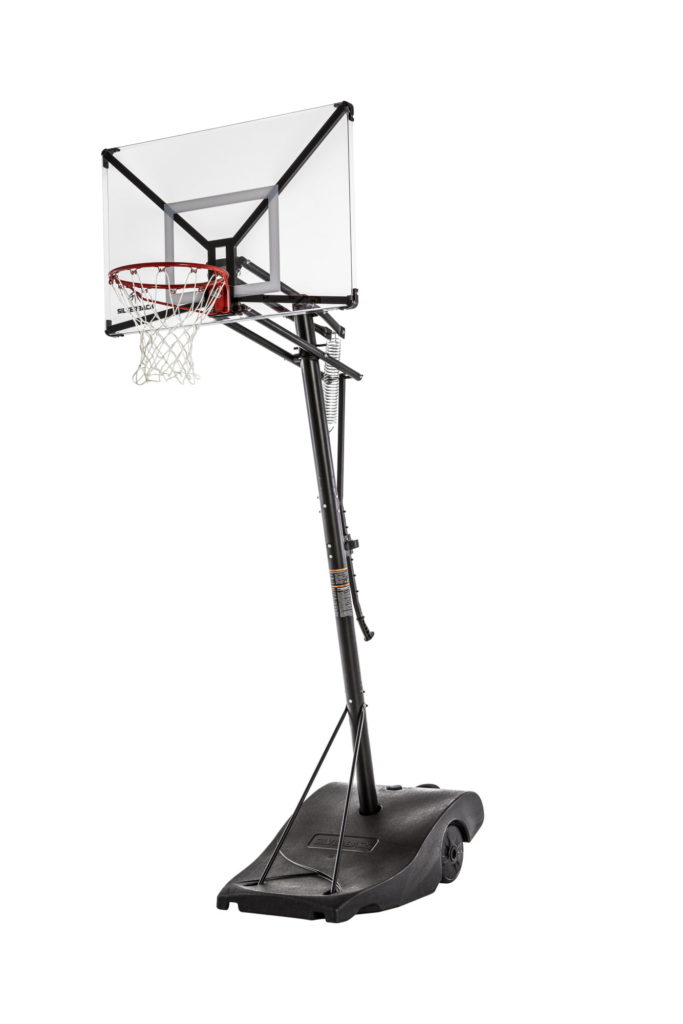 The NXT from Silverback is distinguished by its one-of-a-kind base design. The upright pole is secured to the internal steel frame, which functions as an anchor point. Although the wheels themselves are weighted to provide additional stability, the base must still be filled with water in order to function properly.
The basketball hoop can be moved by inverting it onto its wheels and pushing it like a wheelbarrow. An additional kickstand-like component keeps the hoop from toppling over completely while it is being moved.
The height may be altered by using a latch as the adjustment mechanism, and the process takes around five seconds to complete. There is no age recommendation provided by Silverback for when a child should be able to make adjustments to the hoop on their own. Nevertheless, our 12-year-old manages to do it without any assistance.
Although the springs are not covered, a spring-mounted rim reduces the risk that a slam dunk may damage the backboard. However, because the springs are not protected from the elements, they may not be able to withstand prolonged exposure to wet conditions.
The hoop is of good value, and if you are certain that your children will use it, we believe that this is the ideal alternative, especially if you have younger children who will grow into it.
---
2. Little Tikes Easy Score Basketball Set – 3 Ball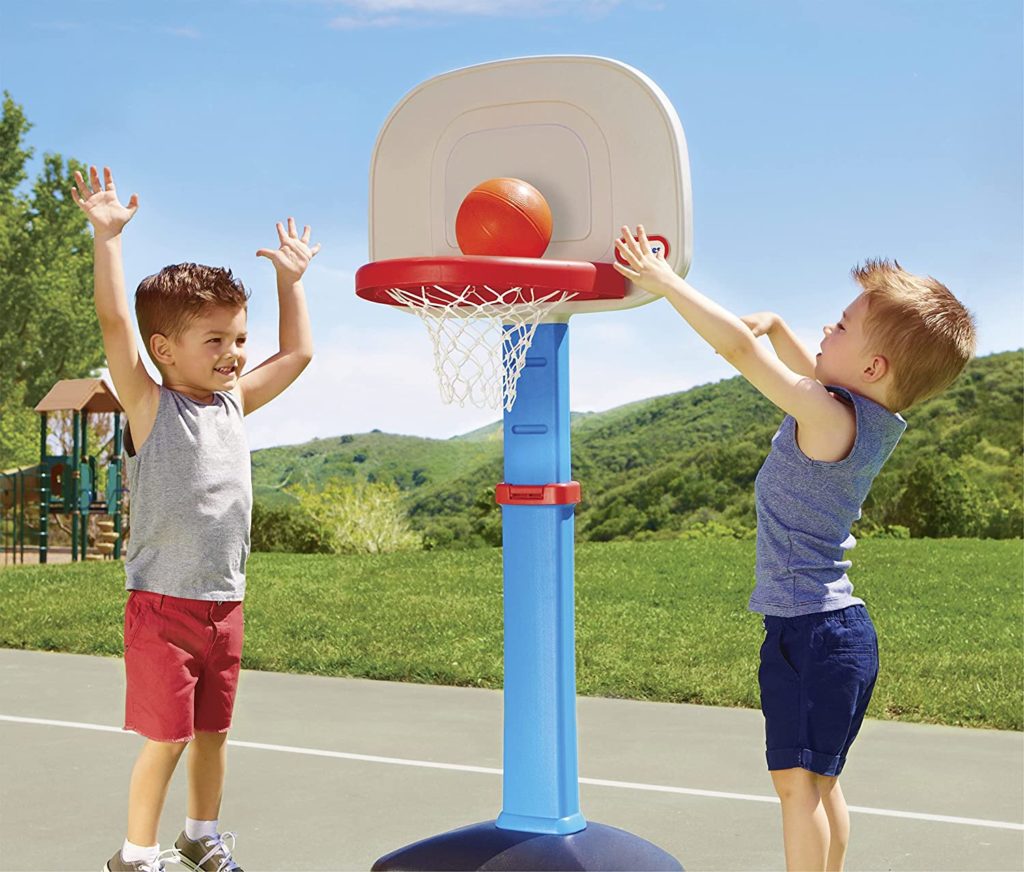 Fun, protection, and long-term use are all prioritized in the design of this hoop. Because it is intended for children aged one to five, the Little Tikes Easy Score Basketball hoop is built to last for a considerable amount of time. And this is the kind of basket that can turn someone into a lifelong fan of the game of basketball.
It comes with three balls, so your child won't have to go chasing rebounds around the room while waiting for his turn to shoot. He is capable of rapid-fire shooting, as he can shoot one ball, then go on to the next ball and shoot it.
This starter configuration is really simple, quick, and straightforward to put together, yet it offers a high level of protection. To prevent the lightweight hoop from toppling over, you add sand to the plastic base, which is not included in the package. However, because the entire rig is composed of flexible plastic, even if it topples over, it will not result in any kind of damage.
In addition, there is a substantial prize associated with this hoop. The rim may be removed so that monster jams can be played, and the goal is larger so that easy baskets can be made. Because it can be adjusted between two and four feet, you can train your kid's range with a taller rim as she gets older even if she's still little. Your little athlete will quickly become addicted to shooting thanks to the rapid-fire nature of the three-ball set and the big rim.
---
3. Little Tikes Adjust and Jam Pro Toy Basketball Hoop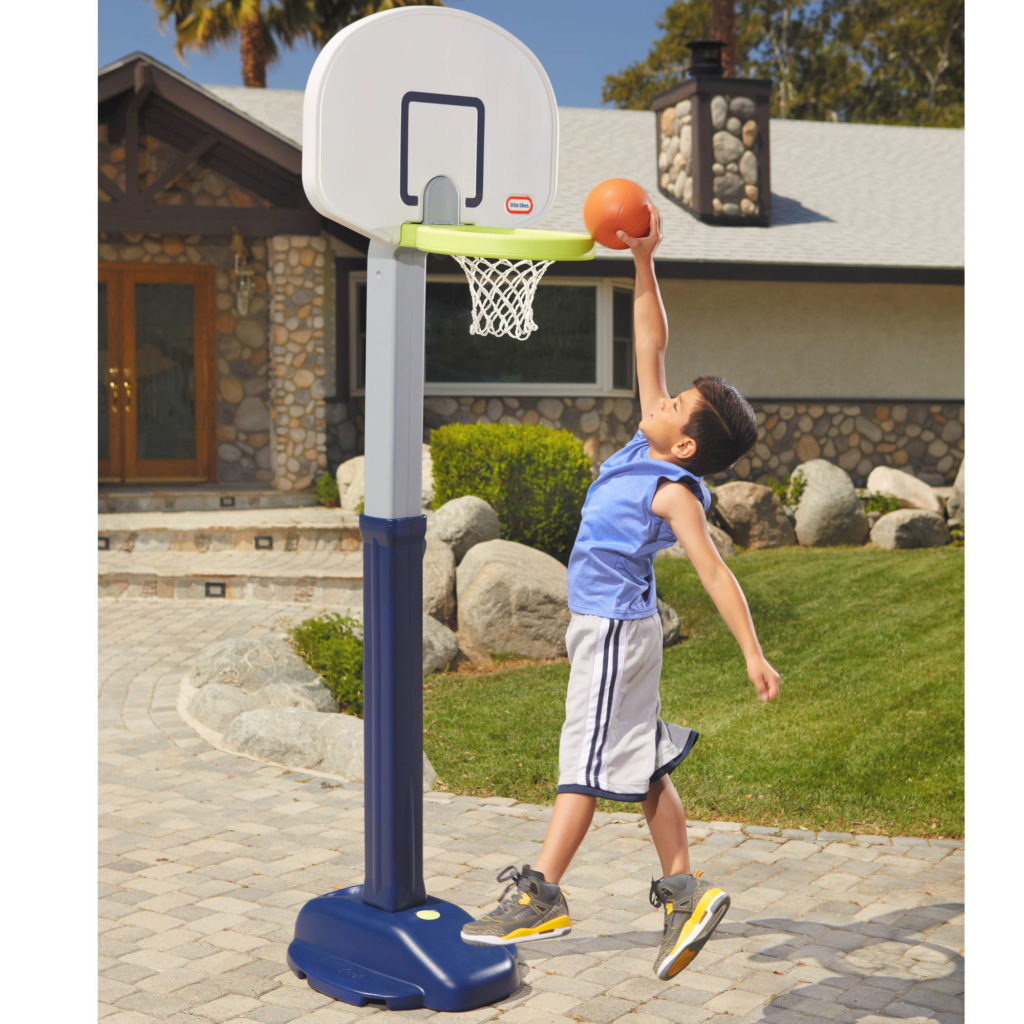 The smaller Little Tikes Easy Score hoop is succeeded by this larger Little Tikes Adjust and Jam hoop, which picks up exactly where the latter left off. It begins to ratchet at a height of 4 feet and can be adjusted all the way up to a height of 6 feet. Because it is made completely of soft plastic, just like its smaller counterpart, it is extremely unlikely that the hoop would cause any harm to the children, even in the event that the assembly topples over.
Because this assembly is significantly bigger than the Easy Score, it's possible that there won't be enough place for it inside. The fact that it can also be used outside is a huge plus. The rim's ability to break apart makes dunking a truly amazing experience. Even while doing an intense dunk, it is impossible to tip the hoop since the rim simply slips away, leaving nothing to pull the hoop down with. This makes it tough to tip the hoop.
The installation is simple, but you will need to purchase additional sand in order to adequately weigh down the base. Even though it just comes with one ball, this set is designed for children who are a little bit older. Children that are interested in basketball typically have a longer attention span than their peers. Because the "Adjust and Jam" is composed of a flexible plastic, you'll know it's time to get a new one when the young ballplayer tears apart the rig.
---
Best Basketball Hoops for Kids and Toddlers
4. Little Tikes Attach 'n Play Basketball Set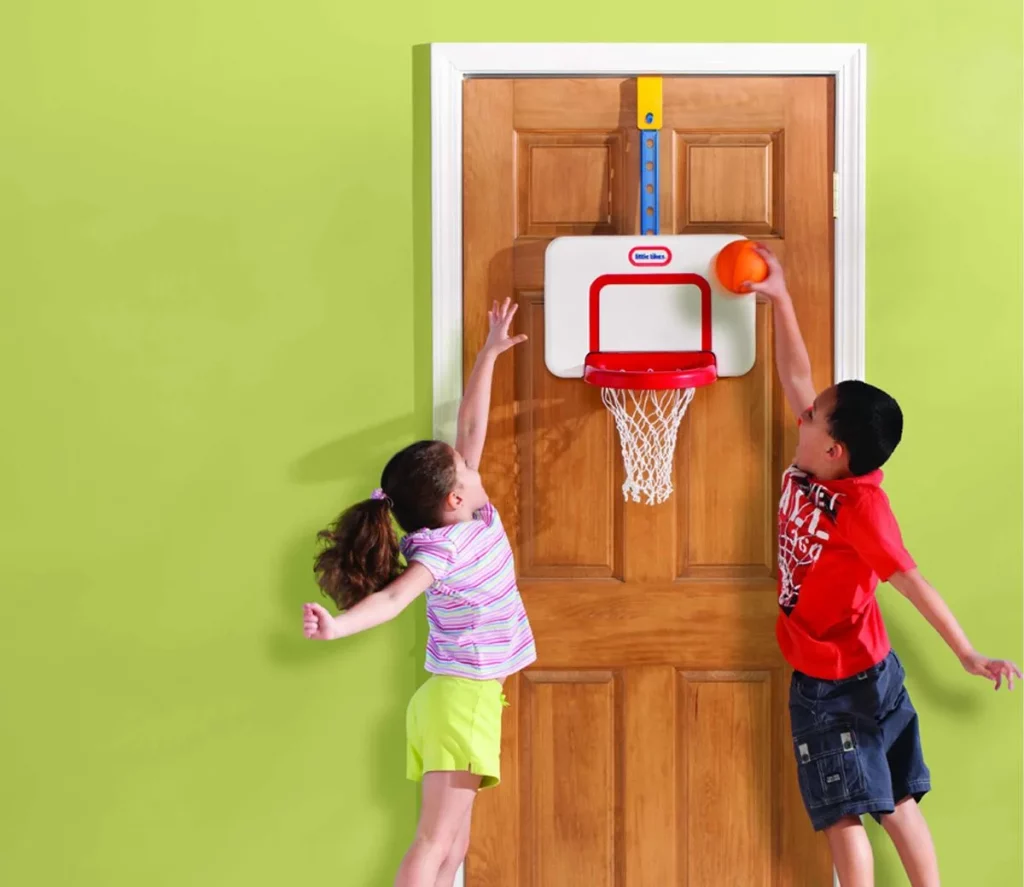 People who don't want to have a cumbersome, sand-filled assembly in their homes will find that the door-mounted basketball hoop is an excellent way to conserve room. This Little Tikes setup has three different height settings, allowing the player to adjust the height of the hoop as they get higher.
These hoops have a propensity to crack at random intervals. Even though the Little Tikes assembly includes a rim that can be broken off, the plastic that attaches the hoop to the door has the potential to be ripped off during a particularly impressive dunk. The motion of opening and closing the door might potentially jostle the assembly and cause it to become dislodged. Even though it is constructed out of a flexible plastic, the backboard has the potential to make a loud noise when it hits the floor.
You must also exercise caution when deciding which door to enter through. Doors that lead to stairways present a potential risk to players because the door could open unexpectedly and leave players in danger of falling down the stairs. In addition, there is always the possibility that someone will walk into the room while the game is going on.
---
5. SKLZ Pro Mini Basketball Hoop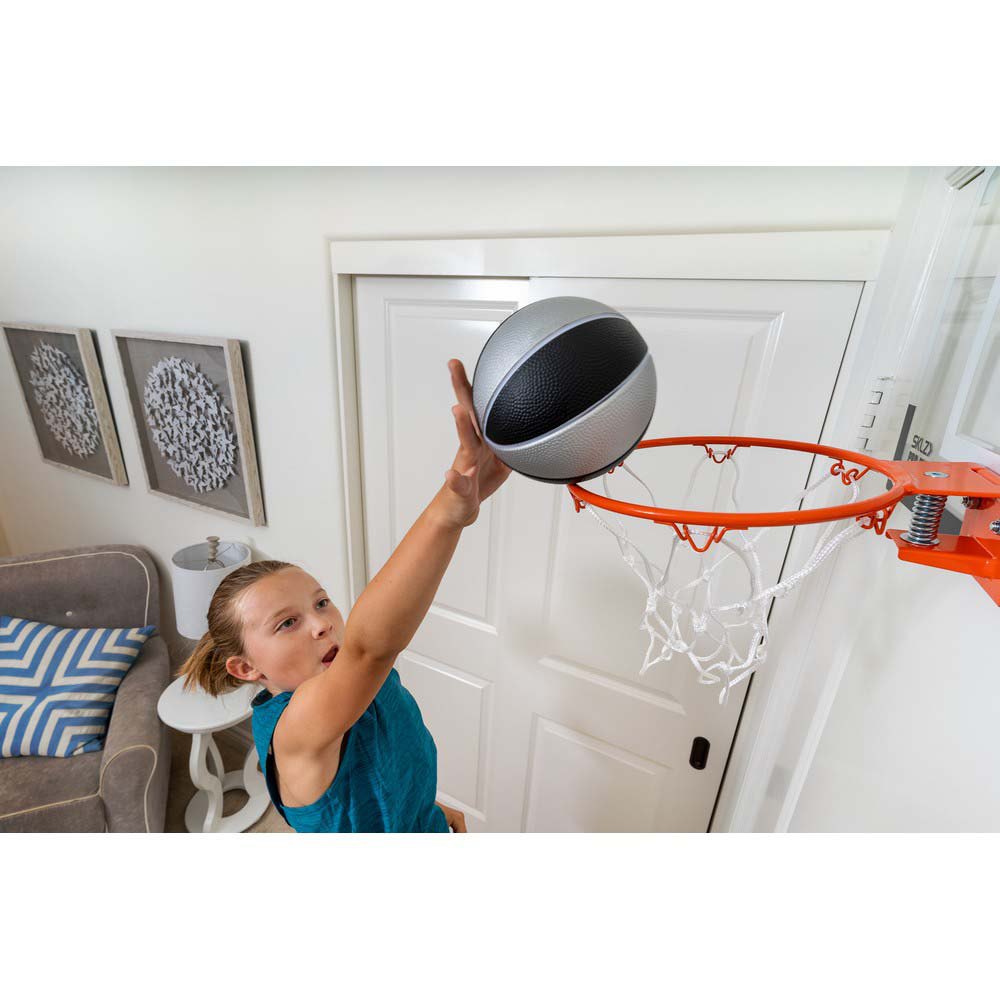 This door-mounted hoop is constructed out of shatterproof fiberglass and comes with a steel rim as standard equipment. The circumference of the hoop cannot be altered in any way. Some people have given up because the rim is unforgiving, and the difficulty of making a hoop has discouraged others.
This SKLZ Pro Mini Hoop, with its court-like feel, is obviously designed for slightly older children who already have some basic basketball skills. If the player is really young and finds it difficult to make a basket, they are likely to lose interest in the game very quickly and you would not want to buy this assembly for them.
Although the same safety precautions apply to the SKLZ hoop as they do to the Little Tikes Attach n' Play, this assembly could be an excellent choice for a more mature child who enjoys playing the game. During the colder months, it stands out as a particularly appealing alternative.
With an older youngster, there is less cause for concern over potential hazards like as falling, the opening of doors, and breaking the hoop with a monstrous jam. After all, there will be no more basketball played if the hoop collapses.
---
6. Lifetime Youth Basketball Hoop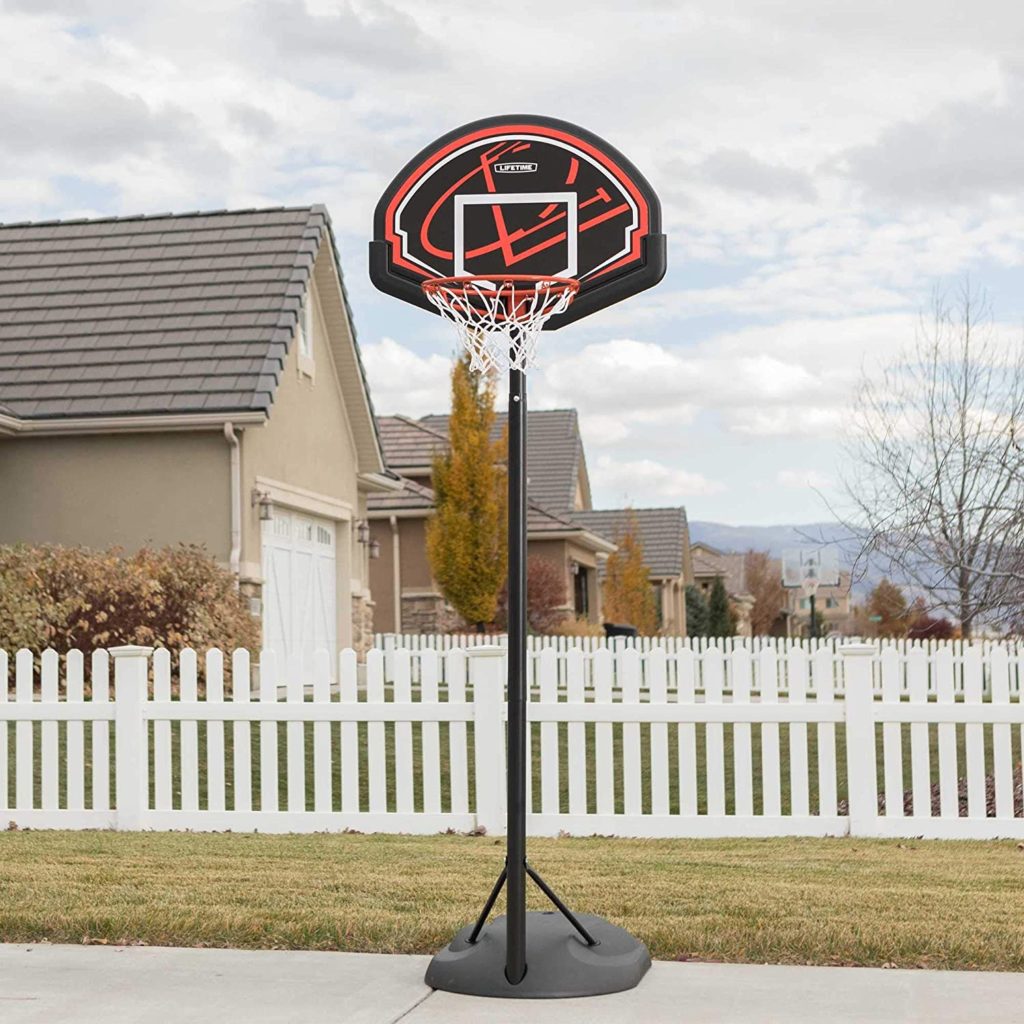 The height of this hoop may be adjusted from five feet all the way up to seven and a half feet. Because the foundation can be loaded with either sand or water, you will be able to save time and money by simply running the hose all the way out to the hoop. It also helps you avoid making a little bit of a mess.
The Lifetime assembly is primarily composed of metal and has a backboard that is resistant to breaking under impact. It does not include a ball in the package. However, the Lifetime hoop presents you with the possibility of financial savings.
The Little Tikes Easy Score is the very first hoop, and it is a plastic hoop that can be adjusted up to a height of 4 feet. Why not immediately switch from the Little Tikes hoop, which has a setting of 4 feet, which is the highest possible setting, to the Lifetime hoop, which has a setting of 5 feet, which is the lowest possible setting? After all, this Lifetime Hoop is backed by a limited warranty that is valid for five years.
If you get them started on the Lifetime hoop as soon as possible, you will get the most use out of your investment.
---
Best Basketball Hoops for Kids and Toddlers
7. Lifetime 1221 Pro Court Portable Basketball System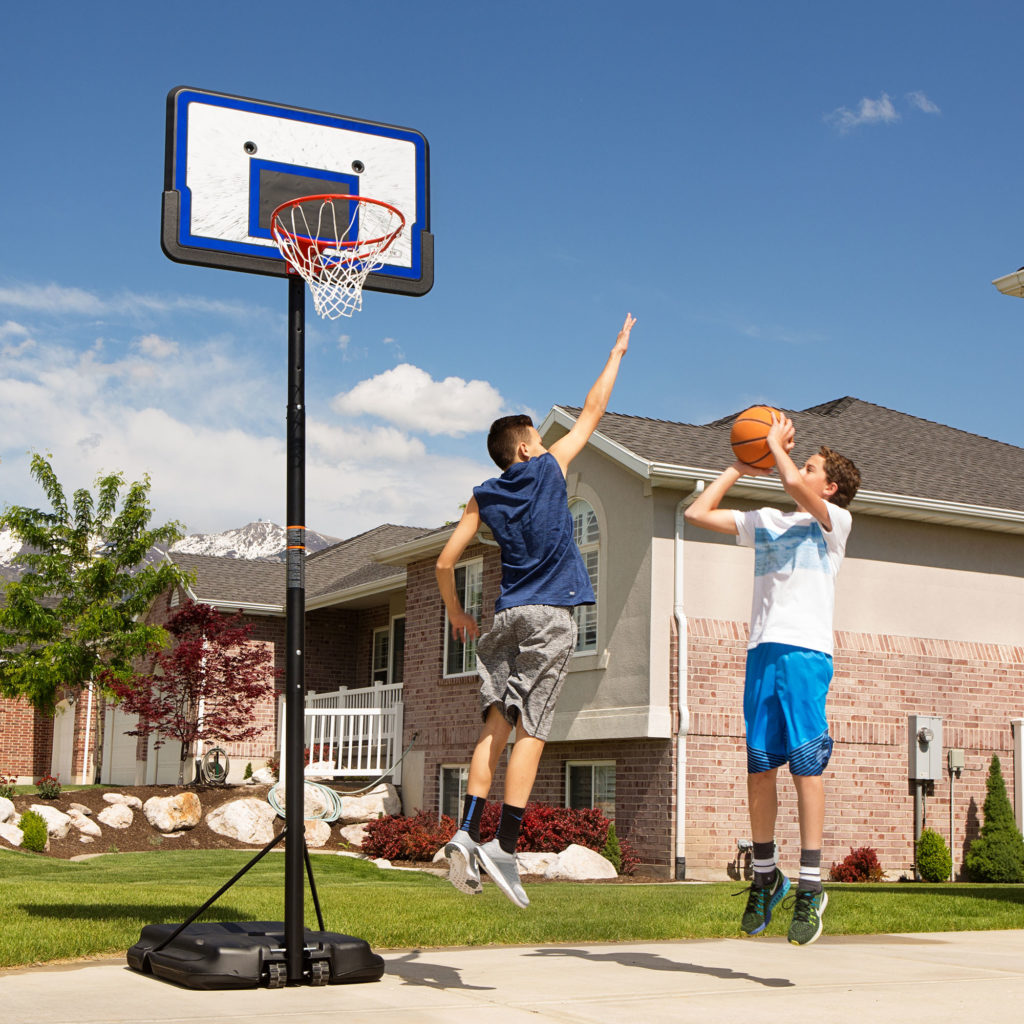 The very last stage. The Lifetime 1221 begins adjusting at 7.5 feet and goes all the way up to the regulation height of 10 feet, picking up exactly where the Lifetime Youth Basketball Hoop left off. The backboard is 44 inches and is almost impossible to crack. The base of the hoop may be filled with either sand or water, depending on your preference. The remaining portions of the hoop are made of metal.
Your young basketball player should now have the fundamental skills of the game, making your concerns about his or her safety somewhat more manageable. Adjusting the height of the hoop such that it is just below dunk height provides an additional layer of protection and protects it from abuse.
The Lifetime 1221 is built to last and is resistant to the effects of all four seasons. Adjusting the height of the rim by six inches at a time will allow your little basketball player to mature into a full-fledged athlete over time. All you need to do is kick back, relax, and enjoy the show. Make sure you check out my article about the best portable basketball hoops if you are interested in purchasing hoops that are both more expensive and of a higher quality.
8. Smartxchoices: Basketball Hoop Arcade Game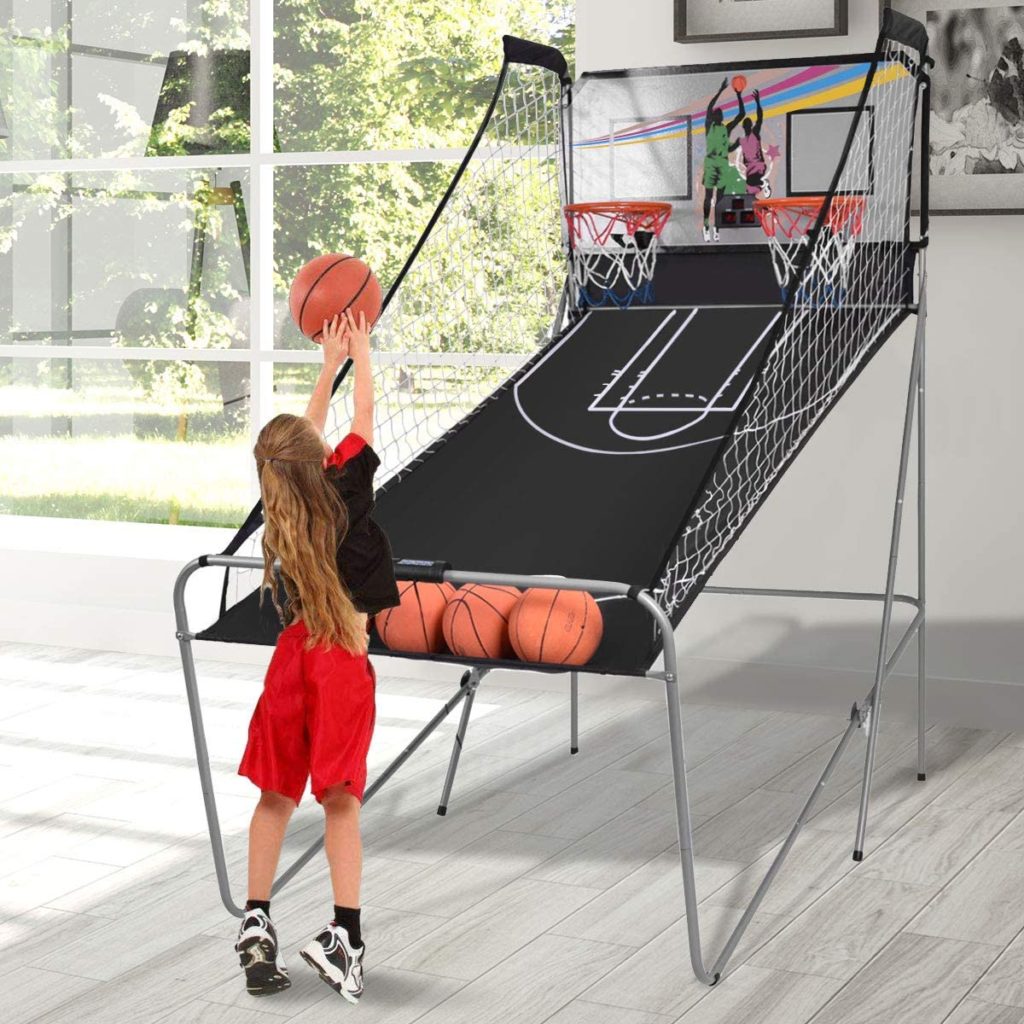 This arcade basketball game by Smartxchoices provides more play value than a typical "shoot-and-score" game because it offers eight different game play settings and three different music options. The inflatable balls and a pump are included with the purchase of the hoops.
The fact that the game keeps track of which shots are successful is one of our favorite aspects of it since it helps keep the more competitive children's disagreements to a minimum. This is especially helpful for competitions involving rapid shooting.
However, although it is close, the hoop sensor is not completely accurate, and it will miss the occasional well made shot. We also saw that whenever the children became particularly rowdy, the game appeared to be a little unsteady, although it was never in any danger of toppling over.
---
9. Franklin Sports: Over The Door Basketball Hoop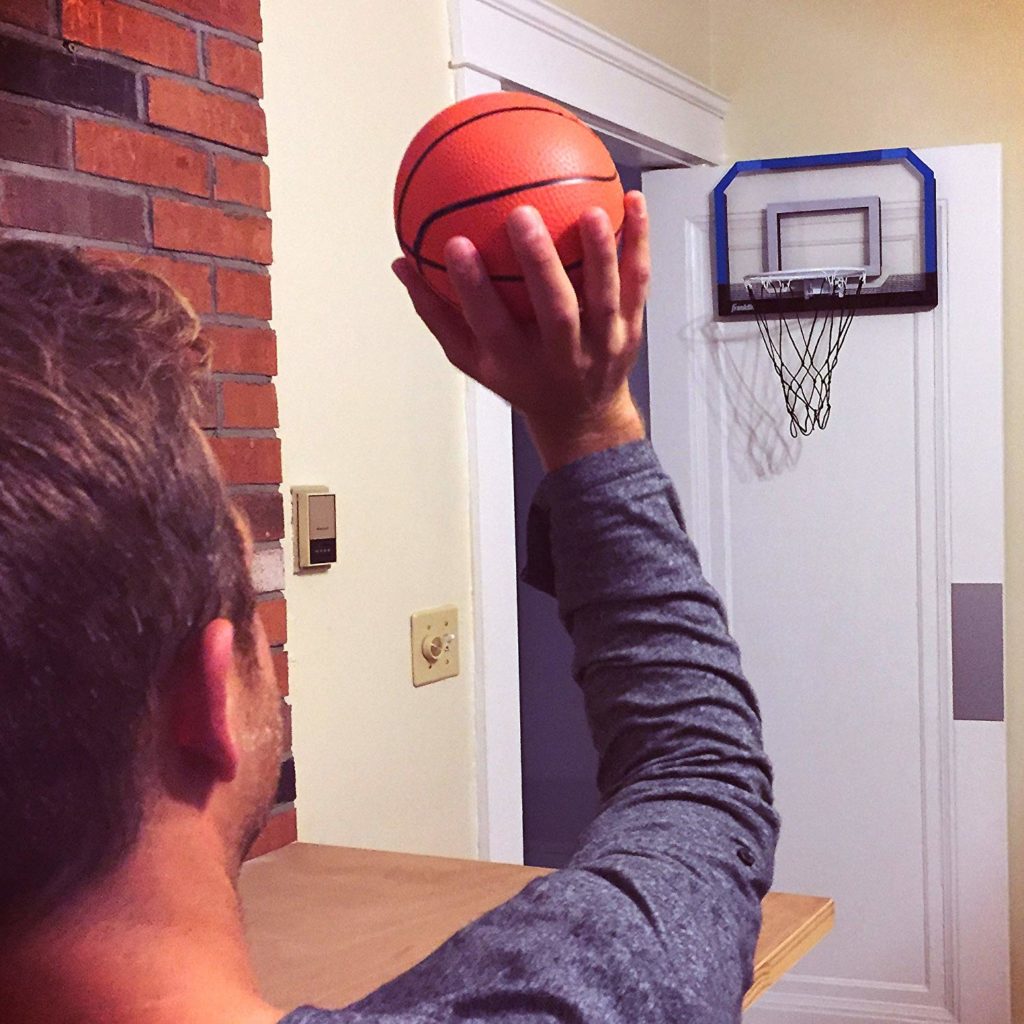 The Franklin Sports over-the-door hoop is your best option if you do not have access to an outdoor area in which you may set up a portable basketball hoop or if you want to practice your shot-making skills inside. Because the hoop has a considerable amount of cushioning, you do not need to be concerned about causing any harm to the door.
When compared to the fixed rings that are featured on some of the more expensive outdoor hoops, the dual-spring rim offers superior quality. When a ball or player makes contact with a fixed rim, this eliminates the stress and damage that can be produced to the backboard.
The inflatable rubber ball measures 5 inches in diameter and has the perfect combination of size and weight for this particular rim. The hoop comes with the ball. You can start playing the game as soon as you get the hoop set up; there is no need to search for a ball that is suitable for the game.
---
10. Ropoda: Glow-in-the-Dark Basketball Hoop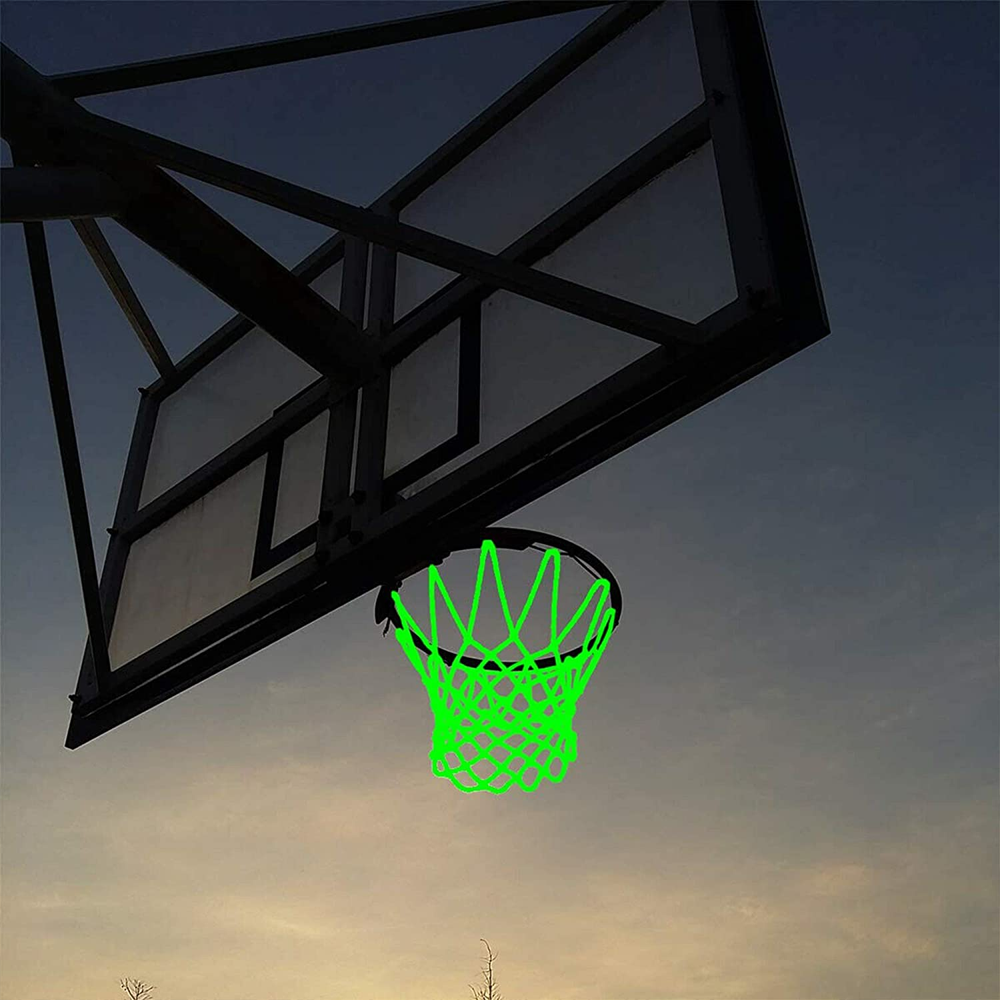 For younger children who are interested in playing with a hoop, a door-mounted hoop and two-ball set like this one is an excellent alternative to consider. It is designed to work with doors that are up to 2 inches wide; however, if the width of your door is significantly less than that, it is recommended that you add a shim or some cushioning.
A layer of foam padding is attached to the backboard and wrapped around the perimeter of the backboard. This is done to avoid causing harm to your door and to cut down on an excessive amount of noise.
The breakaway capability and the fact that the rim is spring attached are also features that appeal to us. In this way, even if the children become very competitive and try to outdo one other with their slam dunks, there is less of a possibility that the backboard will be damaged.
10 Best Basketball Hoops for Kids and Toddlers – Newshub360.net
Credit : www.Newshub360.net