Greatest Players in NFL History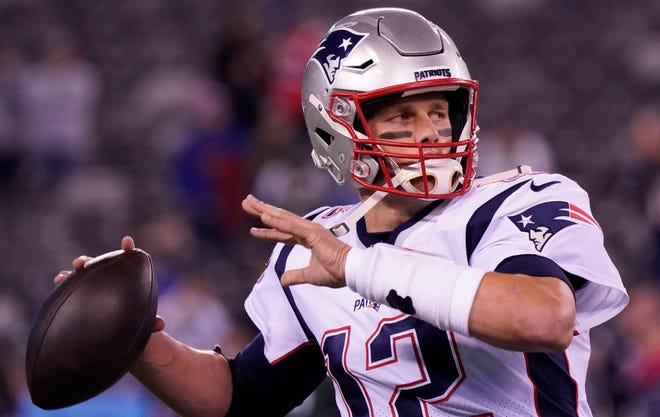 The Top 10 Greatest Players in NFL History:  It's one of the oldest school yard arguments in sports history. How are you expected to measure it with all the different players and styles of play throughout NFL history?
Do you award it to the player with the most impressive stats? Whoever has the most points wins? Or the one who owns the most Super Bowl rings? Is it Jim Brown or Barry Sanders who has the upper hand? What about Joe Montana or Jerry Rice? Peyton Manning or Tom Brady come to mind.
Making this list wasn't easy because there are so many all-time greats to pick from. While most fans expect quarterbacks to dominate this list, you might be shocked to learn who made the cut.
Here is our list of the Top 10 Greatest Players in NFL History, without further ado.
10. Reggie White, Eagles, Packers, Panthers, 1985-98, 2000
Reggie White may have been Buddy Ryan's most devastating creation of all the defensive guys he made into Hall of Fame offense-wreckers. Six days a week, the "Minister of Defense" was a soft-spoken Bible devotee, and on the seventh day of the week, he was a one-man Armageddon for offenders. White still has the second-most career sacks (198 sacks) in NFL history and is widely regarded as the best defensive end of all time.
White was a two-time NFL Defensive Player of the Year, as well as a 13-time Pro Bowl and All-Pro selection. White had double-digit sacks in 12 of his 15 seasons, and over the course of his 232 games, he averaged over one sack per game. Throughout his 15-year career, the Minister of Defense commanded the line of scrimmage, playing well into his late 30s.
9. John Elway, Broncos, 1983-98
Even now, many people regard John Elway as the best quarterback prospect to have ever emerged from college. The Stanford University All-American quarterback possessed unrivaled agility, amazing arm strength, and the ability to win games in the clutch. He lived up to almost all of the expectations that surrounded him coming out of college as he forced his way out of Baltimore and became the quarterback for the Denver Broncos.
Only six quarterbacks in NFL history have thrown for at least 3,000 yards in each of their first 12 seasons. Elway, who was known for tormenting teams (such as the Cleveland Browns) with his late-game heroics, led Denver to 35 comeback wins in the fourth quarter and overtime, tying Johnny Unitas for third all-time. To top it off, Elway became the only quarterback in NFL history to start in five Super Bowls, winning back-to-back titles in his final two seasons.
8. Johnny Unitas, Colts, Chargers, 1956-73
People didn't know how to pronounce his name when he first entered the league. However, by the time Johnny Unitas resigned from the NFL, he had established himself as the man to whom future quarterback legends would be compared. Unitas was chosen to ten Pro Bowls and seven All-Pro teams between 1955 and 1973.
He's one of only four players in NFL history to earn MVP three times. Despite his many accomplishments, Unitas is best known for leading the Baltimore Colts to victory over the New York Giants in the 1958 NFL Championship game, which is widely regarded as the "greatest game ever played" and is credited with igniting interest in professional football in the United States.
7. Peyton Manning, Colts, Broncos, 1998-2016
Peyton Manning could easily be argued to be a few positions higher on this list. To list all of Manning's records set or broken over the course of his 18-year NFL career, you'd need an encyclopedia-sized book. He currently holds the career records for most passing yards, touchdown passes, passing yards in a single season, and touchdown passes in a single season.
Between the regular season and the playoffs, he is the first quarterback to reach 200 career wins. There has never been a quarterback in NFL history who has been named to 14 Pro Bowls and won five MVP awards. His 2-2 record in Super Bowl appearances is the only reason he doesn't take the top spot.
6. Lawrence Taylor, Giants, 1981-93
No defensive player in NFL history is likely to have instilled such fear in opposing quarterbacks as Lawrence Taylor did as a member of the New York Giants. "I've seen quarterbacks look at Lawrence and forget the snap count," his teammate Beasley Reece told the New York Times. Former Philadelphia Eagles offensive tackle Jerry Sisemore is quoted as saying he'd start sweating midway through the week if he had to face Taylor the following week.
Taylor wreaked havoc on opposing offenses to the point where Hall of Fame coach Joe Gibbs changed the way traditional offenses were set up at the time, eschewing a second running back in favor of a second tight end, just to keep Taylor from destroying theirs.
Greatest Players in NFL History
5. Walter Payton, Bears, 1975-87
The Chicago Bears chose another all-time great running back with the 4th overall choice in the NFL in 1975, exactly 10 years after selecting Gale Sayers with the 4th overall pick. Walter Payton's renowned nickname "Sweetness" characterized his disposition off the field for those NFL fans who never had the pleasure of witnessing him play – Payton was anything but sweet on the gridiron.
Payton was a powerful runner who would not go out of bounds and would pound defenders until the game was over. He is one of the Greatest Players in NFL History.
Payton never missed one game in his 13-year career, despite his physicality.
4. Joe Montana, 49ers, Chiefs, 1979-94
When you think about it, there were 81 guys selected in the 1979 NFL Draft before Joe Montana. Montana, on the other hand, went on to become the most decorated quarterback of his generation in the NFL after leading the Notre Dame Fighting Irish to a national championship. Montana won four Super Bowls as the starting quarterback for the San Francisco 49ers, appeared in eight Pro Bowls, and was named to the NFL's All-Pro team five times.
He was the league's MVP in 1989 and 1990, and he became the only player in league history to win the Super Bowl MVP three times. Montana was dubbed the number one clutch quarterback of all time by Sports Illustrated because of his multiple fourth-quarter comebacks.
3. Tom Brady, Patriots, 2000-Current
Tom Brady is living proof that intangibles are considerably more important than raw talent when it comes to the quarterback position in the NFL. Take a look at Brady's credentials: 5 Super Bowl titles, 4 Super Bowl MVPs, 2 NFL MVPs, and 12 Pro Bowl appearances. But this may be the most astounding statistic: Brady has played 16 NFL seasons, excluding the 2008 season when he was injured in Week 1 and missed the rest of the season (not including 2017). Brady has appeared in seven Super Bowls in his 16 NFL seasons.
That means he's appeared in the Super Bowl in nearly half of the NFL seasons he's played!
Whether you like him or not, you can't dispute that he's a winner. Brady has won the AFC East 14 times (an NFL record) and has a record of 214 victories and only 63 defeats in his career. Not bad for a player who was drafted 199th overall in the 2000 NFL Draft.
2. Jerry Rice, 49ers, Raiders, Seahawks, 1985-2004
Jerry Rice's statistics are well-known, including NFL records for touchdowns (205), receptions (1,519), and receiving yards (1,519). (22,466). On paper, those figures may not seem impressive, but let's compare Rice to the #2 player to put things in context. Ready…? Rice has more touchdowns and receiving yards than any other player in NFL history, with 33 and 6,961 yards respectively.
That's three to five further Pro-Bowl-caliber seasons! He is one of the Greatest Players in NFL History.
Rice's work ethic, though, set him apart. Rice's work ethic was, and still is, unmatched, and it's one of the reasons he's considered one of the greatest players in NFL history. He made significant receptions not only in the games that didn't matter, but also in the games that did.
1. Jim Brown, Browns, 1957-1965
Jim Brown, at 6-foot-2 and 230 pounds, was a man amongst boys. Brown outclassed his opponents in terms of size, speed, and strength. He was too quick for linemen and linebackers to tackle him, and he was too strong for defensive backs to stop him. Brown won eight running crowns during his nine seasons in the NFL (1957-1965), and he retired with every key record in the league.
Although other backs have eclipsed Brown in the record books, fans should remember that the regular season was 12 games from 1957 to 1960 and 14 games from 1961 to 1965 when Brown was playing. Brown holds the record for most yards per game in NFL history with 104.3 yards per game, which he has held since his retirement in 1965.
Greatest Players in NFL History – Newshub360.net
CHECK THIS OUT:
♦  Top 20 Highest Paid Footballers in South Africa 2023
♦  Top 20 Highest Paid Footballers at Mamelodi Sundowns 2023
♦  Top 20 Highest-Paid Footballers at Kaizer Chiefs [ Billiat is 2nd ]
♦   Top 20 Highest Paid Footballers at Orlando Pirates 2023
♦   Top 20 Highest Paid Footballers at Supersport United 2023
♦   Top 20 Highest Paid Footballers at Royal AM 2023
♦  Top 10 South African Footballers Who Went Broke After Retirement
♦  Top 10 Richest Football Club Owners in South Africa [ Motsepe is 2nd]
♦  Top 10 Most Expensive High Schools in South Africa 2023
♦  Top 10 Richest Football Clubs in South Africa
Credit : www.Newshub360.net