Top 10 Greatest Footballers of All Time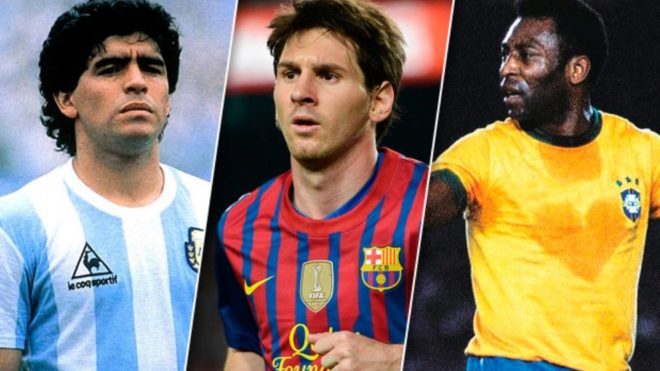 The Top 10 Greatest Footballers of All Time : All through football's history, there are names to be remembered as the bests. From Pele to Maradona and Messi, here are the Greatest Footballers of All Time in football history.
The world of football is one of the most mesmerizing ones, and the football players are with no doubt the ones to make this world such an amazing one. No one can deny the fact that some football players play a much more important role as they perform such an art, running through the pitch with the ball. We all have the experience of being frozen up in front of the TV, while watching an exciting football match and that's only thanks to these outstanding players. But who are the best football players in the world?
In today's article we have brought you the Greatest Footballers of All Time in the soccer history. But still we have to remind you that these names are just a few in the ocean of the "best soccer players of all time"
If it weren't for the fact that football (soccer) is played in a physical environment, the creativity and ingenuity that characterize the beautiful game would elevate it to the status of an art form. Football differs from the majority of other sports in that it allows its players to express themselves freely on the field. While baseball players and cricketers are restricted to certain motions, footballers are free to shoot, pass, tackle, and dribble the ball in any number of ways, allowing the game's most gifted players to reach the pinnacle of their respective sports' prominence.
The Top 10 Greatest Footballers of All Time.
10. George Best, Northern Ireland
Even though George Best's professional life was marred by alcoholism, his talent was practically without equal. Known for his dribbling prowess, he was a star for Manchester United during his tenure there, winning the 1968 European Cup and two Premier League titles. With 205 goals in 579 games as an offensive midfielder, he was awarded the Ballon d'Or in 1968 for his outstanding performance.
Because Northern Ireland has never been a dominant power in international football, he was never able to make an impression on the international scene. His drunkenness caused his career to fall apart quickly when he was 28 years old, and he was never able to attain the success that his talent had promised.
9. Zinedine Zidane, France
One of Zidane's greatest assets is his individual ability. Other attributes include ball control, physical strength, and passing. His best performances generally came in the most crucial games, exhibiting a strength of character that is not commonly seen in other athletes. In 789 games as a central midfielder, he scored a total of 159 goals.
His national team, France, won the 1998 World Cup as well as the 2000 European Championships. He earned three Serie A titles and one European Cup during his time with Juventus and Real Madrid. After retiring from playing, Zidane applied his intelligence to the coaching of Real Madrid, bringing them to three consecutive European Cup victories.
8. Alfredo Di Stéfano, Argentina
Alfredo Di Stéfano has to be the first forward on the list to be considered. He was a prolific goalscorer at Real Madrid, scoring 511 goals in 702 appearances during his time there. He wasn't your typical striker, however, as he appeared all over the field, tackling, passing, and generally taking control of the game. He was the greatest well-rounded player to have ever graced the game.
With Real Madrid, he amassed an incredible five European Cups, scoring in each of the five championship matches. During his playing career (1945–1966), he earned a total of 13 league championships. His international record is poor as a result of his failure to appear in a World Cup, however he did represent Argentina in the Copa America. He is one of the Best Soccer Players of All Time.
7. Ferenc Puskás, Hungary
Ferenc Puskás was arguably the most accurate goal-scorer in the history of the game. The combination of his finishing talent with his general intellect and ability to invent new abilities (like as the drag-back) allowed him to score an incredible 700 goals in 705 appearances during his professional career (1943–1966), which was a world record at the time.
He was a three-time European Cup winner and five-time La Liga champion with Real Madrid. In Hungary, he added five more league titles to his tally. Hungary reached the 1954 World Cup Final under his guidance at the international level.
6. Franz Beckenbauer, Germany
Franz Beckenbauer was a sweeper (a ball-playing defender who contributes to attacks), but it didn't stop him from scoring 111 goals in 776 appearances for Germany and Bayern Munich during his time in the international game. The same way that Gianluigi Di Stéfano was never in one place at a time on the football field, he was literally everywhere at once, influencing the game and exerting his influence while "sweeping up" opposition attacks that broke past the defensive line.
When you combine Beckenbauer's leadership skills with his dribbling, passing, and all-around technical ability, you have one of the greatest players in history. During his club career, he won the 1974 World Cup, the 1972 European Championships, three European Cups, and eight league titles, as well as three European Cups and eight league titles.
5. Michel Platini, France
Michel Platini was an attacking midfielder who played in 652 games and scored 353 goals. A superb playmaker and free-kick taker, he paired these attributes with ruthless goalscoring abilities to achieve success. It was almost entirely on his shoulders that France qualified for the 1984 European Championships, scoring nine goals in the process. In his club career, he won three league crowns and the European Cup with Juventus, as well as the Italian Super Cup.
Michel Platini is one of the Greatest Footballers of All Time.
4. Zico, Brazil
Even though Zico was frequently omitted from top-ten rankings owing to a lack of accomplishments, his footballing skill was never in doubt. Not only was he a prolific goalscorer, but he was also a wonderful goal creator, possessing a deft touch and the ability to generate one-of-a-kind shots and skills. He finished his career with 527 goals in 769 games. As an attacking midfielder, he enhanced his abilities even further by adding heading skill and free-kick proficiency to his repertoire, resulting in one of the most complete offensive players in history.
The legendary Liverpool team of the 1980s looked like amateurs in the 1981 Intercontinental Cup, thanks to his performance. He also won the Copa Libertadores, which is South America's equivalent of the European Cup, as well as four league championships.
3. Johann Cruyff, Netherlands
Having the talent, control, and strength of Zidane, as well as the dribbling and pace of George Best, Johann Cruyff was a formidable opponent. He was the complete footballer, blending beautiful grace with clinical ability and calculating brains to create the ultimate footballer.
Cruyff was also a prolific goalscorer, with 401 goals in 710 appearances for the club while playing in attacking midfield. He was able to win three European Cups and ten league crowns, but he was unable to secure an international medal for his efforts. He is one of the Greatest Footballers of All Time.
2. Pelé, Brazil
Pelé was the ultimate goal-scoring machine in his home country of Brazil, and he is frequently regarded as the greatest player to ever play the game. In 1366 games, he amassed an astounding total of 1,282 goals. His sheer force, strength, speed, and dribbling ability enabled him to score all kinds of goals for the sake of it.
He extended his goal-scoring prowess to the World Cup, where he helped Brazil win the event three times in a row (1958, 1962, 1970). He has won two Copa Libertadores and five Liga titles during his career. As a result of these successes, he found himself in teams with other extremely good players, such as Garrincha and Carlos Alberto. He became a symbol for these teams, and as a result, he is frequently attributed with receiving all of the accolades and recognition.
1. Diego Maradona, Argentina
Diego Maradona possessed unquestionably the finest footballing talent the world had ever seen. With his dribbling ability, his goal-scoring was distinct and clinical, and his passing and crossing were precise, garnering him a slew of assists during the course of his professional career. In 680 appearances, he scored 345 goals for the attacking midfield position.
While his career was far more challenging than Pelé's in many ways, he was still able to win the 1986 World Cup with Argentina in addition to three league titles and one UEFA Cup with Napoli. He scored one of the best goals in the history of the game against England. He is considered by many as the Greatest Footballers of All Time.
CHECK THIS OUT:
♦  Top 20 Highest Paid Footballers in South Africa 2023
♦  Top 20 Highest Paid Footballers at Mamelodi Sundowns 2023
♦  Top 20 Highest-Paid Footballers at Kaizer Chiefs [ Billiat is 2nd ]
♦   Top 20 Highest Paid Footballers at Orlando Pirates 2023
♦   Top 20 Highest Paid Footballers at Supersport United 2023
♦   Top 20 Highest Paid Footballers at Royal AM 2023
♦  Top 10 South African Footballers Who Went Broke After Retirement
♦  Top 10 Richest Football Club Owners in South Africa [ Motsepe is 2nd]
♦  Top 10 Most Expensive High Schools in South Africa 2023
♦  Top 10 Richest Football Clubs in South Africa
Credit : www.Newshub360.net