Most Expensive Audi Cars in the World 2023: Audi automobiles are widely recognized as being among the most aesthetically pleasing and technologically advanced automobiles now available.
Audi automobiles are known for drawing attention wherever they go due to their streamlined exteriors and opulent interiors. However, the greatness of these automobiles is not solely attributable to their stylish appearance.
In addition to this, they provide exceptional performance as a result of the potent engines and Quattro all-wheel drive system that they have. In addition, Audi automobiles are recognized for having a high build quality, which places them among the most dependable models available today.
It's no secret that Audi makes some of the most opulent and pricey automobiles on the market today. This is due to a variety of factors, such as the premium quality of the components and materials utilized, the cutting-edge engineering and technology that goes into each vehicle, and the fact that Audi is regarded as one of the most prestigious brands in the automotive business.
When you purchase an Audi, you are investing in a motor vehicle that has been meticulously conceived and constructed in accordance with stringent requirements. You may have full faith that your automobile will not let you down and will provide a comfortable trip.
If you decide to sell your Audi at some point in the future, you may anticipate a healthy return on your initial investment because Audi vehicles maintain their value very well. An Audi vehicle is certain to fulfill your requirements, whether you are searching for a status symbol or simply want to take advantage of the very best that the automotive industry has to offer.
12 Most Expensive Audi Cars in the World 2023
With a starting price of $160,900, the Audi R8 Spyder is the most expensive Audi vehicle that is currently available on the market in the year 2023. It comes equipped with a 5.2-liter V10 engine that is capable of generating 562 horsepower and 406 lb-ft of torque.
A seven-speed dual-clutch transmission and all-wheel drive are also included in the Spyder's feature set. The vehicle has a top speed of 200 miles per hour and can accelerate from 0 to 60 miles per hour in 3.2 seconds. The R8 Spyder has a starting price of $160,900, which places it squarely in the position of being Audi's most expensive model.
However, the fact that it is a unique combination of luxury and performance justifies the high price tag that it carries. The R8 Spyder is the most costly Audi currently available, thus it is guaranteed to attract attention wherever it goes.
1. Audi R8 Spyder — Price Starts at $160,900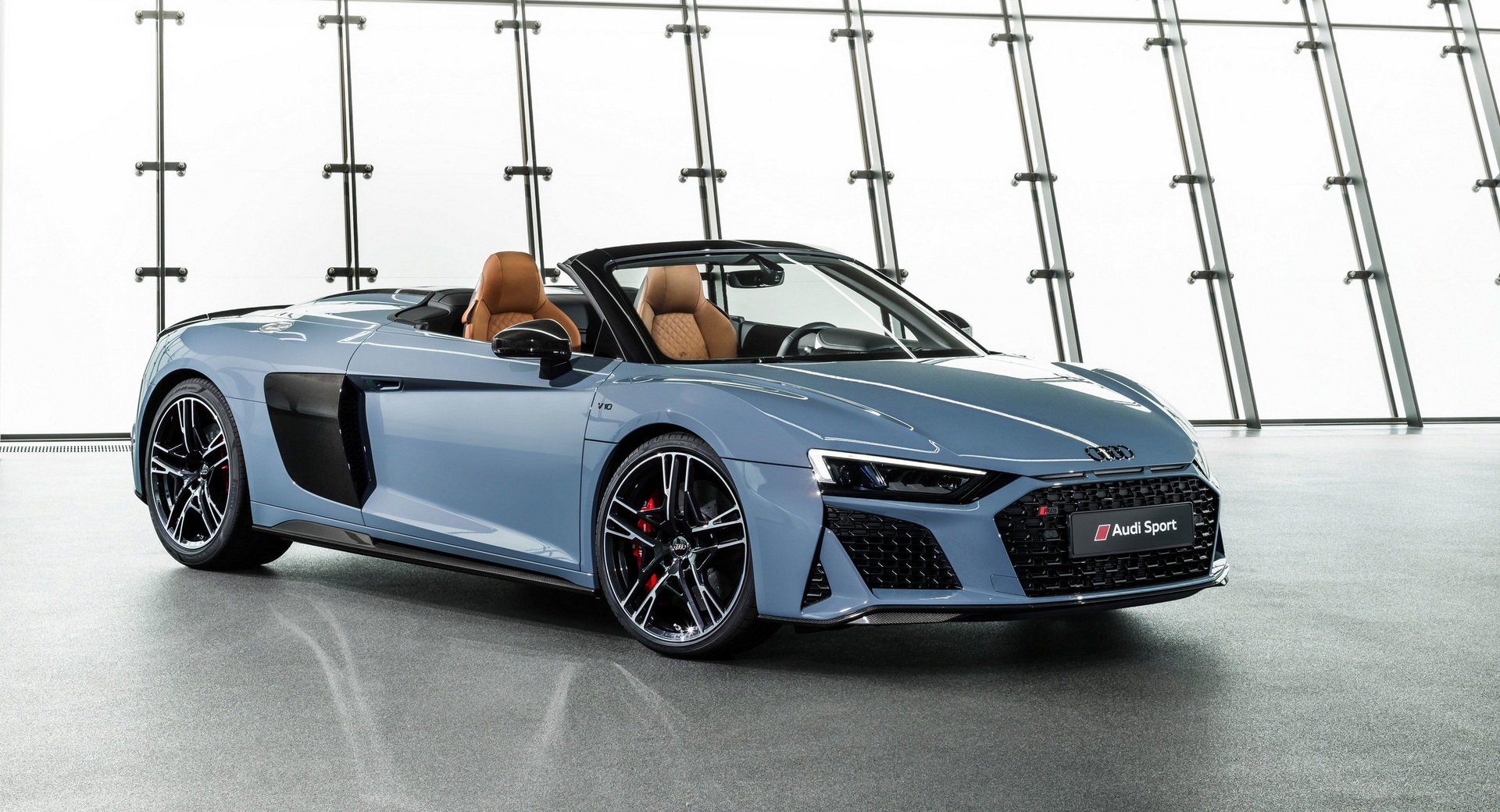 All-Wheel Drive, LED headlights, and a sound system by Bang & Olufsen are just some of the standard amenities that come included on the R8 Spyder. In addition to that, you can get it with a V10 Plus engine, which is an extra upgrade that provides it even more power.
Luxury automobile shoppers who are interested in elegance, performance, and status frequently go for the R8 Spyder, despite the fact that it comes with a hefty price tag.
2. Audi R8 — Price Starts at $148,500 ( Most Expensive Audi Cars in the World 2023)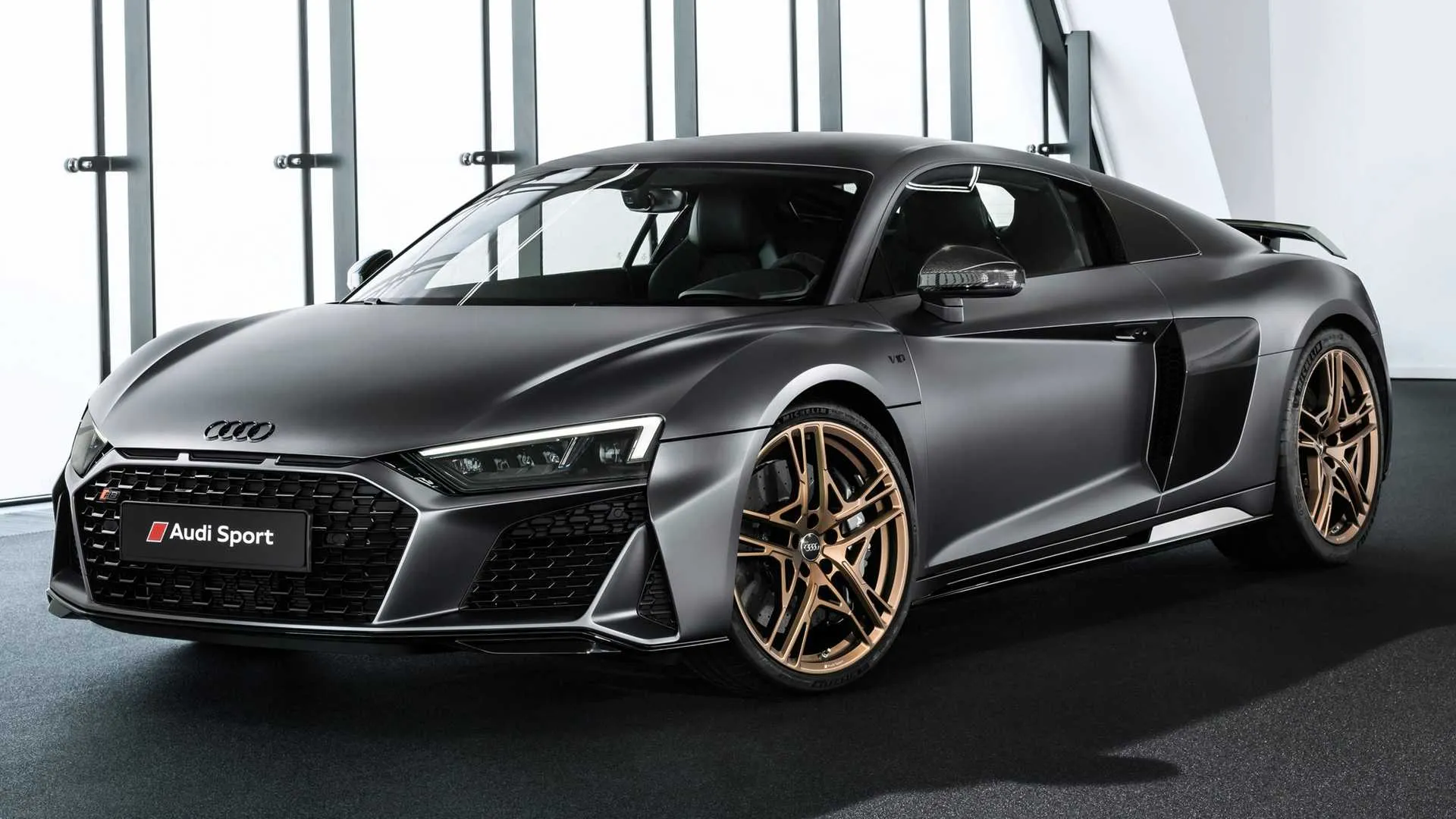 One of the most costly Audi models that is currently on the market is the R8, which is also one of the most desirable. It is a high-performance vehicle with a starting price that is over $145,000, and it costs more than that. The R8 is offered in two different body styles: the coupe and the convertible.
The vehicle is driven by a V10 engine that is capable of producing 602 horsepower. The R8 has a maximum acceleration of 3.1 seconds from 0 to 60 miles per hour. It can reach a maximum speed of 199 miles per hour. The R8 comes standard with a number of extras, including heated front seats, all-wheel drive, and wheels measuring 19 inches.
You have the option of customizing it with extras such as carbon fiber interior trim and wheels that are 20 inches in diameter. If you are looking for a high-performance automobile that is also luxury, the Audi R8 is a fantastic option for you to consider.
3. Audi RS7 — Price Starts at $119,000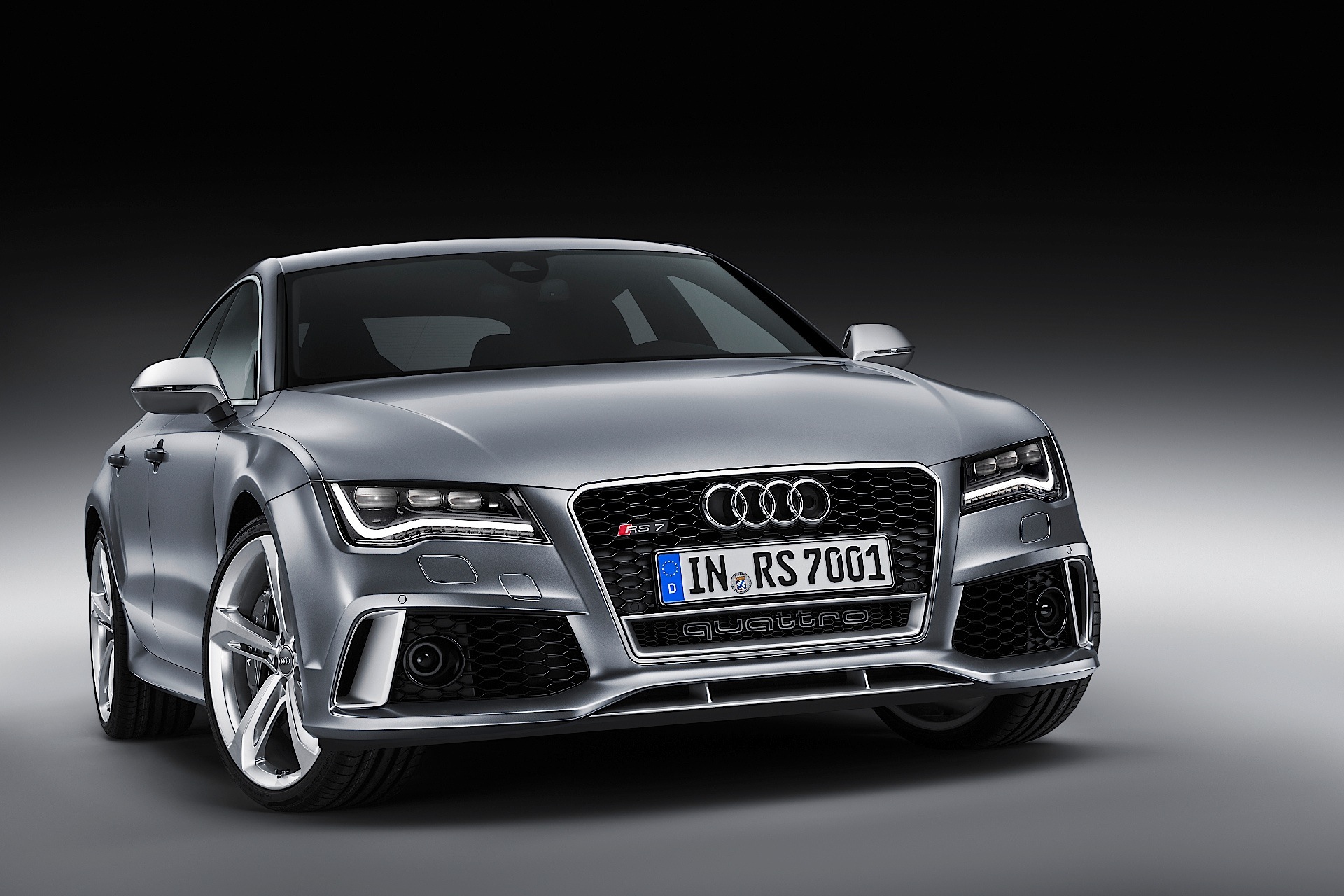 With a starting price of $104,900, the RS7 is undoubtedly one of the most expensive hatchbacks on the market. But because of its remarkable performance and its many opulent features, it is absolutely worth every penny.
The Audi RS7 is a true wolf dressed up in sheep's clothes, and whether you're driving it on the street or the track, it will definitely get people's attention.
4. Audi RS6 Avant — Price Starts at $117,595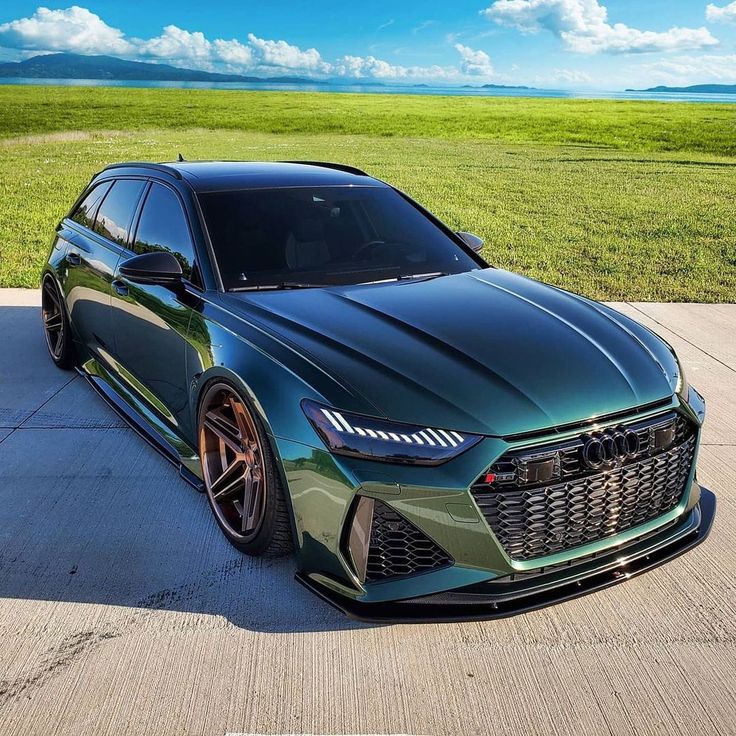 One of the most enticing and desirable family automobiles available today is the Audi RS6 Avant. It has the performance of a supercar, a dashing look, and the good looks of a station wagon all rolled into one.
Under the hood of the RS6 is a twin-turbocharged 4.8-liter V8 engine that is responsible for the vehicle's astounding 591 horsepower output. Because of this, the vehicle can accelerate from 0 to 60 miles per hour in about 3.5 seconds.
Additionally, the RS6 comes equipped with Audi's Quattro all-wheel drive system, which allows for superior traction and handling in any kind of weather. The cabin of the RS6 is generously outfitted with materials of a high quality and boasts a large design that provides ample room for five adults to sit in complete ease.
It is also possible to fold down the rear seats, which creates additional room that can be used for stowing luggage or sporting goods. The Audi RS6 Avant is guaranteed to win over the approval of even the pickiest drivers thanks to its potent combination of performance, luxury, and practicality.
5. Audi S8 — Price Starts at $116,000 ( Most Expensive Audi Cars on the Market 2023)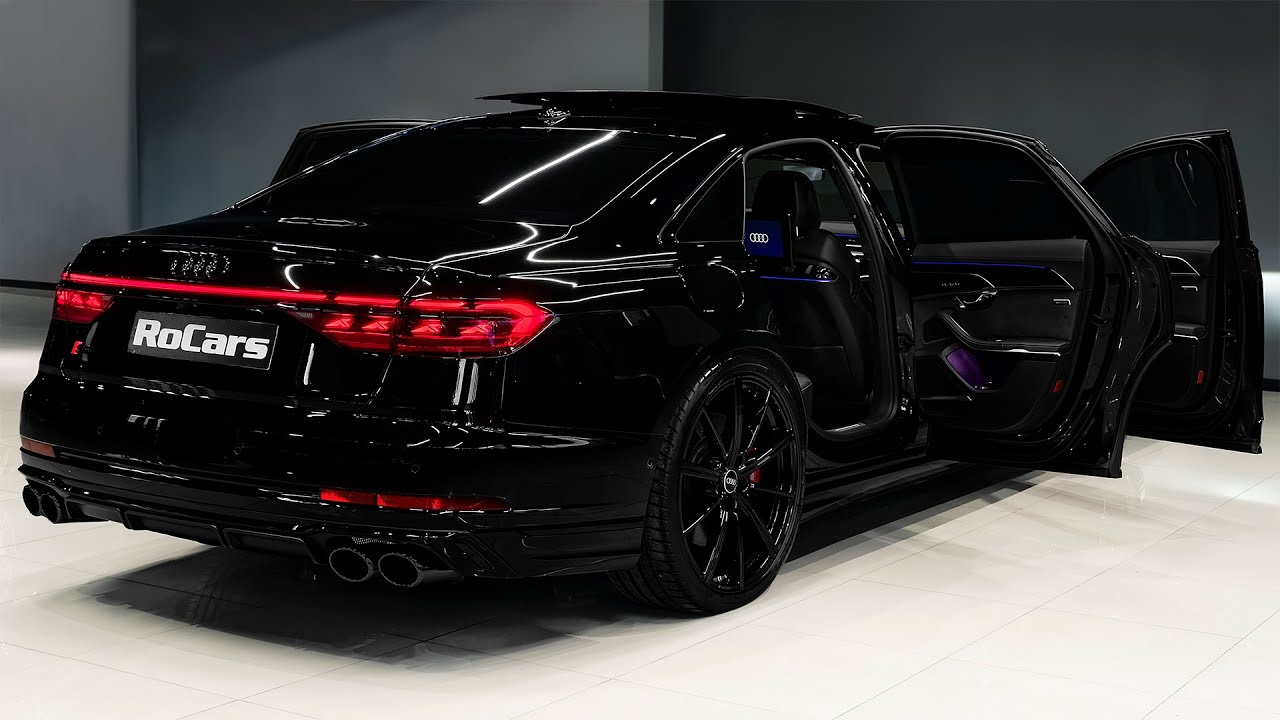 The Audi S8 is the ideal vehicle for motorists who desire the very best of both performance and luxury. The fact that it is a big and comfortable sports sedan in addition to being speedy and engaging makes it an excellent choice for both extended trips and short jaunts around town.
You can rest assured that there will always be plenty of power at your disposal thanks to the powerful engine, and there will be plenty of room for both passengers and their luggage thanks to the large interior.
The S8 offers all of the possible conveniences and luxuries, like heated seats and a high-quality sound system, making it an excellent choice for a luxury vehicle. The Audi S8 fulfills all of your needs, whether you choose speed or comfort in a vehicle.
6. Audi e-Tron GT — Price Starts at $106,395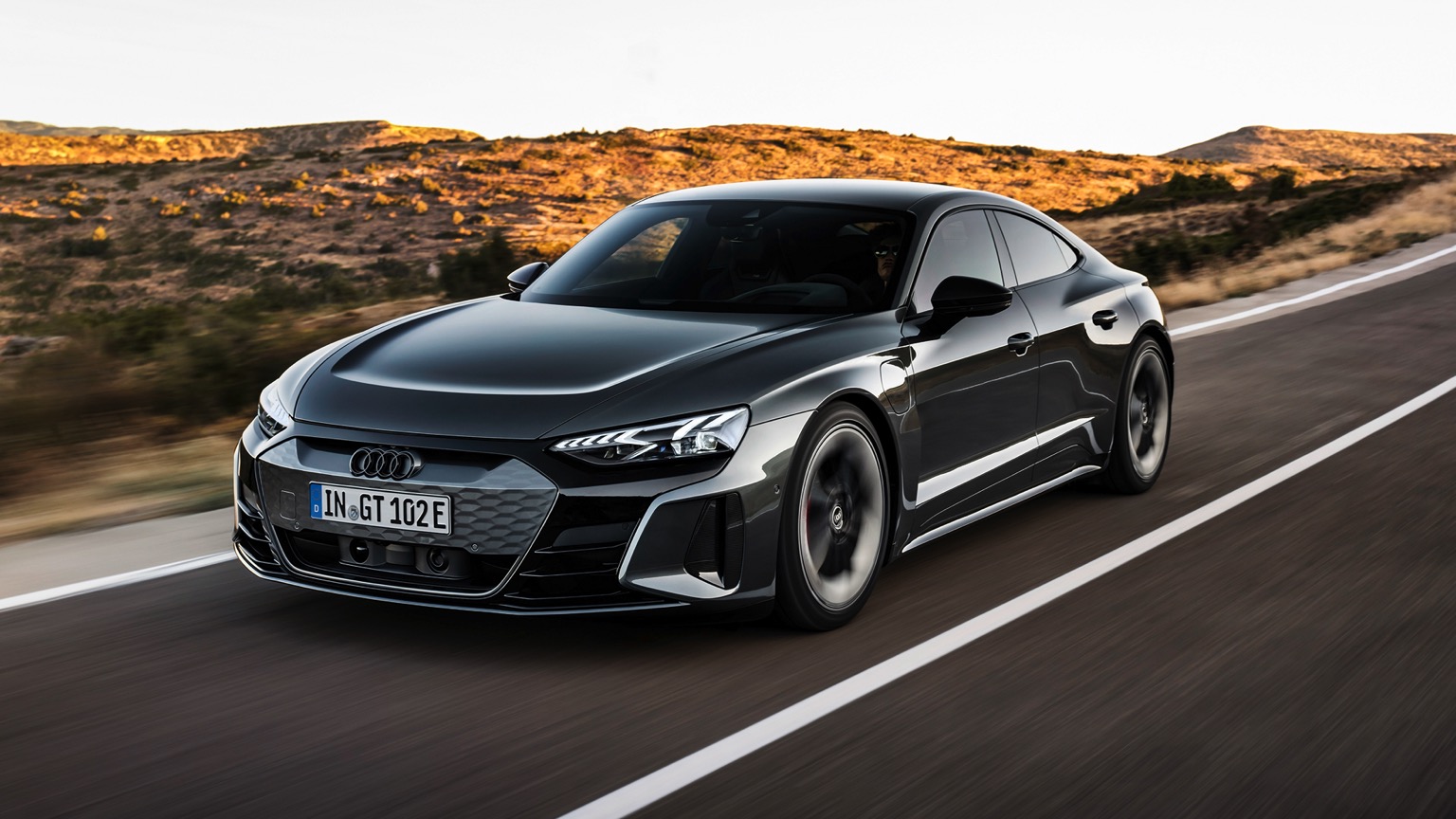 The Audi e-Tron GT is an electric vehicle that combines a sporty demeanor with a sleek and fashionable design. It is constructed on the same chassis as the Porsche Taycan, therefore it shares many of the same characteristics with that vehicle. These features include regenerative braking, all-wheel drive, and an innovative battery management system.
The e-Tron GT, on the other hand, is lacking in one significant aspect, and that is its driving range. With a maximum range of slightly over 200 miles, it has a range that is significantly less than what is typical for electric automobiles.
As a consequence of this, motorists will be required to exercise caution while planning their journeys, and they should be prepared for the possibility that their vehicles' batteries will run out of charge before they get at their destination. Although it has some drawbacks, the e-Tron GT is still a beautiful, fun-to-drive, and conversation-starting electric automobile that will turn heads wherever it goes.
7. Audi SQ8 — Price Starts at $94,695 ( Most Expensive Audi Cars on the Market 2023)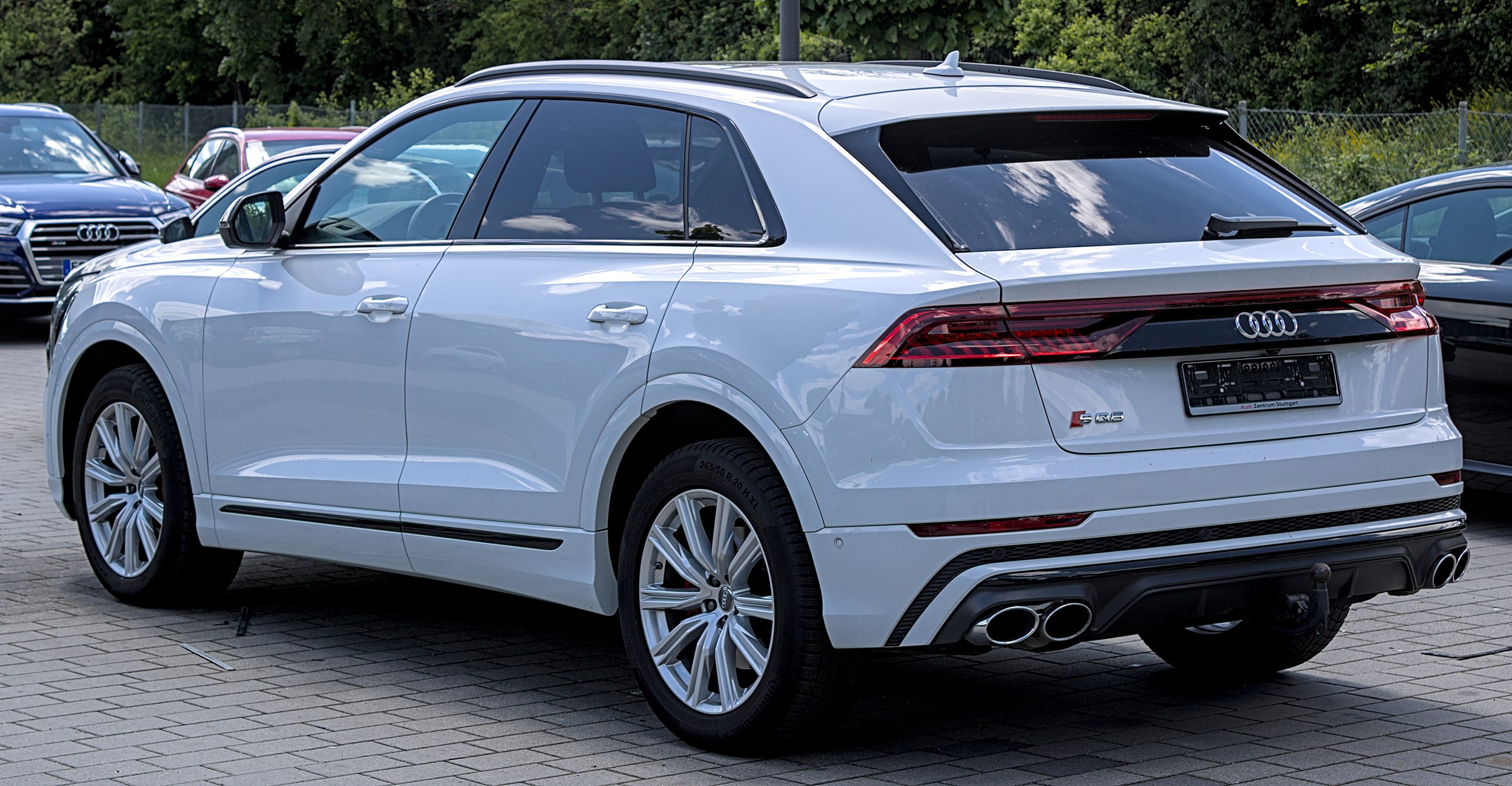 The Audi SQ8 is a high-performance SUV that is similar to the Lamborghini Urus in many respects, including the use of many of the same components. Both of these automobiles are powered by a twin-turbocharged V-8 engine, and their chassis is derived from that of the Audi Q7.
However, contrary to popular belief, the SQ8 is not only a scaled-down replica of the Urus. It is distinct from its Italian relative both in terms of its appearance and the qualities it possesses in terms of performance.
For example, the SQ8 comes equipped with a more menacing body kit and a suspension configuration that is more sporty. In addition to this, it has standard Quattro all-wheel drive, which is a feature that is an extra cost option on the Urus. When it comes to performance, the SQ8 can go from 0 to 60 miles per hour in 4.3 seconds, which is 0.4 seconds slower than the Urus.
On the other hand, the SQ8 can reach 155 miles per hour while the Urus is only capable of 130 miles per hour. However, despite the fact that the SQ8 is not a genuine Lamborghini, it is still a very capable as well as gorgeous SUV in its own right.
8. Audi SQ7 — Price Starts at $90,290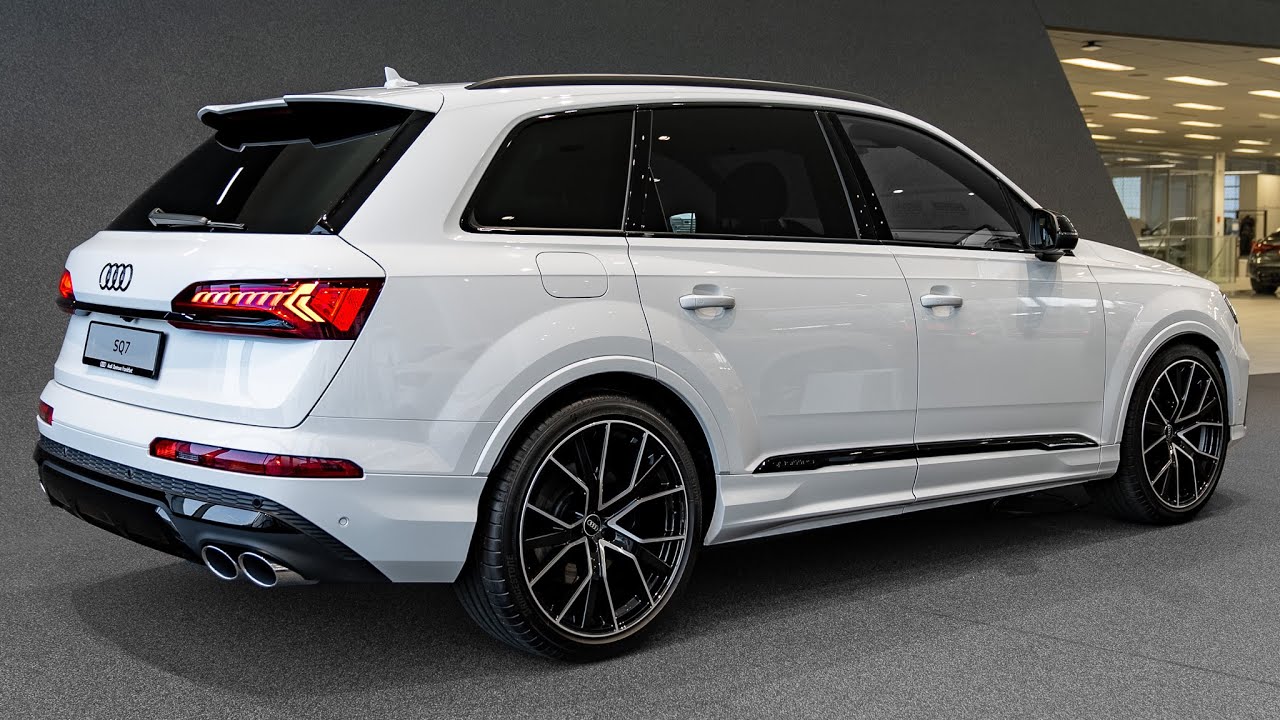 Since their humble beginnings as off-road vehicles designed for utility and practicality, sport utility vehicles, or SUVs, have gone a long way. The sport utility vehicles of today are opulent, potent, and streamlined, but they haven't lost sight of where they came from.
The Audi SQ7 serves as an excellent illustration of this progression. Inside the cabin of the SQ7, passengers are treated to a plethora of creature amenities, while under the hood, the vehicle is equipped with a powerful V-8 engine that provides acceleration that is exhilarating.
Nevertheless, in spite of its performance pedigree, the SQ7 is still a three-row SUV that can easily accommodate families or groups of friends in a relaxed and comfortable manner. The Audi SQ7 is the ideal automobile for those who wish to have the best of both worlds because of the vehicle's ability to provide both opulence and functionality.
9. Audi A8 — Price Starts at $85,000 ( Most Expensive Audi Cars in the World 2023)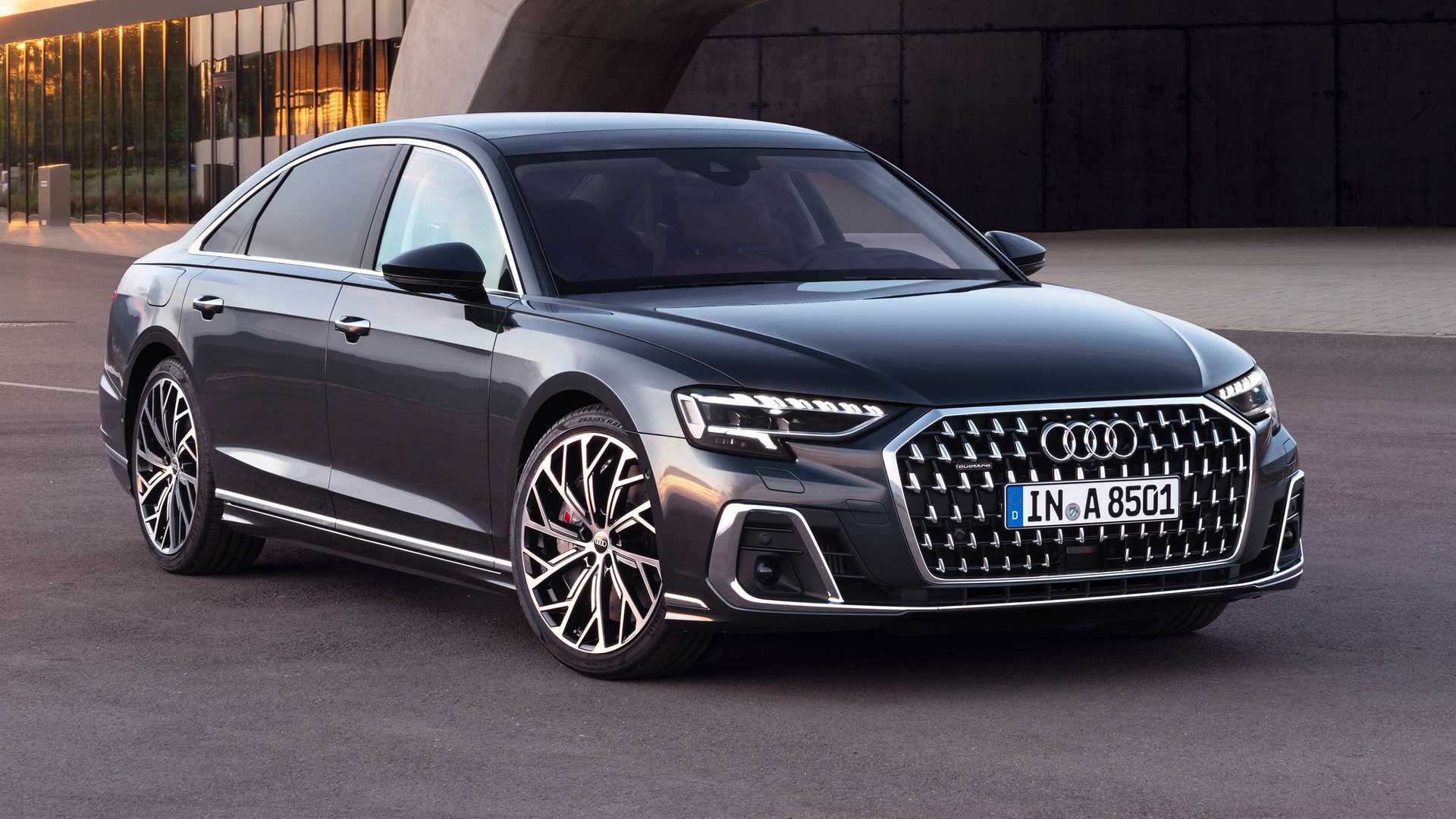 The Audi A8 is a huge luxury car that provides a high level of comfort as well as numerous features and room. However, in comparison to some of its other competitors, its design is decidedly less flashy. This strategy lends the A8 a more refined appearance, which is guaranteed to appeal to customers with refined tastes.
The interior of the Audi A8 features numerous high-end materials and conveniences, making it equally as sumptuous as the outside of the vehicle. The car comes standard with a number of high-end features, including as heated seats, GPS, and a premium sound system. It is also quite well equipped.
In addition, the Audi A8 comes with a selection of potent engine alternatives that ought to satiate the requirements of even the most particular motorists. Overall, the Audi A8 is an excellent option for anyone searching for a luxurious sedan that is intelligent and elegant in its design.
10. Audi A6 e-Tron — Price Starts at $80,000 ( Most Expensive Audi Cars in the World 2023)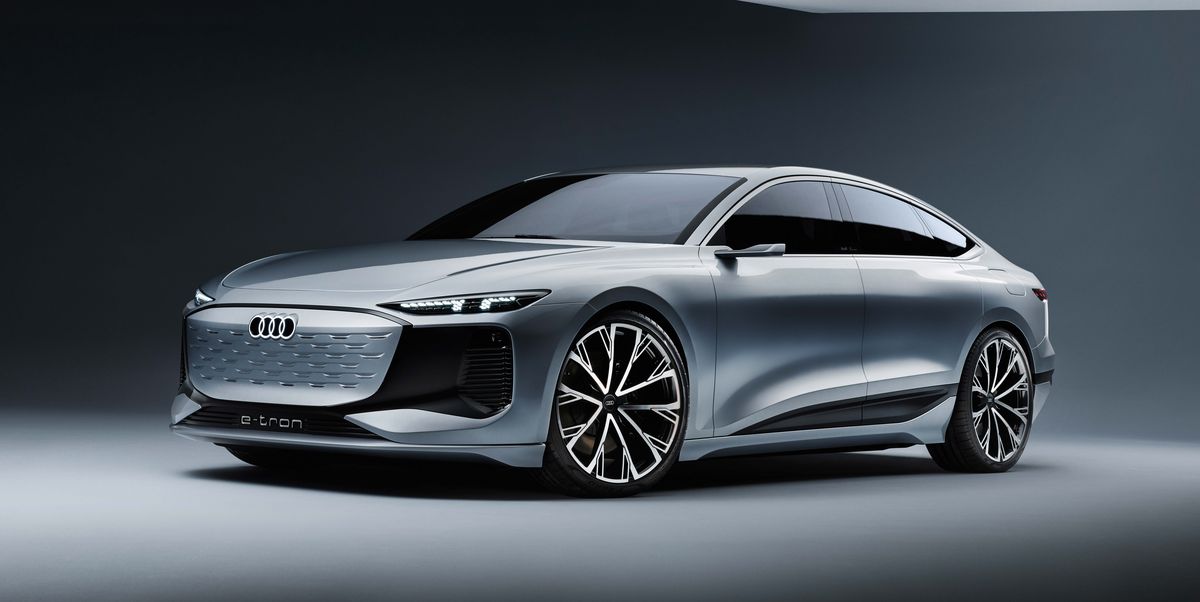 The A6 e-Tron sedan is the most recent illustration of Audi's aim to electrify its lineup, which began with the A8 e-Tron SUV. This battery-powered car takes direct aim at Tesla's Model S by providing a driving range comparable to that of its rival, an abundance of opulent amenities, and a sleek exterior appearance.
The range that can be achieved on a single charge for the A6 e-Tron is equivalent to that of the Model S, reaching up to 322 miles. In addition to that, it has standard equipment such as adaptive cruise control, lane keeping aid, and a camera system that can rotate 360 degrees.
The interior of the A6 e-Tron is outfitted with high-quality materials and a multitude of technological niceties, such as an infotainment display measuring 12.3 inches and an optional head-up display. The Audi A6 e-Tron is well positioned to give the Model S a run for its money thanks to its superior range, luxurious interior, and cutting-edge technology.
11. Audi RS5 Sportback — Price Starts at $77,295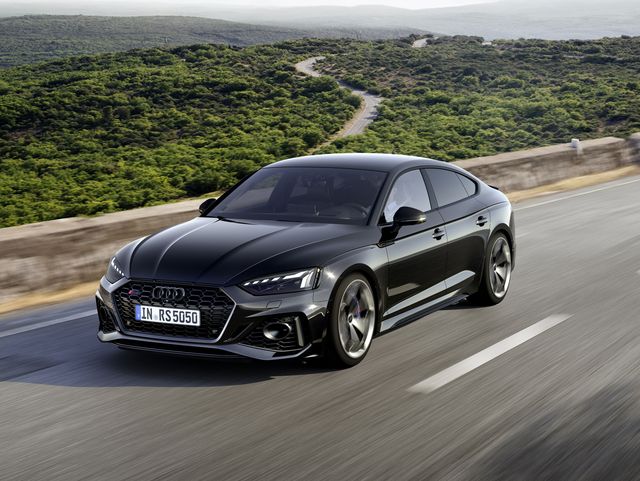 The Audi RS5 Sportback is a unique four-door coupe that brings together the greatest aspects of coupes and hatchbacks. It has the appearance of a trackable four-door due to its low stance and wide fenders, yet it is more suited for day-to-day driving due to its muted exhaust and comfortable ride.
The RS5 is propelled by a 4.0-liter twin-turbo V-6 engine, which generates 444 horsepower and 442 pound-feet of torque. This amount of power is sufficient to accelerate the vehicle from 0 to 60 miles per hour in 3.8 seconds, with a maximum speed of 155 miles per hour. The powertrain includes an automatic transmission with eight gears and all-wheel drive as standard equipment.
The adaptive dampers that come standard on the RS5 have the ability to be toggled between three distinct settings: comfort, auto, and dynamic. Because the ride in comfort mode is so silky and forgiving, it's perfect for the kind of commuting you do on a regular basis.
Because the dampers become more firm and the exhaust becomes louder when in dynamic mode, the Audi RS5 becomes a more enjoyable vehicle to drive on the track. Your need for speed can be satisfied, and your desire for comfort can also be satisfied, with the excellent all-around performance offered by the RS5 Sportback.
12. Audi RS5 — Price Starts at $75,900 ( Most Expensive Audi Cars in the World 2023)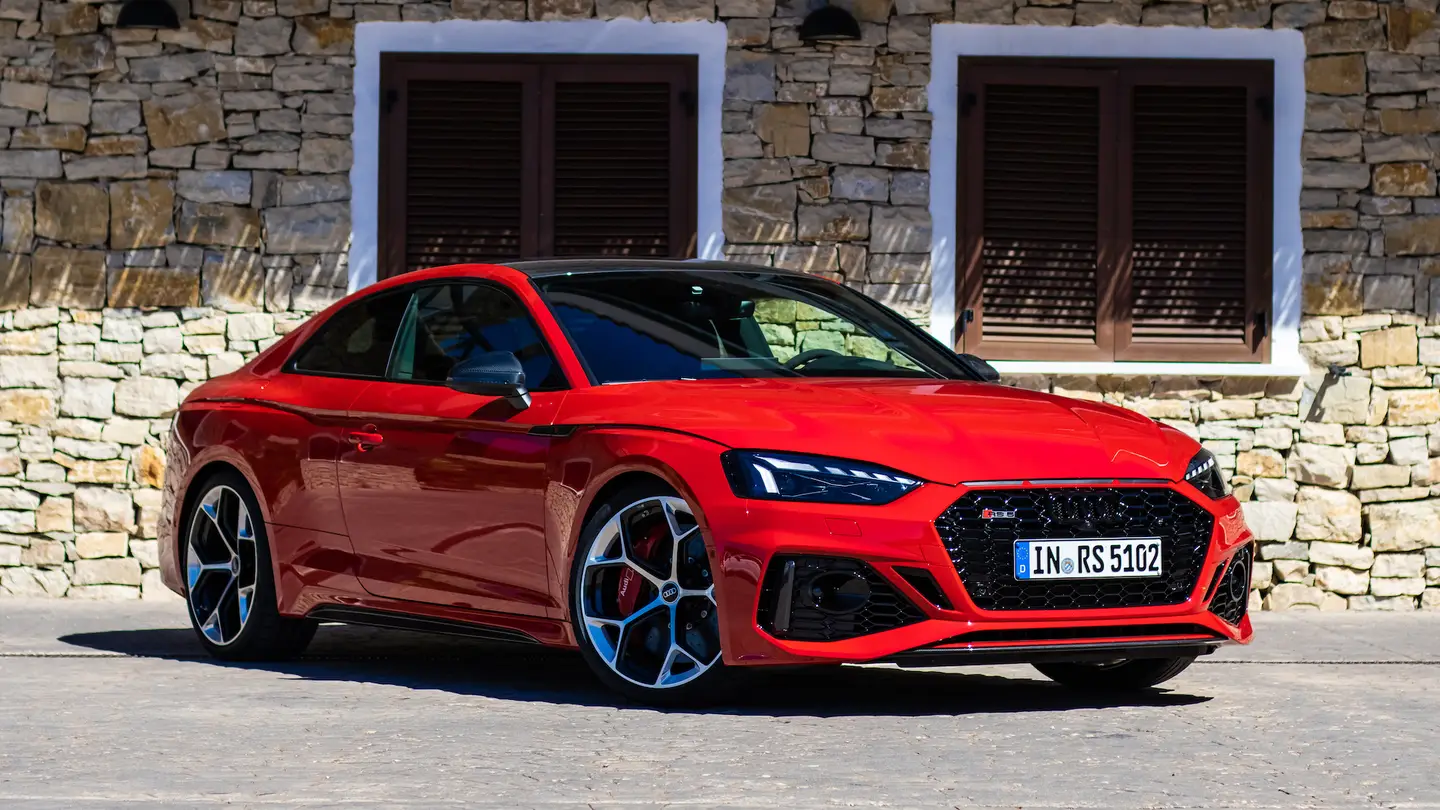 The Audi RS5 is a beautiful example of automotive engineering and design. It has the elegant lines and graceful design of a high-end luxury car, giving it the aesthetic appeal of a high-end luxury car. However, underneath its aesthetically pleasing appearance lies a core of unadulterated performance.
When combined with the Quattro all-wheel drive system, the exciting 444 horsepower produced by the twin-turbocharged V6 engine enables the RS5 to accelerate from 0 to 60 miles per hour in just 3.7 seconds.
However, the RS5 is not only fast in a straight line; because to its lightweight chassis and Dynamic Ride Control suspension, it is also extremely nimble.
It doesn't matter if you're carving up your favorite backroad or simply cruising down the interstate; the RS5 is always ready to give an experience behind the wheel that you won't forget.
Most Expensive Audi Cars in the World 2023:Newshub360.net
Related Post
♦ 13 Most Expensive Cities to Live in California 2023
♦ 10 Richest Cities in Michigan Based on Median Income 2023
♦ 10 Best Places to Live on East Coast of Florida 2023
♦  15 Top Fox News Anchors Female to Watch 2023
♦  20 CNN Female Anchors You Need to Watch in 2023
♦  11 Dr Pepper Commercial Actors and Actresses 2023
♦  15 Funny Numbers to Prank Call and Prank Hotlines 2023
♦  20 Scary Numbers to Call: You Should Never Call Them
♦  14 Actors and Actress in GEICO Commercials 2023
♦  10 Liberty Mutual Commercial Actors and Actresses 2023
♦  10 Best Slavery Movies on Netflix for Black History Month 2023
Credit :www.Newshub360.net