Best Hikes Near Seattle 2023: The proximity of the city to beautiful hiking trails is a big selling point for Seattle.
The Emerald City is surrounded on all sides by scenic drives and parks, including Washington's largest natural attraction, 14,410-foot Mount Rainier.
There are also colorful, expansive forests, flowing waterfalls, and lighthouses dotting the coastline.
Within Seattle proper are some of the city's finest hiking routes, including the popular Discovery Loop hike.
Still others can be reached within a moderate drive time by leaving the city. Each route in the Pacific Northwest is an adventure into the great outdoors, but be warned: the region can get quite crowded, so it's best to make your plans in advance. If you want to beat the crowds on Seattle's most popular hiking trails, you should get an early start.
The sheer magnitude and diversity of travel options accessible from Seattle is mind-boggling. When you factor in the city's other attractions, it's easy to see why millions of visitors flock there every year. But if you want to know what Seattle is all about, a hike in the nearby woods is a must.
15 Best Hikes Near Seattle 2023
1. Rattlesnake Ledge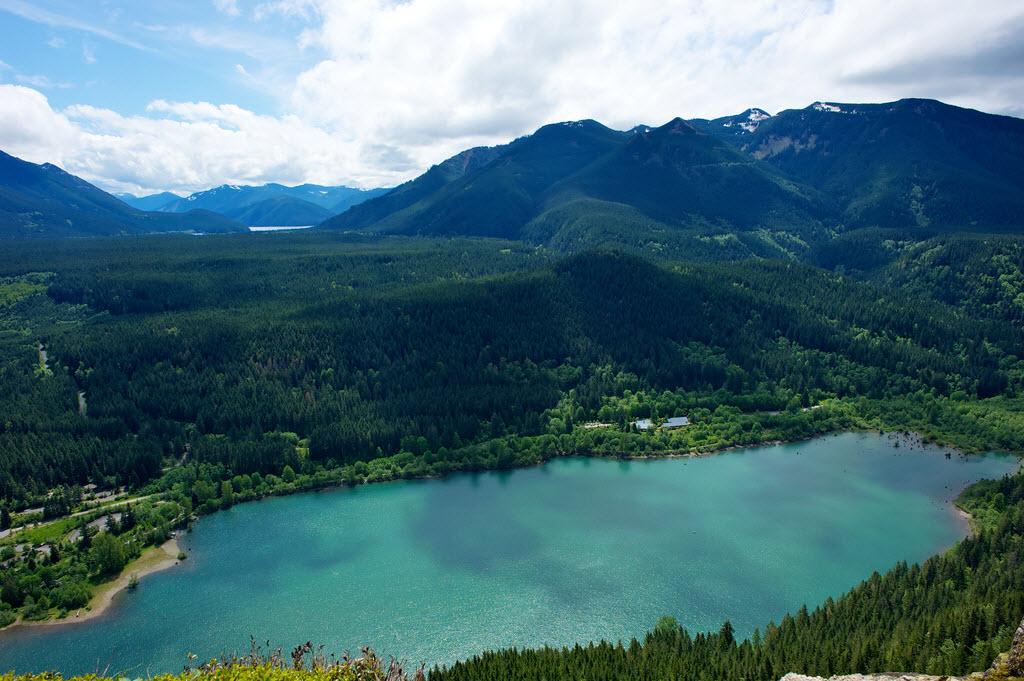 One of the most popular walks close to Seattle is Rattlesnake Ledge. It's a short drive from the city, a manageable trip for inexperienced hikers and advanced learners, and the top offers stunning views of the Cascade Mountains and Rattlesnake Lake.
Rattlesnake Ledge is a very well-maintained trail, making it a great first trip for anyone unfamiliar with hiking in Washington. But because of its fame, it's also almost always busy, so don't anticipate total seclusion on this climb.
2. Discovery Park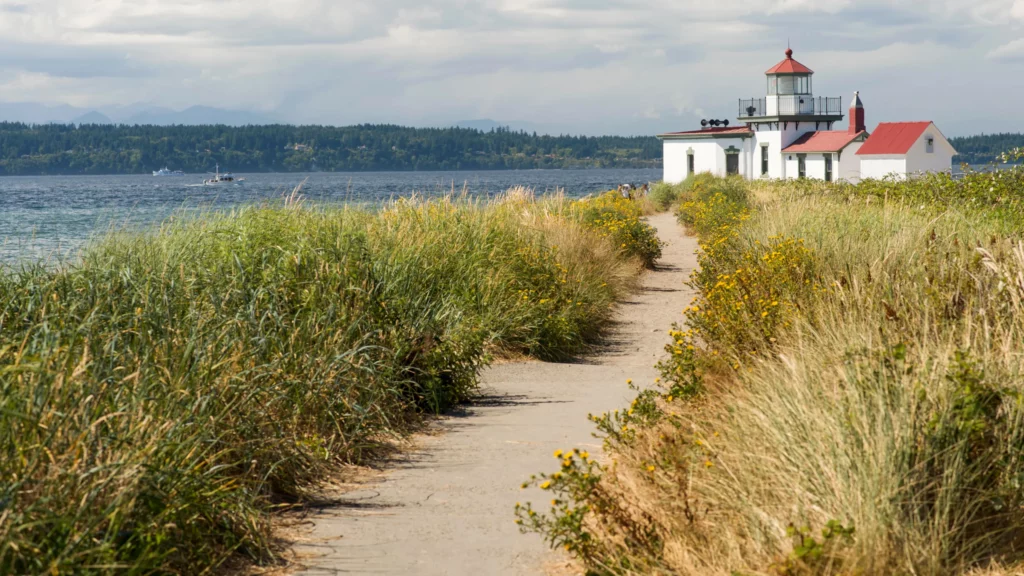 Discovery Park, the largest city park in Seattle, is tucked away on the western edge of the city in the Magnolia district, making it one of the greatest spots to escape the city without actually leaving it.
There are many routes in the park that meander through woodlands. Follow them to the cliffs to take in the vista, or go to the shore to observe the West Point Lighthouse's rich history. The park is wonderful for bird watching, running, and dating. On your trip, you might observe cooper's hawks, herons, or bald eagles.
Anyone planning a hike anywhere in the state should definitely check out the Washington Trails Association (or WTA). To check the most recent trail conditions and closures, download a map, find more Seattle hikes, and more, look up recent trip reports from other hikers.
If you're new to hiking and have concerns about where to begin, you can also study the fundamentals. Before you tackle the trails, make sure to check out this resource.
3. Fremont Lookout (Best Hikes Near Seattle 2023)
The Fremont Lookout Hike is ideal for those looking for a moderately difficult hike with spectacular scenery. With breathtaking vistas of Mount Rainier National Park, this well-known climb will lead you around the NE side of Mount Rainier and up to a historic fire lookout. From the top, you might even see black bears or mountain goats!
4. Poo Poo Point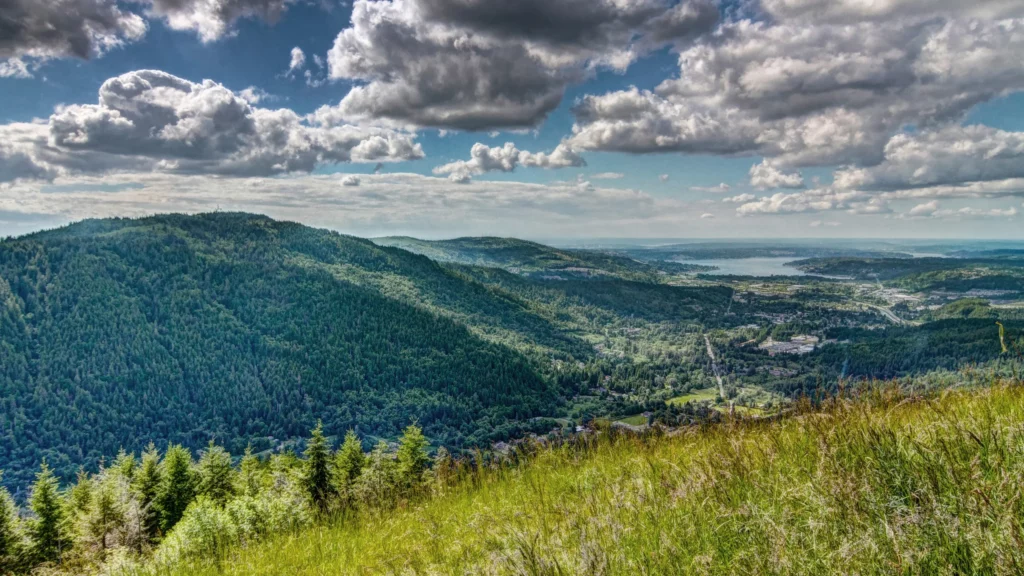 Even if you chuckle at the hike's undeniably goofy moniker, a clear day is the best time to go to Poo Poo Point. The name alludes to the sound of steam whistles made by tigers during a time when forestry was the main industry in the region.
Along the west side of Tiger Mountain, Poo Poo Point will lead you through an old-growth forest with plenty of tiny streams and creeks to cross. The trail ends in a broad clearing with views of the city, a lake, and mountains. If you stop for a picnic at the summit at the proper time, you might even get to see paragliders take off.
5. Snow Lak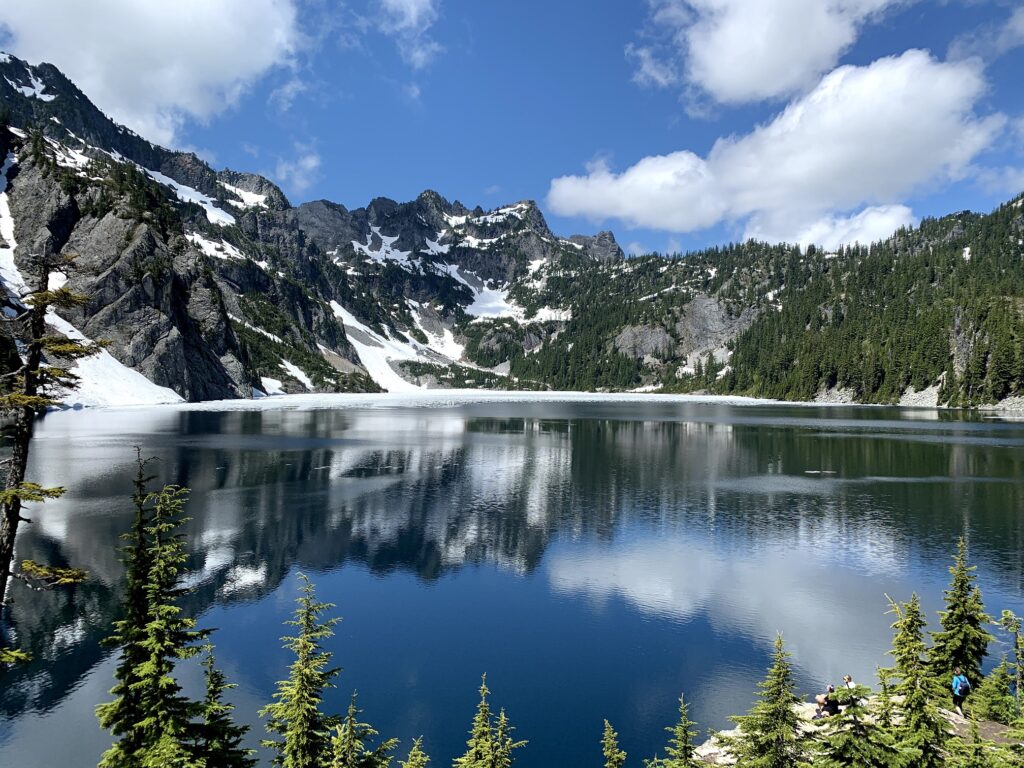 For those who are interested in the wildness of the alpine lakes, Snow Lake is a fantastic hike. This trip will take you through a lovely northwest forest and down a rocky trail to a stunning alpine lake with views of mountains, trees, and the open sky, not far from the Snoqualmie Pass.
The popular trail can become congested, particularly in the summer. Avalanche risk exists throughout the winter, so even while it could be alluring to complete this one outside of peak season, make careful to check the trail's conditions beforehand.
6. Summerland (Best Hikes Near Seattle 2023)
Even while all of the hikes around Mount Rainier are enjoyable, the Summerland walk is one of the greatest.
On your journey, you'll pass through a forest, cross a stream, and ascend to a vast alpine meadow. There's a chance you'll see hummingbirds, marmots, chipmunks, and perhaps even a fox or bear.
I prefer to have lunch in the meadow after the climb, but you may hike up the Panhandle Gap for more mountain views. Summerland is just long and diverse enough for intermediate hikers to be an exhilarating outdoor excursion.
7. Lincoln Park
Get yourself over to West Seattle so you can check out the magnificent Lincoln Park. The southwest corner of the peninsula is home to this city park, where you can choose to sit in the shade or stroll alongside the lake to enjoy picturesque views of Vashon Island and the Olympic Mountains.
If the tide is low, you might see herons fishing. This is a hike that is suitable for families, and the park contains a wading pool and an outdoor saltwater pool that is heated and open throughout the summer. Best Hikes Near Seattle
8. Franklin Falls
This short trip is perfect for families with young children looking to branch out from city park hiking or for novice hikers. Franklin Falls, which is located at the end of this short climb, is a stunning reward.
Since there is lots of shade along the trail, it is not too uncomfortable to do during hotter days. The flow is optimum from April to July.
You can be sure that this hike will be safe because Washington Trails Association works hard to keep the route maintained for even the little people.
9. Kendall Katwalk
Accepting a challenge? Kendall Katwalk ought to perform well! You ascend along a catwalk with views of Mount Rainier and snowy valleys while hiking up a steep alpine ridge through old-growth trees. Meadows, alpine lakes, and several excellent camping locations can be found at the top.
There isn't much shade along the trail, so if you're going on a day trek, pack lots of water. Summertime pests by the lakes can be annoying, so day hikers and overnighters should take precautions.
10. Seward Park ( Best Hikes Near Seattle 2023)
Another urban park that will help you forget you're in a hectic city is Seward Park. The park, which features a 2.5-mile walking loop through non-paved, forested terrain, is situated southeast of downtown. You'll have a lovely, delightful hike if you heed the cautions about poison oak in specific locations.
This park is wonderful for running, biking, strolling dogs, and seeing wildlife. When the weather is warmer, venture outside the forest cover to stroll along Lake Washington and go swimming.
11. Lake 22
The journey to Lake 22, which starts at the base of Mount Pilchuck, is a steady ascent through alpine marshes, old-growth woods, and rainforests.
The trail is rather damp, so you'll see lots of ferns, mossy trees, and miniature waterfalls along the way. However, you should be prepared for any muddy paths by packing the appropriate equipment.
12. Mount Si & Little Si
The majority of Seattle residents are aware of Mount Si as one of the most well-liked treks nearby. It is convenient to the city, suitable for intermediate and expert hikers, and excellent for anyone wishing to get in shape.
Although the track is well-kept, anyone who wants to protect their knees from injury should use poles due of how steep it is. Best Hikes Near Seattle
Little Si is like the smaller sibling of Mount Si. You'll still get a good exercise as you go through a forest, pass by a bouldering area, and then climb steeply to the top, even if this trip is not quite as strenuous. If Mount Si is visible from the top, take a look at it (and perhaps consider hiking it the following time!).
13. Mailbox Peak (Best Hikes Near Seattle 2023)
If you choose the Mailbox Peak trek, be prepared for a challenging hike. This hike is for more experienced hikers, and even though the ascent is difficult—especially the last half mile—the panoramic vistas are worth it.
You can see the Middle Fork Valley and Mount Rainier's snow-capped peak on a clear day. If the fog decides to block your view, what then? At least you'll have reached the mailbox at the summit, where you might discover gifts left by a previous hiker.
14. Gold Creek Pond
A convenient, well-maintained circular route near Snoqualmie Pass is called Gold Creek Pond. The loop's entire length of paved track makes it ideal for wheelchair users, parents with strollers, and young children. Best Hikes Near Seattle .
You'll arrive to the water's edge where there are a lot of picnic spaces and places to unwind while taking in views of the magnificent alpine lake. Be careful to take in the beauty of this location and take as many shots as you can.
15. Lake Serene & Bridal Veil Falls
You can do Lake Serene and Bridal Veil Falls independently or together, and both are excellent walks. These well-traveled paths will undoubtedly be a challenge, and you may encounter crowds there, but they are worthwhile.
If you choose to do both, visit the Falls first. After making a number of steps, you'll reach a waterfall where you can stand and enjoy its cooling spray after a strenuous initial part of your journey. You'll discover why it made my list of the top waterfalls in Washington!
Then take the trail back to the magnificent Lake Serene. Watch your step because both trails have the potential to become muddy and slick.
Best Hikes Near Seattle 2023:Newshub360.net
Related Post
Credit: www.Newshub360.net