Top 7 Luxury Resorts in Lake Tahoe 2023: Lake Tahoe, the biggest alpine lake in North America, is located in the Sierra Nevada Mountain Range, on the boundary of California and Nevada.
It offers a year-round adventurer's playground, with world-famous slopes for skiing and snowboarding in the winter and cruising, swimming, paddle boarding, and kayaking in the summer.
If you want the whole experience here, make sure to reserve a room at one of Tahoe's upscale resorts, which also offer some very opulent lodging alternatives.
Top 7 Luxury Resorts in Lake Tahoe 2023
1. Hyatt Regency Lake Tahoe Resort, Spa and Casino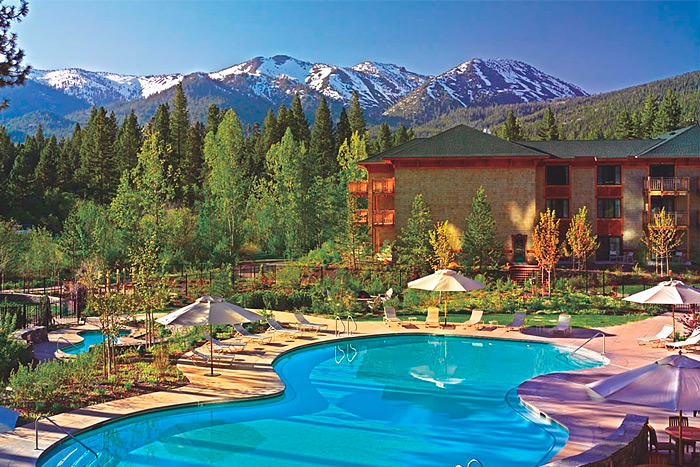 The Hyatt Regency is located in Incline Village, Nevada, which is recognised for its more serene and natural surroundings.
From here, you may take advantage of the area's many beautiful hiking paths, take a cool summer plunge in the lake, or engage in just about any type of water sport you can think of.
Additionally, visitors can test their luck at the Grand Lodge Casino, indulge in restorative treatments at its Stillwater Spa, Tahoe's largest and most complete spa, swim in the expansive indoor/outdoor pool with a lazy river, or tee off on one of the nearby lakeview golf courses.
Key Amenities:
Indoor/outdoor pool with lazy river
On-site spa and casino
Rooms, upscale suites and private waterfront cottages
2. Ritz-Carlton Lake Tahoe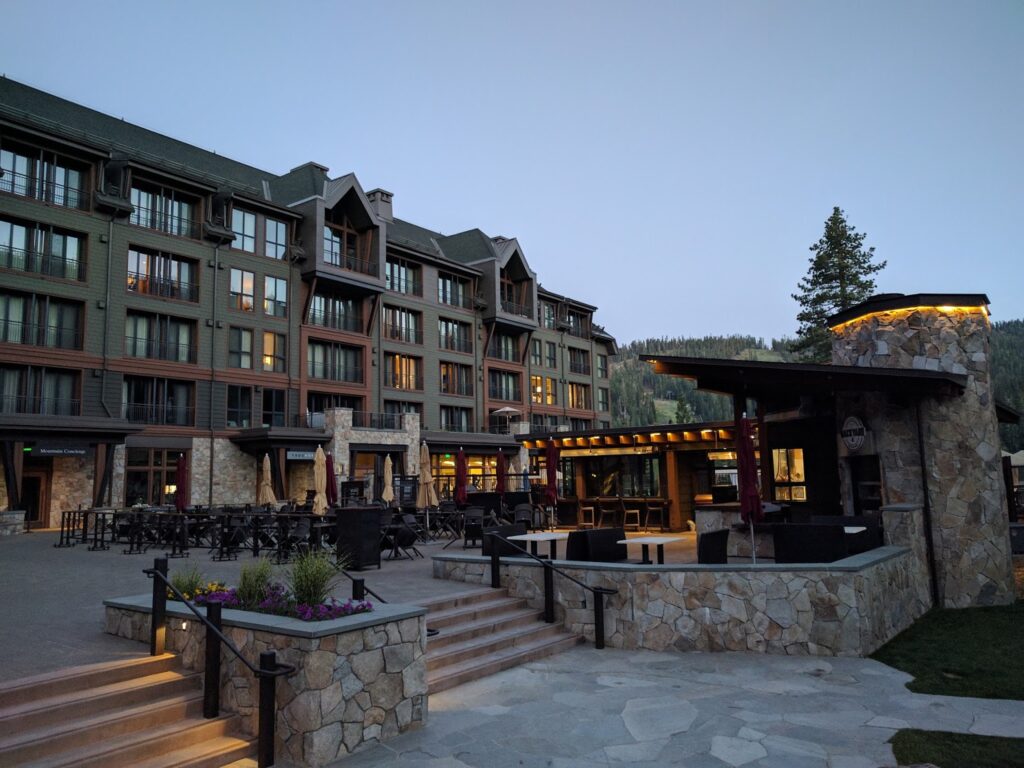 When it comes to Tahoe resorts, The Ritz-Carlton is the best of the best. It is the first and only AAA Five Diamond mountain resort in California, located in the middle of Northstar California Mountain and offering access to both winter and summer activities including bicycling, watersports, hiking, and fly fishing, all of which are accessible from your front door.
This five-star resort is open all year round and offers luxurious suites and rooms with fireplaces and floor-to-ceiling windows in addition to a 17,000 square foot mega spa on the slope side.
Treatments centre on the lake and the forests and feature leisure areas for men and women with saunas, steam rooms, and whirlpools.
Rustic California cuisine with mountain influences is served at the Manzanita's fine dining establishments, and each evening, guests can enjoy the "Marshmology" experience, which includes the "Art of the S'more," by the fire pit.
Key Amenities:
On-site mega spa with sauna, steam and whirlpool
Rooms and suites with fireplaces and floor-to-ceiling windows
Kid-friendly experiences for both summer and winter
3. Edgewood Tahoe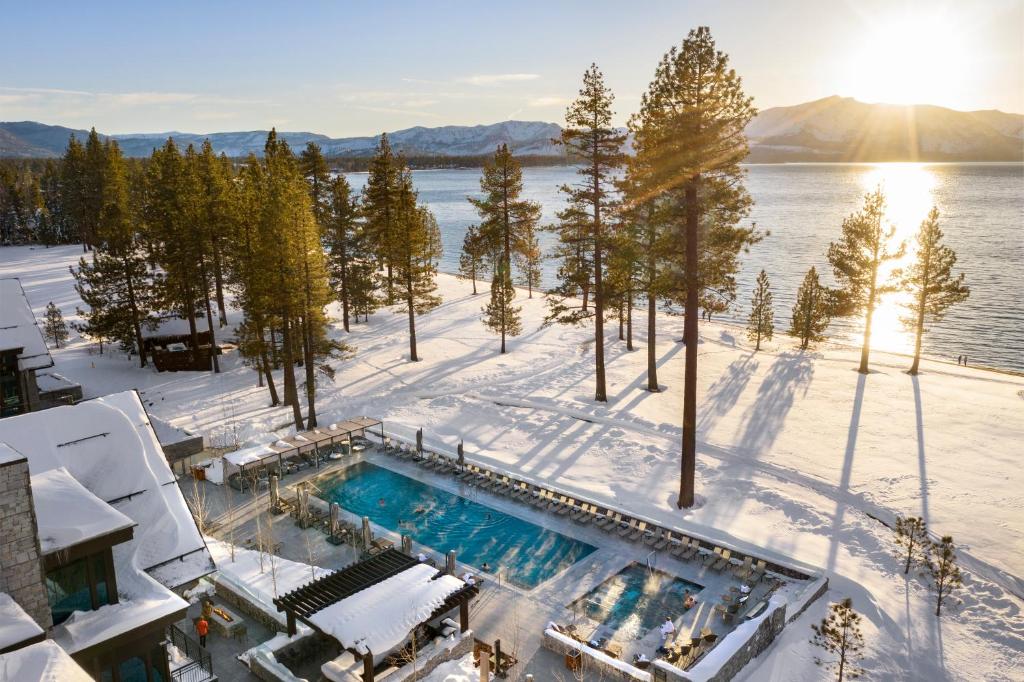 On the shores of South Lake Tahoe, on the 235-acre Edgewood Tahoe golf resort complex, is where you'll find The Edgewood Tahoe.
You'll know you've found one of the nicest hotels on the lake as you enter the lobby with its 38-foot ceilings and stunning lake views.
Luxury guest rooms, an 8,500 square foot spa and salon, outdoor fire pits, a 40-person outdoor hot tub, a heated pool, a 200-seat bistro restaurant, a 3,000 square foot ballroom, an adventure centre, a children's camp, and upscale shopping can all be found in this LEED-designed lodge.
Private beach access, feather bedding, and stunning views of the lake and mountains are just a few of the room features.
The Villa Suites, which are two-, three-, and five-bedroom lakeside residences with picturesque views of Lake Tahoe on the 8th and 9th fairways, have also been added to Edgewood Tahoe.
Key Amenities:
Spa and salon on-site
Private Edgewood beach access
Shares property with Edgewood Tahoe golf resort
4. Everline Resort and Spa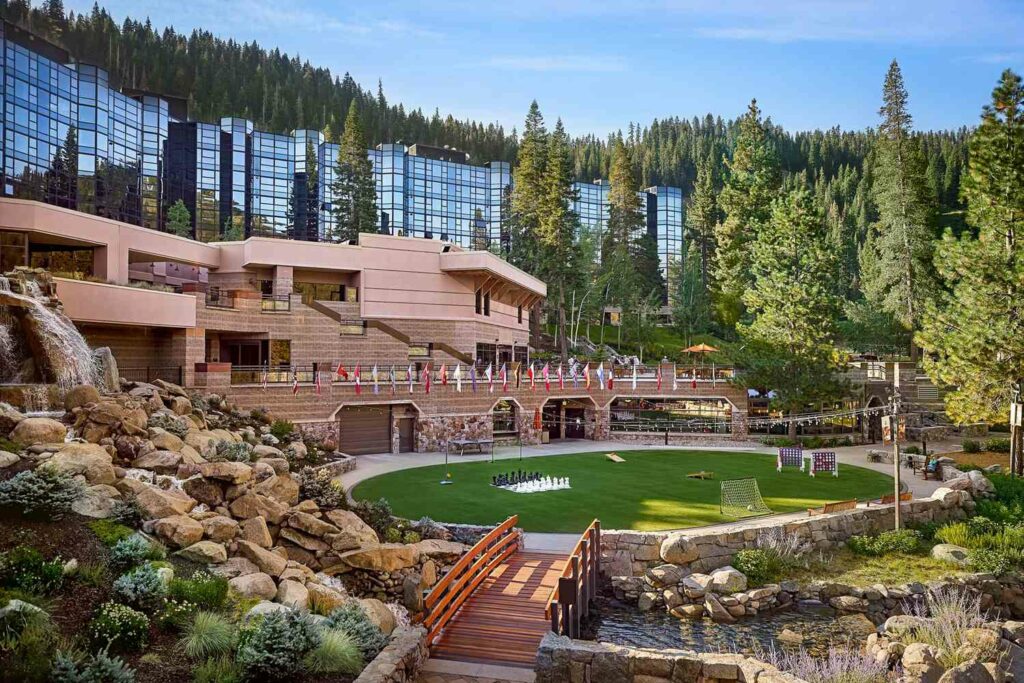 Since the 1960 Winter Olympics were held here, it has become one of the most well-liked vacation spots for affluent travellers. No of the time of year, there is no doubting this location's attractiveness.
Beautiful skies contrast with the lush foliage that surrounds the Everline Resort and Spa. You can have access to all the advantages and conveniences of a full-service resort while still enjoying a truly opulent mountain home experience.
You will even have access to a shopping centre on the property, eliminating the need for you to ever leave the neighbourhood. Ski-in/ski-out access, a championship golf course, and an on-site spa are just a few benefits of this resort.
Key Amenities:
On-site spa and championship golf course
Ski-in and ski-out access
Full suites and resort rooms with kitchens and fireplaces
5. Marriott Grand Residence Club, Lake Tahoe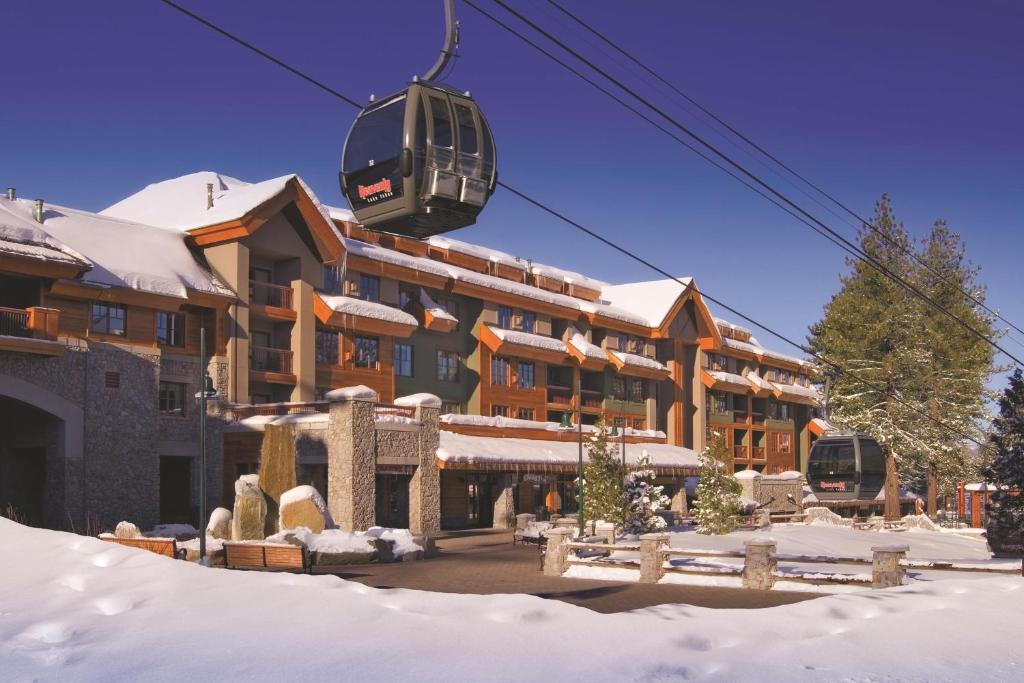 Families travelling together will love the roomy accommodations of the Marriott Grand Residence Club, which is situated in South Lake Tahoe (on the California side of the lake). Skiers love that the Heavenly Ski Resort's gondola is only outside the main entrance.
Use the heated pool or hot tub at the hotel to thaw out when necessary. Due to the fact that this is a Grand Residence and the rooms are owned by Marriott Vacation Club members, the amenities are more comparable to those of timeshares than to those of a hotel, and you will have access to a fully furnished kitchen and dining area.
The resort does not charge for Wi-Fi access, but several recent visitors were incensed by the valet parking price. As a Marriott Rewards category 8 property, guests must use at least 35,000 points to reserve a complimentary stay.
Key Amenities:
On-site spa, heated pool and hot tub
Access to Heavenly Ski Resort gondola
Full kitchens and dining rooms in residences
6. Harrah's Lake Tahoe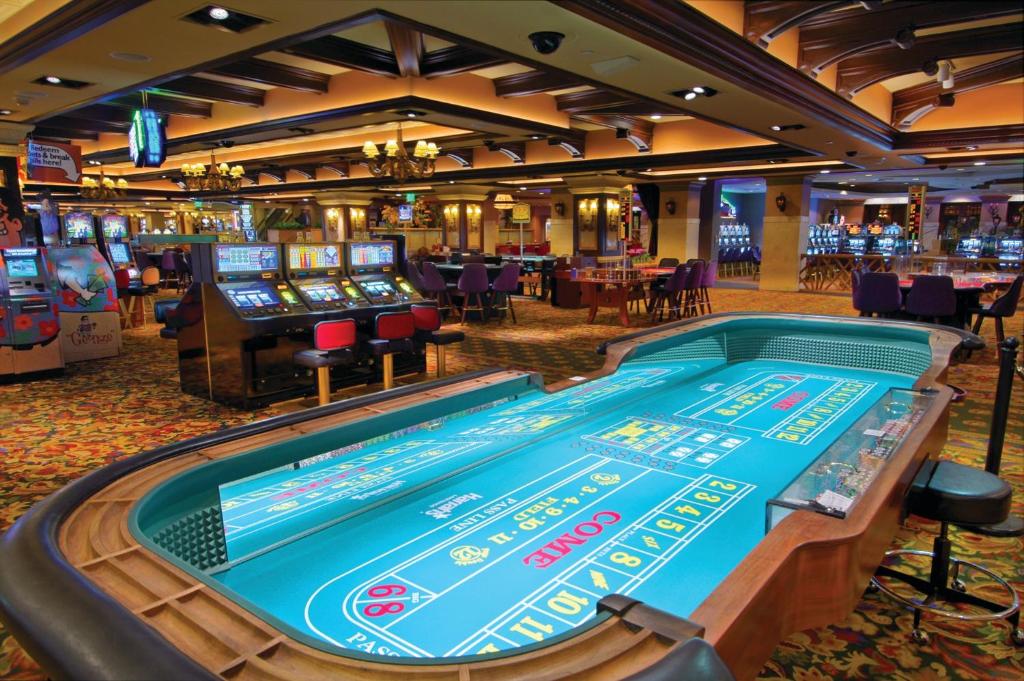 Harrah's is a location that will steal your breath away with its 18 stories that showcase the stunning views of Lake Tahoe with the Sierra Nevada in the background.
This location's interior will give you the impression that you are already outside. For guests seeking a sophisticated yet enjoyable vacation, our award-winning hotel is the ideal location.
You will get access to Harrah's well-known casinos as well as the renowned South Shore Room. Although it's the ideal playground for adults, kids are welcome to come along as well.
The hotel offers a lot for families to enjoy together.
Key Amenities:
18-story high hotel with Sierra Nevada views
On-site casino and live entertainment
Indoor pool, spa, salon and fitness center
7. Plumpjack Squaw Valley Inn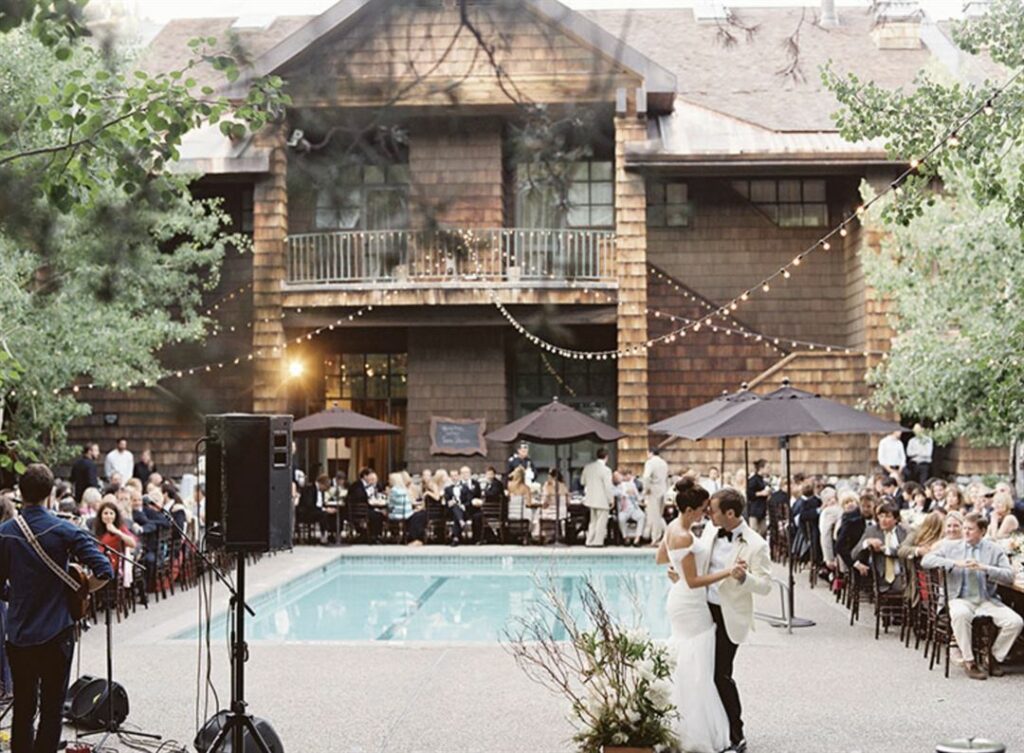 This upmarket village-style hotel, which was built for the 1960 Winter Olympic delegation, is renowned for its idyllic grounds, which are crisscrossed by stone pathways and scattered with Adirondack chairs.
The hotel has both ski-in and ski-out access and is located in Squaw Village. The hotel provides a formal restaurant renowned for its wine selection in addition to a more relaxed bar and lounge.
There are many large trails for walking and skiing on the expansive grounds during the winter. The nearby hot tub and the little outdoor pool, which is surrounded by pine trees.
The conference room and event space are spacious and light-filled, with exposed beams throughout.
Key Amenities:
Ski-in and ski-out accessibility
Outdoor pool with hot tub
Village-style poroperty with on-site restaurants
Top 7 Luxury Resorts in Lake Tahoe 2023 – Newshub360.net
Related Post

Credit: www.Newshub360.net