The Most Beautiful Lakes to Visit Near Charlotte, NC 2023: The city of Charlotte is home to a wide variety of attractions, ranging from renowned restaurants to world-class sports arenas and museums.
There are natural and constructed lakes that provide regular activities of swimming, fishing, and boating, and on land, you could discover paths that weave through the forest and routes that lead to mountain peaks.
When you are trying to immerse yourself in nature, there are lakes, both natural and manmade, that offer these activities.
These beautiful lakes at Charrlotte are the greatest possibilities for those living in Charlotte, whether you're searching for something that's only a few minutes away from the central business district or something that's only a couple of hours away by car.
10 Most Beautiful Lakes to Visit Near Charlotte, NC
 1. Lake Norman – Davidson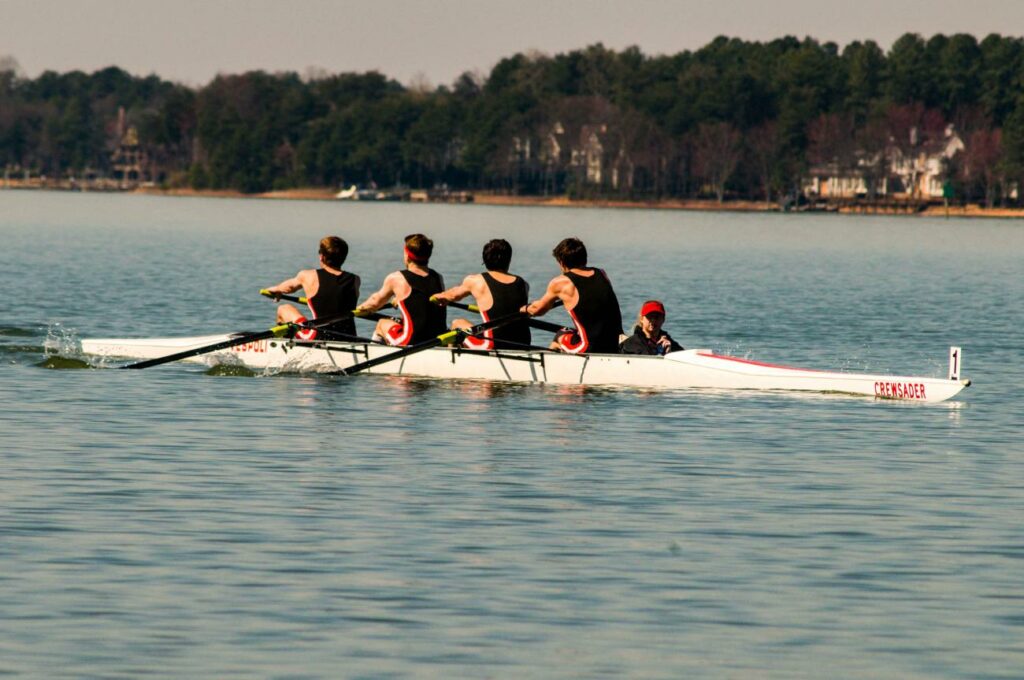 Lake Norman is located less than 40 miles north of Charlotte and is easily accessible for a day trip; nonetheless, it gives the impression of being in another universe.
It has 520 miles of shoreline with a wide range of activities, whether you're looking for a high-energy party in a cove, to whiz around on a powerboat, or to enjoy something more relaxing, like casting your line into a tranquil fishing hole.
The shoreline is home to a variety of wildlife, including bald eagles, ospreys, and bald eagles.
Blue catfish, bluegill, and crappie are just some of the species that may be caught at this well-known fishing site in North Carolina.
In addition, every year in the month of June, the McGuire Nuclear Station plays home to a performance on the lake performed by the Charlotte Symphony.
This event draws a large number of people, including countless boaters, who dock their vessels in the cove.
2. Lake Wylie – Lake Wylie, South Carolina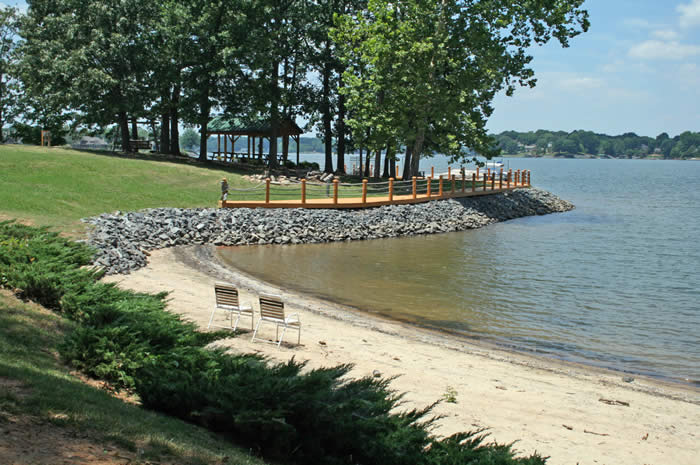 Although Lake Wylie is physically located in South Carolina, it is considered to be a suburb of Charlotte due to its proximity to the city (less than 14 miles).
The scenery is breathtaking, and you'll be able to get away from the hustle and bustle of the city in about half an hour if you drive, so there's no reason to stay the night there.
It is a man-made reservoir that offers an abundance of things to do, including activities that are suitable for families as well as some exceptional pubs and restaurants.
Visitors have the option of going on boat excursions that include activities such as tubing, fishing, and meals while watching the sunset, or they may simply travel to one of the numerous coves that has shallow waters for playing in.
Copperhead Island is a park that spans 14 acres and provides direct boating access to the lake in addition to various boat ramps, fishing piers, kayaking, hiking paths, spots for picnics, beach volleyball, and other activities.
3. Lake James – Linville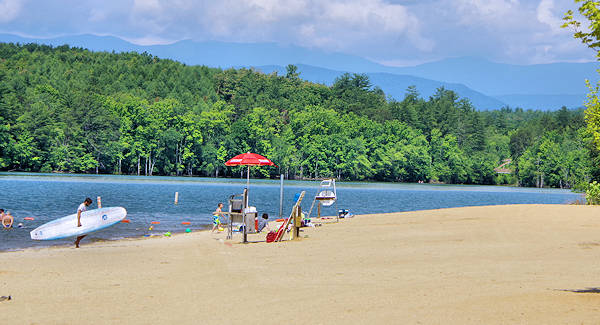 Lake James is a crystal-clear freshwater lake with pure mountain water in colours that range from emerald to turquoise, and it is located approximately a two-hour drive north-west of Charlotte near Linville.
It is located at the foot of Linville Gorge, sometimes known as the "Grand Canyon" of the state, and offers a wide variety of opportunities for outdoor leisure, such as hiking paths that take in the breathtaking scenery of Linville Falls and tours that take visitors deep below into Linville Caverns.
Swimming, canoeing, boating, and fishing are all enjoyable activities that may be enjoyed on the lake itself. Largemouth bass are the most often caught fish.
In addition, there is a rich diversity of flora and wildlife in the region, including vibrant wildflowers and high wooded hills that are filled with pines, hemlocks, and hardwoods.
Keep an eye out for various animals, such as muskrats, flying squirrels, minks, foxes, and rabbits.
Camping is a popular activity in this part of North Carolina, and a lot of people come here to do it.
Most Beautiful Lakes to Visit Near Charlotte
4.Lake Lure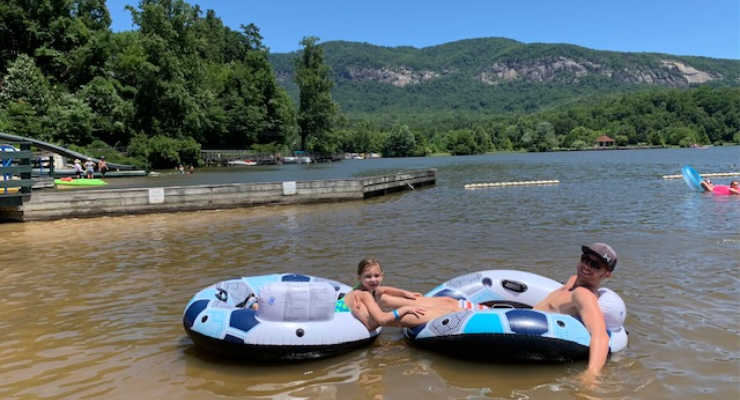 Lake Lure, which is around 93 miles west of Charlotte, is the well-known backdrop for the 1987 film "Dirty Dancing." The film was shot there, so fans of "Dirty Dancing" may recognize the area.
You can visit for the day or hang there for a longer.
As you saw on the screen, it is encircled by mountains covered in forest, so the scenery is just as beautiful in real life.
There is a beach there where guests may sunbathe and swim, there are chances for boating, there is access to rock climbing, and there are zip lines.
You may get a panoramic view of Chimney Rock State Park's lake and Hickory Nut Gorge from the top of the park's namesake spire, which is 315 feet tall.
The Lake Lure Marina is the starting point for daily boat trips between the months of April and October, and the town of Lake Lure is home to a large number of stores, restaurants, and other attractions.
5. High Rock Lake – Southmont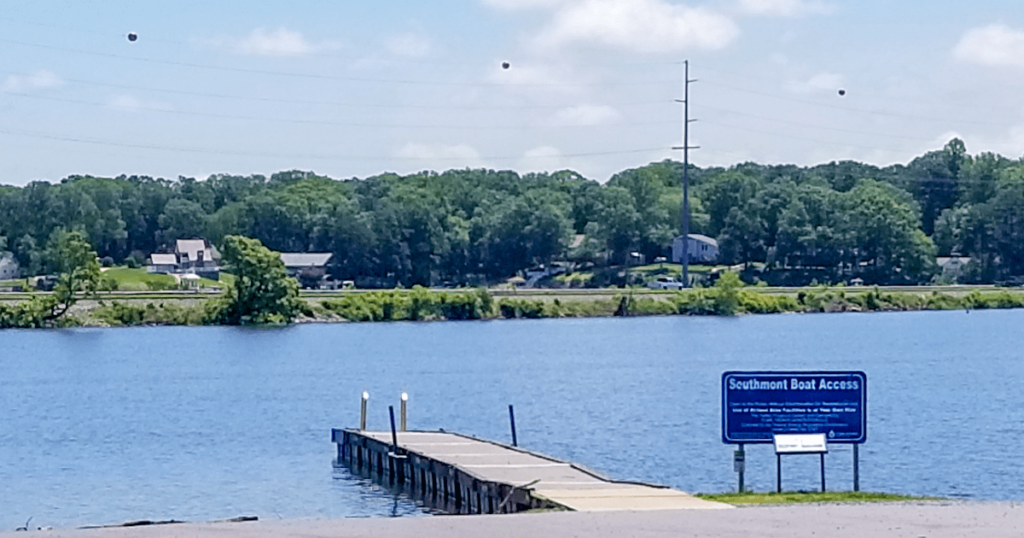 High Rock Lake, which is the state's second-largest lake, is an excellent destination for a day trip and can be reached from Charlotte in a little over an hour.
The lake offers excellent chances for a broad variety of activities.
Anyone who is interested in exploring the expansive and alluring waters can do so on a boat, kayak, canoe, or jet ski; however, if you do not have your own, there are a lot of rental options available for you to choose from.
When it comes to fishing, you have the opportunity to reel in catfish, bream, striper, crappie, and bass.
The picturesque lake got its name from the surrounding High Rock Mountain, which is characterized by steep cliffs, dense tree canopies, and various types of verdant flora. The lake is particularly beautiful.
6. Belews Lake – Pine Hall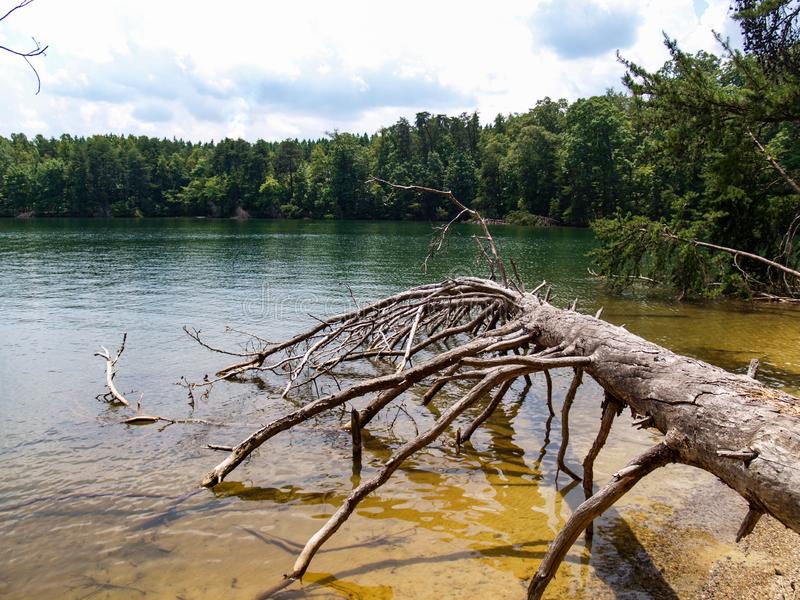 Belews Lake is a reservoir that was established in 1973 by the Duke Energy organization in order to serve as a cooling basin for the Belews Creek Steam Station.
The reservoir may be found tucked away in the foothills of the Blue Ridge Mountains near the villages of Pine Hall and Stokesdale. From Charlotte, it is a little over 100 miles away, which is equivalent to around an hour and 45 minutes of driving.
Visitors will discover that it has a lot to offer, including the chance to go boating, fishing, and hiking along the trails that go through the woodland that surround the lake.
A lot of people go scuba diving here since the water is so clear; it's an excellent place to get some experience under your belt before venturing out into the open ocean.
If you are seeking to fill up your Instagram feed, the early morning hours are great for shooting gorgeous photographs with a layer of steam developing over the lake owing to the nearby power plant.
These hours are ideal for taking photos if you are looking to fill up your Instagram account.
Most Beautiful Lakes to Visit Near Charlotte
7. Jordan Lake – Wilsonville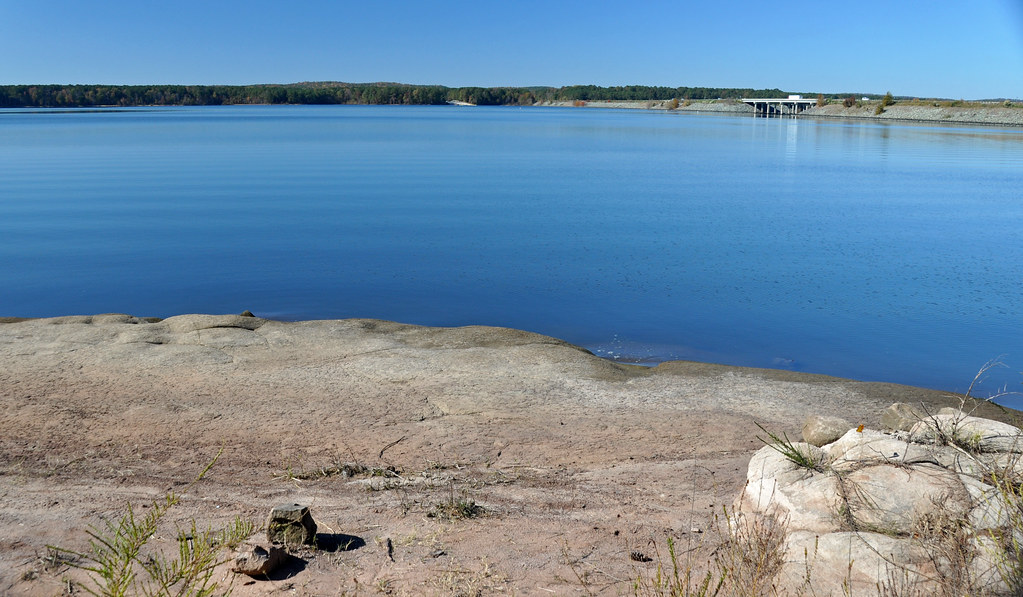 Jordan Lake is a reservoir that spans over 14,000 acres and can be found to the west of the larger Raleigh-Durham area. It is located just under 240 kilometers from Charlotte.
Even though the drive is approximately two hours and fifteen minutes long, it is well worth getting up early to enjoy this one because it is home to the greatest number of bald eagles that can be found anywhere in the eastern United States.
In one of the best lakes for swimming and other water sports like paddleboarding or even snorkeling, visitors are treated to breathtaking views of forested mountains.
Meanwhile, nature reserves are home to thousands of plant and animal species for them to observe and learn about.
The fishing in the Jordan Lake Recreation Area is particularly good for bass and crappie, and in addition to that, there are seven swim beaches, around one thousand campsites, and over 14 miles of hiking trails.
8.Mountain Island Lake – Charlotte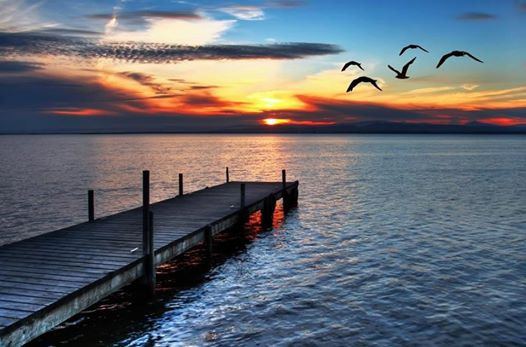 Located fewer than 24 kilometers from the heart of the city, Mountain Island Lake is a popular destination among locals.
The provision of clean drinking water and energy to local inhabitants is the major function of the facility; nevertheless, tourists may take use of the placid, clear water for a variety of activities, ranging from swimming and fishing to boating and stand-up paddleboarding.
Rural Hill is a 265-acre area that is located immediately adjacent to the beaches of the lake.
It is a natural preserve that features attractive hiking paths, a historic site with six structures, including the Bethesda Schoolhouse, which was one of the earliest African-American schools, and a working farm with highland cows.
In addition, a large number of unique occasions, such as the Sheep Dog Trials, the Amazing Maize Maze, the Scottish Festival, and the Brewers and Music Festival, are held here.
Most Beautiful Lakes to Visit Near Charlotte
9. Lake Tillery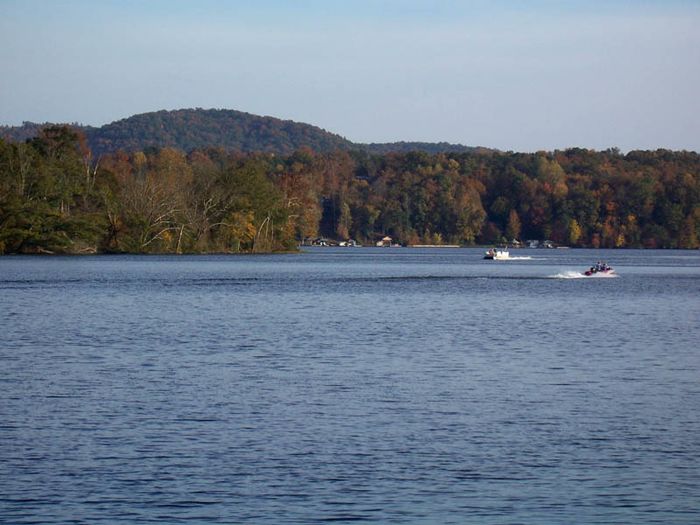 Lake Tillery is located a little over 50 miles east of Charlotte and features a shoreline that is 100 miles long.
This shoreline includes Morrow Mountain State Park and the Uwharrie National Forest, both of which offer options for enjoyment both on land and in water.
Visitors have the opportunity to swim, fish, tube, walk, cycle, camp, and fish from a pontoon or fishing boat that they rented.
In the surrounding area, you'll find a number of courses with 18 holes, a mini-golf course, a number of museums, and a variety of eateries.
Campsites are available, and the day excursion from the city is manageable enough to be done in a single day.
10.Hyco Lake – Roxboro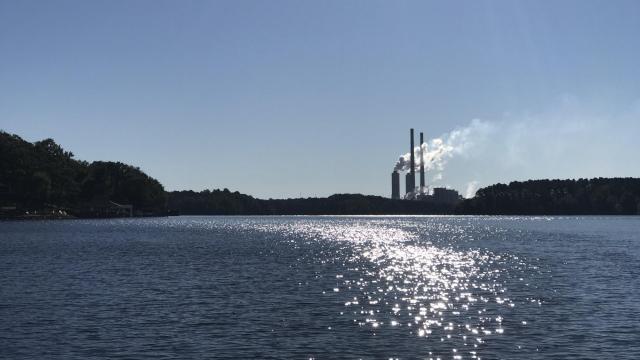 Hyco Lake is one of the lakes that is the furthest away from Charlotte; yet, if you are searching for a place to get away from the hustle and bustle of the city, you will find that there is much to do at Hyco Lake.
You may locate campgrounds with RV and rustic sites as well as cottage rentals right by the lakeside, so if you don't want to accomplish everything in a single day, you have options.
Take a break and spend some time in the great outdoors; while you're there, keep an eye out for the diverse array of bird species that call this region home, such as cliff swallows, spotted sandpipers, and hummingbirds.
The lake covers more than 3,750 acres and has more than 120 miles of coastline, providing ample space for boating and fishing for a variety of species, including largemouth bass, white bass, bluegill, and crappie.
It is completely free to play the 18 holes of disc golf that are located here; all you need to do is bring your discs with you.
10 Most Beautiful Lakes to Visit Near Charlotte, NC 2023 – Newshub360.net
Related Post
Credit : www.Newshub360.net