The 19 Best Pizza Joints in the United States 2023: Which is better, New York style or deep dish? Olive oil and garlic or the traditional marinara? Cheese or the best? What qualities make a pizza truly ideal?
Although they don't all have the same style, you can know you can get one killer slice of pie at these traditional favourites since we've tracked down the best pizza joints in pizza-loving communities across the United States.
Americans have accepted pizza as a favourite food, so if you're in town, stop in for a sample of some of the tastiest slices around.
19 Best Pizza Joints in the United States 2023
1. Joe's Pizza – New York, New York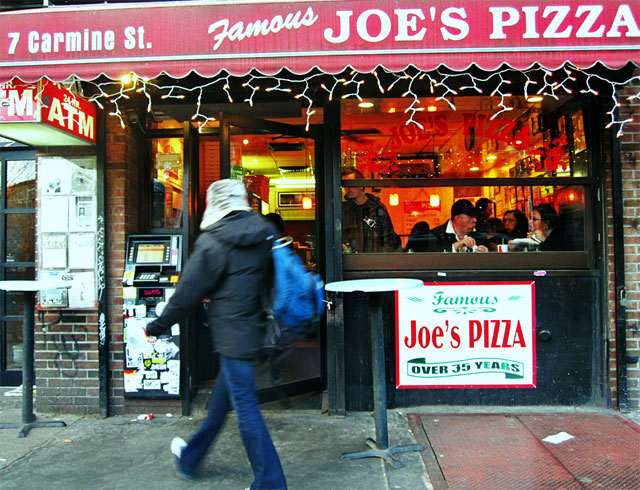 Without a question, New York is a fantastic location for eating cheese pie, but, let's face it, there are many other fantastic locations as well.
Since Joe's Pizza on Carmine Street has been a fixture in the neighbourhood since the 1970s and is also reasonably priced, it is a wise pick.
Nothing matches the simplicity of a large slice of cheese made in the New York style with the perfect amount of sauce.
The restaurant and the pizza are uncomplicated and utterly delicious when prepared traditionally in a brick oven.
2. L&B – New York, New York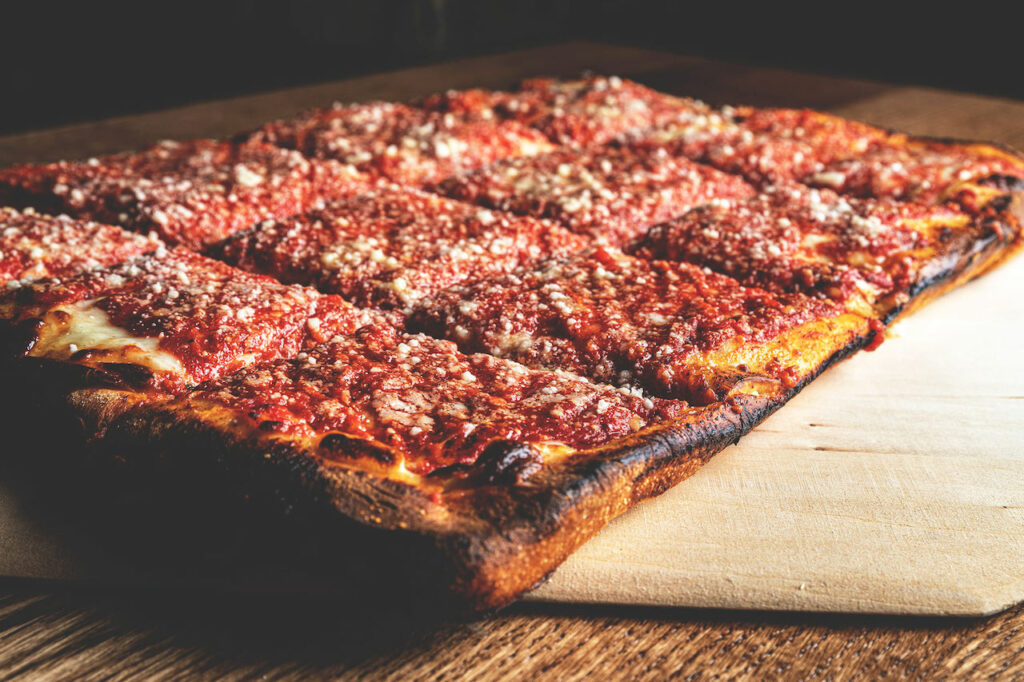 If you're seeking a new twist on the traditional meal, L&B in Brooklyn, New York, has a cool spin on it.
Pizza's typical textures are completely confused by the addition of sauce on top of cheese while maintaining a fantastic flavour.
3. Pequod's Pizza – Chicago, Illinois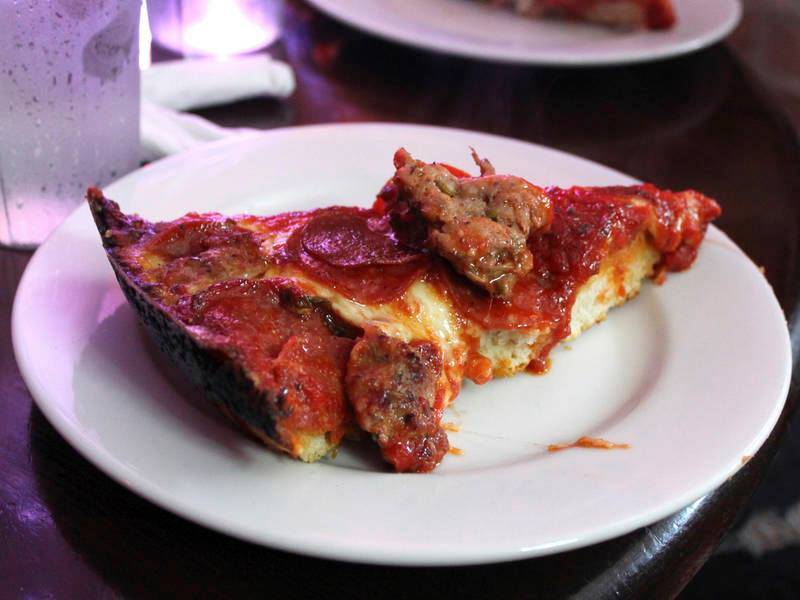 All of you who enjoy deep-dish pizza should visit Pequod's Pizza, which is located in Chicago by default. All "pan" pizzas are served in a cast iron dish that requires a knife and fork to cut through the cheese, sauce, and caramelised crust.
You'll be enjoying some of the best deep-dish pizzas at Pequod's, which are really wonderful and decadent.
In this cosy restaurant, thin-crust pizza and appetisers are popular choices, but deep-dish pizza with pepperoni is the real deal.
4. Mulberry Street Pizzeria – Beverly Hills, California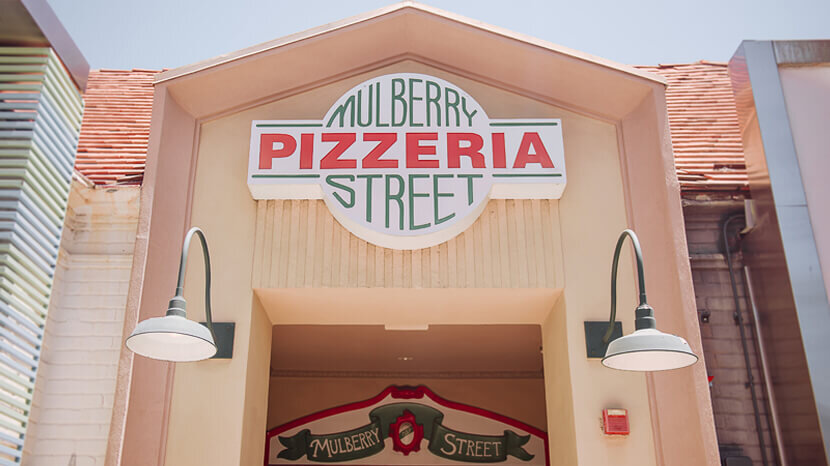 If you ever find yourself wandering around Beverly Hills, make sure to stop at Mulberry Street Pizzeria for a piece of thin-crust pepperoni before you go.
They prepare more New York-style versions and have the greatest meatballs, which people frequently gush about. They are unpretentious and surprisingly inexpensive.
You could even spot a few celebrities enjoying their go-to comfort foods.
5. Ken's Artisan Pizza – Portland, Oregon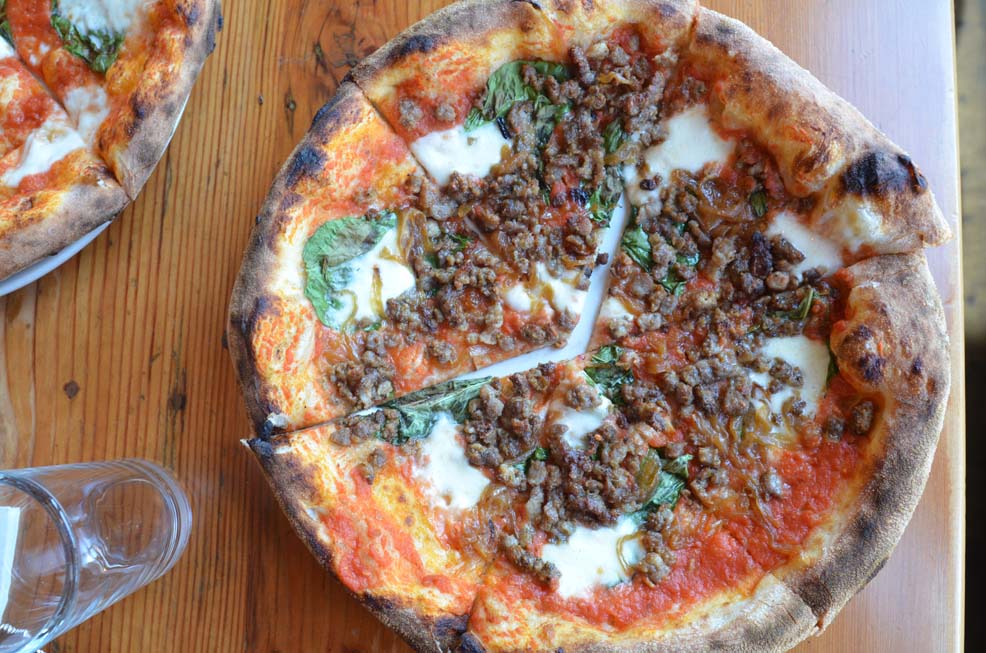 Portland, Oregon has a good number of diverse restaurants, so you can expect they have a variety of excellent pizza joints as well.True Italian-style, wood-fired pizza is combined with seasonal, fresh ingredients at Ken's Artisan Pizza.
Sometimes unexpected, the combinations are actually rather energising. Tomato sauce, mozzarella, Fra'Mani capicollo, pickled jalapenos, and that surprising ingredient, a dash of honey, are all present in the Brooklyn.
Perfection. Don't forget to have an Affogato for dessert, which is a cup of coffee from the area topped with ice cream dusted with brown sugar.
6. Slab Sicilian Str@@eet Food – Portland, Maine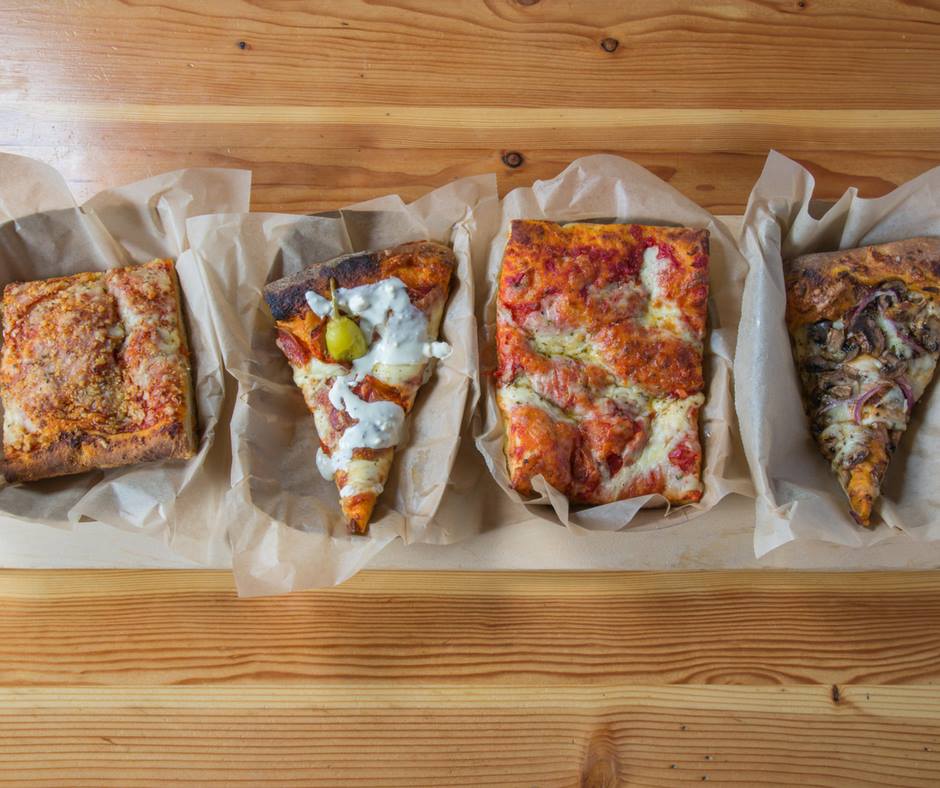 Slab is a Sicilian-style restaurant featuring pizza and street cuisine located in the other Portland on the East Coast. To portray its actual origins, the dough is prepared in a "old world" manner by hand mixing.
The standard toppings on a slice are tomato sauce, mozzarella, provolone and oregano, but you can also choose sausage and picante provolone.
Pizza with a classic slab crust is a great compromise between deep dish and thin crust.
7. Big Lou's – San Antonio, Texas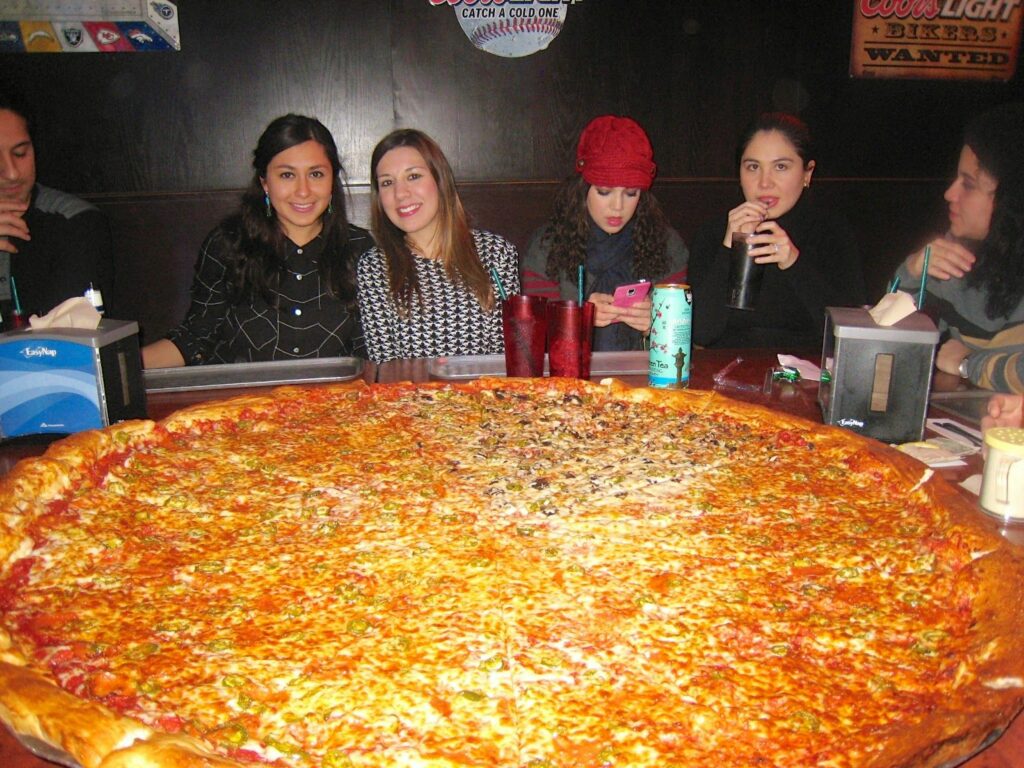 A Texas-themed pun would be too simple, so we'll just say Big Lou's in San Antonio has some of the biggest pies around.
The restaurant offers some really unique flavour combinations, such as BBQ with pickles. But having a pizza that covers the table and yields slices that are almost a foot long is pretty much everyone's fantasy, isn't it?
8. Antico – Atlanta, Georgia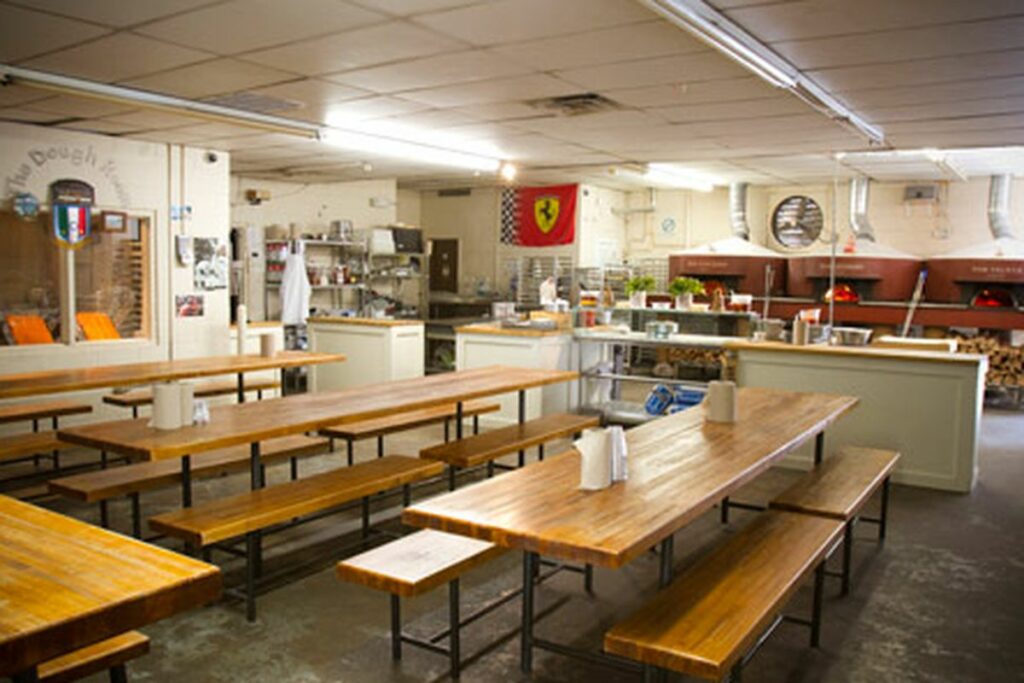 There are several very outstanding pizzerias in Atlanta.In Atlanta, the quaint and informal Antico serves incredibly authentic Italian pizza.
The wonderful, chewy crust features those tiny, browned dough bubbles that give the crust a lot more flavour when baked in a wood-burning oven.
The Lasagna pizza, with its colourful crumbles of seasoned meat and ricotta cheese, is a true gem particular to Antico. There are several versions on the menu, such as ones packed with spicy cured meats or veggies.
Here, topping substitutes aren't really a thing, and after tasting a slice of any pie with a good balance, you'll understand why.
9. Picco – Boston, Massachusetts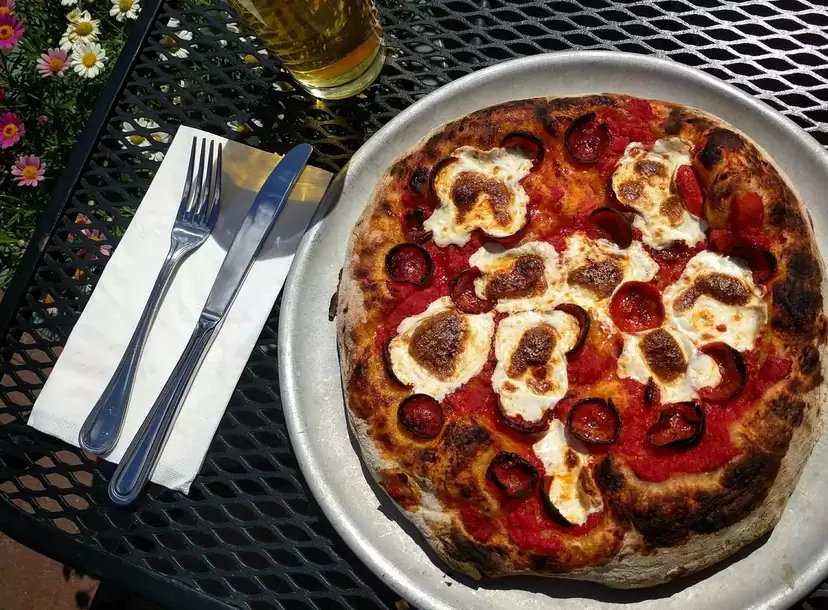 The brick oven crust at Picco in Boston must be prepared over the course of two full days. The dough has been fermented, which enhances its flavour.
The Alsatian, possibly Picco's most well-liked dish, is topped with flambe sautéed onions, shallots, garlic, creme fraiche, bacon, and gruyere.
Every dish, from the pizza to the salads, is a gorgeous work of art that is bursting with colour and artisanal ingredients. The ice cream is homemade as well.
10. Jersey City, New Jersey's Razza Pizza Artigianale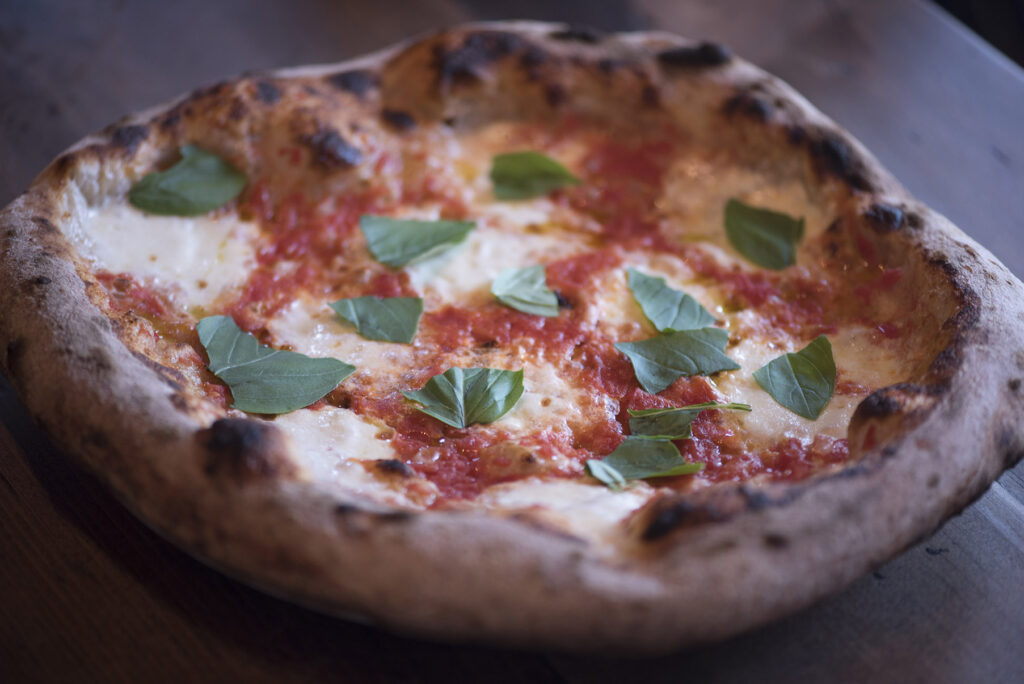 Razza Pizza Artigianale is a pizza restaurant located in Jersey City right next to City Hall that serves very amazing pizza.
With its attention to detail and pizza with a rich crumb and alluring toppings, this award-winning restaurant competes with the best of the best in New York City.
This lovely wood-fired pizza joint uses locally sourced items on its menu, including heirloom tomatoes, wild yeast, wheat, and mozzarella and ricotta for the dough.
11. Cloverleaf Pizza – Macomb, Michiga
The 1940s-inspired Cloverleaf Pizza in Macomb, Michigan serves up Detroit-style pizza. The sauce and cheese alternate positions in pies, which are more shaped like enormous rectangles.
Pepperoni on top of your pie is strongly advised.
12. Del Popolo – San Francisco, California
The Neapolitan pizza movement in San Francisco is exemplified by Del Popolo, which had its start in a distinctive glass-enclosed goods container that was later converted into a food truck.
They provide hand-stretched, wood-fired pizzas using genuine Italian ingredients now that they have a permanent location. Pair with a glass of red wine or antipasti.
13. Pizzeria Lola – Minneapolis, Minnesota
Minneapolis' Pizzeria Lola serves up combinations like the Lady Zaza with Italian red sauce, kimchi, Korean sausage, serrano peppers, scallions, sesame, and soy-chili glaze, as well as the Korean BBQ with beef short ribs, mozzarella, scallions, arugula, sesame, and soy-chili vinaigrette.
These dishes are evidence that Korean flavours harmoniously blend with pizza. The enhanced menu has a tonne of other intriguing pies that pay homage to places like Boise and Hawaii.
Pizzas may typically be made gluten-free.
14. Rico's Pizza Gulfgate – Sarasota, Florida
In order to create what many consider to be the best New York-style pizza in Florida, Rico's Pizza Gulfgate uses an old-school Italian recipe together with the freshest tomatoes and the ideal combination of seasonings.
You can get a complete pizza or a slice with the hand-tossed crust. Few will be dissatisfied here because there are options for vegans and gluten-free people, and every bite makes the love that went into these pies clear.
15. Pizzeria Bedia – Philadelphia, Pennsylvania
Although the Philly steak sandwich may be Philadelphia's most famous export, people began waiting in line for hours at Pizzeria Bedia as soon as it opened to eat Joe Beddia's homemade pizzas, which could not be ordered over the phone or online.
After Andrew Knowlton compared the results to those of Japan's top sushi chefs and Bon Appetit rated it the best pizza in America, it became a little too well known, which contributed to chef burnout.
For the benefit of pizza aficionados, it was reopened a few blocks away from the original location, tucked away in a back alley in the Fishtown neighbourhood.
The tastiest slices in the nation may still be found here, despite the fact that huge lineups are a thing of the past.
16. Bufalina Due – Austin, Texas
There is much disagreement over who produces the finest barbecue in Austin, but there is no argument about who makes the best pizza.
Customers and critics usually give Bufalina Due's beautifully crafted Neopolitan pies, which are baked in a Stefano Ferrara wood-burning oven, great praise.
They go well with natural wine and can be consumed inside or outside. No matter how you indulge, the nuanced flavours that are believed to transform a guilty pleasure into fine dining fare are likely to please.
17. Dino's Tomato Pie – Seattle, Washington
Brandon Petit, who is believed to have missed the Jersey pies of his youth, created the round and square pies served at Dino's.
He made the decision to recreate the pizza restaurants he cherished in the form of a moody, red-lamped pizza parlour from his memories.
Locally sourced toppings, a Sicilian-style crust with caramelised cheese, and a fiery red sauce are best eaten with a traditional northern Italian Negroni on tap at this Capitol Hill restaurant.
It's an experience that will keep you coming back time and time again.
18. Vito & Nick's Pizzeria – Chicago, Illinois
Vito & Nick's Pizzeria, a South Side Chicago landmark, has long been a family-run business with Sicilian roots.
A century ago, Vito and Mary Barraco founded their first bar, and with the assistance of Nick's mother in 1946, the soon-to-be-famous business was born here at the corner of 84th and Pulaski.
They assert that its distinctiveness as the king of tavern-style pizza is due to its straightforward, reliable method.
It may be blasphemous to serve the uncommon for Chicago crispy, well-done thin crust here, but that hasn't prevented its devoted followers from enjoying cheese sticks and a pitcher of beer in the simple dining area as they wait for the main event.
19. Pizzeria Mozza – Los Angeles, California
In Los Angeles, Pizzeria Mozza has established the bar so high that nearly all other pizzas are measured against it.
When topped with unusual ingredients like squash blossoms and burrata, the air-bubble-filled crusts make every mouthful a chewy delight.
Meat fans may tuck into rich options made with pancetta, ham, and veal. You'll want to make room for the sweet and creamy Italian butterscotch budino, one of the tastiest sweets you've probably ever had, even though it might not be simple.
19 Best Pizza Joints in the United States 2023 – Newshub360.net
Related Post

Credit: www.Newshub360.net