The Top Orlando Resorts with Water Parks 2023: The amusement parks in Orlando are a major draw for families, but relentless activity may take its toll, leaving everyone worn out and irritable by the time they leave.
In order to have a trip that is more pleasurable overall, you should be sure to give yourself some downtime in between all of the exciting activities at the theme parks.
One of the most effective methods to accomplish this is to make reservations at a hotel or resort that features a water park.
This will allow you to reduce stress and revitalize while the children have fun playing in the water. Any one of these options is certain to fulfill your requirements.
Top 12 Orlando Resorts with Water Parks
1. Orlando World Center Marriott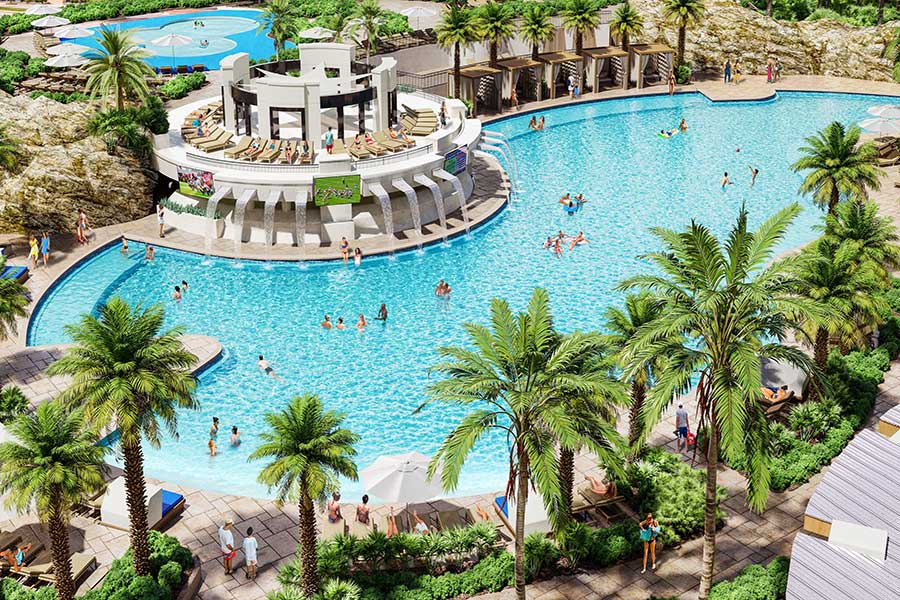 If you want to have some fun in the water in between trips to the theme parks, the Orlando World Center Marriott is a terrific spot to stay because it's only ten minutes away from Disney World.
It features a waterslide that is 90 feet long and goes at a breakneck speed, as well as two waterslides that are 200 feet long and twist through the forest.
A special area designed specifically for children to splash about in, complete with kid-friendly features and shallow water.
Enjoy the Oasis Pool, the 575-foot Lazy River, and the Hot Tub Grotto, which is situated beneath a waterfall, whenever you are in the mood to unwind and relax.
Many other activities, such as organized activities for the children, are available for families to participate in.
An 18-hole golf course complete with a pro shop is available for the enjoyment of the adults.
The hotel features a wide variety of dining options, from pizza to teppanyaki, and the guestrooms include balconies, some of which offer views of the laser light show that is held nightly.
Key Amenities:
Three multi-rider waterslides
Kid-friendly aquatic paradise
a golf course with 18 holes and a pro store
2. The Grove Resort & Water Park Orlando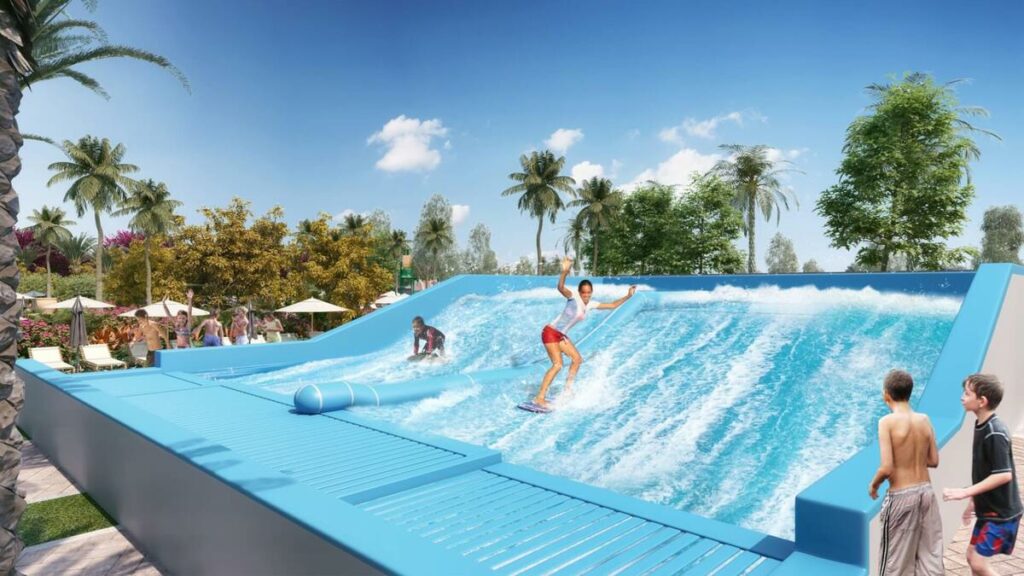 At The Grove Resort & Water Park Orlando, you have the option of staying in one- to three-bedroom suites, each of which comes equipped with a separate living and dining area, a flat-screen TV, full-size washers and dryers, and sleeper sofas.
You can take advantage of the residential-style accommodations throughout your stay at The Grove Resort & Water Park Orlando.
The resort is only 10 kilometers (6 miles) away from Disney and features a full-service spa as well as a fitness facility; nevertheless, the water park is the most popular attraction.
In addition to dual waterslides, a zero-entry pool, a kids' activity pool, and a 695-foot lazy river, the Surfari Water Park has a FlowRider Double surf simulator.
At Antonio's Pizza, you can get a full meal, and at the Alfresco Market, you can get some delicious snacks.
Key Amenities:
Spa and fitness facility offering a full range of services
FlowRider Double surf simulator
Relaxing 695-foot lazy river
3. Reunion Resort & Golf Club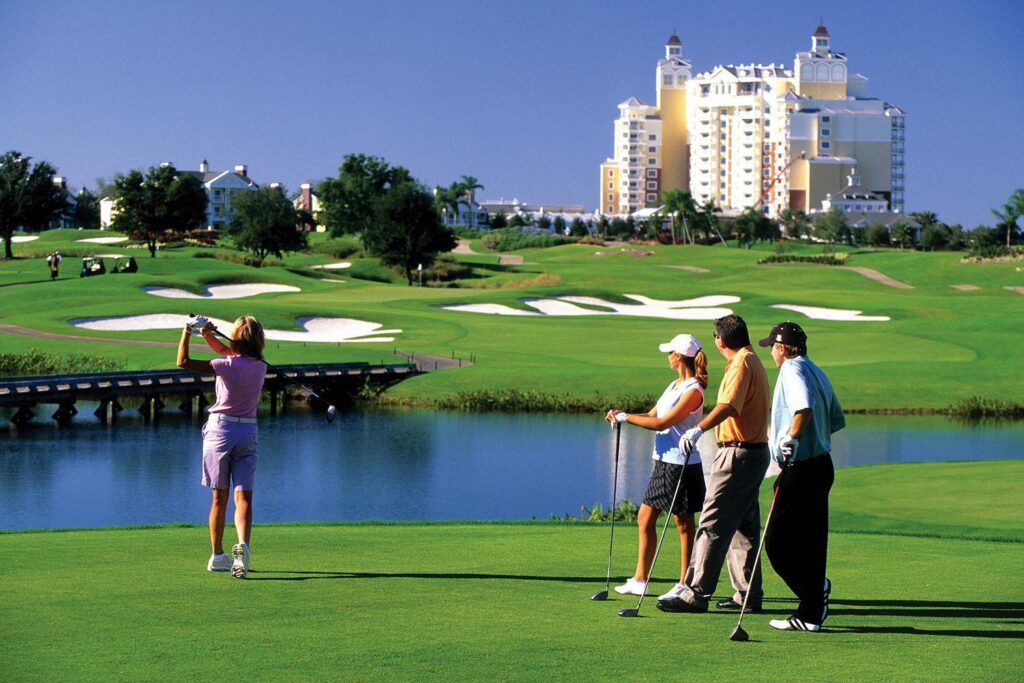 A premium resort that welcomes families with children, Reunion Resort features 10 swimming pools, a water park that spans 5 acres and has twisting waterslides and a lazy river that is 1,000 feet long.
The children will have a great time at the club, which features activities that run throughout the day and two playgrounds.
Adults may take use of the resort's full-service spa and salon, three championship golf courses constructed by legendary PGA players, two golf academies, and tennis center with pickleball courts.
Over a half-dozen restaurants, including the rooftop Eleven, provide guests with a front-row seat to Disney's nighttime spectaculars.
The living quarters are located in roomy villas that have their own living and dining spaces, as well as full kitchens and balconies.
Key Amenities:
A water park spanning 5 acres, complete with an aquatic playground.
The rooftop restaurant offers spectacular views of the fireworks at Disney.
There are three golf courses here, all created by legendary PGA pros.
courts for both tennis and pickleball
Orlando Resorts with Water Parks
4. Omni Orlando Resort at ChampionsGate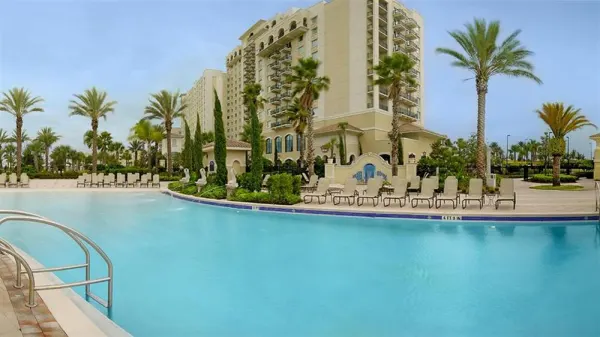 A vacation at the Omni Orlando Resort at ChampionsGate is sure to be enjoyable for young guests as well as those young at heart.
The 850-foot-long lazy river is one of the greatest you'll find in Orlando, and while you're floating down it, you can let all of your worries float away as you cruise through waterfalls, tunnels, and water cannons.
In addition, it has Orlando's only resort wave pool, a corkscrew waterslide that is 125 feet long, and a water tower.
There is a kids' club and daily activities, so parents can enjoy playing golf on one of two 18-hole courses or striking the ball on a lighted nine-hole course while their children are occupied at the kids' club or participating in the daily events.
Elegant guest rooms and suites are big and bright, with full minibars, Starbucks instant coffee, and Wolfgang Puck coffee pods.
There are a number of dining establishments to choose from, each providing a diverse selection of food and drink options.
A Mokora spa and a fully-equipped workout facility, complete with Pelotons, are among the numerous attractions available to guests.
Key Amenities:
Only resort pool in Orlando with a wave pool
Club for children and activities each and every day
There are two golf courses with 18 holes and one with nine holes that are illuminated.
5. Waterpark Suites at the Holiday Inn Resort Orlando Suites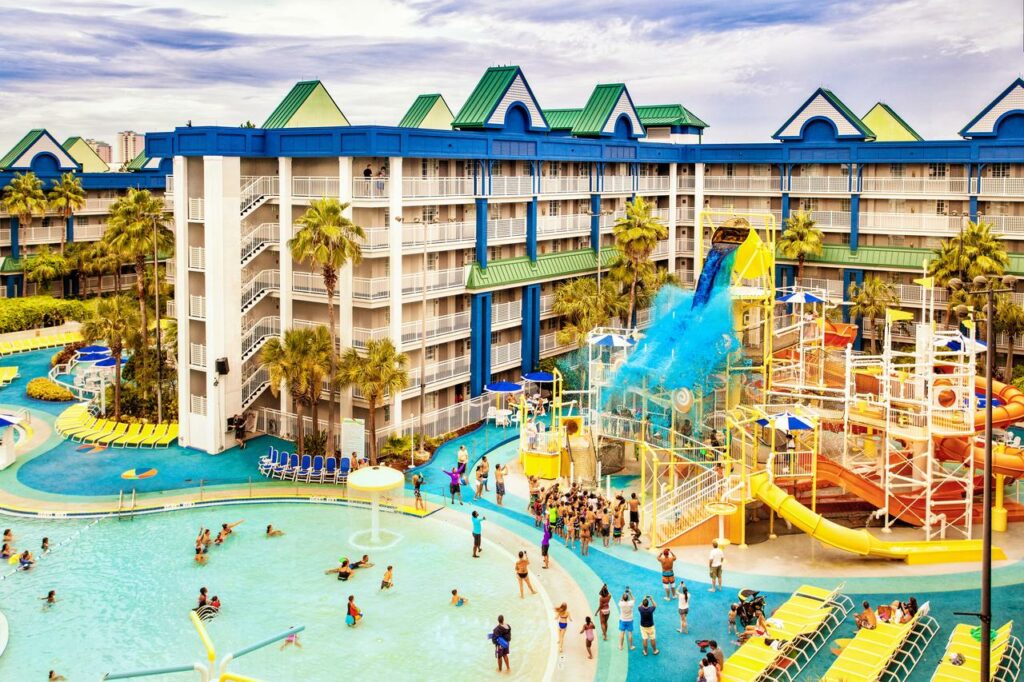 A giant video arcade, a 4D movie theater, an indoor Batman Laser Challenge, and one of the best resort water parks Florida has to offer can all be found at the Holiday Inn Resort Orlando Suites, which is located just one mile from the Disney theme parks.
Other family-friendly amenities include an indoor Batman Laser Challenge and one of the best resort water parks Florida has to offer.
There is a diverse selection of food alternatives as well as weekly events that are appropriate for the entire family, such as family movie night, game shows, and family trivia.
The large suites contain kitchenettes and may be configured with one, two, or three bedrooms, depending on the number of guests staying there.
Key Amenities:
 kilometer away from the Disney parks
Arcade games in addition to the Batman Laser Challenge
Weekly pursuits that are appropriate for the whole family
6. Four Seasons Resort Orlando at Walt Disney World Resort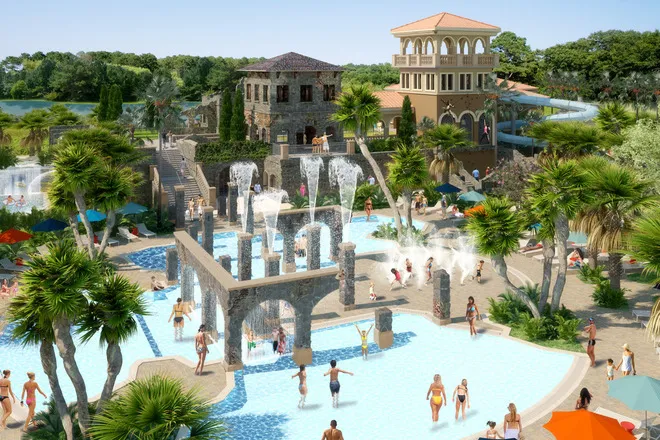 The Four Seasons Resort Orlando is located within Disney World and is home to Explorer Island, which features a splash zone, interactive fountains, splash zones, a waterslide, and a pool that is reserved exclusively for adults.
There is a golf club and course, in addition to a large spa and a fitness center, which makes this one of the top Orlando resorts for vacationing couples.
Other activities available at this resort include golfing and spa treatments. Clubs for teenagers and children that are of a sufficient quality make it simple to take some time for oneself.
In addition, there are four restaurants, various bars, character breakfasts, and accommodations that are far larger than average.
If you want to see the evening fireworks show at Disney from the comfort of your own private balcony, you might consider booking one of the Park View Rooms.
Key Amenities:
Explorer Island with adults-only pool
Character breakfasts
View fireworks from Park View Rooms
Orlando Resorts with Water Parks
7. Flamingo Waterpark Resort
Guests of the Flamingo Waterpark Resort, which is kind to one's wallet, are granted entrance to the resort's water park for a maximum of four people per room.
It has a 30-foot-tall tower with twisting water slides and an exciting speed slide, in addition to a lazy river and spaces for play designed specifically for younger children, such as splash fountains and slides of a more manageable size.
Guests who are above the age of 12 are welcome to unwind in the huge heated spa. In addition, the hotel features a children's play area, a gaming room, and a theater for hosting family movie nights.
Key Amenities:
Budget-friendly prices
Free entrance to a waterpark for a maximum of four guests per room
Kid-friendly swimming places that are only a few feet deep.
8. CoCo Key Resort and Water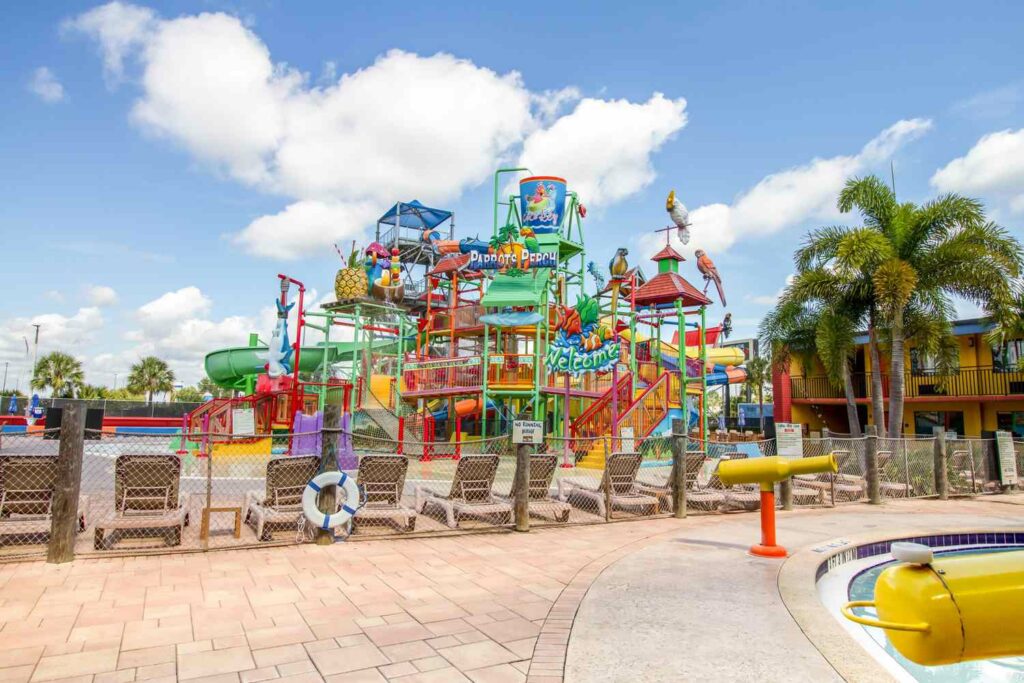 The CoCo Key Resort and Water Park is frequently ranked as the best resort in the area that also incorporates a water park, and it is home to one of the most exciting hotel pools in the Orlando area.
The resort features three heated pools, 14 slides, and a lengthy list of entertaining water activities for the children to enjoy.
A sizable arcade, a spa, a diverse selection of on-site dining options, and a tiki bar located by the pool.
The rooms are bright and airy, with seating for up to four people and amenities such as mini-fridges, coffeemakers, flat-screen televisions, and free wireless internet access.
Some also have views of the pool. Make reservations with a shuttle service in order to reach the adjacent SeaWorld and Universal Orlando Resort in a hurry.
Key Amenities:
Considered region's top water park resort
Poolside tiki bar
Shuttle service to Universal and SeaWorld
9. Liki Tiki Village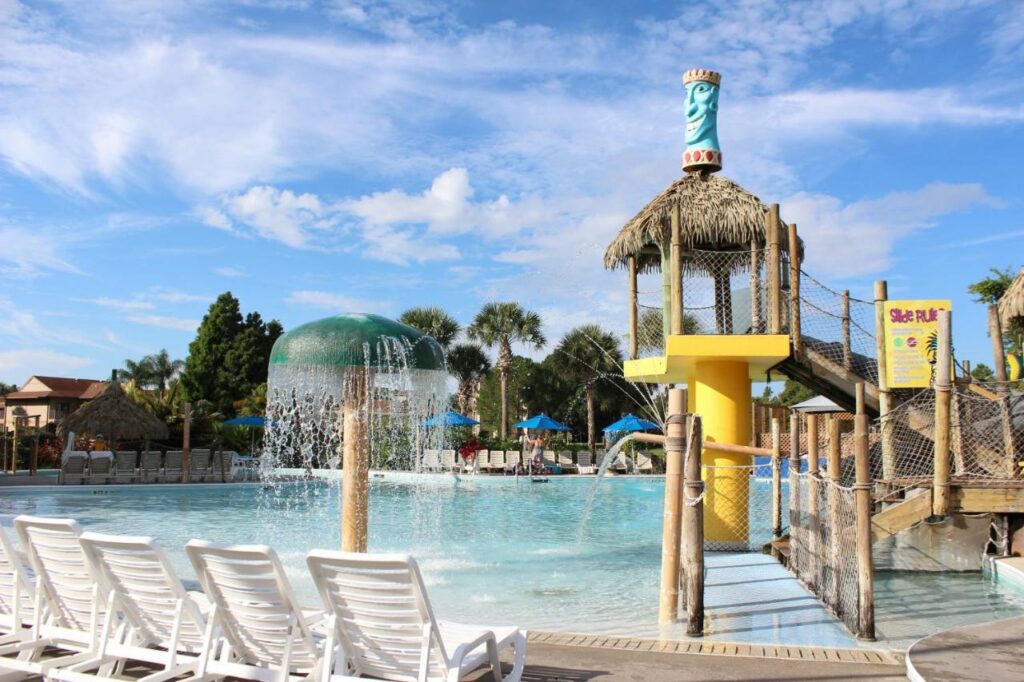 The Liki Tiki Lagoon is a water park that spans a total area of 1.5 acres and is located within the Liki Tiki Village condo property.
It has a waterfall, an erupting water volcano, tiki heads that spew water, five water slides, and an area for kids to splash about in.
The motif of the attraction coincides with the Polynesian name of the resort. In addition, there is a game room, a paddleboat rental service, a Surrey bike rental service, and two heated pools.
The miniature golf course has a tropical motif and nine holes. Condos ranging from one to three bedrooms and equipped with complete kitchens and washers and dryers serve as the accommodations here.
When you don't feel like cooking, you may stop at Shipwreck Sally's Bar and Grill, which is located on the premises.
Key Amenities:
Polynesian-themed lagoon
Nine-hole mini-golf course
Condos equipped with kitchens and washers/dryers
Orlando Resorts with Water Parks
10. Renaissance Orlando at SeaWorld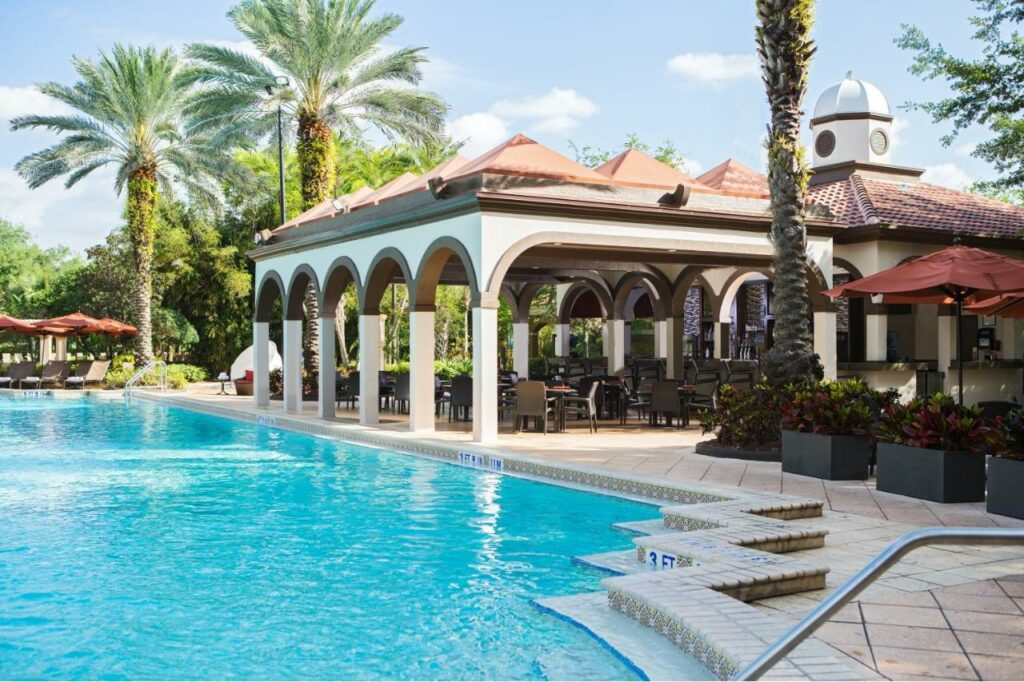 The Renaissance Orlando at SeaWorld is not only conveniently located within walking distance to SeaWorld, but it is also just a shuttle ride away from some of Orlando's most famous family attractions.
It is an excellent option for families because adults can relax by the pool with a refreshing drink while their children enjoy the water park's slides.
There is also a play area specifically designed for toddlers and other young children.
A luxurious spa is located on the premises, and guests may indulge in a variety of body treatments while dining at one of the hotel's restaurants, which include a bustling sports bar, a tapas restaurant, a poolside bar and grill, and a grab-and-go market.
Key Amenities:
A relatively short distance from SeaWorld.
A water park that is suitable for children of all ages, including toddlers,
Wide range of dining options
11. FantasyWorld Resort Lake Buena Vista South
There are two enormous pools, two tall twisting waterslides, a lazy river, and a kids' splash pad at the FantasyWorld Resort Lake Buena Vista South, which is just 10 minutes from Disney World and includes complimentary shuttle service to the parks.
Even an indoor surfing experience on a FlowRider is available here. At the poolside, there are often competitions for games like football tossing and hula hooping.
These competitions are a lot of fun and add to the atmosphere. While the Activity Center hosts movie nights, families can spend quality time together participating in activities such as miniature golf, Bingo, and trivia.
The rooms are designed in the manner of villas and are equipped with complete kitchens, patios, and washers and dryers.
Key Amenities:
10 minutes to Disney and free shuttle service
FlowRider indoor surf experience
Villas have kitchens, patios and washers/dryers
12. Marriott's Harbour Lake
Shipwreck Landing is a themed pool area of the Marriott's Harbour Lake resort that has a pirate ship, water slides, and water cannons.
This area is the centerpiece of the resort, which has a tropical flavor. There is no resort charge required for families to participate in the extensive lineup of activities that includes poolside games, karaoke, and movie nights.
In addition, there is a poolside grill restaurant and bar, as well as multiple grills for self-catering cookouts. There is also an arcade and a gym that is open around the clock. Miniature golf is also available.
The accommodations are rather nice, consisting of one- or two-bedroom villas that have separate living and dining spaces, fully outfitted kitchens, and screened-in balconies.
These villas are ideal for those who want to spend an extended period of time in Orlando.
Key Amenities:
Shipwreck Landing aquatic area
No resort fee
Luxury tropical homes that are fully fitted
12 Orlando Resorts with Water Parks 2023 – Newshub360.net
Related Post
Credit : www.Newshub360.net