The 14 Best Tennessee Vacation Spots 2023: Tennessee is known mostly for its contribution to country music, but the state also offers a wide variety of other attractions.Each and every corner of the state boasts its own unique attractions and experiences.
Visitors are drawn to Tennessee for their holidays for a variety of different reasons, including the great natural beauty and grandeur of the Great Smoky Mountains as well as the opulent and luxurious extravagant lifestyle of Elvis Presley's Graceland.
In respect to reality, it's entirely possible that you and your loved ones may begin to look forward to visiting these Tennessee vacation places so much that you'll make it a point to do so every year.
14 Best Tennessee Vacation Spots 2023
1. Nashville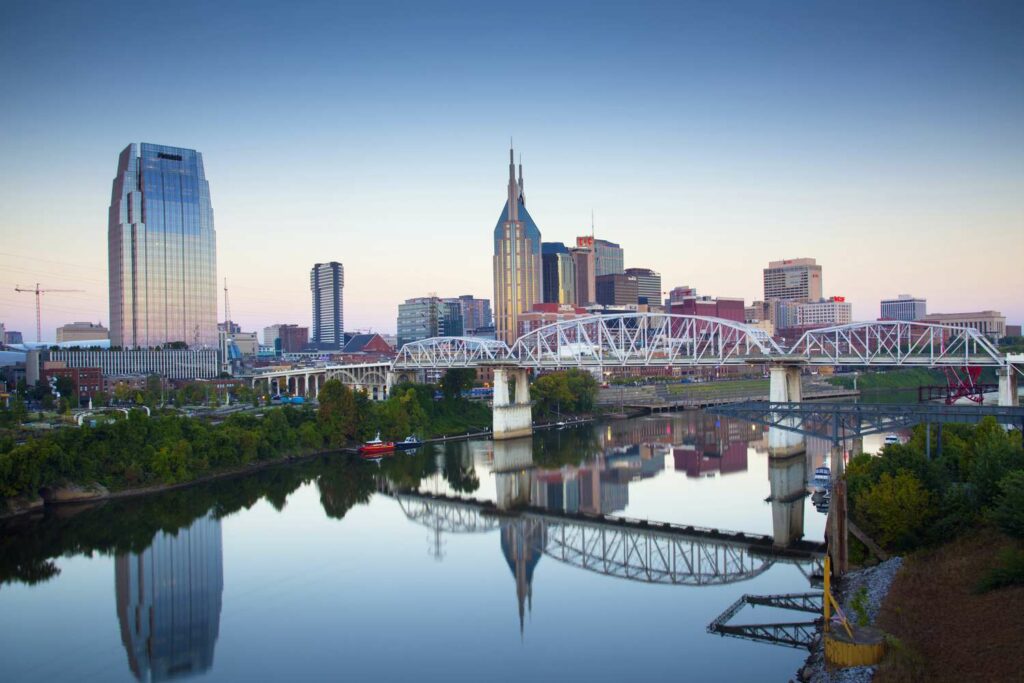 Country music has its roots in the city of Nashville, which is why this city is arguably best known as the "home of country music." A trip to Nashville will not disappoint fans of this classic musical genre in the least.
In addition to housing the Country Music Hall of Fame, it is also the location of the renowned Grand Ole Opry as well as the Tennessee Performing Arts Center. However, there is much more to Nashville than simply music.
There are also walking and trolley tours of the city that can be explored, historic mansions that can be seen, and of course, several distilleries that can be visited for tastings, including the brewery that produces Jack Daniels.
In addition, there are a multitude of dining establishments for you to choose from, ranging from cozy neighborhood cafes to upscale restaurants and everything in between.
2. Great Smoky Mountains National Park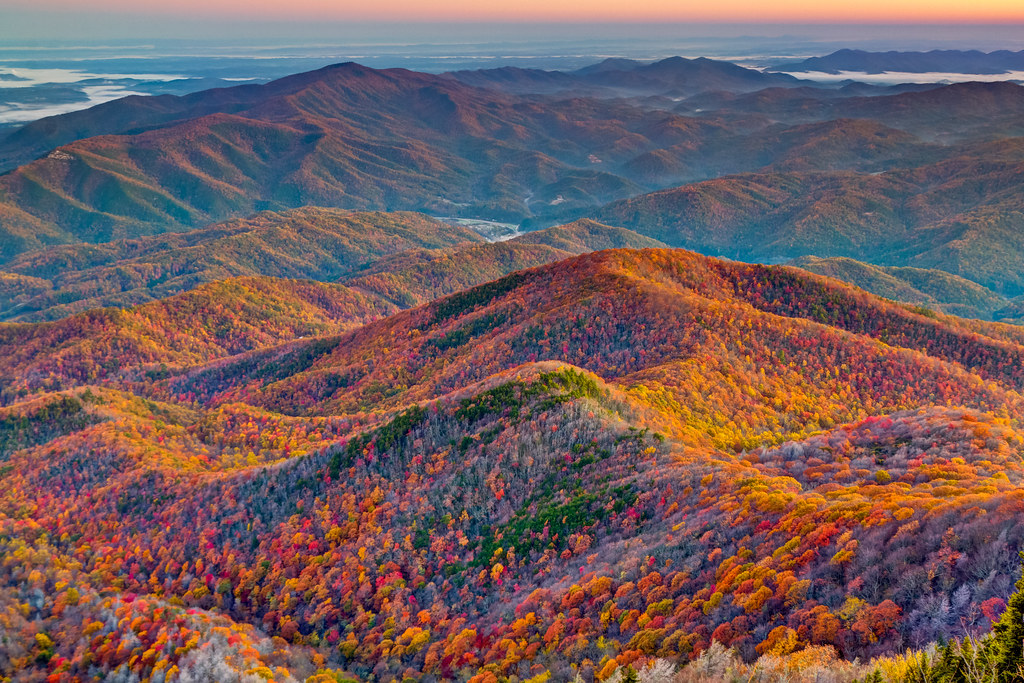 The Great Smoky Mountains National Park, which crosses the state line between Tennessee and North Carolina, draws visitors from all corners of the globe.
This large park features over 800 miles of hiking trails, waterfalls, woodlands, and camping areas, in addition to opportunities to watch animals and wildflowers.
At the national park, visitors may participate in a wide variety of activities, including fishing, biking, horseback riding, vehicle travel, and ranger-led programs.
There are opportunities to go camping in established campsites, out in the backcountry, in group campgrounds, and even in tiny horse camps. Bear in mind, however, that animals of any kind are not permitted on the hiking paths in national parks.
3. Pigeon Forge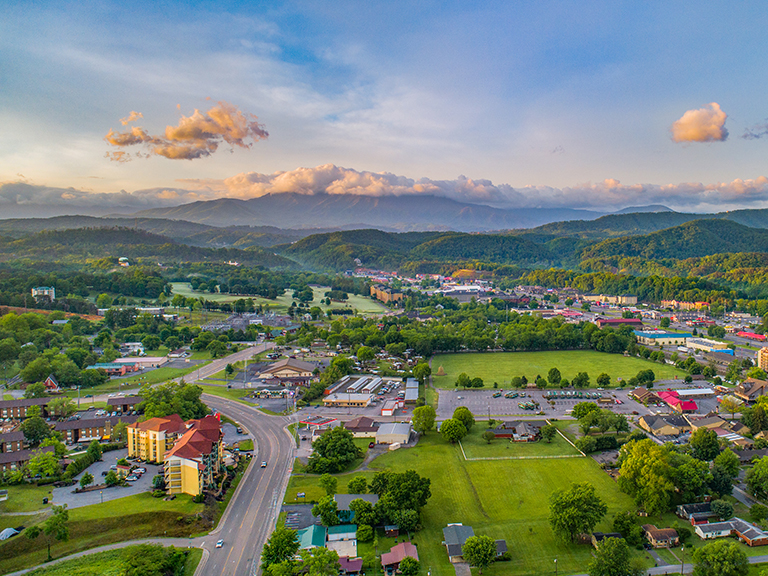 Pigeon Forge is the place to go for a memorable vacation with the whole family. This village in the foothills of the Great Smoky Mountains has everything you could possibly imagine crammed onto one long strip, and it's all within walking distance.
It's like a kid-friendly version of Las Vegas! Miniature golf, laser tag, go-karting, shopping, museums, and one-of-a-kind attractions such as the gigantic Titanic experience that will make you feel as though you are onboard the renowned ship can also be found here, in addition to a large number of hotels and restaurants.
Live acts, including music and comedy, may also be seen here. Miniature golf is also available. An 11-mile one-way road loops around the valleys and meadows of Cade's Cove in the Smoky Mountains National Park.
This route also brings you through animals and historic structures along the way. The entrance to Cade's Cove is just a short drive from Pigeon Forge. Cade's Cove is a lovely 6,800-acre valley in the Smoky Mountains National Park.
4. Gatlinburg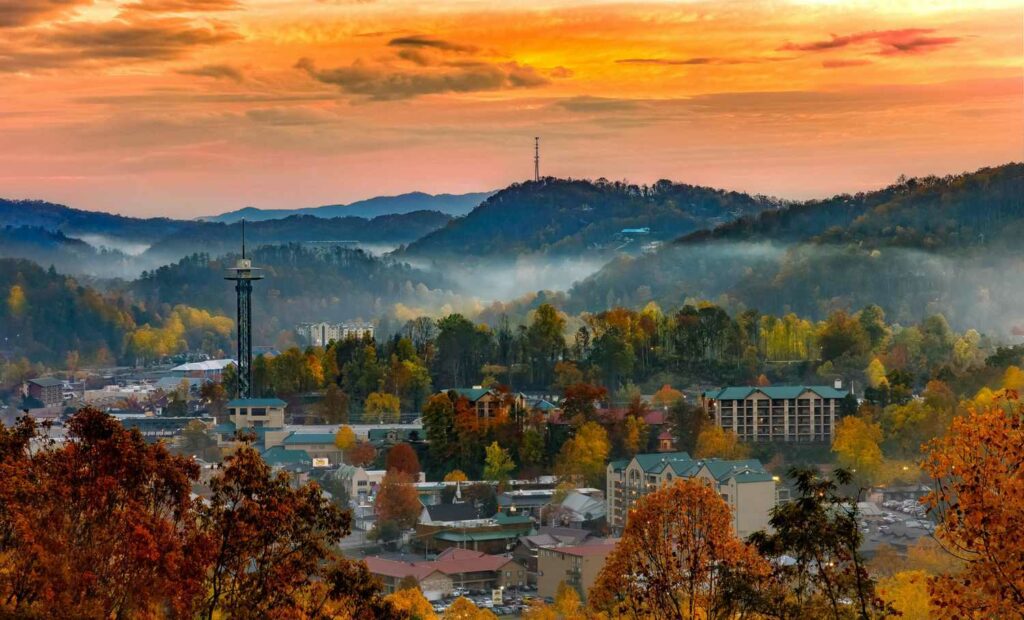 Gatlinburg is yet another well-known tourist attraction in the state of Tennessee, and it is located not far from Pigeon Forge. The atmosphere of this stunning mountain is very different from that of Pigeon Forge, despite the fact that it is located very adjacent to the city.
Here, things move at a more leisurely pace, there aren't any flashing signs or bright lights, and the emphasis is placed on the natural beauty of the surrounding environment.
You'll notice that many of the structures that line the main street of downtown Gatlinburg have the appearance of a Swiss ski town.
Inside of these buildings, you'll discover a wide variety of one-of-a-kind stores, restaurants, and attractions such as the Guinness World Records Museum and the Ripley's Aquarium.
You will also want to make sure that you check out the views that can be seen from the top of the Gatlinburg Space Needle and that you take a journey up the mountain to Ober Gatlinburg, where you can ski, ice skate, and go tubing. Both of these activities can be found at the resort.
5. Memphis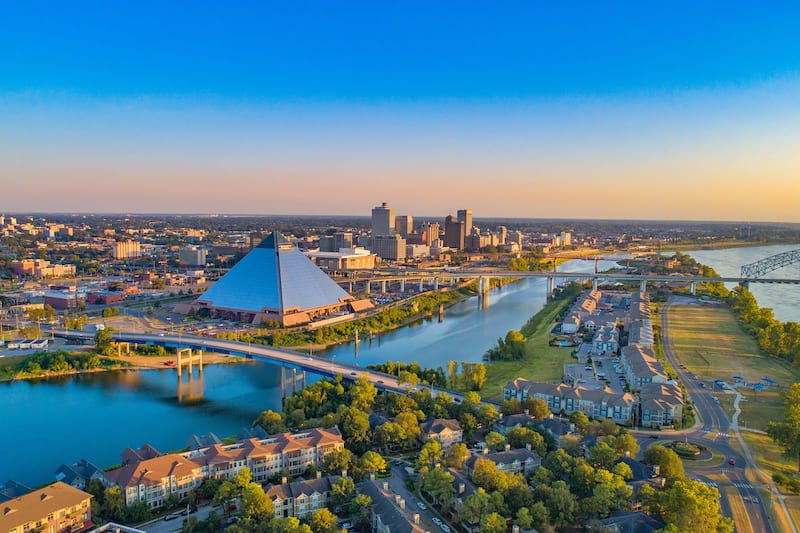 People who are passionate in music could also be interested in organizing a trip to Memphis in order to tour Graceland, the world-famous mansion where Elvis Presley was raised, as well as the Memphis Rock n' Soul Museum.
The National Civil Rights Museum, the Cotton Museum in the Memphis Cotton Exchange, and the Mississippi River Museum at Mud Island are three museums that history buffs may find interesting.
In addition, the downtown area of Memphis is home to a diverse selection of dining establishments and retail establishments, which may be discovered at your leisure.
6. Bristol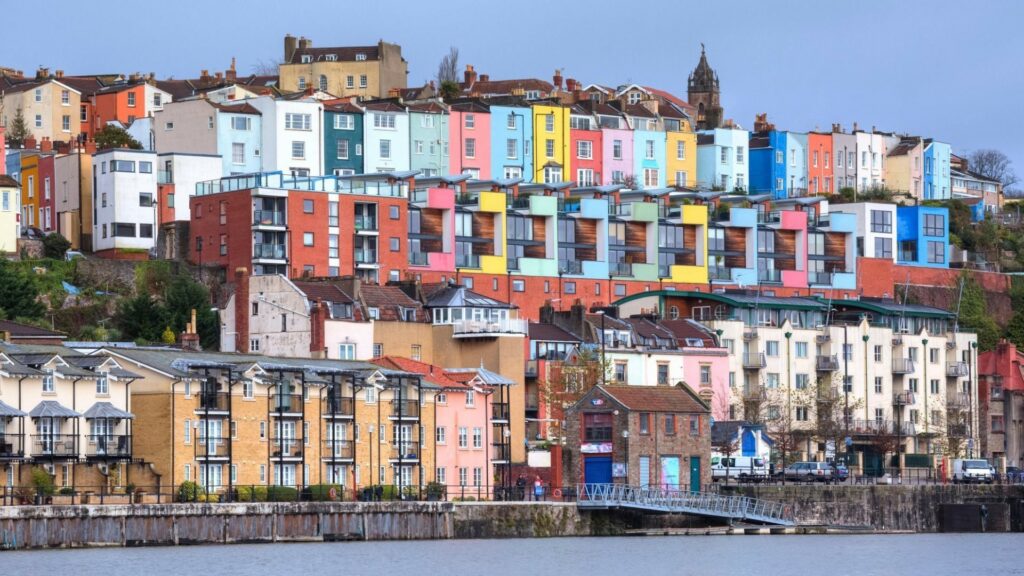 Sports fans, particularly those who follow auto racing, are familiar with the city of Bristol since it is home to one of the quickest short tracks on the NASCAR circuit.
The Birthplace of Country Music Museum, Bristol Caverns, and historic downtown State Street are just a few of the additional places of interest that are appropriate for families.
On State Street, you can stroll through a variety of shops and restaurants, watch a show at the Paramount Theatre, and even stand in two different states at the same time because the state line between Virginia and Tennessee runs right down the middle of the street.
Make sure that while you're there, you also stop in to Blackbird Bakery (even though it's technically on the "Virginia side of town") and taste one of their incredible sweet delights like a pink almond cupcake or a coffee and crème brownie.
They have a wide variety of delicious baked goods.
7. Rock Island State Park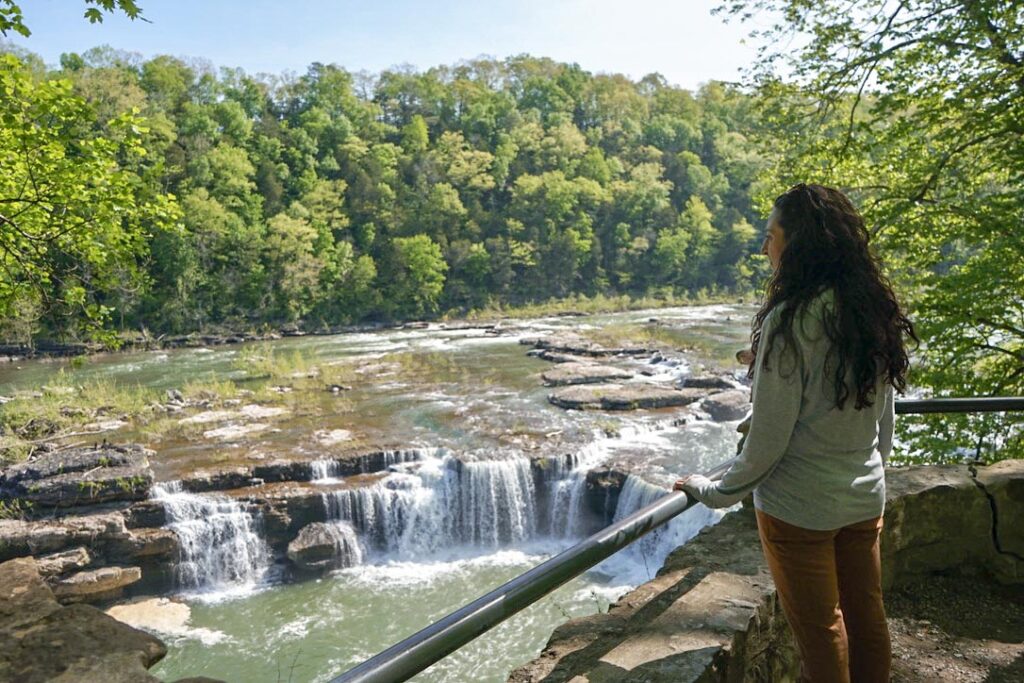 Rock Island State Park is widely regarded as both one of Tennessee's most scenic and well-visited parks, despite the fact that the Volunteer State is home to a large number of state parks.
When you come to this park, you will have the opportunity to spend your days walking around the Caney Fork Gorge and exploring the numerous lakes, waterfalls, and bathing beaches.
Great Falls is a horseshoe-shaped flowing waterfall that is 30 feet tall and is the main attraction of this park, which has a total area of 883 acres.
Camping in the park in a tent, an RV, or a rental cabin is an option to think about if you want to make a full weekend or weeklong vacation out of it. Within the state park there are two campgrounds, each with 20 permanent campsites and other sites that are only available at certain times of the year.
After you've finished exploring the park, you may choose from a variety of surrounding activities, such as visiting the Rock Island Depot, the Falcon Rest Mansion & Gardens, or Fishlipz Bar & Grill.
8. Johnson City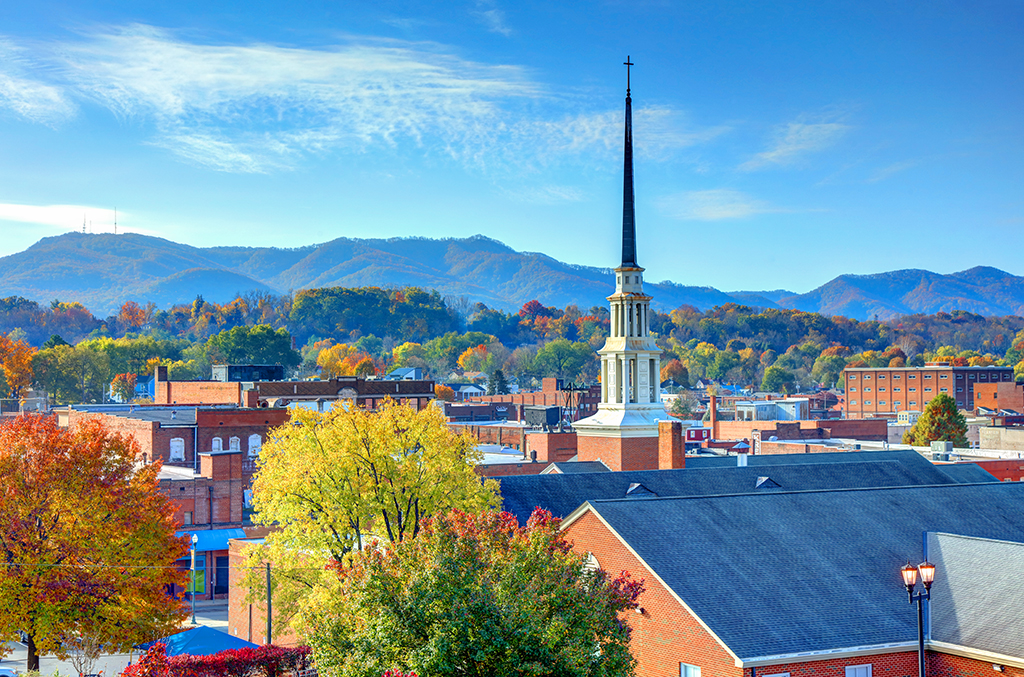 Johnson City, which can be found in the northeastern part of Tennessee, is home to Eastern Tennessee State University and is a popular destination for people who enjoy spending time in the great outdoors.
During your trip, you might go fishing at Boone Lake or walking on the trails of Buffalo Mountain Park. You may also go fishing at Boone Lake. Johnson City, which is located in the Appalachian Mountains' foothills, has all of the quaint allure of a traditional American little town.
Meet the Mountains Festival, Lakeside Concert Series at Goulding Amphitheater on the lakeside, and the Johnson City Farmer's Market are some of the local events that you might be interested in learning more about here.
9. Chattanooga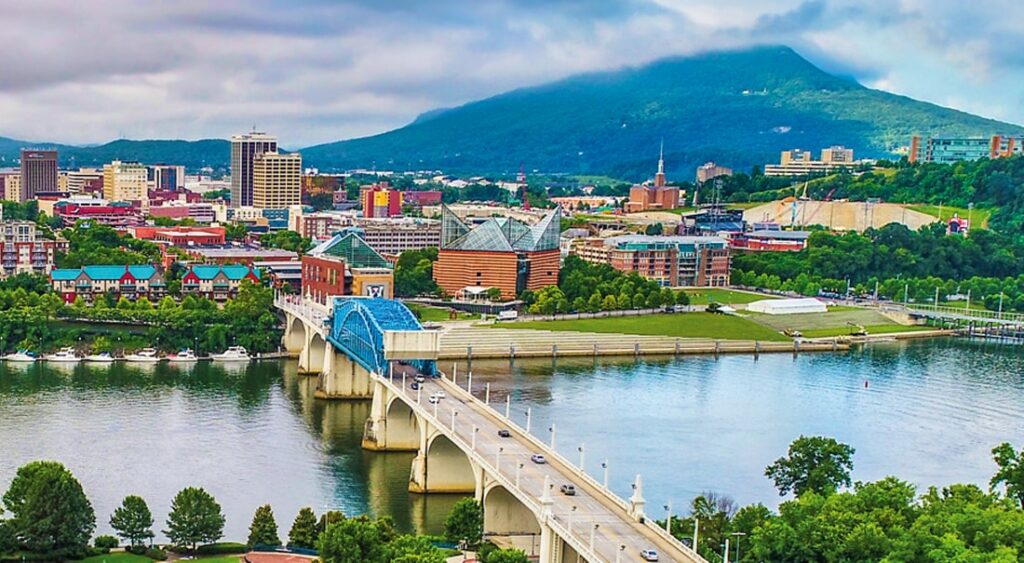 If you are interested in history, the city of Chattanooga, which is located in Southern Tennessee, is a wonderful spot to visit. Visit the Tennessee Valley Railroad Museum first, and then spend the night at the Chattanooga Choo Choo, a historic train station that has been converted into a hotel.
Here, you may choose to stay in one of the hotel's guest rooms or even an old train car. Visit the Chickamauga Battlefield Visitor Center and the historic Civil War battle site while you're in the Chickamauga & Chattanooga National Military Park.
Both of these historic locations are located in the Chickamauga & Chattanooga National Military Park. During your trip to Chattanooga, you should definitely check out the Lookout Mountain Incline Railway, the Chattanooga Zoo, and the Tennessee Aquarium.
The Lookout Mountain Incline Railway is a fun ride that will take you to the top of the mountain and reward you with breathtaking panoramas.
10. Knoxville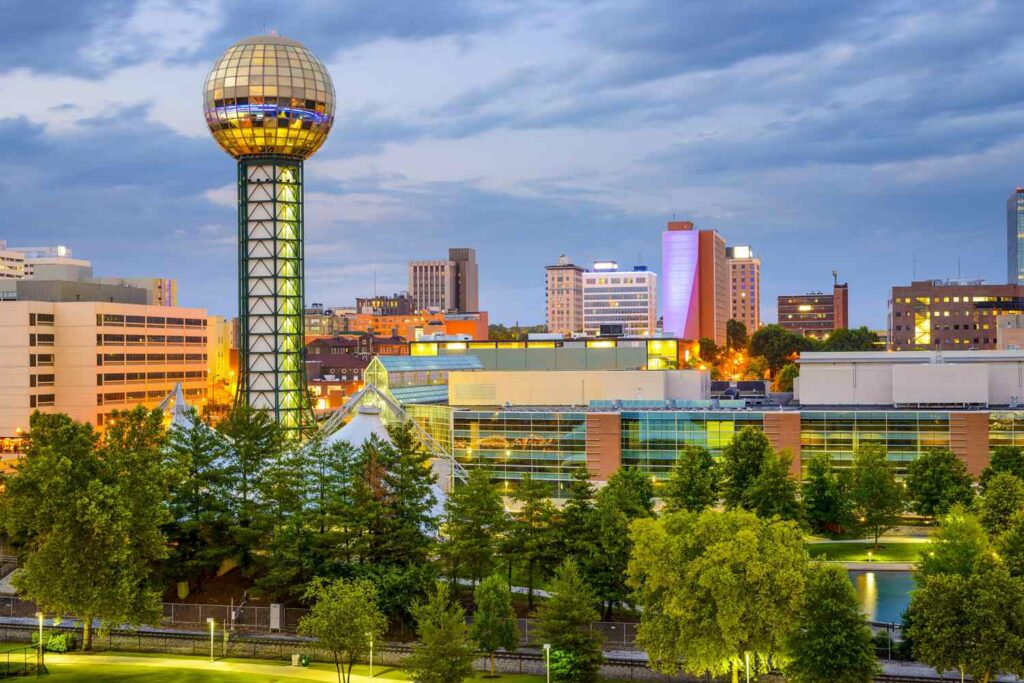 The picturesque city of Knoxville can be found on the Tennessee River and is found in the eastern region of the state. Because of this, the riverside is consistently ranked as one of the most popular locations in the city.
You may enjoy a leisurely stroll or jog down the boardwalk here, or you can settle down for a lunch near the water's edge. While you're in the area, don't forget to stop by Market Square, which serves as the beating heart of the downtown area.
Here you'll discover a wide selection of stores and restaurants, as well as weekend farmer's markets and live music performances.
Zoo Knoxville and The Muse, a children's science museum and planetarium, are two of the many excellent family-friendly activities that can be found in this area. If you are traveling with younger children, consider visiting these places.
11. Lynchburg
The world-famous Jack Daniel's Distillery is the major draw for vacationers visiting Lynchburg, Tennessee, which is located in the state of Tennessee.
The famed distillery can be found in this town, which is situated in the southern part of Tennessee. Here, visitors may take a tour of the facility, participate in a tasting, and discover how whiskey is manufactured.
However, Lynchburg, which is located in Tennessee's dry county, is subject to legal restrictions regarding the purchase of alcoholic beverages because of these laws.
In addition to the distillery, Lynchburg is home to a charming downtown square, a variety of shops, restaurants, and antique stores, as well as historic residences and a tranquil rural region perfect for scenic drives.
12. Franklin
Consider going to the town of Franklin, which is located in the Nashville metropolitan region of Tennessee, as it features a charming Main Street that is perfect for strolling down while perusing the many stores and galleries that are located there.
Music events, festivals, and art may also be found scattered around the downtown area's 16 blocks. You may take guided tours of historic homes and structures in this area, in addition to enjoying activities like as hiking and picnics at the nearby Timberland Park.
The Lotz House Museum, Carnton, the Carter House, Leiper's Fork, and the Natchez Trace Parkway Bridge are among the most popular tourist destinations.
During your time off in Franklin, you shouldn't miss the opportunity to sample some Tennessee whiskey at one of the area's distilleries and spend an entertaining evening at the famous Franklin Theater.
13. Murfreesboro
Battlefields and ancient homes may be found in the vicinity of Murfreesboro, Tennessee, making it an ideal destination for history aficionados.
Stones River National Battlefield, Oaklands Mansion, and Cannonsburgh Village are some of the attractions that can be seen in Murfreesboro, which is a popular vacation destination.
The Oaklands Mansion and the Discovery Center at Murfree Spring are both excellent examples of well-liked tourist destinations.
The International Folkfest, the Backyard BBQ Festival, and the Uncle Dave Macon Days Festival are some of the local activities that you are able to participate in and enjoy while you are in this area.
14. Clarksville
Clarksville, which is located next to the Cumberland River and has access to the Civil War Trail, is yet another exciting city in which to spend a vacation in the state of Tennessee.
There are a number of local breweries in the region, and one of them is Dunbar Cave State Park, which is a good place to go hiking in this area.
After your climb, you can get a drink at one of the local breweries. In the meanwhile, the Clarksville Greenway is a wonderful area to go riding, and Liberty Park and Marina is a wonderful spot to go boating or fishing.
It is interesting to note that two Olympic competitors have previously called Clarksville home. In addition to providing reasonably priced lodging options, Clarksville is a destination that can satisfy the needs of any member of your vacation party.
14 Best Tennessee Vacation Spots 2023 – Newshub360.net
Related Post

Credit : www.Newshub360.net