The 11 Best White Sand Beaches in Florida 2023: The state of Florida is a haven for people who adore the beach since it is home to a number of picture-perfect beaches with white sand.
These beaches will captivate you with their powdery quartz sand, turquoise seas, and laid-back beach town ambiance.
You may bask in the warmth of the sun while playing in the sand, assisting your children in building a sandcastle, and participating in other water sports throughout the day.
Visit one of the best white sand beaches in Florida and take in the picture-perfect scenery. These beaches range from quiet surf communities to bustling tourist destinations.
Best white sand beaches in Florida 2023
1. Siesta Key Beach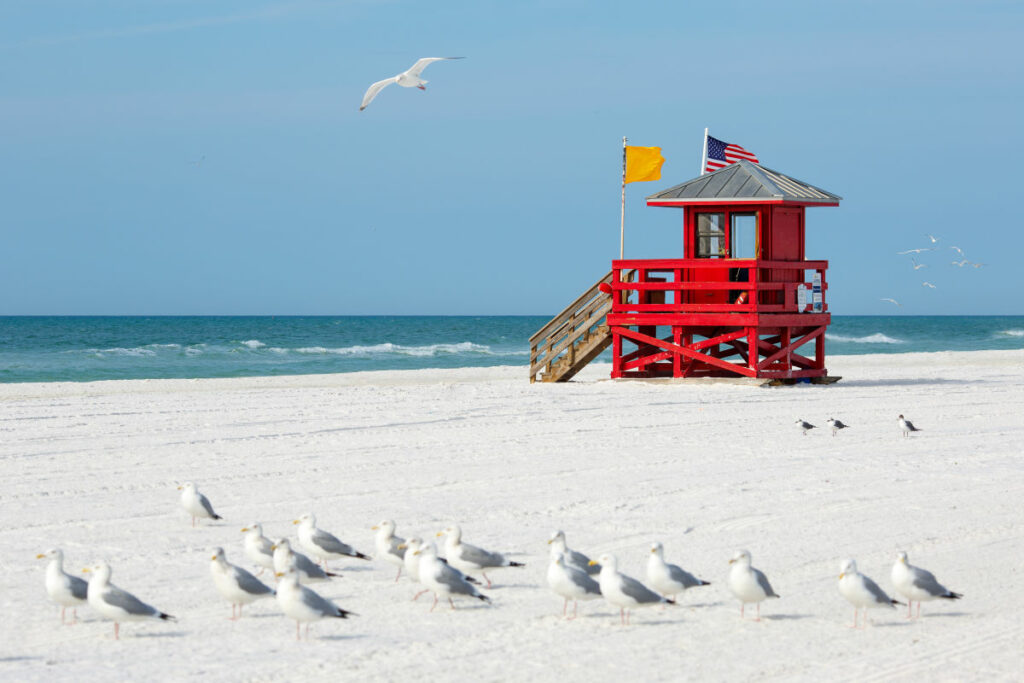 Siesta Key Beach, located in Florida, is often considered to be among the best beaches in the United States due to its flawless quartz sand and incredibly clear seas.
The sand at this location has been compared to the consistency of powdered sugar due to the fact that it is made up of crushed quartz that is 99 percent pure and is regarded as the best sand in the whole country.
Participate in the weekly drum circle that takes place shortly before sundown to get a taste of the culture of the area.
2. Clearwater Beach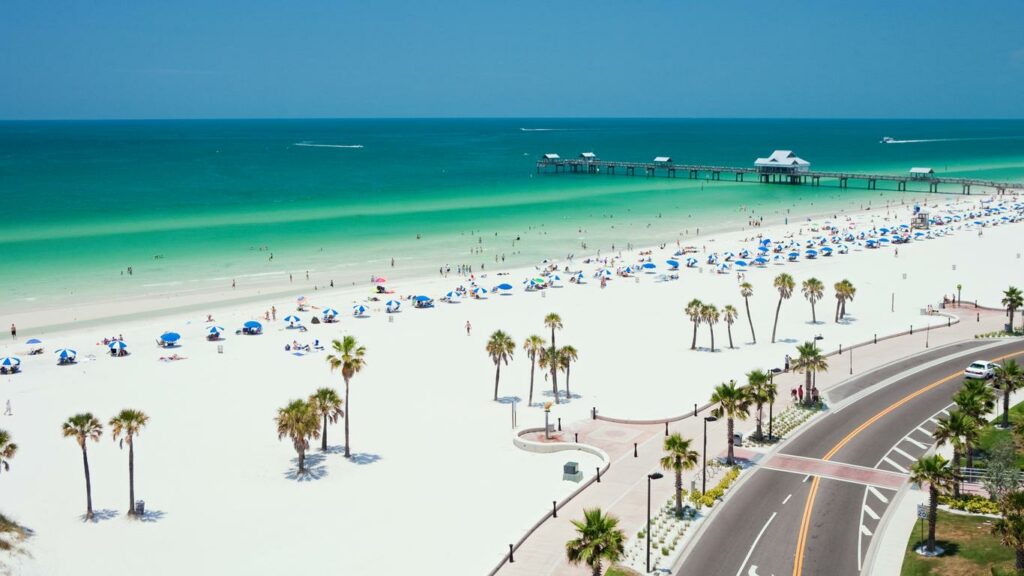 Another well-known beach in Florida, Clearwater Beach is one that can rightfully lay claim to some hefty bragging rights.
It has won honors year after year due to the exceptional quality of its beach, the lovely town area that is filled with attractions that are suitable for families, and the spectacular sunset views.
At Sunsets at Pier 60, the bands and street performers will interest the children, while other popular activities include deep-sea fishing, boating, jet skiing, and observing dolphins.
3. Pensacola Beach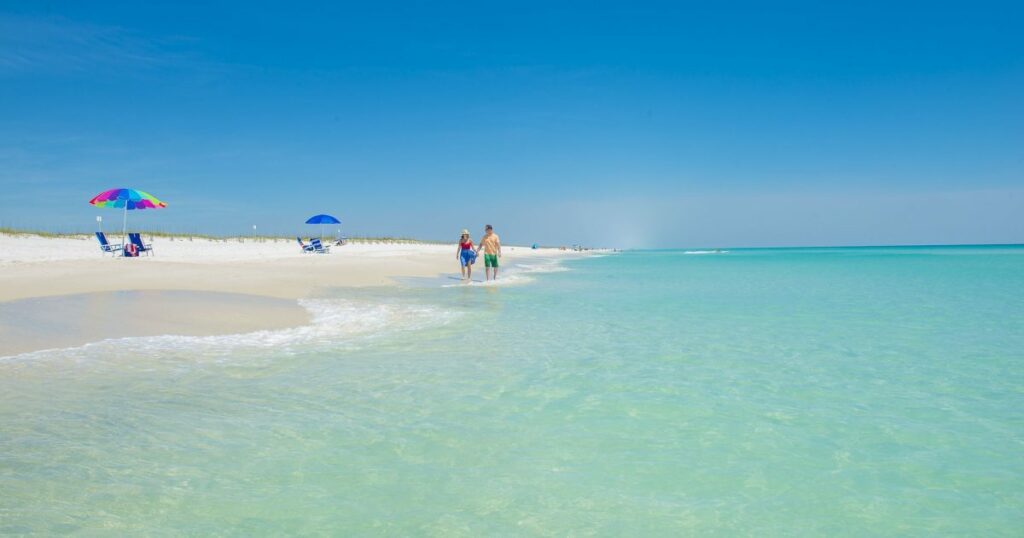 Pensacola Beach is renowned for its emerald-green seas and sugar-white beaches, which have earned it the reputation of being the hub of the Florida Gulf Coast.
You may take a stroll down the vibrant Pensacola Beach Pier, snorkel and discover the underwater aquatic life, indulge in some fresh seafood, or stay for a sunset and join the monthly stargazing parties if you head to this beach destination, which is great for families and offers countless chances for beachgoers.
Best White Sand Beaches in Florida
4. Navarre Beach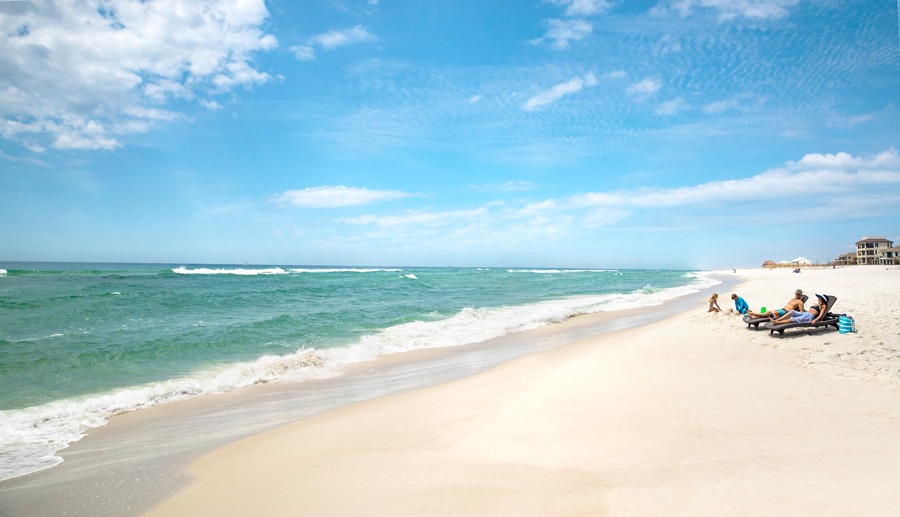 You may take in the breathtaking scenery of the Gulf Islands National Seashore at Navarre Beach, which has earned the moniker "Florida's Playground" due to its popularity.
This little village in the panhandle of Florida is home to one of the state's most beautiful stretches of unspoiled coastline, which stretches for 12 miles and is ideal for those seeking total seclusion at the beach.
Swimming in its green seas, riding the picturesque routes, or sunbathing on the clean white beaches are some of the most delightful things you can do in this location, which is fitting considering that relaxation is the name of the game here.
5. Perdido Key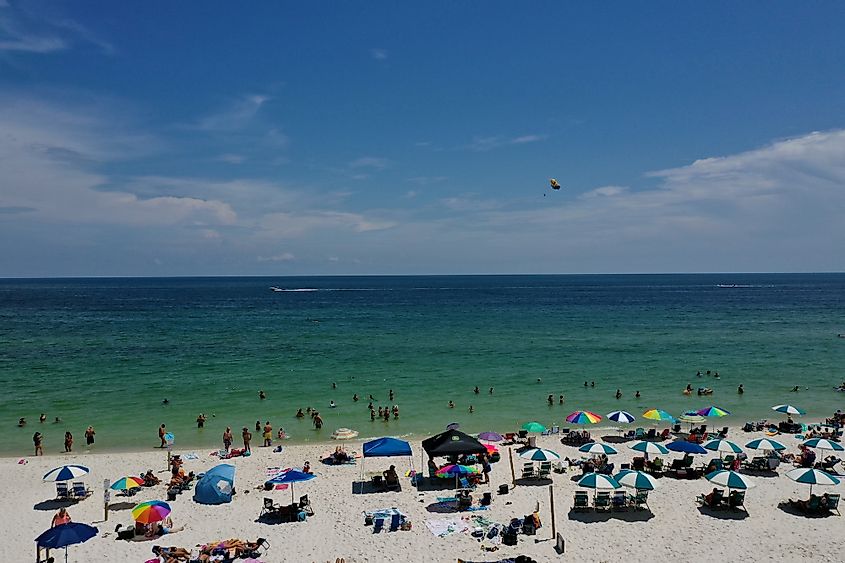 In Perdido Key, which is located on Florida's Emerald Coast and is widely regarded as one of the state's most beautiful areas, the only footwear you'll need is a pair of flip-flops.
It lies in the far northwest part of the state and is situated on a narrow strip of land. Because of its location, it is removed from the crowds of visitors.
Indulge in a day of swimming, kayaking, and watching playful dolphins in the ocean while taking advantage of the beach's Caribbean-like qualities and lovely coastline.
Marvel at the beach's distinctive landscapes, which include rolling, white-sand dunes, and be awed by its unique sceneries.
6. Fort Walton Beach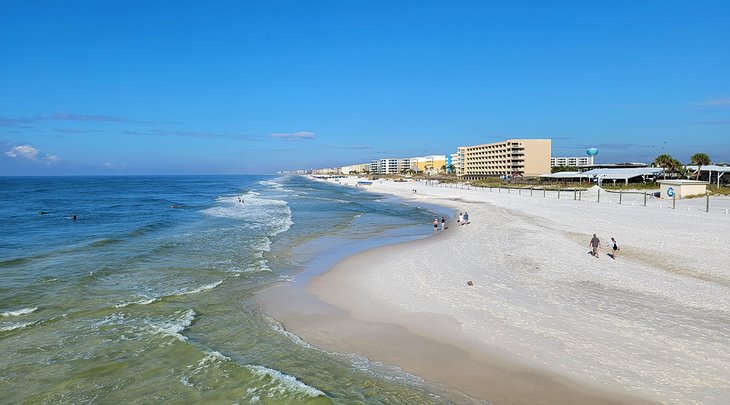 It is a bustling beach town that is full with attractions, parks, museums, and aquariums, so bring the whole family to Fort Walton Beach since it is a great place to do so.
You may pack your vacation full of activities, or you can kick back and take in the tranquil green seas and cold powdery beaches that stretch for 24 kilometers down the beach.
Get your feet back on the sand and head to the Gulfarium Marine Adventure Park or the Emerald Coast Science Center for some up-close and personal experiences with local marine species.
Best White Sand Beaches in Florida
7. Destin Beach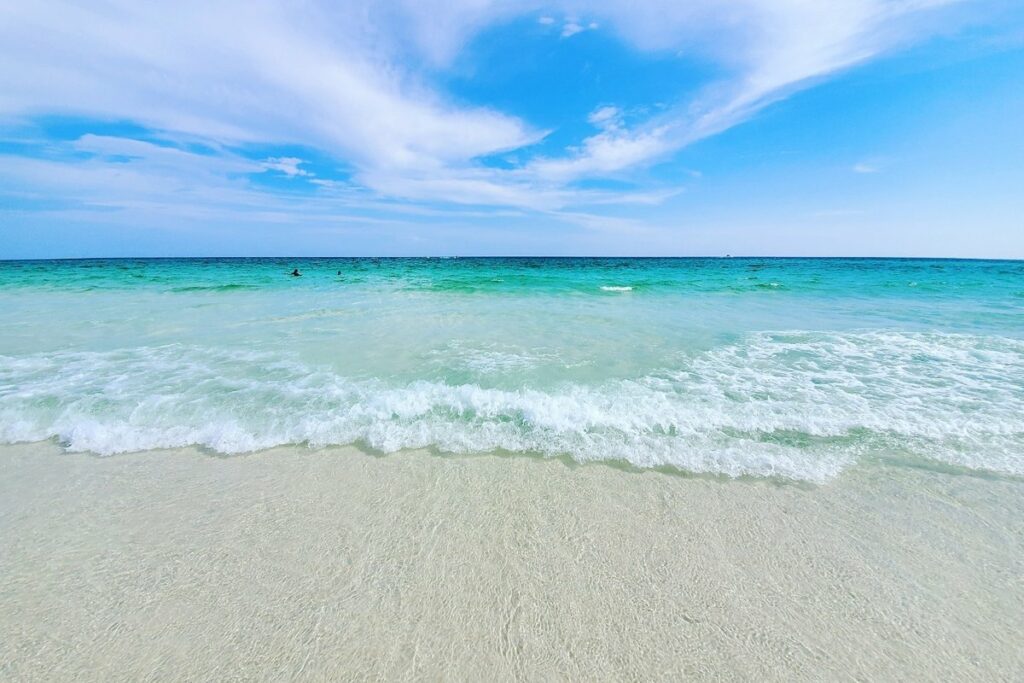 Destin is known as the "World's Luckiest Fishing Village" due to the abundance of fishing chances and stunning beaches that can be found there.
Destin is a paradise for anyone who enjoy being outside because of its emerald-colored waters, sugar-white dunes, and pleasant seafood restaurants.
Visit Miramar Beach if you're looking for some peace and quiet, or the adjacent Henderson State Park with its 6,000 feet of natural beachfront and mild waves that are beautifully blue.
Take a boat ride out to Crab Island if you're searching for an environment conducive to partying.
8. Grayton Beach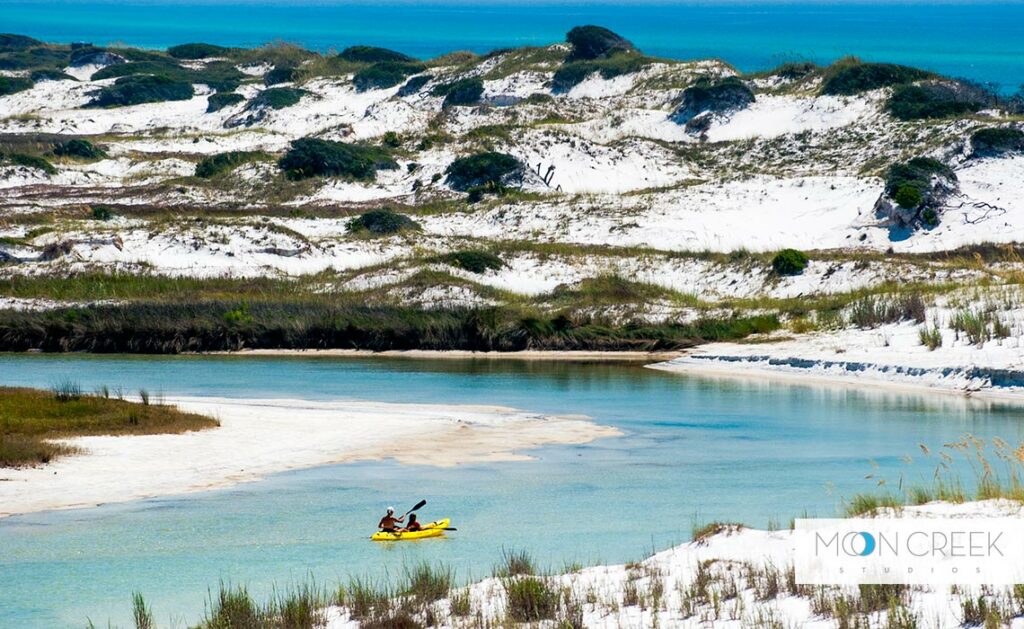 Grayton Beach is a quirky neighborhood with wooden cottages designed in the manner of Ernest Hemingway.
It is famous for the vibrant art galleries and cute residences that are located on the side lanes that are paved with crushed oyster shells.
White sand and clean seas of an emerald green hue make this beach in the United States a contender for the title of most beautiful beach in the country.
Paddle a kayak on Western Lake, hike the nature walk, or ride your bike through the picturesque pine flatwoods.
9. Santa Rosa Beach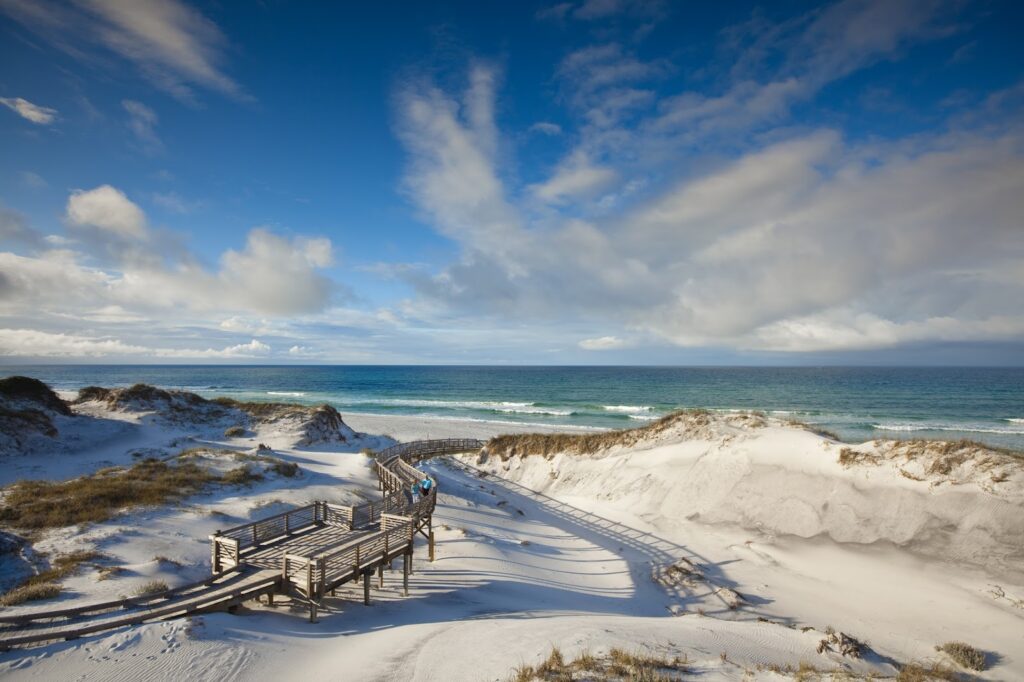 Because of its picturesque setting in the middle of a tiny town, Santa Rosa Beach is a favorite destination for beachgoers from all over the world.
Nature lovers who are seeking for a place to relax will find the beach's setting, which consists of flawless, sugar-white sand and turquoise seas, to be the ideal retreat.
Take a day excursion to the adjacent Topsail Hill Preserve State Park to enjoy its 3.2 miles of isolated white sandy beaches, sunbathing, biking, bird watching, and hiking, and to take advantage of the park's other recreational opportunities.
Best White Sand Beaches in Florida
10. St. Pete Beach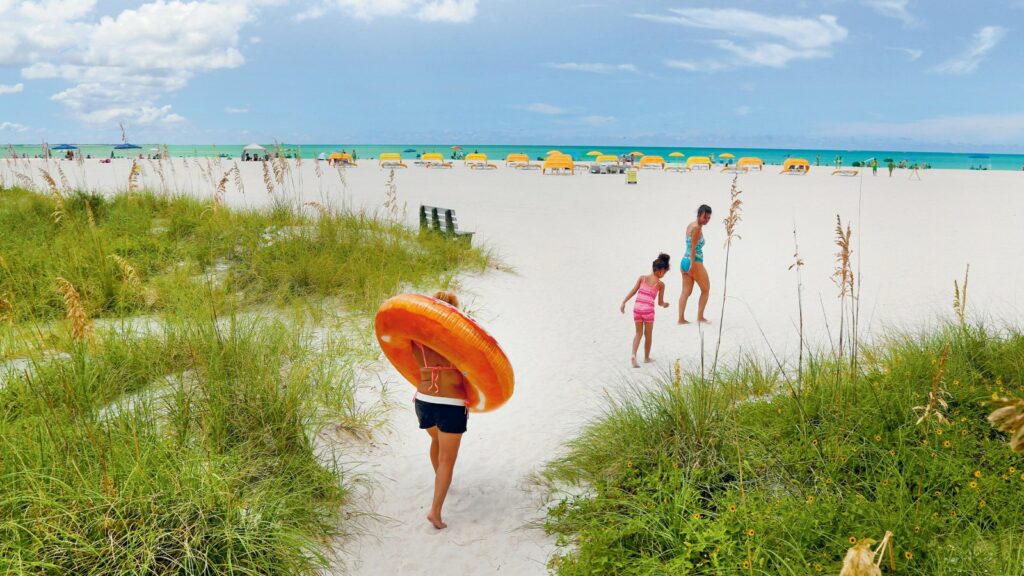 A gorgeous stretch of unspoilt beach with a lovely panorama of flawless sugar-sand and brilliant blue waves can be found at St. Pete Beach, which is considered to be one of the most beautiful jewels along Florida's Gulf Coast.
This beach is great for families, so it's a great area for youngsters to spend the day enjoying activities like swimming and building sandcastles.
Take advantage of the wide variety of water sports that are available, or just relax in the shade of an umbrella while taking in the rays of the Florida sun.
11. Anna Maria Island
The beaches on Anna Maria Island include powdery white sand and brilliant turquoise water, both of which are sure to entice you to spend the day there so that you may take advantage of Florida's year-round sunlight.
You may find the ideal vantage point to observe dolphins playing in the ocean and manatees grazing near Bean Point, which is located where Tampa Bay and the Gulf of Mexico meet.
You can get there by renting a bike and heading to Bean Point. Visit Coquina Beach, which is located on the southwestern tip of the island, to spend the day hunting for seashells.
11 Best White Sand Beaches in Florida 2023 –Newshub360.net
Related Post
Credit : www.Newshub360.net