Top 10 Best Women Skaters in the World 2023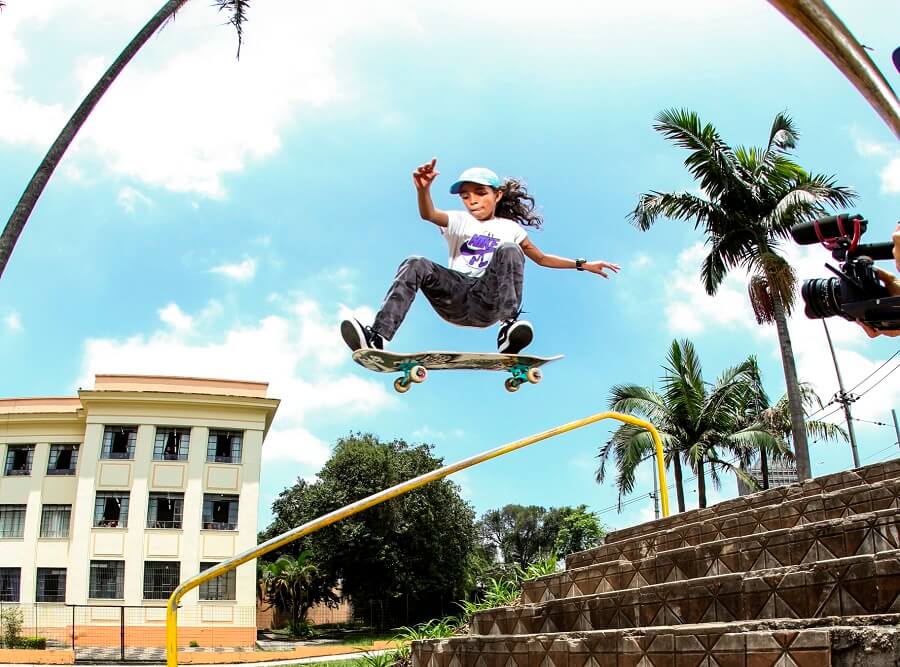 Top 10 Best Women Skaters in the World 2023: To put it nicely, the rate at which female skateboarding is progressing is mind-boggling to say the least. Female skateboarding is in a good place right now, and the skateboarders on this list have all played a big role in that growth and advancement.
However, despite the fact that skateboarding has traditionally been a male-dominated activity, things are slowly but gradually changing for the better nowadays. A key role in bringing female skateboarding into the spotlight has most certainly been performed by social media, which looks to have been much appreciated and long overdue among the skateboarding community.
Some of the Best Women Skaters, such as Brazil's Leticia Bufoni, have garnered international recognition not only for their performance in contests, but also for sharing videos of herself skating with her 2.8 million Instagram followers, which has helped her establish a global reputation.
Skaters, both male and female, are becoming increasingly apparent as the younger generation climbs through the ranks and draws the attention of people all around the world. One such example is the video posted on Instagram by Rayssa Leal in 2018, in which she was dressed as Santa Claus and executed kickflips, crooked grinds, and lip slides. The video had over 164k views in a single day and has since gone viral.
Sky Brown, a 13-year-old skateboarding prodigy from the United Kingdom, will be the youngest female skateboarder to compete in the Olympic Games when she represents her country in the Games in Rio de Janeiro. Sky is the youngest female skateboarder to compete in the Olympic Games. Brown, for example, has accomplished incredible feats with the assistance of renowned skateboarder Tony Hawk, such as leaping the "mega ramp."
Now let's take a look at some of the Best Women Skaters who are currently completely dominating the world stage, both in competition and in casual skating.
Top Best Women Skaters in The World Right Now
Leticia Bufoni
Leticia Bufoni is arguably the most well-known female skateboarder of her generation, having amassed more than 2.8 million followers on her Instagram page.
Bufoni was born in Brazil and began skateboarding at a young age, competing in a number of contests that led to her being sponsored by a number of prominent corporations. She holds a number of X-Games gold and bronze medals, as well as awards from the Street League.
Earlier this year, Forbes magazine named Bufoni one of the "World's Most Powerful Women in International Sports." There is no doubt that she will continue to assert her dominance in the future.
Alexis Sablone
Alexis Sablone has made it clear that her passion is in the streets, demonstrating her abilities in a number of video segments, including WKND's "Sir Palmer," New Balance's "Tricolor," and the Firm's "Can't Stop." A member of Thrasher's first "King of the Road" in 2003, Sablone was again a member of the band's "King of the Road" in 2004.
In addition to dominating the contest scene, this female skateboarder has also earned three gold, two bronze, and one silver medals from the X-Games.
Beyond her skateboarding accomplishments, this woman has earned a bachelor's degree in architecture from Massachusetts Institute of Technology, and she has put her skills to good use by constructing skateable sculptures in West Palm Beach, Florida, Stockholm, and Sweden.
Samarria Brevard
Samarria Brevard is a skateboarding prodigy from Riverside, California, who is a natural on the vert skateboard. Brevard is a true street skater who devotes a significant amount of his time to shooting spectacular tricks like as landing a 360 flip down 10 flights of stairs!
It seems like she constantly has a new trick in her sleeve, as seen by her placing 4th in the 2013 X-Games, 5th in 2016, 2nd in 2017, and winning the Kimberly Diamond Cup, among other accomplishments.
Brevard debuted in the film 'Don't Quit Your Day Job' in 2017, which was the first all-female skate film to be produced in the United States in more than ten years. In 2018, Brevard appeared in the Etnies 'Album' video, which was published in 2017. Brevard has a promising future ahead of her, and we look forward to seeing what she does.
Sky Brown
Sky Brown, a 13-year-old skateboarding prodigy who is taking the world by storm, is another example of this. Brown is extremely active on social media platforms, and she has filmed some of her most significant accomplishments, such as leaping the'mega ramp.'
Her best results in 2019 were a win at the Simple Session event in Estonia, a third place finish at the World Skateboarding Championships, and a fifth place finish at the X-Games, where she became the first woman to ever land a frontside 540 in an X-Games competition. That wasn't all, as she went on to finish third at the 2020 Park World Championships in Brazil in the following year.
She claims to come from a skating family and has mentioned that she even attended a pre-school that featured a skatepark on the grounds of the facility. It's no surprise that she's so good! This young lady, without a question, has a promising future ahead of her, and we anticipate that she will continue to blow our minds in the years to come.
Lizzie Armanto
Lizzie Armanto is one of the most well-known female skateboarders in the world, and for good reason. In 2013, she made her X-Games debut and took home a gold medal in the 'Skateboard Park' event. She has continued to rack up medals ever since.
Aside from participating in contests, Armanto made history in 2017 by becoming the first woman to appear on the cover of Thrasher Magazine in almost two decades! She then went on to become the first woman to ever appear on the cover of Transworld Skateboarding Magazine, as if that wasn't enough of a feat in itself. But hold on, there's more. She also made history by becoming the first woman to execute a 360-degree loop!
Lizzie became a professional skater after meeting Tony Hawk's Birdhouse, and she released her first trademark skateboard in March 2017. In February of 2018, a signature pro Bones wheel was released to the public.
With approximately 500k followers on Instagram, Lizzie Armanto is a very well-known girl on the social media platform these days. If you want to stay up to speed with her activities, you can follow her on the social media site.
Best Women Skaters in the World 2023
Aori Nishimura
When Aori Nishimura, a Japanese skateboarder, was seven years old, he began to learn how to skateboard with his father. During the intervening years, she has achieved significant accomplishments, including many gold medals at the X-Games and being voted World Skateboarding Champion by the Street League in 2019.
She also appears in the upcoming 2020 Tony Hawk Pro Skater video game, which is quite an accomplishment in of of itself. You can expect to see more from Nishimura in the future, but if you want to stay up to date with her skateboarding, you can follow her on her Instagram account.
Rayssa Leal
At the age of 11, Rayssa Leal became the youngest skater to ever win a Women's Street League World Tour Final, becoming the youngest ever to do so. Moreover, she finished third in another Street League competition and fourth in her first X-Games appearance, which is highly astounding and a testament to how wonderfully talented this young lady is at such a young age.
It was via posting videos of herself on Instagram skateboarding in tutus and Santa Claus suits while leaping down gaps and doing other great feats that this 13-year-old Brazilian skateboarding prodigy became a viral hit. These films assisted her in landing some significant endorsement deals as well as the attention of industry heavyweights such as the Berrics, who actually recorded a segment with her at their skatepark. Check out her 'Bangin' segment in the Berrics video, which you can see below.
Allysha Le
Allysha Le is a vert skater from the city of El Segundo in the state of California. Le began skating when she was seven years old in 2003 and hasn't stopped since, competing in a number of contests and eventually being invited to compete in the X-Games.
Creature Skateboards and Independent Trucks are now sponsoring Le's skateboarding career. This lady rips, and if you're interested in learning more about her rise to prominence in skateboarding, check out an interview she gave with The Nine Club.
Nora Vasconcellos
Nora Vasconcellos is a professional skateboarder from Massachusetts who relocated to California to pursue her dream of becoming a professional skater. Upon transferring, she quickly rose through the ranks of Welcome Skateboards, eventually becoming the first female member of the Adidas professional squad. In addition to a World Championship, she was awarded the 'Readers' Choice' Award by Transworld magazine.
In more recent years, she finished first in the 2017 Vans Park Series World Championships and was ranked fourth on Thrasher magazine's list of the "Top 10 Women & Non-Binary Skaters of 2019."
Vasconcellos's distinct skateboarding style enables her to effortlessly handle half pipes and send big backside airs into the air. If you don't believe me, check out her OJ Wheels portion for the song "Rendezvous."
It's possible to view a documentary on her life as a skateboarder, which documents her journey from childhood to the present, here.
Top 10 Best Women Skaters in the World 2023 – Newshub360.net
CHECK THIS OUT:
♦  Top 20 Highest Paid Footballers in South Africa 2023
♦  Top 20 Highest Paid Footballers at Mamelodi Sundowns 2023
♦  Top 20 Highest-Paid Footballers at Kaizer Chiefs [ Billiat is 2nd ]
♦   Top 20 Highest Paid Footballers at Orlando Pirates 2023
♦   Top 20 Highest Paid Footballers at Supersport United 2023
♦   Top 20 Highest Paid Footballers at Royal AM 2023
♦  Top 10 South African Footballers Who Went Broke After Retirement
♦  Top 10 Richest Football Club Owners in South Africa [ Motsepe is 2nd]
♦  Top 10 Most Expensive High Schools in South Africa 2023
♦  Top 10 Richest Football Clubs in South Africa
Credit : www.Newshub360.net