20 Top-Tier Denver Coffee Shops 2023: Denver is an excellent place to live if you enjoy coffee, as the city has a thriving coffee culture and an abundance of coffee shops and roasters.
Although though you can find a decent cup of joe just about anywhere in Denver, we thought it would be fitting to spotlight some of the Mile High City's most amazing coffee shops.
Those with the greatest environments for relaxing, working, meeting, or just caffeinating; those making the most effort to source their beans ethically; those with the friendliest baristas that take pride in pouring the perfect rosette pattern atop your latte.
Listed in alphabetical order, these 23 establishments are our top picks in Denver and the surrounding suburbs.
1. Blue Sparrow Coffee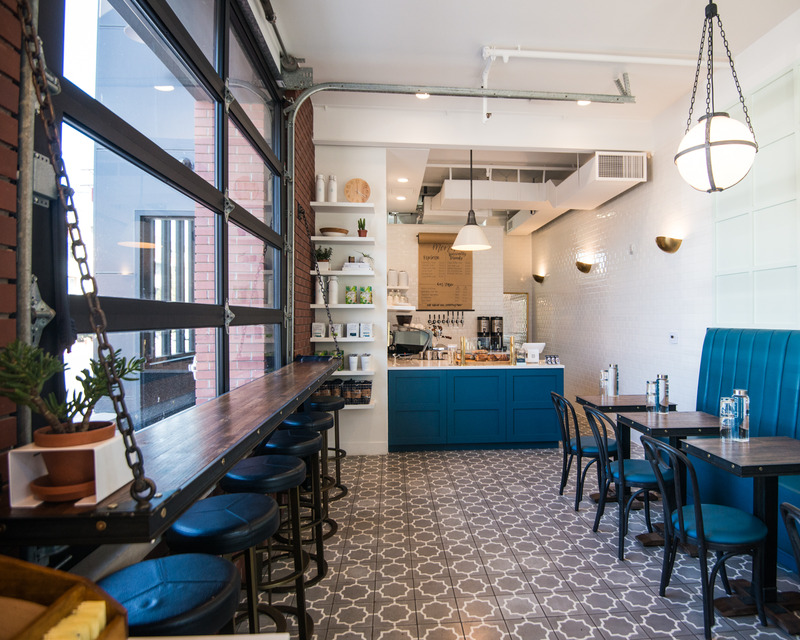 Blue Sparrow Coffee's baristas are masters in perfecting the espresso. The classic beverages, poured with elaborate latte art, feature single-origin taste characteristics that are sure to please. Each new visit will introduce you to a different featured roaster from a different part of the world.
One may find Blue Sparrow Coffee in the illustrious neighborhoods of RiNo and LoHi in Denver.
2. Dandy Lion Coffee Co.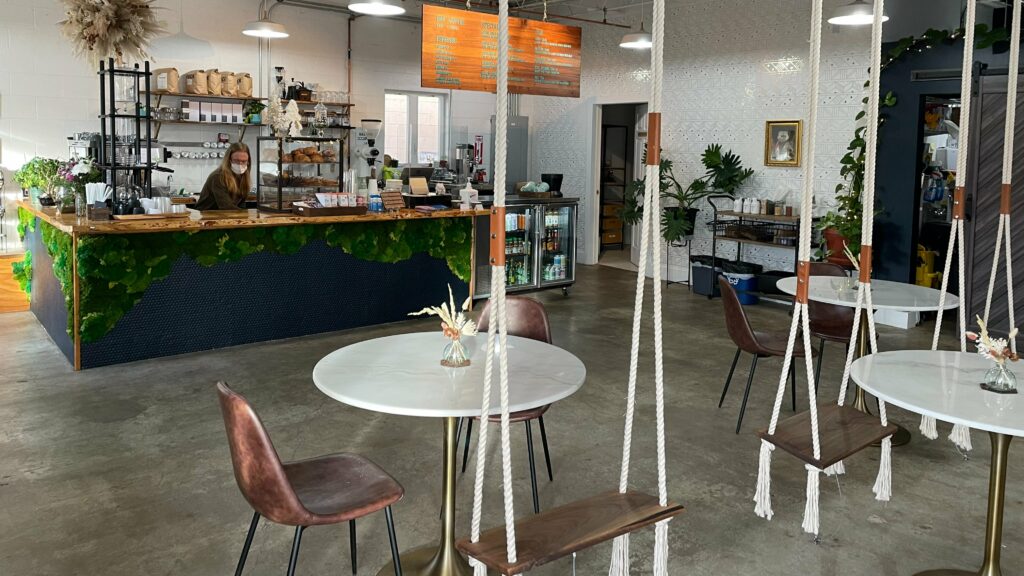 New to the Northeast Park Hill business district, Dandy Lion Coffee Co. is a true find. Duc and Dominique Huynh conceived of the hybrid coffeehouse and plant boutique. In 2022, they opened the doors of their adorable cafe, and the neighborhood instantly fell in love with its Instagram-worthy decor.
Take a picture on the swings while enjoying a lavender coffee, and then have lunch at the nearby Vinh Xuong Bakery. You can get delicious banh mi sandwiches and refreshing Thai iced tea at this highly regarded Denver eatery.
3. Aviano Coffee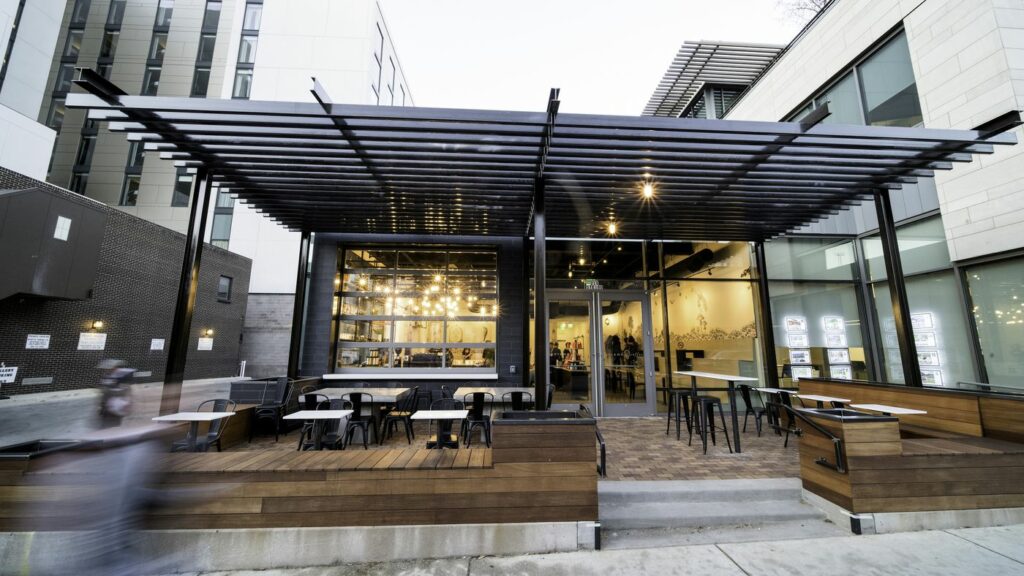 There are not one, but two Aviano Coffee establishments to be found while strolling the streets of Cherry Creek. These two coffeehouses are less than a quarter of a mile apart, and both are well-liked for their atmosphere in addition to their beverages.
The large tables, comfortable seating, and cozy lighting of the bistro make this a popular gathering spot from dawn to night. Visit us when you're in Denver at the massive Cherry Creek Shopping Center.
4. Queen City Collective Coffee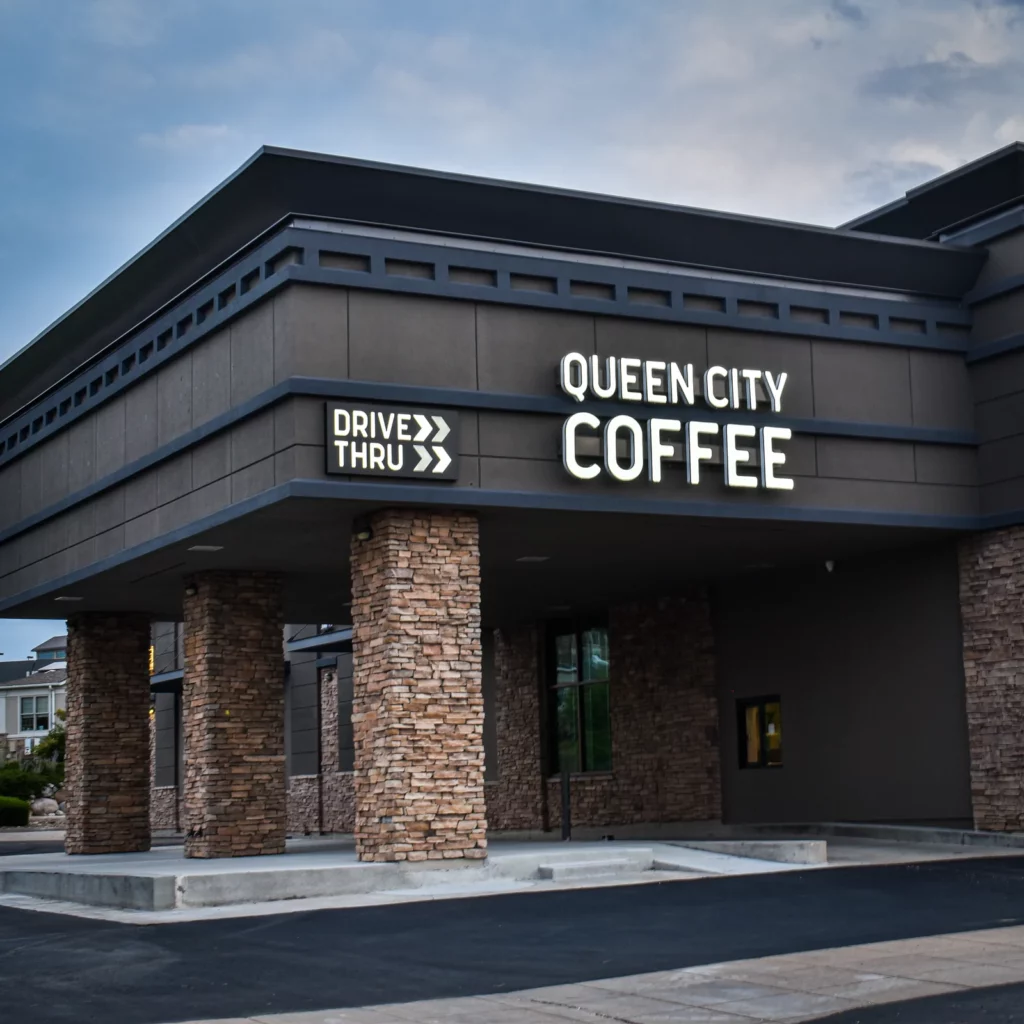 Queen City Collective Coffee is well-liked by the community because of its commitment to ethical sourcing and high-quality roasting. The Five Points cafe is conveniently located near the light rail station, making it popular with Denver commuters.
On the other hand, Novel Strand Brewing Co. also calls their Baker facility home. It's one of Denver's best breweries, and a great place to kick back and relax during happy hour.
5. Corvus Coffee Roasters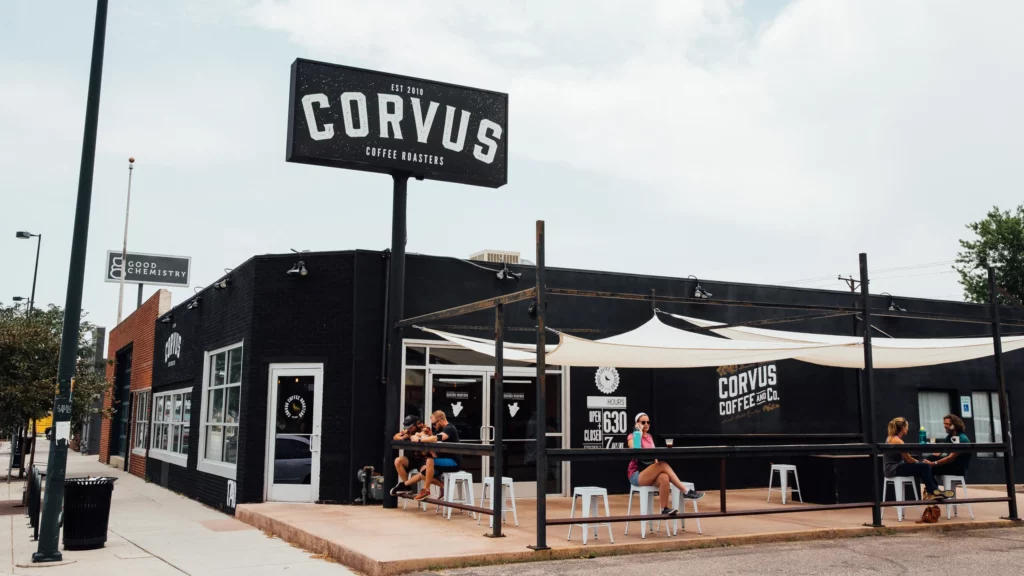 Corvus Coffee, created in 2010, has won numerous awards and has become a favorite of both city dwellers and suburbanites. You may find their four cafes on South Broadway, as well as in the Denver Tech Center (DTC), Arvada, and Littleton.
Those in the know are drawn to its small-batch reserve coffees, which come with colorful, creative labels. Yet, in my opinion, the Kyoto cold brew laced with cream and vanilla bean is the most luxurious item on the menu.
6. Thump Coffee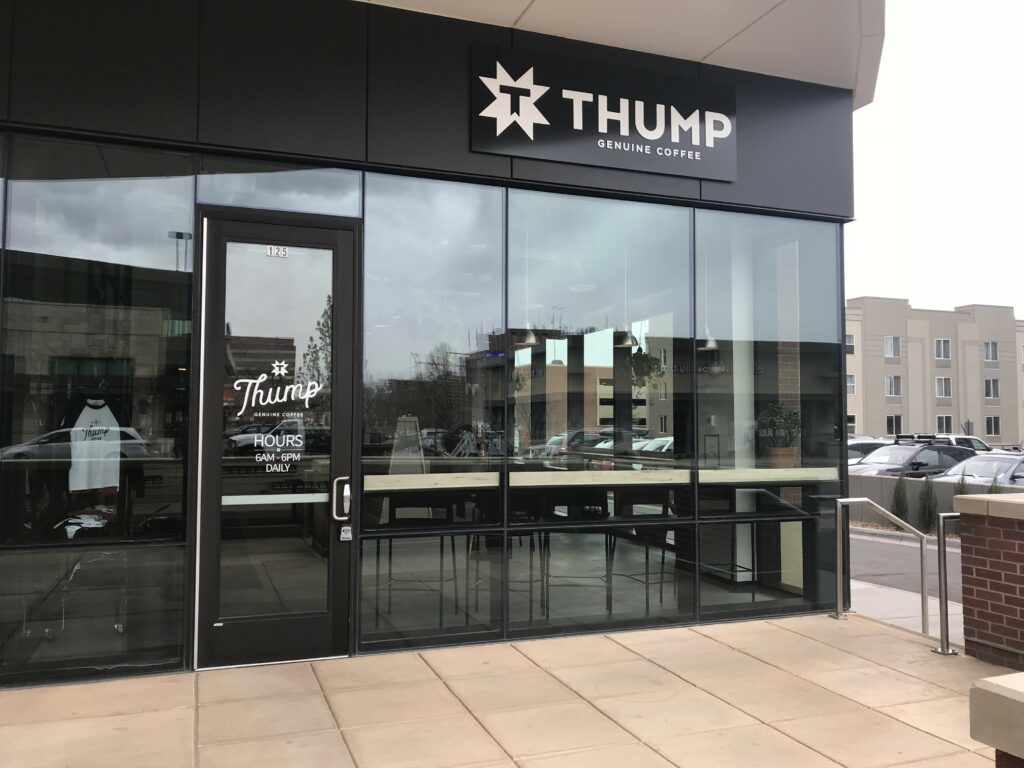 Thump Coffee, which originated in Bend, Oregon, has a single store in Denver, Colorado. Their Cheesman Park location features a sleek and spacious cafe.
There, remote workers may socialize while ordering from a full bar and kitchen. Stop by for a morning sandwich or something freshly made in-house. These are expensive, but definitely worth it.
7. Prodigy Coffee House
Prodigy Coffee House is one of Denver's most original cafes, and it also happens to be a nonprofit organization. This cafe provides assistance to underprivileged youngsters in the area through an internship program.
Baristas gain experience and develop growth-oriented mindsets in the Globeville and Elyria Swansea locations. What's not to like about a coffee shop with a fantastic mission?
8. Sweet Bloom Coffee Roasters
Sweet Flower Coffee Roasters is home to some of the top artisan roasters and baristas in Colorado. There is no drip coffee available, which is one of the reasons why their product is such high-quality. The beans are instead brewed manually, using a pour-over method.
The good news is that your entire coffee experience, from aroma to taste, will be greatly enhanced. The bad news is that if you're in a hurry, you shouldn't stop here because it will take longer than the drive-thru to get your food. There's more good news: while you wait, you may indulge in one of their delicious pastries.
9. Copper Door Coffee Roasters
Lowry Field, Baker, and Cheesman Park are home to three separate outposts of Copper Door Coffee Roasters throughout the city. One of the best places to visit in Colorado is the Denver Botanic Gardens, depicted above.
These stores have attractive interiors to match their lovely exteriors. Even the food and drink selections are first-rate. The lattes, whether you want them hot or iced, are fantastic because of the syrups they make in-house.
10. The Molecule Effect
The Molecule Effect is a popular spot among residents of Wash Park and Lincoln Park because of its hip vibe and exciting atmosphere. The two coffeehouses share a dedication to both traditional and experimental coffee drinks. The nitro cold brew with bourbon-aged beans is one of the most interesting beverages available.
In the evening, customers sip on local beer and wine or try one of the specialty coffee drinks. Denver cafes frequently hold improv evenings, open mics, and First Friday art shows.
11. Rivers and Roads Coffee
Located in both northern and southern Denver, Rivers and Roads are two of the city's finest coffee shops. The rotating menus at both the Five Points and Clayton locations feature fresh baked goods, unique syrups, and more. They take great satisfaction in being a locally owned and operated coffee roastery in Colorado. You may anticipate a cordial reception here as well.
12. Steam Espresso Bar
The first location of the Steam Espresso Bar can be found in the Platt Park area, and the brand's second café can be found in the Highlands. The latter takes place in a repurposed, old firehouse. There is a special atmosphere thanks to the fact that some of the building's original features have been kept in place.
Also, the service is excellent. You may get your hands on a cup of deep, flavorful espresso, admire some intricate latte art, and snack on a variety of delectable pastries prepared right in the neighborhood.
13. The Weathervane Cafe
The Weathervane Cafe is a cool cafe located in a historic carriage house in Denver's Uptown district. The walls and shelves are decked up in antique furniture and handmade artifacts. Delicious coffee and satisfying meals are prepared by baristas behind the counter. Indulge in some pumpkin chia pudding, a breakfast sandwich, or one of the other delectable dishes made with fresh, regional produce.
14. The Bardo Coffee House
Residents of Wheat Ridge and neighboring Denver frequent the Bardo Coffee House in the area's popular Speer district. In addition to its late hours and family-friendly seating, this coffee shop also attracts college students because of its welcoming atmosphere and selection of board games. From 6 AM to 12 AM, patrons can choose from a wide variety of refreshments, including espresso drinks, Italian sodas, beer, wine, and more.
15. Crema Coffee House
The original Crema Coffee House is a cozy spot that's packed with hipster regulars first thing in the morning. Denver Central Market, just down the road, is home to a Bodega, one of several restaurants there. The environment is lively and vibrant, although the noise level makes it less than ideal for those working from home.
The downtown setting is something that both cafes have in common. These RiNo businesses are less than a quarter of a mile apart and are surrounded by colorful murals. These bright side streets are great for a stroll, especially with a hot beverage in hand.
16. Pigtrain Coffee Co.
Pigtrain Coffee Company offers not one, but two beautiful settings for their customers to enjoy their drinks. You may relax on comfortable lounge furniture, play shuffleboard, and support local merchants in Union Station's newly remodeled Great Hall. The Wynkoop Plaza is home to a large terrace, fountains, and a popular farmers market on summer Saturday mornings.
Union Station and the surrounding area is a great place to stay because there is so much to do there. You could spend all day at Pigtrain Coffee Co. if you wanted to.
17. Hudson Hill
It's possible you'll be taken aback to see a "please wait to be seated" sign as you go into Hudson Hill. The concept of table service at a cafe seems a bit strange. And you're in for a real treat, too. The service here goes above and above, delivering your order to your table, refilling your water glass, and making the effort to learn (and remember) your name.
The hip bar is teeming with natives. The close quarters contribute to a sense of camaraderie, despite the potential discomfort. Take advantage of the seasonal lattes, upscale snacks, and daily happy hour specials at the bar. It's the type of cafe where you can spend hours just people-watching.
18. Whittier Cafe
Whittier Café, a black-owned establishment that promotes coffee's African roots, is affectionately known as "the activists' coffee shop." In addition to passing on knowledge about ancient coffee ceremonies, they teach people about social justice issues.
Attendees can participate in an authentic Ethiopian coffee ceremony every Sunday by drinking from a jebena, a traditional clay pot. During happy hour, sample some of the various beers and wines that Africa has to offer.
19. Little Owl Coffee
Both of Denver, Colorado's Little Owl Coffee shops are right in the action of the city's bustling downtown. The SugarCube Building is a high-rise residential complex with a cafe on the ground floor, conveniently located near Union Station.
Their Tremont office is located in the heart of the CBD, in a glitzy office lobby. Great handmade coffee, pastries from Reunion Bread Co., and excellent service await those staying in one of downtown Denver's many hotels.
20. Logan House
The Logan House Coffee Company operates cafes in the RiNo and Lowry neighborhoods of Denver, as well as the Stanley Marketplace in Aurora.
Our lattes are made using locally roasted beans and syrups we make right here in the cafe. Their chai tea and rich hot chocolate are favorites among customers who don't consume coffee.
Breakfast burritos, pastries, and a friendly environment all contribute to a memorable morning.
20 Top-Tier Denver Coffee Shops 2023 [UPDATED] – Newshub360.net
Related Post
Credit : www.Newshub360.net