The 15 Best Coffee Shops in Chicago 2023: As the temperature outside drops, there is nothing more enjoyable than going to a local coffee shop and warming up with a hot beverage while taking in the friendly environment.
And happily, Chicago's neighborhoods are full of unique options, where you can discover innovative lattes, freshly baked products, local artwork, unusual tea selections, and so much more.
Explore some of the best coffee shops and cafes the city has to offer by visiting some of our recommended local neighborhoods.
The 15 Best Coffee Shops in Chicago 2023
1. The Wormhole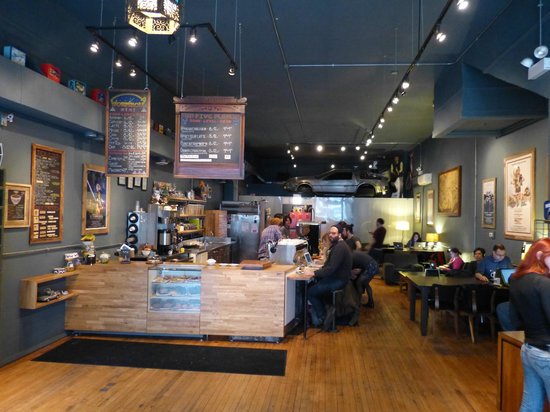 When you walk into a coffee shop, an automobile might not be the first thing that comes to mind as something you'd expect to see, but at The Wormhole, you'll discover that and much more.
As soon as you step inside, you will notice a scale model of the DeLorean from the movie "Back to the Future" sitting on a loft shelf up above.
In addition to that, the coffee shop is decked out in a variety of 1980s-themed decorations, ranging from Ghostbusters to E.T.
The beverages are delicious, and there is more than enough table space and seats for people who want to bring their laptops and get some work done while surrounded by all of this sci-fi decor.
The Honey Bear latte, which is produced with regional honey, is by far the most popular drink there, but in addition to that, they provide a rolling list of seasonal beverages.
2. Cafe Deko (Best Coffee Shops in Chicago)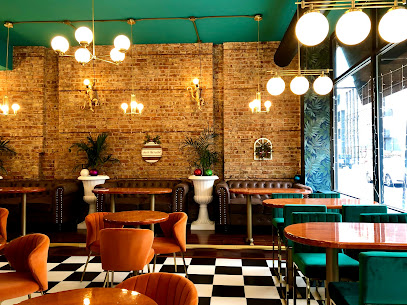 If you are looking for a cafe that is worthy of being featured on Instagram, then you should go to Cafe Deko, which is located between Lincoln Park and Lake View.
This little cafe on the corner was designed in the Art Deco style, with lots of seating in deep, rich colors and gold accents everywhere. It's likely to make you feel like you're at a European cafe, and it's ideal for capturing some cute images.
At Cafe Deko, you may choose from a selection of espresso staples, in addition to other speciality coffee beverages and teas. If you're feeling peckish, they also provide a selection of pastries and croissants for you to choose from.
3. Hero Coffee Bar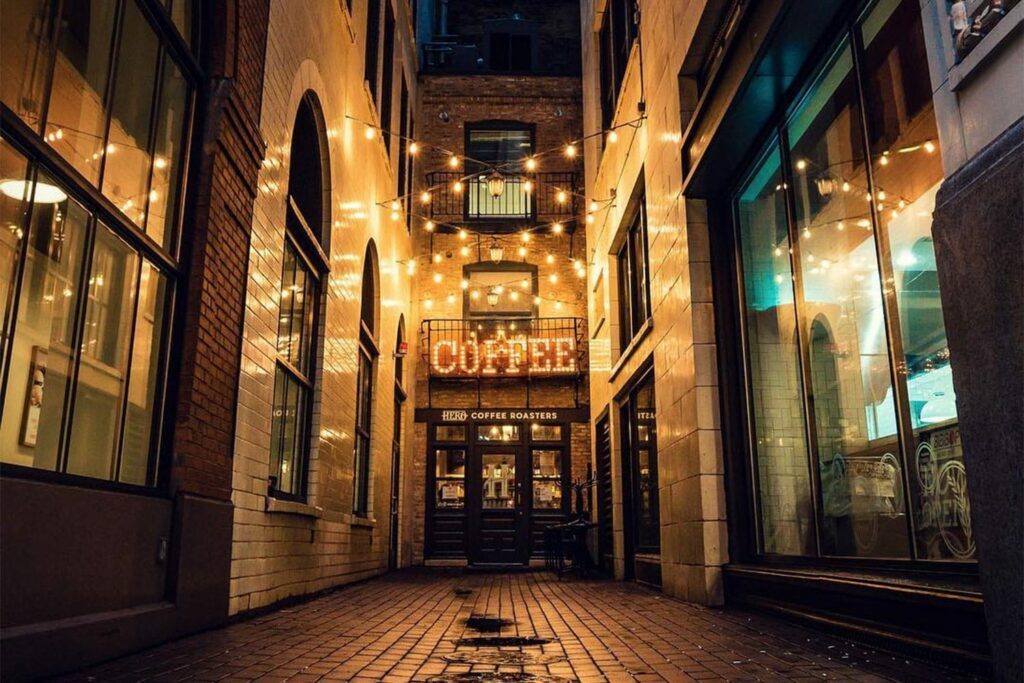 The Hero Coffee Bar is a cozy coffee shop tucked away in an alley in the Loop, just a few steps away from the Adams/Wabash stop.
The coffee shop itself does not have any inside seating; however, there is patio seating located around the alley, which makes it an excellent location for working outside when traveling to Chicago during the warmer months.
A pleasant urban feel is imparted to the patio as a result of the hanging lights that are strung across its surface.
The menu offers all your coffee classics including espresso drinks and matcha, as well as a selection of syrups you may throw in. When it comes to the cuisine, there is a wide variety of delicious bagel combinations.
4. Caffè Streets (Best Coffee Shops in Chicago)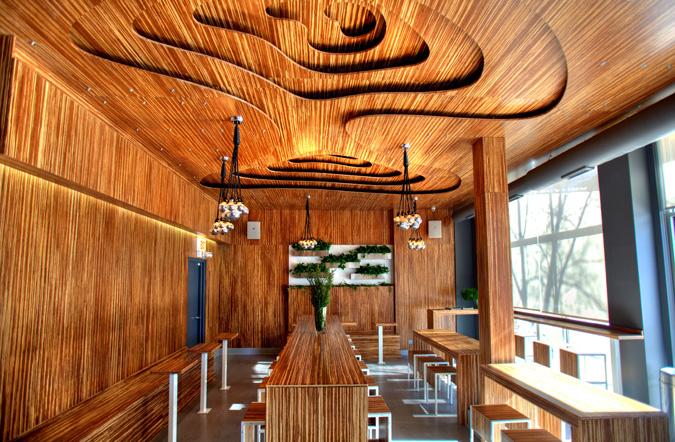 This hip and contemporary yet homey coffee shop can be found tucked away on Division Street in West Town, not far from Wicker Park. The inside of Caffè Streets is photo-worthy due to its wood-paneled walls and ceiling as well as the abundance of natural light that floods the space.
The bartending skills of the staff here are also top-notch. They have all of the traditional espresso beverages available, in addition to some delectable creations such as rose water lattes and rosemary matcha. They have got you covered. The oat milk matcha with vanilla and lavender is a personal favorite of mine at this establishment.
5. Gaslight Coffee Roasters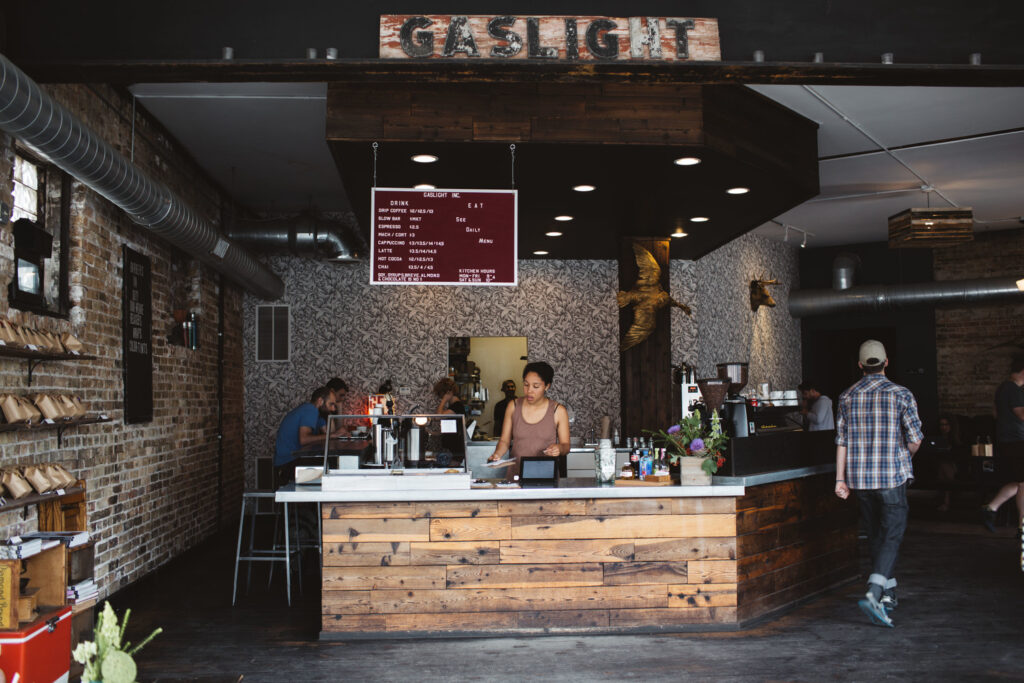 Gaslight Coffee Roasters is one of the many excellent coffee shops located in the Logan Square district of Chicago, which is where the neighborhood is located.
This coffee shop on the junction of N Milwaukee Avenue and W Fullerton Avenue has all the hallmarks of a traditional coffee shop in its design and atmosphere.
They have all of your espresso necessities, in addition to a selection of seasonal drinks and teas. The room features white brick that has been exposed, tables that may be used for working, lighting that is warm and inviting, and an overall calm feeling.
6. Dark Matter Coffee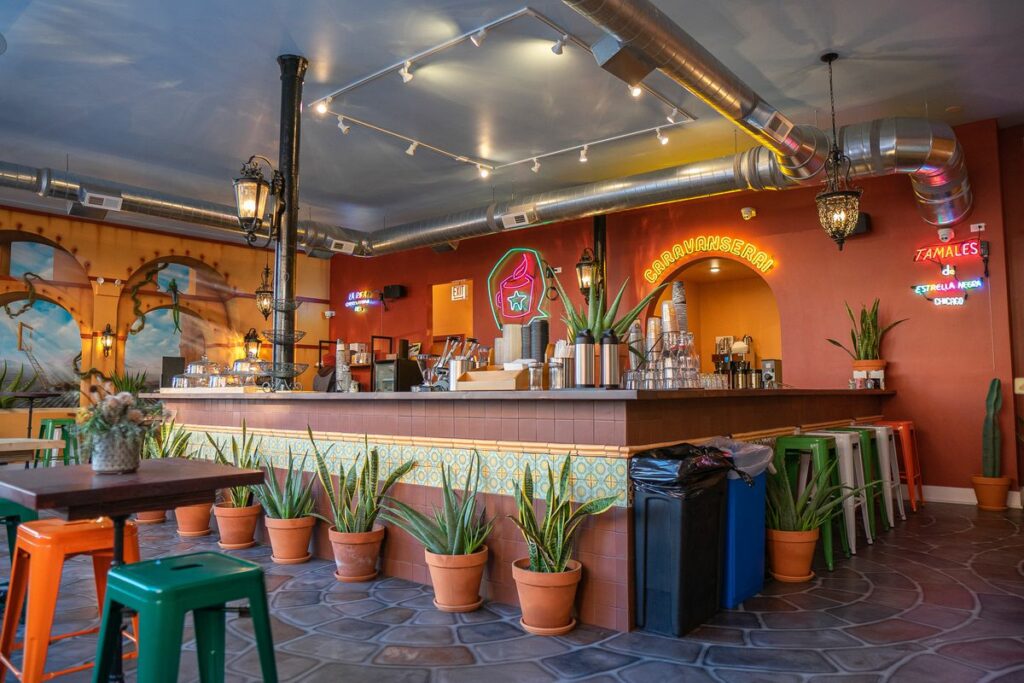 You can always count on a cool vibe and some of the best coffee and espresso in town when you visit a Dark Matter Coffee establishment.
The baristas here are welcoming and helpful, and the atmosphere here has a genuine sense of community. This is the kind of establishment that regulars from Chicago visit.
Additionally, Dark Matter Coffee offers a variety of bakery goods, including donuts, which are absolutely delicious and should not be missed.
There is plenty of room to chill out or get work done at any of the three sites, but the back patio at the Star Lounge location is particularly nice.
7. Colectivo Coffee (Best Coffee Shops in Chicago)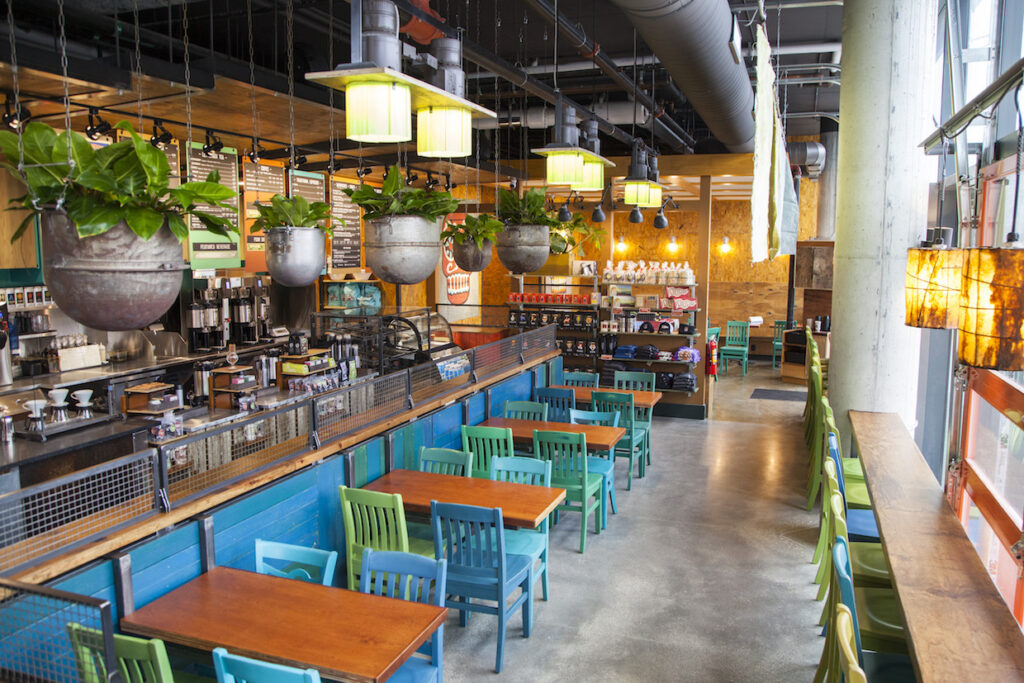 Colectivo is a terrific coffee shop for everyone who wants to be productive, whether they work in the digital world or not. Because it has sites in Wicker Park, Lincoln Park, Logan Square, and Uptown, it is a particularly wonderful spot to visit regardless of where in the city you may now be.
These coffee shops have a chill atmosphere, and there is plenty of seating available inside as well as on the patios that are available outside.
Colectivo offers a wide selection of delicious beverages, ranging from traditional coffees to a wide variety of specialized drinks and smoothies. In addition to that, they provide breakfast foods and baked pastries throughout the day.
8. Four Letter Word Coffee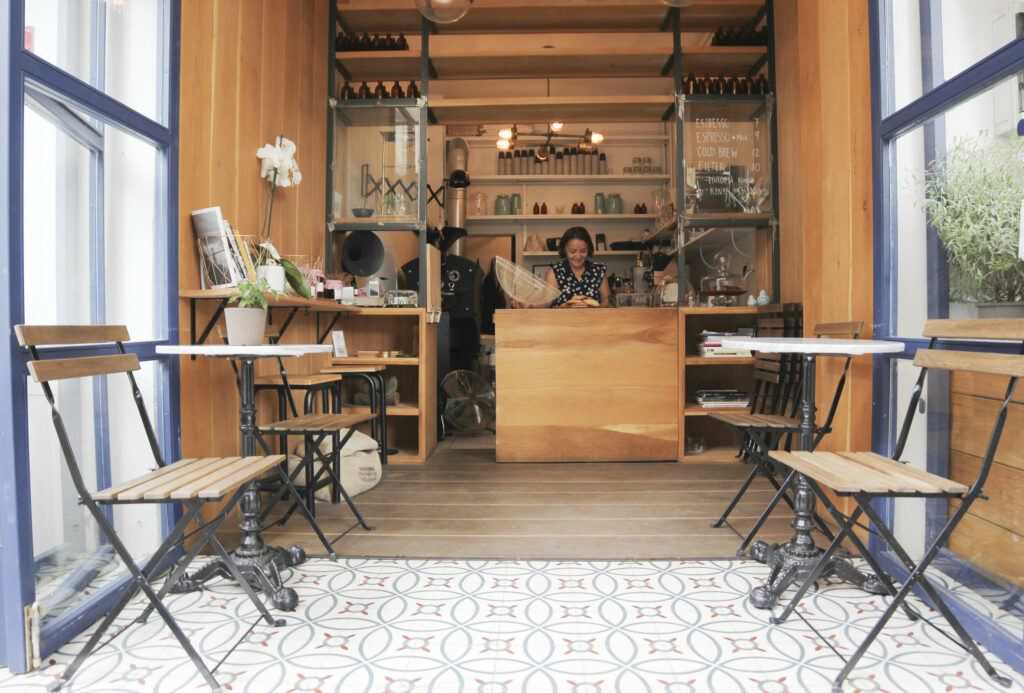 It is reasonable to say that Four Letter Word Coffee is one of a kind given that there are only two locations in the entire world: one in Turkey, and this one right here in Chicago.
They are well-known for the exceptional quality of the coffee that they provide, which includes traditional lattes, iced coffee, and cold brew. The 15 Best Coffee Shops in Chicago.
The wait is worth it for the locals who come to this café, despite the fact that it is a small establishment and is frequently only staffed by one barista.
The cafe can be found in Avondale. In addition, Four Letter Word offers a selection of one-of-a-kind pastries, both sweet and savory. However, if you want to secure some, you should arrive early because they are snapped up so quickly.
9. Eat Me Milk Me Coffee & Tea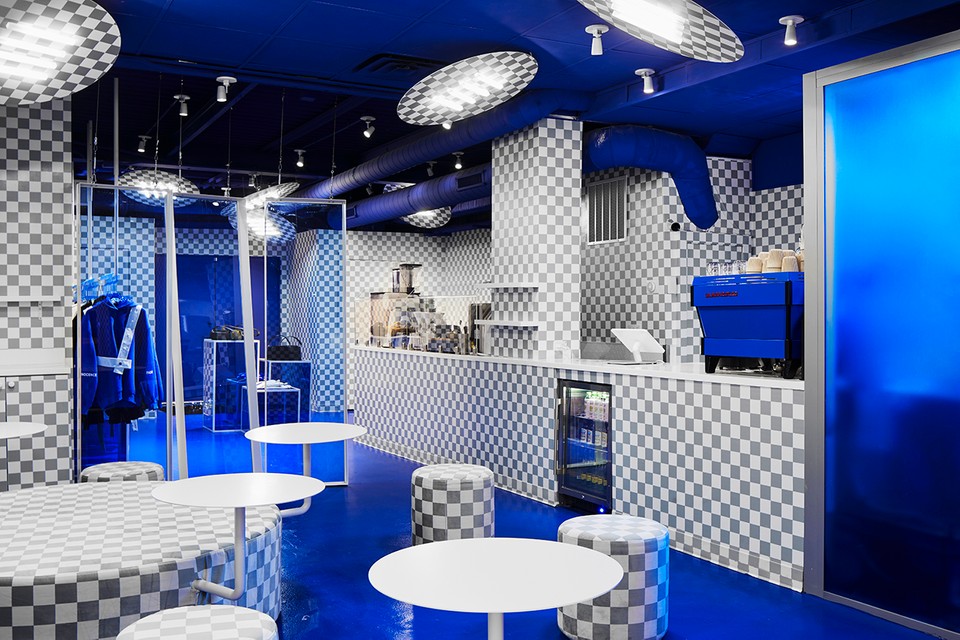 Attention all fans of boba: the West Loop cafe located on W Randolph Street is not only an excellent location for purchasing boba, but also for purchasing loose leaf tea and coffee.
If you go there, you should definitely choose one of their fruit teas, tea lattes, or bubble teas because they offer a vast variety to choose from. If you're hungry, they also provide some Chinese baos for you to eat.
The atmosphere at Eat Me, Milk Me is one of friendliness and chillness. It is a wonderful location to go to hang out with friends, and the atmosphere is adorable, with a playful checkerboard design spanning the majority of the café.
10. Cafe Jumping Bean
Cafe Jumping Bean can be found in the heart of downtown Pilsen, at the intersection of W 18th Street and S Bishop Street.
This coffee shop is known for its excellent coffee and cafe fare, as well as its warm and welcoming community atmosphere. It is the kind of establishment where the staff will recognize you and recall what you usually get.
Inside, there are a few tables that can be used for working, but if you want to write in a diary, catch up with friends, or just watch people go by, I suggest sitting at the window-facing countertop.
11. Oromo Cafe (Best Coffee Shops in Chicago)
Oromo Cafe is a forward-thinking coffee shop that is well-known for its commitment to providing customers with nutritious food and beverages. The Oromo Cafe specializes on Turkish coffee, which is a type of coffee that is extremely robust and rich, and it has a flavor that is reminiscent of coffee grounds.
This is something you absolutely have to taste if you're a coffee connoisseur, and you can get it prepared in a variety of ways, with different spices and milk combinations.
It's easy to get a lot of work done at Oromo Cafe because the ambience is bright and spacious while still managing to maintain a warm and peaceful vibe. Since there are locations in both Bucktown and Lincoln Square, I strongly suggest including either one of those neighborhoods on your agenda for Chicago.
12. Cà Phê Dá
The Cà Phê Dá coffee shop, which is situated in the heart of the Pilsen neighborhood, provides guests with an alternative take on the traditional cup of joe.
There is a number of speciality coffee drinks available there, like egg custard coffee, in addition to the excellent wings and other Vietnamese street cuisine that they provide.
Egg custard coffee is a style of coffee that is traditional in Vietnam and is definitely something that you should try. The consistency is more similar to that of a traditional cappuccino, yet it tastes just as silky smooth and delicious. The 15 Best Coffee Shops in Chicago
13. Sip of Hope
If you find yourself in the Logan Square area, you should definitely think about visiting this one-of-a-kind coffee shop that supports an incredible cause.
Inside the coffee shop, it is written on the walls that Sip of Hope is the first coffee shop in the world to devote one hundred percent of its profits to the cause of preventing suicide and promoting mental health education.
They have a wide selection of traditional espresso beverages, in addition to a variety of lattes and teas that do not contain coffee. The atmosphere is conducive to getting work done, and the baristas are quite helpful and kind.
14. Kibbitznest (Best Coffee Shops in Chicago)
Instead of bringing your laptop with you to Kibbitznest, leave it at home and go there with a book or a group of friends. This coffee shop/cocktail bar is located between Bucktown and Lincoln Park, and it does not provide WiFi for its customers.
This establishment is known for its low-key atmosphere. Instead, the shelves have been stocked with a large number of books and games in the hopes of fostering some good old-fashioned face-to-face interaction and quality time with one another.
Not only does Kibbitznest open later than the majority of conventional coffee shops, but it also stays open later – even until midnight. In addition to various drinks and the usual assortment of coffee and tea, they also provide creative cocktails and other drinks.
In addition to that, they provide a selection of small meals. In conclusion, and just so you're aware, they do not sell any substitutes to milk made from dairy products.
15. Ludlow Charlingtons Coffee Shop
The Ludlow Charlingtons Coffee Shop is a charming and homey coffee shop that is conveniently situated a short distance from Lincoln Park.
Be sure to give one of their iced coffee or iced latte drinks a shot because they are the most popular among customers, even though they make all of your favorite types of coffee.
One of the things that truly differentiates Ludlow Charlingtons from its competitors is the fact that a portion of the company's profits are donated to Friends of Chicago Animal Care and Control in order to assist in the adoption of rescued dogs.
Therefore, when you savor the flavor of your freshly brewed coffee, you may take satisfaction in the knowledge that you are contributing in some small way to the welfare of our canine friends.
The 15 Best Coffee Shops in Chicago 2023 :Newshub360.net
Related Post
Credit :www.Newshub360.net