The 10 Best Beach Hotels & Resorts Near Tampa, Florida 2023. Travelers from all over the world are drawn to the magnificent collection of beaches that surround the city of Tampa, despite the fact that Tampa is a lively city that offers a seemingly limitless variety of opportunities for entertainment, sporting events, and cultural attractions.
Visitors to this region have a wide variety of options available to them when it comes to how they want to spend their time in the sun, whether they want to participate in water sports, construct sandcastles, or simply relax beneath an umbrella.
These are the top beach resorts in the area close to Tampa, Florida, and they range from the well-known Clearwater Beach, which is known for its sugar-white sand and gin-clear seas, to the unspoiled length of beach in St. Petersburg.
Best Beach Hotels & Resorts Near Tampa, Florida
1.Sandpearl Resort, Clearwater Beach
The Sandpearl Resort Clearwater Beach is widely regarded as one of the premier beach resorts along the Gulf Coast of Florida.
It is located on the beach's powdery white sands and is only a few short streets away from the buzzing Pier 60.
After you have taken a swim in the glistening pool or perused the menu of ocean-inspired treatments available at the on-site spa, head to Caretta on the Gulf for some freshly prepared seafood and views of the Gulf, or visit Tate Island Grill for some colorful drinks.
You may choose to relax in the magnificent Gulf Front Junior King Suite, which features a king-size bed and a bathtub designed in the Roman style.
Alternatively, you can spread out in the Gulf View Two Bedroom King Suite, which has enough space for six guests.
2.Sheraton Sand Key Resort, Clearwater Beach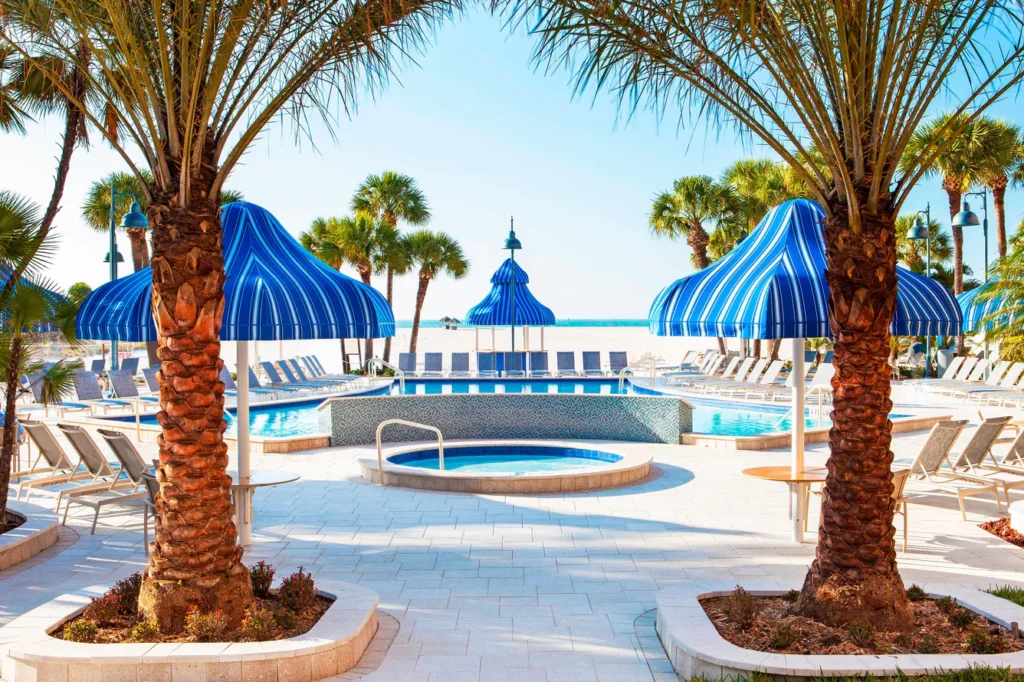 The Sheraton Sand Key Resort is regarded as one of the best family beach resorts in Florida, and it is situated along a private beach that spans 13 acres.
In addition to the beach, there is a pool and tennis courts located right next to the sand, and guests enjoy engaging in sports such as wave running and parasailing.
After you have dined at Rusty's Bistro, which serves food with a Caribbean and Southwest fusion, or at the Poolside Cafe, which serves lighter fare, retire to a Club Level Two Queen Gulf View room, where you may enjoy complimentary beverages, a pillow top mattress, and a flat-screen television.
Gather your golf equipment and go on over to the Clearwater Country Club in the neighborhood if you want to work on your swing.
3.The Don Cesar, St. Pete Beach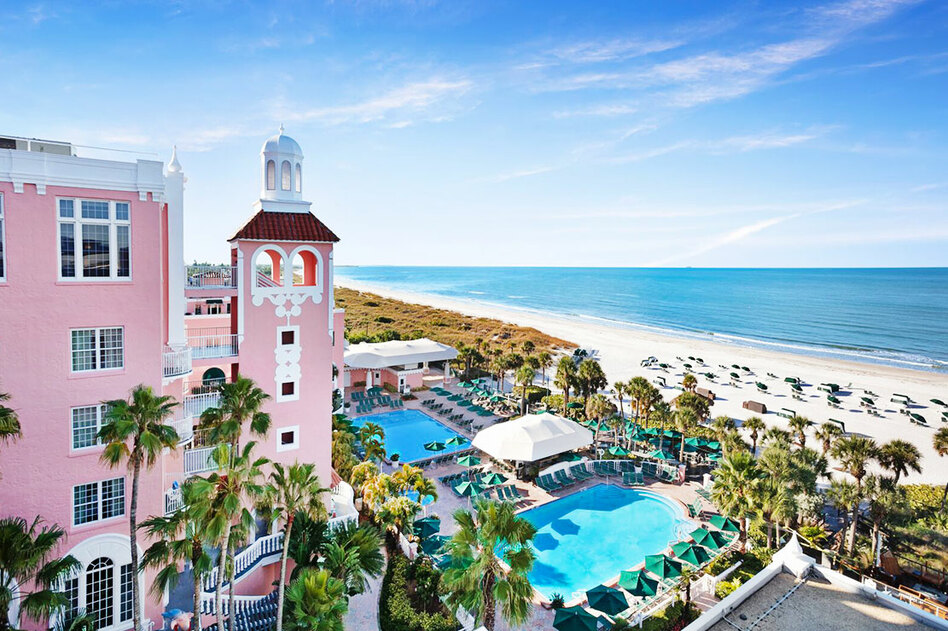 The Don CeSar Hotel in St. Pete Beach, Florida is a luxurious hotel that dates back to 1928 and is situated on the sugar-white sands that run along the Gulf of Mexico.
Because of its Mediterranean and Moorish architectural themes, it is known as Florida's "Pink Palace," and it features stunning views of the beach as well as lavish atmospheres reminiscent of the Roaring Twenties.
It is considered to be one of the most stylish beach resorts in the state of Florida, and it provides its guests with individual balconies and breathtaking vistas of the sea.
Indulge in seafood cuisine at Maritana, drinks at the seaside Rowe Bar, or sweet sweets at the Ice Cream Parlor after unwinding in a heated pool or scheduling a massage at the on-site spa.
Best Beach Hotels & Resorts Near Tampa, Florida
4.TradeWinds Island Grand Beach Resort, St. Pete Beach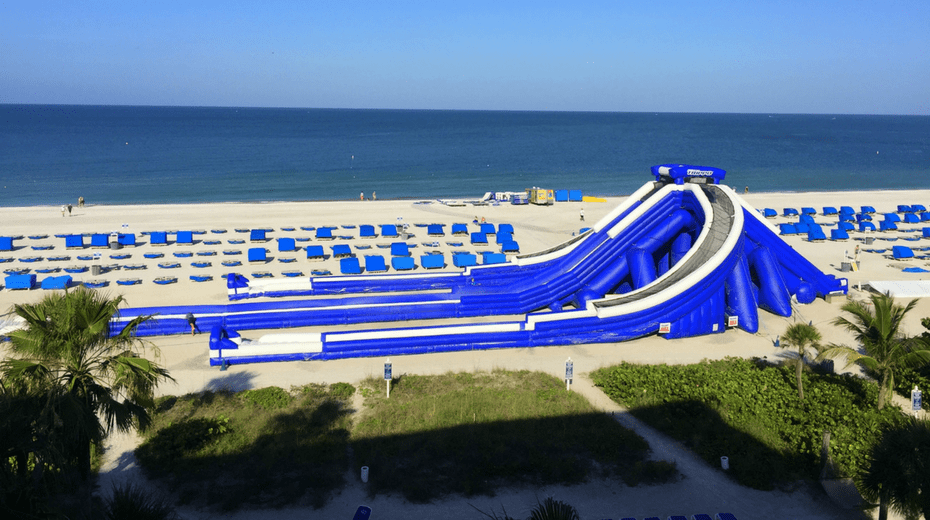 The luxurious TradeWinds Island Grand Hotel is the ideal oceanfront retreat, yet it's only a few minutes away from all the excitement that Tampa has to offer.
The hotel is one of the few in Florida that offers all-inclusive vacation packages, which are planned to allow for the most amount of enjoyment possible during family trips.
You will not have time to become bored while you are here since you will have the opportunity to go down a three-story waterslide, dine on fresh seafood, witness a pirate show, and enjoy activities at the beach and pool all in the same day.
The packages are customized to match your requirements and include advantages such as beach cabanas, unlimited rides on the slide, a touch tank experience, nightly campfires and s'mores, dive-in movies, mini-golf, and paddleboats.
Other activities available include diving into a movie underwater, mini-golf, and paddleboats.
5.Hyatt Regency Clearwater Beach Resort and Spa, Clearwater Beach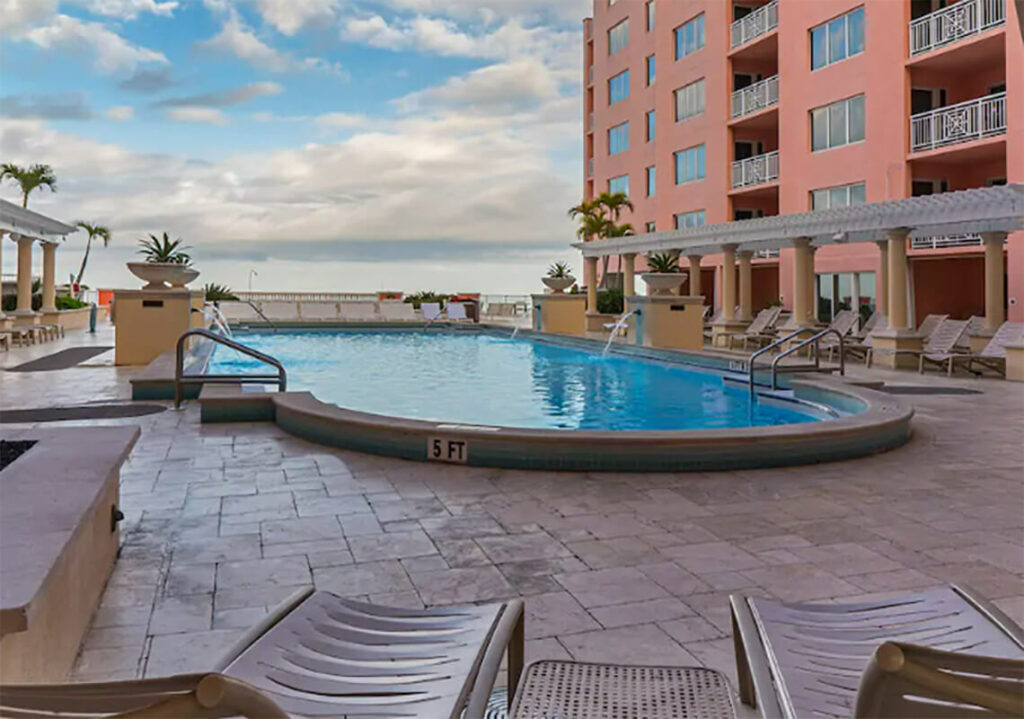 The Hyatt Regency Clearwater Beach Resort and Spa is a magnificent building with a pinkish color that sits on Clearwater Beach and rises over the glistening waves of the Gulf of Mexico.
Relax on the expansive pool deck that has views of the beach, and afterwards, take in the seaside scenery from the comfort of one of the hotel's big guest rooms or suites.
It's not hard to see why this is considered one of the greatest hotels in Clearwater; it's home to a number of restaurants that serve fresh seafood caught locally in the Gulf of Mexico, as well as a rooftop cantina that serves refreshing cocktails and has stunning views of the ocean.
You have the option of indulging yourself with a treatment in one of the spa rooms with a view of the water, working out in the fitness center, or renting a cabana at the heated pool on the eighth floor.
6.Shephard's Beach Resort, Clearwater Beach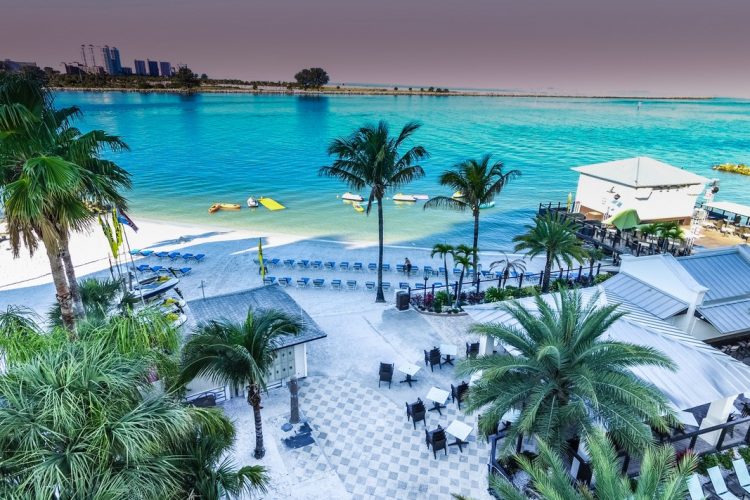 Shephard's Beach Resort is a beachfront hotel with six stories that is famed for its vibrant atmosphere and availability of entertainment. It is located on the southernmost end of Clearwater Beach, which has been recognized for its outstanding quality.
You may choose from studio apartments with kitchenettes all the way up to two-bedroom suites with multiple brilliantly colored bedrooms.
There is never a dull moment at this resort because it features a tiki beach bar and restaurant that plays live music every day, as well as a soak pool, direct access to the beach, and jet ski rentals.
The bar, which has more than 80 different kinds of tequila, keeps the party going strong. In addition, visitors may interact with one another, dance, and reserve VIP tables at the nightclub that is located on the premises.
Best Beach Hotels & Resorts Near Tampa, Florida
7.Sirata Beach Resort, St. Pete Beach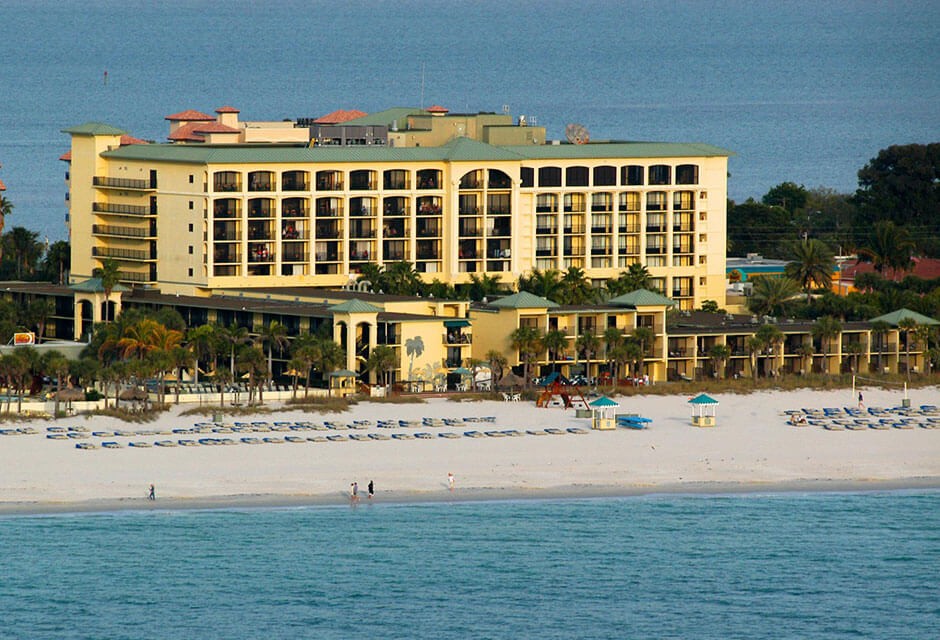 The Sirata Beach Resort, a top hotel in St. Pete, is a slice of heaven on the coast as it is surrounded by acres of beautiful beachfront.
The resort is one of the best in the area. During your visit, you may keep yourself occupied with beachfront volleyball, fire pits, and outdoor pools, or you can take a short trip to the shops at John's Pass Village and Boardwalk.
Relax in a beachfront room complete with a flat-screen TV and a refrigerator, or upgrade to a One-Bedroom Suite for additional space and breathtaking views of the sea.
In the event that you become hungry, you may satisfy your cravings at the chef-created dishes served at Compass Grille or with a refreshing drink at Harry's Beach Bar, which is located outside.
8.Sabal Palms Inn, Pass-a-Grille Beach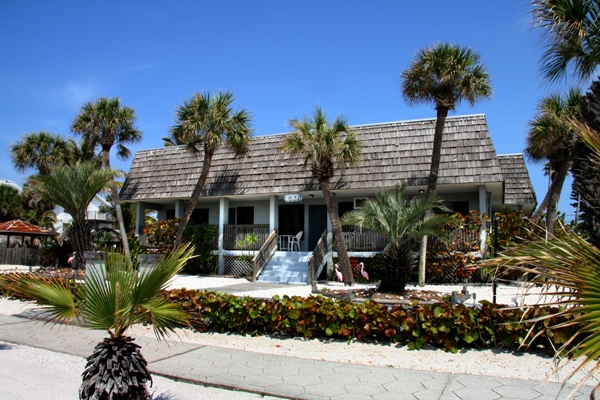 The Sabal Palms Inn is a tiny beachfront inn located directly across the street from the magnificent beaches of Pass-a-Grille Beach.
This inn is a modest refuge with only ten rooms available. Stay in one of the studios or suites to take advantage of amenities such as kitchenettes, balconies with shade, and free use of bicycles, beach chairs, and gas grills.
These accommodations are ideal for people who are searching for an intimate atmosphere away from the large resorts.
Spend your days relaxing at the beach or the on-site pool, and then go out for a quick trip to Busch Gardens to ride some roller coasters there.
9.Hilton Clearwater Beach Resort & Spa, Clearwater Beach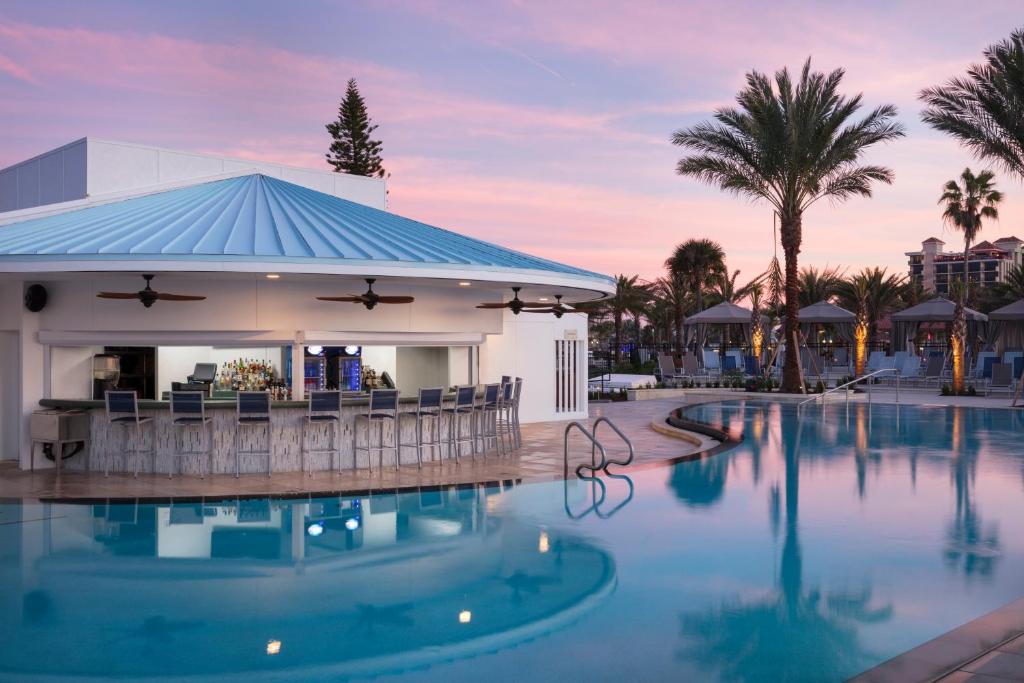 The Hilton Clearwater Beach Resort & Spa is a contemporary hotel with stylish interior design that is located in the center of all the action on Clearwater Beach.
The hotel boasts 10 acres of unspoiled coastal views, and it is only a few steps away from Pier 60.
Guests may take use of two outdoor pools, a grill and tiki bar located poolside, as well as private cabanas that provide both food and drink service.
The spa has a wide variety of services that adults may choose from to indulge in some self-care while the children can participate in an activity program designed specifically for them.
10.Opal Sands Resort, Clearwater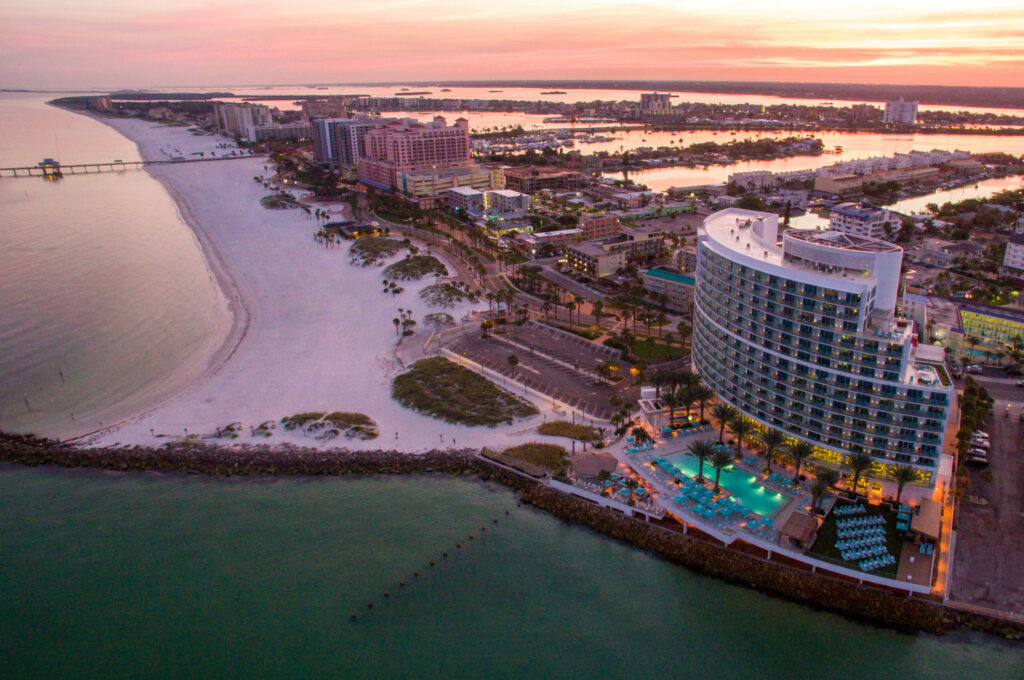 For a sunny getaway, book a stay at the oceanfront Opal Sands Resort in Clearwater, where you'll find beach-chic accommodations with luxurious mattresses, flat-screen TVs, and views of the Gulf of Mexico.
The One Bedroom Premium Suites have living areas and floor-to-ceiling windows, while the Opal Suite represents the pinnacle of luxury with its outdoor lounge area and wraparound balcony.
The pool attendants in this suite are pleasant and will make sure you have all you want for a day spent lounging by the water.
Opal Spa is the place to go to get pampered, or you may relax in your own private cabana by the Gulf-front pool.
Reflections Poolside Bar is known for its hand-crafted drinks, while Sea Guini is renowned for its indoor and outdoor patio seating, in addition to its classic Italian cuisine and live entertainment.
10 Best Beach Hotels & Resorts Near Tampa, Florida 2023 –Newshub360.net
Related Post
Credit : www.Newshub360.net