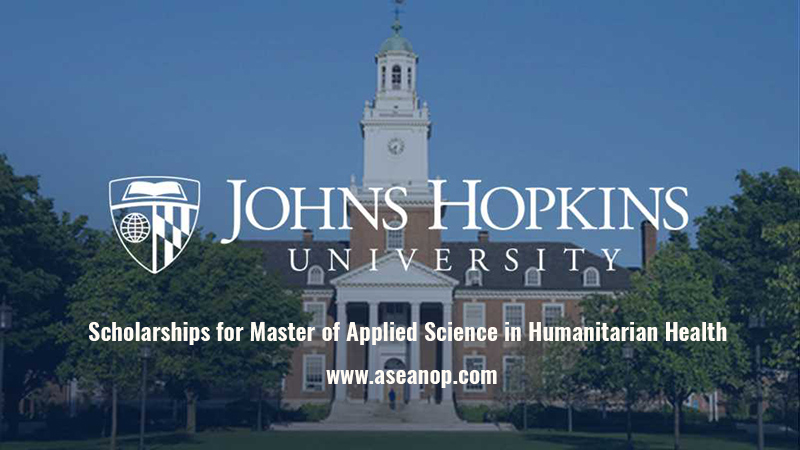 Scholarship Description:
Humanitarian Health Scholarships at Johns Hopkins University is open for Low Income or Middle-Income Countries The scholarship allows Masters level programm(s) in the field of Humanitarian Health taught at Johns Hopkins University.
Degree Level:
Humanitarian Health Scholarships at Johns Hopkins University is available to undertake Masters level programs at Johns Hopkins University.
Available Subjects:
Following subject are available to study under this scholarship program.
Eligible Nationalities:
students from low or middle-income countries are eligible to apply.
Scholarship Benefits:
The Humanitarian Health Scholarship covers US$10,000 of the tuition cost, disbursed over the length of the program.
The OPAL Scholarship: All students enrolled in an OPAL MAS or Certificate program will be awarded this scholarship, in the amount of US$460 per credit. This scholarship is designated for tuition costs only and is disbursed incrementally for each credit taken towards required coursework.
Eligibility Criteria:
Two $10,000 scholarships are available for applicants from low- and middle-income countries. To be eligible for the Humanitarian Health Scholarship for the online Master of Applied Science program, applicants must:·
​Be a citizen and resident of a low- or middle-income country (LMIC), as defined by the World Bank (https://data.worldbank.org/income-level/low-and-middle-income).
Applicants who are temporarily residing in high-income countries may be considered as well, please contact an Admissions Officer for additional information.
Be able to fluently speak, read, and understand English in order to actively participate in a fast-paced English-only academic program;· Have completed at least a bachelor's degree, with a strong record of successful academic performance; and
Be professionally involved in humanitarian health emergencies/disasters* for over two years, and plan to continue to work in these contexts after completion of the degree.Prospective applicants from the US and other high-income countries are not eligible for the Humanitarian Health Scholarship for this program, but may apply; all enrolled MAS students will receive the OPAL Scholarship, which is a per-credit amount that will be applied to all required courses throughout the academic program. For full details about the OPAL Scholarship, please visit the OPAL Admissions webpage.
Application Procedure:
secure admission in masters program before 15 May 2023.
Apply through the given link to the university website.