Top 10 Rarest Crime Scene Photos Ever Taken. Finding "rare" crime scene photographs is quite pointless given that the majority of these images have never been made available to the general public.
Weegee the Famous was a photographer who became well-known in the 1930s and 1940s. In order to narrow down the search and display some extremely uncommon crime scene photographs, all of the images on this list have been captured by Weegee the Famous.
The majority of the images in this exhibition originated from a junk store box that wasn't opened until the year 2019, despite the fact that Weegee is a well-known photographer whose work can be found in museums such as the Metropolitan Museum of Art.
Both the crime scene photos and the Weegee photographs contained in this box are unique in that they have never been reproduced commercially and have never been mass manufactured.
Weegee the Famous, whose real name was Arthur Fellig, was a photographer who spent his whole career concentrating on the seedier side of New York City.
His portfolio is primarily composed of photos of the impoverished and oppressed, as well as photographs taken at crime scenes that were published on the front pages of tabloid newspapers.
Although Weegee is best known for being one of the first photographers to pursue a sensationalist style, several examples of his work show the compassion he had for those who did not fit into the mainstream.
Discover some of his most disturbing and captivating photographs from the late 1930s by reading the list that is provided below.
Top 10 Rarest Crime Scene Photos Ever Taken 2023
1. Teen Couple Charged in Mother's Death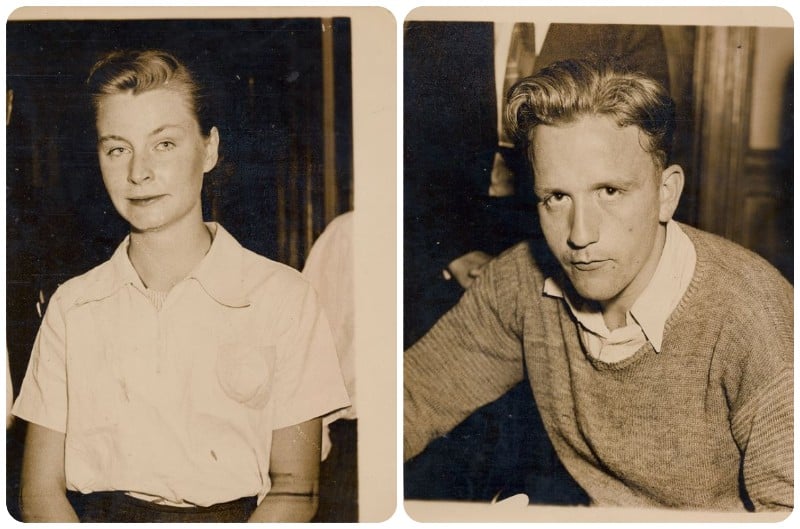 Year: 1936
Crime: Ancient/Blind
Associated Headline: Girl, 17, Admits to Killing Mother with Hatchet
These images were just recently discovered, yet they achieved widespread notoriety soon after they were published, which helped launch Weegee's career.
They look like innocuous portraits of Gladys Macknight and Donald Wightman. In point of fact, the adolescent couple had brutally murdered Gladys' mother because she disapproved of their connection hours earlier.
Gladys' mother had voiced her disapproval of their relationship. This case received a great deal of attention due to the fact that all of the participants hailed from wealthy households.
While Donald's father was the head of the local yacht club, Gladys's father worked as an executive for a cable firm.
Weegee was successful in persuading the police captain to release the two suspects from custody so that he could photograph them.
The photograph of Gladys was eventually used as evidence during her trial to show that she did not feel regret for the atrocities that she had committed.
Were you aware that it was against the rules for Weegee to take these photographs? They were taken aback to see that there was no one else from the media present when they arrived at the site together with a buddy who is also a journalist.
It turned out that several photographers and journalists had agreed to come in the morning for the purpose of taking photographs and conducting interviews, despite the fact that the police had warned them "no more pictures." Weegee was completely oblivious to this arrangement.
2. Joseph Gedeon
Year: 1937
Crime: Triple Homicide
Associated Headline: Beer, Gin, Poker Games, and Nudes: All in the Lifetime for Ronnie Gedeon
When Joseph Gedeon decided to spend Easter with his family, he found the bodies of his estranged wife and younger daughter, in addition to that of a boarder, in their home.
The photograph depicts Joseph Gedeon after he made the discovery. The police detained him as a suspect, but they quickly let him go after questioning him.
Images of Gedeon's daughter Veronica's "scandalous" modeling work contributed to the public shaming and ridiculing of the victim of the murder.
Veronica was the daughter of Gedeon. However, the perpetrator of the murder, Robert Irwin, was not interested in Veronica's profession at all; rather, he was fixated on Veronica's older sister, Ethel. After Mary, Ethel, and Veronica's mother, told him to get over her daughter, he lost it and screamed at her.
Have you any idea?
The use of the insanity defense by the defense forced New York state to reconsider how the notion was implemented in the judicial system. Irwin was able to avoid the death penalty because of this strategy, and he passed away in a mental institution in 1975.
3. Children Peer at Murder Suspect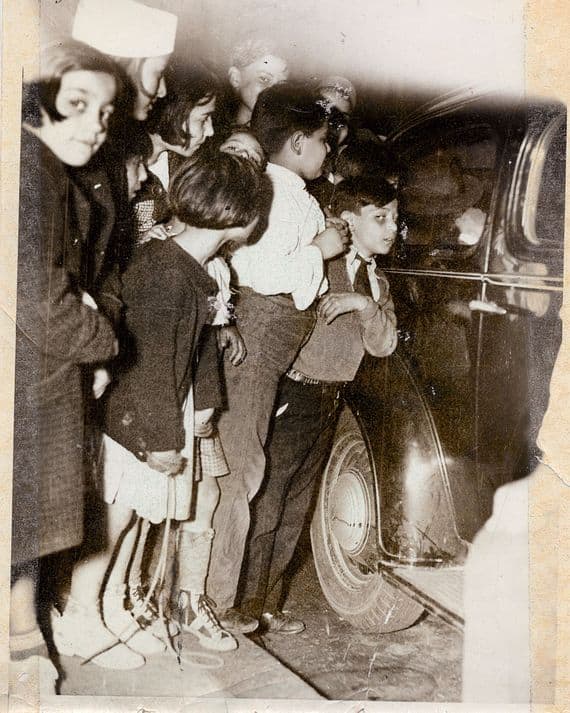 Year: 1937
Crime: First Degree Murder
Associated Headline: MOTHER INDICTED IN GIRL'S DEATH; Mrs. Tiernan Also Is Charged With Attacking Son, 4, in Long Island Woods
This picture shows a gathering of children trying to catch a peek of George Christodoulou while he is away from the room.
Helen Tiernan, his lover, asked him to marry her, but he turned down the proposal because she already had kids.
After that, Tiernan murdered her two children by pretending to take them on a picnic in the woods while she actually stabbed them to death.
Her son made it through the ordeal unscathed, but her daughter did not survive her wounds. Christodulus was at first suspected of involvement in the murders as well, but Tiernan's testimony cleared him of any wrongdoing.
Did you know that according to data compiled by the FBI, family members were responsible for the deaths of 13% of homicide victims in 2019?
4. The Release of Father Divine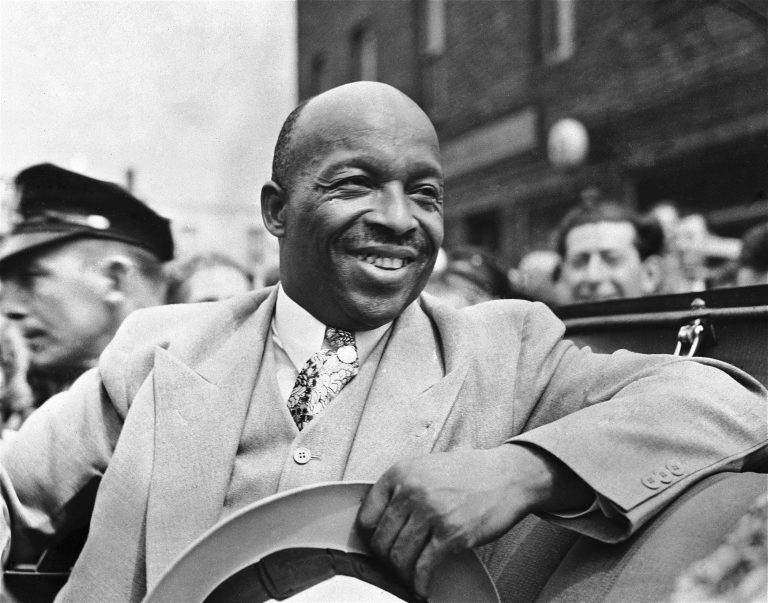 Year: 1937
Crime: Second Degree Murder
Associated Headline: Faithful Angels Chant and Keep Nightlong Vigil as Police Headquarters Becomes Divine Abode
This picture depicts people's responses after learning that Father Divine had been released from jail after being questioned.
A few days earlier, a man who was delivering a summons to Father Divine at one of his congregations was stabbed to death.
Father Divine was present at the time of the attack. After fleeing to Connecticut, Father Divine eventually surrendered himself to authorities there for inquiry.
After his release, thousands of people clapped and applauded him as he passed through the crowd. In the annals of American history, Father Divine is still remembered as a complicated figure.
During the Great Depression, he was a prominent figure in New York City, where he led a religious congregation known as The Peace Mission.
Some people felt that this was a cult, while others now see it as a predecessor to the Civil Rights Movement because it preached equality, gave opportunities to African Americans that they wouldn't have had otherwise, and was widely believed to be a cult at the time. He did, however, assert that he was God in human form.
Did you know that Father Divine was the founder of the Peace Mission Movement? It was a political platform that advocated for the abolition of the death penalty as well as the repeal of laws that were based on racial prejudice.
5. Kids Look at Car Crash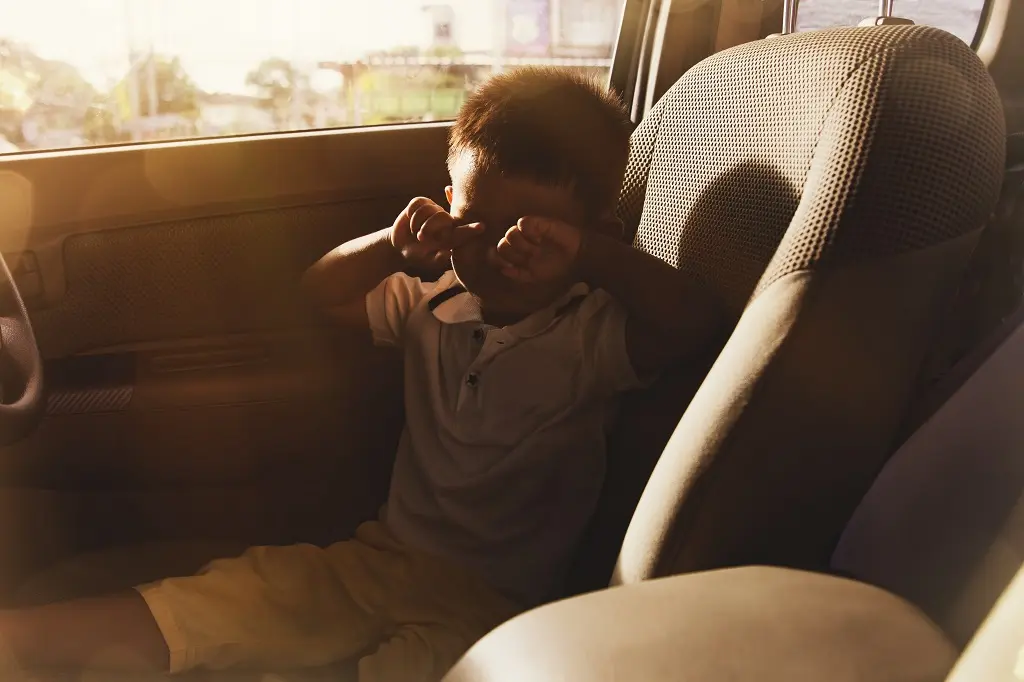 Year: 1937
Crime: Automobile Collision
Associated Headline: L Pillar Cracks Fetchit's Skull
This photograph was taken in Harlem and depicts a group of children gazing in disbelief at an off-shot car accident.
An older woman casts a critical glance in your direction. It appears that Weegee posed the youngsters for this photograph based on their exaggerated responses and their gazes that were directed directly at the camera.
Comedian Stepin Fetchit was involved in a car accident that resulted in him suffering a skull fracture when his vehicle was involved in a collision with a pillar.
It's a miracle that he made it. The image is reminiscent of a far more well-known and less macabre portrait by Weegee titled "The Critic," which the photographer also staged.
Have you any idea?
In the United States, there are over six million car accidents each year, and these accidents cause approximately three million persons to sustain injuries.
6. Harlem Tenement Fire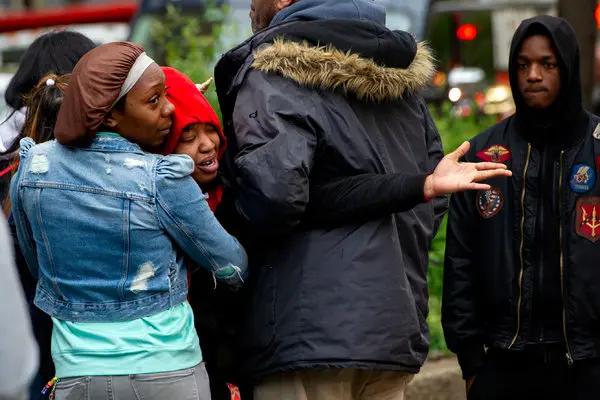 Year: 1937
Crime: Criminal Negligence
Associated Headline: 3 killed, 20 hurt as 200 residents flee the Old-Law Tenements – criminal negligence was charged
This photograph is just one of many that Weegee captured of burning tenement buildings. Tenement buildings were historically homes to families of lower class and immigrant backgrounds who lived in cramped quarters.
In the city of New York, you may find buildings between 137 and 139 Suffolk Street. The fire was responsible for the deaths of three persons and injured 200 others.
It seems likely that the building's lax adherence to safety rules as well as its design were to blame, as incidents similar to this one have occurred on several occasions over the course of several decades.
Have you any idea?
A more well-known shot taken by Weegee and housed in the Metropolitan Museum of Art depicts two people sobbing as their building burns in the year 1942.
7. Drag Queen Arrested
Year: Unknown
Crime: Cross Dressing
Associated Headline: Unknow
The so-called seedy side of New York City was the subject of several of Weegee's paintings, which he photographed.
He had compassion for those who were rejected by society and treated them with dignity. This photograph is just one example of the numerous that Weegee captured of drag queens, who were social outcasts up to the turn of the twenty-first century.
Have you any idea?
Haddon Township, New Jersey passed an ordinance in 1964 that declared "cross-dressing" illegal, but it wasn't until 2014 that the rule was finally repealed.
8. Tony Benedetti and Family Deported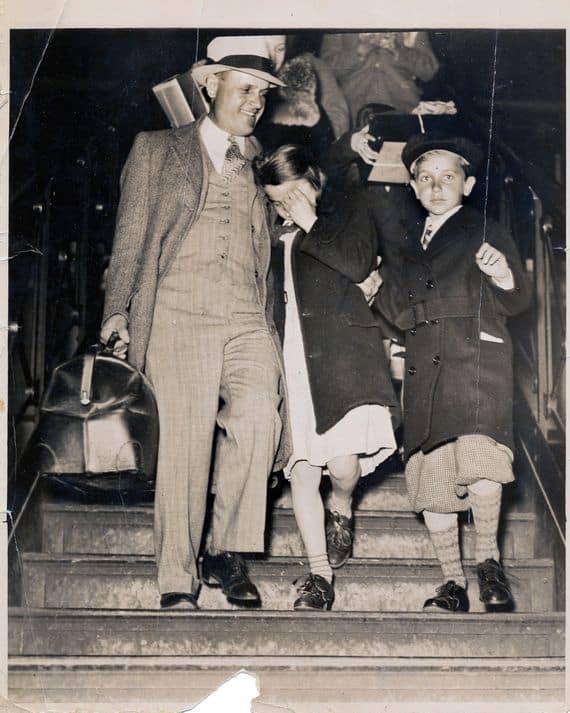 Year: 1937
Crime: Being on Welfare
Associated Headline: Deported—to Uniontown
Tony Benedetti, a single father with a poor salary who was struggling during the Great Depression, did not commit any crime.
However, the state compelled him and his family to relocate to Pennsylvania due to the fact that they were on assistance and the state of New York did not wish to pay the $32 required to maintain them.
The Benedetti family was among the very first families in the United States to be removed from the country for this reason. At Penn Station, Weegee took this shot of the family just as they were boarding the train.
Have you any idea?
During the 1930s, the city of Los Angeles, California, began the practice of illegally deporting individuals of Mexican heritage back to Mexico.
9. Drunk Driving Multi-Car Collision
Year: 1937
Crime: Drunk driving
Associated Headline: The Grim Reaper Thumbs a Lift When You "Go to Town"
The aftermath of an automobile accident that was caused by drunk driving is seen in this picture. Two persons were murdered instantly upon impact after two automobiles and a tram collided in Brooklyn, New York, and three other people were taken to the hospital with critical injuries as a result of the crash.
The previous headline is evidence that the media was not kind to the intoxicated motorist in this situation.
Weegee also made an effort to show the reality of the disaster by drawing attention to the several spirits bottles that were scattered around the debris.
Have you any idea?
In the year 2016, drunk driving was responsible for the deaths of 10,497 persons, which accounted for 28 percent of all deaths that were caused by traffic accidents in the United States.
10. Long Island Press Strike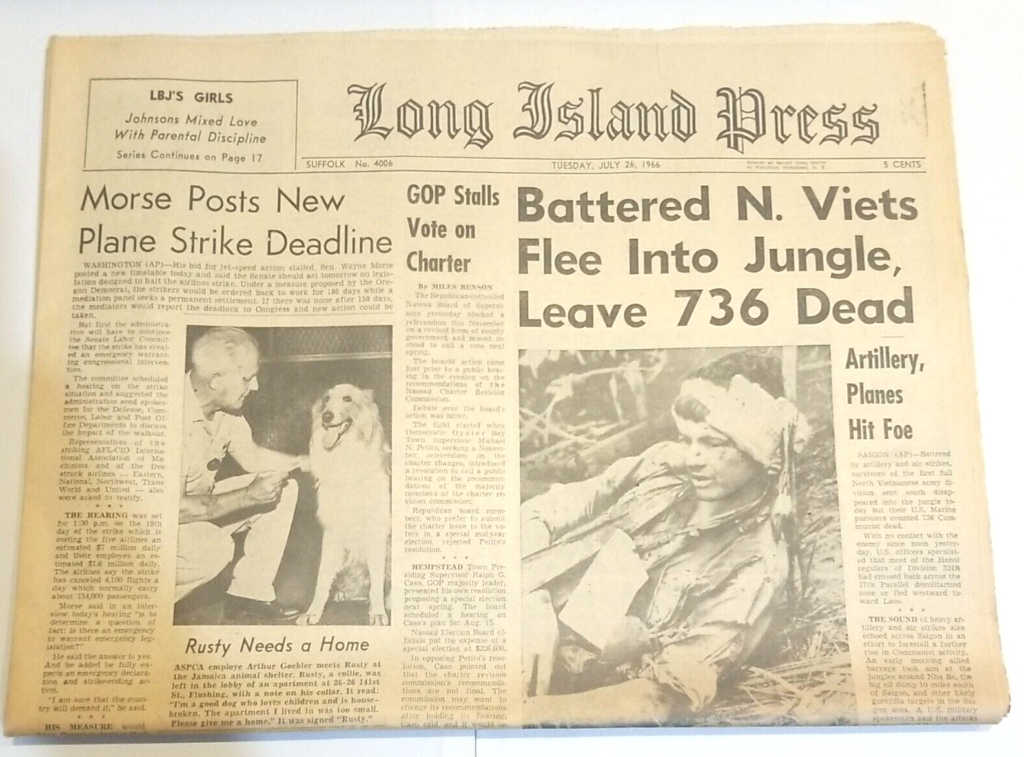 Year: 1937
Crime: Strike and associated violence
Associated Headline: CLERGYMEN BACK GUILD; Blame for Long Island Press Strike Laid to Management
It is not possible to pinpoint where exactly this shot was taken; nevertheless, there is speculation that it was taken during a strike at the "Long Daily Island Press."
Due to the unique atmosphere, it exudes, experts have determined that it is the rarest crime scene photograph ever taken.
The original goal of the strike, which was called for by the New York Newspaper Guild, was to increase workers' rights.
The headline gives the impression that the media took the side of the striking workers and believed that the management should reach an agreement with the guild.
Have you any idea?
After 156 years in business, the "Long Island Daily Press" went out of business in 1977. It was resurrected in the year 2002 and given the name "Long Island Press."
Top 10 Rarest Crime Scene Photos Ever Taken 2023 – Newshub360.net
Related Post

Credit: www.Newshub360.net