The 9 Best New York City Hotels with Balconies 2023: Although it can be challenging to get a room with a balcony in New York City, these hotels are a great choice if you're looking to do so.
For every journey, whether it is for business or pleasure, being able to open a balcony door and take in the view of New York's most well-known sites is a real delight.
This list will help you avoid spending countless hours researching your options and will undoubtedly provide the ideal accommodation.
The 9 Best New York City Hotels with Balconies 2023
1. Warwick New York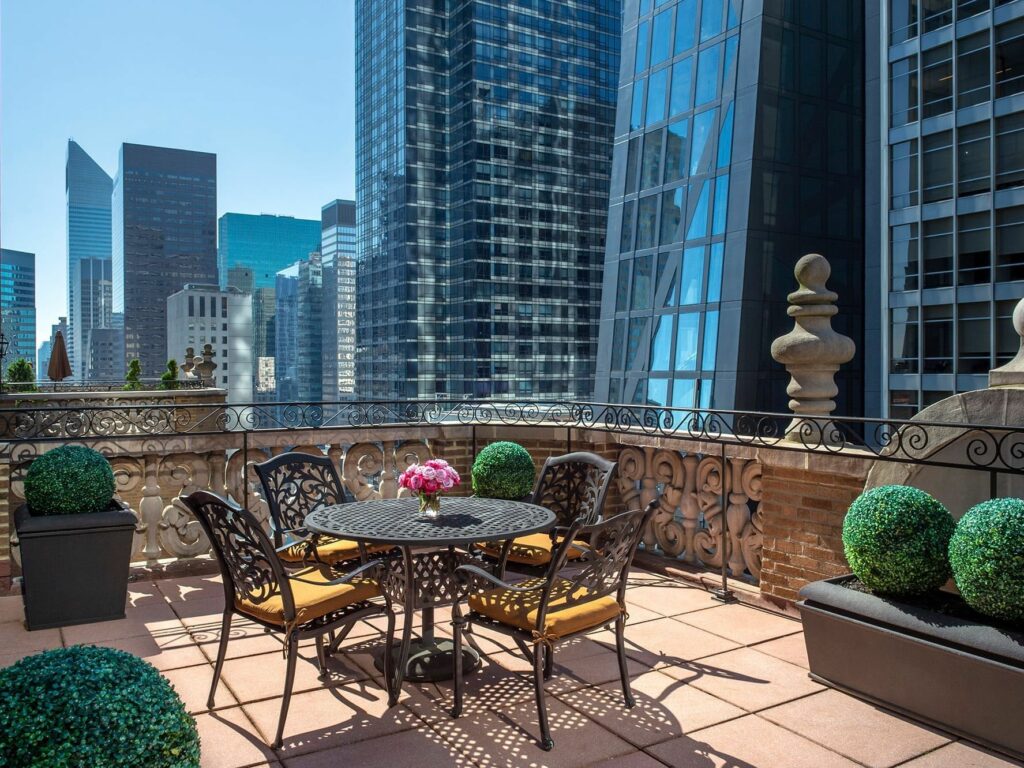 At the intersection of 54th Street and 6th Avenue in Midtown, directly across from the Museum of Modern Art, stands the Warwick New York, a historic landmark hotel.
William Randolph Hearst built it in the 1920s, and over the years, a long list of celebrities have stayed there, including Elvis Presley and Cary Grant, who resided there for 12 years.
There are 5th Avenue shops, Broadway, Central Park, and Rockefeller Centre nearby, and the rooms have excellent decor, a balcony or patio, and contemporary facilities.
There are various accommodation kinds, and the more upscale ones offer even more luxuries, such as the Premier Suites that have bathrobes and Bulgari toiletries.
You can get a direct view of the Hudson River if you reserve one of the On the Avenue Suites. There are also speciality suites, such the Marion Suite inspired by Film Noir and the Modern Art Suite.
2. Hyatt Centric Times Square New York
The luxurious Hyatt Centric Times Square has a great rooftop bar with stunning city views and indoor/outdoor seating. Visitors can reserve a room with a furnished patio to enjoy city views.
All of the rooms are comfortable and feature flat-screen TVs, Nespresso coffee makers, complimentary Wi-Fi, and modern accents like chairs with geometric prints.
Modern bathrooms have rainfall showers and premium products. A 24-hour fitness centre, an on-site restaurant featuring American cuisine, and a spa and salon are also available at the hotel.
3. Stewart Hotel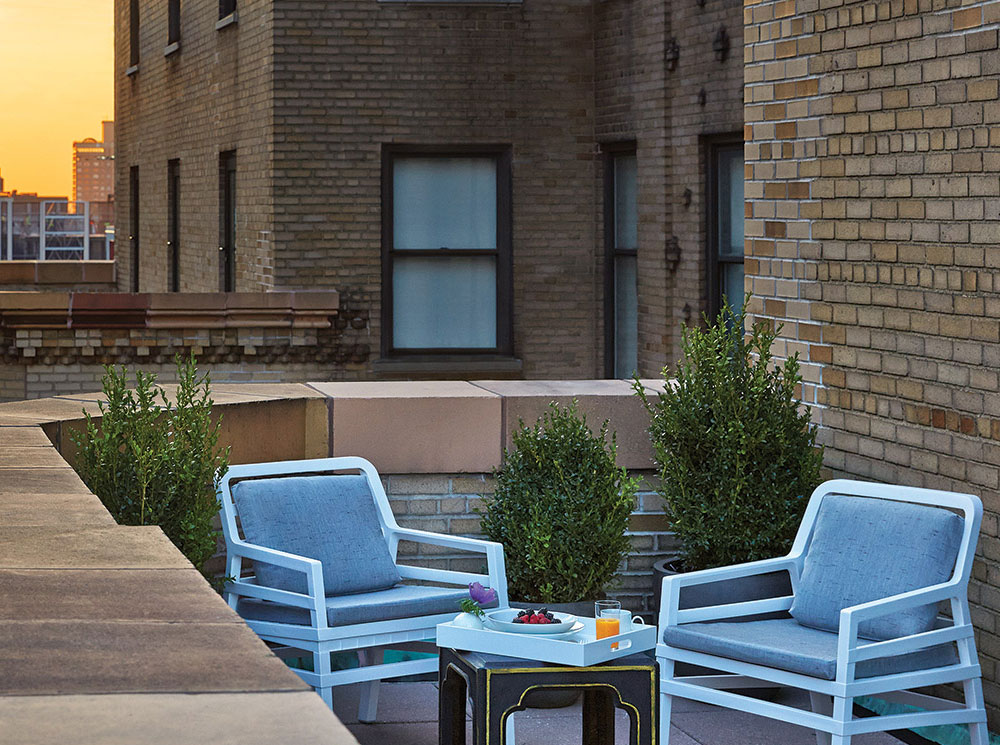 The balcony rooms at the Stewart Hotel are a highlight since they provide a once-in-a-lifetime view of the city while being close to many attractions, like Madison Square Garden, and across from Penn Station's six tube lines.
In-roof kitchenette, luxury bath products, extra-comfy beds with a six-choice pillow selection, and a great fitness centre with cardio equipment and private TVs are all available.
Flat-screen televisions and iPod docks are standard in every room, and visitors can order room service for breakfast, lunch, and supper.
4. The New Yorker, A Wyndham Hotel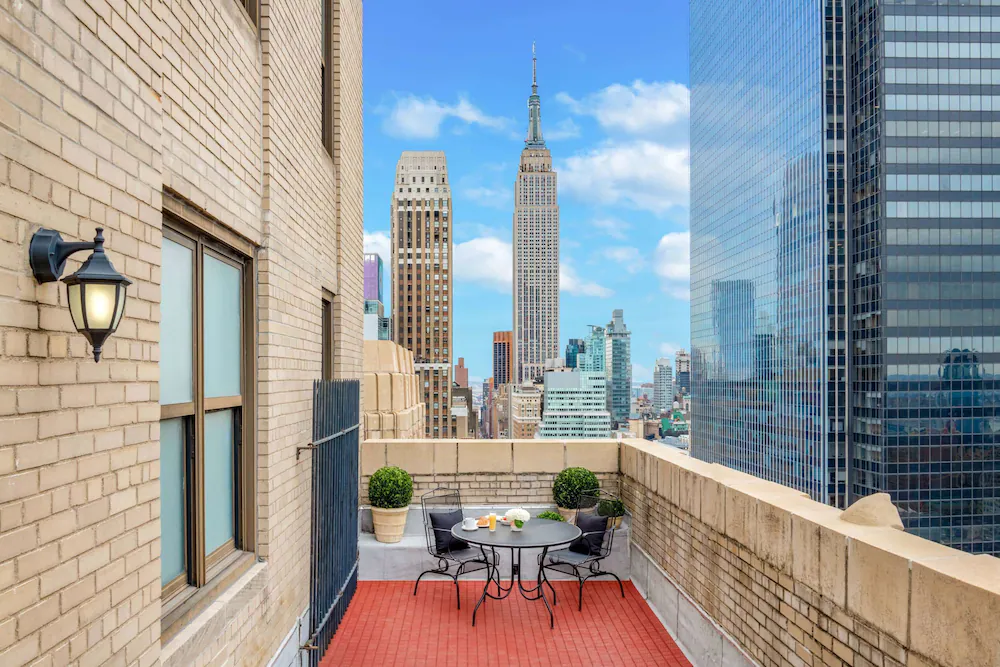 Some suites and rooms at The New Yorker, Ten blocks from the vibrant Times Square, the A Wyndham Hotel is housed in a renowned Art Deco building and offers individual balconies with panoramic views close to Penn Station.
It has a distinguished past, having housed some famous people including Spencer Tracy, Joan Crawford, and even Fidel Castro. The final ten years of Nikola Tesla's life were spent in rooms 3327 and 3328.
On-site amenities include a fitness centre, two restaurants, one of which is open around-the-clock. Even though all rooms come standard with flat-screen TVs and free Wi-Fi, booking one of the balcony rooms will give you access to more upscale amenities like an iPod docking station.
5. Arthouse Hotel New York City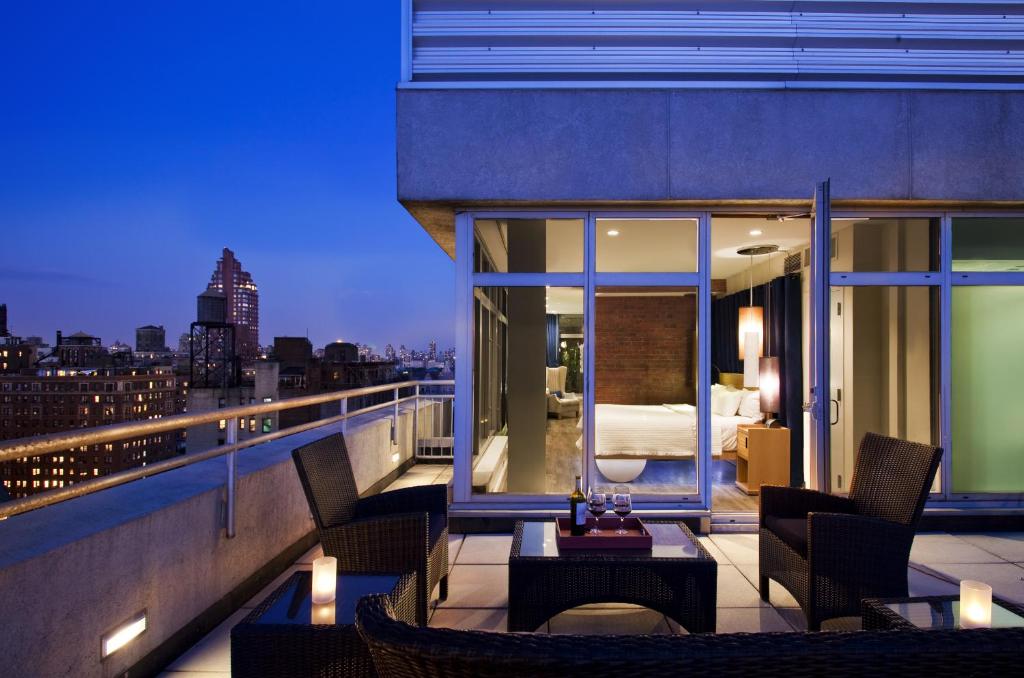 This elegant hotel on Manhattan's Upper West Side provides easy access to the city's major attractions, and many of its rooms have balconies with breathtaking views of Central Park, the Hudson River, and the cityscape.
All of them include modern bespoke furniture, a cutting-edge design, original works of art created by regional artisans, and a distinctive bed that is regarded as one of the most comfortable in the hotel business.
Additionally, guests can take advantage of the on-site Serafina Bar & Restaurant, which offers Northern Italian cuisine, the Red Farm, which serves Chinese food, and the Arthouse Bar, which features a speakeasy atmosphere, for drinks.
6. The Pearl Hotel New York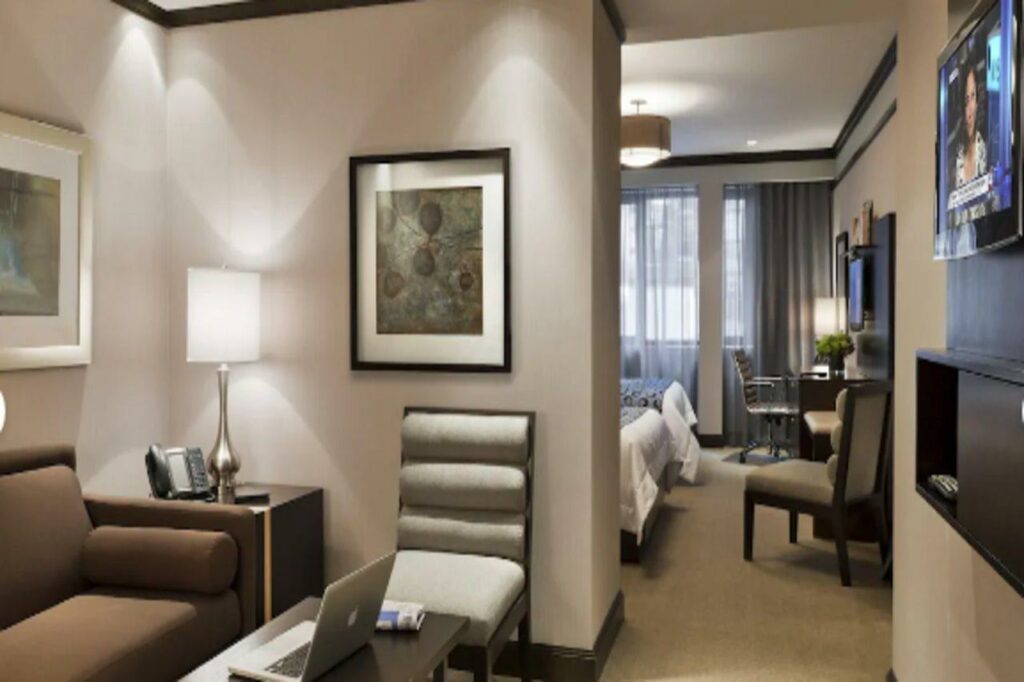 Despite its accessible location right off Times Square, the premium Pearl Hotel manages to remain remarkably quiet. Certain apartments include balconies with wonderful neighbourhood views.
They all have luxurious Sterns & Fosters mattresses, bathrooms with rainfall showers, and Keurig coffee and tea makers.
A free breakfast buffet is provided, as is a hosted wine and cheese hour. There is a fantastic fitness centre on campus as well as a bar and restaurant.
7. The Manhattan at Times Square Hotel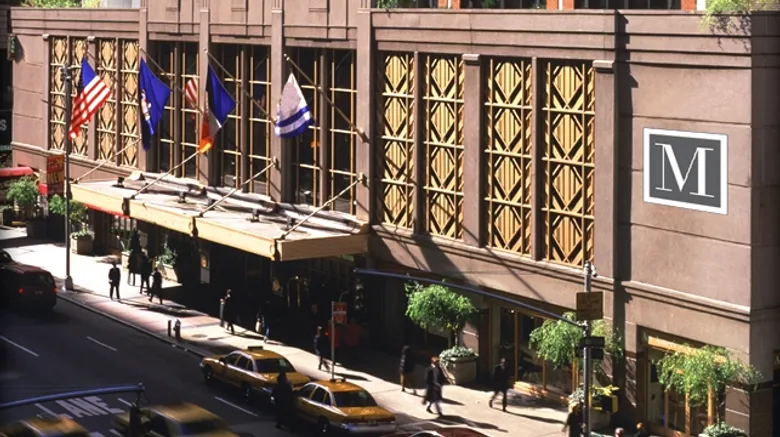 Just north of Times Square is the Manhattan at Times Square Hotel. The Penthouse room has a balcony with views of the busy downtown streets, while all of the higher-end suites have 55-inch flat-screen TVs, Nespresso machines, marble baths, and pre-loaded tablets.
A large fitness centre, free Wi-Fi, and free computer access in the lobby are among the remarkable amenities it provides for the money.
You'll be in the middle of everything, close to practically all tube lines, and famous New York landmarks including Rockefeller Centre and Broadway theatres.
8. Gotham Hotel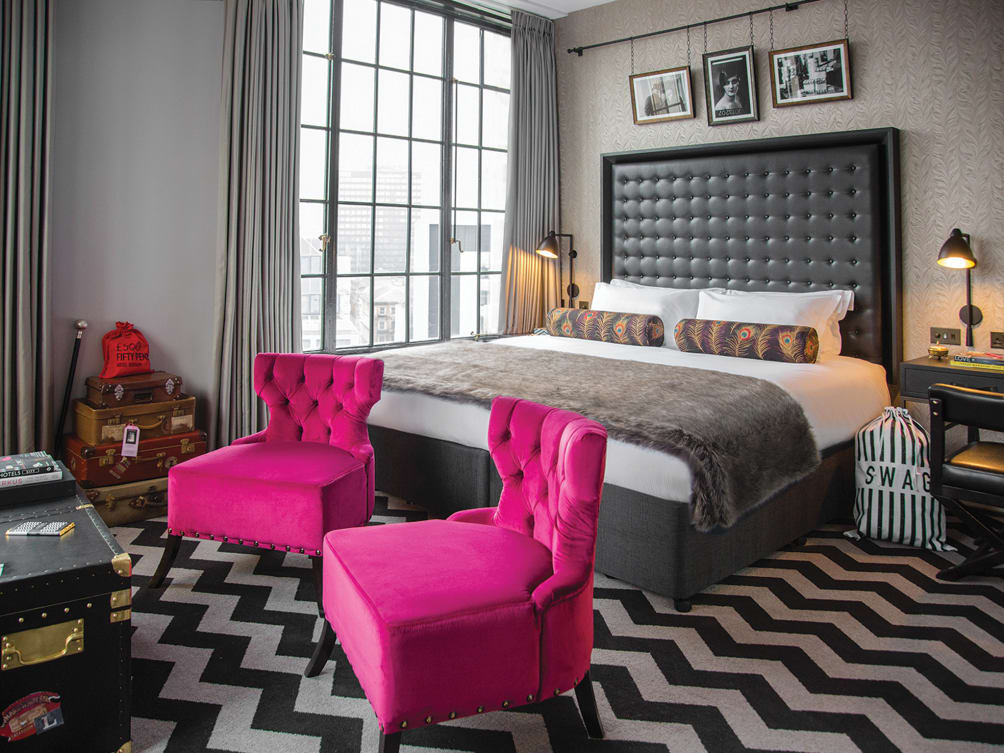 Enjoy a luxurious and stylish stay in New York City in one of the King Deluxe rooms, which has a balcony and a spacious bathroom with a spa-inspired theme.
Every accommodation includes a balcony or patio, and visitors can utilise the nearby sports club for free while online.
At check-in, you'll receive a welcome glass of wine, and you may use the two terraces with city views for private dinners, beverages, or even in-room spa services.
You won't have to leave your animal best friend at home because this hotel is pet-friendly as well.
9. Hotel Edison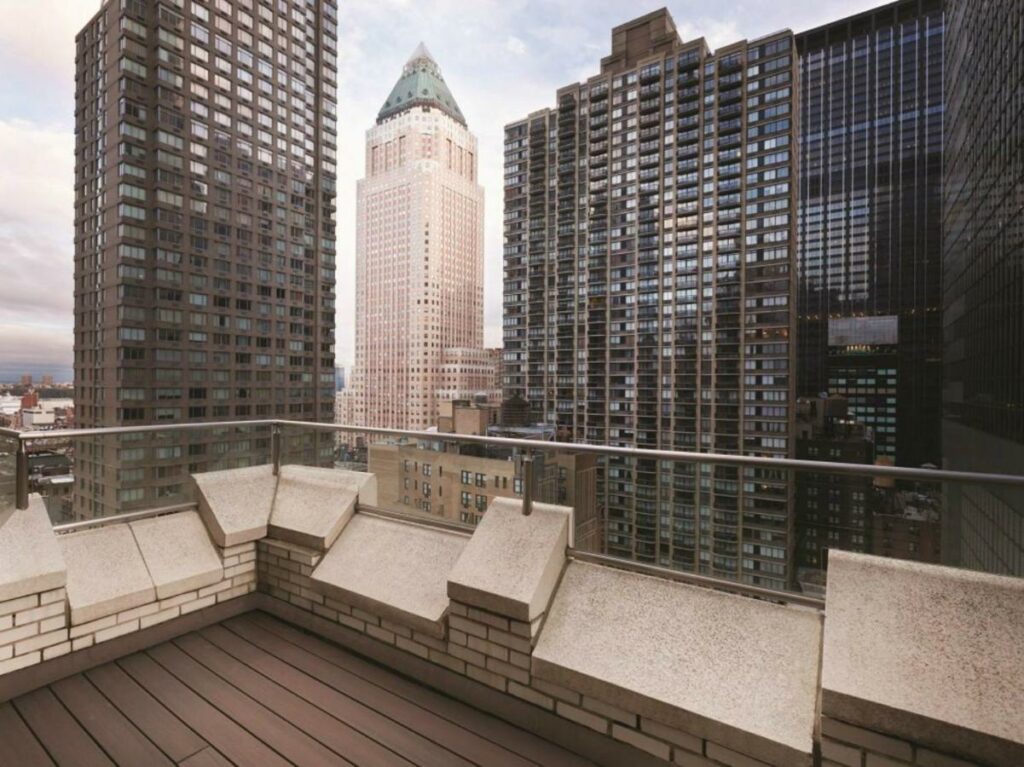 In the centre of Times Square, close to the thrill of shopping, fine dining, Broadway, and nightlife, the Hotel Edison features unique rooms that are apartment-like and come with terraces.
The hotel also offers art deco touches throughout. Free bottled water, electric kettles, Keurig coffeemakers, and kitchenettes are included in each room.
All bathrooms come equipped with luxurious amenities and bathrobes. The Rum House is a standout; with its mahogany and red leather chairs, 1920s pendant lights and street-level bar, it has a speakeasy atmosphere.
The 9 Best New York City Hotels with Balconies 2023 – Newshub360.net
Related Post

Credit: www.Newshub360.net