All Time 10 Rarest Types of Dollar Bills. Money is a changeable commodity. If you save enough, you'll become wealthy, but your money will lose value while it's sitting in the bank.
Spend whatever you have and make sure it's well spent, but be prepared to have no reserves left over. It would appear that the values that are printed on money are the only thing that can be easily understood.
There is no room for debate on the assertion that a one-dollar bill is worth significantly less than a twenty-dollar bill. Or, are you able to? It has been discovered that the serial number printed on a dollar bill can determine whether or not the bill is worth one dollar or seven thousand dollars.
A random pattern of eight numbers and two letters on a banknote serves, at its most fundamental level, as a means by which the dollar may be followed from the point of its manufacturing to the point at which it is in circulation.
Assuming that they follow the appropriate format, collectors can add value to any tender by using these serial numbers, which can increase the value of the tender.
If you read the list that follows, you will learn which serial numbers are the rarest and therefore offer the most value for your money.
All Time 10 Rarest Types of Dollar Bills 2023
1. Binary Dollar Bill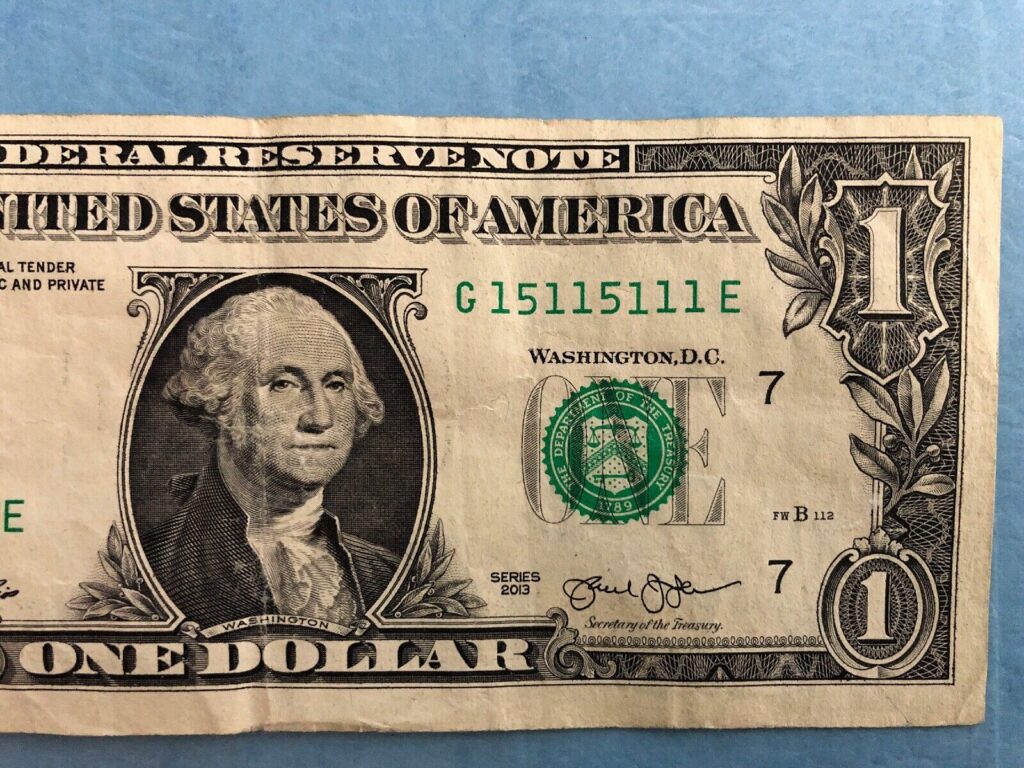 Odds of finding one: 1 in 8,749
Number of occurrences in 9,999,999 run: 11,430
Worth: $10 – $50
Only the integers one and zero make up binary serial numbers; there are no other digits involved. The pattern of a binary dollar determines its value, and certain collectors prioritize certain combinations above others when making their purchases.
Because binary dollars are so uncommon, each and every one of them is worth some amount of money on their own.
However, the majority of collectors refer to these dollars as "repeaters." Some collectors believe two repeated digits that are not one and zero to also be binary.
Did you know that Salmon P. Chase, who served as Secretary of the Treasury, was the first person to have his or her portrait printed on a paper dollar?
2. Repeater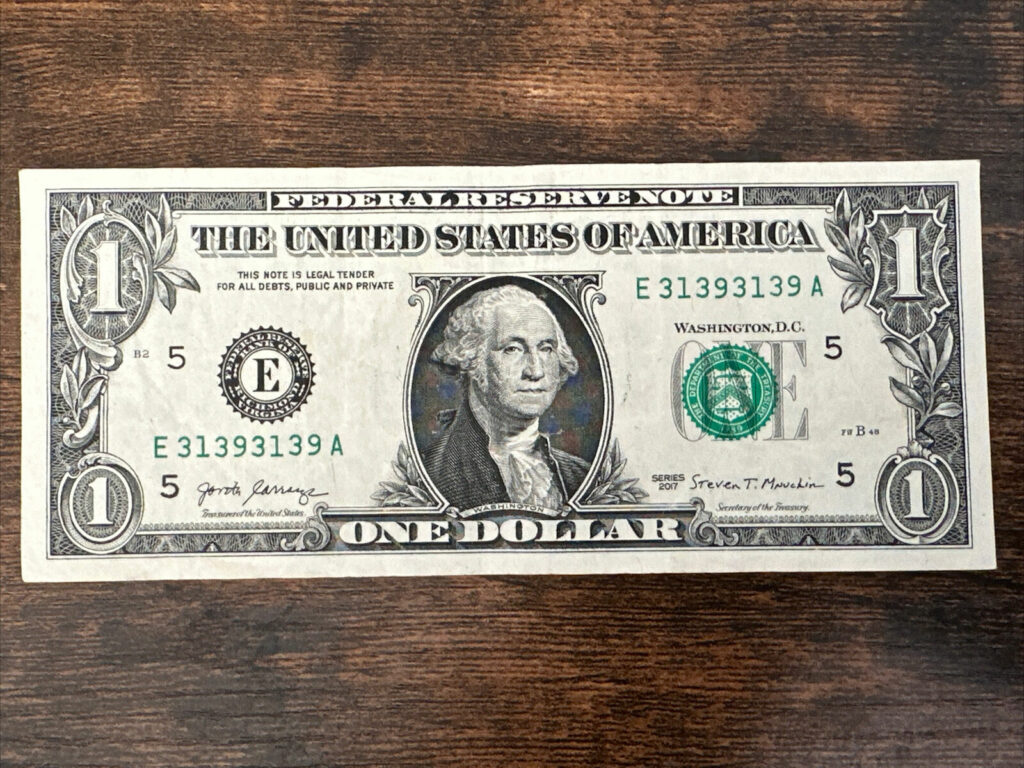 Odds of finding one: 1 in 10,010
Number of occurrences in 9,999,999 run: 9,990
Worth: about $100
The definition of a repeater is rather straightforward. A note that bears a serial number and any kind of repetitive pattern is the kind of note that this phrase represents.
As long as they satisfy the prerequisites, these patterns might comprise any kind of numbers in any kind of arrangement at all.
As a consequence of this, repeater notes are not worth very much because it is rather simple to get them, despite the fact that they are uncommon. Even taking this into consideration, we still classify them as collectibles.
Have you any idea?
1785 saw the creation of the dollar sign, which was derived from the Spanish American form of the symbol for pesos, which consisted of a P with a very little s placed next to it.
3. Radar
Odds of finding one: 1 in 10,010
Number of occurrences in 9,999,999 run: 9,990
Worth: about $25, but could be more
A radar is a note that has a serial number that reads the same reverse as it does forwards; in other words, it is a numerical palindrome.
The word "radar" is a palindrome as well, which is where the name comes from. Despite the fact that it only repeats itself once every 10,000 times, collectors do not consider it to be particularly rare in contrast to other serial patterns.
Nevertheless, radars were much less widespread before 1958, which means that a radar bill that was issued during that time period would be worth a bit more.
In general, if you want to make more money from collectors and auctions, you should go for radars that have other intriguing characteristics.
Did you know that one of the first groups in America to use paper money was the Massachusetts Bay Colony? The practice spread to a number of further territories, after which the British government placed limitations on such notes.
4. Seven-of-a-Kind Dollar Bill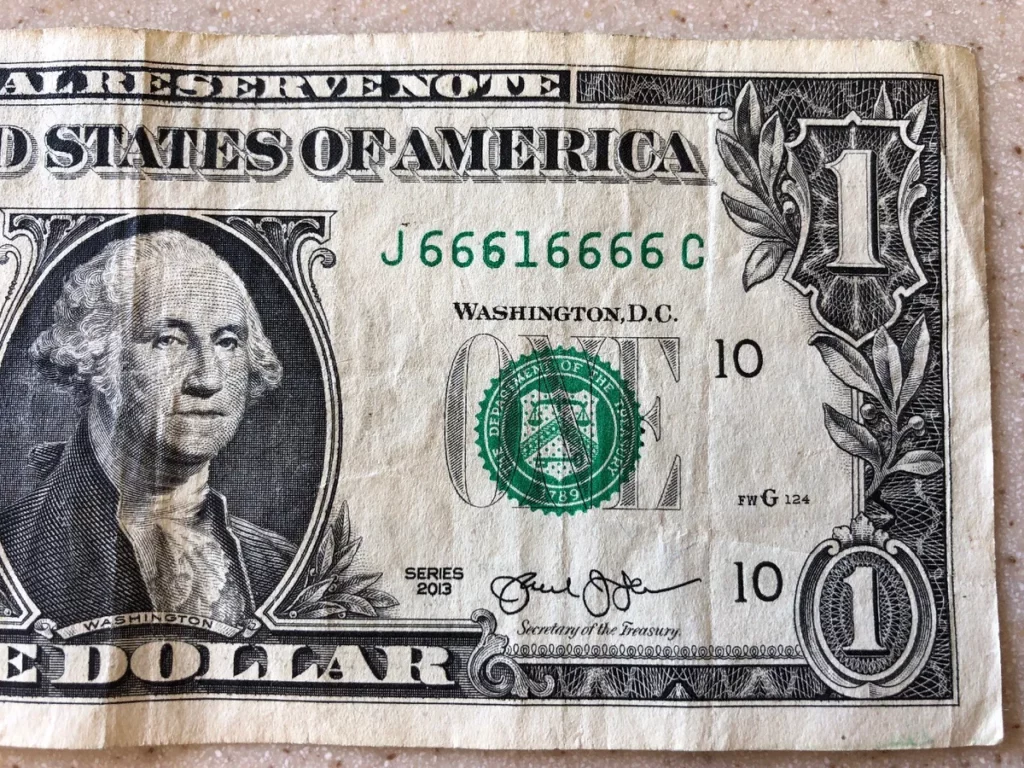 Odds of finding one: 1 in 138,889
Number of occurrences in 9,999,999 run: 720
Worth: up to $500
A serial number that is seven-of-a-kind has seven of the same numbers repeated. Only 0.7 percent of dollar bills have this pattern, making it substantially rarer than the 01 binary pattern.
The value of five-of-a-kind dollar bills, on the other hand, is much lower, coming in at anywhere between $20 and $30 at most.
The fact that the number seven is seen as fortunate in a variety of different cultures and religions may also contribute to the significance that it carries.
Did you know that the number seven is mentioned in the scriptures of Christianity, Confucianism, and Islam?
5. Seven-in-a-row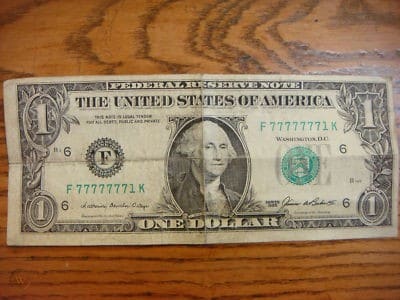 Odds of finding one: 1 in 555,556
Number of occurrences in 9,999,999 run: 180
Worth: About $200
In contrast to a dollar that has a serial number that is seven of a kind, a seven-in-row must have a serial number that is repeated seven times in a row without any gaps.
As an illustration, rather than having the value 77717777, it would have the value that occurs either at the beginning or the end of the series.
Because the serial numbers are assigned in a random fashion, the likelihood of discovering a dollar note that has seven consecutive numbers that are all the same and in order is relatively low.
A salesperson who was already impressive managed to top himself by discovering a twenty-dollar bill with seven sevens in a row on it.
Did you know that paper money isn't actually created from paper at all? Instead, it's made from a fabric that's a mix of cotton and linen.
6. Double Quad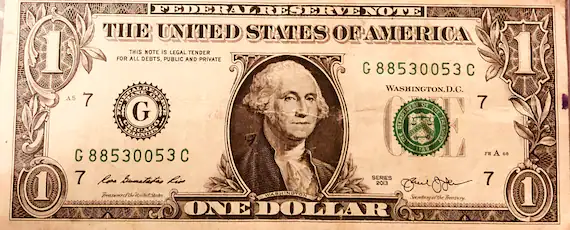 Odds of finding one: 1 in 1,111,111
Number of occurrences in 9,999,999 run: 90
Worth: Inconclusive
The dollar bill is now entering a more patterned region with the addition of the double quad. A double quad is a type of binary serial number that differs from a binary serial number in that it includes one number repeated at the beginning and a different number repeated at the conclusion.
A binary serial number can have two integers in any arbitrary order. Because of the granularity of the requirements for this particular serial number, double quads are an exceptionally uncommon occurrence.
The prices asked by vendors on eBay for this type of one-dollar bill are all over the place, ranging from twenty dollars to nine hundred and ninety-nine dollars per.
Did you know that about half of all the bills printed for the dollar are only worth one dollar each?
7. Radar Repeater
Odds of finding one: 1 in 1,111,111
Number of occurrences in 9,999,999 run: 90
Worth: About $94
Combining the serial number combinations of the radar and the repeater results in the creation of a radar repeater.
A radar repeater's serial number, in its most basic form, features a pattern that is repeated in the number's first four and last four numbers.
Some examples are the numbers 98899889 and 72277227, among others. If the patterns involve the numbers one and zero, these might potentially serve as binary versions of dollar bills.
Did you know that the only woman to ever appear on a United States currency note is Martha Washington? This, however, could soon be subject to change as the government works towards its goal of having Harriet Tubman replace Andrew Jackson on the $20 bill.
8. Super Radar
Odds of finding one: 1 in 1,111,111
Number of occurrences in 9,999,999 run: 90
Worth: About $80
The radar can be further broken down into subgroups, such as the super radar. In this pattern, the initial and last digits are identical, creating a sandwich of six numbers that either repeat or follow a pattern.
As an illustration, both 20000002 and 8455548 are examples of super radars. It's interesting to note that the probability of discovering a bill of this sort is comparable to that of finding a radar repeater or a double quad. This is a pattern that could be present inside patterned serial numbers.
Have you any idea?
The figure on each coin, in this example depicting President Abraham Lincoln, always faces the right direction, except for the penny.
9. Super Repeater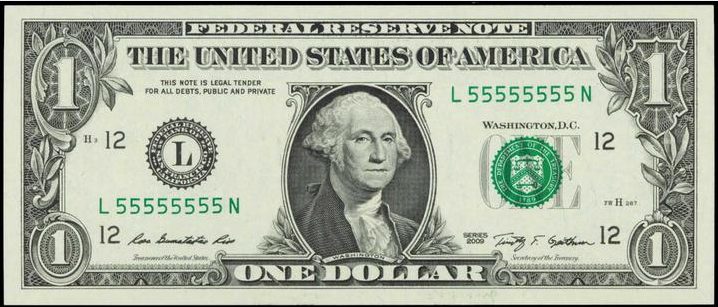 Odds of finding one: 1,111,111
Number of occurrences in 9,999,999 run: 90
Worth: About $100
When a serial number is run through a super repeater, the first two digits of the number are repeated at various points in the sequence.
The value of super repeaters, much like that of regular repeaters, can vary quite a little. Although the value of some repeaters isn't all that high, some might sell for hundreds of dollars.
This demonstrates that even though they are uncommon, the kind of dollars in question are not the rarest that are attainable. In either case, though, they are far more valuable than the price that was originally meant for them!
Have you any idea?
It is estimated that around 38 million banknotes are printed every single day. Some of them replace worn-out dollars that are no longer usable, while others contribute to the total amount of money that is currently in circulation.
11. Solid
Odds of finding one: 9
Number of occurrences in 9,999,999 run: 1 in 11,111,111
Worth: $500, but can go into the thousands
Solid serial numbers are exceedingly hard to come by and can cost up to $500 per. The serial number of a dollar with a solid design will always have the same number repeated many times.
The greater the quantity of them, the higher their value. Therefore, for instance, a serial number that consistently contains nines is more valuable than one that has repeated twos.
Due to the fact that modern serial printing only goes up to 96000000, solid nines are considered to be the most valuable variety of the solid. If the letters in the serial number match as well, a buyer may be willing to pay an even higher price.
Have you any idea?
Before the United States federal government decided on a standard for currency and began issuing it, American banks were free to invent, develop, and manufacture their own forms of legal tender. Because of this, there were around 7,000 different notes floating around in circulation.
12. Ladder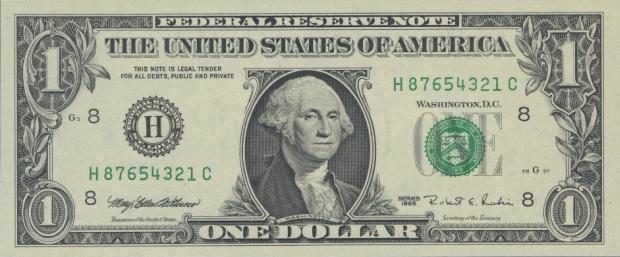 Odds of finding one: 1 in 16,666,667
Number of occurrences in 9,999,999 run: 6/1
Worth: $5,000 +
The rarest dollar bill ever printed is the one depicting a ladder. Because a true ladder is so uncommon—it only appears once for every 96 million notes—the ladder serial number contains two distinct categories.
A ladder is a sequence of numbers that progresses in order from one to eight in accordance with the conventional numerical pattern. As was said earlier, it is not easy to locate a genuine ladder, which is 12345678.
Different iterations of the ladder pattern include sequences of integers in order that begins with a digit other than one, such as 00123456 or 034567.
In addition, ladders can be inverted, causing the rung numbers to appear in the opposite order. These two imitations, on the other hand, are far more widespread and hold far less value than the genuine article.
Have you any idea?
There are also "scattered" ladders, which include the numbers in a sequence being jumbled up in random order. The majority of collectors do not place these on the same level as true or reverse ladders, despite the fact that their value may exceed that of the bill they are on.
10 Rarest SNES Games that Bring Back '90s Nostalgia 2023- Newshub360.net
Related Post

Credit: www.Newshub360.net