10 Rarest Collectibles to Ever Exist 2023: Collectibles are evidence that something that began as a pastime or interest in one's youth may evolve into auction battles that are worth millions of dollars.
It is possible to make a profit in the collectibles market by elevating very inexpensive items, such as a one-cent stamp, to the status of valuable relics.
There is a unique collectible out there for every enthusiast, whether they are into coin collecting, card collecting, or wine collecting.
As you read on, you will learn about some of the rarest collectibles that have ever been produced. And after that, go through some of the artifacts from your youth; you never know what kind of treasure you might unearth!
Top 10 Rarest Collectibles to Ever Exist 2023
1. Black Lotus Magic the Gathering Card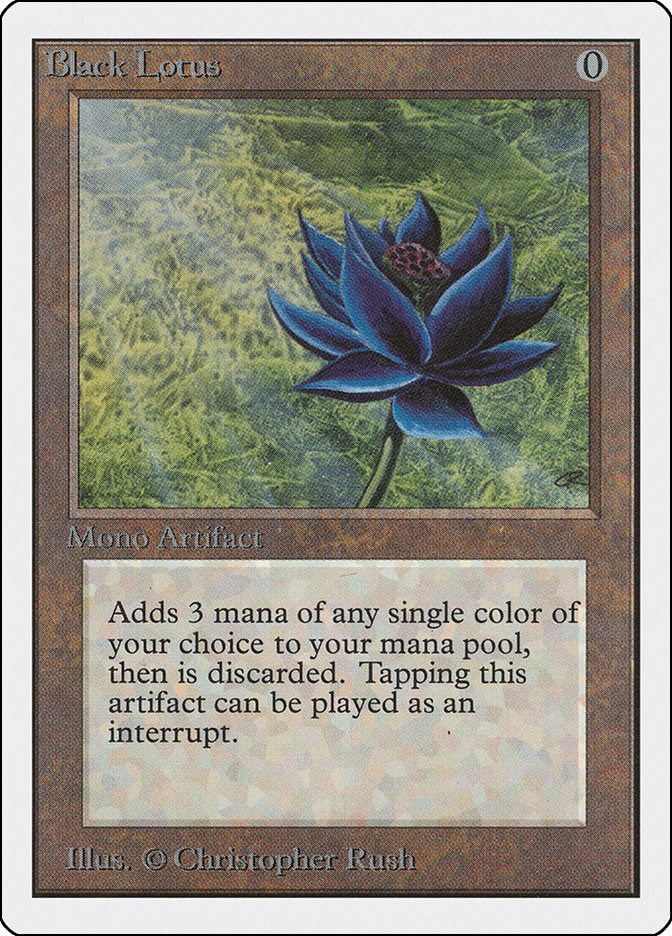 The Black Lotus card was included in the very first Magic: The Gathering card deck, which was released in 1993 and was a limited edition of the Alpha Set.
Additionally, it is a member of the Power Nine, which is a collection of cards from the Alpha set that have disproportionately powerful abilities.
Due to the fact that only 1,100 copies of the card were printed by Wizards of the Coast, the company that publishes Magic: The Gathering, it is extremely desirable to collectors of the game.
Having said that, the card is restricted or prohibited from use in the majority of tournament formats due to the unfair advantage it provides to its possessor over players who are unable to purchase it.
Did you know that The Black Lotus, along with the other cards from the Power Nine, is on the Reserved List for Magic the Gathering? This indicates that the company has given their word that they will never make a card that is an identical clone of the original.
2. Captain America 128 Page Issue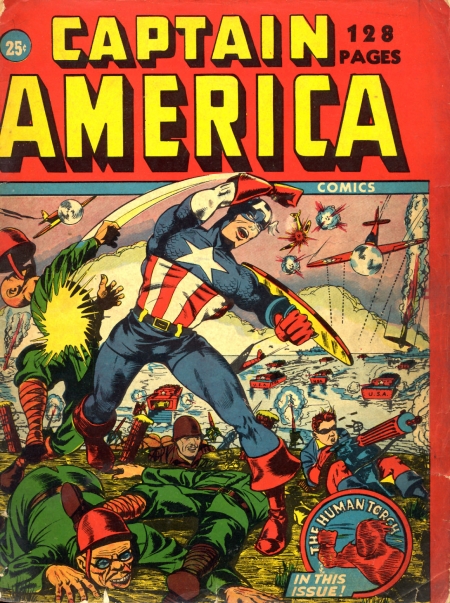 Value: $15,000
Copies in Existence: Unknown, but thought to be very few
Claim to Fame: It was only released in Canada, making it hard to come by today.
Because it was only available in Canada, the production numbers for this lengthy Captain America comic book from 1942 are unclear, however, it is likely that they were fairly low given that the book was only marketed in Canada.
In addition, it is difficult to come across a copy of this issue that is unaltered, and there has only been one unaltered copy put up for sale up to this point.
The comic book actually has 132 pages, despite the fact that the cover claims it only has 128. Black and white issues of Marvel Mysteries Comics #33 and Captain America Comics #18 are included in this collection.
Did you know that the Overstreet Comic Book Price Guide places this comic book in the top 50 titles published during the Golden Age?
3. 1933 Saint-Gaudens Gold Double Eagle Coin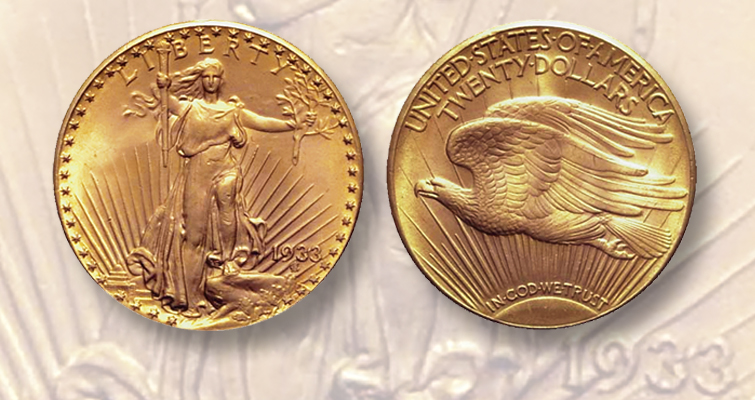 Value: $7,590,000
Copies in Existence: About 20
Claim to Fame: Most copies of this coin were melted down by the US government.
Because of a variety of factors, the 1933 Saint-Gaudens Gold Double Eagle $20 coin is notoriously challenging to locate.
Although the United States Mint had initially created over 400,000 copies, President Franklin D. Roosevelt gave the order for the gold coins to be melted down so that gold bars could be made instead.
These gold bars would provide more assistance to the economy. Having said that, several of the coins were able to evade detection by the government and have since resurfaced in the years that followed.
There are approximately 20 1933 Double Eagles in existence today, with the United States government possessing all but one of them.
Since it started off for a meager $20, the value of the coin has undoubtedly increased, as seen by the fact that it now costs almost $7 million.
Have you any idea?
After a woman realized that she had ten of these coins, she decided to send them to the United States Mint so that they could be verified. After the Mint determined that the coins were legal tender, they took custody of them and refused to return them to her.
4. Lorraine Schwartz Barbie Doll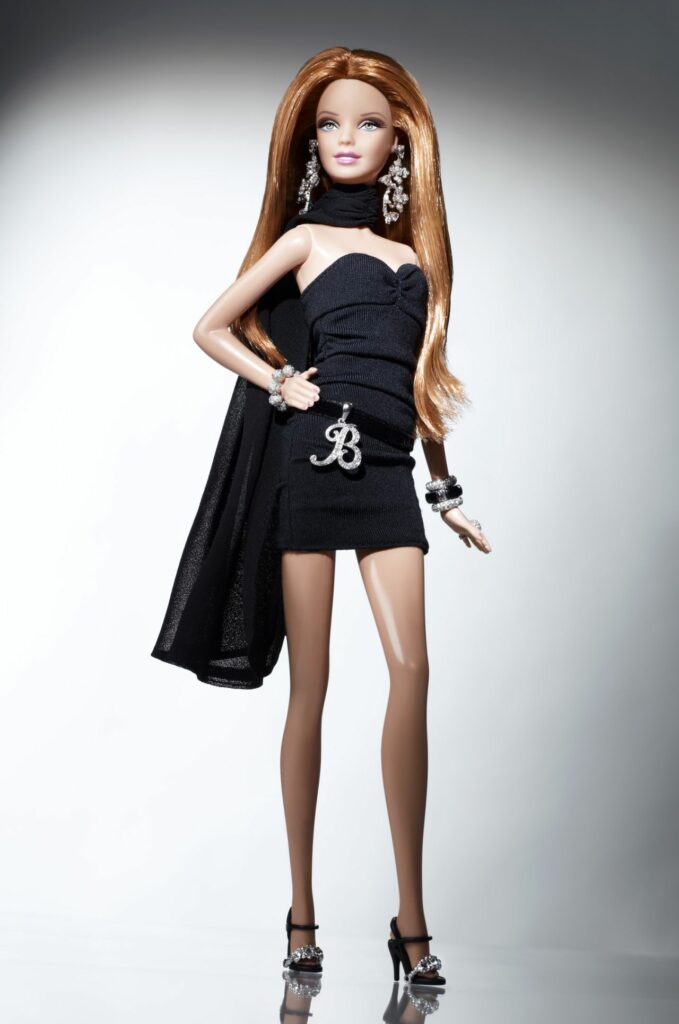 Value: $7,500
Copies in Existence: 12
Claim to Fame: The doll was a special edition that came with real diamonds
In 2010, renowned jewelry designer Lorraine Schwartz gave Barbie a makeover that was both glamorous and exclusive.
This particular Barbie is decked out in diamonds, from her lengthy diamond earrings to her diamond belt and her diamond-studded shoes. Due to the fact that there are only 12 of these dolls in existence, the price is rather high.
The most recent one brought $7,500 at auction when it was sold. Beyonce, Blake Lively, and Kim Kardashian are just a few of the prominent clientele that Schwartz has worked with in addition to Barbie.
Have you any idea?
There are rumors that the actual diamonds placed on this Barbie set the price at $25,000.
5. 2012 Penfolds Ampoule with 2004 Kalimna Block 42 Cabernet Sauvignon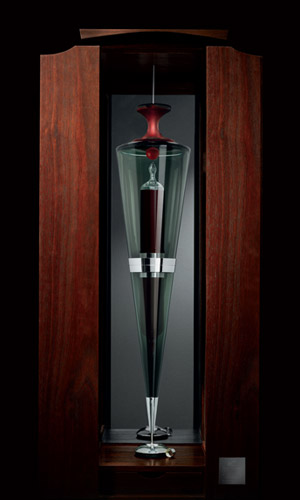 Value:$130,482.24
Copies in Existence: 12
Claim to Fame: The ampoules are handmade with artistic and scientific precision
The craftsmanship and ingenuity that go into the production of Penfolds' wines are honored through the creation of a very limited edition handmade ampoule.
Four Australian artisans came up with the idea for the ampoule itself, and they produced the one-of-a-kind product by working in tandem with winemakers and with one another, as well as by collaborating with each other.
The ampoule is held in place by a glass sculpture in the shape of a spear, which is then placed inside a box made of bespoke wood.
Did you realize that the 2004 Cabernet Sauvignon contained in the ampoule won't reach its full flavor potential until the year 2030?
6. T206 Doyle Error Baseball Card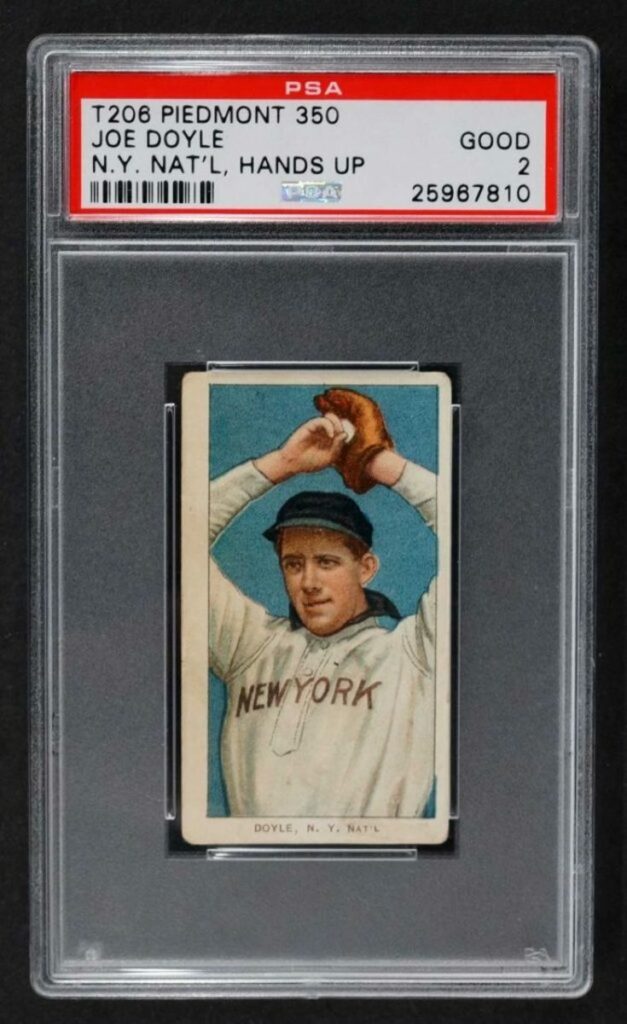 Value: $414,750
Copies in Existence: 9
Claim to Fame: Lists the wrong team
The T206 Doyle Error Card, like plenty of other rarities, became famous as a result of a printing error.
Joe Doyle is misidentified as a member of the New York National team on the document, while in fact he should be listed with the Highlanders.
Due to the fact that the distribution business discovered this fault at an early stage, very few of these defective cards were able to survive the production process and be sold on the market.
Before the 1990s, the card was not widely known among collectors. However, throughout that decade, a well-known dealer accumulated four or five copies of it.
In 2012, one of these cards reportedly brought in a price of $414,750, much to his satisfaction.
Did you know that Joe Doyle only won 21 games over the course of five seasons? If it weren't for the error on this card, it probably wouldn't be worth anything at all.
7. Number One Trainer Pokemon Card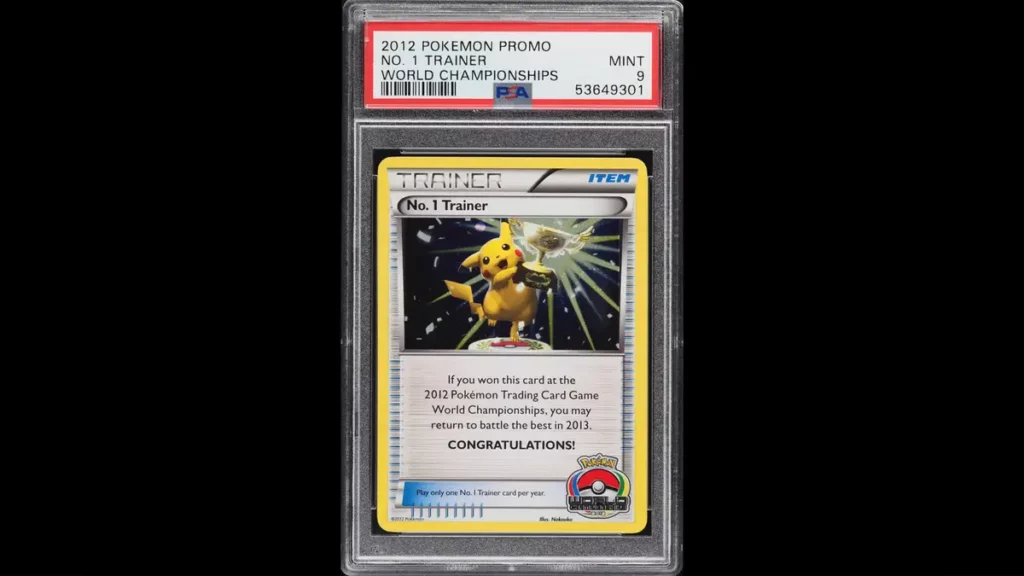 Value: $90,000
Copies in Existence: 7
Claim to Fame: One of seven championship cards made specifically to enter the 1999 Secret Super Battle
Winners of regional tournaments were eligible to receive one of each of the seven holographic Number One Trainer cards.
These winners then went on to play in the 1999 Secret Super Battle, which they could only enter if they had one of these specialty cards.
The item is regarded as one of the rarest Pokemon cards, and a single one recently sold at auction for the staggering price of $90,000.
On the front of the card has an outline of Mew Two, a formidable Pokemon, as well as a logo that says "Pocket Monsters Cardgame."
Did you realize that six out of seven of the cards have been preserved in immaculate mint condition?
8. 1856 British Guiana One-Cent Magenta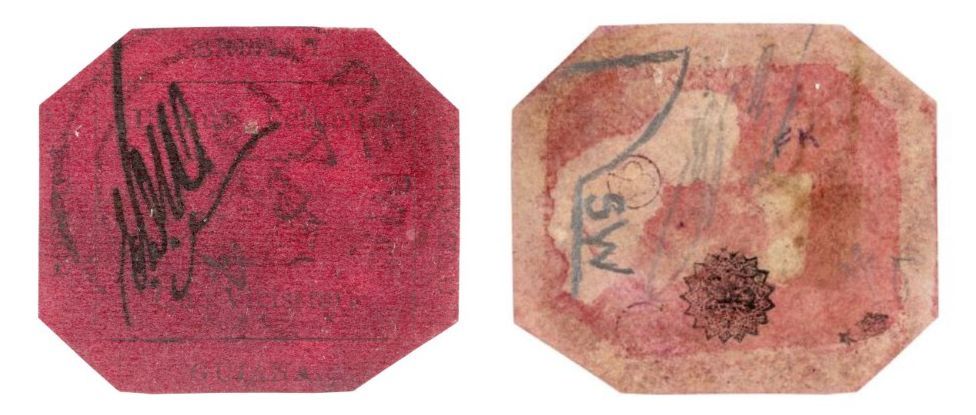 Value: $9.5 million
Copies in Existence: 1
Claim to Fame: It is the only stamp of this nature to exist
This item is at the top tier of collector rarity. The 1856 British Guiana One Penny Magenta has had an eventful history, beginning as a stamp worth one penny and ending as a collector's piece worth $9.5 million.
The stamp does not appear to be particularly unique in any way. It is only one color and contains no graphics other than a square with a border and a few bits of text, which include the initials of the postal clerk.
In the beginning, the stamp was designed to make up for the fact that the British government only provided 5,000 stamps to British Guiana, despite the latter's request for 50,000 stamps.
Since the postal clerk was in a bind, he asked the local newspaper to design some makeshift stamps that could be used on letters and papers in the interim until the genuine ones were being mailed in.
These temporary stamps performed their function admirably, and once additional genuine stamps were available, the postal office did all in its power to exclude the use of the temporary stamps from general circulation.
Most of the one-cent newspaper stamps eventually found their way into the garbage, but one of them was saved.
After its discovery, it passed through a number of hands and was then sold to a number of nations before becoming the most expensive stamp in the history of stamps in 2014.
Have you any idea?
A young boy was the one who made the first discovery of the stamp and went on to sell the one and only known copy for around ten dollars.
9. 1964 GI Joe Prototype
Value: est. $200,000
Copies in Existence: 1
Claim to Fame: It is the model for all future GI Joe figurines
This item is at the top tier of collector rarity. Hand-painting the prototype that led to the sales of the first commercially available GI Joe figurines in 1964 was done by Donald Levine, who is regarded as the "father" of action figures based on the GI Joe franchise.
Joe's visage, along with his green army outfit and bag, are both hand-painted by Joe himself. Because it is a one-of-a-kind example of the committed thinking that went into toy production, collectors consider it to be a "holy grail" item.
The only people who had ever owned the prototype were Levine himself and the owner of a toy museum when it was put up for auction in 2013.
Did you know that GI Joe is believed to be the first action figure produced by the toy industry? This means that it was the first doll sold to boys.
10. "Once Upon a Time in Shaolin"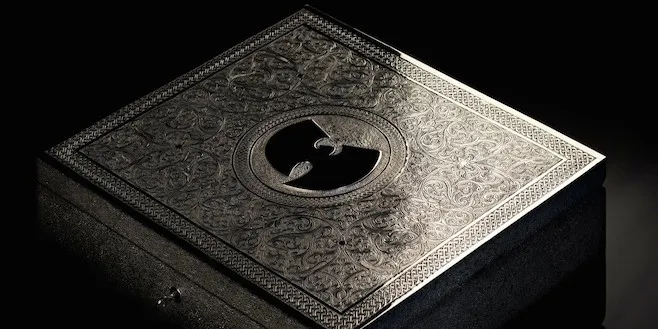 Value: $2 million
Copies in Existence: 1
Claim to Fame: It is a one-of-a-kind "secret" album from an internationally acclaimed hip-hop group the Wu-Tang Clan
This item is at the top tier of collector rarity. A special edition record called "Once Upon a Time in Shaolin" was released with the intention of emulating the artistry and enduring quality of landmarks such as the pyramids.
Cilvaringz, the producer for Wu-Tang Clan, wasn't satisfied with simply wanting to make music. He had the intention of constructing an artifact.
It was sold in 2015 as an exclusive collector's item to the notorious "Pharma Bro" Martin Shkreli. This was a decision that the Wu-Tang Clan and their colleagues eventually came to regret when Shkreli's criminal activities came to light after the transaction was completed.
They criticized Shkreli in public and gave the majority of the revenues from the record to a charitable organization. After Shkreli was sentenced to prison in 2018, federal authorities took possession of the album.
Have you any idea?
They said that they were unaware that they were recording music for an exclusive project, which is one of the reasons why many members of the Wu-Tang Clan were dissatisfied with the album.
10 Rarest Collectibles to Ever Exist 2023 – Newshub360.net
Related Post

Credit: www.Newshub360.net