Singapore Celebs From 10 Years Ago And Where They Are Now
Top 10 Singapore Celebs From 10 Years Ago And Where They Are Now
10. Lauretta Alabons, 46, co-owner of concert promoter LAMC Productions and founder of comedy events company LA Comedy Live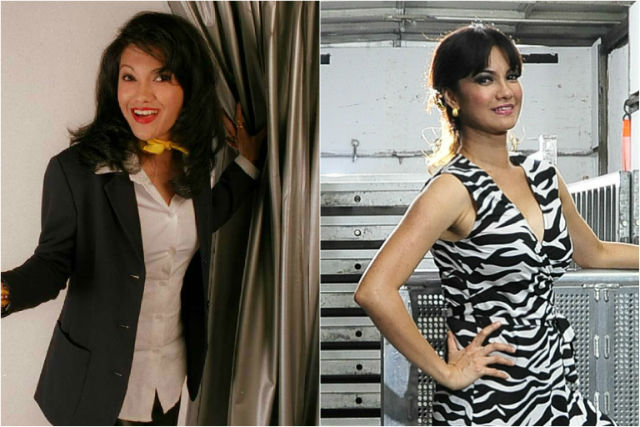 Lauretta Alabons, once the face of Rollin' Good Times (left) on Channel 5, now brings major music acts to Singapore.
Best known for: Hosting Channel 5's music variety show Rollin' Good Times and entertainment news programme Showbuzz
As co-owner of LAMC Productions, which she founded with her American husband Ross Knudson in 2001, she is one of Singapore's most prominent concert promoters. Lauretta Alabons has brought in some of the world's biggest music acts over the years, such as Metallica, Deep Purple, Muse and Snow Patrol.
Last Thursday, the company brought in the legendary singer- songwriter Johnny Marr of The Smiths and, in the coming months, will promote concerts for Def Leppard and bassist Nathan East.
Alabons also founded LA Comedy Live in 2012, which has since staged sold-out shows here by top comedians such as Russell Peters, John Cleese and Chris Tucker.
Her passion for her work keeps her going – something that was perhaps lacking during her television hosting days.
Outside of work, the multi-racial beauty of Filipino, Eurasian and Indian descent is a doting mother to her 14-year-old son, George.
9. Cao Jun, 28, actor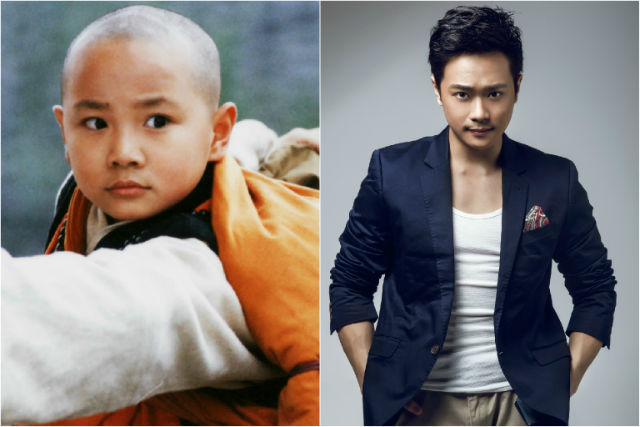 Cao Jun, who played the kid monk (left) on Channel 8's The Royal Monk series, is pursuing a full-time career in acting in China.
Best known for: Playing child monk Kai Xin in the Channel 8 period drama The Royal Monk (1997) and its sequel The Return Of The Royal Monk (1998)
Chinese actor Cao Jun can heave a sigh of relief that his days of being bald are over.
At the age of eight, he shaved his head for his debut television role as the martial arts-wielding monk Kai Xin and was teased by schoolmates and endured multiple mosquito bites on his head during filming.
ade me mad," he says over the telephone from Beijing, where he is based.
The Royal Monk was the most- watched TV series here in 1997. A sequel aired the following year, making Cao one of the biggest child stars of the 1990s.
All grown up now, the baby- faced actor sports a full head of hair, a buff physique and the same charming smile.
An acting major graduate from the Shanghai Institute of Visual Art, he is a full-time actor in China. He has starred in 25 drama serials and three films.
He recently played a civilian soldier in war drama Min Bing Kang Bao (2015). He also plays a nimble thief in a yet-to-be aired period drama The Youngster.
The bachelor calls Kai Xin his "gateway to acting", though rarely anyone calls him by that name now. "Without that opportunity, I don't know what I would be doing now," says Cao, the only child of parents who own a dry-cleaning shop in Shanghai.
8. Vincent Ng, 40, founder of martial arts school Wufang Singapore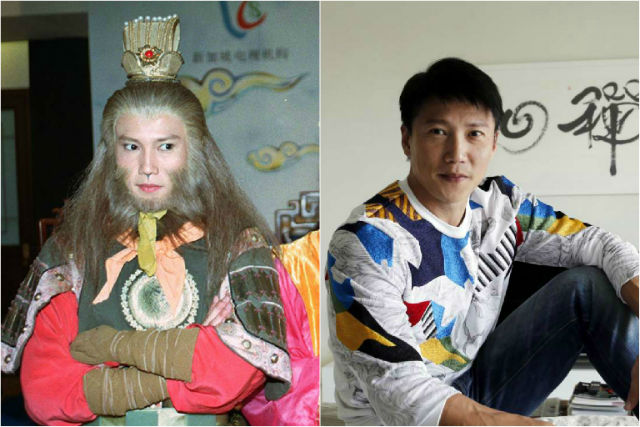 Vincent Ng best known for playing Monkey King Sun Wukong in period drama Legend Of The Eight Immortals (left).
Best known for: Playing Monkey King Sun Wukong in period drama Legend Of The Eight Immortals (1998) and cop Ricky Soh in the crime-busting Channel 5 series Heartlanders (2002- 2005)
Martial arts champion Vincent Ng is learning new moves these days – on a yoga mat. He has been perfecting his poses in a 200-hour yoga teacher's course over the past month or so.
But do not count on signing up for classes with this ripped bachelor. The wushu coach is not planning on a career switch. The yoga lessons are part of his journey of self-discovery as he hits 40 this year. He is contemplating penning another fitness book, picking up cooking and making an action movie.
When he started Martial Arts School Wufang Singapore in 2004, it had about 200 students. Now it has more than 1,000.
7. Eric Huang, 25, master's in business administration graduate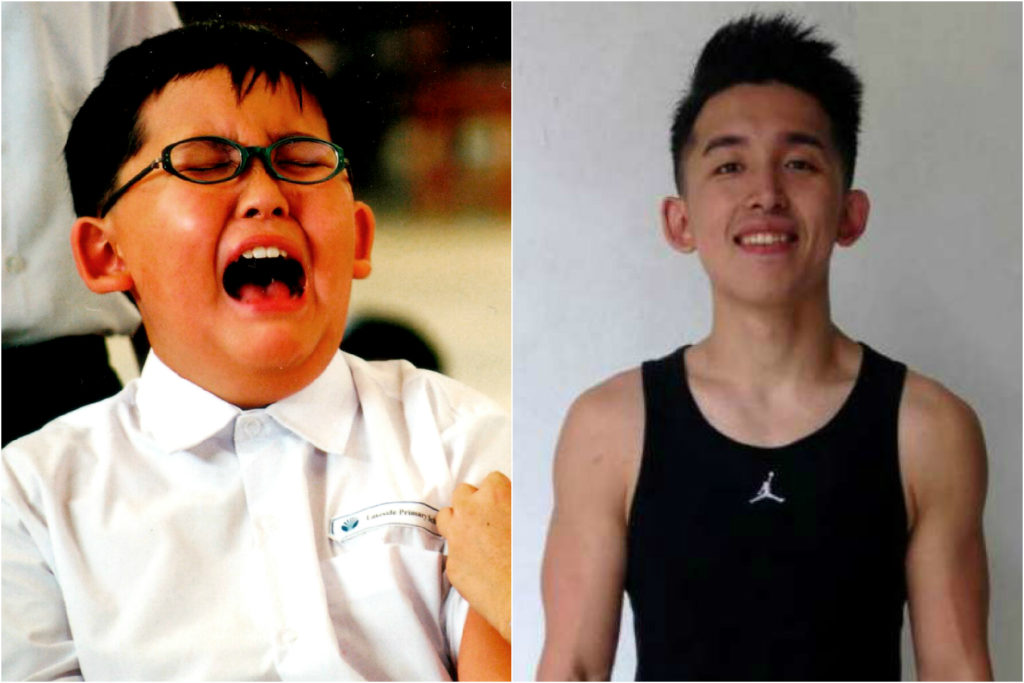 Eric Huang, who played chubby Terry Khoo (left) in the I Not Stupid series, maintains his trim body by cutting out unhealthy foods and exercising.
Best known for: Playing Terry Khoo in I Not Stupid (2003), the serialised television version of Jack Neo's hit 2002 movie of the same name I not stupid. Or fat.
More than a decade after playing the naive and chubby schoolboy Terry in the I Not Stupid franchise, Eric Huang has morphed into a hunk.
The once rotund boy now hits the gym regularly and diets to maintain his lean 70kg physique.
He started shedding his baby fat when he hit puberty, but it was not until last year that he started using the treadmill seriously, playing basketball and watching his food intake – cutting out fried food and most sugary items.
And while Terry struggled with his studies, Huang has done better.
After high school at United World College here, he left for his native Taiwan to pursue a bachelor's degree in risk management at the National Chengchi University.
He also has a master's in business administration from the same school and is now waiting to enlist for mandatory military service in Taiwan.
The elder of two children born to a housewife and a furniture company manager, he appeared in a few more films after his debut, such as Homerun (2003) and Colour Of Hope (2007), but never wanted to be a full-time actor, he says.
6. Nicholas Lee, 50, managing director of production company XXX Studios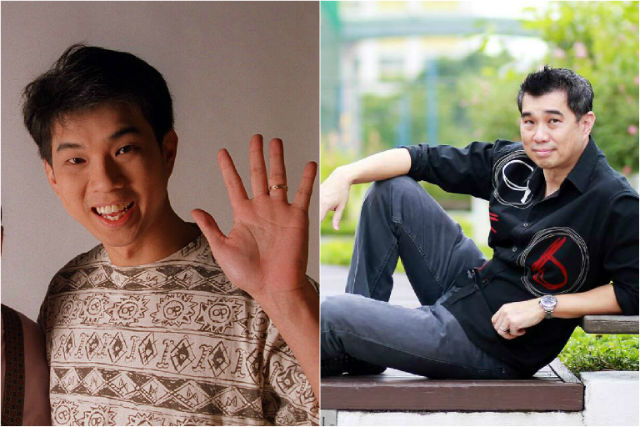 Nicholas Lee, who runs his own production firm now, still gets called Ronnie (left), his character on Under One Roof.
Best known for: Playing Ronnie on TV sitcom Under One Roof (1995 – 2001; 2003)
Strangers on the street are still calling him Ronnie.
He stopped acting full time when his acting contract with the TV station, which was then known as Television Corporation of Singapore, ended in 2000. His contract was not renewed.
And so he went behind the scenes instead, partnering his friend Bernard Oh in 2002 to start the production company XXX Studios. The company produces original programmes for various platforms and also has visual effects and event management arms.
Lee says his company's name has nothing to do with pornographic films.
He takes on the occasional acting gig when he has time, most recently doing guest role spots on shows such as crime drama Code Of Law and period drama Mata Mata.
The proud father of two girls, aged three and 11/2, with his 32- year-old producer wife, Lee gamely shows off his daughters' photographs on his smartphone.
5. Tuen Wai Meng, 56, chauffeur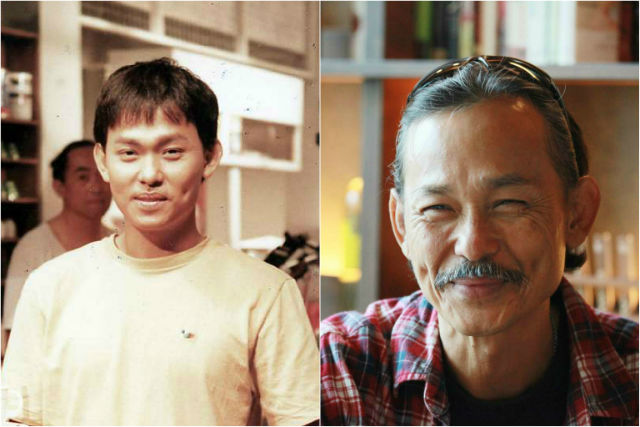 Tuen Wai Meng made his acting debut as coffee boy Ah Cai in Neighbours (left).
Best known for: Playing coffee shop assistant Ah Cai in the Singapore Broadcasting Corporation's Channel 8 series Neighbours (1986 to 1988)
Television's favourite kopiboy Tuen Wai Meng's colourful life could easily rival the plot of a Taiwanese soap opera.
In the iconic TV series Neighbours, he made his acting debut playing an earnest coffee boy called Ah Cai, who was voted the drama's most popular character in an audience poll then.
Before he was an actor, he was a plumber. After he retired from acting, he took on all sorts of odd jobs, including being a lorry driver, a delivery man and a getai host.
In the meantime, he also divorced the same woman twice. They have a daughter, 28, and a son, eight.
Being an actor is his most relaxing job, says Tuen in Mandarin, as well as his most high-profile one.
His show business career peaked in the late 1980s, with him starring in dramas such as Pickpockets (1987) and On the Fringe (1988).
He left the station in 1990, he says, for a host of reasons. Singapore Broadcasting Corporation reportedly did not renew his artist contract because he flouted the law when he opened a karaoke lounge without an entertainment licence.
To eke out a living over the past three decades, he took on all sorts of odd jobs.
He occasionally returns to his acting roots. He was last seen as an unrepentant prisoner in Channel 8 drama Tiger Mum (2015).
4. Cai Pingkai, 70, tour guide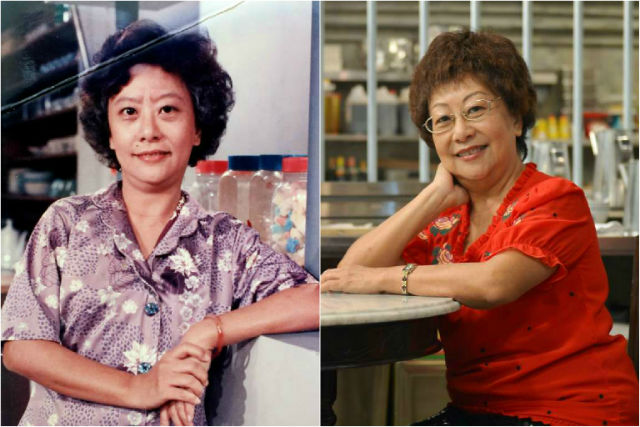 Even as a tour guide, Cai Pingkai is called Er Gu (left) all the time, after a character from a Channel 8 series that has become synonymous with her.
Best known for: Playing coffee shop owner Er Gu in the long-running Singapore Broadcasting Corporation series Neighbours (1986 to 1988)
Till this day, tour guide Cai Pingkai gets called Er Gu. The endearing epithet is a reference to her iconic character Er Gu (which means second aunt in Mandarin) in the popular 1980s sitcom Neighbours.
The well-meaning "kaypoh" (Hokkien for busybody) character was such a standout in the 510 episode drama that the name became synonymous to being a nag or nosy parker.
Cai, who is divorced with a 31- year-old computer engineer son, has embraced all aspects of her most famous role.
She has incorporated the name Er Gu into her e-mail address and for her role in the current Channel 8 drama 118, the producer granted her request for her character to be called Er Gu.
Before joining the television station full time in 1986, she took up dance and piano lessons, joined a drama society and was a voice actor for children radio dramas.
She left Singapore Broadcasting Corporation in 1990, shortly after Neighbours ended, to take on other jobs while continuing as a part- time actress.
She has been a tour guide for more than a decade, taking groups to countries such as the United States, China and Japan. Her other gigs are emceeing jobs at getai and grassroot events at community clubs. She also conducts acting and hosting classes.
With age catching up, she plans to retire in a few years and travel the world on her own terms.
3. Evelyn Tan, 41, host and homeschool teacher to her four children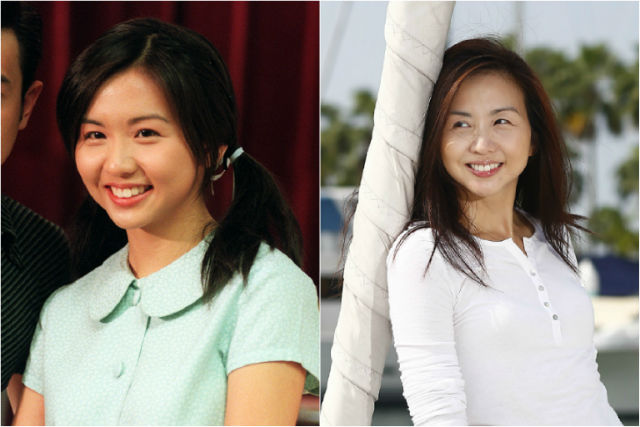 Evelyn Tan, who played the lead in Beauty World (left) with Darren Lim. He is now her husband and they live on a boat where she homeschools their four children.
Best known for: Her bubbly teacher roles on drama A Place To Call Home (1997) and sitcom Tuition Fever (1998). She took on the lead role of small-town girl Ivy Chan in the television version of Dick Lee's musical Beauty World (1998).
Fresh-faced at 40, she looks every bit the nation's sweetheart that she was in the 1990s.
Schoolchildren wrote her fan mail wanting to be her friend as they could relate to her friendly teacher roles on television.
The TV darling made the "career switch" to full-time mother on the first day of 2005 when she welcomed eldest daughter Kristen with her actorhusband Darren Lim, 42.
She was then a celebrity newscaster at now-defunct TV station MediaWorks, but was not offered a new contract after the media merger in 2004.
Now 10, Kristen has three younger brothers – Jairus, eight, Way, five, and Elliott, one.
Tan has gone from reel to real teacher, homeschooling her children.
She is in charge of academics, while her husband is in charge of outdoor activities.
The world is their classroom. Next year, the adventurous brood plan to set sail to the Japanese island of Okinawa.
They will make stops en route, such as in Taiwan, so as to immerse the children in a Mandarin-speaking environment.
2. Zack Zainal, 49, divisional vice-president of group security at Emirates Airlines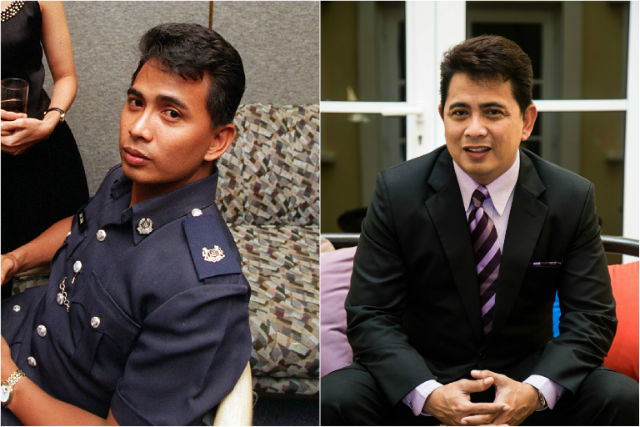 Former television hunk Zack Zainal, who was a police officer in Triple Nine (left), still has a heart for acting.
Best known for: Hosting Malay Talentime for six seasons (1989 – 1995) and for acting in dramas such as Channel 5's Triple Nine (1996) and Dreamers (1998)
Zack Zainal still gets love from female fans – but only those of a certain age group. He says with a chuckle:
At the height of his popularity in the 1990s, the former Manhunt 1989 champion was active on the acting and hosting fronts, winning fans with his wholesome good looks and easy charisma.
Effectively bilingual in Malay and English, he was also one of a handful of Malay stars at the time who made headway as a crossover star into Channel 5.
On top of that, he had a day job as a police officer, joining the force after graduating from the National University of Singapore with a degree in history and geography. "The Commissioner of Police gave me a special dispensation to continue my involvement in the performing arts in my free time," he recalls.
Since 2003, he has been working for Emirates Airlines in Dubai, where he is now the divisional vice-president of group security.
1. Benedict Goh, 46, chief client officer of interior design firm Fide Living and supplier of customised skincare for clinics
At 45, he can easily pass for someone a decade younger – his boyish good looks reminiscent of that same TV host who charmed audiences on game show The Pyramid Game all those years ago.
He is immediately shy when you point this out.
He is currently single, but was married to an air stewardess for six years before they split in 2009. He declines to divulge more information, but says he has no regrets in his life.
For the past 10 years, he has been representing various Swiss skincare brands and customising them for doctors and plastic surgeons to use at their practices here.
Besides hosting programmes, he also played a number of major roles on Channel 8 dramas – and that was what he found tough to handle.
After he left the industry as a full-time artist, he continued to take on the occasional acting gig.
Top 10 Singapore Celebs From 10 Years Ago And Where They Are Now. – Newshub360.net
CHECK THIS OUT :
♦ Top 10 Richest Politicians in Singapore by Forbes
♦ Top 10 Richest Sportsmen in Singapore And Their Net Worth
♦ Top 5 Singapore Celebrities With Impressive University Degrees
♦  Top 10 Schools in South Africa That Charge More than R200,000 Fees
♦  Top 10 University Rankings in South Africa Released [Univ of Cape Town is 2nd ]
♦  Top 10 Best High Schools in Durban, 2023 [ Durban High School is 2nd ]
♦  Top 10 Best Private Schools In Johannesburg [ St. Martin's is 3rd ]
♦  Top 10 South African Universities With The Best Academic Performance
♦  Top 10 Best Boarding Schools in Gauteng [ Parktown Boys is 2nd ]
♦  Top 10 Best Girl's High Schools in South Africa [ Durban Girls is 3rd ]
♦  Top 10 SA Female Celebrities With First Class Honours [ University Degrees ]
♦  Top 10 Best High Schools in Johannesburg [ St John's College is 2nd ]
♦  Top 10 Best Primary Schools in Johannesburg [ Melpark School is 2nd ]
Credit : Newshub360.net