The Top 13 Airbnbs in Sedona, Arizona with Incredible Views 2023: Some of the most beautiful landscapes can be found in Sedona, which attracts nature lovers, outdoor explorers, artists, peace seekers, and healers who come for the beauty and the upliftment of body and soul.
Ancient cliff houses can be explored, and there are miles and miles of beautiful hiking and mountain bike paths as well.
Consider staying at one of these fantastic Airbnbs for the perfect home base to take it all in.
Top 13 Airbnbs in Sedona, Arizona with Incredible Views 2023
1. Sedona Sundance with an Infinity Pool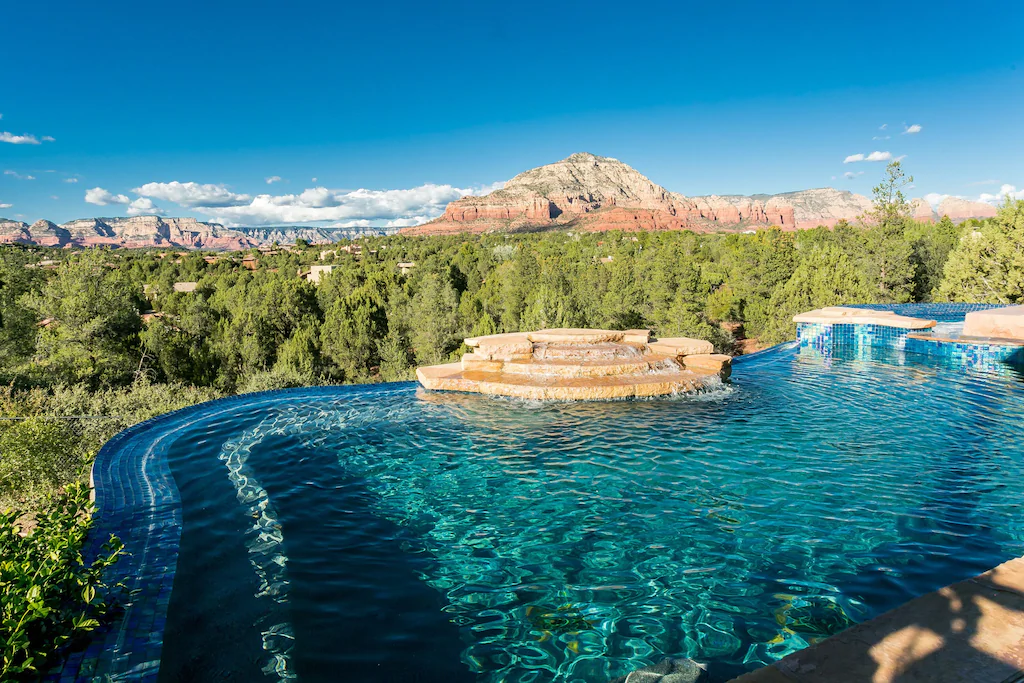 One of the most opulent vacation rentals in the United States, Sundance is a private gated luxury residence with breathtaking wrap-around views of the red rocks and a lovely infinity pool with a waterfall.
It is situated on almost two private acres. It has three bedrooms that can sleep up to six people and is loaded with amenities.
There is a fireplace, an outdoor sound system, a flat-screen TV beside the pool, a built-in infrared BBQ, a jetted hot tub for relaxing with a view, and a koi pond to add to the peaceful ambiance.
Additionally, guests have access to a full-size pool table, an infrared sauna, and a fitness center with all the necessary equipment.
2. Spectacular Studio 'So Beautiful You Will Not Want to Leave'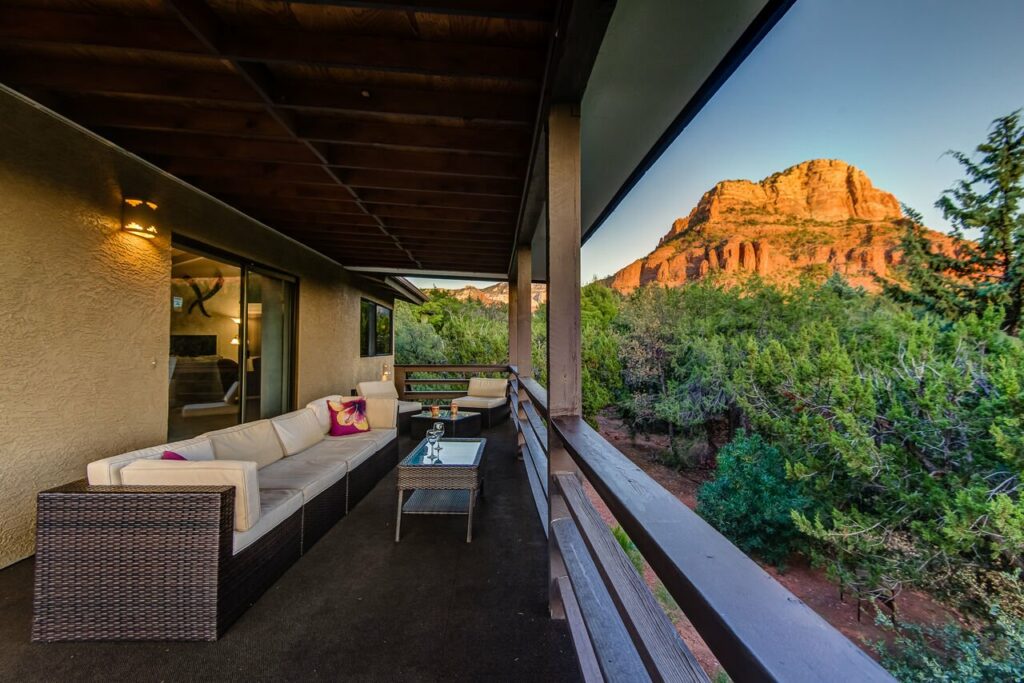 This lovely loft/studio, located in one of the city's few old buildings, is perfect for a romantic getaway and offers views of the red rocks from both inside and outside.
It features a well-equipped kitchen, a kiva fireplace, and can sleep up to two people in its one bedroom.
You may anticipate taking advantage of the steam room, a saltwater pool, and a hot tub for swimming and basking in the stunning views.
On the 5.3-acre property, your hosts can also provide wine tastings, Reiki, or Myofascial Release Therapy sessions.
3. Sedona Sunset Jewel with Amazing Views and a Saltwater Pool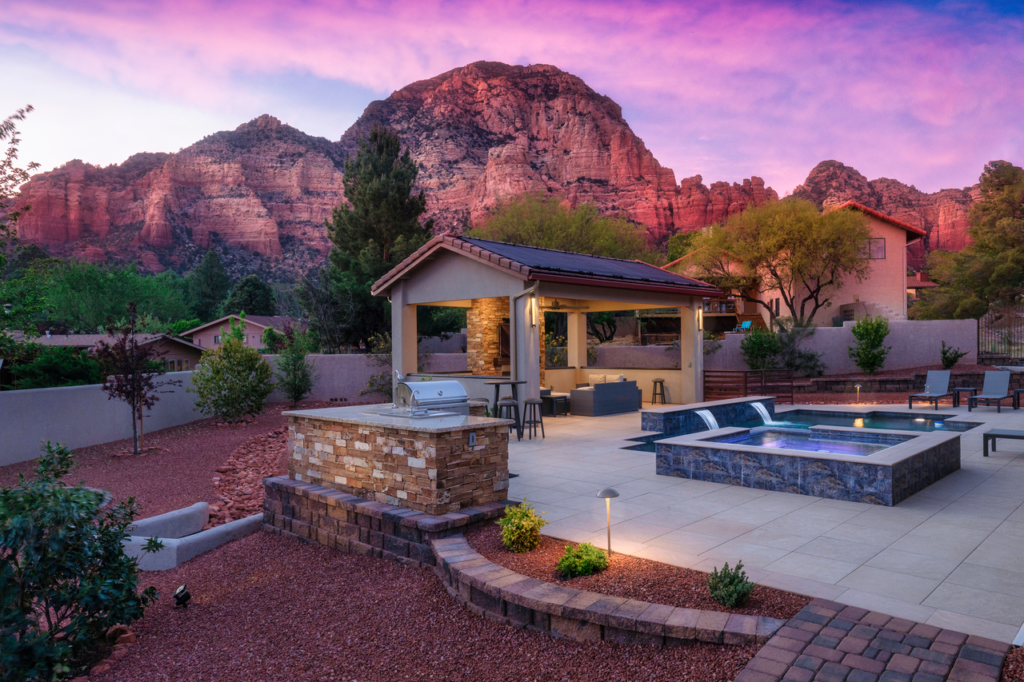 Beautiful red rock and sunset vistas, as well as excellent stargazing, can be seen from the deck of this one-bedroom guest apartment.
Some of the best hiking trails in Sedona are accessible on foot from here, and also features a seasonally open saltwater pool that is open from May through October.
It has a king-size bed that can accommodate up to two people and a kitchenette with a microwave, mini-fridge, induction cooktop, coffeemaker, and other essentials, as well as a flat-screen Smart TV with Netflix.
After swimming, you may relax with a hot outdoor shower and cook on the gas grill.
4. Bella Vista, Hot Tub with a View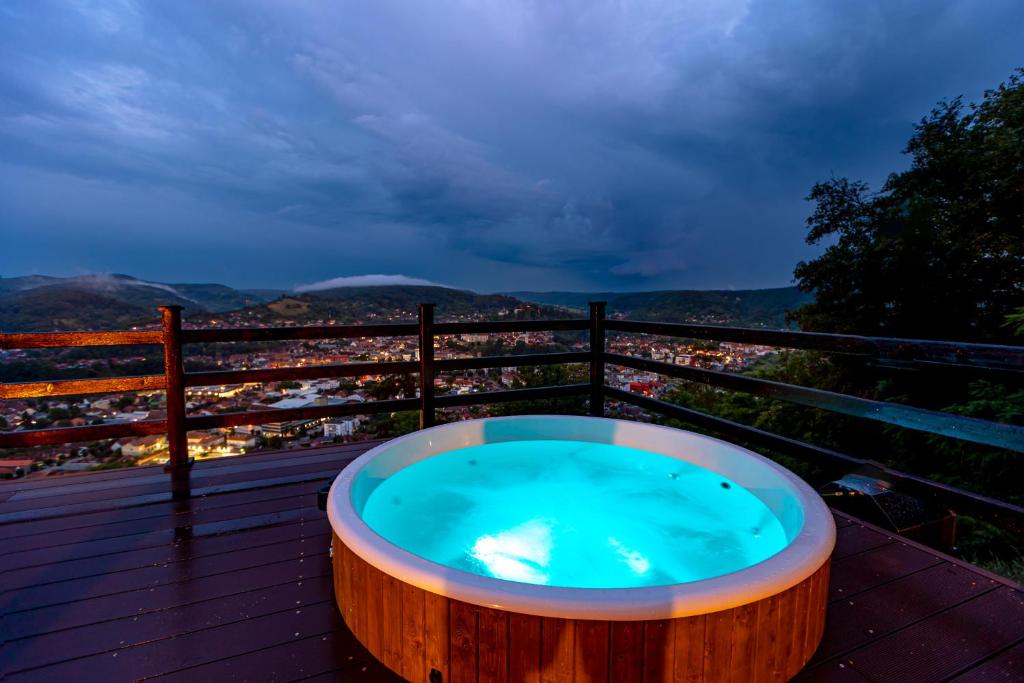 This three-bedroom property is ideal for a family or large group. It can accommodate up to eight people, and if you need more space, a downstairs unit can be hired.
It has some amazing red rock views, a full kitchen, and a BBQ. It is located at the edge of West Sedona, minutes from the greatest hiking, dining, and shopping in the area.
The wraparound deck, which also has a hot tub that overlooks the red rocks, is perfect for unwinding while taking in the beautiful view.
5. Sedona Dream – 5-Bedroom with SwimSpa & Jacuzzi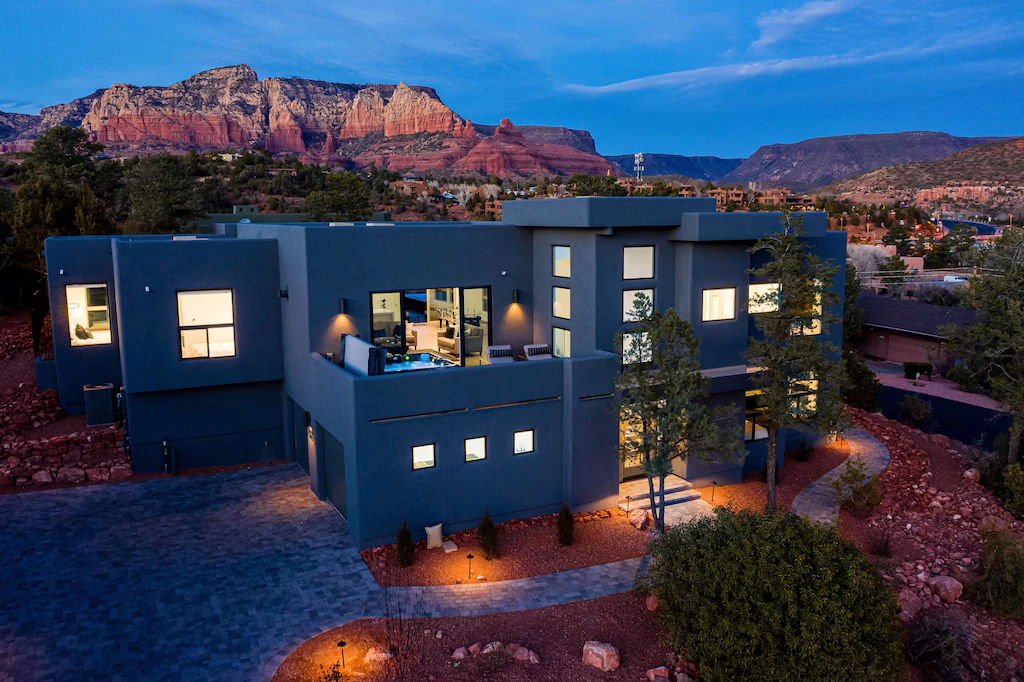 Sedona Dream offers an ideal home base for taking advantage of it all, just a short stroll from exceptional dining, exclusive shopping, and more.
And later, you'll have access to breathtaking views of the red rocks from a variety of vantage points, including outdoor living areas.
It has five opulent bedrooms that can sleep up to 10 people, a Jacuzzi on the balcony, and a 17-foot AquaSport Swim Spa in the backyard.
You will also have a Tesla charger, a putting green, and a fire pit to gather around. A gourmet eat-in kitchen, laundry facilities, and Smart TVs in each room are all included in the basic amenities.
6. Tranquil Luxury with a Skydeck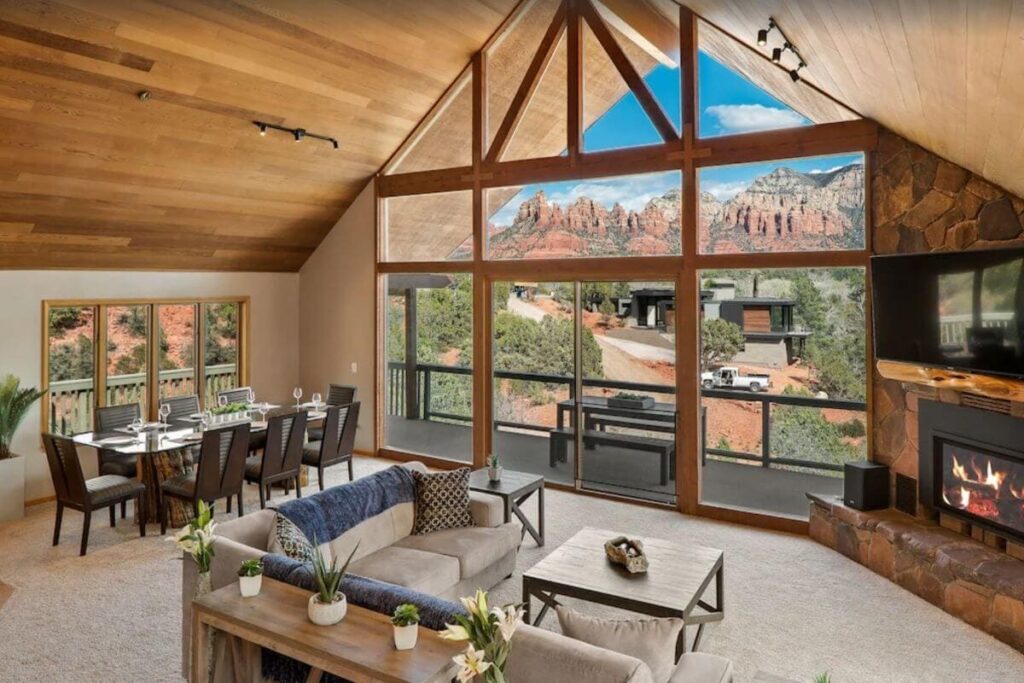 When an Airbnb gets a flawless 5-star rating, you can be sure it will be a wonderful stay. The host offers many unique extras, including a cooler, daypacks, and even a Red Rock Pass, which grants free access to places like Grasshopper Point and West Fork in addition to free parking at the trailheads.
The house itself has a stunning skydeck where you can enjoy your morning coffee or a glass of wine as the sun sets while taking in the breathtaking views of the red rocks.
It has a cook's kitchen, washer/dryer, cable TV with a Blu-ray and DVD player, and room for up to four guests.
7. Sedona Sweet Serenity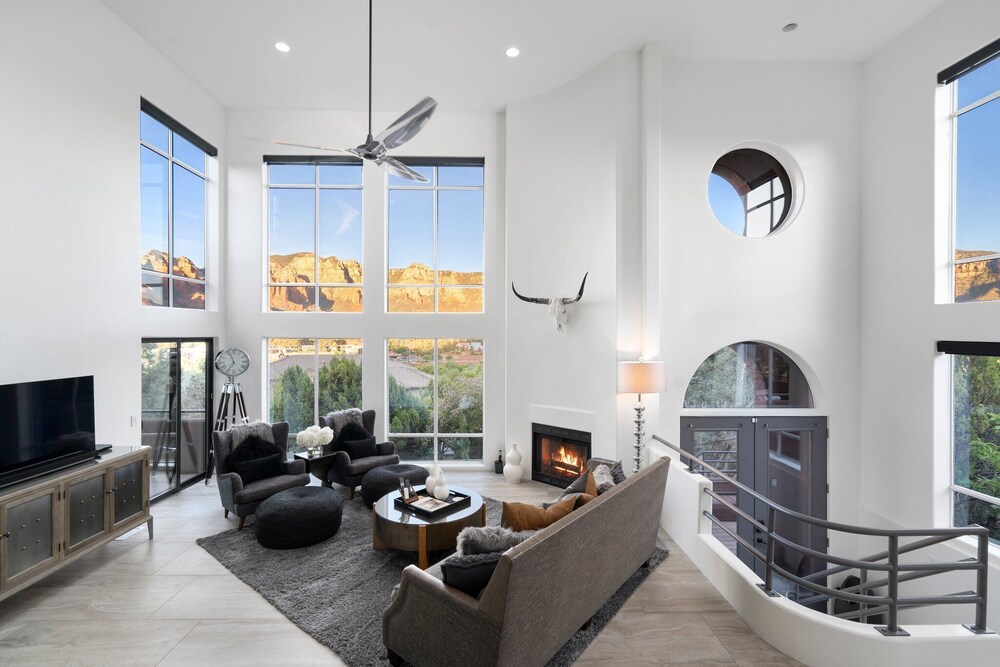 This lovely apartment, which is perched high on a hillside in the center of Sedona, offers expansive vistas of the red rocks and approximately 2,400 square feet of living space.
It sleeps up to five people in two bedrooms and a loft that is fully furnished with a sleeping area. The living area boasts floor-to-ceiling windows that display the stunning vistas, and it has an open, modern layout with lots of natural light.
A gas fireplace, a 56″ Smart TV, and a fully functional gourmet kitchen are all included.
8. Serene Zen Haven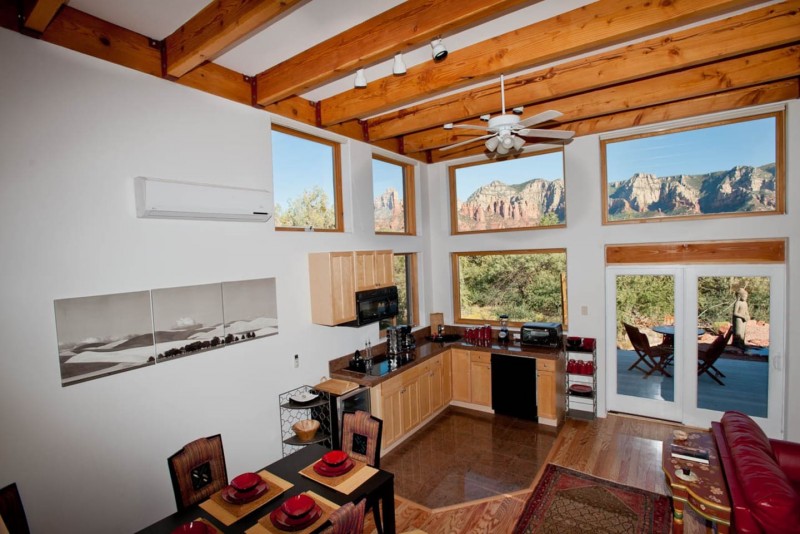 Serene Zen Haven, which lives up to its name rather well, provides a peaceful stay in a quiet neighborhood about a mile from uptown and offers panoramic views of the red rocks from both inside and the outdoor terrace with a grill.
Expect a fully equipped kitchen, washer/dryer, Wi-Fi, two flat-screen TVs with DVRs, movie channels, and a movie library, in addition to all the necessities.
It has two bedrooms that may accommodate up to four people, one of which has a bubbling Jacuzzi tub.
9. Renew Cabin with Private Hot Tub and Yoga Deck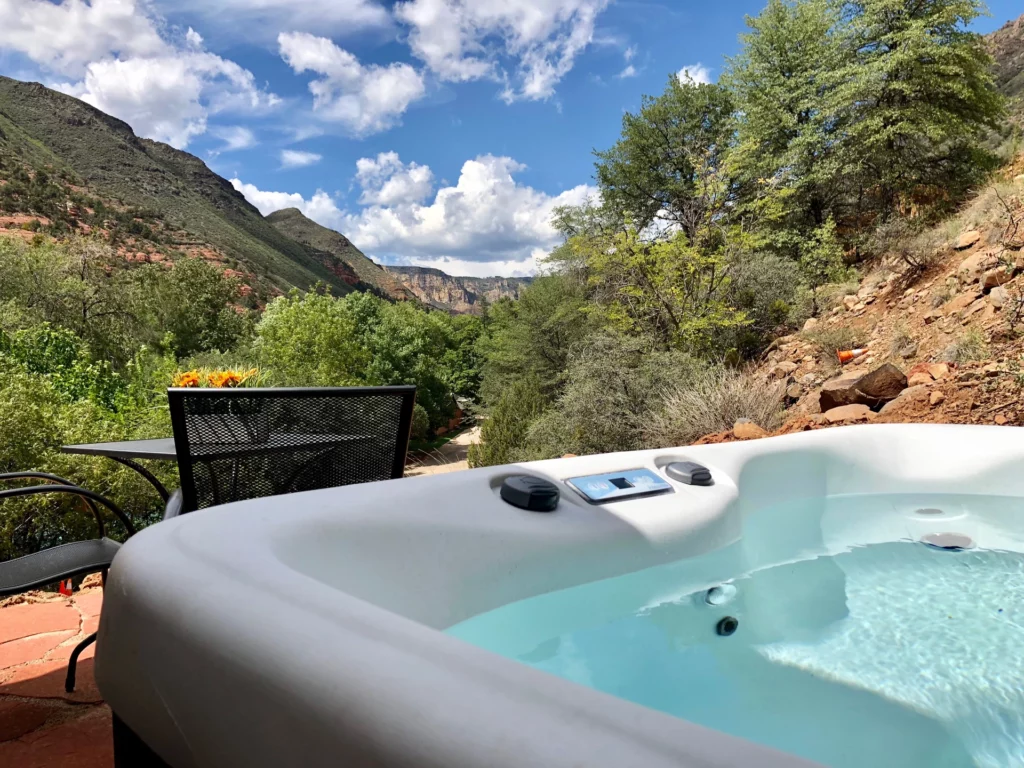 The Renew Cabin is a tiny home that accommodates two people and features a hot tub and comfortable deck chairs on its outdoor patio in Oak Creek Canyon, which is located between the city and Slide Rock Park.
You'll be able to enjoy the conveniences of home, such as a kitchen and Wi-Fi, while being surrounded by views and hiking trails. You'll also be able to experience amazing astronomy after dark.
10. Casita with Red Rock Views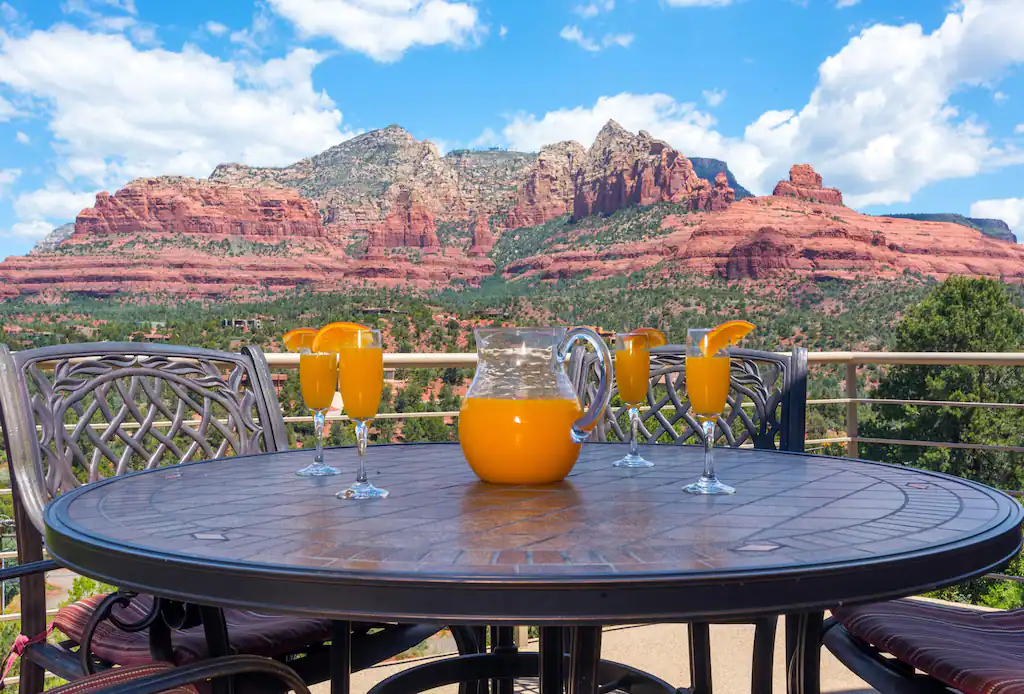 Up to four people can stay in this one-bedroom casita, which has amazing views of the red rocks from the floor to ceiling windows and the wraparound deck, which also features a BBQ grill and a private outdoor hot tub.
Take use of the fully furnished kitchen, stacked washer/dryer, fireplace, and flat-screen TV while hiking the trails right outside your door. A seasonal pool is also open from May through October.
11. My Sedona Place – Home Sweet Dome!
The eccentric dome architecture of this distinctive residence makes for yet another singular stay and serves as the best starting point for gorgeous treks (the closest path is only 100 yards away).
After a long day of touring, come home and prepare dinner using the grill or the full kitchen. Then, while feasting, take in the gorgeous sunset with Cathedral Rock in the background.
It offers three bedrooms that can accommodate up to seven guests, high ceilings, a skylight, and big windows for lots of natural light, as well as two full bathrooms and a washer/dryer.
12. Zen Retreat
Finding complete serenity in Sedona is simple, especially if you stay at the serenity Retreat. The charming one-bedroom, which sleeps two, is an attached cottage with a living room area, a kitchenette, a full bathroom, and its own private entrance.
Enjoy easy access to hiking while unwinding in the hammock that is located in a serene garden with a fish pond.
Walking distance from Crescent Moon Park are Cathedral Rock, Pyramid Rock, a creek, and paths. Additionally available to visitors are sessions of intuitive healing.
13. Rainbow House
The Rainbow House is a two-bedroom residence in the center of Sedona that gives guests a green getaway.
It is completely solar powered, surrounded by red rocks, close to trails, shops, and restaurants.
It uses only environmentally friendly cleaning supplies, has organic bedding, and a kitchen supplied with organic coffee, tea, and granola. Additionally, visitors can use the host's cruiser bike.
Top 13 Airbnbs in Sedona, Arizona with Incredible Views 2023 – Newshub360.net
Related Post

Credit: www.Newshub360.net