The 15 Best Cabins with Hot Tubs in USA 2023: What could be more relaxing than a little cottage nestled in the woods or any other secluded location? A rustic retreat complete with a jacuzzi!
Following a fun-filled day, you will have access to the ideal setting in which to unwind, whether it is in the midst of gorgeous views or beneath a blanket of stars.
The only issue that remains is where exactly to discover that perfect escape; nevertheless, this list provides you with a wide variety of possibilities from which to pick.
15 Best Cabins with Hot Tubs in USA 2023
1. Sky Haus A-Frame – Skykomish, WA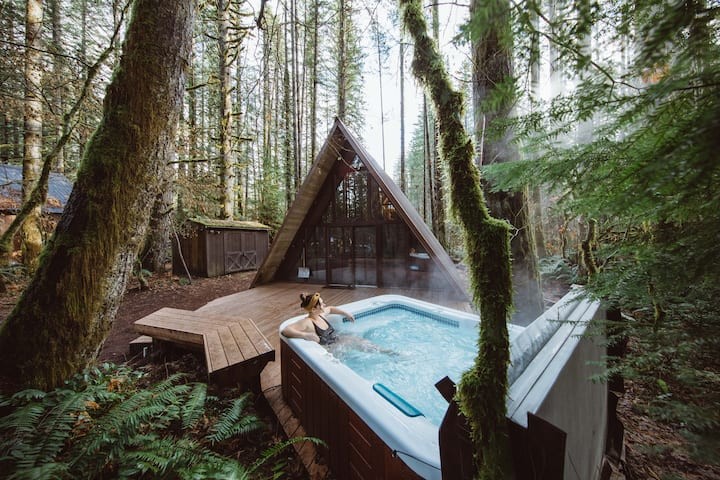 This refuge, which has one of the most endearing A-frame cottages in the United States, can be found close to some of the highest peaks in the Cascade Mountains, not far from a little hamlet called Skykomish.
The location of Sky Haus is ideal for taking advantage of the diverse network of hiking paths in the surrounding region Or, during the winter months, skiers and snowboarders may head to Stevens Pass, which is only a 15-minute drive away.
After that, you will be able to ease those aching muscles in your very own personal hot tub, which will be discreetly hidden among the moss-covered trees.
The actual cabin has space for up to four visitors to sleep in a loft area that has four beds. Other features of the cabin include a fireplace, a fully supplied kitchen, Wi-Fi, and a television.
2. Zion EcoCabin : Zion A-Frame – Hildale, UT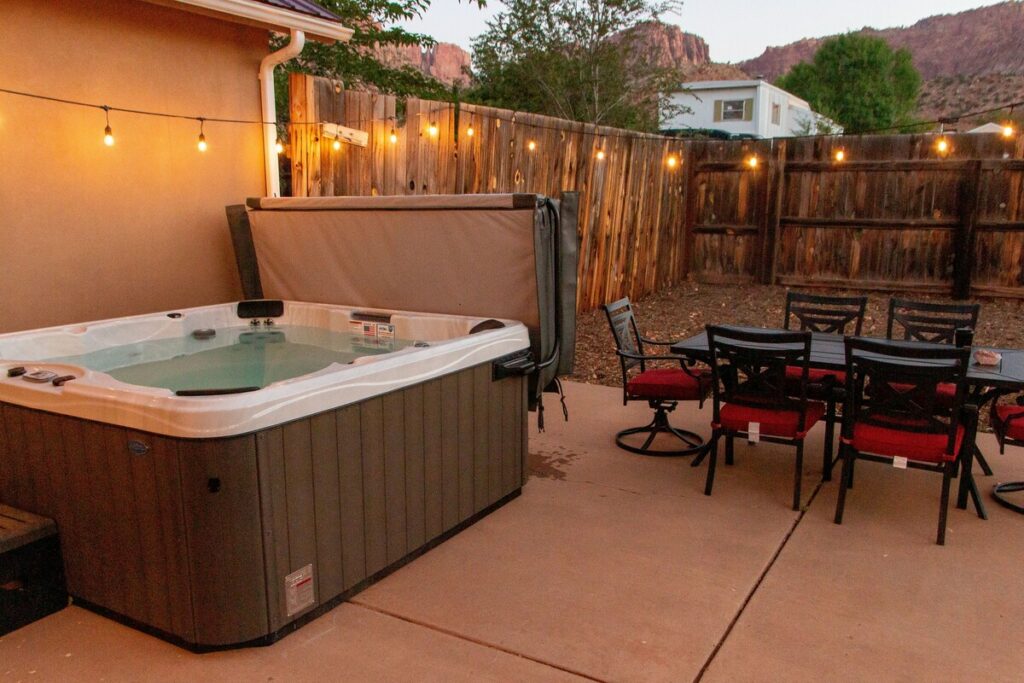 This A-frame cabin for two is located 45 minutes from Zion National Park just outside the little town of Hildale, where you'll discover beautiful local eateries, coffee shops, cafés, and even a brewery.
The cabin overlooks the Zion Mountains, which are known for their spectacular scenery. It is the ideal location to lose oneself in the beauty of nature while also having the opportunity to end the day by relaxing in a steaming hot tub while gazing up at the night sky.
You will have your own private outdoor living area that comes complete with a deck, a fire pit, a grill with propane supply, all the accessories, and some culinary essentials such as olive oil, salt, and pepper.
It is located on two acres with four other cabins, but there is no shared space. A French press has been provided for your morning coffee, which is best savored while taking in the breathtaking scenery that surrounds you.
3. The Treeframe Cabin – Index, WA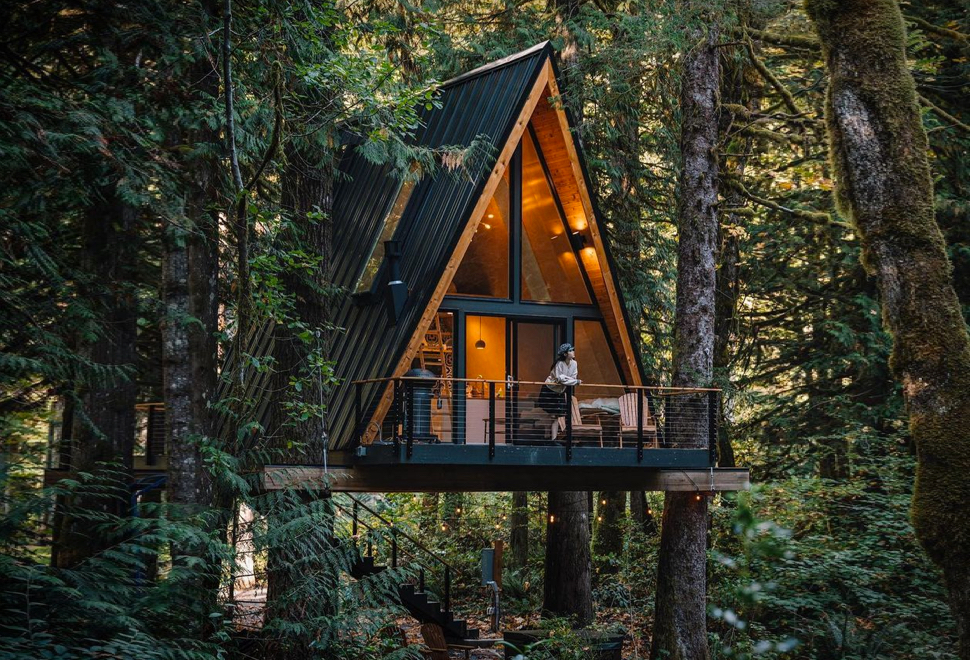 This picturesque treehouse cottage is located in the Cascade Mountains, only a little over an hour's drive from Seattle.
It is perched 13 feet above the ground and is surrounded by evergreen trees. Because the host provides a percentage of the revenues from the rental to organizations such as the Sierra Club, Forterra, WTA, and The Tulalip Foundation, you may have the satisfaction of knowing that your stay is helping others.
You will have access to the Skykomish River down a gravel path while enjoying a variety of attractive facilities, such as a fireplace, enormous skylights, and a hot tub for two people.
In addition to having a full kitchen, a grill, and Wi-Fi, it also has a sleeping loft with a king-size bed that can accommodate up to three guests.
4. Triple Creek Ranch – Darby, MT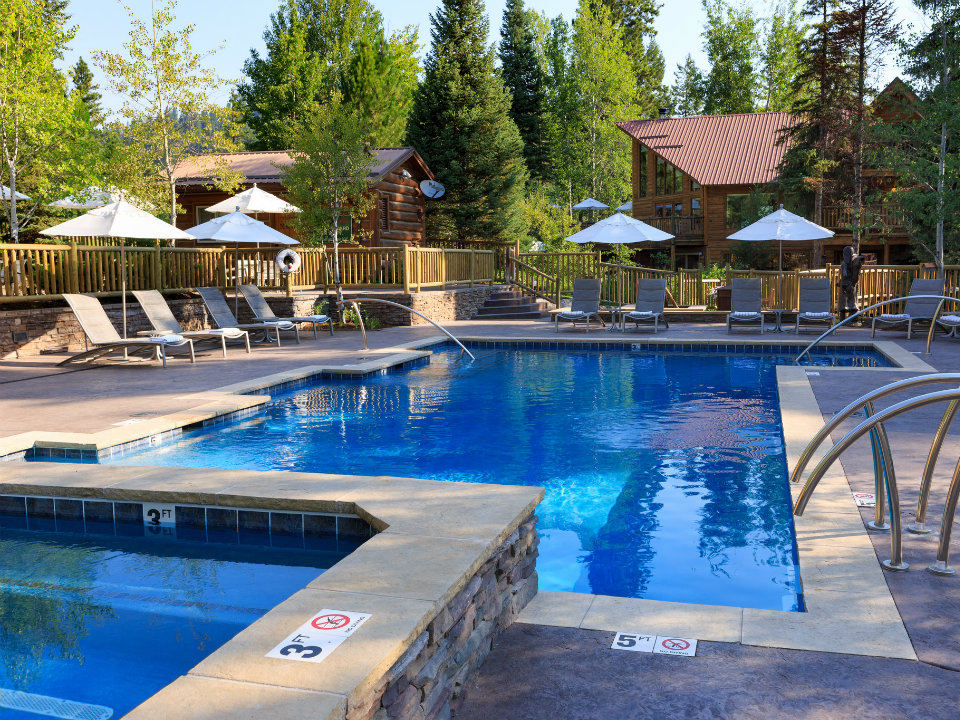 Triple Creek Ranch is a resort in the Bitterroot Mountains in Western Montana that is reserved exclusively for adults and provides a wide variety of opulent facilities in addition to breathtaking views of the surrounding area.
Its location along the slopes of Trapper Peak makes it an ideal destination for a luxurious wilderness holiday.
The property features separate cabins, each of which is distinct from the others but all of which come equipped with a wood-burning fireplace and access to a hot tub.
In the winter, guests may participate in activities like as snowshoeing, fat tire snow biking, and cross-country skiing.
During the warmer months, guests have the option to ride horses, golf, walk, and fish, all without leaving the property. Activities can be enjoyed throughout the whole year.
In addition, the accommodation prices include gourmet meals that are prepared using fresh, regional ingredients.
Best Cabins with Hot Tubs in USA
5. Shenandoah Hideaway, Garden Pub & Hot Tub – Luray, VA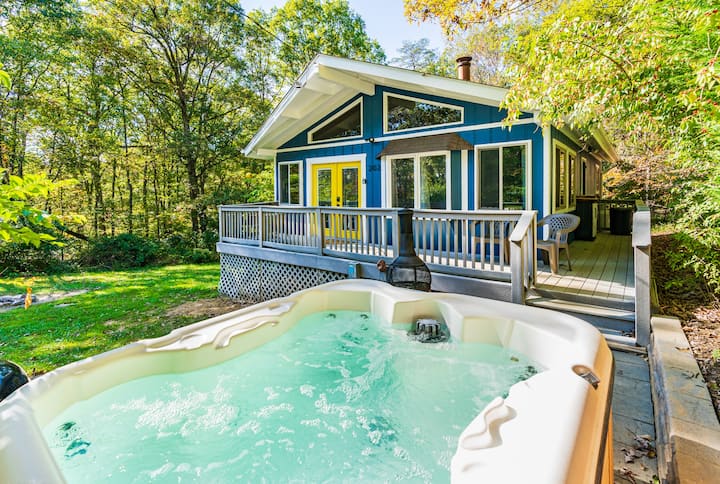 This cozy cabin on Airbnb is located in the beautiful Shenandoah Valley and is only a short distance away from the Shenandoah River.
There are two bedrooms and enough space for up to six guests. Despite the fact that it contains a full kitchen and a fireplace, the outside areas are where much of the appeal lies.
There is a one-of-a-kind garden pub that was formerly a tool shed but has since been renovated into a cozy area that is ideal for enjoying alcoholic beverages, playing games, or simply listening to music.
You will, of course, also have access to a relaxing hot tub, as well as a grill for barbecuing, a picnic table, and an outdoor fireplace.
6. Historic Downtown Cabin with Hot Tub & Views – Estes Park, CO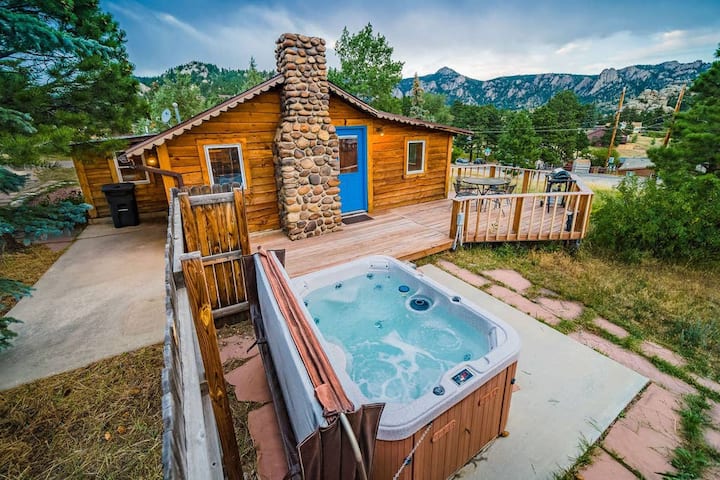 Although it dates back to the late 1800s and has a lot of charm, this historic cabin is one of the most romantic cabin rentals in the country since it has been restored to incorporate the newest in contemporary conveniences.
You'll be able to trek the miles of picturesque trails in Rocky Mountain National Park thanks to the location of this hotel in Estes Park, which is the eastern entry to the park.
At the same time, the famed Stanley Hotel and downtown Estes Park, with its numerous stores and restaurants, are only a short walk away.
After that, you may return for a relaxing bath in the hot tub while taking in the breathtaking scenery of the surrounding mountains.
A laundry room, a complete kitchen, a terrace with a view of Lumpy Ridge, a big living room with a fireplace, a Smart TV with Netflix streaming capabilities, wireless internet, and a full kitchen are all included.
7. High in Helen Cabin with Hot Tub – Helen, GA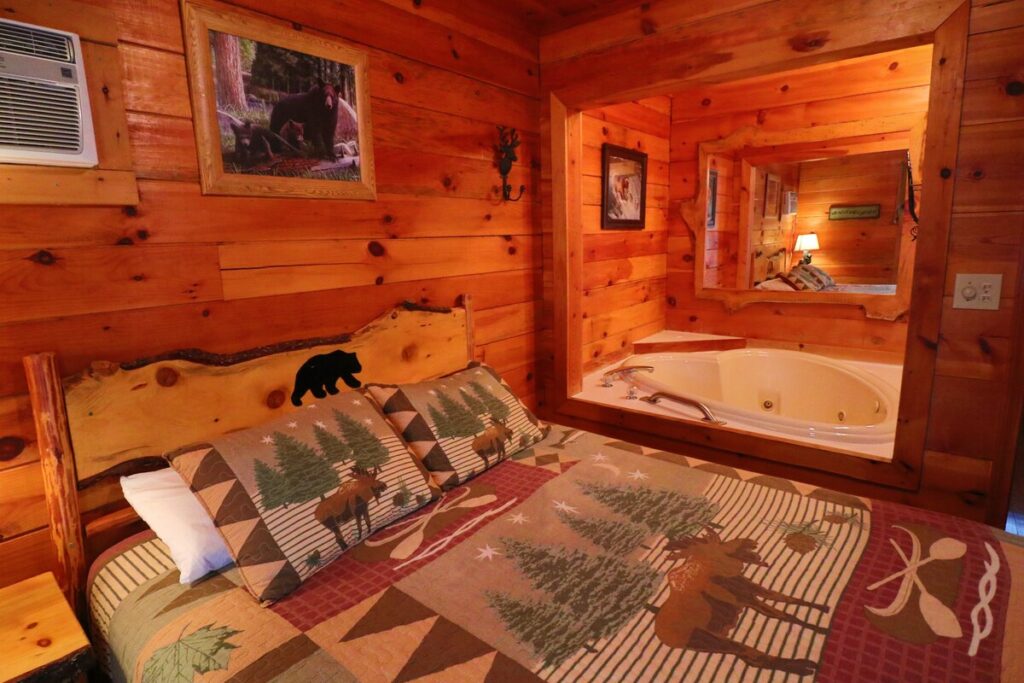 This little cabin, which can be found inside the municipal boundaries of Helen, a well-known Bavarian-themed town in North Georgia, exudes an air of romanticism with its furnished terrace, which can be used for eating al fresco or simply relaxing with a glass of wine while taking in the sweeping views of the surrounding mountains.
If you have an outdoor fireplace, you can even keep warm on evenings when the temperature drops.
For the ultimate romantic experience, take advantage of the straightforward access to beautiful hiking paths that end in waterfalls and then unwind in the on-site hot tub afterward.
You'll also discover a king-size adjustable vibrating bed, a kitchen/living room area with a 55-inch TV, and another 40-inch TV in the bedroom. Premium cable, Netflix, and Roku are all included in this cabin, which is considered to be one of the nicest in Helen.
The kitchen is brand new and has all of the most up-to-date appliances available, including a Keurig coffee machine, a microwave, and a dishwasher.
8. Cactus Log Cabin Close to Downtown with Hot Tub – Fredericksburg, TX
This genuine log cabin was constructed in the 1800s, but it has been updated with many contemporary conveniences and is located only a short drive from the historic downtown Fredericksburg district in the Texas Hill Country.
You can enjoy a relaxing getaway at this house that is situated on 7.5 acres and is encircled by oak trees. The atmosphere is perfect for a romantic evening.
You may have a cup of coffee on the front porch while watching the deer that stroll by in the morning, and then at the end of the day, you can bathe in the hot tub for a relaxing experience while gazing up at the stars in the hot tub.
In addition, there is a bathroom with an old-fashioned soaking tub with clawfoot feet, an electric fireplace for a cozy environment inside, a television with Roku and the ability to stream content, and a DVD player.
You will have access to kitchenette appliances such as a toaster oven, microwave, and mini-fridge, which will allow you to prepare simple meals.
Best Cabins with Hot Tubs in USA
9. Chic Cabin on Callicoon Creek – Callicoon, NY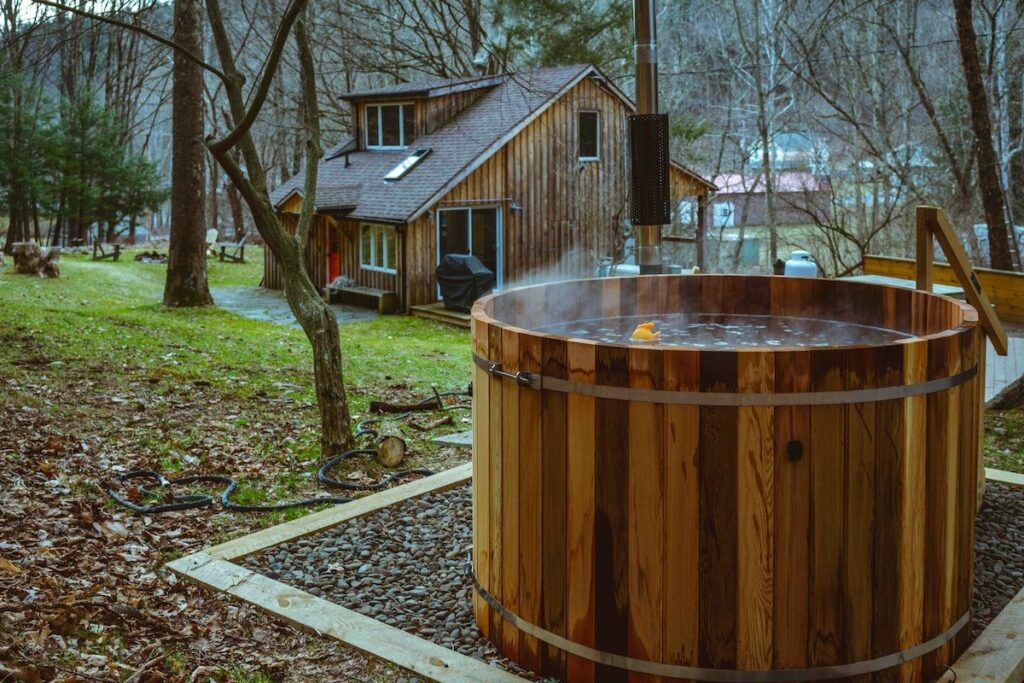 This ancient cabin was built in the 1800s and is located in a serene location right above the north branch of Callicoon Creek.
It is the perfect place to unwind and enjoy some downtime. A bath in the outdoor hot tub, which comes replete with a view of the surrounding area, may take that experience to the next level.
Large picture windows bring the exterior scenery inside, where it can be enjoyed with the quaint living room. In addition, there is a fireplace inside where you can curl up in the hanging chair or chaise and enjoy the warmth.
Although there is a significant amount of historic history, the facilities are contemporary and include a television with Apple TV and streaming services in addition to Internet that is described as "lightning fast."
10. Cabin with Incredible Views & Hot Tub – Blue Ridge, GA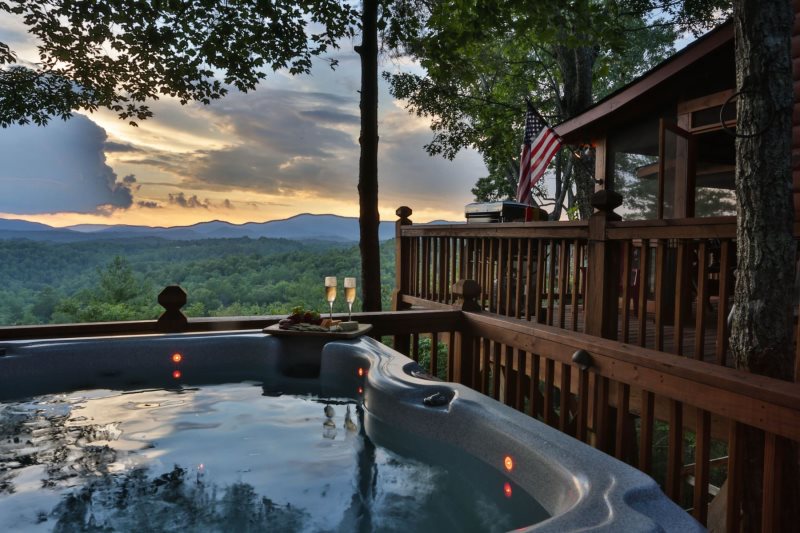 The "Grand View" cabin, which allows guests to bring their pets and offers breathtaking views of the peaks in the Rich Mountain Wilderness, can be found nestled between two of the most picturesque mountain villages in North Georgia, namely Blue Ridge and Ellijay.
You will enjoy a yard that is enclosed by fencing, making it perfect for letting Fido run about as you relax in the luxurious hot tub.
There is a chimenea outside that burns wood, as well as a stone fireplace inside, a kitchen that has everything you could ever need, a barbecue, and a family area with a flat-screen television.
It has two bedrooms, each with a queen-size bed, and an additional bonus loft that has one bed for an additional guest, so it can sleep up to five people.
11. Cabin Close to Ski Resort & Lake with Spa, Fire Pit – Big Bear, CA
This cabin has one bedroom and can sleep up to four people thanks to its queen-size bed and couch bed. It is an excellent choice for a couple or a small family.
It is situated close to Big Bear Lake paths that lead to breathtaking vistas of the lake and the surrounding forest.
You will not only have access to an outdoor hot tub, but also a wrap-around deck with a BBQ grill, a hammock, and a fire pit.
There will also be a spacious living area with a gas fireplace and floor-to-ceiling windows that allow the outside to be brought inside.
In addition, guests have access to a cable television with premium channels and a fully stocked kitchen during their stay.
12. Amazing Views, Theater, Air Hockey, Hot Tub – Gatlinburg, TN
Diamond in the Bluff is a cabin with three bedrooms that is perfect for accommodating a large family, and you may even be able to bring some of your relatives along with you.
It is equipped with a game console, high-speed Wi-Fi, an electric fireplace for ambiance, a Smart TV in each bedroom, a Blu-ray and DVD player, an electric fireplace, and laundry facilities.
It can sleep up to ten people. Child-friendly features, such as a pack 'n play, a high chair, and a baby gate, will be much appreciated by parents traveling with infants and toddlers.
There is, of course, a hot tub available for use at the end of a day filled with activities, and you will adore the views of the mountains in every season, from the vibrant blooms of spring and the verdant vegetation of summer to the vibrant leaves of fall and the snow-capped peaks of winter.
Best Cabins with Hot Tubs in USA
13. Lake Arrowhead Luxury Lakefront Cottage with Hot Tub – Waleska, GA
This lakeside home with three bedrooms and space for up to eight guests is perfect if you're searching for a place to get away.
It provides everything you require for a trip that will live long in the memory. It has a full-size canoe in addition to two kayaks and two hydrobikes as standard equipment.
In addition, the rental of a pontoon boat is an accessible alternative. You may also fish from the dock that is 1,200 square feet in size, take a nice swim in the water, or just rest and take in the breathtaking scenery.
At the end of each day, you can look forward to magnificent sunsets, which can be appreciated while preparing s'mores around the fire pit, and afterwards you can spend some time in the hot tub while gazing at the stars.
On the inside, you will find a wood-burning fireplace, a 55-inch high-definition television (HDTV) with Netflix and normal cable, and a fully-equipped kitchen.
14. Blackberry Creek Cabin, Cozy & Great Location – Broken Bow, OK
This cabin has two bedrooms and can accommodate up to eight people. One of the bedrooms has a king-size bed, while the other has a king bed as well as bunk beds.
There is also an arcade, toys, and books in this cabin. The centerpiece of the property is the big deck that looks out over a stream and comes equipped with a wood-burning stove, a grill, a dining table, and seating areas where one can rest while taking in the scenery.
Everyone will appreciate the hot tub, which is ideal for soaking in after a day of hiking in the state park, which is only a ten-minute drive away from the vacation rental.
The children will enjoy the playhouse in the backyard, which has swings and a slide.
A trip to Broken Bow Lake, which is only a ten-minute drive away, is another option for those who wish to spend time having fun on or near the lake.
In addition to a complete kitchen, a washing and dryer, and a number of Smart TVs, the interior has a fireplace.
15. Stony Creek Lodge, Famous Rock Cr, 4 Seasons – Philipsburg, MT
This handcrafted log lodge is located just outside of the small town of Philipsburg at the junction of Stony Creek and Rock Creek, an area that is recognized for its world-class fly fishing.
It serves as a great base for a variety of different kinds of outdoor excursions.
You will be able to go fishing, hiking, riding ATVs, snowmobiling, and sledding, among other activities, all without having to go further than your front door, and you will also have a calming hot tub to come back to later.
In addition, there is a full kitchen, an outside fire pit for gathering around while gazing at the sky, a 44-inch high-definition television equipped with Amazon Prime Video, Netflix, and normal cable channels, and an inside gas fireplace.
15 Best Cabins with Hot Tubs in USA 2023 –Newshub360.net
Related Post
Credit : www.Newshub360.net