If you're not from the South, it's not surprising if you've never heard of the Best Beaches of 30A. In point of fact, you shouldn't be too startled if you haven't even heard of 30A at this point.
But right now is the moment to make some adjustments. Between Panama City and Destin, along the stretch of the Florida coast known as 30A, you'll find a string of quaint beach communities that are among the best-kept secrets along the Emerald Coast.
There are no sprawling resorts, enormous condo complexes, or other obnoxious tourist traps here. Instead, there is nothing but tranquility, quiet, and as much sun, sea, and beach as your body can take.
Even though every village is different, you can rest assured that you'll be having some of the best beachside fun in one of the most picturesque sections of the Florida coast. Here is a list of the top 10 greatest beaches along 30A that you shouldn't pass up.
Best Beaches of 30A
10. Dune Allen Beach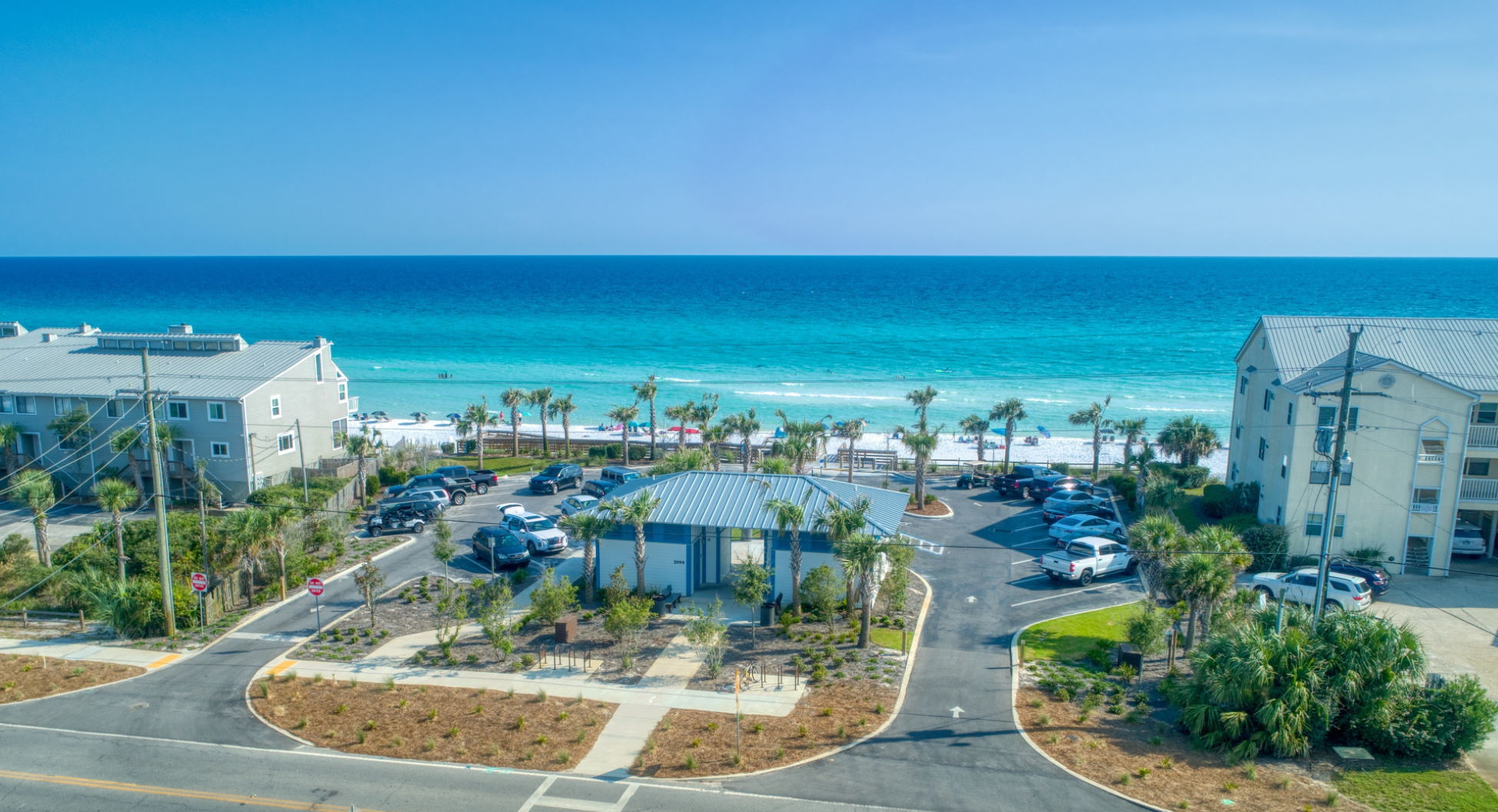 Dune Allen Beach is the place to go if you're searching for a quiet beach that's thankfully devoid of the tourist crowds that plague other beaches in the area.
The majority of the surrounding beachfront is made up of residential areas, which results in a tranquil atmosphere that is a world away from the frenetic energy that can be found at the state's larger resorts.
9. Water Color (Best Beaches of 30A)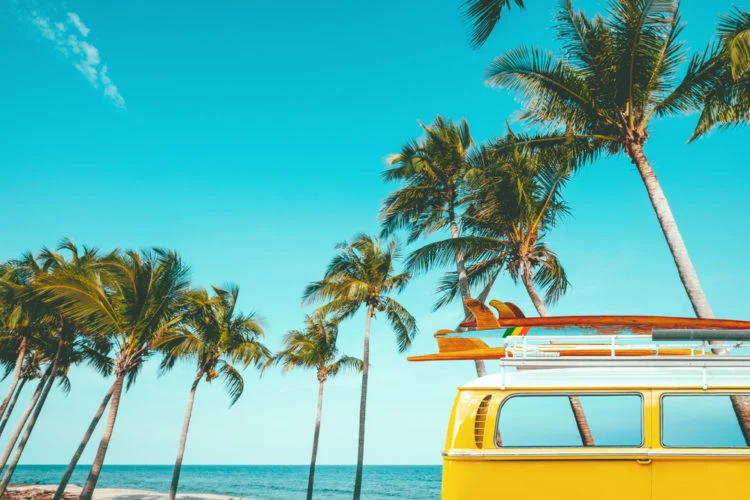 Western Lake is considered to be one of the most gorgeous coastal dune lakes in South Walton, and it can be found in WaterColor.
You can spend your days paddling the lake on a kayak or stand up paddleboard (SUP) that you rented at the WaterColor Boathouse, or you can hike and cycle your way through Grayson Beach State Park and Point Washington State Forest.
The expansive front porches and Florida-style residences at the WaterColor Inn & Resort are the perfect complement to South Walton's natural beauty, and the resort's architectural design makes it an ideal place for large families and multi-generational family vacations.
The WaterColor Inn features rooms with stunning views of the Gulf of Mexico, and it is also home to the acclaimed FOOW (Fish out of Water) restaurant and The Gathering Spot bar and lounge.
One of the most breathtaking vistas in the entirety of South Walton can be found from the outside terrace of FOOW, which features unobstructed views of the Gulf of Mexico.
In the vicinity of Highway 30A, The Wine Bar offers a tempting happy hour during which patrons may have a beverage while socializing over a selection of delectable small plates, such as a fire-roasted brick oven pizza, a gourmet cheese plate, or the Red Snapper picatta.
After spending the day with your family taking in the sights of Cerulean Park and window shopping at the local establishments, this is the ideal way to unwind and rest.
The Mountainfilm on Tour Festival is a two-night outdoor film festival dedicated to educating, inspiring, and motivating audiences.
Additionally, each year WaterColor plays host to the Harvest Wine & Food Festival, which is a three-day event featuring celebrity winemaker dinners, an al fresco reserve tasting, and grand tastings showcasing more than 250 wines.
A trip to WaterColor allows visitors to experience the tranquility of a small town while also providing them with access to high-end amenities and a beach that is on par with the best in the world.
8. Seaside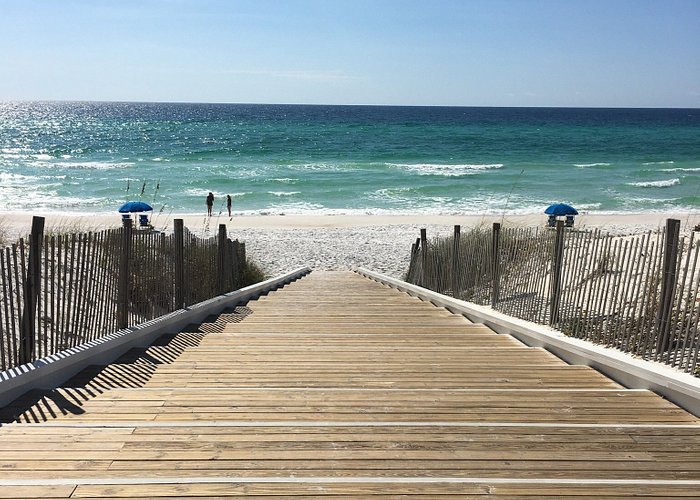 Walking around Seaside can give you a feeling of déjà vu if you've ever seen "The Truman Show." The town is very similar to the one in the show.
You are not dreaming things; in fact, you are looking at the actual village where the movie was shot. Because everything has been so well organized and executed to a tee, it almost looks too good to be true.
Even if it is pricey, thankfully it is not free, but you should still be prepared for the price tags. The beach is beautiful, despite the fact that you have to shell out some cash to rent a beach chair, and the town itself is quaint and enjoyable to amble around in.
If you start to feel hungry, there are lots of food trucks lining the beach and a fair selection of restaurants in the town.
The 45 Central Wine & Sushi Bar comes especially highly recommended, and not just because they offer half-priced wine between the hours of 4 and 6 in the afternoon.
7. Seagrove Beach (Best Beaches of 30A)
According to the website harmonybeachvacations.com, Seagrove Beach is one of the greatest beaches in 30A to visit if you want to mix some relaxed time on the sand with some excellent cuisine from the area.
Even though the hamlet that sits along the coast is quite small, there are a lot of wonderful restaurants and wine bars packed into its relatively little space.
If you're in the need for some retail therapy, the nearby town of Seaside has an amazing choice of local stores to satisfy your shopping desires. If you're in the mood for some retail therapy, you can find it in the nearby town of Seaside.
6. WaterSound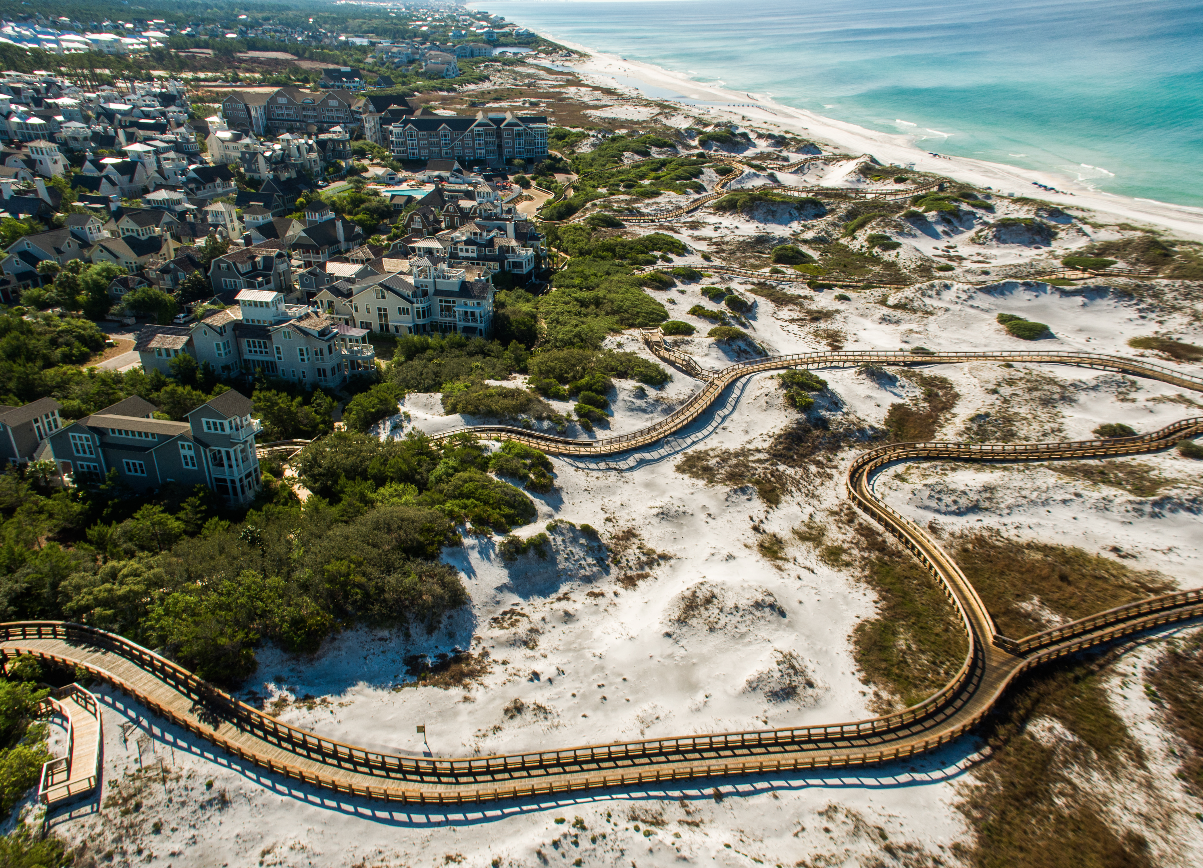 The website exclusive30a.com claims that WaterSound is so peaceful that it will cause you to lose your breath.
You're going to require it given how much there is for you to do and see, so here's hoping you won't have to wait too long to get it back.
The coastal village is a pleasure of lovely tiny cottages and affordable vacation rental homes, with a variety of recreation activities (including a lake, various pools, and a golf course) at their core.
The community is located on a stretch of land that faces the ocean. If you have a hankering for a snack, make your way over to the food center, which is home to a diverse collection of eateries, including food trucks and restaurants.
5. Grayton Beach (Best Beaches of 30A)
Grayton Beach is notable for being one of the oldest towns in the surrounding area. It is also one of the most peculiar neighborhoods, with peace signs adorning the streets, a highly conspicuous Volkswagen van, and the kind of residents who are best characterized as "free-spirited."
The beach itself is beautiful and only occasionally has crowds that are too intense. Bonfires are permitted here, making it one of the very few places along 30A that does so; nevertheless, a permit is required before any fires can be lit.
If you're looking for somewhere equally as charming to spend the night under the stars, the adjacent state park has a number of luxurious camping spots available.
After the sun has set, don't forget to make your way to the illustrious Red Car for some crab cakes and beverages.
4. Inlet Beach
If you would like to avoid the throng and get some time to yourself, Inlet Beach is the place to go.
It is far enough away from other tourist destinations that most people haven't heard of it, which means you won't have to worry about disturbing the peace as you take in the stunning scenery and glistening waters.
During your time here, be sure to keep your camera close at hand since not only are the sand dunes that lead down to the beach beautiful subjects for photographs, but so are the abandoned piers.
3. Rosemary Beach (Best Beaches of 30A)
There is no better place to look than Rosemary Beachside if you want to find a picturesque coastal community that provides easy access to the beach as well as a number of amenities.
It is always worthwhile to investigate the town square's quaint boutiques and delightful eateries in addition to taking a leisurely stroll along its tree-lined and cobblestone streets.
If you have a passion for cooking or eating, you shouldn't miss the opportunity to stock up on fresh, locally grown produce at the farmers' market.
The beach itself is just as attractive as the town that surrounds it, including breathtaking views of the water and sufficient room so that visitors never get the impression that they are being hemmed in.
2. Alys Beach
Alys Beach can be reached by foot or by bicycle in a very short amount of time from Rosemary Beach.
If you didn't know you were in Florida, you might assume you'd been moved to Bermuda, as The Points Guy points out. If you didn't know you were in Florida, you might think you'd been taken to Bermuda. Or maybe Antigua.
Or maybe even Mykonos. Simply said, any location that is hot, exotic, and stunningly beautiful. After you have finished admiring the building, you should make your way to the beach, which is a really attractive stretch of golden sand that is bordered by palm trees and is lapped by water that is exceptionally clear.
If you find that you are getting hungry, you may either go to George's for something a little more substantial or stop by Charlie's Donut Truck for some sweet sweets.
1. Blue Mountain Beach (Best Beaches of 30A)
Blue Mountain Beach is certainly one of the most beautiful beaches along 30A, and it very well may be the most magnificent. The blue lupines that grow free and wild throughout the dunes provided the inspiration for its name.
These flowers fill the air with wafts of smell and provide an added wow factor to the area's already plentiful charms.
The most of the year, the beach is blissfully devoid of visitors, allowing you to fully appreciate everything that it has to offer without having to compete with crowds of other people.
The 10 Best Beaches of 30A:Newshub360.net
Related Post
Credit :www.Newshub360.net