Top 20 Colorado Mountain Towns to Visit. One of the things that sets Colorado apart from other states is its outstanding collection of top-notch mountain communities.
Amazing tiny communities can be found tucked away in the state's many majestic mountain ranges.
There is a plethora of unique shops and restaurants in addition to the breathtaking mountain scenery that draws tourists to these areas. Finding the best summer cities in Colorado that meet your adventurous needs is simple because of the wide variety of options available.
Tourists from all over the world visit Colorado each year to enjoy the state's picturesque mountain communities.
There's a lot to look forward to when it comes to visiting these bits of mountain paradise, from bustling downtowns to beautiful cabins tucked deep in the countryside.
Even the most epic journeys often necessitate establishing a base in a sleepy alpine village. When it comes to mountain getaways, Colorado offers a wide selection. There are large, well-established bases, and there are small, one-street communities that make you slow down and appreciate mountain life.
Top 20 Colorado Mountain Towns to Visit 2023
1. Silverton
One of the most notable old mountain villages in Colorado is Silverton. Its Wild West appeal endures even if it isn't home to rowdy miners and dancehall girls anymore.
Today, tourists can appreciate the Victorian-era buildings in the small town. A lot of people ride the Durango-Silverton Narrow Gauge Railroad or visit an underground mine.
However, this community in southwest Colorado is well-known for reasons other than its mining heritage. Silverton is renowned for the numerous year-round outdoor activities and is situated along the illustrious Million Dollar Highway. The San Juan Mountains provide numerous outdoor activities, including rafting, alpine skiing, and hiking.
2. Estes Park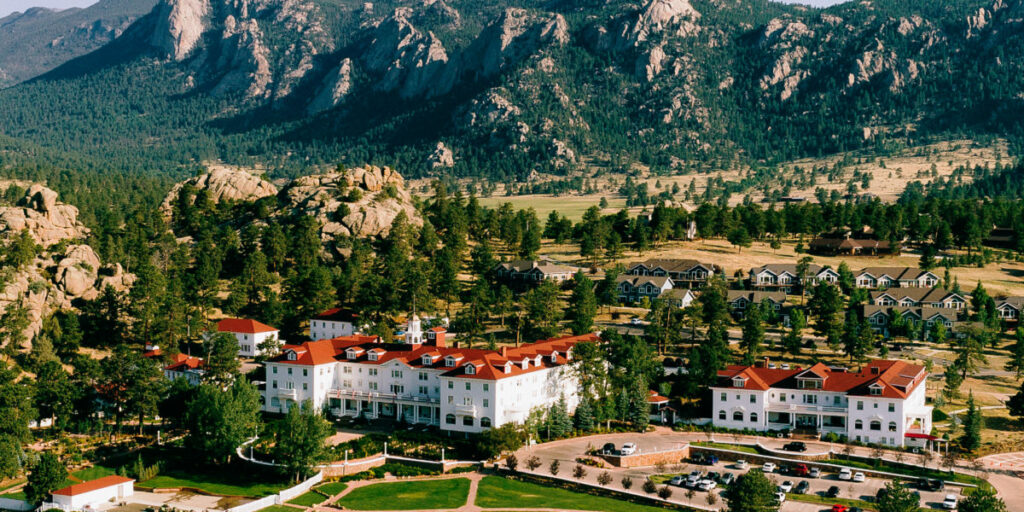 Estes Park, one of the most well-known Colorado communities, is only an hour and a half from Denver. This small town is a popular destination in Colorado for both tourists and residents, despite being frequently packed during the busy summer months.
Shopping for souvenirs and trying Colorado craft beer are just a couple of the enjoyable things you can do in downtown Estes Park.
A well-liked destination is The Stanley Hotel, famous for serving as the backdrop for the movie The Shining. Check out Elk Fest, a celebration of the herds in this alpine community, if you're there in October.
Rocky Mountain National Park is also accessible from Estes Park. Visitors may enjoy some of Colorado's best treks with a National Park Pass. Every season offers opportunities for outdoor recreation in Colorado, including rock climbing, fishing, cross-country skiing, and more.
3. Leadville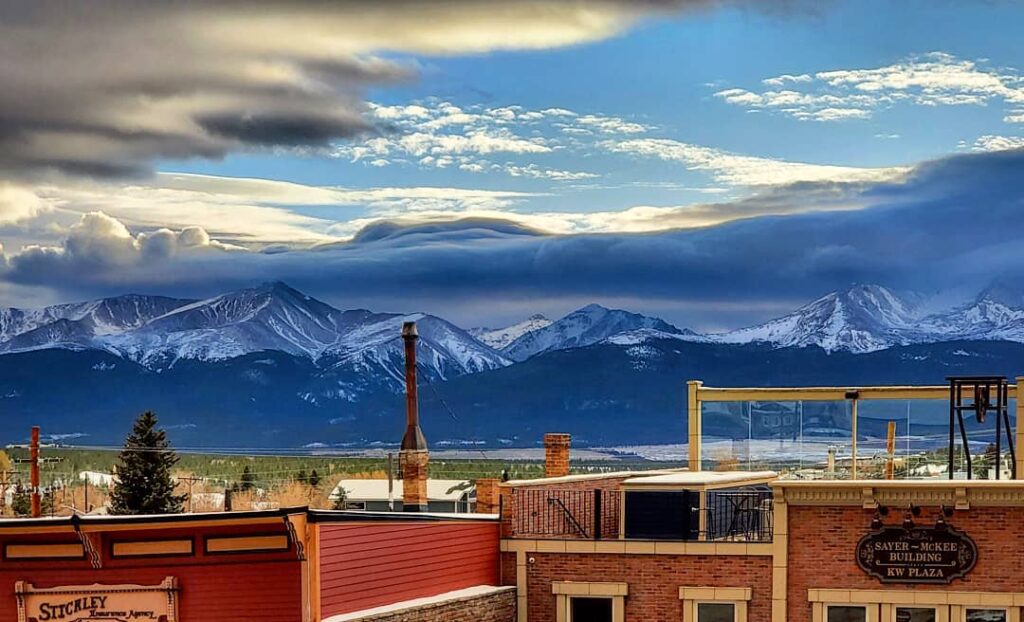 One of the most picturesque mountain communities in Colorado, known for its record-breaking elevation
Leadville is unquestionably one of the nicest mountain communities in Colorado. Being the highest incorporated city in North America, it is a personal favorite.
The formerly mining community still has a true Wild West feel. Historic structures flank the downtown area, many of which have been transformed into lodging, dining establishments, and art galleries.
The Healy House, the Dexter Cabin, and the National Mining Hall of Fame and Museum are just a few of the places that house artifacts and historical tales. Top 20 Colorado Mountain Towns to Visit.
Leadville is home to numerous world-class hiking paths in addition to being surrounded by 14,000-foot peaks. Just 10 miles north, at Cooper, one of Colorado's top ski resorts, there is terrain for skiers of all abilities. On the nearby Twin Lakes, paddle boarding and kayaking are two other well-liked outdoor sports.
Related Reading: With so much to see and do in and around this mountain town in Colorado, think about booking a room at a nearby hotel. For all the best advice, read our guide on where to stay in Leadville!
4. Telluride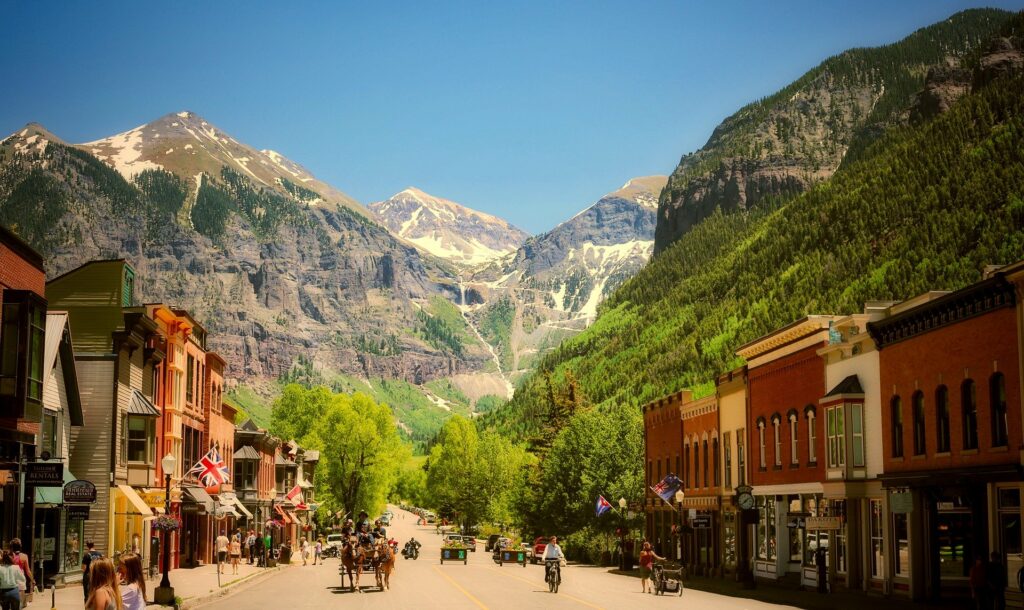 Telluride is one of Colorado's top mountain communities and should not be missed. The tiny village is surrounded by stunning views of the San Juan Mountains and is situated in a box canyon. This region is a favorite of explorers because there are so many things to discover.
Popular activities in Telluride include snowboarding and alpine skiing at the Telluride Ski Resort. Take the free, picturesque gondola trip up to Mountain Village even if you don't ski. From above, you can take in one of the state's most stunning mountain communities!
Another popular destination is Colorado's tallest waterfall, Bridal Veil Falls. Here, hiking and canyoning are popular summers activities as well as winter ice climbing. In the summer, attractions like the Telluride Bluegrass Festival and the Telluride via ferrata also draw tourists.
5. Aspen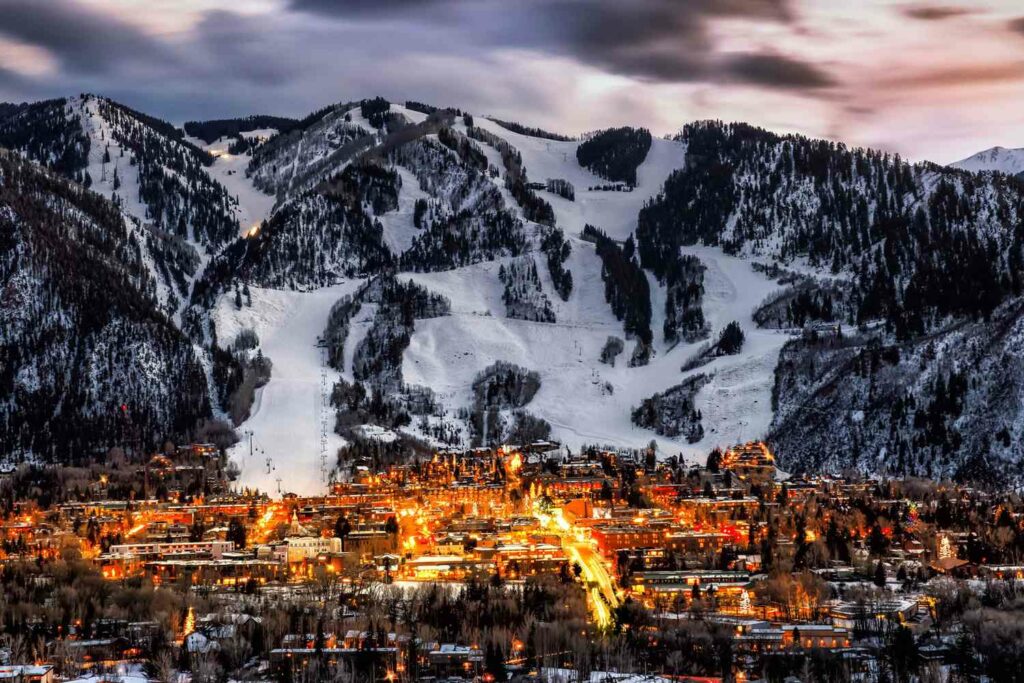 Colorado is home to some wonderful mountain communities, but none are as glitzy as Aspen. It's more than just a ski town for winter sports, despite being well-known for its ski slopes and luxurious accommodations. Excellent eating, art galleries, and upscale shops are just a few of the many activities in Aspen that tourists adore.
Aspen is one of the most recognizable Colorado mountain towns thanks to the Maroon Bells, in addition to its ski season and opulent downtown.
Maroon Bells is really the location in the entire state that receives the most photos! Summertime visitors flock to the famed Aspen Music Festival and adjacent alpine hikes.
6. Glenwood Springs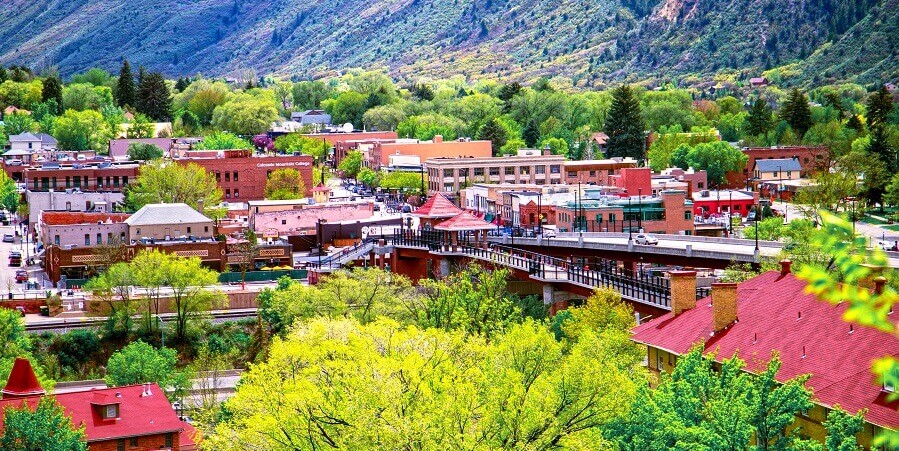 Glenwood Springs, a charming mountain hamlet near I-70, is convenient to reach most of the year. The well-known climb to Hanging Lake is a top draw that draws tourists from across the nation and abroad (note: the trail is temporarily closed due to mudslide damage in late 2021).
Other well-liked summertime activities include rafting and exploring adjacent mountain bike paths. The Glenwood Caverns Adventure Park and Glenwood Hot Springs will be a hit with families.
Check out the Iron Mountain Hot Springs resort for a more sedate, tranquil dip. Alternatively, think about South Canyon or Penny Hot Springs for a hike-in adventure. Both are open to the public and situated in stunning natural settings.
7. Crested Butte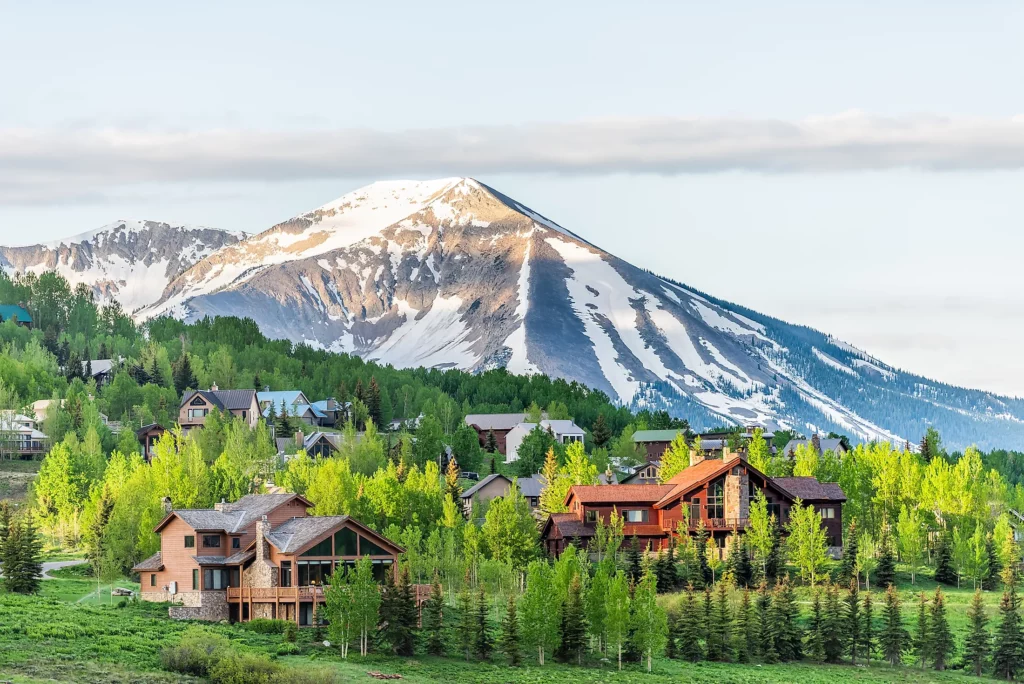 Crested Butte, a mountain hamlet in Colorado, is a hidden gem that is challenging to reach. Winter access to this remote location in the Rocky Mountains is only possible through a single 30-mile route from Gunnison. In the summer, a long, twisting dirt road provides access from the west. Some people even hike in via a difficult, 10-mile trail that starts in Aspen!
However, this isolated mountain community is a year-round vacation spot despite these transport challenges. Crested Butte Mountain Resort's ski slopes have varied terrain and thick snow. In Crested Butte, hiking, mountain biking, and rock climbing are popular summer and fall activities. Attend the annual Crested Butte Wildflower Festival if you're in town in July!
There are many historical sites in the formerly mining town. In Crested Butte's center, amble past colorful Victorian-era structures and visit Gothic, a nearby Colorado ghost town. A fantastic place to learn about local history and culture is the Crested Butte Museum.
8. Buena Vista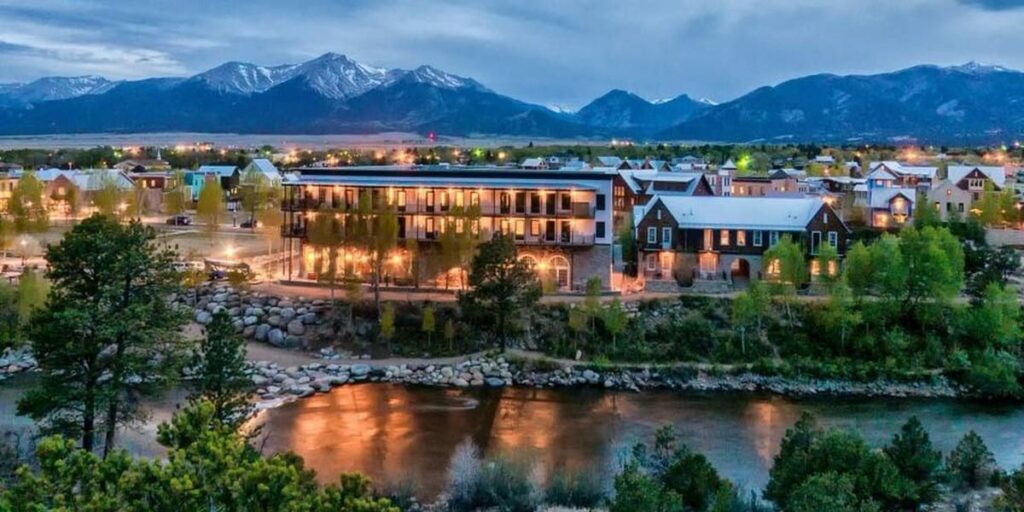 One of the nicest mountain communities in Colorado, in my view, is Buena Vista. This village is a personal favorite due to its genuine atmosphere, dramatic environment, and neighboring hot springs.
The Arkansas River flows through Browns Canyon National Monument, and this draws lots of tourists. Many of the state's 14,000-foot mountains, or 14ers, can be found in the Collegiate Peaks, which attracts visitors who want to climb them.
A dip at Mount Princeton Hot Springs or Cottonwood Hot Springs is always the ideal way to cap off an exciting day.
9. Keystone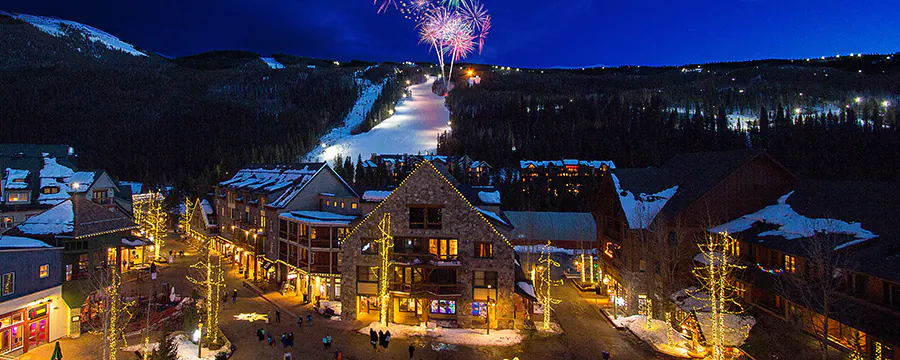 Keystone, a small resort town, is a popular vacation spot for residents of Colorado. Families may enjoy skiing at Keystone Resort in the winter. Arapahoe Basin, however, is a favorite among those who like challenging black diamond runs. Other well-liked activities in Keystone include ice skating on Keystone Lake, cross-country skiing, and snow tubing.
Visitors can paddleboard and canoe the beautiful waters after the lake melts and the weather warms. Summer hiking and mountain biking are two more well-liked activities at the Keystone Bike Park. Moose are plentiful in this area, so keep an eye out for them while exploring the backcountry!
10. Ouray
One of the most amazing mountain villages in the state is Ouray, also referred to as the Switzerland of America. It is surrounded by stunning natural scenery all year round and is located in the San Juan Mountains along the Million Dollar Highway.
Main Street in the city is lined with restored Victorian-era structures that have been turned into stores and eateries. Relaxing getaways include the unusual Wiesbaden vapor cave and Orvis Hot Springs.
Ouray's ice climbing scene is actually its main source of fame. The Ouray Ice Park hosts the Ouray Ice Festival and Competition in January. The event, which is unique to this high mountain hamlet, draws professional athletes and spectators from all over the world.
11. Steamboat Springs
Experience the champagne powder at Steamboat Ski Resort, one of the many entertaining things to do in Colorado. But Steamboat Springs isn't only one of Colorado's top mountain communities because of its world-class skiing.
The resort's ski hills are converted to bicycle trails in the summer. Fly anglers toss their hooks into the Yampa River, which flows directly through downtown, as hikers make their way to Fish Creek Falls.
Indulgent days spent exploring the other items on my list of the best things to do in Steamboat Springs are perfectly complemented by a bath at Strawberry Park Hot Springs and a few samples at neighborhood breweries.
The picturesque town is renowned for its cultural landmarks, such as the Tread of Pioneers Museum and the Steamboat Art Museum. You won't want to miss a performance, so check the Steamboat Symphony Orchestra's schedule of events before coming.
12. Georgetown
One of Colorado's most quaint mountain communities is Georgetown. The village is situated at the foot of the renowned picturesque highway known as Guanella Pass. It's a well-liked entryway for those who want to view the yellow aspens in Colorado's fall foliage.
Another well-liked destination that attracts tourists year-round is Georgetown Lake. In the summer, kayakers and anglers enjoy the reservoir, while in the winter, ice fishermen's tents dot the ice.
The Georgetown Loop Railroad is the small town's most prominent claim to fame, though. The old steam engine, constructed in 1884, goes across a small canyon to the nearby village of Silver Plume. It's a fantastic event that the whole family will enjoy all year long!
13. Creede
Despite being one of the nicest mountain communities in Colorado, Creede is not well-known and receives few visitors. The ancient mining community is tucked away on Colorado 149, the road that runs between Gunnison and South Fork.
For history and outdoor buffs, it's worth the trip even though it's more difficult to get to. Popular tourist destination, the Underground Mining Museum offers informative tours given by former miners.
Looking for excitement in this isolated town? In the close-by Wheeler Geological Area and Rio Grande National Forest, you can find hiking routes and backcountry roads.
14. Nederland
Nederland, one of Colorado's quirkiest mountain communities, is situated west of Boulder. It is well-known for the winter celebration Frozen Dead Guy Days, which honors a local decedent who has been frozen in time. The weird story inspires odd events like coffin racing and the Blue Ball.
However, the mountains that surround Nederland are also recognized for outdoor activity outside of this festival. One of the top ski resorts close to Denver is Eldora Mountain Resort, which is a favorite among residents.
In Nederland, hiking is a well-liked summer activity, and the Hessie Trailhead is one of the busiest. It offers access to the stunning Indian Peaks Wilderness's Lost Lake and other amazing trails.
15. Breckenridge
Breckenridge, sometimes known as Breck by locals, is known for its winter skiing and is the location of one of the state's most well-known resorts. Here, the Winter Dew Tour is held and is enjoyed by both competitors and fans.
Breckenridge contains the state's largest historic district outside of winter sports. Visitors can tour a closed gold mine tunnel and look around the historical structures on Main Street in this formerly mining community. Many of them have been transformed into some of the best lodging options in Breckenridge, including outfitters, artisan stores, restaurants, and hotels.
While winter is Breckenridge's busiest season, summer offers possibilities for hiking, horseback riding, and other outdoor activities. When the aspens turn golden in the autumn, the adjacent mountain range around Breck is exceptionally stunning.
16. Durango
The largest town in Colorado's Southwest is Durango. Numerous hotels, stores, and restaurants, including a number of craft brewers, can be found in the city's lively center. Many people flock to the well-known Durango-Silverton Narrow Gauge Railroad, which offers picturesque and educational experiences.
Others go to surrounding sights like Mesa Verde National Park and the Four Corners Monument. Other enjoyable things to do in Durango include rafting the Upper Animas River, skiing at Purgatory Resort, and relaxing at Trimble Hot Springs.
17. Idaho Springs
It was once a mining community and is now famed for its historical tours, many of which take you into extensive mountainside tunnels. Another well-liked sight is the Argo Mill, as well as exploring the downtown's vibrant Victorian structures. Today, many of them are quaint gift stores and Colorado breweries.
Visitors to Idaho Springs are also attracted by nearby hikes like the Herman Gulch Trail and the Chicago Lakes. Want to see the magnificent 14ers without making a big effort? The Mount Evans Scenic Byway will take you there just outside of town. The highest paved road in North America, fun fact!
18. Vail
Vail is frequently viewed as a traditional winter skiing destination, much like Aspen. All skill levels are drawn to the variety of ski slopes, and the village's Bavarian aesthetic provides the ideal ambiance for après-ski enjoyment.
However, attractions and events may be found all year long in Colorado cities. Take a hot air balloon trip above the White River National Forest, go rafting on the Blue River, or go hiking on the Booth Falls Trail.
Many people travel there for Taste of Vail in April and other fantastic music festivals that take place all summer long. Top 20 Colorado Mountain Towns to Visit.
19. Granby
Monarch Lake Trailhead can be found far east of Lake Granby. Hiking, another well-liked summer pastime, is made possible by the access it provides to the Indian Peaks Wilderness. Visitors can also take advantage of the adjacent Winter Park Resort's family-friendly skiing in the winter.
20. Gunnison
Gunnison is a less well-known town that is tucked away in the heart of Colorado's Rocky Mountains. But it's a great place to go if you're looking for secluded outdoor adventures.
The entrance to Black Canyon of the Gunnison National Park lies at Gunnison. It is notable for its craggy Gunnison River portion and sheer cliffs, which are best viewed in the summer. Extreme kayakers, rock climbers, and other outdoor enthusiasts all praise the area for its beauty.
An additional well-liked location is Curecanti National Recreation Area. The second-largest body of water in Colorado, Blue Mesa Reservoir, is located there. It offers some of the best hiking and camping in Colorado, as well as excellent boating and water sports opportunities. A true escape into nature is possible even during the busiest season due to the sparse visitors.
Top 20 Colorado Mountain Towns to Visit 2023 :Newshub360.net
Related Post
Credit :www.Newshub360.net