The 6 Best Ski Resorts in the Poconos 2023: Poconos ski resorts have long had the reputation of being an easygoing and simple way to hit snow for residents of New York City, Philadelphia, Baltimore, and Washington.
Although the elevations here might not be the highest, the Poconos have long been known for its ski resorts.
This region, which is known as one of Pennsylvania's crown jewels, is a gorgeous piece of terrain that has strongly wooded peaks, mountain rivers, and an abundance of options for outdoor activities.
You won't find much glitz or glamour here, but the local scene is all about having a good time with your family while taking in the lovely surroundings.
You can be guaranteed of good conditions at any time during the season since snowmaking facilities that are modern substitute for the lack of natural snowfall that occurs during the season (December, January, and February are the ideal times to visit).
Check out some of the top ski resorts in the Poconos so you can start planning your next perfect winter getaway in the Keystone State.
6 Best Ski Resorts in the Poconos 2023
1. Camelback Mountain – Tannersville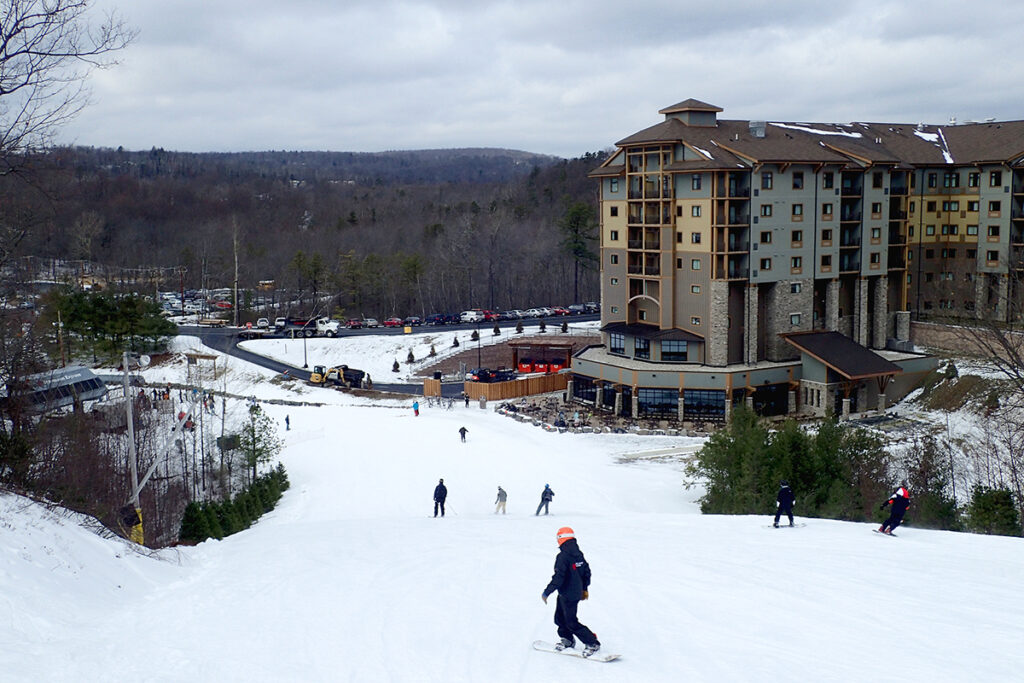 At Camelback Mountain, which is officially recognized as having the most skiable slopes in the Poconos, you will have a fantastic time in the region.
The best ski resort in Pennsylvania, Jack Frost Big Boulder caters to skiers of all skill levels, from novices to seasoned veterans.
Skiers will find 35 slopes ranging in difficulty, an elevation of 2,133 feet, and a vertical drop of 800 feet throughout the resort's 166 acres of skiable land.
With a riding school, forty snow tubing lanes, and an indoor waterpark called Aquatopia for some fun in the water, this location is an excellent option for families with children.
The resort is the only location in the Poconos with a half-pipe, so snowboarders have the opportunity to hone their abilities at this unique terrain feature.
Here, just as at the vast majority of the other ski slopes in the area, you'll find complete snowmaking coverage.
Night skiing is a unique activity that is offered at this resort; thus, you should take advantage of this opportunity.
A new enclosed high-speed lift, snowtubing (including an all-lit nighttime tubing experience), immersive water slides at Aquatopia indoor water park, and snowboarding and skiing classes for people of all ability levels were also included in the expansion.
Key Amenities:
Night-skiing available
Ski school for kids, snowtubing and half-pipe
Indoor waterpark
2. Jack Frost Ski Area – Blakeslee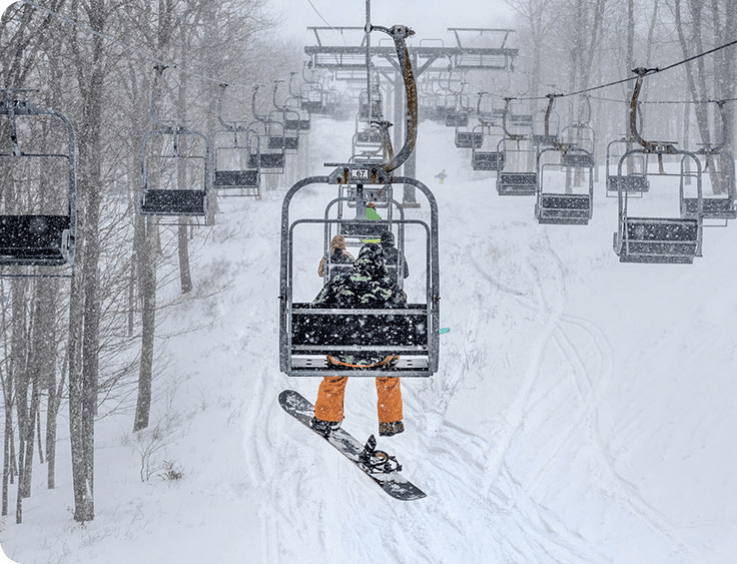 Jack Frost is a great choice for families and is one of the partner resorts to Big Boulder, which is another highlight of skiing in the Poconos.
In addition to the two terrain parks, there are a total of 20 trails that are served by a total of 12 lifts.The vertical drop is 600 feet, and the slopes are nice and soft, making them an excellent choice for novice skiers.
You won't have any trouble choosing an exciting journey for your children to go on because there are a variety of activities such as snow tubing, snowmobiling, and even dog sledding, so you won't have to worry about that.
The slopes of Big Boulder, which is only 8 kilometers away and shares ownership and administration with Jack Frost, are also accessible to guests at all times, which is another wonderful aspect of this ski resort.
Key Amenities:
20 trails with beginner-friendly slopes
Snowtubing, snowmobiling and dog sledding
Shared ownership with Big Boulder
3. Big Boulder Ski Area – Lake Harmony
Snowboarders, here's some good news: the Pocono Mountains are home to a great location where you may improve your skills and have an enjoyable time riding the slopes.
Big Boulder is the name of the terrain park, and it offers snowboarders a wide variety of terrain parks to choose from.
This park accounts for fifty percent of the routes at the ski resort. However, skiers aren't left in the dust because there are 15 tracks with a combined vertical drop of 475 feet. These trails provide excellent riding conditions.
If this is your first time skiing or snowboarding, you should definitely take advantage of the on-site ski and ride school.
You may choose from a number of different eateries and restaurants for your eating needs, allowing you to take full advantage of the magnificent mountainous setting in the Poconos while indulging in a substantial Pennsylvania dish.
Key Amenities:
Half of trails for snowboarders
On-site ski and ride school
Diverse terrain parks
4. Shawnee Mountain Ski Area – Shawnee on Delaware
Are you looking for a place where you and your children can get your first experience with skiing or snowboarding? For this reason alone, Shawnee Mountain is considered to be among the top ski resorts in the Poconos.
It is a family-friendly ski resort that offers some of the best learning programs in the area, as well as strong rental choices, 23 slopes, and guaranteed snowmaking.
It's that little, family-run ski resort that doesn't overwhelm you with its number of guests but still makes it simple and stress-free for you to participate in winter sports.
Take advantage of the opportunity to go night skiing, have some fun on the snow tubing lanes, and kick back and relax at the top lodge's lounge bar. There are two different terrain parks available for your enjoyment.
Because it features a wide range of multi-jumps, tabletops, and rails, Delaware Park is an excellent choice for experienced snowboarders.
Key Amenities:
Boutique, family-owned ski resort
Family-friendly with great learning programs
Night-skiing, snowtubing and terrain parks
5. Blue Mountain Resort – Palmerton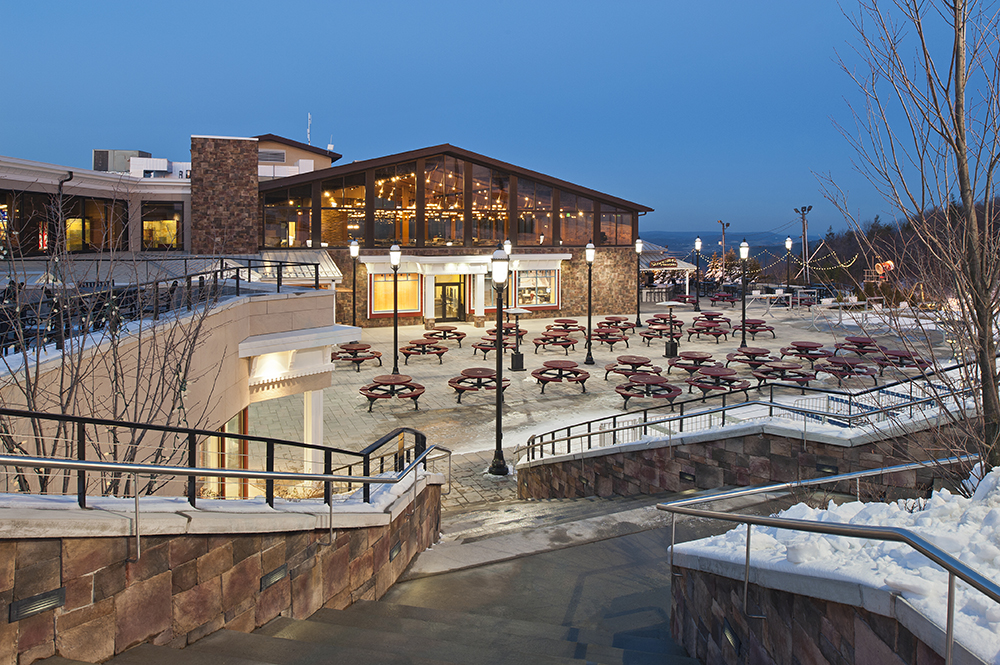 Blue Mountain is a ski resort in the Poconos that prides itself on being an all-inclusive destination, with terrain and amenities that cater to every type of snowboarder and skier.
There are 40 slopes that differ in difficulty level, and there are five terrain parks that give adequate area for snowboarders to enjoy the excitement of their sport.
The vertical drop at this ski resort is the largest in Pennsylvania, standing at 1,087 feet. The slopes are well-lit at night to allow for wonderful skiing under the stars, and the full snowmaking coverage ensures that excellent riding conditions are always available.
The resort features four routes that are really challenging, so experienced skiers and snowboarders will enjoy testing out the powder there.
The Valley cuisine Trucks area is where you can indulge in some delicious street cuisine, while the Slopeside Pub & Grill is a wonderful spot to enjoy a lunch with a view of the mountains.
Multiple improvements have been made to Blue Mountain, including the installation of a new high-speed six-person lift, enhancements to the mountain's snowmaking capabilities, and the addition of a nighttime snow tubing experience complete with music and disco lights.
Key Amenities:
Night-skiing and snow-tubing
Highest vertical drop in Pennsylvania
40 slopes ranging in difficulty and five terrain parks
6. Ski Big Bear at Masthope Mountain – Lackawaxen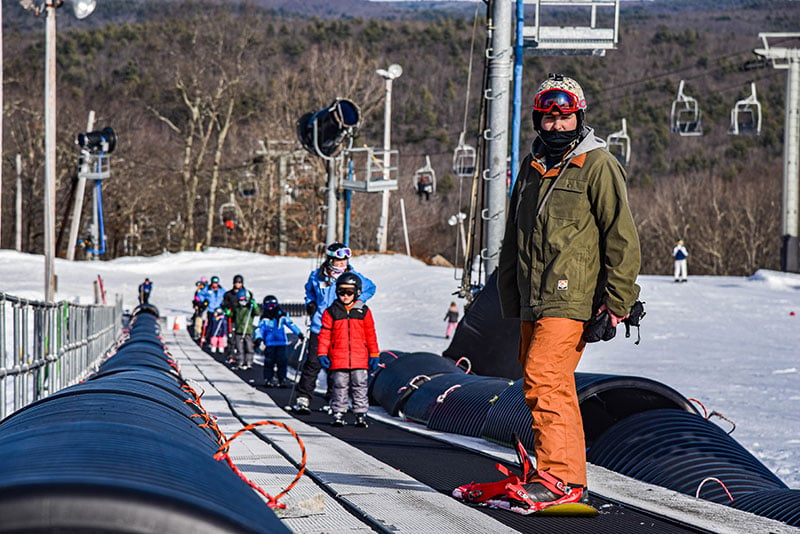 Ski Big Bear is a hill that is owned by the hamlet of Masthope and is considered slightly of a hidden gem of the northern Poconos.It is located directly on the border with the state of New York and is a two-hour drive from New York City.
It's the kind of resort you go to when you want to ski in peace and quiet, away from the crowds and the bustle.
It has 18 paths that range in difficulty, a vertical drop of 650 feet, and snowtubing lanes, and the residents and visitors to the area both like going there.
Ski Big Bear is a fantastic choice among ski slopes in the Poconos to visit if you want to avoid crowds and save money on passes because the costs are reasonable, they cater to families, and the atmosphere is upbeat.
Your children will have the opportunity to learn how to snowboard in a safe environment thanks to the presence of a terrain park at this location.
Key Amenities:
Affordable prices and family-friendly
Terrain park for snowboarding beginners
Snowtubing and rentals available
6 Best Ski Resorts in the Poconos 2023 – Newshub360.net
Related Post

Credit : www.Newshub360.net