The Best Ski Resorts Near Washington D.C. 2023: It is not necessary to make the trip out west to the Rockies or over the Atlantic Ocean to ski in the Swiss Alps if you reside in the Washington, D.C. metropolitan area.
It is simple to take advantage of the fresh snow on a day trip or weekend getaway thanks to the proximity of some fantastic ski slopes to the nation's capital, which are within a fair distance of one another.
These choices can all be reached from the city in little more than four hours, with the majority being closer to three hours and some being reachable in as little as 90 minutes.
Best Ski Resorts Near Washington D.C.
1.Whitetail Resort – Mercersburg, Pennsylvania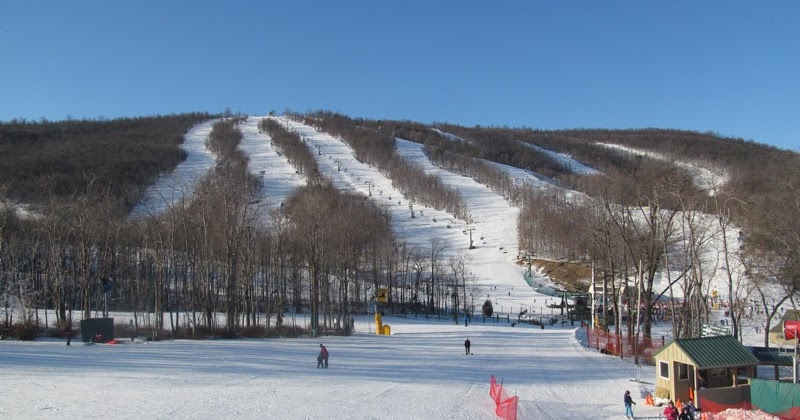 The Whitetail Resort, which is located in southern Pennsylvania on Two Top Mountain, can be reached in just over an hour from Washington, DC.
It has a nearly equal amount of blue, green, black, and double-black diamond routes, thus it is popular with skiers and snowboarders of all skill levels, from beginners to experts.
The trails are all wide open, making it simple for skiers and snowboarders who appreciate carving turns but aren't searching for terrain that is excessively steep or spectacularly steep to find their way around.
Rental equipment, ski lessons, and on-mountain restaurants are some of the other amenities that are offered at this ski resort in addition to the high-speed, four-person lift.
Go to the snow tubing park if you're in the mood for something new or if you have someone in your party who doesn't ski.
Key Amenities:
Variety of runs for all experience levels
High-speed, four-person lift to keep lines down
Snow tubing park for non-skier
2.Wintergreen Resort – Wintergreen, Virginia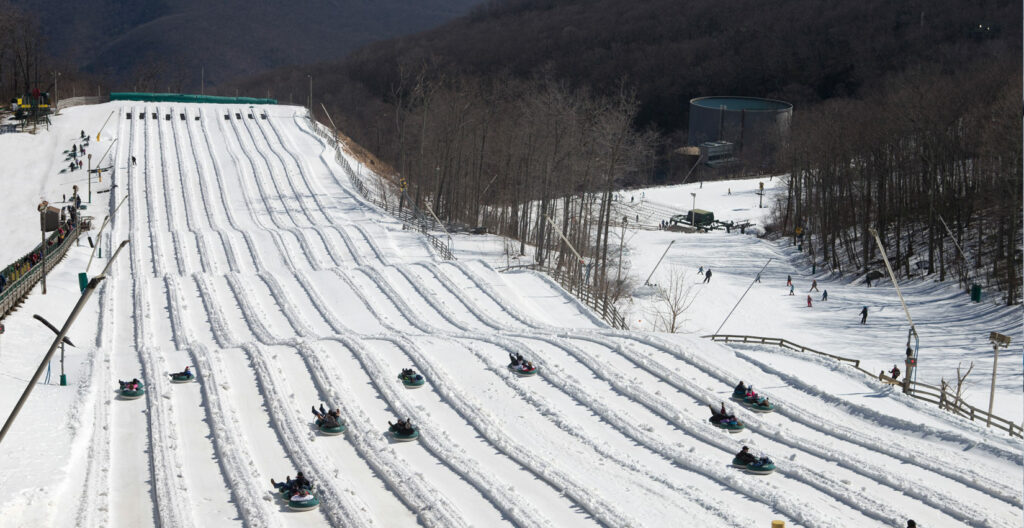 Wintergreen Resort has 24 courses with a vertical drop of more than 1,000 feet, making it a perfect destination for experienced skiers and snowboarders searching for a resort that will give them a challenge.
It is around a three-hour drive from Washington, DC, and it provides a great deal with full-day midweek courses priced at just $79 for adults.
Not to add, the entire experience is accompanied by breathtaking panoramas of the Blue Ridge Mountains.
From four in the afternoon until the lifts close, you may ski the night for a reasonable price. You'll discover a spa, one of the top hotel spas in Virginia, for relaxing weary muscles after a day on the slopes, as well as venues selling tasty foods and cool beers, which make for the ultimate apres-ski experience.
Key Amenities:
24 trails for experienced skiers and snowboarders
Cheaper mid-week lift tickets and night skiing
One of the best hotel spas in Virginia located on-site
3.Liberty Mountain Resort – Fairfield, Pennsylvania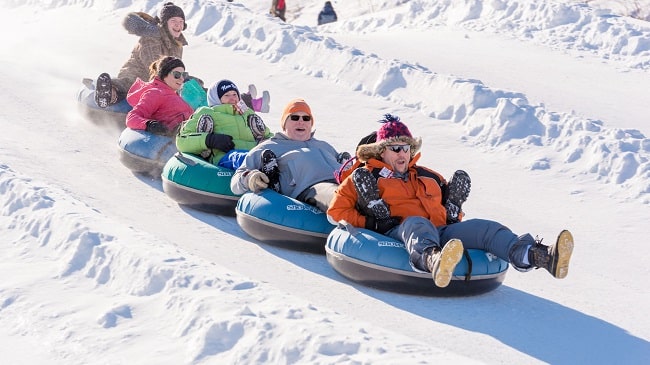 The Liberty Mountain Resort is one of the possibilities that is located the closest to the nation's capital.
It is only 90 minutes away from the city of Washington, DC. It is a wonderful location for beginners to get their feet wet in the sport of skiing, and it is convenient enough to visit for the day, for a weekend, or even for a longer period of time
. This way, you can also take advantage of night skiing, which is possible because the slopes are open until later in the evening.
There are a total of 16 routes, with around a third of them being suitable for beginners, forty percent being suitable for intermediate riders, and the remaining courses providing difficulties for more experienced riders.
Beginners may take use of three surface lifts, and children aged four to 12 can participate in either solo or group training.
There is also a snow tubing hill on the premises for added excitement. You will have access to both Whitetail and Liberty if you purchase a season pass; this is because Whitetail is administered by the same firm that also operates Liberty.
Key Amenities:
16 trails for varying experience levels
Access both Liberty and Whitetail resorts with a season pass
Snow tubing hill on-site
Best Ski Resorts Near Washington D.C
4.Bryce Resort – Basye, Virginia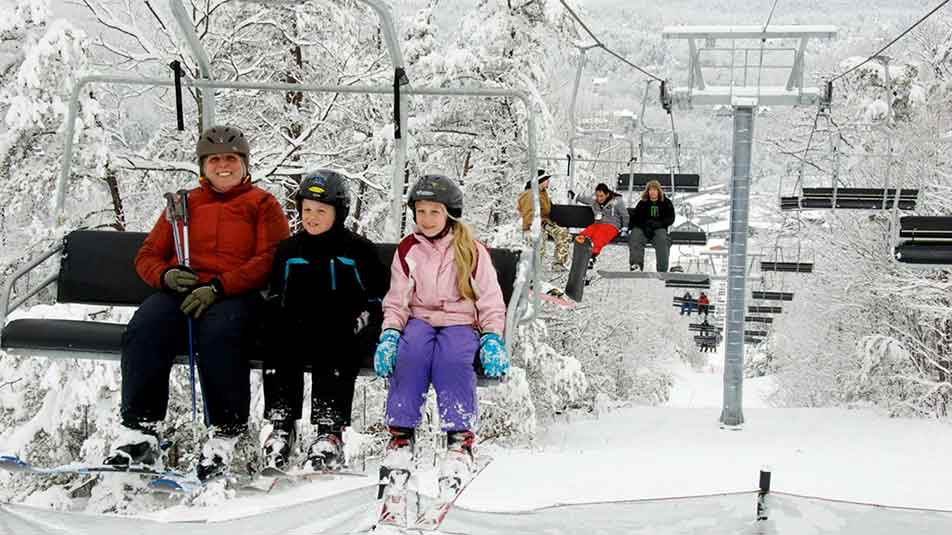 Bryce Resort, which is located 116 miles or a two-hour drive away, is a ski resort that is great for families because it is one of the most economical you can find in the United States.
The well-known mountain in the area features a "bunny slope" equipped with a magic carpet lift specifically for novices, as well as other smaller slopes that are suitable for children and other skiers who are ready to progress.
Free skiing privileges are extended to children aged five and younger. The Kinder Ski School Program also offers lessons for anyone interested in taking them.
In all, there are six kilometers of slopes that may be accessed by two different types of lifts. Additionally, ice skating and snow tubing are accessible for those who would want to participate in other types of sports.
If you need a snack or a drink during your break, there is a restaurant and bar right here on the premises.
Key Amenities:
Kids under 5 ski free
Ski school lessons for kids and bunny slope with magic carpet lift for beginners
Ice skating and snow tubing available
5.Massanutten Resort – Massanutten, Virginia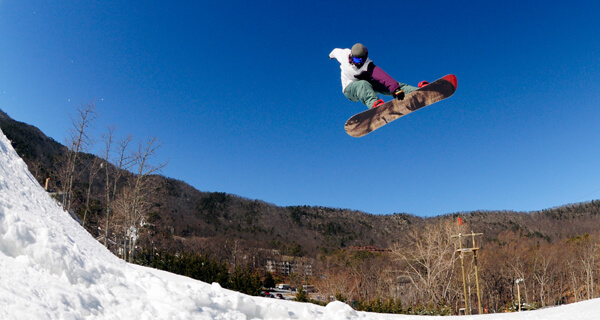 Massanutten Resort is a fantastic family-friendly resort that is located 120 miles away from Washington, D.C., approximately a 2.5-hour trip away.
The resort features 70 skiable acres and 14 routes, offering something for everyone from novices to expert skiers.
It is great for individuals who are still learning how to handle the slopes since it features a big section dedicated to novices, complete with a dedicated chairlift as well as a terrain-based learning program taught by experienced instructors.
At the family adventure park, you'll also find a snow tubing hill and an outdoor rink where you can go ice skating.
Following all of the excitement that you had outside in the snow, you can head inside to a wonderful indoor water park that features water slides, lazy rivers, and a water fortress.
Key Amenities:
14 trails for varying experience levels and a large beginner area
Outdoor ice skating rink and snow tubing
Indoor water park with water slides and lazy rivers
6.Seven Springs Mountain Resort – Seven Springs, Pennsylvania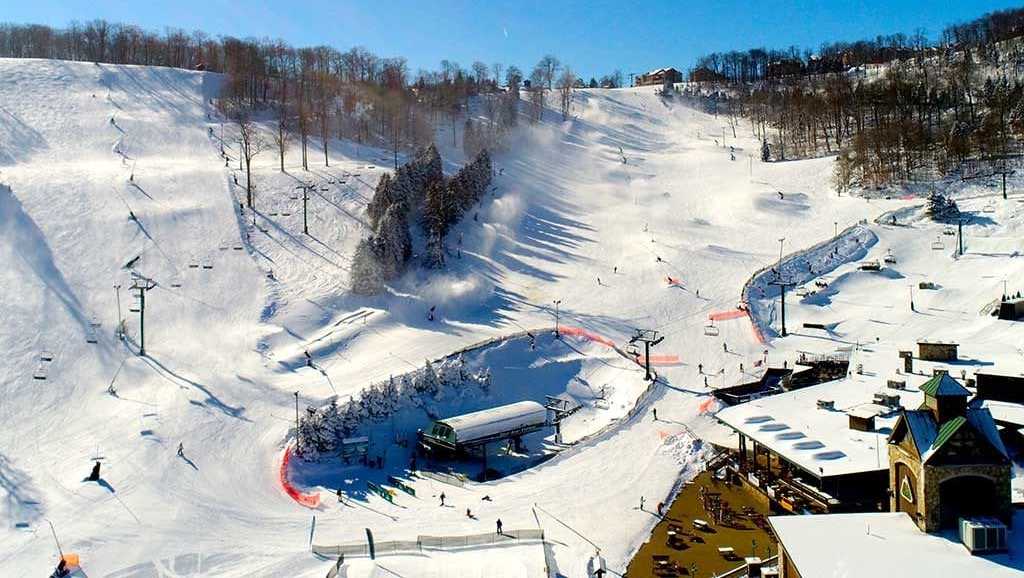 Although getting to Seven Springs from Washington, DC takes a bit longer (just over three hours), there is more than enough to do here to keep you occupied for a weekend or longer.
There are 33 slopes and trails, seven terrain parks, and ten lifts that make it simple to get on the mountain.
There are also private and semi-private classes for people of all skills and ages, possibilities for freestyle winter sports with the region's biggest half-pipe at 440 feet long, snow tubing, and a lot of other things.
In addition to being one of the most romantic resorts in Pennsylvania, this location also has a variety of amenities, including shopping, eating, events, and entertainment options.
Key Amenities:
33 slopes and trails and ten lifts for varying
Six terrain parks with the region's longest half-pipe
Romantic resort feel with hot tubs and slope-side accommodations
Best Ski Resorts Near Washington D.C
7.Wisp Resort – McHenry, Maryland
Wisp Resort is one of the region's major ski resorts. It is located in the mountains of western Maryland, which is about a three-hour drive from the District of Columbia.
The resort features 132 acres of skiable terrain and 32 routes, many of which are longer and more difficult than the courses at resorts that are located closer to the capital.
There are also a lot of people who are just starting out, and those who want to learn how to ski or snowboard or just want to improve their abilities may take advantage of the learning center.
There are five conveyor-belt elevators, in addition to a special area designated just for children. It is a mountain that caters to skiers and snowboarders of all levels, as well as presenting the stunning splendor of Deep Creek Lake and its abundance of comfortable cottages that can be rented out.
During the winter months, the lake itself is transformed into a vast snowmobile trail.
Key Amenities:
Longer and more technical runs on 32 trails, with beginner options and lessons
Snowmobiling, terrain park, indoor pool and Mountain Park
Accommodations at the lodge or nearby cabins available for rent
8.Canaan Valley Resort – Davis, West Virginia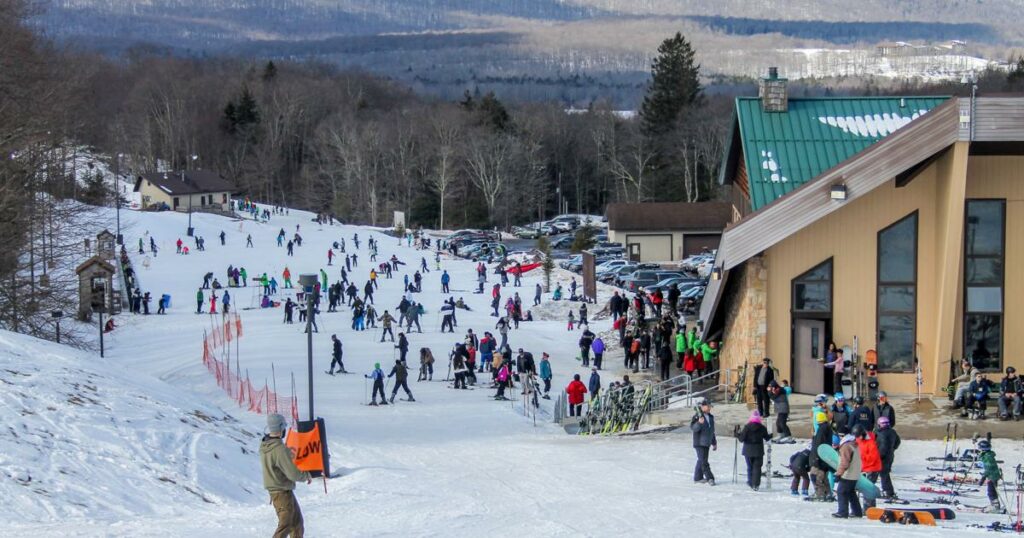 Canaan Valley Resort is located three hours west of Washington, DC, and is recognized as one of the most well-rounded winter destinations on the east coast.
The resort offers something for everyone. A vertical drop of 850 feet, ski and snowboard instruction for novices, equipment rentals, four dozen ski and snowboard paths, and a total of 850 feet of vertical drop.
The more experienced riders may get their adrenaline fix on one of the several black diamond tracks.
After everything is said and done, as a resort that is open throughout the year and is ranked among the best resorts in West Virginia, there are plenty of additional things to do, such as dining at a variety of restaurants and unwinding at the spa.
There are affordable season passes available if you plan on making this location a frequent stop on your travels.
Key Amenities:
47 trails for skiing and snowboarding cover all experience levels
Snow tubing, ice skating, cross-country skiing and snowshoeing
Resort rooms, cabins and campsites available for lodging
Best Ski Resorts Near Washington D.C
9.The Omni Homestead Resort – Hot Springs, Virginia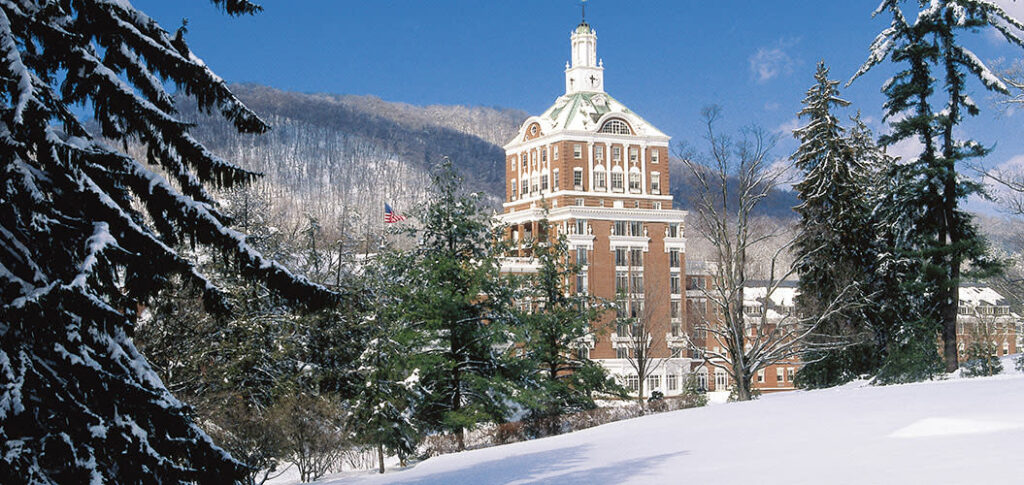 It's possible that The Omni Homestead is the best place for your skiing or boarding adventure if you're looking for a laid-back ski vacation rather than time spent engaging in intense skiing and other winter sports.
It is around three hours and 45 minutes away from the nation's capital, and it is a wonderful place to spend the weekend or longer with a majority of blue and green trails for beginners and intermediates.
It is widely considered to be among the top ski resorts in the region for both novice skiers and families looking for a fun day on the slopes.
There are other options for those with more experience, such as The Chute and Nose Dive, where they may put their talents to the test.
No matter how much or how little experience you have, you are guaranteed to have a good time thanks to the modern snowmaking and grooming equipment.
After that, you have the option of relaxing in one of the resort's pools, which are heated by the sun, or getting a spa treatment.
Key Amenities:
Gentle terrain with most trails for beginners and intermediate experience levels
Ice skating, snow tubing, and indoor activities like a movie theater, a game room and a kids club
Full luxury spa and historic Warm Springs Pools with lazy river and water slides
10.Blue Knob All Seasons Resort – Claysburg, Pennsylvania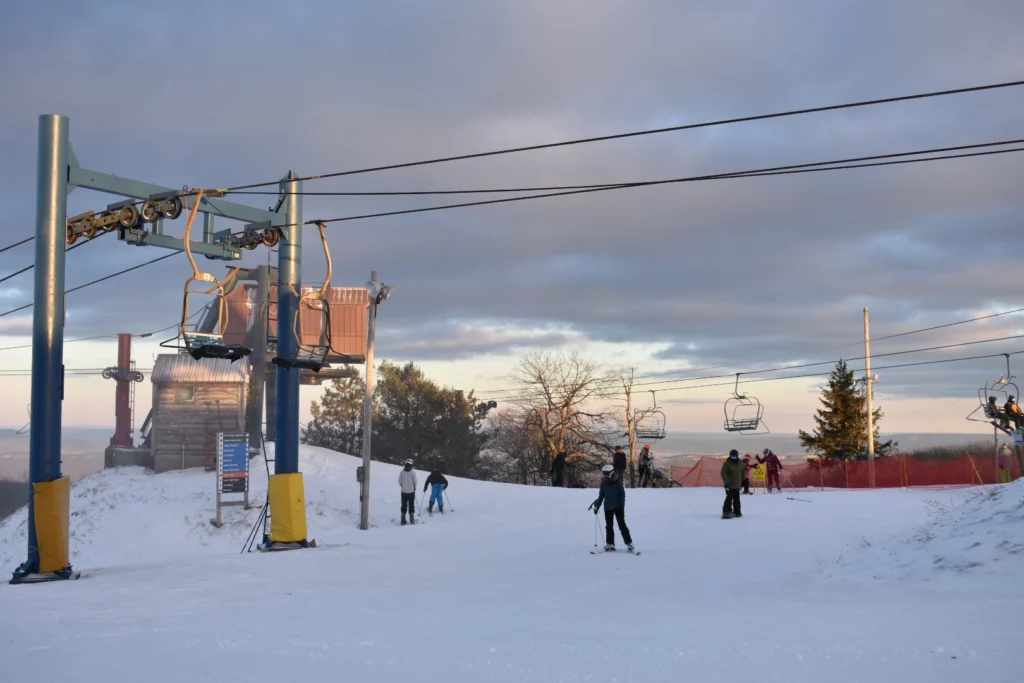 One of the top ski destinations on the East Coast, Blue Knob All Seasons Resort can be reached by car in three hours from Washington, DC. The resort is located in the Allegheny Mountains.
It is the skiable mountain in Pennsylvania with the highest elevation and is known for having some of the most difficult slopes, including a vertical drop of 1,072 feet.
Although there are also beginner and intermediate runs included in the resort's 34 trails, it is widely considered to be among the best in the region for advanced and expert terrain, including seven double black diamonds.
You'll find everything you need right here, including snowshoeing, cross-country skiing, and tubing, as well as gear rentals and equipment for sale at stores located on the premises, group and private classes, and other winter sports such as snowshoeing and skiing.
Key Amenities:
Highest skiable mountain in the state with 34 trails
Challenging slopes on seven double black diamond runs and a competitive NASTAR course
Snowshoeing, cross-country skiing and snow tubing available
Ski Resorts Near Washington D.C. 2023 – Newshub360.net
Related Post
Credit : www.Newshub360.net