The 19 Coolest Treehouse Rentals in California 2023: California is home to a wide variety of tree species, from palm trees to redwoods to pines to sycamores and beyond.
While you're out on an expedition, you can certainly get a good look at these magnificent trees from the ground.
But if you want to see them in all their splendor, you might consider staying the night in one while you're on vacation in a comfortable rental home.
If you want to have a glamping-style experience, Airbnb is a great location to browse for treehouses that you can reserve for the night or for a longer period of time.
Here are some of our top picks for treehouse accommodations currently available in the state of California.
19 Coolest Treehouse Rentals in California 2023
1. Peaceful Treehouse with Ocean View – Aptos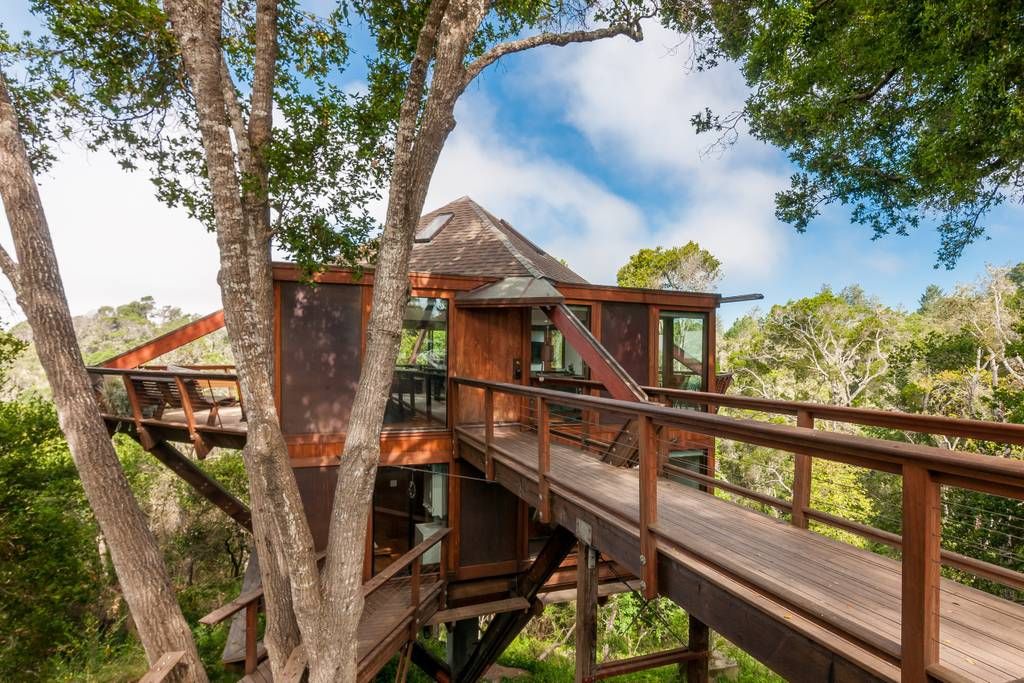 This luxury retreat has mid-century modern furnishings and an abundance of natural materials incorporated into the architectural detailing. It is a treehouse that has three bedrooms, three beds, and one bathroom, and it can accommodate a total of six people.
The treehouse features sliding doors modeled like traditional Japanese screens, a hammock that is ideal for lounging on, and an abundance of serene beauty in every direction.
In addition to heated flooring in the bedrooms, other amenities include free parking, a fully equipped kitchen, wireless Internet access, cable television, and laundry facilities.
When you reserve a stay at this Airbnb, you won't be far from the city of Santa Cruz, and you'll be right next door to the Nicene Marks Redwood Forest State Park in a peaceful area.
2. Luxury Treehouse with Views of the Sierras – Visalia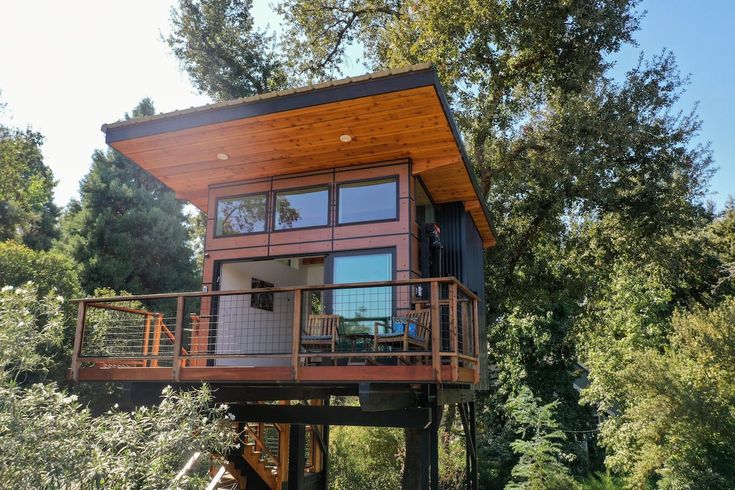 This amazing treehouse is the ideal retreat location for up to two people and is located in close proximity to a number of national parks. From this location, Kings Canyon can be reached in one hour, while Sequoia National Park can be reached in one and a half hours.
Additionally, downtown Visalia may be reached within a ten-minute car ride. Because of safety concerns, children are not permitted in this treehouse; nevertheless, adults will feel perfectly at home thanks to the full bathroom with plumbing, heating, and cooling, as well as views of the Sierra Nevada Mountains.
On the property, which is spread out over 2.5 acres, there is a primary residence that also contains a kitchenette, and the host resides there.
The pool is accessible from May to September, and guests have use to the barbecue, gazebo, and fire pit during their stay. The Wi-Fi connection is generally reliable but can be unreliable at times.
3. Starlight Grove, A Redwood Retreat – Healdsburg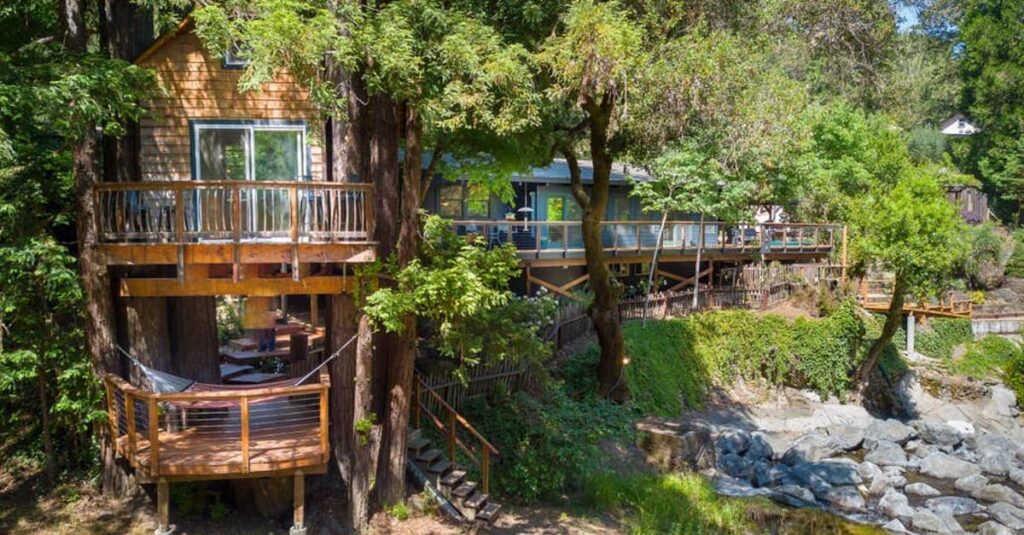 The Starlight Grove is a great option for accommodating larger parties (up to eight people) that have a passion for treehouses. It features four bedrooms and three bathrooms. A treehouse, in addition to the main home and a guest cottage, is one of the many lodging options here.
The treehouse is a quaint accommodation that features separate terraces as well as a loft for sleeping. It is completely furnished and equipped with heating, and it comes with sleeping mats.
The main home features a chef's kitchen in addition to two spacious bedrooms, one of which is located downstairs and offers a view of the creek.
The quaint and small guest cabin, on the other hand, has its own bathroom, a queen-size bed, and a private porch that views out over the treehouse.
Coolest Treehouse Rentals in California
4. Treehouse in Vineyard Overlooking Monterey Bay – Los Gatos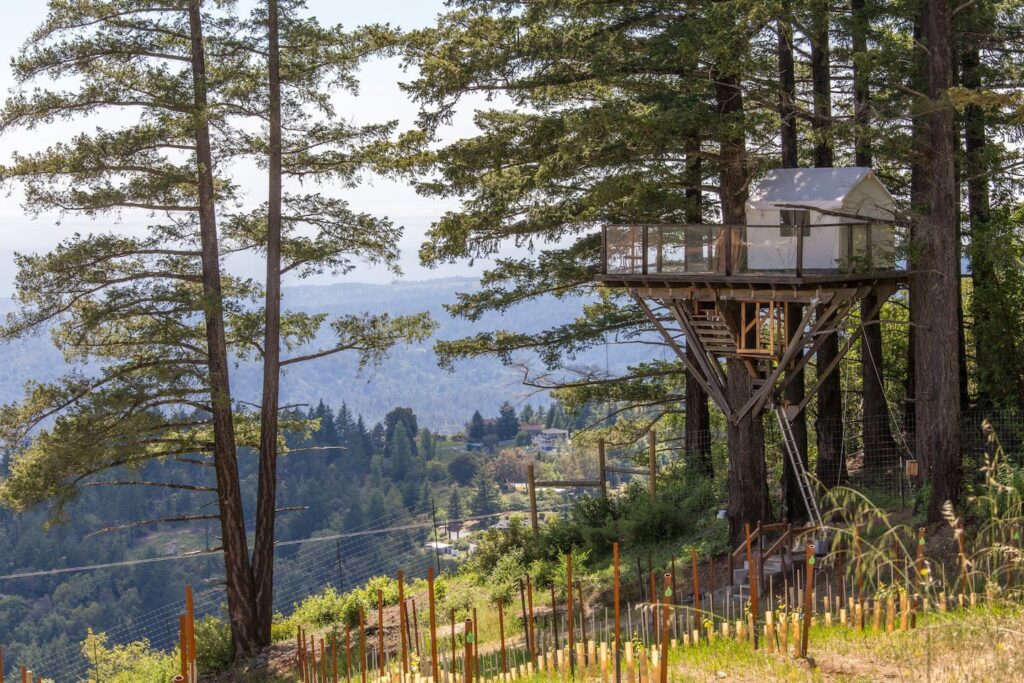 Guests enjoye a great time staying in this Los Gatos treehouse, which is situated on Lago Lomita Vineyards and has stunning vistas of Monterey Bay. It is considered to be one of the most unique treehouse rentals in the United States.
It is constructed on Douglas Fir trees and may comfortably accommodate two people. The treehouse is equipped with power, a wireless internet connection, and a queen-sized bed. The primary residence has a fully functional lavatory on the ground level of the main building.
From here, Capitola Beach is only a 20-minute drive away, and both SFO and Monterey can be reached in one hour. On this breathtaking 44-acre property in the Santa Cruz Mountains, this Airbnb host also provides yurts for guests interested in various types of glamping experiences.
Access to free parking, laundry machines, and a kitchen are included among the amenities that are given.
5. MagickaL Art Cabin with Spa and Sauna – Idyllwild-Pine Cove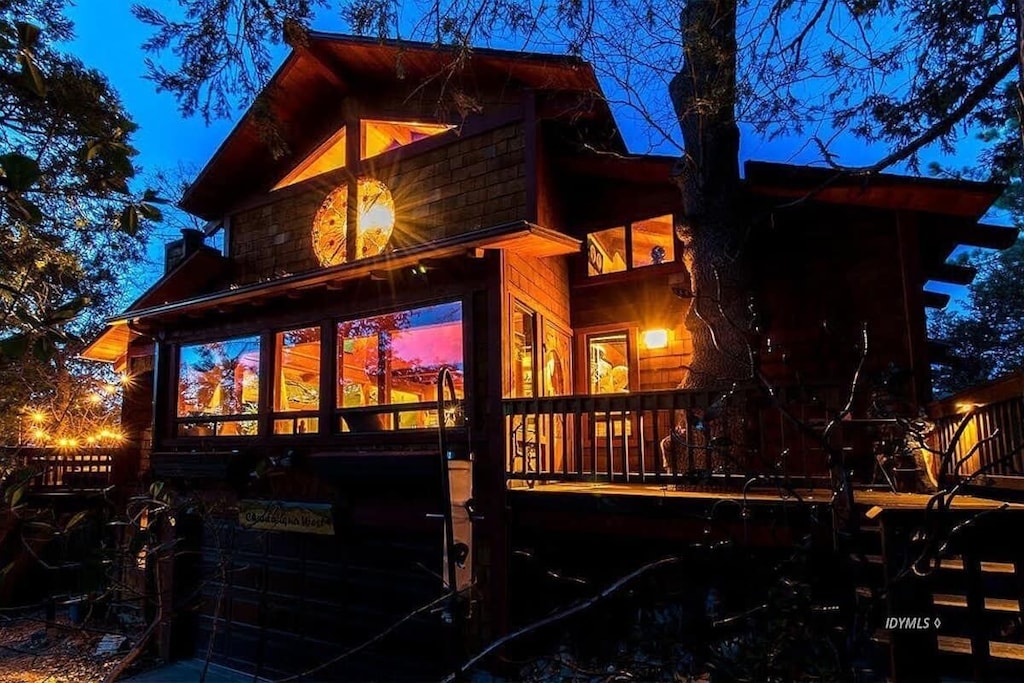 This Airbnb apartment is ideal for large groups searching for a unique experience in the form of a treehouse and features an artistic vibe that is great for hosting parties.
The rental property features five bedrooms, four bathrooms, a chef's kitchen, a movie room with a projector, an indoor/outdoor sound system, two fireplaces, and three outdoor fire pits. In addition, there is a chef's kitchen.
In addition, there is a spa with a hot tub, a sauna, a yoga class, and a balcony with many levels and twinkling lights. It is possible to sleep up to 17 people between the bedrooms and the common space of the house.
The Airbnb host will allow most pets as long as they are given sufficient notice and pay a daily cost of $45.
6. Treehouse – San Jose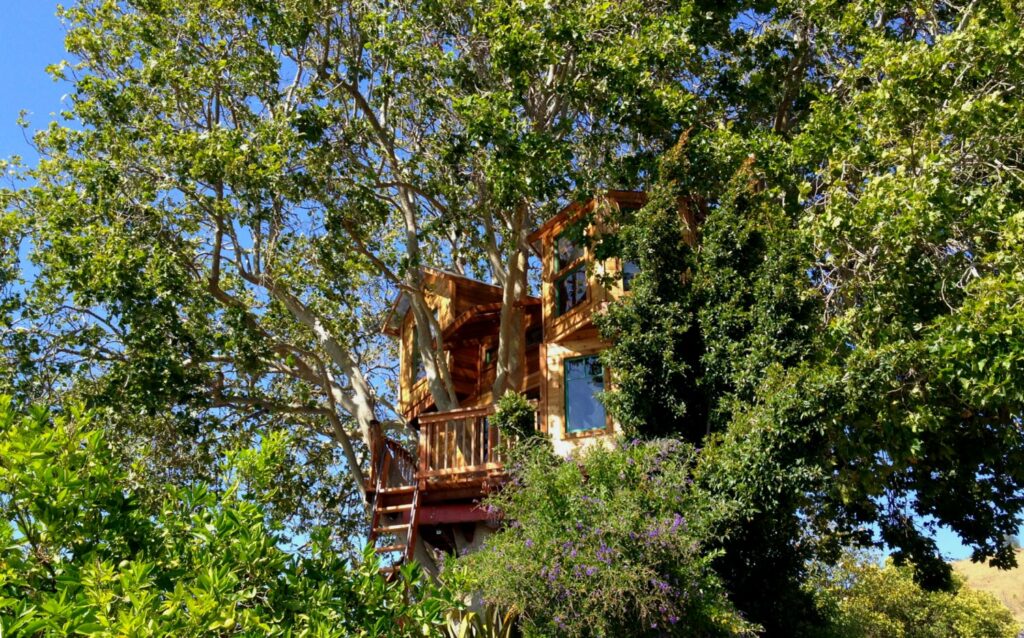 This vacation rental treehouse is located in San Jose, California, and can accommodate a maximum of four guests. It's a treehouse that's 250 square feet in size and has steps that go up to two lofts.
A deck that is 14 feet in size and is located smack in the middle of the sycamore trees here will provide you with spectacular views of Silicon Valley.
In addition, there is a kitchenette, a complete bathroom, two queen-size mattresses, and parking is accessible in the driveway at this property.
Coolest Treehouse Rentals in California
7. Amazing Stump House with Private Outdoor Living – Trinidad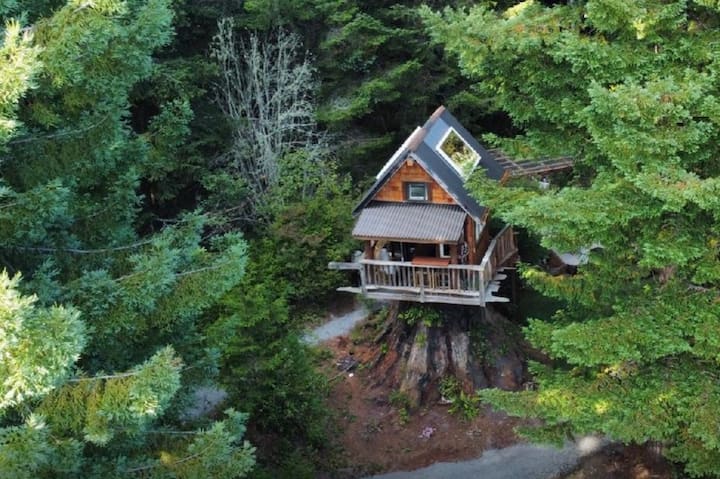 This is a treehouse for adults only, and it works really well for couples. In addition to a queen-size bed and an outdoor living space, this accommodation features a glass ceiling and a bathtub made out of a tree stump.
You will be able to get back in touch with nature at this treehouse since it is located on three acres of private land in the middle of a forest that is either full with huckleberries, thimbleberries, or salmon berries, depending on the time of year.
This Airbnb host also has access to an extra guest home on the property, which is far larger than this treehouse and is also available for rent.
8. The Pinecone Treehouse – Bonny Doon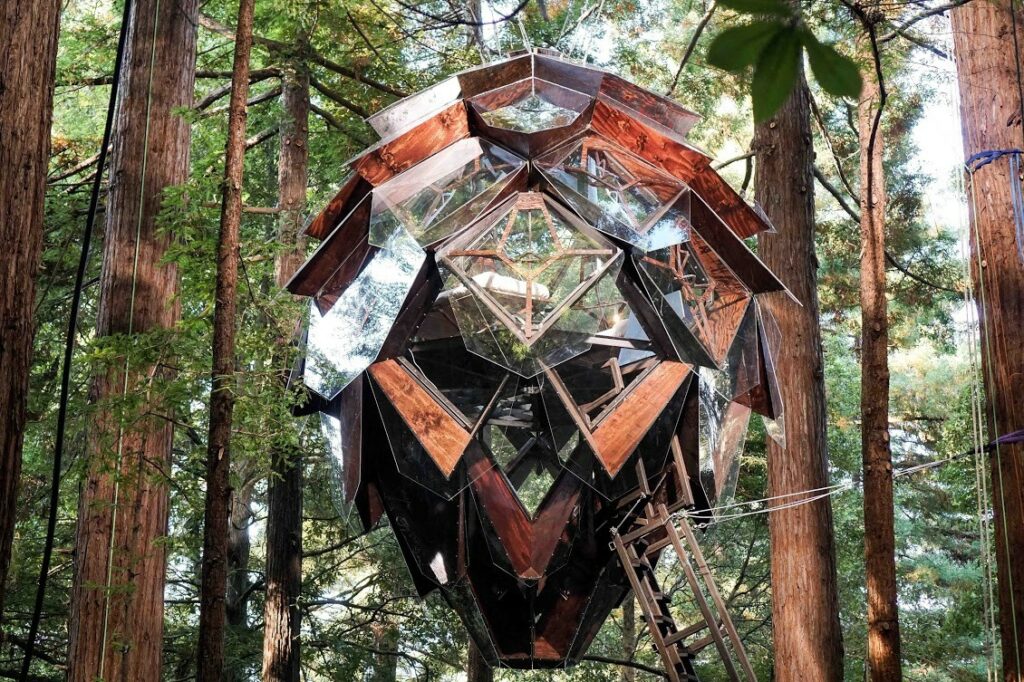 Consider staying in the Pinecone Treehouse, which is suspended high up amid the branches of the redwood trees in California for an experience that is really one of a kind. This treehouse can accommodate two people and provides a sweeping view of the canopy above the forest floor from all directions.
It features a queen-size bed in addition to a rustic bathroom with a composting toilet and hot and running water. On the side of the hill that slopes upward, the treehouse is elevated 35 feet above the ground, while on the side that slopes downward, it is around 60 feet from the ground.
In order to reach the bathroom from the sleeping area, you will need to descend a ladder and cross a suspension bridge. The bathroom is located on the ground level of a little treehouse building.
Coolest Treehouse Rentals in California
9. Big Bear Treehouse, Forest Backyard, Mid-Century – Big Bear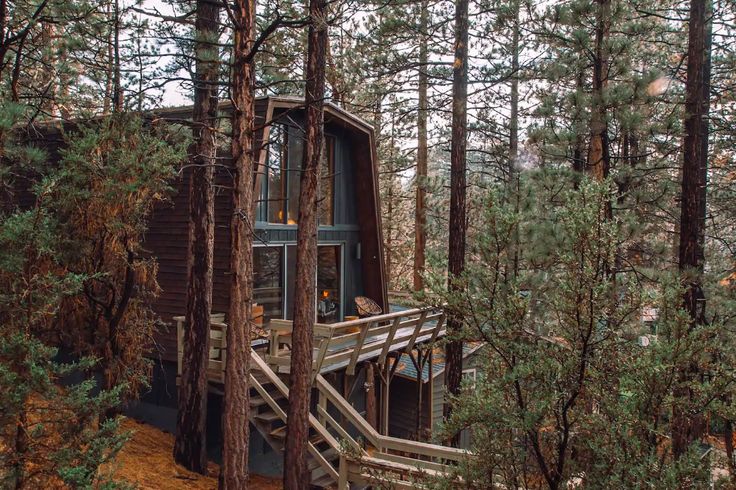 A cabin rental known as the Big Bear Treehouse gives guests the impression that they are sleeping in a treehouse. It is positioned directly next to miles of national forest paths and has sleeping space for five people.
You will get access to two bedrooms, one bathroom, a fireplace that burns wood, and a space that is furnished with antique and mid-century modern pieces if you rent this property.
You are welcome to use the high-speed wireless internet, prepare meals in the fully supplied kitchen, and listen to music on the in-house speakers.
The ski slopes at Bear Mountain Resort are a 14-minute drive from the chalet, which is located just 12 minutes away from Big Bear Village.
10. Huckleberry-Modern Caz Tree House – Cazadero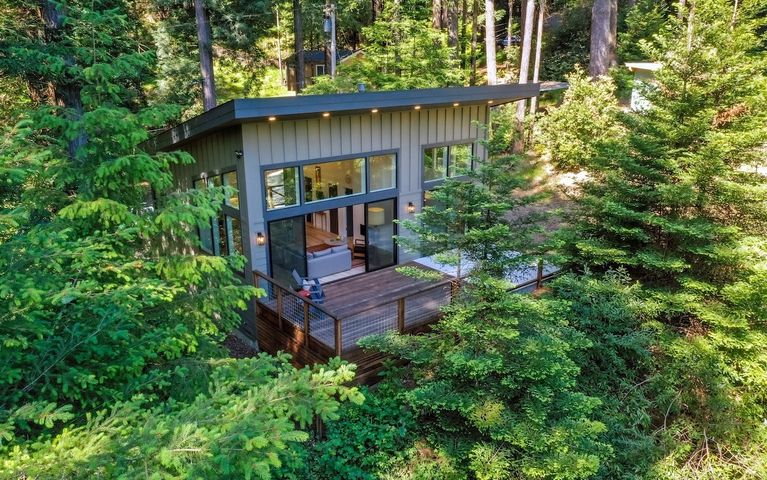 Renters in California have the option of staying in this treetop residence with one bedroom and one bathroom, which has panoramic views of the surrounding valley and redwoods.
It includes space for up to four visitors and a fully equipped kitchen where meals may be prepared. Proceed to the backyard, where you may have a bottle of wine while relaxing on the terrace and watching the fauna of the area.
The house is located close to the Russian River and provides visitors with a private office area as well as wireless internet access.
11. Redwood Treehouse Santa Cruz Mountains – Watsonville
This enchanted treehouse, which can be found in the Santa Cruz Mountains and is surrounded by redwood trees, is the perfect accommodation for two vacationers. It also features a real tree growing inside the bathroom, in addition to one that is grown directly across the primary living space.
Your lease at this location includes a fully equipped kitchen with utensils for cooking as well as a full bathroom with a shower as well as a toilet. Guests who want to stay here have access to a hot tub as part of their accommodations.
The Pacific Coast Highway, Big Sur, Monterey, and other coastal locations are easily accessible from the property and may be reached within a short distance. Consider staying in an eco-friendly treehouse for a vacation spot you won't soon forget!
12. Private Treehouse in a Mid-Century Home – South Pasadena
This tiny treehouse is located on the hillside behind a mid-century home in South Pasadena, and it can accommodate two visitors at a time.
It is in close proximity to Downtown Los Angeles as well as the metro station. The treehouse contains a full bathroom with a shower, a queen-size bed, a couch bed, a small refrigerator, a coffee maker, and a microwave.
There is also a communal entrance. In addition, there is a designated workstation as well as wireless internet access.
Coolest Treehouse Rentals in California
13. Luxury Treehouse in the Redwoods – Santa Cruz
This opulent treehouse accommodates two guests and is equipped with a fully-equipped kitchen, a living area with a gas fireplace, a bathroom, Wi-Fi, and a television.
The main home of the host is situated on the other side of the driveway from the treehouse, which is situated amid a grove of redwood trees. This rental treehouse does not include any common areas or communal spaces.
The guest accommodations have a private terrace, bespoke woodwork, antique stained glass windows, and skylights in the bedrooms. The treehouse has space for two adults but is not appropriate for children or pets in any capacity.
14. Redwood Treehouse in Aptos Mountain Retreat & Spa – Aptos
This California treehouse offers a verdant refuge on a mountainside property that spans 15 acres and can accommodate a total of four guests. The location is approximately 10 to 15 minutes up the mountain and is somewhat disconnected from the grid.
Up here, there is access to Wi-Fi, but the mobile phone connection is spotty at best. Although there are a total of seven guest rooms available on this property, they are dispersed throughout three acres in order to provide visitors with a sense of seclusion.
The treehouse will provide you with a fully-equipped kitchen, a bathroom, a sofa, and a bed enough for a king. It is 18 feet in height and 18 feet across at its widest point.
In addition, there is no additional charge for guests to use either the saltwater pool or the primary hot tub. You will be charged an additional price to use the private bamboo spa and sauna deck that is available.
15. Paradise Treehouse and Heavenly Cabin – Half Moon Bay
This Airbnb listing may be the ideal choice for a group of five persons interested in staying in a treehouse in the state of California. There is one bed that is the size of a queen and three beds that are each the size of a single.
This treehouse is both spiritual and energizing, and it provides a secluded and tranquil stay together with contemporary conveniences such as high-speed internet and a sound system that is powered by Wi-Fi.
You will be just minutes away from the beach, as well as chances for hiking and bicycling in the Half Moon Bay area, and the accommodations include an outdoor soaking tub.
Guests have a wonderful time lounging on the redwood deck that spans a total of 600 square feet and taking in the breathtaking views.
Coolest Treehouse Rentals in California
16. Golden Hill Tree House – San Diego
Consider reserving this treehouse-style property in California's San Diego region in order to experience a sense of seclusion and tranquility throughout your time there. It is elevated in terms of both seclusion and luxury, since it is nestled between the branches of the surrounding trees.
A soaking tub and a double shower can be found in the Airbnb accommodation, in addition to a quaint reading nook that is flooded with natural light. The rental area may be reached by an outdoor stairway that leads to a private terrace located on the second storey.
On the ground floor and the first level, there is a full kitchen, a living room, laundry facilities, a bathroom, and a work desk. The bedroom loft is located on the third floor and may be accessed by guests.
The treehouse may be found at the furthest point of the property, behind the primary residence of the host. You may take a stroll to nearby fashionable cafés, markets, and restaurants from this location.
There is a distance of less than a mile between you and the Balboa Park Golf Course.
17. Danehill Manor Luxury Tree House – Nicasio
This treehouse, sometimes referred to as the Danehill Hygge House, is a lovely place for two people to have some fun and is really snug. It may be found in the vicinity of a horse breeding complex that has both stables and riding arenas.
During your time here, you may also participate in riding or driving classes! Guests staying in the treehouse will have access to the whole estate as well as the 25 acres of land that surround it.
In addition to a queen-size bed, an outside kitchen, and a BBQ area, this accommodation features a private bathroom with a shower and a view of the surrounding region.
Dog training, holistic massages, guided breathwork, and somatic imagery therapy are some of the other add-on activities that are available to you at this location. Brunch is provided for you as part of the charge that you pay for your Airbnb apartment.
18. Old Fig Garden Treehouse – Fresno
If you rent an Airbnb in Fresno, you will be able to stay in a treehouse and have an incredible time there. It features a queen-size bed with a heated mattress, a toilet and a bath, a refrigerator and other kitchen amenities, and climate control with a mini-split HVAC system, making it suitable for two people.
Other facilities include a heated mattress. The treehouse is completely outfitted with plumbing, and it even has a toilet and a shower directly on the premises.
There are no animals permitted inside the treehouse, and the only way to enter is through the steps. Take advantage of the spacious backyard offered by this family and child-friendly house.
If you are traveling with a larger party, the host of your Airbnb listing has extra accommodations that are available for rent.
19. Treehouse Adventure – Brea
When you stay in this treehouse in  this historic neighborhood, you'll be close to Disneyland—just 25 minutes away, to be exact. It is located in the backyard of the host and provides all of the conveniences of a house, such as Wi-Fi, Direct TV, air conditioning, a refrigerator, a microwave, a terrace, and other amenities.
A full bathroom that includes a shower as well as a fire pit are located just next to the treehouse. The treehouse home is located in the historic Brea area, which puts it in close proximity to a variety of retail, grocery, and attraction options.
There is space for up to three people, including children and pets, thanks to the presence of a double bed and a single bed in the space. A side gate provides access to the treehouse, and once you've checked in, the host will give you a tour of the grounds.
19 Coolest Treehouse Rentals in California 2023 – Newshub360.net
Related Post

Credit : www.Newshub360.net