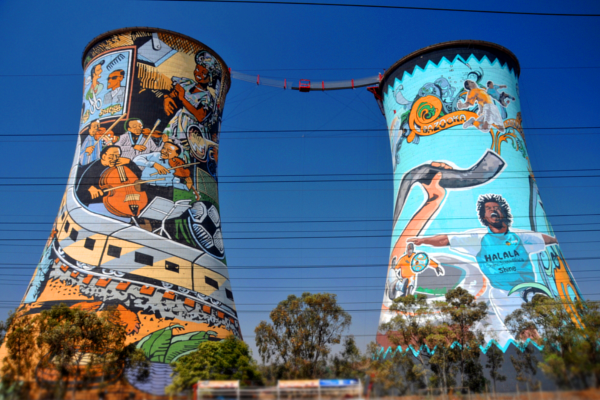 The Top 10 Biggest Townships In South Africa 2023: When you are in South Africa and you hear the phrase "township," you should know that it is commonly used to refer to the typically undeveloped and racially divided metropolitan places in the country.
The majority of the time, they were built on the outskirts of towns and cities. But this is not the place to go into great depth about history. The purpose of this article is to take a look at the ten largest townships in South Africa and rank them from largest to smallest.
As a result, although there are a number of townships in the nation, some of them are significantly more prominent than others in terms of population, and we are going to investigate those below. You will soon observe that certain townships are more coordinated than others, but that is to be expected.
Top 10 Biggest Townships In South Africa
1. Soweto
This is a popular location in South Africa, and its full name, South Western Townships, describes what the area is. It is a predominantly black neighborhood of Johannesburg and may be found in the city of Johannesburg itself. With a population of more than a million, it is South Africa's most populous township and the biggest in the country.
It's interesting to note that Soweto is home to people who speak all eleven of South Africa's official languages. It tops the list because there are many people who have chosen to make this their permanent home for one reason or another.
---
2. Tembisa
On the northern side of Kempton Park is where you'll find the South African township of Tembisa, which is the second biggest township in the country. It took its name from a Nguni term that may be translated as both hope and promise (the correct spelling ought to be Thembisa).
Tembisa, which now has a population of around 463,109 people, was founded by individuals who were filled with the promise and hope of a better life for those who were living there at the time.
---
3. Katlehong
Katlehong was established in 1945 and has since developed into a town in Gauteng that features a high population density. The southernmost portion of the area is home to six improvised communities.
It is sad that this township is so congested because there are over 400,000 people living there (it has been stated that residents there have built up shacks for rent). Even though it is considered to be the third largest township in South Africa, the region, in conjunction with Thokoza and Vosloorus, is the second largest black township in the nation.
---
4. Umlazi
In South Africa, Umlazi is known for being the only town with a unique license plate.
The township has a total population of around 404,811 people, and it is further subdivided into 26 distinct parts. Within the township, there are several private and public investments. Umlazi is also proud to have its very own police stations and medical centers.
---
5. Soshanguve
Soshanguve town, which is located in Gauteng province and has a population that is estimated to be approximately 403,162, is already on the fifth place on the list of biggest townships in South Africa, and it is populated with people from a variety of various ethnic groups.
---
6. Khayelitsha
Another significant township in South Africa, Khayelitsha is notable for a number of distinguishing characteristics that are all its own. It is generally agreed that Khayelitsha is the country's most rapidly expanding township, with a current population that is somewhere in the neighborhood of 391 749 people (which is pretty interesting).
Not just white people but also people of various races call this place home in addition to black Africans.
---
7. Mamelodi
The next one is Mamelodi. It is estimated that there are 334,577 people living in the township, making it another large one in South Africa. During the time of the apartheid regime in Pretoria, it was established (Gauteng province). It is a famous region as well.
---
8. Mitchells Plain
The suburb of Mitchells Plain is one of the most populous in the whole nation. Mitchells Plain has a population of up to 310,485 individuals, which explains why it was here. In addition to a core commercial sector, the neighborhood is home to a number of sizable shopping malls.
Mitchells Plain, which is situated on the Cape Flats between Khayelitsha and Muizenberg, has a certain amount of benefit in comparison to other townships in South Africa due to its location. It is to be anticipated that the key stakeholders in this location will continue to work toward achieving acceptable growth.
---
9. Ibhayi
It is estimated that there are around 237,799 people living in the Ibhayi township, which is situated in the vicinity of Port Elizabeth.
In addition, it should be mentioned that the township is divided into sixteen different sections.
---
10. Sebokeng
There are around 218,515 people living in the city of Sebokeng. This, of course, indicates that the township is far larger than a number of others in the nation that do not even come close to having the same number of residents. The area is centered on the city of Vanderbijlpark, and SeSotho serves as the community's de facto standard language.
The use of this language is rather common in the township of Sebokeng, and the majority of the town's inhabitants have some level of familiarity with it. It should also be mentioned that the word "gathering place" in Sesotho is pronounced "Sebokeng." Although there are some individuals of other races living there, the township is largely populated by people of African descent.
Closing: Biggest Townships In South Africa 2023
Because of the large number of people who live in these townships, they are considered to be the largest in South Africa, despite the fact that the nation has a number of other large townships (and some of them, as you have seen up there, are trying to evolve into something much better).
According to the statistics, Soweto continues to be the most populous township in the country and is the only one with a population that is greater than one million.
Naturally, as the population grows, we speculate about what the future holds for those people and what will happen to them in the years to come.
Top 10 Biggest Townships In South Africa 2023 – Newshub360.net
CHECK THIS OUT:
♦  Top 20 Highest Paid Footballers in South Africa 2023
♦  Top 20 Highest Paid Footballers at Mamelodi Sundowns 2023
♦  Top 20 Highest-Paid Footballers at Kaizer Chiefs [ Billiat is 2nd ]
♦   Top 20 Highest Paid Footballers at Orlando Pirates 2023
♦   Top 20 Highest Paid Footballers at Supersport United 2023
♦   Top 20 Highest Paid Footballers at Royal AM 2023
♦  Top 10 South African Footballers Who Went Broke After Retirement
♦  Top 10 Richest Football Club Owners in South Africa [ Motsepe is 2nd]
♦  Top 10 Most Expensive High Schools in South Africa 2023
♦  Top 10 Richest Football Clubs in South Africa
Credit :www.Newshub360.net