The 9 Most Amazing Christmas Towns in North Carolina 2023: The holiday season in North Carolina will be here before you know it. The city streets will be lighted with twinkling lights, Christmas music will be broadcast over the radio, and there will be no parking spaces available at the shopping center.
However, during the winter holidays, there is nothing more enchanted than traveling to a town that has been totally transformed into a winter wonderland.
And these beautiful communities in North Carolina do precisely that, as well as a lot more besides!
9 Most Amazing Christmas Towns in North Carolina 2023
1. McAdenville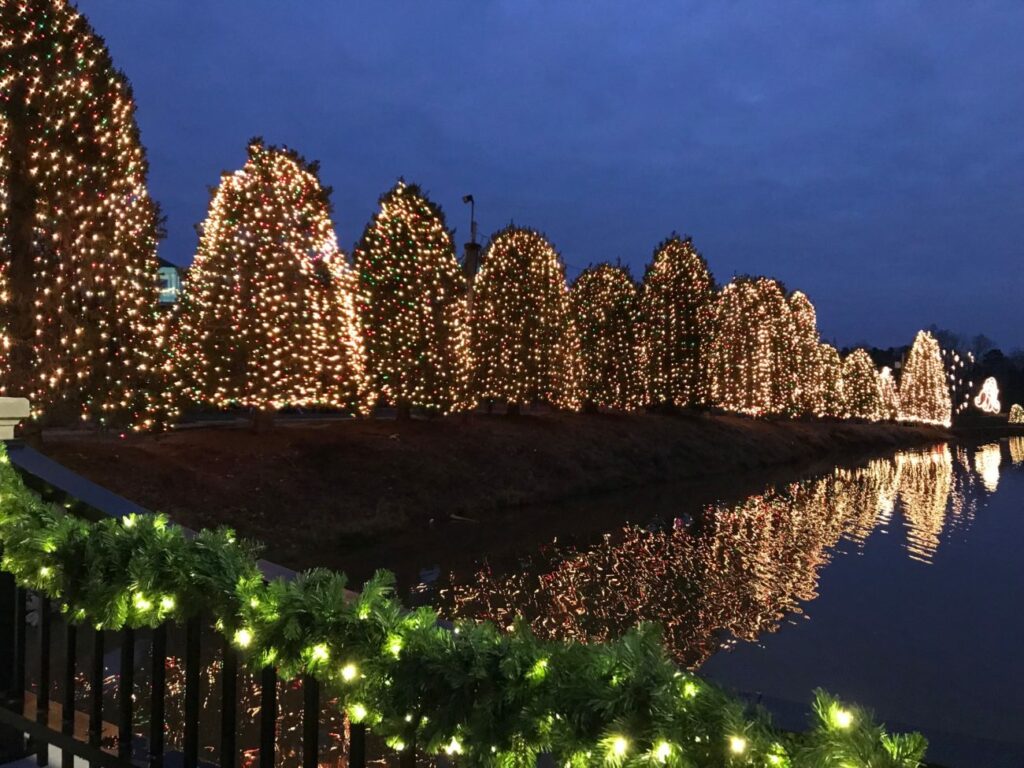 McAdenville has become maybe the most well-known Christmas village in all of North Carolina. After all, it is known as the "Christmas Town U.S.A." and attracts tourists from all across the United States.
Over the course of the holiday season, the citizens of McAdenville transform their sleepy little hamlet into a vibrant Christmas display that spans a distance of 1.3 miles and has more than 500,000 lights in various shades of red, green, and white.
The event kicks off with a unique lighting ceremony, during which a young child from a nearby elementary school is given the honor of turning on the main light switch.
Due to the fact that the lights are regulated by automatic timers, they will turn off at the specified time regardless of the number of people who are still waiting in line; thus, you should plan your visit accordingly.
Because McAdenville is one of the most popular Christmas attractions in the state, there is going to be a queue… and it's going to be a big line.
2. Charlotte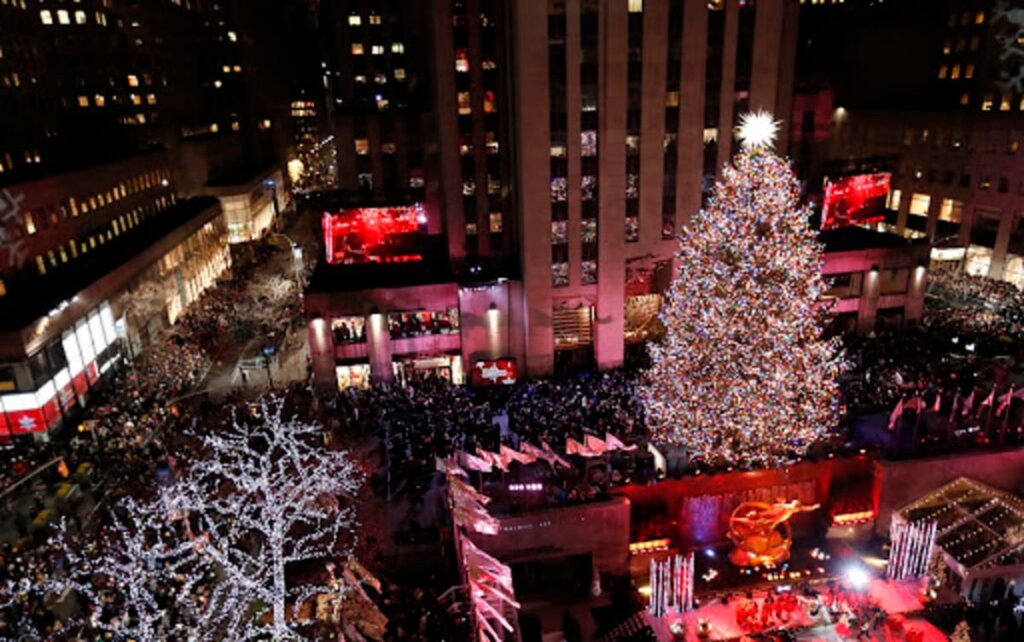 If you have ever spent the holidays in Germany, then you are certainly familiar with the world-famous Christmas markets that pop up all over the country's streets.
However, thanks to modern technology, you no longer have to leave the nation in order to participate in the enchantment and wonder of a Christmas market.Each year, Romare Bearden Park in Charlotte transforms into the Charlotte Christmas Village.
This event showcases a variety of artisanal goods and delicacies, including gingerbread, strudel, bratwurst, sauerkraut, roasted nuts, Lebkuchen (gingerbread), almond shortbread cookies, and mulled spiced wine known as gluwhein, as well as Christmas ornaments and decorations, arts and crafts, toys, and other handcrafted goods.
After paying a visit to Santa Claus, guests may then enjoy family-friendly Christmas films, live German music and performances, and of course, a visit with the man in red himself before exploring Charlotte's other top attractions.
3. Elizabeth City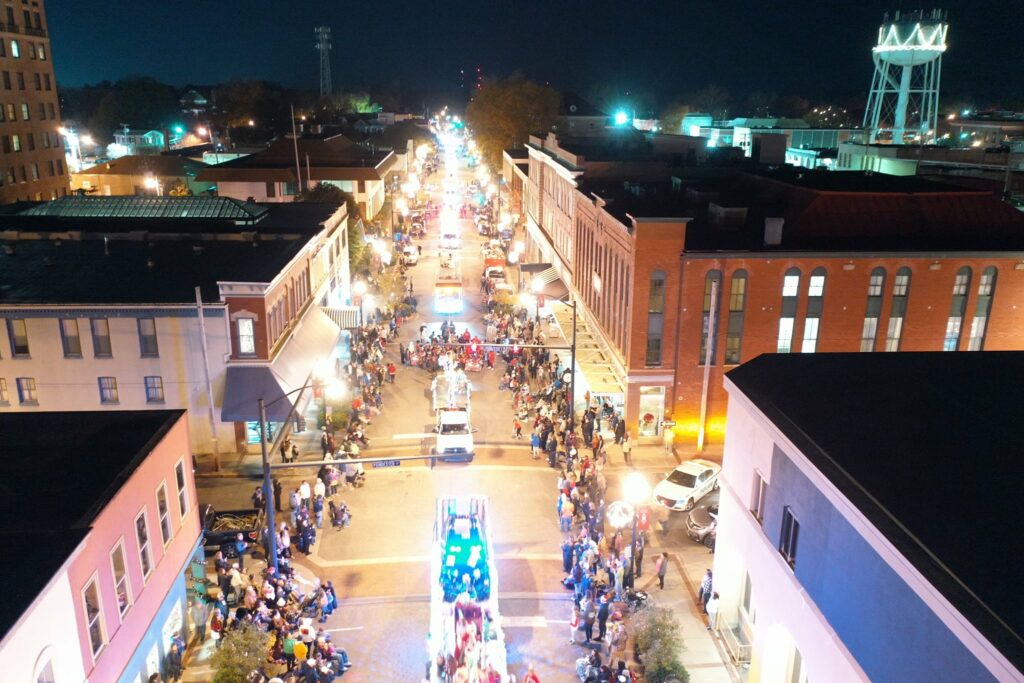 This year, Elizabeth City, known as the "Hot Cocoa Capital of the World," will play host to holiday celebrations. The sensation of warmth and coziness that we all associate with the season is perfectly captured by a cup of cocoa that is steaming hot.
The quaint town of Elizabeth City, which organizes its annual Hot Cocoa Crawl (from November 25th to January 15th) is one of the greatest locations to go for this kind of activity.
Other small companies, such as boutiques, bed & breakfasts, and attractions, provide hot cocoa-themed events, decor, and gift items. These establishments include restaurants, stores, craft brewers, wine bars, and cocktail lounges.
Hot cocoa-themed beverages and desserts may be found at these establishments. At The Mills Downtown Bistro in Elizabeth City, you can have a drink called "The Dirty Snowman" that is prepared with Baileys and ice cream. At the Hampton Inn Elizabeth City, you may participate in hot cocoa socials.
Neither of these experiences can be found anywhere else in the globe. In the event that you are unable to attend the cocoa celebration, there is another event called the Holiday Celebration & Grand Lighting that takes place on November 25th, and on December 2nd, there is an annual tradition known as the Lighted Boat Parade that features lighted skiffs, sailboats, and pontoon boats surrounding the harbor.
4. Dillsboro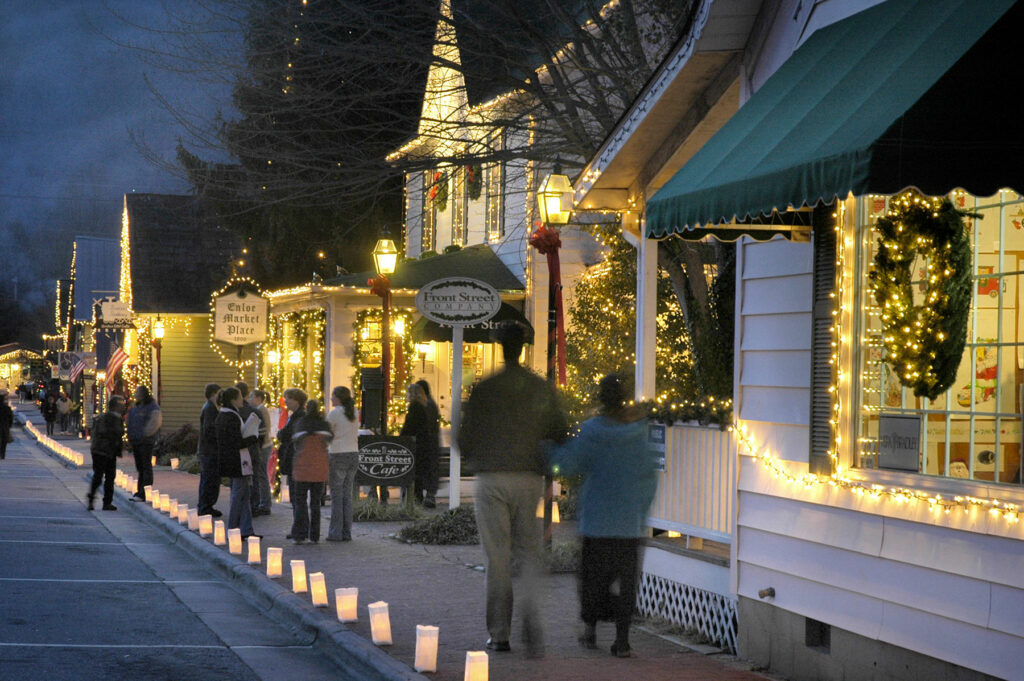 Visit the town of Dillsboro during their annual "Lights and Luminaries" festival if you wish to be transported back in time to an era when life was less complicated and more filled with the wonder and beauty of a more innocent era.
In addition to many lovely Christmas lights, the downtown streets will be adorned with 2,500 luminaries that will light your path as you go from store to shop, take in live music, sip hot chocolate or cider, and chat with Santa and Mrs. Claus.
In addition, each night has a live nativity scene as well as horse and buggy excursions.
5. Benson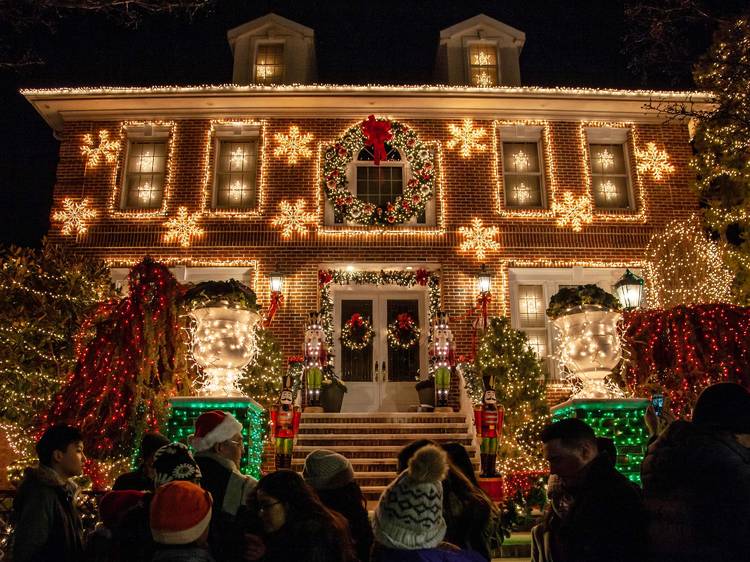 The Christmas light show known as Meadow Lights can be seen in the town of Benson, which is located in the eastern part of the state of North Carolina.
Since it was founded more than four decades ago, the company has been run by the same family and now has a 10-acre light display area that contains six different scenarios commemorating the life of Jesus Christ.
Even though you can see the lights from the road, you should take the train trip through the show since it is both enjoyable and whimsical, and it will keep you warm on the chilly winter nights.
In addition, there is a carousel with sixteen horses, an Old Country Store that offers beverages and more than three hundred different types of nostalgic candies, and visits with Santa.
In addition, during the "Christmas on Main" celebration, the town lights the Christmas tree, holds a parade, and allows children to meet with Santa Claus.
6. Forest City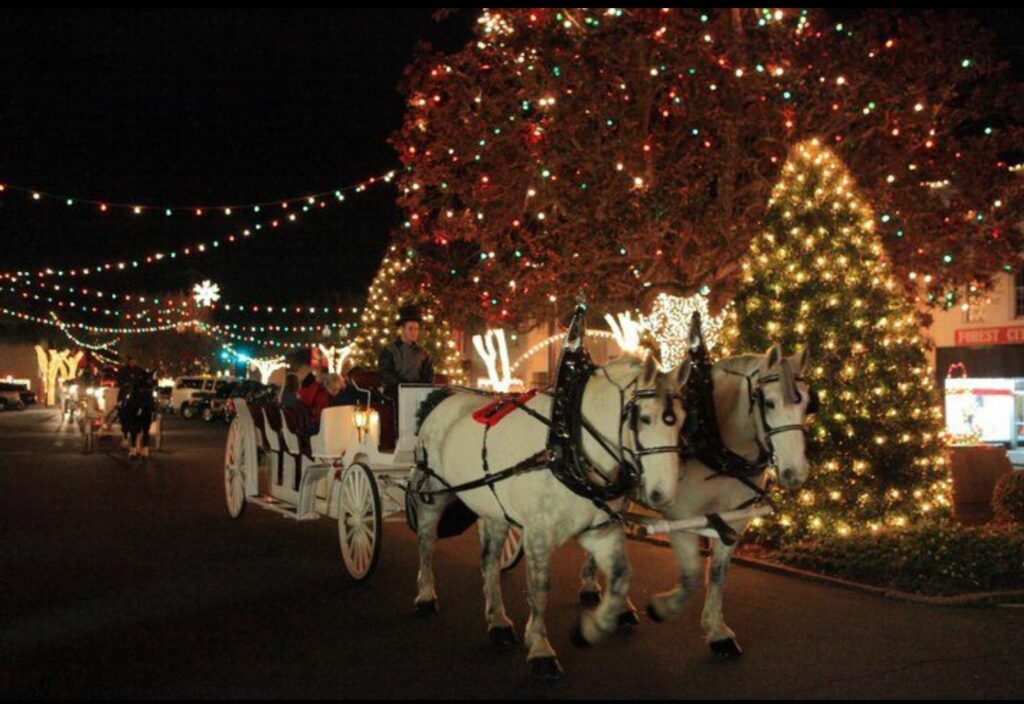 The primary road of Forest City is decorated during the holiday season with one million lights every year. Yes, one million. Enjoy the lights that are strung around the trees and hanging from the ceiling as you drive or walk along Main Street.
These lights extend as far as the eye can see. Enjoy a steaming mug of cocoa and take it easy on a hayride or carriage ride on the weekends when you come to the farm.
After that, you may walk around and shop while listening to live Christmas music, or you can go ice skating at the nearby rink.
In addition, the town puts on a Christmas parade and welcomes guests to Santa's House and Santa Paws, where you can have your pet's picture taken with jolly old Saint Nicholas.
Visit Santa on the Chimney for an extra special holiday treat. Here, Santa perfects his climbing abilities by ascending Chimney Rock in Chimney Rock Park, which is located nearby.
7. Asheville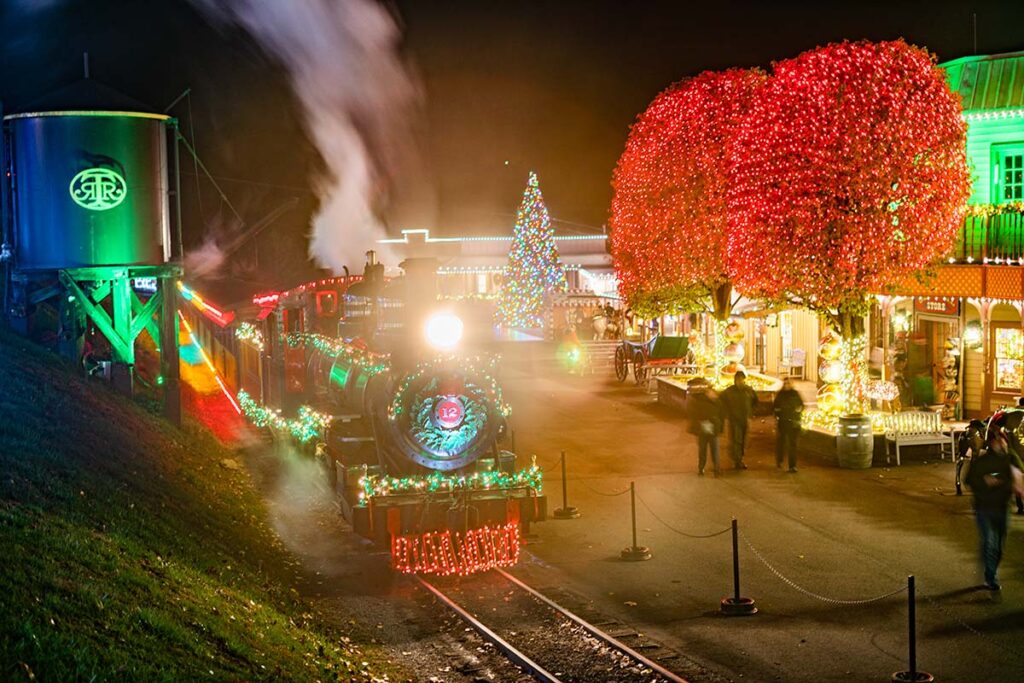 Visits to Asheville are delightful at any time of the year, but the holiday season is especially magical there. The Biltmore Estate is without a doubt one of the highlights, since it is gorgeously decked out for the holiday and hosts a wide variety of celebrations.
There will be Christmas trees, garland, and shimmering lights all over the castle-like home. There will also be tours available that will take you through the mansion's sumptuous interior, some of which will glow in the evening.
Outside of the well-known estate, there will be a mesmerizing display of holiday lights at the North Carolina Arboretum. The gardens will also offer the necessary ingredients at its Cocoa Shack in order to make s'mores, which may then be roasted in one of the fire pits located around the garden.
There will also be a national gingerbread house competition, holiday-themed theater performances, and fabulous markets for shopping for gifts. These are just a few of the important activities that will take place.
8. Blowing Rock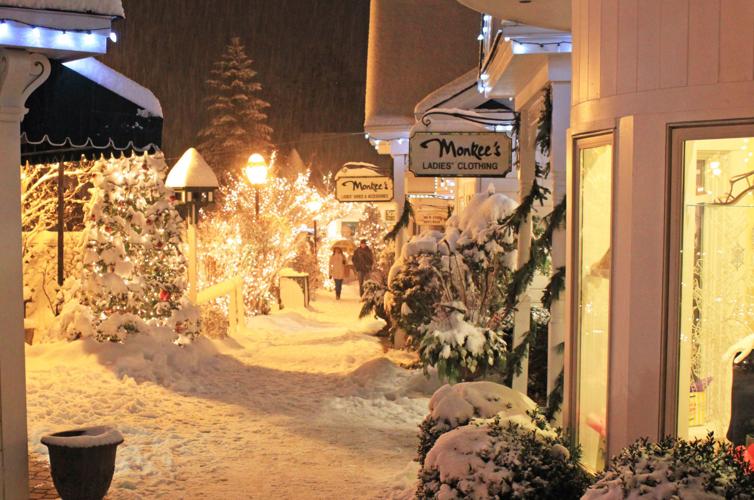 Christmas in the Park and Lighting of the Town are two annual events that start off the holiday season in Blowing Rock.
These events take place on the Friday after Thanksgiving and feature photographs and visits with Santa, live music, carnival activities, and the switching on of the town's light show.
On Saturday, there will be a Christmas parade on Main Street, which will be filled to the brim with seasonal happiness and the spirit of Christmas.Imagine magnificent floats, hilarious costumes, and a variety of animals, among other things.
There are a number of tree farms in the region, so if you want to pick up a tree and decorate it for your cabin rental or another accommodation, you have the option to do so.
9. Boone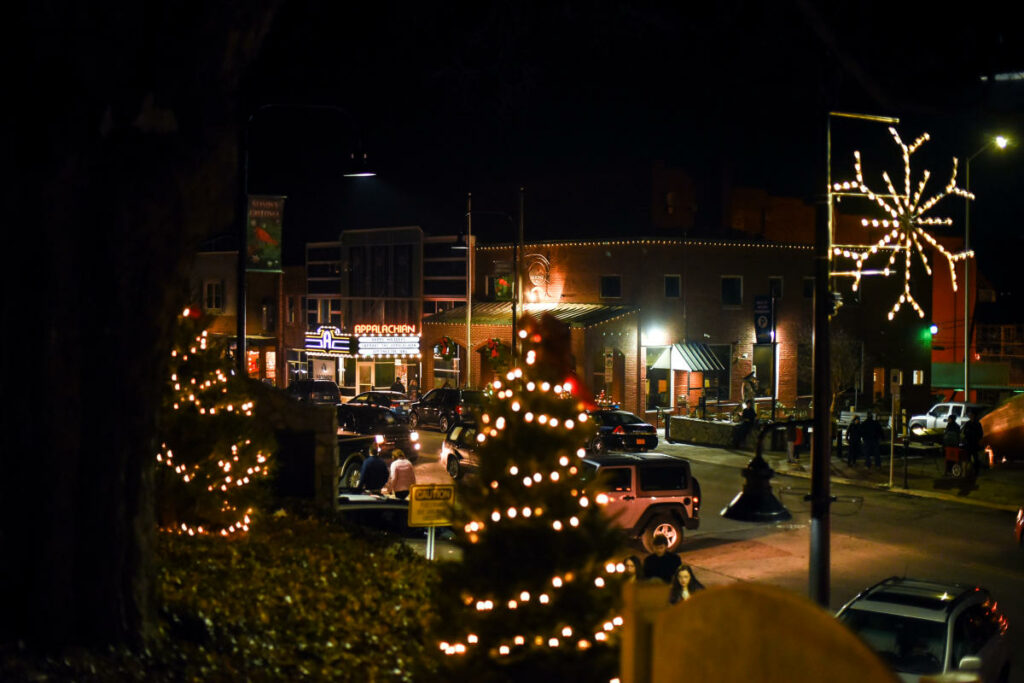 The waterfalls and walks through beautiful scenery that lead to many of the cascades in Boone are the city's primary draws, but when winter arrives, Boone transforms into a magical destination for celebrating the winter holidays.
There is a wide variety of activities that people may participate in, such as the Festive First Friday and the Solar Tree Lighting in the beginning of December.
Children will have the opportunity to send letters to Santa Claus, consume milk and cookies, engage in a "snowball fight" with marshmallows, and take horse-drawn carriage rides, among other activities.
In addition, Boone offers a variety of activities, such as holiday concerts, numerous shopping opportunities, tree farms, and a large variety of delectable restaurants and local breweries.
9 Most Amazing Christmas Towns in North Carolina 2023 – Newshub360.net
Related Post

Credit : www.Newshub360.net