The Coolest Cabin Rentals in Texas: Texas is a magnificent state that is home to a wide variety of amazing locations, ranging from historic little villages to appealing major metropolis.
The competition between Airbnb and Vrbo is tremendous, and they are currently in a position where they are fully neck and neck with well-known hotels.
The decision to go with a rental comes with a great deal of allure, coupled with personal touches and careful attention to detail.
The cabins available for rent in Texas run the gamut from opulent to historically authentic, each with its own unique set of enticing qualities. We have searched the whole state to compile this list of wonderful log cabins for you.
15 Coolest Cabin Rentals in Texas 2023
1.Corner Star Cabin – New Braunfels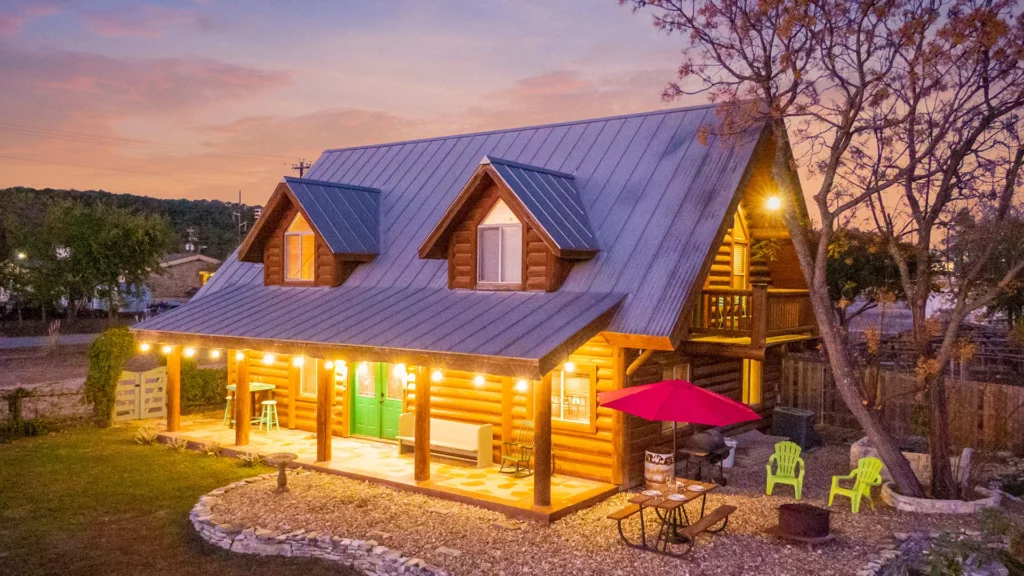 This roomy cabin is located in a little hamlet named Satter, close to Canyon Lake and the Guadalupe River, and is an ideal destination for a holiday with your family.
The vacation home has a two-story open plan with a vintage western motif, and its outside space features a charcoal grill, fireplace, picnic tables, and yard games (corn hole and horseshoes).
The interior of the vacation home has a vintage western theme. On the premises, there are also spots for recreational vehicles.
2.Naturalist Boudoir – Lumberton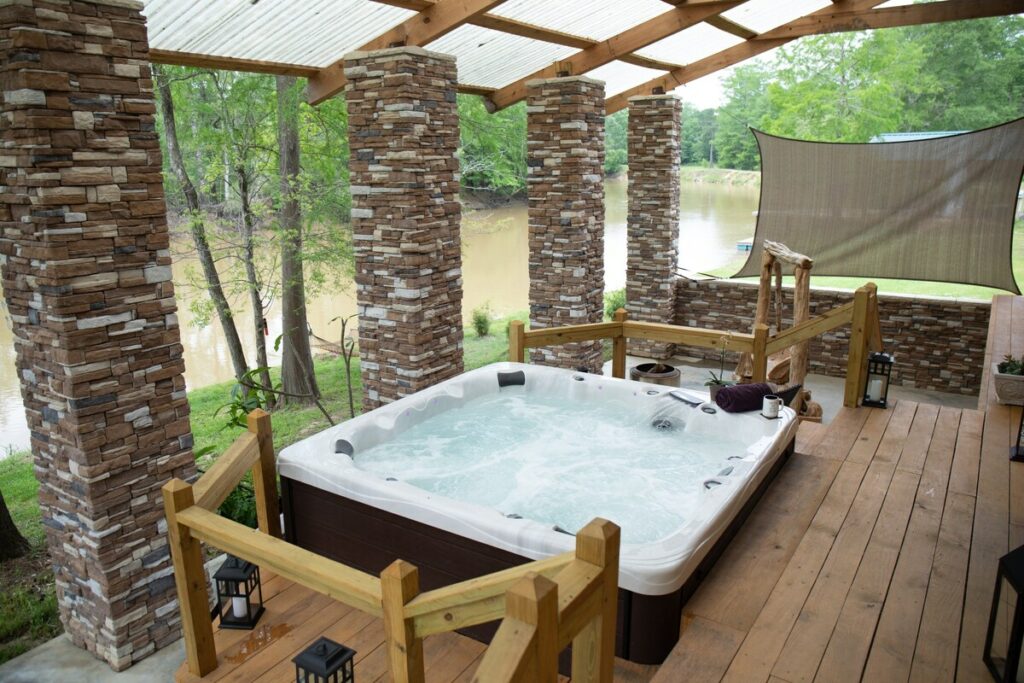 Get ready to share some stunning photos on Instagram because this little cottage will take your breath away.
All of the natural wood is illuminated by natural light streaming in via windows and the roof, and every detail, from the rope bed to the ornate chandelier, merges rustic elements with a more refined aesthetic.
You may look forward to several extras, such as soap scented with lavender, breakfast, robes, and a private hot tub.
3.Modern A-Frame Cabin in Nature, Minutes from Main – Fredericksburg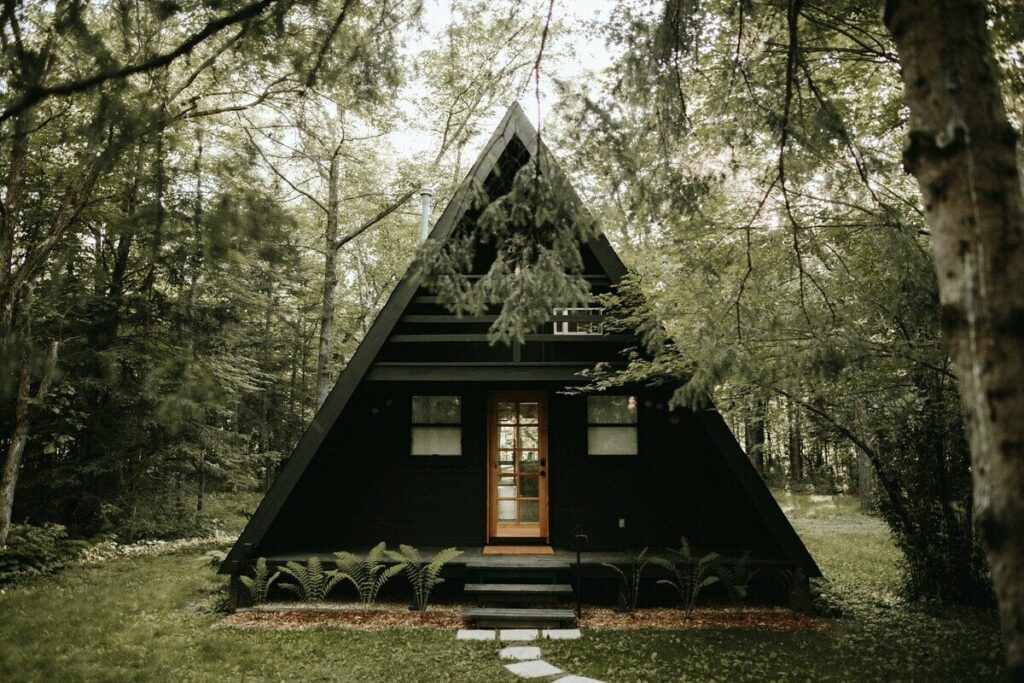 This contemporary A-frame cabin in Fredericksburg is located on 17 picturesque acres, and it comes fully furnished.
The Comal Cabin at A-Frame Ranch is located less than ten minutes by car from Main Street and is in close proximity to a variety of attractions, including dance halls, vineyards, gourmet restaurants, and hiking trails.
After you have finished your travels, you may relax on the porch while looking up at the sky and watching the deer come out in the morning.
In addition, there is a fire pit, stock tank pool, and kitchen that is fully supplied with appliances.
4.Adorable Cabin on Private Acres with Hot Tub – Wimberley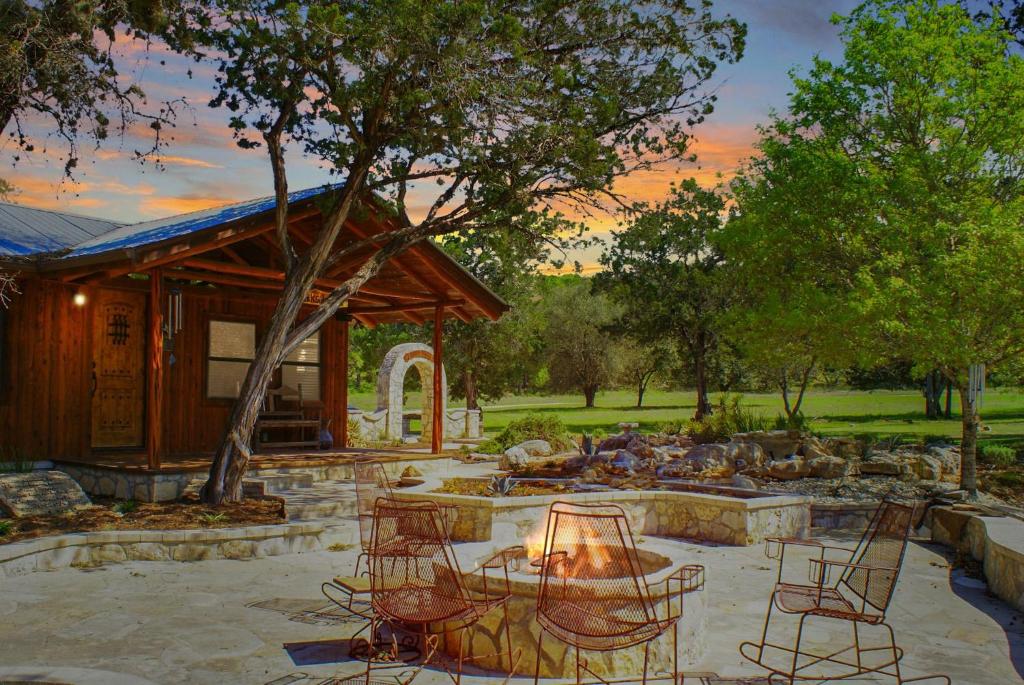 This little home in Wimberley is situated less than an hour's drive from Austin, and it features stunning views of the Texas Hill Country as well as proximity to swimming holes fed by springs and vineyards.
The two-story home is situated on 10 secluded acres, and it features a living room that is open-concept, a kitchen that is fully stocked, and a master suite that is equipped with a clawfoot tub.
Hammocks can be seen hanging from the deck's ceiling, which also features a fire pit, a charcoal barbecue, and a hot tub.
5.Gorgeous Country Cabin North of Dallas – Ravenna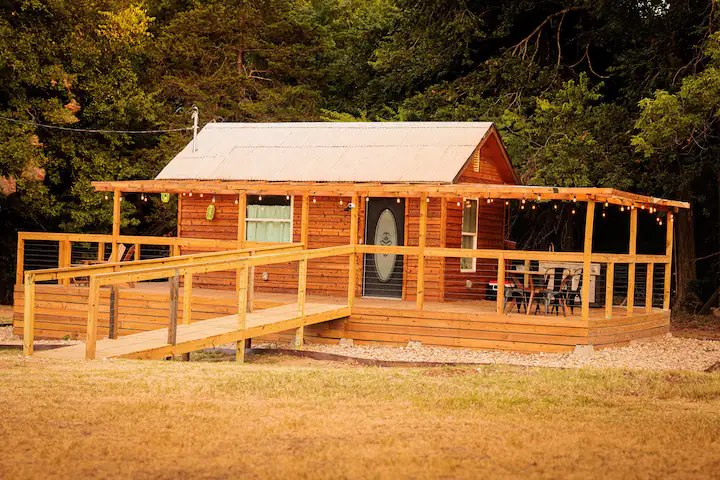 This Texas home features around 700 square feet of living space and is situated on 2.5 acres approximately 45 minutes north of McKinney. In addition, your retreat at Lake Bonham is only 10 miles away from here.
This rustic cabin has a front porch, two bedrooms, a loft bed, and a kitchen that is fully furnished. It is possible for up to six persons to stay here in convenience.
One of the bedrooms is furnished with a queen-size bed, while the other two are furnished with two single beds each.
This cabin allows guests to bring their dogs along with them, and it also provides a private hot tub and wireless internet access for guests' use.
When you're in need of some peace and quiet in the middle of the countryside, make a reservation at this Airbnb cabin.
6.Cozy A-Frame – Winnsboro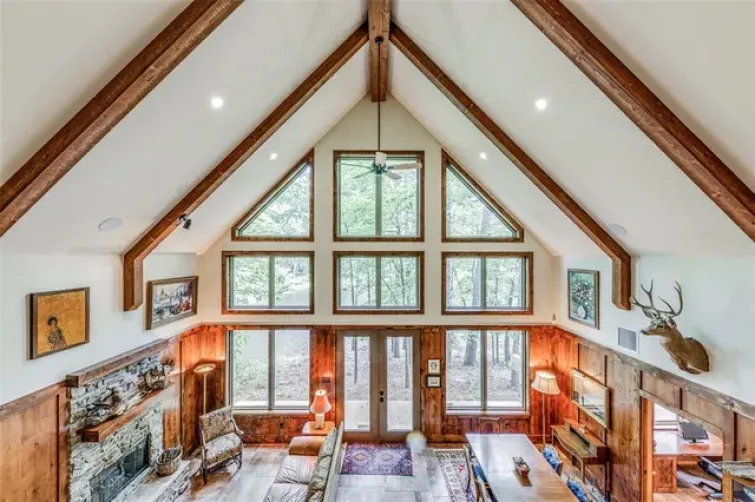 This charming Texas gem is a cabin with an A-frame design that can accommodate up to four guests. In addition, there is a terrace, huge pine trees, and 1.3 acres of land that come with the property.
The home has two bedrooms and one bathroom. The size of the cabin is around 800 square feet, and it features excellent Wi-Fi, comfortable mattresses, and an eclectic atmosphere.
Dominoes and cornhole are just two of the many activities that may be enjoyed in this space. In addition, guests will have access to a fully-equipped kitchen, a smart television, a lit back terrace, and a fire pit.
7.Dilly Dally Cabin, Rustic Retreat with Hot Tub – Granbury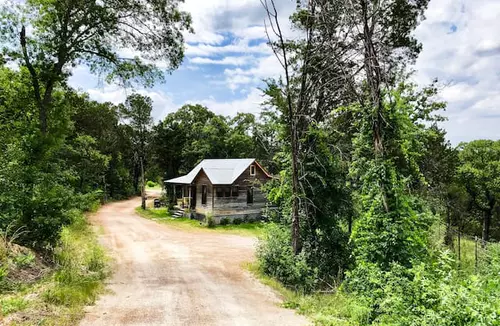 Something magical happens when old, rustic buildings are updated while yet retaining their original character.
The outside will transport you back in time, to what seems like a century ago, yet as visitors go inside, they will be greeted by a welcoming combination of ruggedness and sophistication.
The kitchen features an old-fashioned range and a sink that seems like it came from a farm. The presence of a hot tub on the premises is yet another contemporary feature.
8.Unique Property, Private River Access and 20 Mile Views – Hunt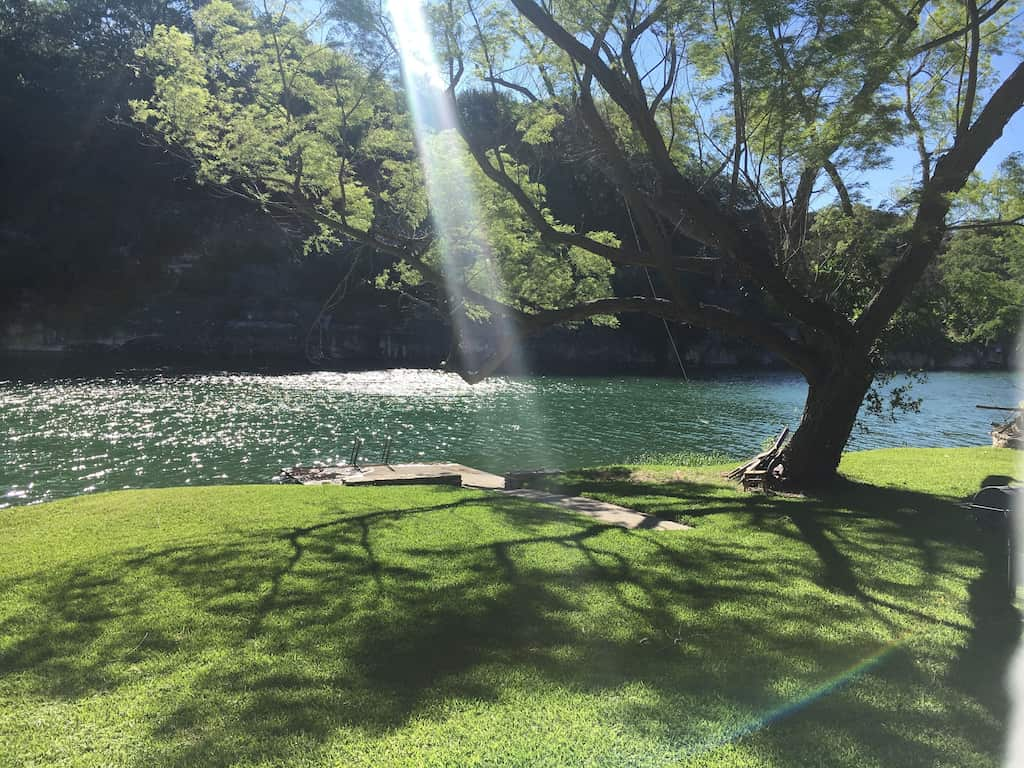 Because it has 10 beds, this holiday place is ideal for large families or groups of people traveling together.
As a result of the cabin's elevated position over the majority of the vegetation in Guadalupe South Fork, the porch has spectacular views of the surrounding area.
You can get to the river in only a few minutes on foot. On the other hand, it can be difficult to distinguish from the dimly illuminated outdoor fire pit area.
9.Charming 'Villa Cardinale Cabin' – Helotes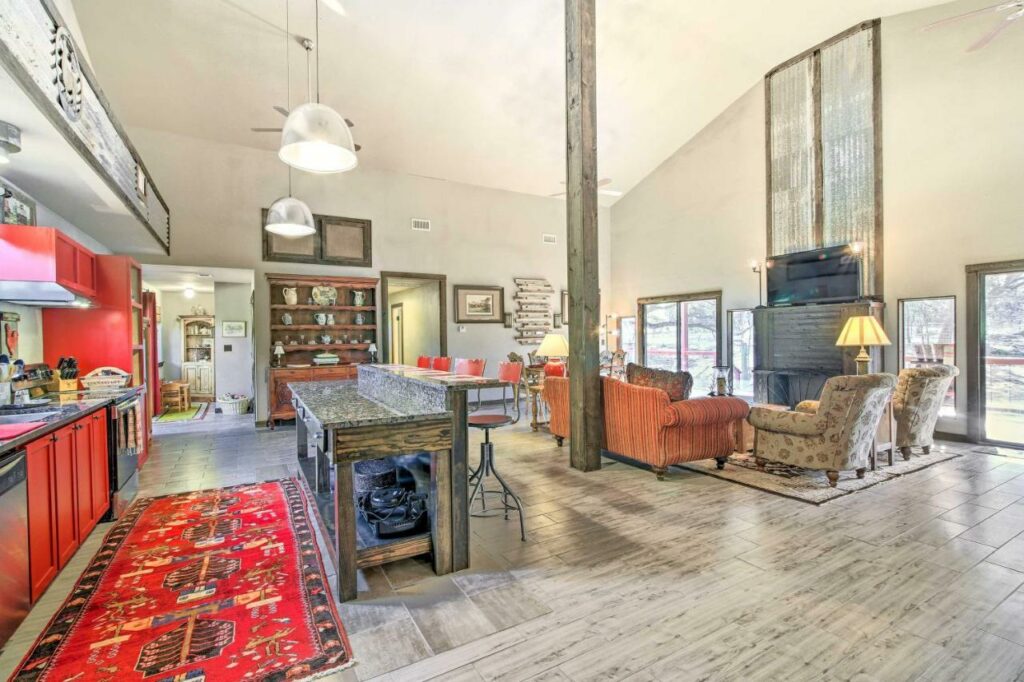 This cabin that can be rented out as a holiday home in Helotes features a beautiful interior that includes vaulted ceilings, a fireplace, and contemporary furnishings and fixtures.
The open living space is warm and pleasant, with a kitchen that is well stocked and a flat-screen TV in the living room. Additionally, there is a table outside that is ideal for dining in the fresh air.
After you've finished taking in the view of the setting sun, ignite the fire pit and make s'mores for dessert.
You may spend your vacation days shopping, dining, and roller coaster riding at Six Flags Fiesta Texas, visiting the adjacent town of Boerne, or wining and dining in Old Town thanks to the cabin's ideal location, which allows you to do all of these things.
10.Charming Cabin Near Deep Ellum & Fair Park – Dallas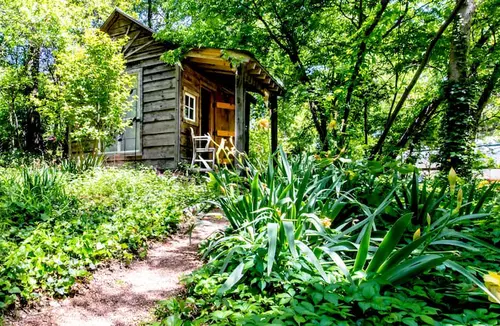 You may discover peace and quiet in a quaint small cabin not too far from Dallas that is nestled among a diverse collection of plant species.
The authentic pine from Boone, North Carolina was used in the construction of the modest house, which exemplifies superior simplicity at its finest.
It is tranquil, has an aroma reminiscent of the outdoors, and is a truly unique setting that is devoid of any unnecessary commotion.
11.The Tower, LaTour by Skybox Cabins – Glen Rose
To approach the tall cabin that has been built in the box design, you will need to navigate through a route that is decked with dazzling lights.
It has a design that is both rustic and incredibly modern and streamlined at the same time. Wild turkeys are only one example of the abundant species of flora and fauna that can be found in this region.
The appearance of this location offers guests something totally new and exciting to take in.
12.Upscale Luxury Cabin – Wimberley
In the primary living areas, chunky wooden beams are juxtaposed with a chic design made of barn wood.
The kitchen is quite beautifully furnished, and the vaulted ceilings add to the feeling of space and light in the room.
Imagine yourself sipping refreshing iced tea on the expansive front porch or simply gazing at the night sky from the comfort of the bubbling hot tub.
13.Waterfront Cabin With Sandy Beach – Pointblank
This cabin has roughly 1,000 square feet of space, two stories, and sleeping accommodations for six people; it may be rented through Vrbo.
It is located in a peaceful area and features two bathrooms in addition to one bedroom. The sandy shore of the lake is only a few steps away from the log cottage.
This vacation property also has a huge deck, a porch, televisions, and wireless internet access. There is also a balcony.
Spending time outside in this space is enjoyable because there is a hammock, a gas grill, a gated yard, two kayaks, and a pedal boat to choose from.
14.Peach Log Cabin – Fredericksburg
When you reserve this Airbnb cottage, you won't be more than five miles from the historic downtown area of Fredericksburg, and you'll be right in the middle of wine country.
It is a genuine log cabin from the 1800s and is situated on 7.5 acres of property. There is virtually little noise here.
There is only one bedroom and one bathroom in this little cottage, making it ideal for a couple. In addition, there is a back porch that is perfect for winding down at the end of the day with a glass of wine and a soak in the hot tub on the back porch.
Even though there are three other old cabins located on the same land as this one, you will get the impression that you are completely removed from the rest of the world while staying here.
15.Sycamore Treehouse at HoneyTree Farm – Fredericksburg
The cabin is quite modern despite the various ways in which it maintains its connection to the natural world.
The environmental features are brought by the tree-surrounded exteriors that look out over Palo Alto Creek, while the bright interiors with tall windows bring in a significant amount of natural light.
The wooden floors and beams are what bring the whole thing together.
15 Coolest Cabin Rentals in Texas 2023 – Newshub360.net
Related Post
Credit : www.Newshub360.net