The 12 Coolest Cabin Rentals in the Texas Hill Country 2023: One of the most popular day trips from San Antonio and Austin is to the Texas Hill Country, and one of the best cities in the area is Fredericksburg.
It provides the perfect combination of gorgeous landscape, with bright wildflowers in the spring, historic sites, opportunity for outdoor excursions, and wine sampling options.
These cabins are guaranteed to give a stay that you won't forget, whether you're in town to take in the local vineyards, relax in one of the area's natural swimming holes, or simply take in the quaint atmosphere of the tiny towns.
Coolest Cabin Rentals in the Texas Hill Country
1. Romantic Log Cabin on Smith Creek – Wimberley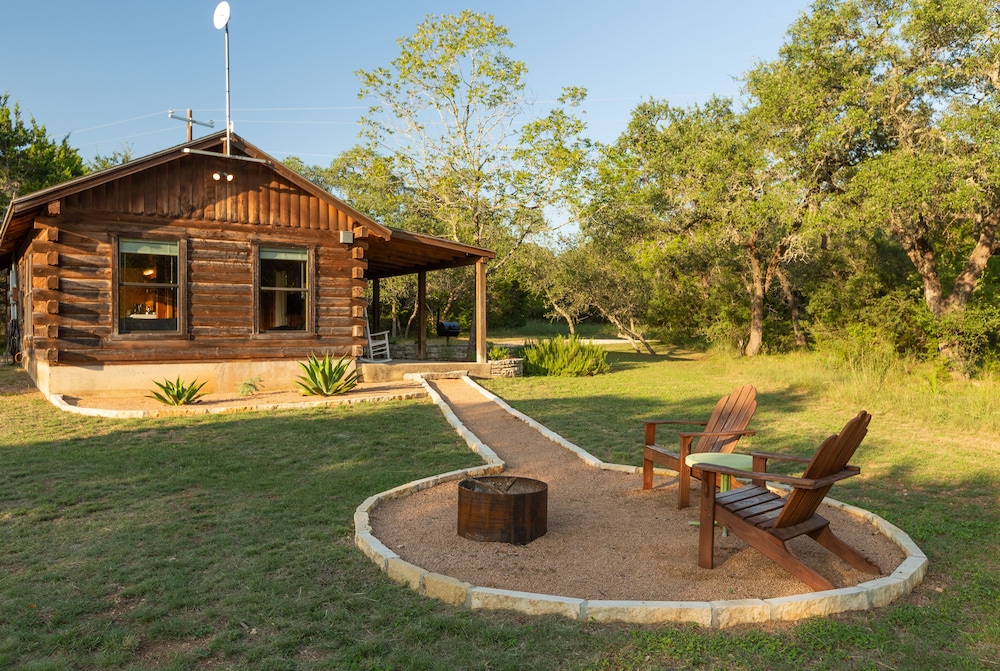 If you rent a room here, you will be able to enjoy the soothing sounds of the river as it flows by because of the location directly beside the Smith River.
It is the ideal companion to the traditional cabin, which features a warm wood-burning stove and is located on a 10-acre plot that is adorned with vibrant wildflowers at the appropriate time of year.
You will also have a fire pit, a private outdoor shower, and a hot tub for enjoying romantic soaks under the stars. In addition, you will have a private outdoor shower.
Even though it may seem as though you are miles away from any form of human habitation, the heart of Wimberley is only a five-minute drive away.
2. Madrona Ranch Casita – Pipe Creek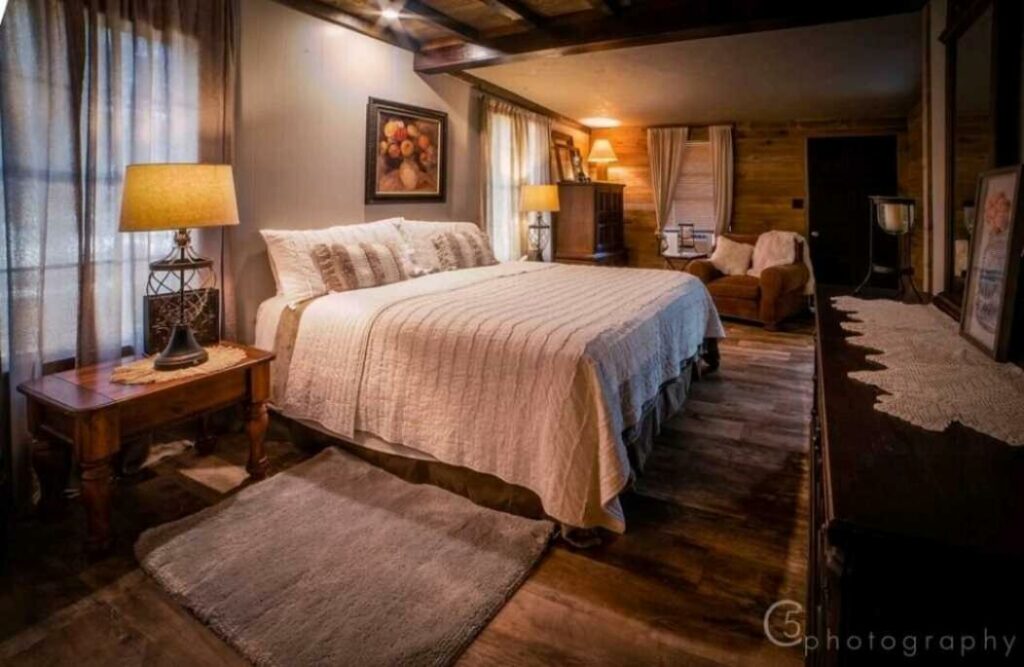 This waterfront cottage with one bedroom sleeps four people and has a view of Red Bluff Creek from its position on the hillside.
It is perfect for a romantic break for two or a getaway with the whole family. Even though it is located in a quiet area and has wonderful views of the Hill Country, visitors can easily access Pipe Creek and Boerne, where they can enjoy dining, shopping, and other activities.
You may look forward to having fun on the lake and exploring the 14-acre property. There are also options for practically limitless picturesque drives and horseback riding in the surrounding area.
Keep a sharp look out for the roaming deer while you enjoy some well-deserved R&R on the shady patio or on the swing hanging beneath the canopy of the trees.
In addition to the standard amenities found inside, such as a well-equipped kitchen, a television, and wireless internet access, you will also have access to a fire pit and a barbecue grill.
3. Sycamore Treehouse at HoneyTree Farm – Fredericksburg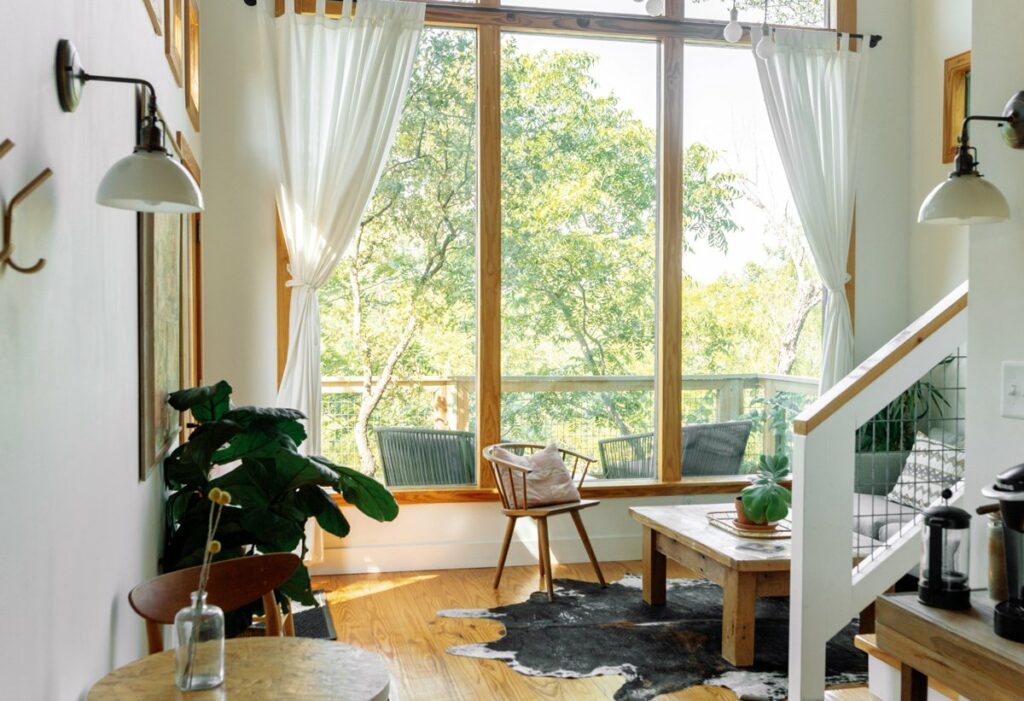 The Sycamore is a magnificent treehouse-inspired retreat that overlooks Palo Alto Creek. It is situated in a perfect position for visiting Hill Country and is only an 8-minute drive from Fredericksburg, making it a convenient location.
Although the steep banks of the stream make it seem as though you are far up in the trees, you are actually just three feet from the ground when you are in this position.
You'll love lounging on the back porch, listening to music on the record player, and taking in the abundance of natural light that pours in through the practically floor-to-ceiling windows.
The bathroom has both a walk-in rain shower and a soaking tub, while the kitchen is well-appointed and even comes with a Keurig machine.
Coolest Cabin Rentals in the Texas Hill Country
4. Modern A-Frame – Fredericksburg, Texas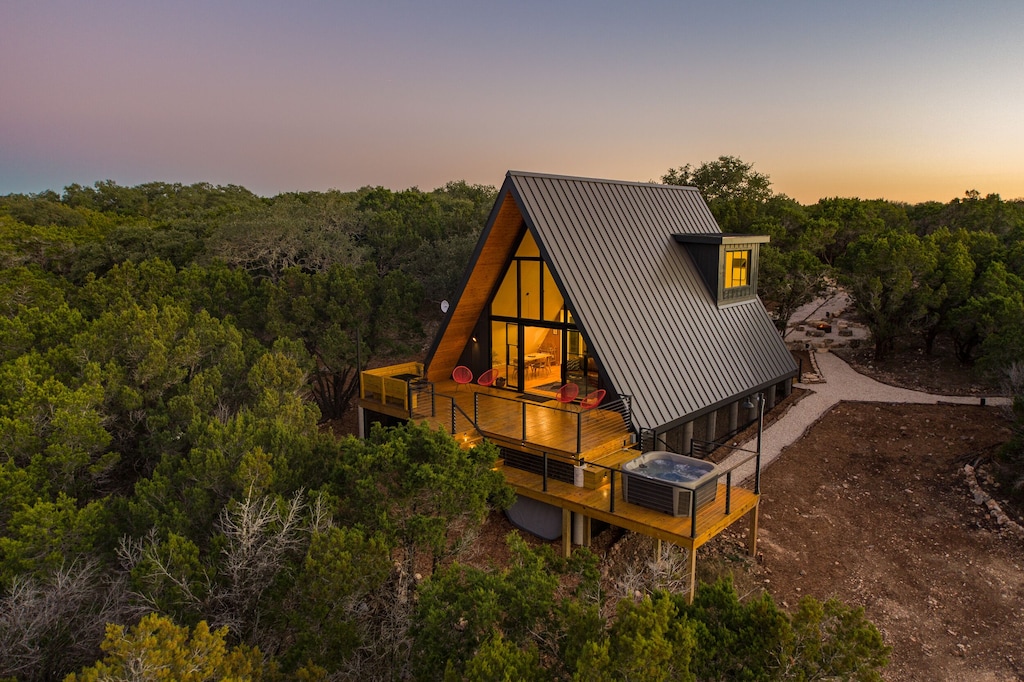 The Comal Cabin is a contemporary A-frame cabin that stands on 17 acres and is excellent for a calm vacation despite its proximity to Main Street, which is less than 10 minutes away by car.
It is located on the outskirts of Fredericksburg. When you're not out and about, you may take some time to relax on the patio with a glass of your favorite beverage while taking in the scenery of the dry stream, the native post oak trees, and the deer that frequently pass by.
In addition, there is a stock tank pool as well as a fire pit that is supplied with propane.
You are going to adore the master bedroom, which features a sound machine, blackout blinds, and a king-size bed that is really comfortable.
5. Upscale Luxury Cabin – Wimberley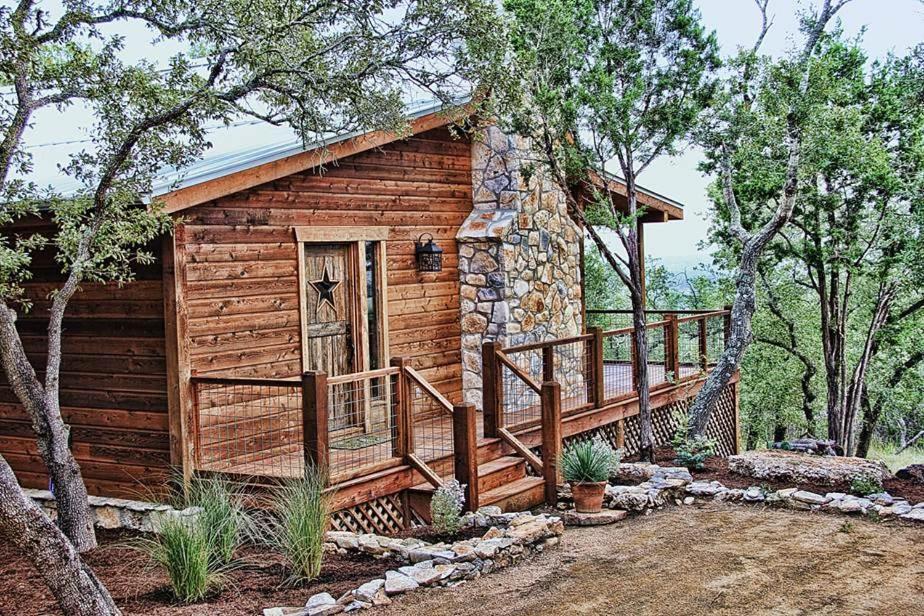 The primary living areas of this luxury lodge have a chic design that makes use of barn wood, and soaring ceilings give the impression that there is more room than there actually is.
The extremely lengthy covered front porch is not only exceptionally appealing but also has breathtaking vistas of the surrounding countryside.
To put the cherry on top of this experience, you will have access to a spacious private hot tub, after which you will be able to walk inside and relax on the plush leather sofa while watching a raging fire in the stunning rock wall fireplace.
A wide flat-screen TV is positioned over the fireplace, and there is also a spacious kitchen that is sure to satisfy even the most discerning of gourmet chefs.
6. Off-Grid Cabin for Meditation, Peace and Quiet – Blanco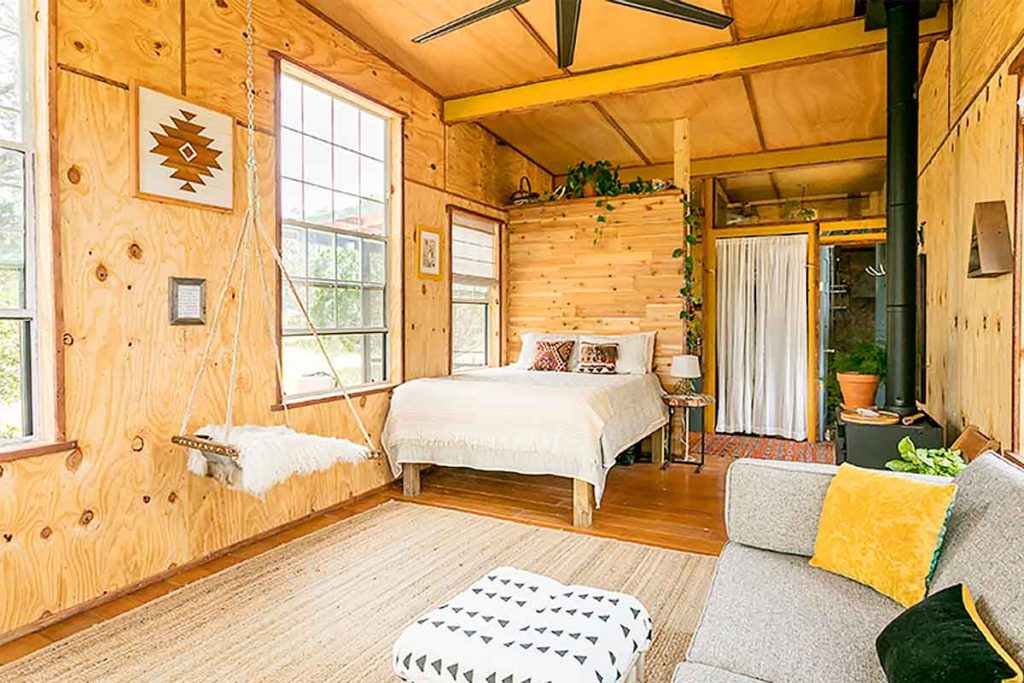 Although there is space for four guests in this studio cabin, it is likely best suited for a couple searching for a private, romantic, and "unplugged" getaway.
In this completely off-the-grid home, the power comes from solar panels, the water comes from rainwater that has been filtered, and a wood burner is used for heating.
It is situated on 37 acres and features decks that provide stunning views of the Hill Country and sunsets that can be seen for miles in every direction while looking out over Blanco River Valley.
You'll also have a fire pit so you can enjoy evenings outside beneath the sky.
Coolest Cabin Rentals in the Texas Hill Country
7. Unique Property, Private River Access and 20 Mile Views – Hunt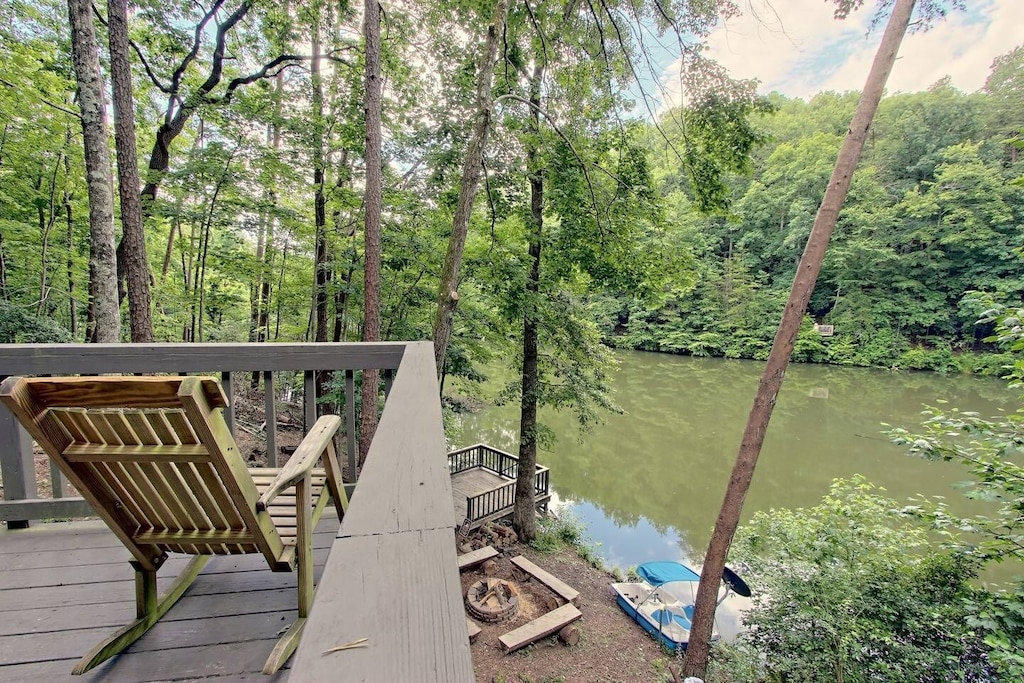 This one-of-a-kind hilltop cabin is perfect for hosting large family get-togethers, since it can sleep up to ten people and offers complete seclusion thanks to its location in the woods at an elevated vantage point that looks out over the Guadalupe river valley.
You'll have some great outdoor spaces right on the private 2.5-acre property as well, including a wrap-around porch with chairs and a bench swing for relaxing with the view, a fire pit, alfresco dining areas, and a large charcoal BBQ pit for cookouts.
Access to the river is just a few minutes' walk away, and you'll also have some great outdoor spaces right on the property.
The inside features a fireplace, a wide open kitchen, and a washing and dryer for your convenience.
8. Masters Lake Cabin – Boerne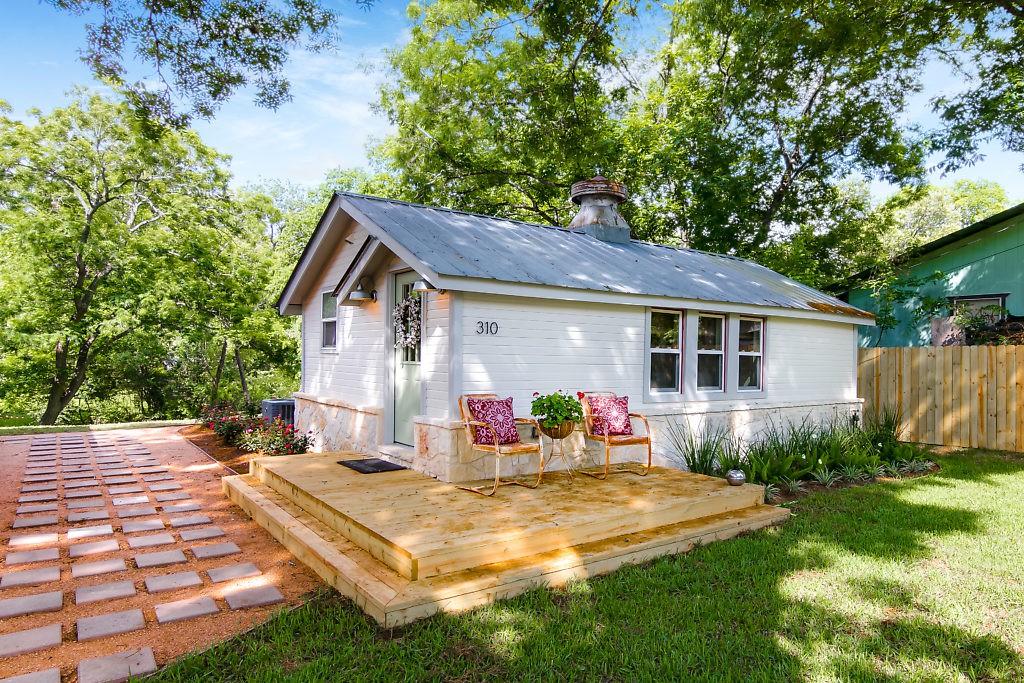 The straightforward yet homey Masters Lake Cabin features one bedroom, can sleep two people, and is located only a few minutes from Boerne.
It has direct access to 120 acres, which include the portion of Frederick Creek that runs through the middle of the property, and it is situated directly on the water.
The lake is stocked with bass for catch-and-release fishing, making it the ideal location for people who enjoy fly fishing.
There is plentiful wildlife in the area, including deer, wild turkey, ducks, and many different kinds of birds, and they frequently visit the lake.
9. Weinland Haus – Fredericksburg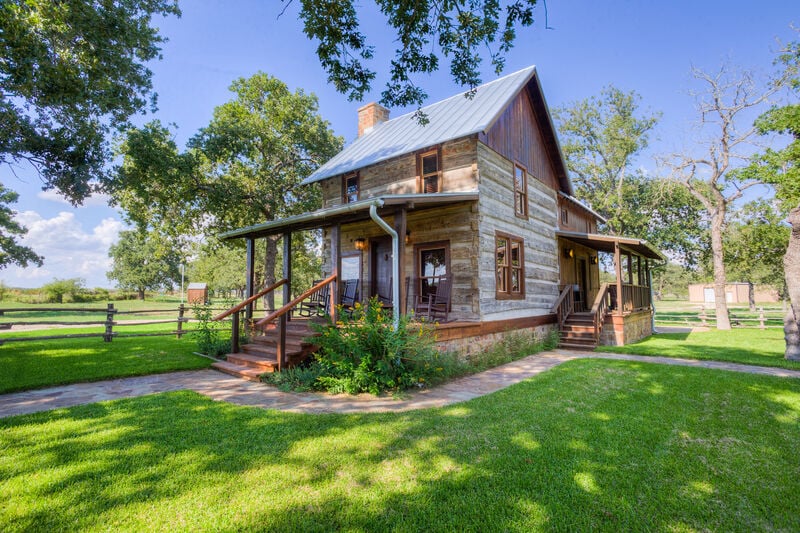 This cabin has a ton of charm and has been selected several times as one of the most romantic cabins in the state.
It can accommodate a total of four people in its two bedrooms. Its name, Weinhand Haus, which literally means "Wine Country Home," couldn't be more aptly chosen for this establishment.
After a day spent touring the award-winning vineyards in the area, this is the ideal location to return home and unwind in the rocking rockers on the front porch or next to the outdoor rock fireplace.
Built in Tennessee in 1863, it was disassembled, transferred to this location, and then rebuilt and refurbished.
It is located on six privately gated acres and is only a five-minute drive from the Main Street in Fredericksburg.
Coolest Cabin Rentals in the Texas Hill Country
10. Your Hill Country Cabin on Johnson Creek – Ingram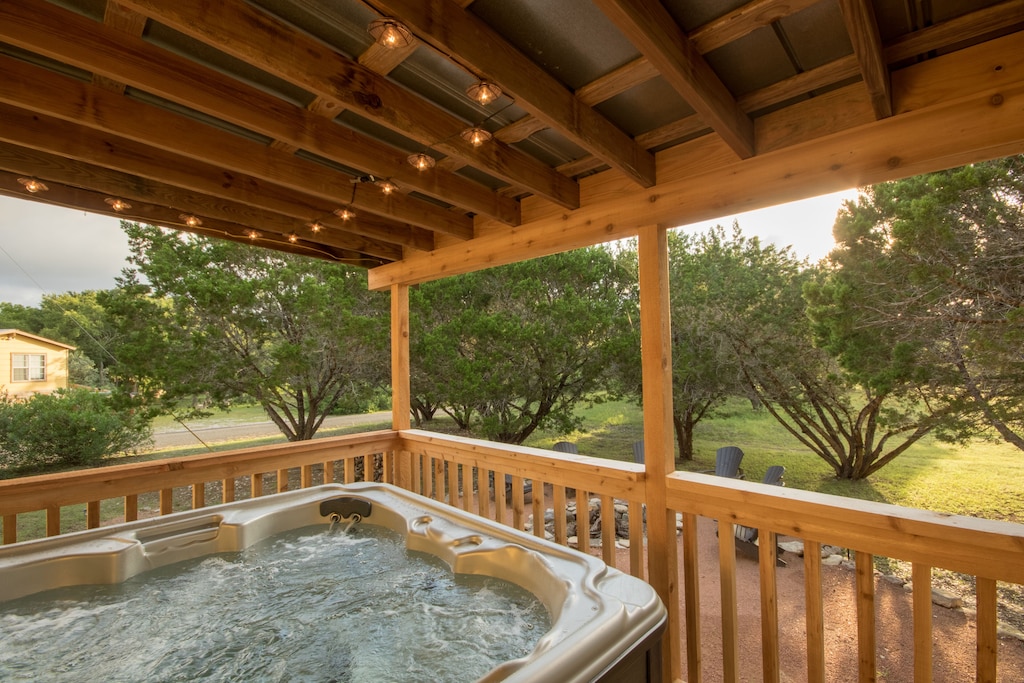 The "Doe See Doe" cabin has one room with a queen bed and full-size bunk beds, and can sleep a maximum of six people.
This cabin is ideal for a small family. In addition, there is a covered terrace with a hot tub, a fire pit with Adirondack seats, a kitchenette, and a sitting space with Dish TV and Roku.
An additional perk is the private access to Johnson Creek, which comes complete with a private dock and a charcoal BBQ only a few feet away from the water.
11. Crazy Horse Cabin with Hot Tub and Kayak – Bandera
The Crazy Horse Cabin, which has one bedroom and looks out over a creek in a peaceful rural location, is an excellent choice for a romantic break for two people.
The Hill Country State Natural Area is only a 15-minute drive away, and the attractions in Bandera are only a short distance away. During the summer months, the stream is perfect for swimming, fishing (with catch-and-release rules), and floating (with floats provided).
In addition to a charcoal barbecue, it features a terrace that is equipped with a hot tub, so you can relax there while taking in the view of the surrounding area or looking up at the stars.
12. Enchanting Hill Country Cabin -Boerne
This little cottage, which can accommodate up to four visitors, is tucked away in a secluded part of the big property owned by the owner, where you will have lots of solitude and your very own private hot tub.
In addition to a portable cooktop, toaster oven, and microwave, the compact kitchen comes equipped with a fire pit, all of the necessary ingredients for making s'mores, and the ability to prepare basic meals.
It is possible to make whole meals or cook outdoors on the gas grill that is located in the outdoor kitchen that is shared by all guests.
12 Coolest Cabin Rentals in the Texas Hill Country 2023 –Newshub360.net
Related Post
Credit : www.Newshub360.net