Most Expensive Wedding Dress in the World. When it comes to wedding gowns, the options are virtually limitless.
And, whether a bride-to-be wants to add hundreds of decorations or have the gown custom-designed, it's quite simple for anyone to quickly rack up wedding dress expenditures.
Some ladies like to go big or go home when it comes to wedding gowns, even making the list of the most costly celebrity wedding gowns of all time.
Affluent brides with unlimited wedding budgets have been known to spend a lot of money on their wedding outfits.
Starting with price tags in the hundreds and working our way up to the millions, we compiled a list of the most costly wedding gowns worn by celebrities and royals throughout history.
While we continue to drool over anything The Crown-related, including Princess Diana's wedding gown, which was featured in the most recent season, it's worth noting that Serena Williams, probably the greatest athlete of our time, knocked over many royals for the top slot.
See below for her entire designer ball gown, which is far beyond our greatest dreams (and budgets), as well as other dresses that will go down in history.
Most Expensive Wedding Dress in the World 2023
1. The Diamond Wedding Gown – $12 million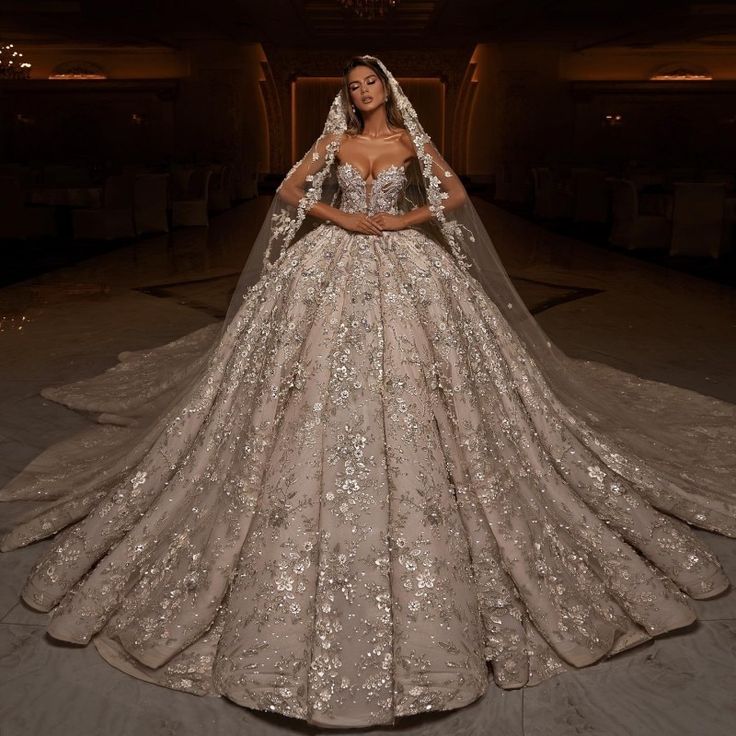 The fact that this wedding gown has been fashioned in such a manner that when the bride turns and movements, light bounces off the diamonds and creates a magnificent shimmer is what makes it stand out.
Renee Strauss is well-known in Beverly Hills for her famed wedding salon. Shannen Doherty, Kathy Ireland, Rosanne Barr, and Paul Abdul are among her celebrity clients, and her items have appeared in Hollywood films such as General Hospital, He's Just Not That Into You, Because I Said So, and Coyote Ugly.
Martin Katz, her collaborator in this endeavor, is equally well-known in Beverly Hills as a designer and jeweler. Angelina Jolie, Hilary Swank, Carrie Mulligan, and Claire Daines have all been seen wearing his pieces.
The designers have set an outrageous price of $12 million for this gown and are in no rush to sell it. They are promoting their designs and commodities at premium fashion and bridal shows by employing this magnificent masterpiece.
Even at $12 million, this gown is not the most costly diamond gown ever manufactured.
The award goes to the "Nightingale of Kuala Lumpur," a masterwork built by Malaysian designer Faisal Abdullah.
This incredible work of art has 751 diamonds and has a price tag of $30 million.
---
2. Yumi Katsura White Gold Dress – $8.5 million (Most Expensive Wedding Dress in the World)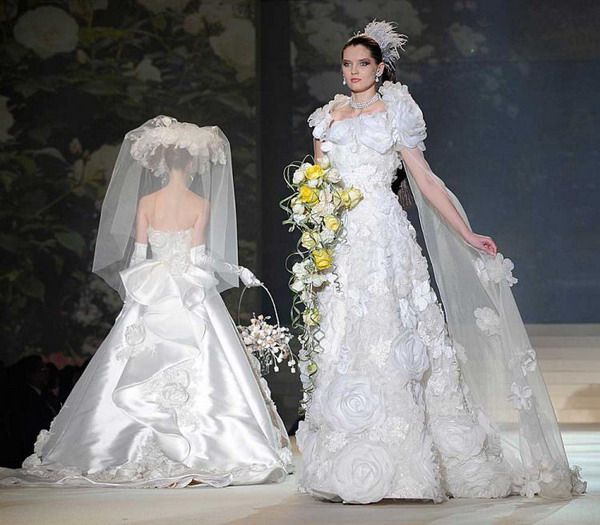 Wow, amazing, wow – this item by Japanese designer Yumi Katsura was crafted from the finest silk and satin and embellished with a selection of valuable jewels and beautiful hand-stitched zari embroidery.
You'd think the 1,000 pearls and rare 5-carat white gold diamond adorning the gown would be the focal point, but it's the 8.8-carat green diamond.
---
3. Vera Wang Wedding Gown– $2 million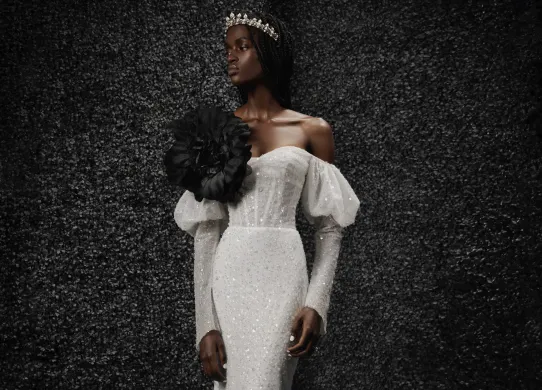 In 2009, the renowned designer took a break from her love affair with white lace and ruffles.
When the designer chose to construct a bridal gown adorned with over 2000 peacock feathers, she broke all wedding dress conventions.
The outfit was made for a Wedding Expo in Nanjin, China, and it took eight artisans to weave the feathers onto it.
---
4. Peacock Wedding Dress – $1.5 million (Most Expensive Wedding Dress in the World)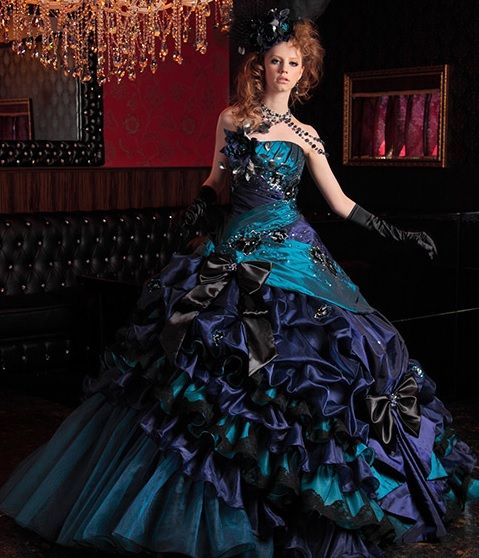 This bridal gown was hand-made from over 2,000 peacock feathers and took acclaimed fashion designer Vera Wong eight months to finish.
The bridal gown was shown during a wedding fair in Nanjing, China's Jiangsu Province's capital.
Aside from the outstanding aesthetic, we couldn't help but wonder what animal rights advocates thought of this.
Given that an average male peacock sheds roughly 200 feathers every molting season, the makers would have been required to collect the feathers of 10 birds over a year.
The bridal gown made news throughout the world, and we believe it was because of its uniqueness, $1.5 million price tag, and animal rights concerns.
---
5. Amal Alamuddin ($512,000)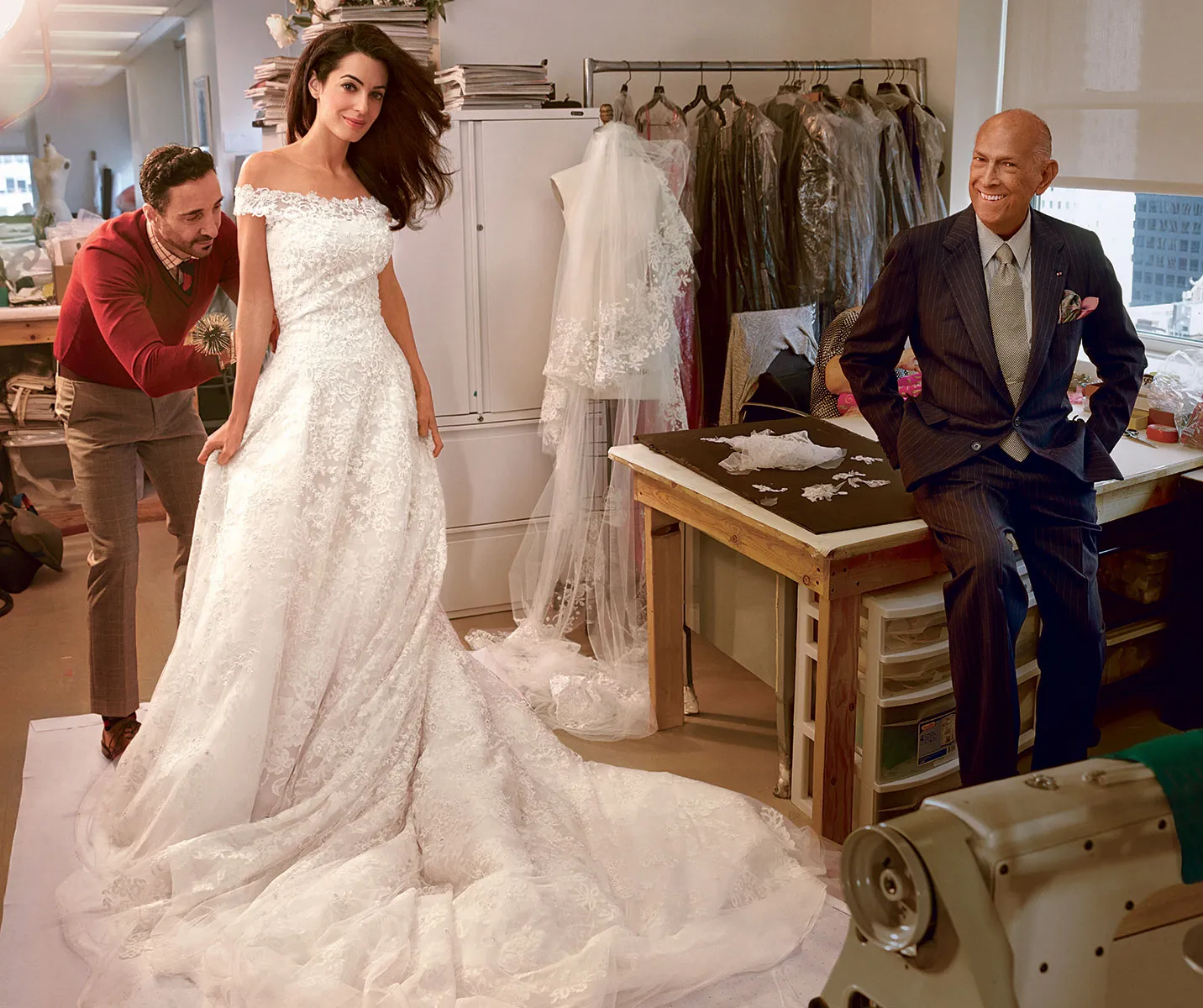 For her wedding to that actor/director/writer/producer guy, the British lawyer donned a bespoke off-the-shoulder Oscar de la Renta gown with hand embroidery, pearl detailing, elaborate beading, and 14 yards of Chantilly lace appliques.
Hers was the late designer's final wedding gown before his death, and it was shown in an Oscar de la Renta exhibit at the Museum of Fine Arts for a while.
---
6. Danasha Luxury Gown – $1.5 million (Most Expensive Wedding Dress in the World)
This gown was debuted during the 2010 Miami International Fashion Week. It is still making news in 2022 and remains one of the most prestigious dresses on the planet.
The designers claim that their purpose was not to just put gold and diamonds together to make a showy garment.
They wanted to create a stunning outfit made of the best materials without making it appear overblown or gimmicky.
The outcome validates their argument, and this magnificent ensemble is ideal for any affluent girl's Cinderella moment at her wedding.
---
7. Kim Kardashian Wedding Dress -$530,000
Kim Kardashian stunned everyone with her shockingly modest bespoke Givenchy haute couture gown designed by Riccardo Tisci for her Italian wedding to Kanye West in 2014.
It had long lace sleeves, transparent back panels, a fishtail skirt, and a long lace train.
It might have easily been overpowered by the floral walls and performances by Andrea Bocelli and John Legend, but it wasn't.
---
8. Kate Middleton's Wedding Dress – $388,088 (Most Expensive Wedding Dress in the World)
Kate Middleton made history by wearing one of the most costly royal wedding gowns ever – her wedding gown, created by Sarah Burton of Alexander McQueen, was one of the most eagerly anticipated wedding gowns revealed in history!
The stunning gown, which included a nearly nine-foot-long train, created a long-lasting craze for lace bridal gowns.
Carole and Michael Middleton, the bride's parents, are said to have footed the tab for a quarter-million pounds.
---
9. Amal Clooney's Oscar de la Renta – $380,000
Amal Clooney's gown topped our list because she and George Clooney spared no cost for their $4.6 million weddings.
The $380,000 off-the-shoulder lace Oscar de la Renta gown was the late designer's final wedding garment before his death.
It became so well-known that it was temporarily displayed in an Oscar de la Renta exhibition at the Museum of Fine Arts.
---
10. Platinum Wedding Dress – $250,000 (Most Expensive Wedding Dress in the World)
You've probably heard of bridal gowns embroidered with gold and embellished with valuable diamonds.
This gown, however, takes the cake since it is made of platinum, one of the most precious metals in the world.
The rich oriental pattern adds to its allure, and you might choose this gown if you want to include an Eastern theme in your wedding. You don't have to limit yourself to the standard dull white for your bridal gown.
Express your personality and distinct flair with this bright red oriental gown that will be the talk of the town for a long time to come and will also provide you with beautiful memories to cherish when you reflect on your wedding throughout the years.
Most Expensive Wedding Dress in the World 2023:Newshub360.net
Related Post
♦ 13 Most Expensive Cities to Live in California 2023
♦ 10 Richest Cities in Michigan Based on Median Income 2023
♦ 10 Best Places to Live on East Coast of Florida 2023
♦  15 Top Fox News Anchors Female to Watch 2023
♦  20 CNN Female Anchors You Need to Watch in 2023
♦  11 Dr Pepper Commercial Actors and Actresses 2023
♦  15 Funny Numbers to Prank Call and Prank Hotlines 2023
♦  20 Scary Numbers to Call: You Should Never Call Them
♦  14 Actors and Actress in GEICO Commercials 2023
♦  10 Liberty Mutual Commercial Actors and Actresses 2023
♦  10 Best Slavery Movies on Netflix for Black History Month 2023
Credit :www.Newshub360.net