Richest Kings in Africa 2023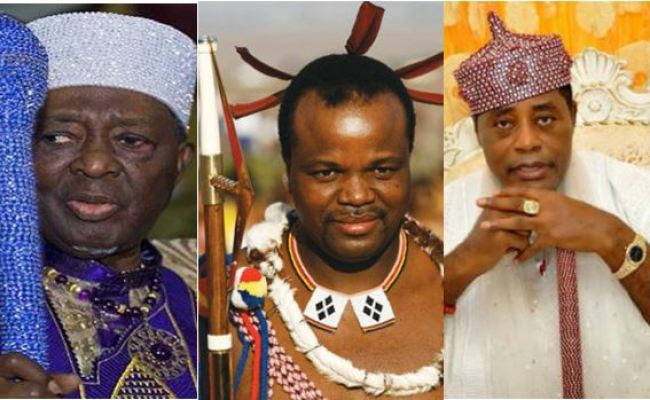 The Richest Kings in Africa 2023. As contained in history, colonial powers established their colonies and dominated African countries for long.
Although a significant number of African nations are regarded as democratic lands, many African monarchs have persisted in maintaining their traditional supremacy.
Although the political power vested in kings is considered less formal, many African kings have devoted themselves to promoting the welfare of their people and by reason of this, they are treated with due esteem.
As to the major focus of this article, we've obtained the names of the Top 5 Richest Kings in Africa 2023 and based on our findings, these kings are ranked in line with Forbes' list of Africa's richest kings.
Top 5 Richest Kings in Africa 2023.
5. Otumfuo Osei Tutu II Net Worth: $14 Million
Otumfuo Osei Tutu II is regarded as the traditional ruler of Ashanti, the native land of the Asantes –the largest Ghanaian ethnic group.
He ascended the royal throne in 1999. As regards his notable supremacy, King Otumfuo Tutu II serves as the spiritual as well as political leader of all Asante indigenes.
On his return to Ghana in 1989, he established his own enterprise Transpomech Ghana. With his Ashanti kingdom considered a vast deposit of gold, King Osei Tutu II has managed to acquire a pile of gold royal gems as well as an enormous land expanse in Ghana.
Under the inuence of his majesty as a king, Osei Tutu II is declared with the net worth of $14 million.
4. King Goodwill Zwelithini Kabhekuzulu Net Worth: $19 Million
King Goodwill Kabhekuzulu commands majesty and is highly regarded as the monarch of the Zulu group –the biggest ethnic group in South Africa.
With regard to his dignied supremacy, the king is endowed with a mouthwatering sum of $6 million as yearly allowance. With this allowance, King Kabhekuzulu fends for his royal household.
Besides the yearly returns, King Kabhekuzulu magnies his opulence with lots of grants as well as luxuries including private ight travels which he enjoys on a regular basis.
Quite interestingly, the king spends no penny to enjoy these luxuries since the charges are usually deducted from the revenues generated from tax collection in South Africa.
With his massive net worth valued at $19 million, King Goodwill Kabhekuzulu splashes around wealth with a beautiful garage of expensive cars.
3. Lord Mswati III Net Worth: $50 Million
Lord Mswati III is the current ruler of Swaziland. As an opulent person who dwells in riches, Lord Mswati III is also an ardent owner of spouses –with nothing less than 15 wives in his royal residence.
Lord Mswati, who is in his mid-forties, has a birthday which coincides with the Easter festivity celebrated by Christians.
With the estimated net worth of $50 million, Lord Mswati III continually makes money through yearly earnings from the national government.
Apart from that, the king has authoritative control over the management of Tibiyo TakaNgwane –a large company with massive speculation holding.
2. Oba Obateru Akinruntan Net Worth: $300 Million
Regarded not only as the richest Nigerian king but also the second richest king in Africa boasts of; Oba Akinruntan is the traditional ruler of Ugbo land –one of the inuential communities in Nigeria's South West, precisely Ondo State.
Oba Akiinruntan ascended the throne –as the new Olugbo of Ugbo land –in 2009.
Despite his dignied status as a king, the massive portion of Oba Akinruntan's wealth comes from Obat Oil –the voluminous oil company he set up in 1981.
Besides his control of the voluminous oil business, Oba Akinruntan has a wide range of assets locally and internationally and his current net worth hovers around $300 million.
1. King Mohammed VI of Morocco Net Worth: $2 Billion
King Mohammed VI is the dignied ruler of Morocco and currently, he is deemed the richest African monarch. He ascended the throne after the death of his predecessor and father.
With his net worth estimated at $2 billion, King Mohammed VI of Morocco makes the largest portion of his wealth through the directorship of (SNI) Societe Nationale Investissement –a Moroccan company with massive speculation holding and large assets worth over $10 billion.
Top 5 Richest Kings in Africa 2023 – Newshub360.net
CHECK THIS OUT :
♦  Top 10 Schools in South Africa That Charge More than R200,000 Fees
♦  Top 10 University Rankings in South Africa Released [Univ of Cape Town is 2nd ]
♦  Top 10 Best High Schools in Durban, 2023 [ Durban High School is 2nd ]
♦  Top 10 Best Private Schools In Johannesburg [ St. Martin's is 3rd ]
♦  Top 10 South African Universities With The Best Academic Performance
♦  Top 10 Best Boarding Schools in Gauteng [ Parktown Boys is 2nd ]
♦  Top 10 Best Girl's High Schools in South Africa [ Durban Girls is 3rd ]
♦  Top 10 SA Female Celebrities With First Class Honours [ University Degrees ]
♦  Top 10 Best High Schools in Johannesburg [ St John's College is 2nd ]
♦  Top 10 Best Primary Schools in Johannesburg [ Melpark School is 2nd ]
Credit : Newshub360.net