The 13 Coolest Airbnb Vacation Rentals in Colorado 2023: There are some really amazing, distinctive Airbnb homes available all around the world that provide experiences you probably can't get at home.
If you're thinking about visiting Colorado, give one of these outstanding hotels some thought.
13 Coolest Airbnb Vacation Rentals in Colorado 2023
1. Rocky Mountain Treehouse, Carbondale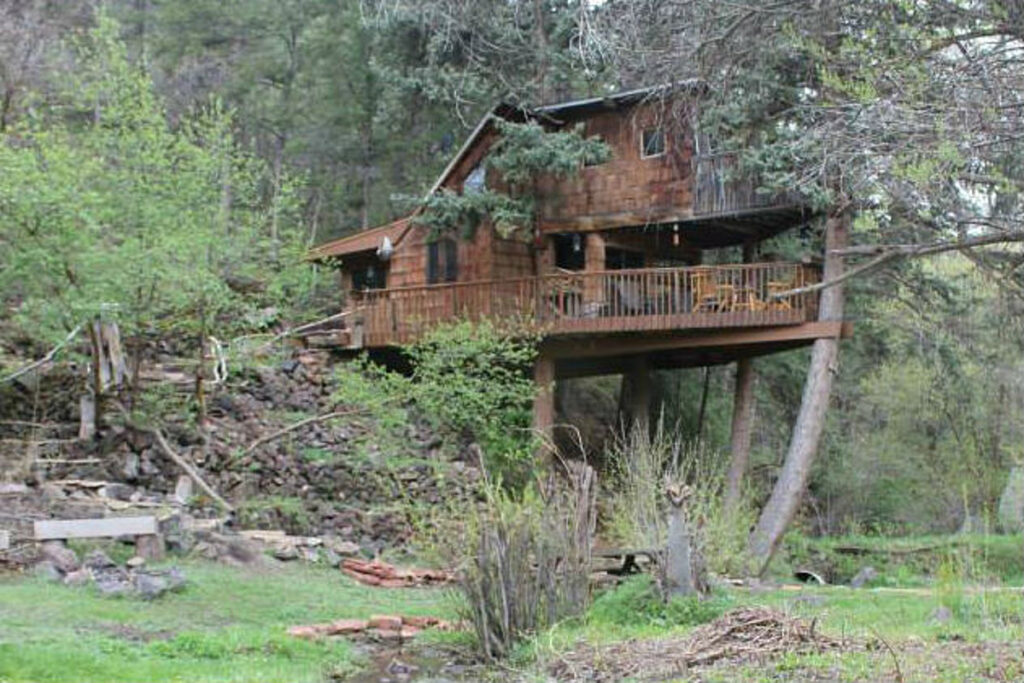 The Rocky Mountain Treehouse in Carbondale, Colorado, is allegedly the most cool Airbnb ever. It gives you the opportunity to realise your childhood aspirations of living in a treehouse.
The house is situated on two acres and is supported by four 100-foot-tall spruce trees for its base. It is 25 feet above the earth, with a peaceful creek flowing beneath it.
The large treehouse has two balconies with expansive views of some of Colorado's most stunning scenery, and you'll ascend the steep rock stairway to get there.
A wood-burning stove, a full kitchen with a granite and copper backsplash, a bathroom with a rock shower, a sleeping loft with four beds and a campfire area are all included.
You'll be far enough into the forest to forget about your smartphone, but you'll still be close enough to civilization if you need to dash out and get a bottle of wine because it's just a few minutes from the major county road.
2. Little Red Treehouse, Lyons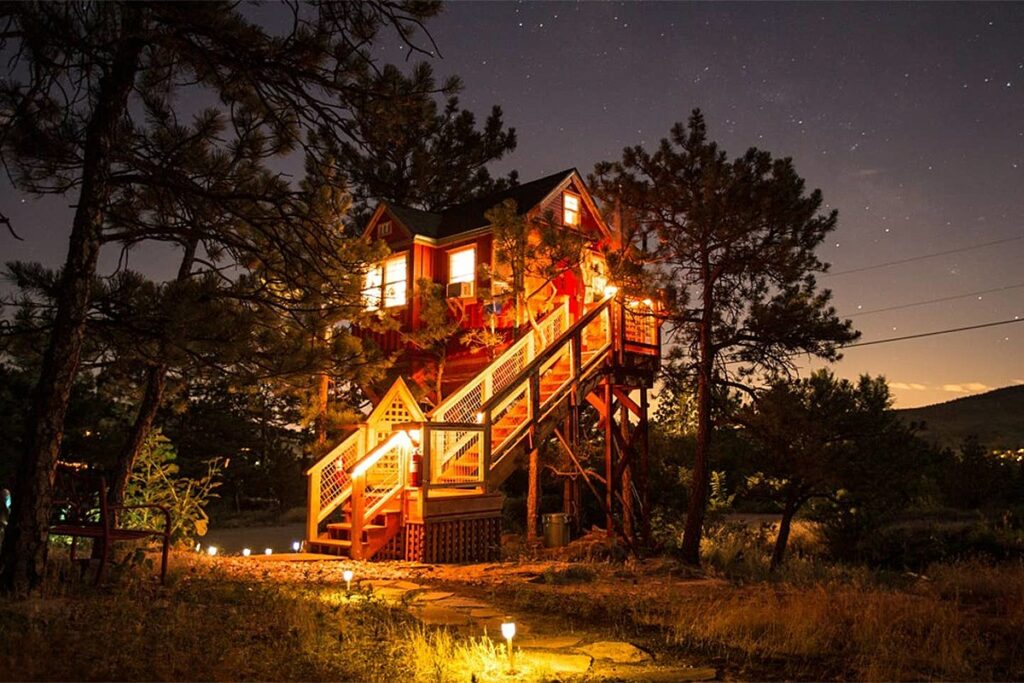 The Little Red Treehouse offers a distinctive stay in a serene setting in the little town of Lyons, which is nestled in the foothills of the Rockies just north of Boulder.
This lovely quiet retreat can accommodate up to two visitors and is conveniently located near the entrance to Rocky Mountain National Park, making it a great choice for those wishing to explore the area.
Walking distance away from it are other activities including fishing, river tubing, hiking, and biking. It is literally surrounded by trees, has expansive vistas, a picnic place, a swing, and a big lawn for throwing a Frisbee.
3. Moose Haven, Walden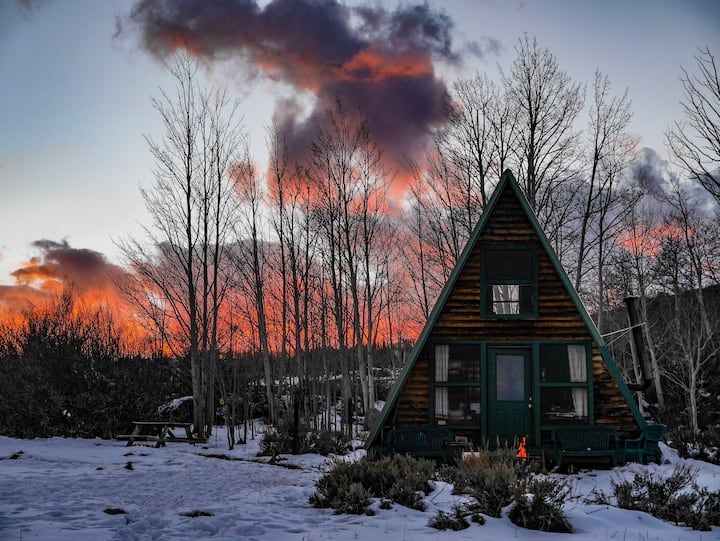 With its stunning mountain peaks and brilliant blue alpine lakes, Walden is a little mountain village in the Mount Zirkel Wilderness that makes for the perfect getaway from Rocky Mountain National Park's throng.
Additionally, it's among the top locations in the state for moose viewing. Enjoy hiking miles and miles of beautiful paths where you might see one of the nearly 600 moose, elk, bald eagles, black bears, mule deer, beaver, fox, or marmots that live there.
The ultimate nature retreat is the off-grid Moose Haven. Although there is no running water and little electricity, and the outhouse is 20 feet from the front door, it's a tough place to beat if you're want to get away from the grind.
4. Custom Blue River Log Home, Breckenridge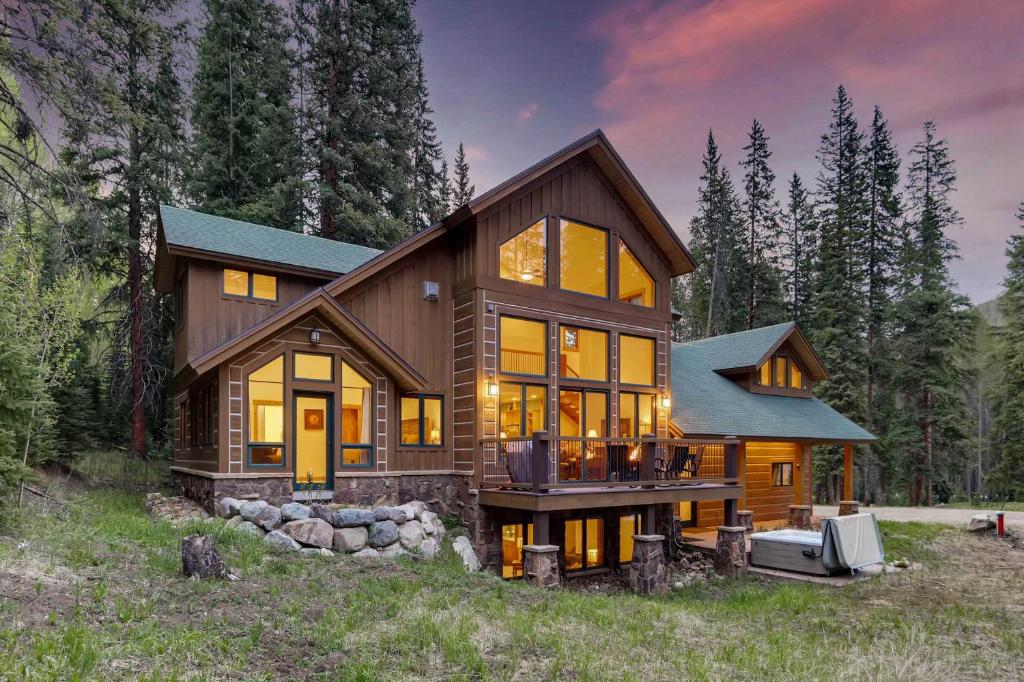 This wonderful retreat offers a picture-perfect Rocky Mountain location just a few minutes south of the city.
The ideal log home in the woods is located in Blue River, close to the shuttles and free parking that take you to the ski slopes and bases.
It is nestled away in a quiet neighbourhood surrounded by trees. It is quite cute and has a tonne of modern conveniences, such a fully-stocked kitchen, a sizable terrace with a grill, a covered area for all of your sporting equipment, and much more.
Three bedrooms with six beds each featuring pillow-top queen mattresses can accommodate up to eight people.
5. Amazing Tiny House, Fairplay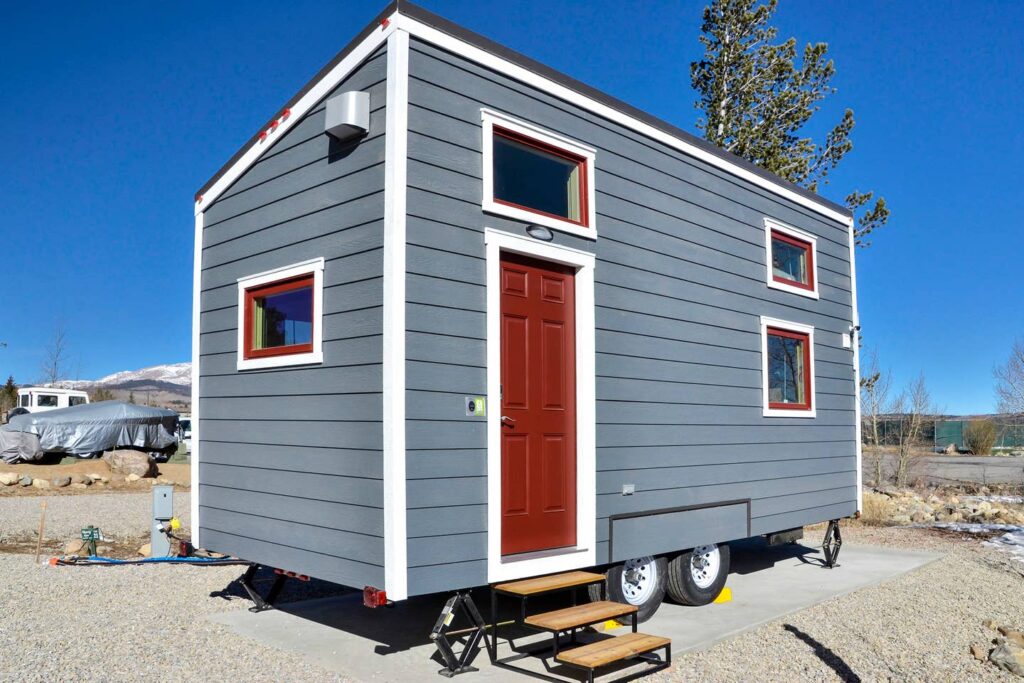 This brand-new Tumbleweed tiny house is absolutely awesome, and it's situated in Fairplay, a town known for the "South Park" television series and situated at a high elevation.
While being only 30 minutes from ski slopes, enjoy a cosy refuge in the mountains that is surrounded by chances for beautiful treks, fly fishing, gold panning, and more.
Its interior is made of solid pine and features one bedroom, a kitchen, and two beds that may accommodate three people (one in the loft and one downstairs).
There are also public hot baths that are open to visitors throughout the summer.
6. Crested Butte's The Overlook
This Airbnb is a duplex with peaceful long-term tenants on one side and spectacular views in a prime position close to Crested Butte and several beautiful hiking paths.
There is a private enclosed garden and it is pet-friendly, so you are welcome to bring your four-legged companions.
It includes two queen-sized bedrooms, each with its own private veranda overlooking a big open area with a meandering river running through it.
A 52-inch YouTube TV, a sizable electric recliner that can accommodate eight people, a fully furnished kitchen with stainless steel equipment, a wood-burning stove and a washer/dryer are all located indoors.
There is also outdoor furniture and a fire pit.
7. The Fortress at Pikes Peak, Cripple Creek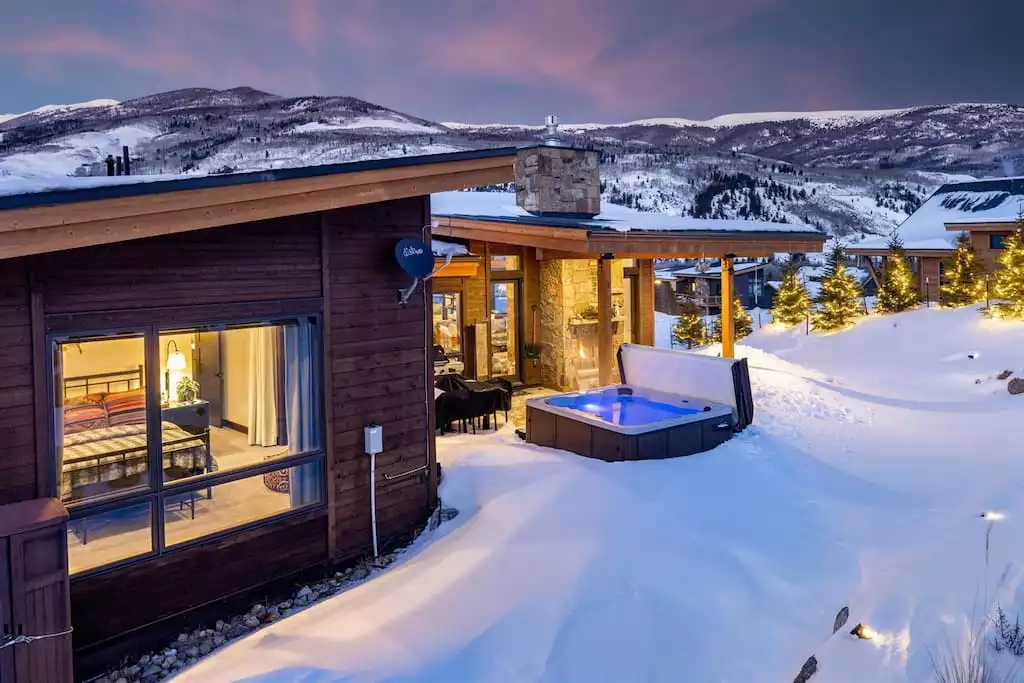 With seven beds and room for up to 11, this Cripple Creek gem is great for a big family or group of friends.
The hosts mention that here is where the "purple mountain majesties" from Katharine Lee Bate's "America the Beautiful" live, and it is quite spectacular.
Enjoy breath-taking views from the living room and deck in Mueller State Park, which is perched high above a hill on the western slope of Pike's Peak and just one mile from the trails.
A wide walk-out concrete patio, a sizable hot tub/spa, numerous big-screen HDTVs, and a tiny pool table are just a few of the opulent extras offered.
8. Hot Tub & Mountain Views at Modern Silverthorne Retreat – Silverthorne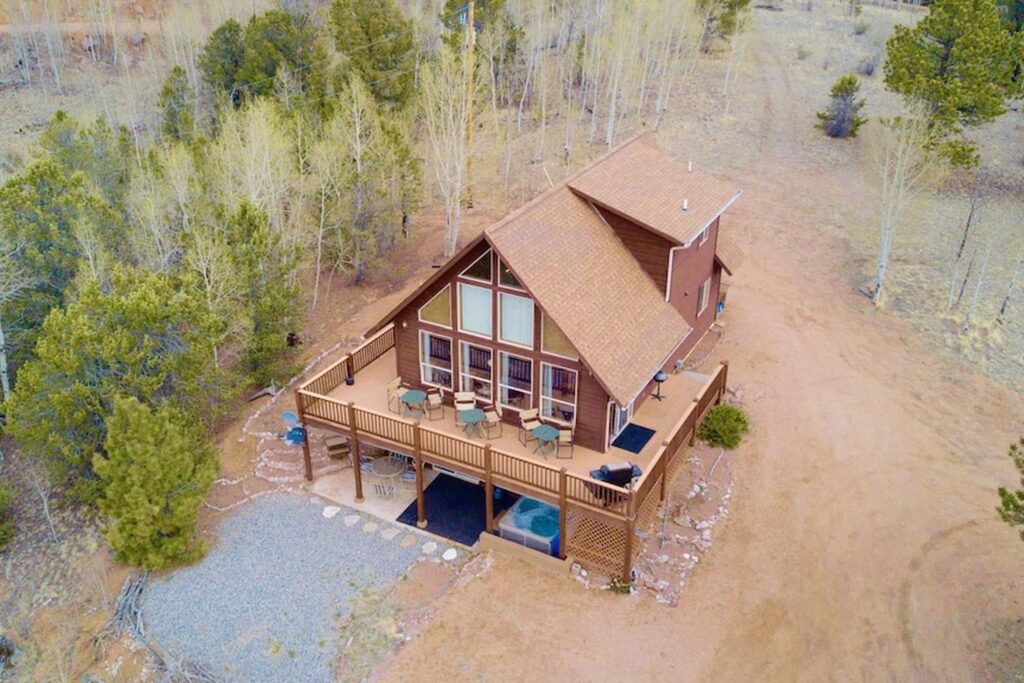 This four-bedroom house can accommodate up to 10 people and has a lovely Scandivanian feel. It's deserving of a magazine cover.
Numerous ski resorts, like as Breckenridge, Keystone, Arapahoe Basin, and Loveland, are nearby. Afterward, you can relax in the outdoor hot tub or around the outdoor stone fire pit.
Inside, unwind while taking in the breathtaking mountain views, prepare meals in the luxury kitchen, and take advantage of a number of other amenities like a fireplace, four flat-screen TVs, and a washer/dryer.
9. Central Location, Amazing Views & Family Friendly – Glenwood Springs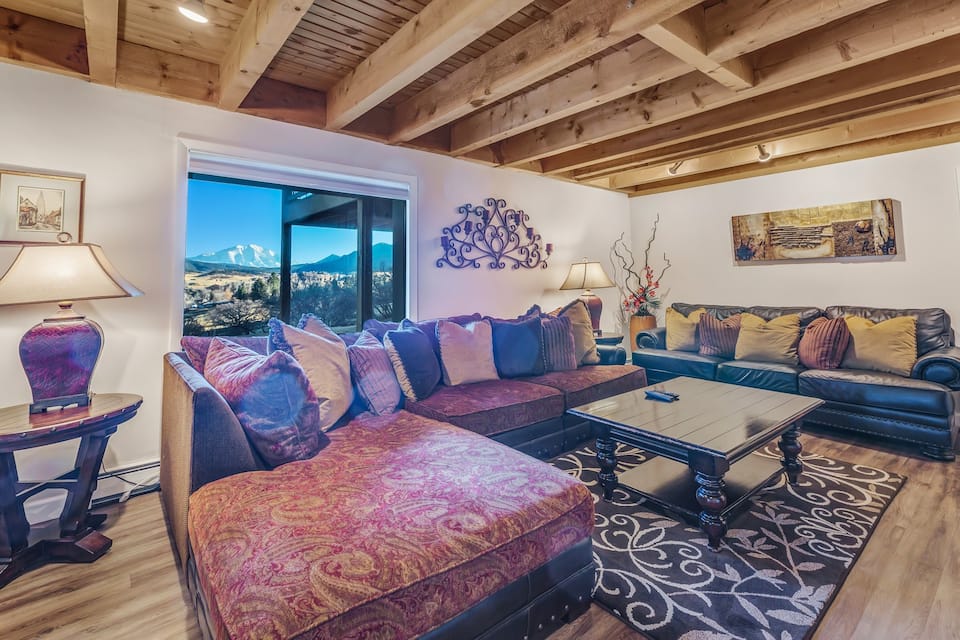 This four-bedroom house can house up to a dozen people and serves as the perfect home base for exploring Glenwood Springs' various activities.
It has a private hot tub for bathing and a breathtaking view of Mount Sopris, and it is situated on a private acre.
There is a gas fireplace where you may enjoy a cup of hot cocoa, as well as all the modern comforts like Wi-Fi, cable TV, a luxury kitchen and laundry facilities.
10. Josephine – Leadville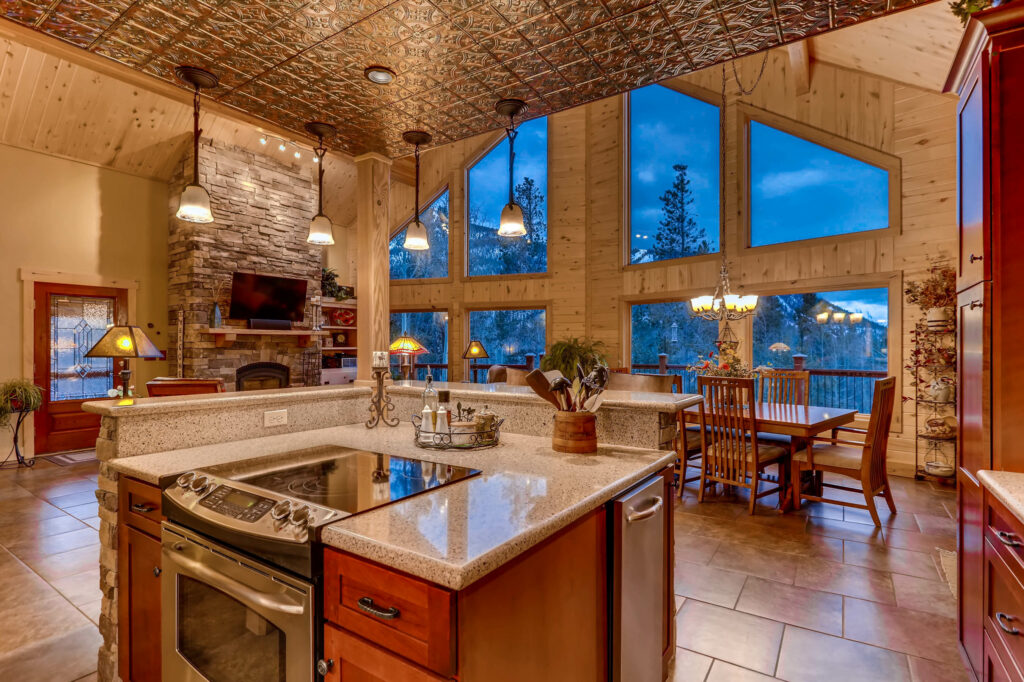 This 1888 Victorian enjoys a tranquil location with a hot tub in the backyard, perfect for relaxing beneath the stars despite being just a block off Leadville's main street.
It is much larger than it appears and has four bedrooms on two levels, with capacity for up to eight guests. Although it has plenty of antique furniture that adds to its historic charm, it also has all the necessities of today.
There is even a piano in addition to a fully equipped kitchen with top-notch appliances, coffee and tea makers, Wi-Fi, a flat-screen TV with a Blu-Ray player, and other amenities.
The large library, which has some amazing rare, vintage volumes, might keep you busy for a week or longer.
11. Penthouse Views, Ski On/Off to Quicksilver Lift – Breckenridge
This studio condo, which is situated on the top floor of Peak 9 Inn, also known as Liftside, provides a stunning view of the mountains and the ski slope.
The amenities of the complex are available to up to four visitors, who can also benefit from easy access to dining, shopping, and skiing.
There are four hot tubs, a sauna, a steam room, an indoor pool with a slope, and a fitness centre among other amenities.
Just outside the unit is a ski locker or extra storage area, and within is a full kitchen, cable TV, queen-size bed, and couch bed.
12. Stunning Artists Chalet on 40 Private Acres – Aspen
This unique chalet, situated on 40 secluded acres on the west side of Buttermilk Mountain, one of the best ski resorts in the nation, offers lots of peace and privacy.
It is surrounded by nature, with sweeping views that go as far as Mount Sopris. Three bedrooms, each with its own bathroom, may accommodate up to eight people.
The numerous windows let in a lot of natural light, yet black-out curtains are installed everywhere to ensure a restful night's sleep.
A large wood-burning fireplace, a luxury kitchen, multiple TVs with DVD players, and access to the greenhouse where you can gather whatever is in season are additional amenities.
13. Private Mountain Cabin with 360 Views & Hot Tub – Guffey
The hut can accommodate two people and is perfect for romantic couples. It is situated on a 15-acre parcel of land that borders public land and offers almost unlimited views in addition to opportunity for romantic excursions through the wooded region to a lovely meadow.
The private two-person tub, river stone meditation labyrinth, and loveseat swing bench are all available for your enjoyment while you take in the expansive vista of the Collegiate Peaks.
A wood-burning fireplace, a full kitchen with tea, coffee, and other necessities, a TV and Bluetooth speaker with Internet connection, and a washer/dryer are among the notable interior amenities.
13 Coolest Airbnb Vacation Rentals in Colorado 2023 – Newshub360.net
Related Post

Credit: www.Newshub360.net