The 15 Glamping Spots in Georgia 2023: In Georgia, camping is a way of life. This area has many amazing state parks and leisure sites that are ideal for setting up a tent or bringing out an RV.
However, even if "roughing it" isn't really your idea of fun, you can still take in Georgia's breathtaking natural beauty while still enjoying all the conveniences of home.
Glamping, which stands for "glamorous camping," includes using yurts, huts, cottages, or other luxurious outdoor lodgings. We're spotlighting the top glamping locations in Georgia in this article.
You can stay at these unique locations as a fun change of pace from conventional hotels and B&Bs. Traveling while glamping is extremely exciting because each location offers something a bit different.
Top 15 Glamping Spots in Georgia 2023
1. Owl in the Oak Treehouse, Duluth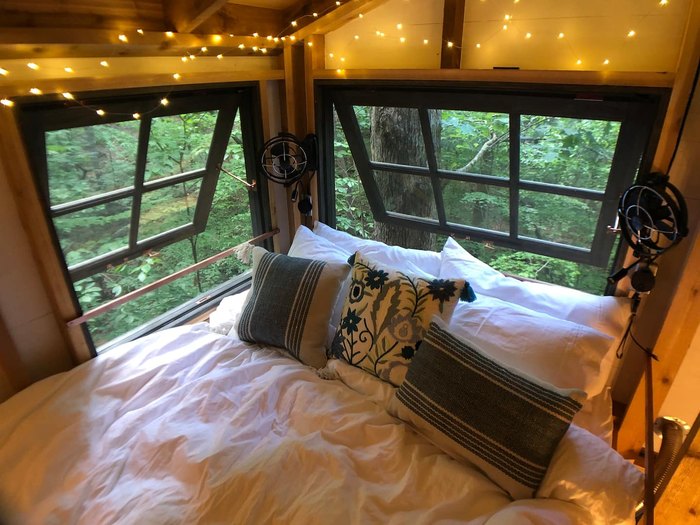 This well-known glamping location in Duluth is a treehouse and the ideal forest retreat. It features one bedroom and one bathroom, making it perfect for up to three guests. It is remote and has both contemporary conveniences and rustic accents.
The little brook that is about 30 feet below the treehouse will be lovely to you. The rental property is around 100 yards behind the host's house and provides 120 square feet of off-the-grid living space with a sleeping loft that is 50 square feet in size and reachable by a ladder.
The treehouse's kitchenette, which includes a propane burner, a sink, and a compact refrigerator, is available for use. There is a composting toilet and shower in the bathroom. Stay here to have a special experience while hanging in the trees!
---
2. Secluded In-town Treehouse, Atlanta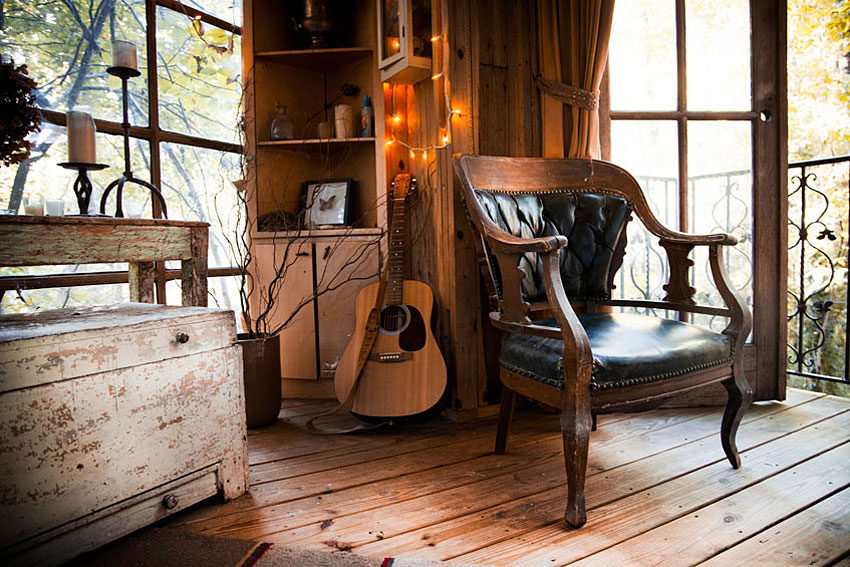 This is a pleasant Airbnb for two visitors and one of the most well-liked treehouses in the United States. It is close to downtown and has a suite of three lovely rooms among the trees.
Magazines and TV broadcasts have both covered the treehouse. The treehouse's three distinct sections stand in for the body, mind, and spirit.
The host's private residence's basement or lower level is accessible to guests. Parking in the driveway is also free.
---
3. Mountaintop Luxury Treehouse at Selah Ridge, Ringgold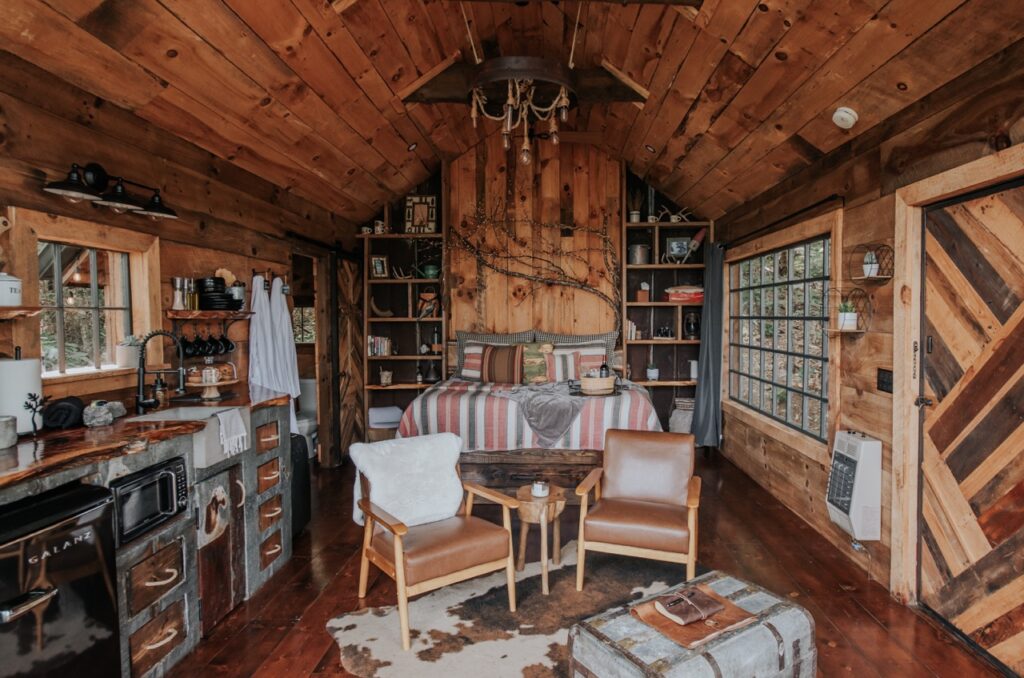 Another choice for a treehouse is this one, which can accommodate up to four people and is located in Ringgold. It is situated on 19 acres of private land and contains two bedrooms and one bathroom.
You'll be close to some of Georgia's top wineries as well as whitewater, hiking, and Chattanooga. For a peaceful, solitary glamping experience, come here.
Visitors adore the vistas and sounds of the rustling trees, as well as the bridge that connects the treehouse to a hot tub. It's the perfect location to spend time in nature and have a romantic holiday.
The absence of Wi-Fi in the treehouse will make it much easier for you to put technology aside and enjoy being off the grid.
---
4. Romantic Tree House Retreat with 15 Private Acres, Trion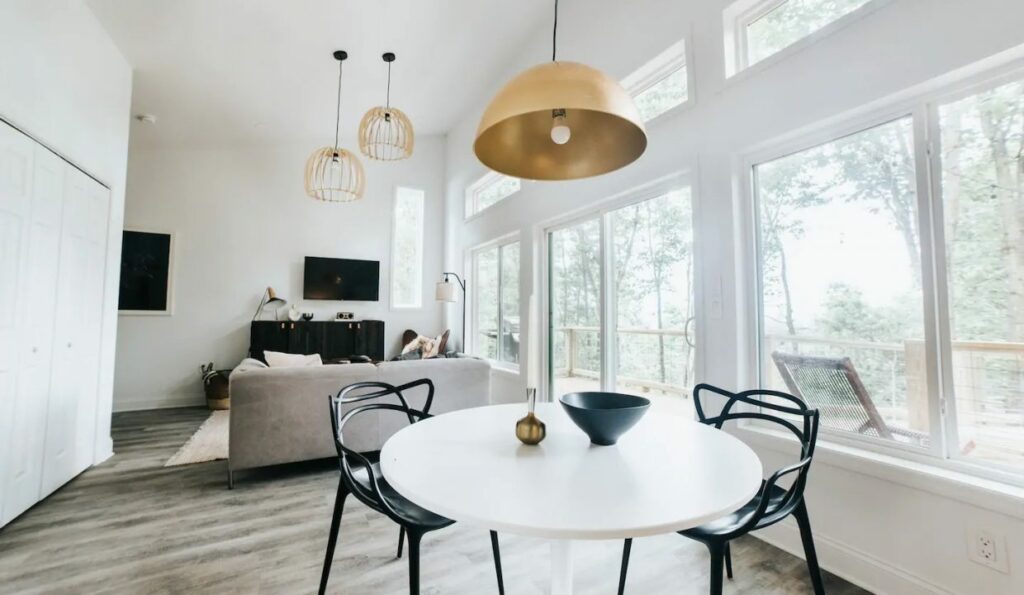 Additionally, you can reserve an Airbnb treehouse for a romantic getaway for two people to explore the Trion region of Georgia.
This modern treehouse features a screened balcony off the bedroom, a modern kitchen with all the necessary appliances, a rear deck with a gas BBQ, and views of Pigeon Mountain. The Japanese Ofuro soaking tub, which is located among the trees, is also a favorite among visitors.
Come here to enjoy 15 acres of woodlands for isolation and the peace and quiet of the Appalachian Mountains in Northwest Georgia.
The area also has a full-size bathroom and a separate laundry room with a washing and dryer. Atlanta is two hours away, while Chattanooga is 50 minutes away.
---
5. Glamping Geodome Under the Stars, Ellijay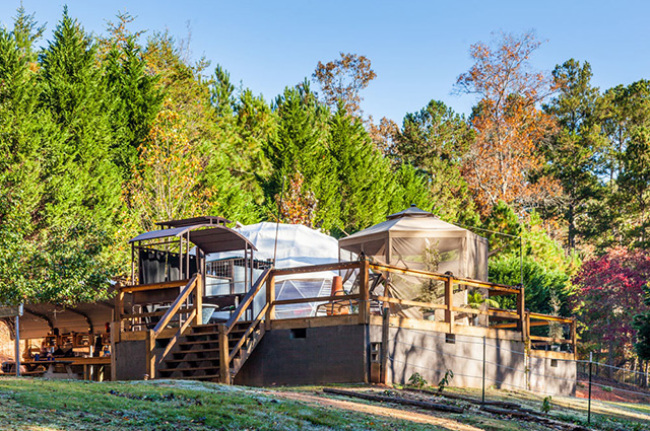 Staying under a geodesic dome on a 17-acre alpaca farm is one of the more entertaining ways to go glamping in Georgia. For outdoor enthusiasts who enjoy hiking, biking, paddling, and fishing, this Ellijay getaway is ideal because it is bordered by beautiful forests, streams, and trails.
When you return from days spent exploring the wilderness, you can unwind on a lovely deck. You can find a private bathroom, outdoor kitchen, bathtub, and outdoor shower at this geodome location.
It's not suitable for families or pets, but it's great for one or two couples. It is close to Carters Lake and has enough for up to four persons.
There are 65 miles of unspoilt beachfront, 3,200 acres of deep water, a full marina, and boat rentals available at Carters Lake.
---
6. Treasure Hunt Tree House in Metro Atlanta, Kennesaw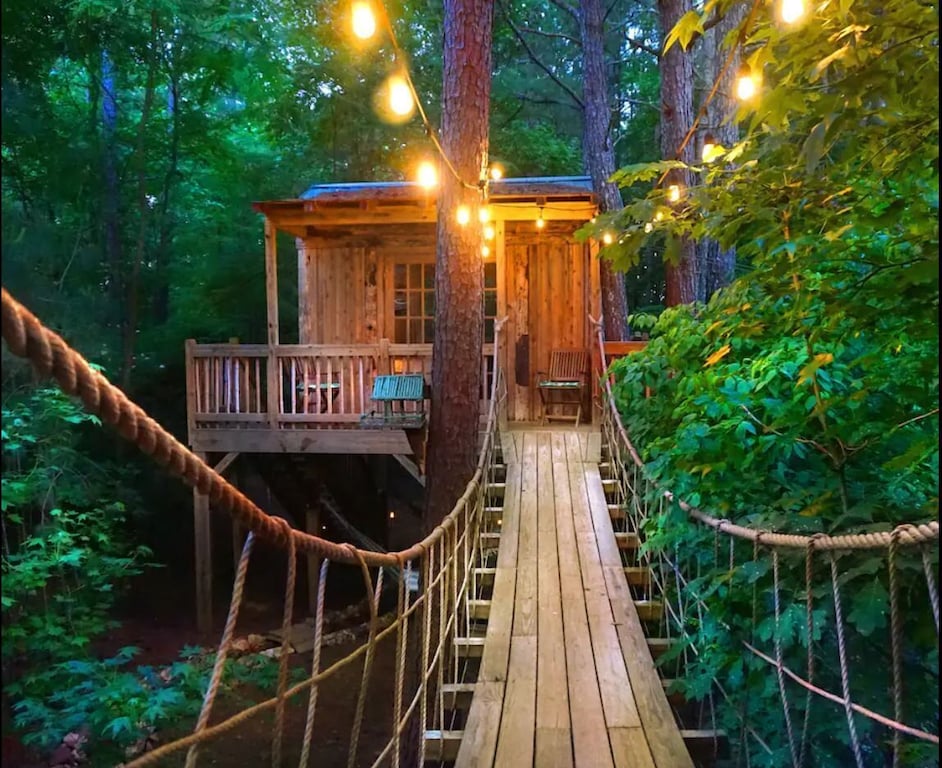 Choose this treehouse for two people for a glamping staycation in the metro Atlanta area. It is situated in Kennesaw, which can be reached from Atlanta in roughly 20 minutes by car.
This well-known Airbnb rental has two buildings that are connected by a rope bridge and is a three-story treehouse.
Additionally, there is a supplementary treasure hunt in the style of an escape room here, and a trickling stream runs beneath it! Three sides of the first treehouse's structure are covered in a porch.
The owner made the majority of the décor in this place. There is a full bathroom available to you as well as a small mini-fridge and microwave for basic food preparation and storage.
Only visitors to the treehouse are allowed to use the restroom, which is only a few steps away from the treehouse and connected to the host's home.
---
7. Firefly Bend Treehouse with Hot Tub, Suches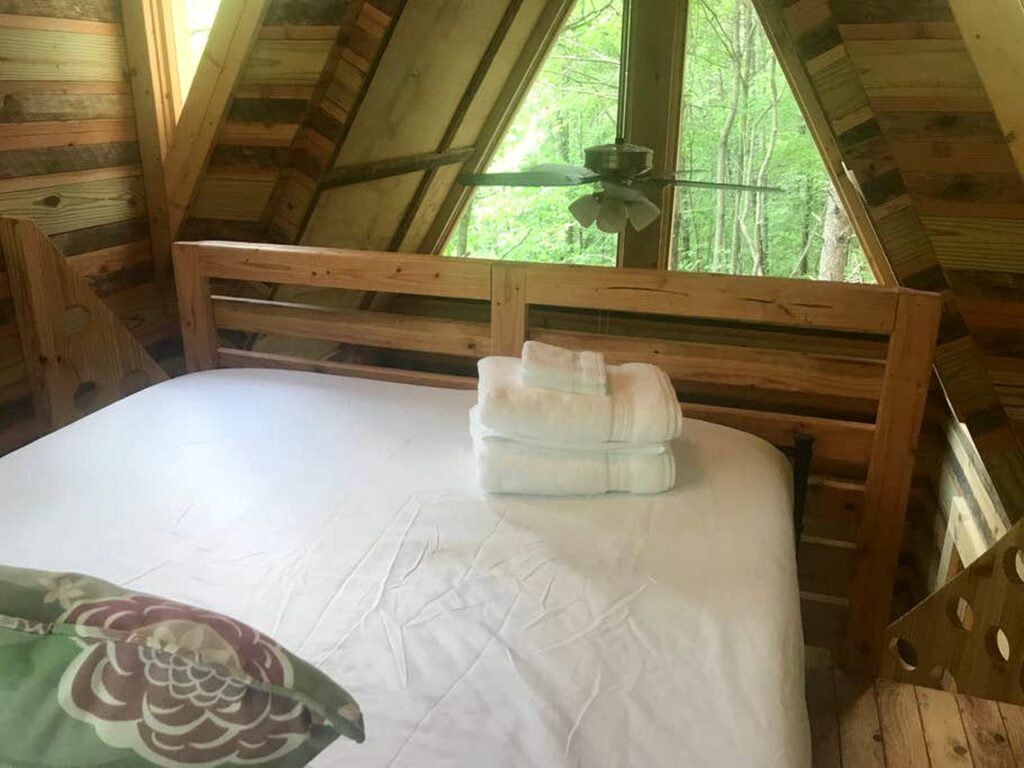 Here's another Suches-based glamping treehouse that we adore. It is designed for two visitors, situated on five acres of perfect seclusion on the edge of a hill.
A main cabin and two additional treehouses are there. Enjoy the kayaking, cycling, and hiking that the national forest has to offer while unwinding in the hot tub.
The cities of Dahlonega, Blue Ridge, and Blairsville are close by. Additionally, you can benefit from extra services like fishing guides, additional cleaning, and shopping pick up, all of which are handled by Suches Vacation Rentals.
---
8. Blue Ridge's Riverside Cabin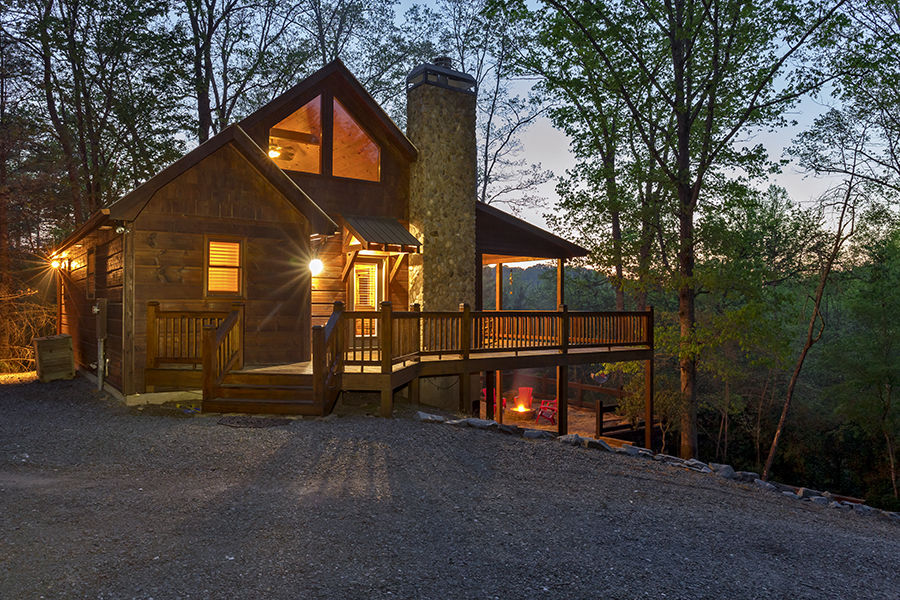 Choose this riverfront option in Blue Ridge for a cabin glamping experience. The grounds of this Airbnb have walking trails, a common pool, and a hot tub.The distance to Blue Ridge's center is three miles. Each pet's stay must be approved in advance.
The cabin has steps and a sleeping loft area that is only accessible by a ladder, thus it is only appropriate for individuals without mobility concerns.
---
9. Alpaca Treehouse in the Bamboo Forest, Atlanta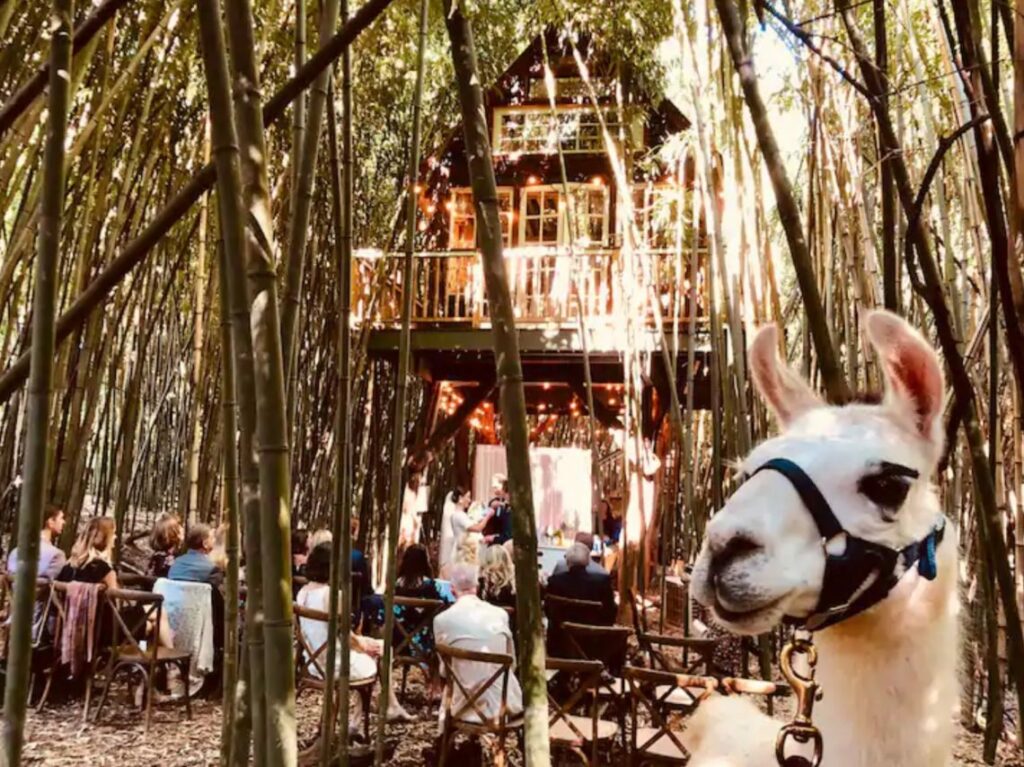 This is a top glamping location for a staycation and another highly sought-after Airbnb rental in Atlanta. It features two beds and can sleep up to four people.
It is a secure location in the heart of a private bamboo forest with improved cleaning techniques, heat, and air conditioning.
When you stay at this treehouse, which has been shown on television, you can be near llamas and alpacas that are ambling around the woodland.
Only kids over the age of 12 are permitted here. On this farm's property, there are also more lodging options. A short distance through the woodland leads to the restroom.
---
10. Kaluna Farm Retreat Wooden Yurt, Talking Rock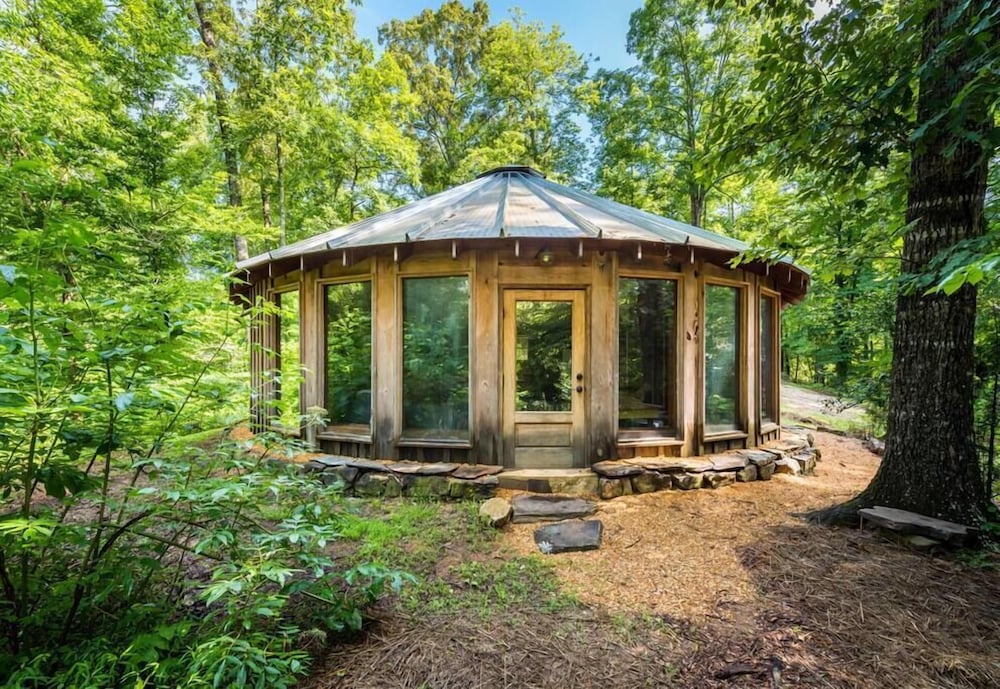 Yurts are also entertaining for camping, like this one in Talking Rock that sleeps eight people. The several bunk beds for children make this wooden yurt ideal for families.
The host's organic farm and hemp field are nearby. A family-friendly atmosphere and being on an organic family farm are reasons to stay here.
Just below the yurt, there is a holy spring where you may access water and parking.
---
11. Luxury Glamping in a Secluded Yurt with Private Lake, Conyers
Here is another yurt option that can accommodate up to six people. It is a beautiful location for nature lovers and is located in a remote 80-acre region that is tranquil and wild.
Inside, there is air conditioning, a bathroom with hot water, a kitchenette, and many more contemporary conveniences.
The outdoor space has a hardwood deck, lovely views, accent lighting, and a personal dock for canoeing or fishing.
---
12. Cherry Blossom Yurt, Rising Fawn, Lookout Mountain
This yurt is excellent for two guests and is particularly popular for glamping stays through Airbnb. The Chattanooga Valley's mountains and woods surround it, making it a true mountain hideaway.
There is a kitchen with everything you need to prepare meals, a full bathroom with a shower, and it has been meticulously cleaned and sterilized.
The yurt features Wi-Fi, a ceiling fan, heating, and cooling. Four miles away is Cloudland Canyon, and a few miles away from the yurt are some fantastic restaurants.
---
13. ATL Treehouse – Couples Retreat, East Point
This amazing treehouse alternative was constructed around a 400-year-old oak tree. The 25-foot-high, adults-only structure gives views of the pond and gardens.
It offers private chef services, access to a private restroom inside the main house, and privacy with a privacy fence.
The property's five little houses share a hot tub, which you'll adore. This 2.5-acre property has a small neighborhood of homes as well as common areas like the outdoor kitchen and fire pit.
---
14. Yurts at Sweetwater Creek State Park, Lithia Springs
One of the parks closest to Metro Atlanta is Sweetwater Creek State Park, making it a convenient weekend vacation location. This park is around 15 miles from the city center and covers more than 2,500 acres.
Sweetwater is one of the state parks in Georgia that has yurts, which provide a cozy glamping experience. At Sweetwater, which is near Lithia Springs, there are ten yurts. Each of the canvas and wood yurts features a deck, a picnic table, and a fire ring.
There are electricity outlets, furnishings, and enough for six people inside the yurts. The futons may be converted into full-size beds, but visitors are need to bring their own pillows and linen.
The yurts do not have restrooms inside, but a nearby bathhouse has showers and flush toilets.
---
15. Treehouses at Historic Banning Mills, Whitesburg
At Historic Banning Mills, you may take a trip back in time to the 1800s while still enjoying all of today's amenities. Come here for the outdoor adventure, history, and hearty country breakfasts.
Each of the double rooms comes with breakfast for two people. Pets are not allowed, however children are welcome to stay. The best glamping accommodation is a treehouse room.
The Creekside rooms, cabin rooms, inn side cottages, and lodge economy rooms are further room kinds. The Swiss Family Robinson tale is retold through the treehouses.
Each one has a private bathroom with a shower, a jacuzzi tub, a gas log fireplace, and a rear porch with views of the gorge below. Inside the treehouses, there is a Keurig coffee maker, a mini-fridge, and a microwave.
You may enter the treehouse through a sky bridge, so your stay will be both breathtaking and thrilling!
15 Glamping Spots in Georgia 2023 – Newshub360.net
Related Post

Credit: www.Newshub360.net