The 17 Best Resorts with Lazy Rivers in Florida 2023: The pleasure that comes from resort pools in Florida with lazy rivers is significantly higher than that of conventional pools alone.
You'll discover a few resorts spread across the Sunshine State that have over-the-top pools with meandering channels.
These are the kinds of pools where you may relax on a floatie as the soothing currents wash away your worries.
Continue reading to learn about the best resorts in Florida that have lazy rivers, which offer the ideal setting for unwinding and basking in the warm Florida sunlight.
Best Resorts with Lazy Rivers in Florida
1. Hilton Orlando Bonnet Creek – Orlando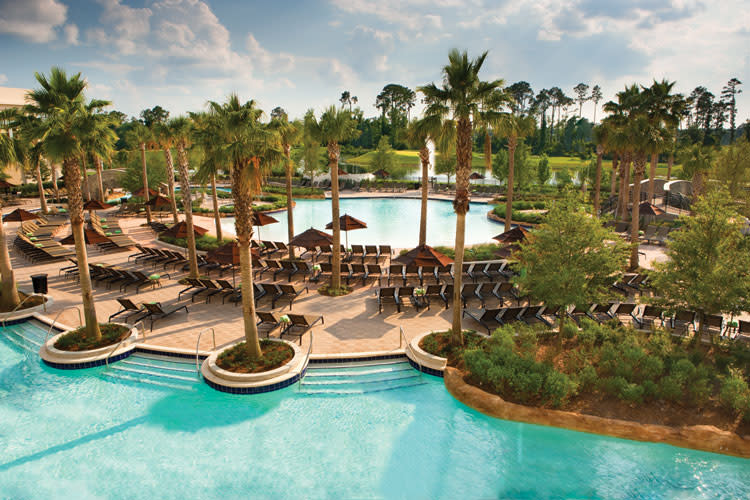 Because it is home to one of the most impressive hotel pools in all of Orlando, the Hilton Orlando Bonnet Creek offers an abundance of fun-filled activities that are perfect for keeping the whole family occupied.
Take advantage of the warm weather in Florida by going for a swim in the three-acre lazy river pool that features a water slide.
After your swim, you can rest in a private cabana while soaking up the Florida sunlight. You will also have access to an extensive selection of eating options, a golf course with 18 holes, and a spa that has won several awards.
You will also have access to complimentary transportation to Walt Disney World and Disney Springs when you are ready to experience the excitement of the theme parks.
2. Four Seasons Resort Orlando at Walt Disney World Resort – Orlando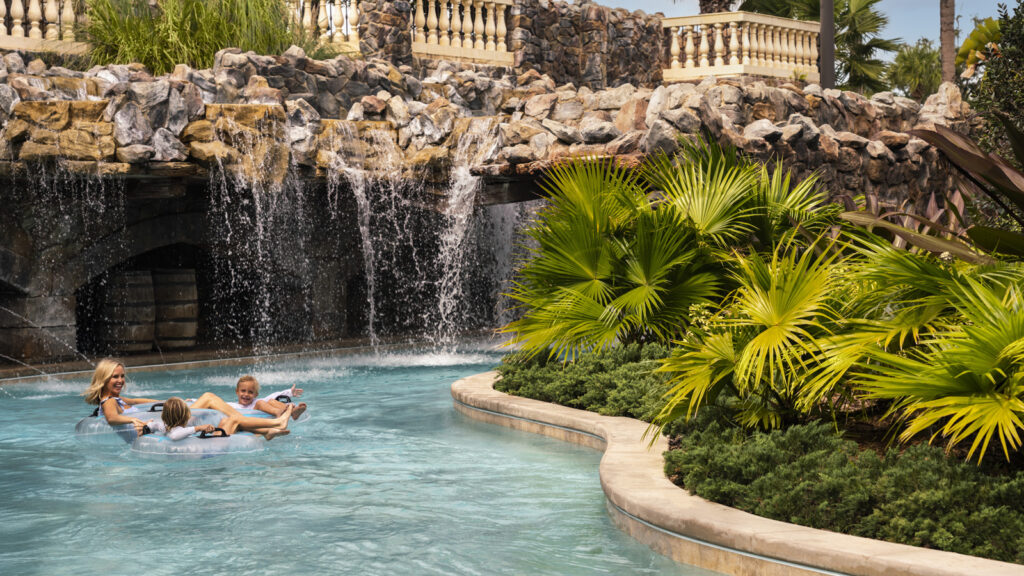 The Four Seasons Resort Orlando provides its visitors with the opportunity to enjoy absolute relaxation with one of the greatest hotel pools in Orlando that features a lazy river.
The resort is located directly across from the entrance to Walt Disney World. You won't only find roomy accommodations here; there are also various restaurants and bars, a spa that spans 13,000 square feet, and a wealth of options to participate in water-based activities.
The adults-only pool at The Mansion features underwater sounds, and it also has a Jacuzzi and a family pool that looks out over the lake.
The lazy river, which serves as the focal point of the resort, winds its way around The Mansion.
To get some relief from the heat, you may cool down by going down the water slide, floating down the river, or taking the kids to the splash pad.
3. Naples Bay Resort – Naples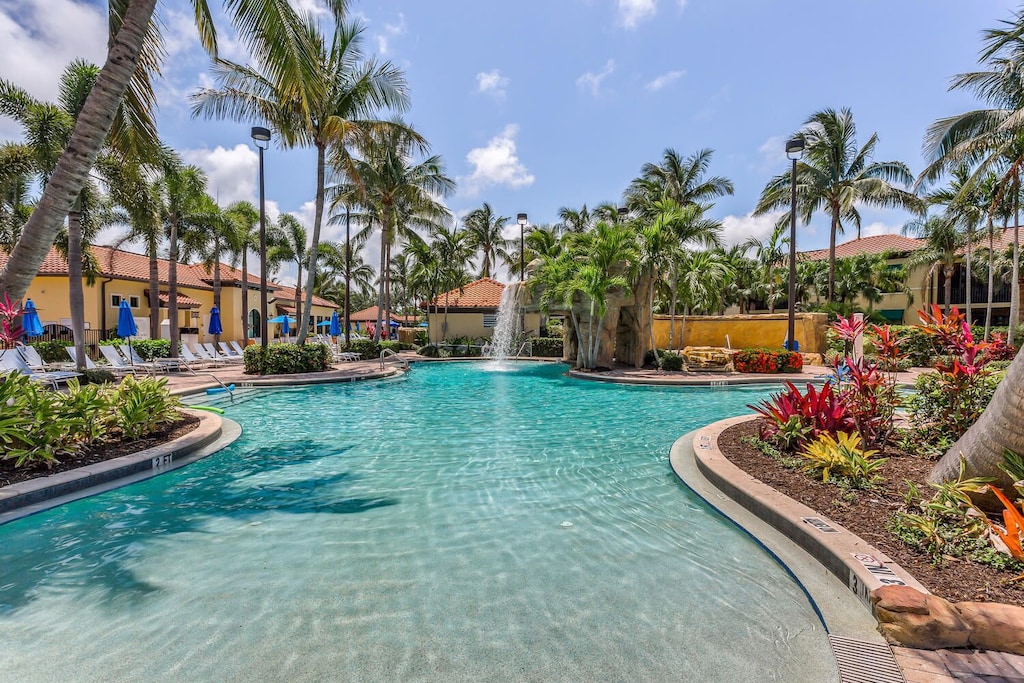 The Naples Bay Resort is a boutique waterfront getaway in Naples that may be found tucked away along the Paradise Coast in Southwest Florida.
In addition to its high-end restaurants, beaches with white sand, and activities geared toward families, this destination provides a variety of luxurious facilities and individualized services.
The vast activity center offers three resort pools and a flowing lazy river in addition to offering stunning views of the waterways and the marina from the balconies of the guest rooms.
You may go out on the water at the 97-slip marina that also offers boat rental choices, do some shopping along the waterfront, or visit the European-style spa in Naples.
4. Omni Orlando Resort at ChampionsGate – Orlando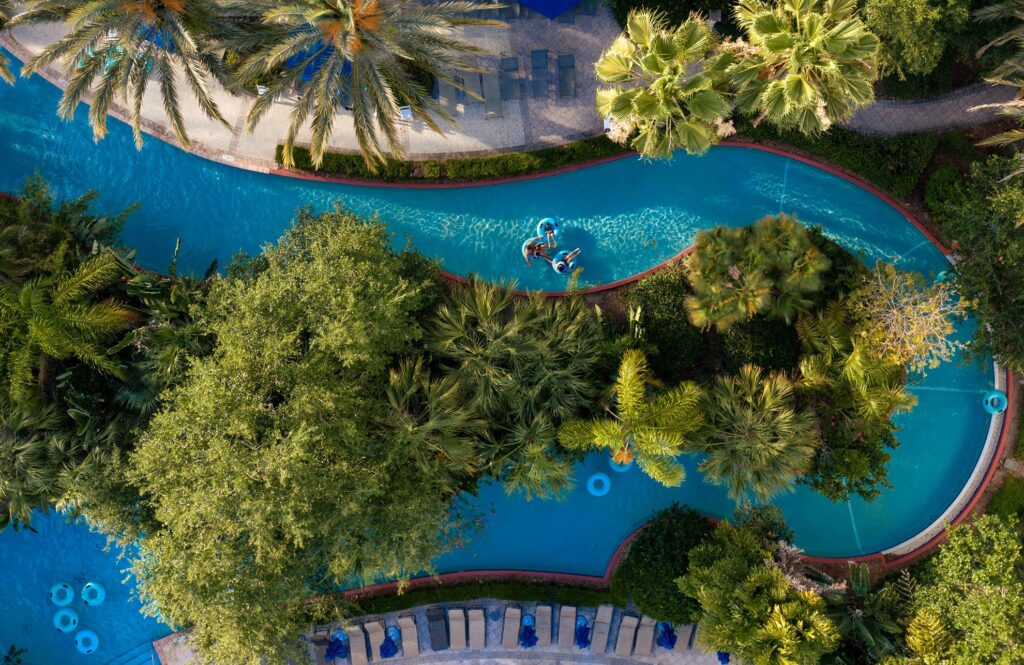 You can relive your childhood on the 850-foot lazy river at the Omni Orlando Resort at ChampionsGate by hopping into an inner tube and taking a ride down the river.
As you float through tunnels, shooting water cannons, and waterfalls, you will feel like a kid again.
Elegant bedrooms and suites, in addition to a zero-entry family pool, a 125-foot corkscrew water slide, and a water tower, can be found at this hotel, which is located in close proximity to 36 holes of championship Orlando golf.
You will now be able to take advantage of Orlando's one and only resort wave pool, which is a recent addition to the property.
5. Hammock Beach Golf Resort & Spa – Palm Coast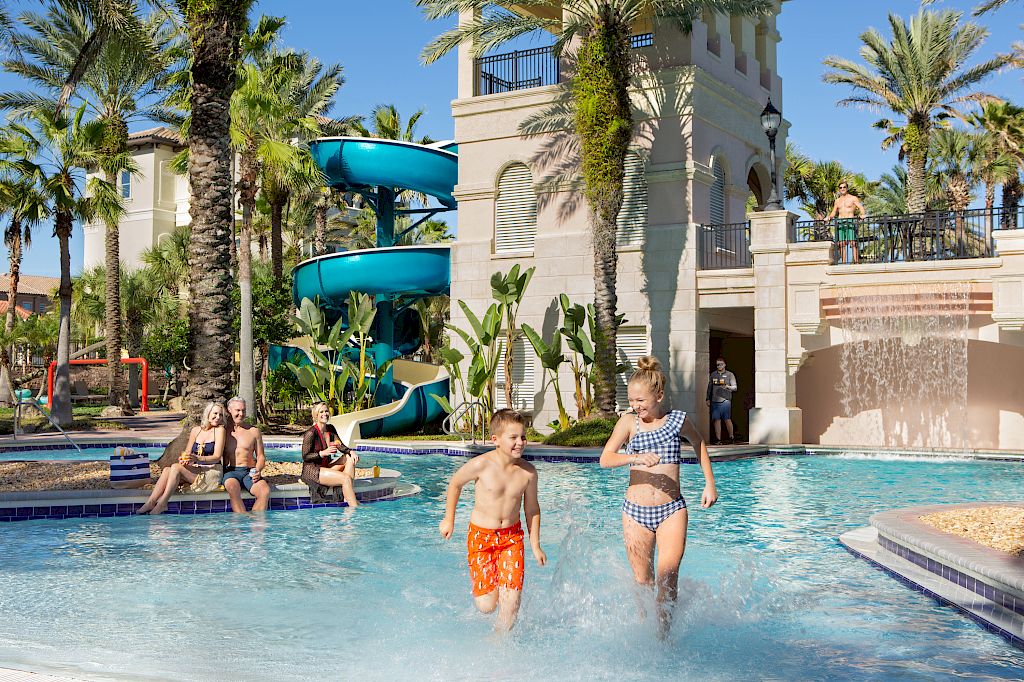 The Hammock Beach Golf Resort & Spa in Palm Coast, Florida is a one-of-a-kind hotel in the state of Florida since it features an on-site water park in addition to its beachfront luxury location on the Atlantic Ocean.
It also features a variety of additional contemporary amenities, all of which are tucked away on a stretch of pristine coastline. You may live like a resort guest at this property, which features villas and suites with several bedrooms and a variety of luxurious extras.
The children will have a great time participating in the water park experience, during which they will have the opportunity to enjoy the 91,000 square foot water pavilion, float down the lazy river, and take a ride down the exciting water flume.
After you have worked up an appetite, you can either schedule a soothing spa treatment at The Spa at Hammock Beach or travel to one of the seaside eateries that serves up fresh seafood.
6. Holiday Inn Resort Pensacola Beach – Pensacola Beach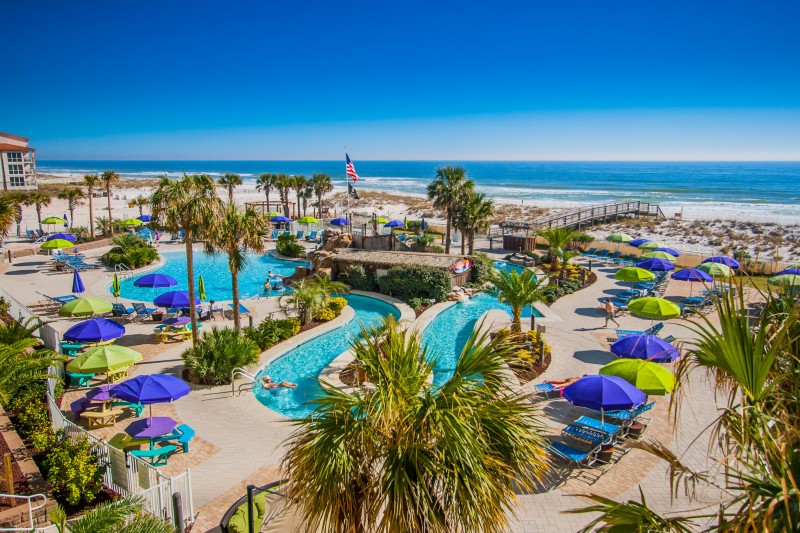 As soon as you walk through the front door of the Holiday Inn Resort Pensacola Beach, your tension will begin to evaporate, making it the ideal location for a relaxing beach vacation.
The hotel has a relaxed vibe thanks to the natural splendor that surrounds it, which includes views of the glittering Pensacola Beach.
Relax on a plush sun lounger at the pool or take a plunge in the lazy river boasting a cascading waterfall while the kids participate in outdoor activities as part of the hotel's kid's program.
The pool at this hotel is considered to have one of the greatest beachfront hotel pools in the area.
7. Hyatt Regency Coconut Point Resort & Spa – Bonita Springs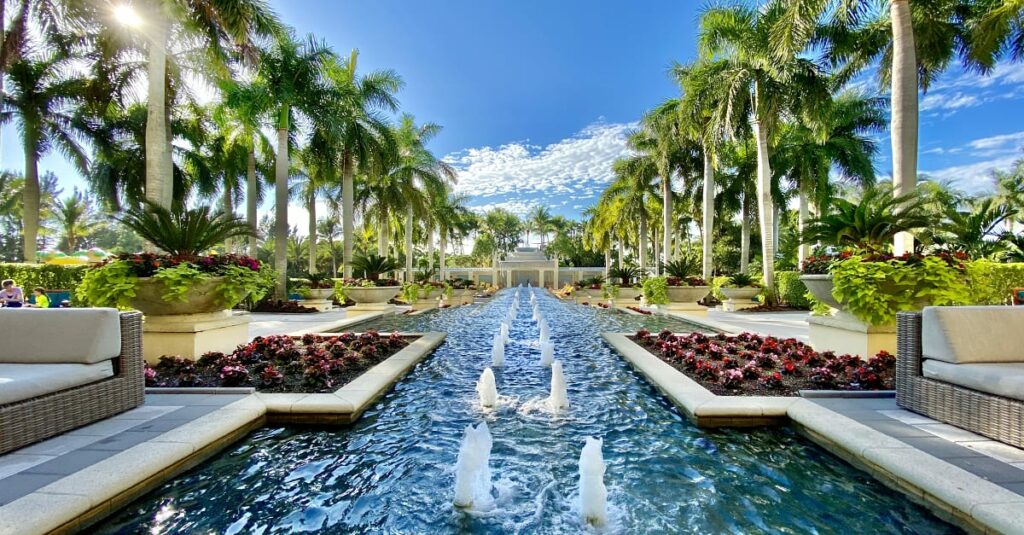 Because it is a refuge for amusement and relaxation, the Hyatt Regency Coconut Point Resort & Spa in Bonita Springs has a wide variety of enjoyable activities for its guests to choose from.
You have your choice of coastal-themed bedrooms and suites at this property, which is situated on 26 acres of beautifully manicured grounds and looks out over Estero Bay and the Gulf of Mexico.
Take advantage of Florida's year-round weather at the hotel's outdoor area, where you'll discover a lazy river, five waterslides, four pools, and a semi-private beach where you can gather souvenir shells. Guests can also dine al fresco at one of the hotel's four restaurants.
8. JW Marriott Orlando, Grande Lakes – Orlando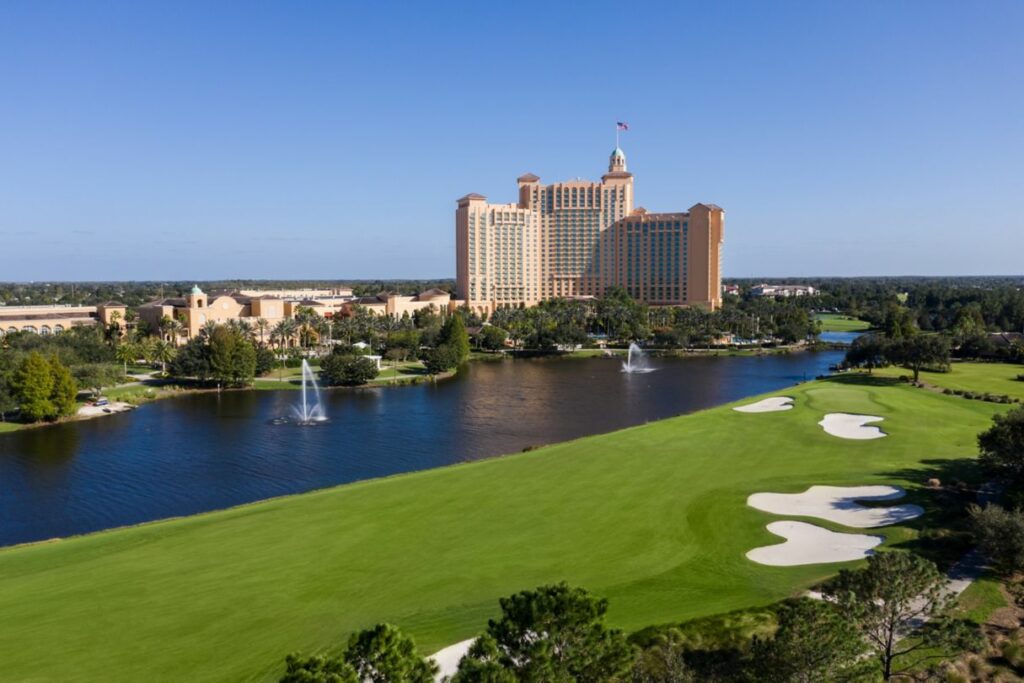 The JW Marriott Orlando, Grand Lakes is considered to be one of the best resorts in the Orlando area. It is located on 500 acres of lovely settings.
You will have access to complimentary shuttle service to Walt Disney World, Sea World, and Universal Orlando.
In addition, the hotel's world-famous on-site restaurants provide a wide array of cuisines, ranging from sushi to sophisticated Italian cuisine and farm-to-table fare, to satisfy guests with a range of preferences.
You will not only have access to the facilities of The Ritz-Carlton, but the lazy river will also provide you with a ton of fun and excitement. In addition, take use of the 40,000 square foot spa and the 18-hole golf course.
9. Holiday Inn Resort Fort Walton Beach – Fort Walton Beach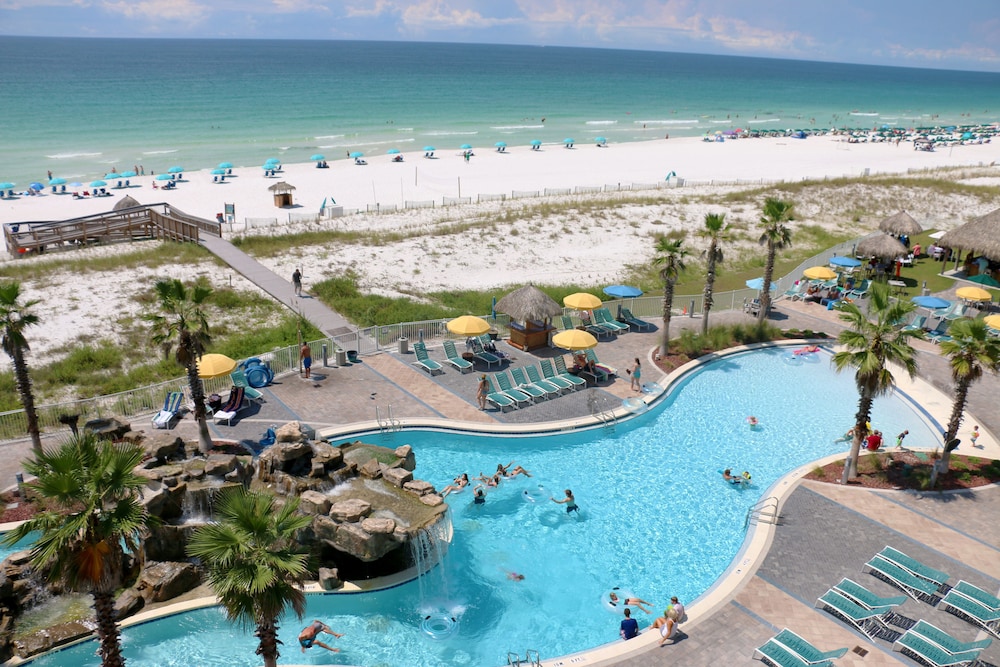 The Holiday Inn Resort Fort Walton Beach boasts a stunning backdrop of a lovely white sand beach and green seas as a result of its location immediately on the beach facing the Gulf of Mexico.
Families will like staying at this hotel since it offers a variety of pleasant rooms to select from, as well as on-site facilities such as a video game arcade, seasonal children's events such as a mermaid show, and the on-site restaurant Riptides Sports Grill.
Featuring one of the most impressive pools in the region, guests may escape the humid heat of Florida by floating down the lazy river or sipping a drink at the tiki bar that is located right next to the pool.
10. Universal's Cabana Bay Beach Resort – Orlando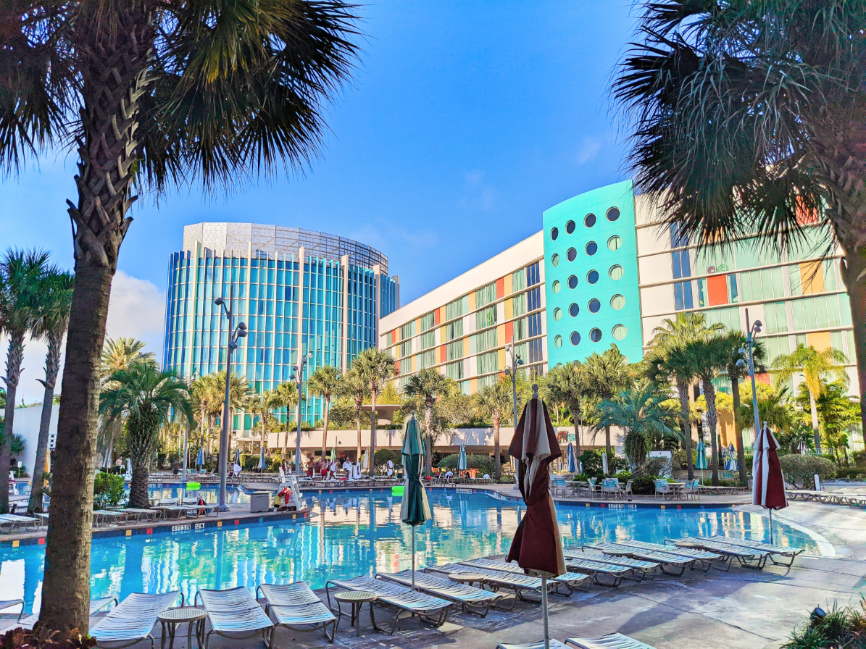 The 1950s-themed Universal's Cabana Bay Beach Resort is located just a five-minute drive away from the theme park Universal, and it provides visitors with exclusive access to the theme park.
Families are offered a wide variety of intriguing amenities, in addition to the hotel's eye-catching vintage design and roomy accommodations.
You may make a splash at the diving tower waterslide, or you can travel to the Lazy River Courtyard, where there is a sandy beach and waterfalls that emphasize its lazy river.
In addition to the 10-lane bowling alley and the gaming area that is suited to families, you can also make a splash at the dive tower waterslide.
11. Pelican Grand Beach Resort – Fort Lauderdale
The Pelican Grand Beach Resort in Fort Lauderdale not only has a lazy river tubing ride, but it also has a zero-entry pool and a private length of beach.
All of these amenities can be found at the resort. There are an infinite number of opportunities to unwind and bask in the warmth of the sun at this establishment, which is known for the old Florida grandeur it displays in its assortment of seaside rooms and suites.
After taking a dip or floating down Fort Lauderdale's one and only lazy river, relax and rejuvenate at Pure Spa.
You will be spoiled for choice with the variety of on-site eating options, ranging from the upscale food served at OCEAN2000 and drinks served at O2K Lounge to the crowd-pleasing Emporium, which serves traditional ice cream.
12. The Grove Resort & Water Park – Orlando
Because admission to the water park is complimentary for those staying at The Grove Resort & Water Park, this destination is extremely popular among families.
This park offers hours of entertainment for the whole family, with attractions such as a FlowRider surf simulator, dual water slides, a lazy river that is approximately 700 feet long, and a kid's activity pool.
Tubes may be used to navigate around the lazy river's interactive water elements, which include water cannons, waterfalls, and overhead bridges, all of which can be found along the river's course.
The hotel's two- and three-bedroom suites, which are roomy and well-equipped, are perfect for families, and the hotel itself features a variety of eating options, from informal cafés to a food market.
13. The Henderson, A Salamander Beach & Spa Resort – Destin
Visit Destin and stay at The Henderson – A Salamander Beach & Spa Resort, which has a Family Pool with a splash pad and a lazy river. Destin is a popular vacation spot.
You also have the option to relax in the shade of a luxurious cabana while receiving beverage service poolside, take advantage of the hotel's access to a private beach, or rent one of the hotel's bicycles, paddleboards, or kayaks and explore the surrounding region.
The luxurious guestrooms and suites at this property provide breathtaking panoramas of the Gulf of Mexico, and the hotel's world-famous spa is equipped to provide full-body treatments from head to toe.
The best part is that you won't have to pay to enter Henderson State Park since you'll get a free day permit.
14. Holiday Inn Resort Pensacola Beach Gulf Front – Pensacola Beach
The Holiday Inn Resort Pensacola Beach Gulf Front can be found on Pensacola Beach, where it is surrounded by miles of sugar-white sandy beaches.
Take advantage of the hotel's lazy river, which boasts cascading waterfalls, hot tubs, and poolside fire pits, and then drink cocktails or get a bite to eat at Riptides Sports Grill & beachside Tiki Bar once you've finished enjoying the hotel's lazy river.
The accommodations feature water views, either of the white sand beach or the Santa Rosa Sound, and the family suites have bunk beds as well as pull-out sofas for additional sleeping space.
When you are ready to go on an adventure, the Quietwater Beach Boardwalk is a short distance away and easily accessible.
15. FantasyWorld Resort – Kissimmee
FantasyWorld Resort in Kissimmee, Florida provides families with roomy holiday villas, and it is located in close proximity to the excitement of Disney World.
There are two heated pools, three hot tubs, and a heated lazy river at this Florida vacation resort, giving you everything you need for a relaxing and enjoyable trip to the Sunshine State.
The water slides, splash pad, playground, and mini-golf, as well as the poolside games like as hula hoop contests, are sure to be big hits with the younger guests.
The villas have two bedrooms, a full kitchen, a washer and dryer, and enough space for up to six people. Other homelike amenities include a fireplace and a private patio or balcony.
There is also a poolside cafe, a fitness center with a sauna, and places with grilling areas and picnic tables for guests to use while they are staying at the property.
16. JW Marriott Miami Turnberry Resort & Spa – Aventura
With its very own Tidal Cove Water Park, the JW Marriott Miami Turnberry Resort & Spa in Aventura is a fantastic destination for anybody who enjoys being near or on the water.
Try your hand at surfing on the FlowRider, and let the little ones run wild in the Kids Cove and on the water slides as you enjoy the opulence of the seductive lazy river.
This resort has an impressive array of on-site restaurants, including a steakhouse that has won awards, in addition to a premium spa.
The rooms and suites at this resort are also very spacious, and private balconies come standard.
Golf enthusiasts can choose to play on one of the two championship courses that each have 18 holes.
17. Hyatt Residence Club Bonita Springs, Coconut Plantation – Naples
The best that the Florida Gulf Coast has to offer may be experienced at the Hyatt Residence Club Bonita Springs, Coconut Plantation near Naples.
It offers opulent suites complete with private balconies, a private island that can be reached by ferry, and a pool with a lazy river that is one thousand feet long.
In all, there are five swimming pools, one of which is called Alligator Alley and has a lazy river. Additionally, there are two free-form pools, both of which have zero-depth entrance and underwater seats.
In addition to that, there is a pool for children, a pool specifically for adults to swim laps in, and a hot tub.
Boat rentals, sailing trips, fishing excursions, and sunset cruises are just some of the ways that you may easily enjoy the great outdoors in this area.