The 15 Best Places to Go Glamping in Arizona 2023: Arizona is the ideal destination for a camping trip because of its large landscapes, open spaces, and numerous rough terrains.
Want to experience some luxury? Visit Arizona and go glamping.
Northern Arizona has several areas that get snow in the winter and is a great place to go glamping in the summer.
Southern Arizona, meanwhile, is perfect for winter glamping because it is extremely hot there in the summer.
These are some of the most incredible spots to go glamping in Arizona, regardless of the season or how opulent of an experience you're looking for.
A little touch of the outdoors combined with all the conveniences of home is the perfect combination!
15 Best Places to Go Glamping in Arizona 2023
1. Sleep Under the Stars in a Dome Near Sedona, Cornville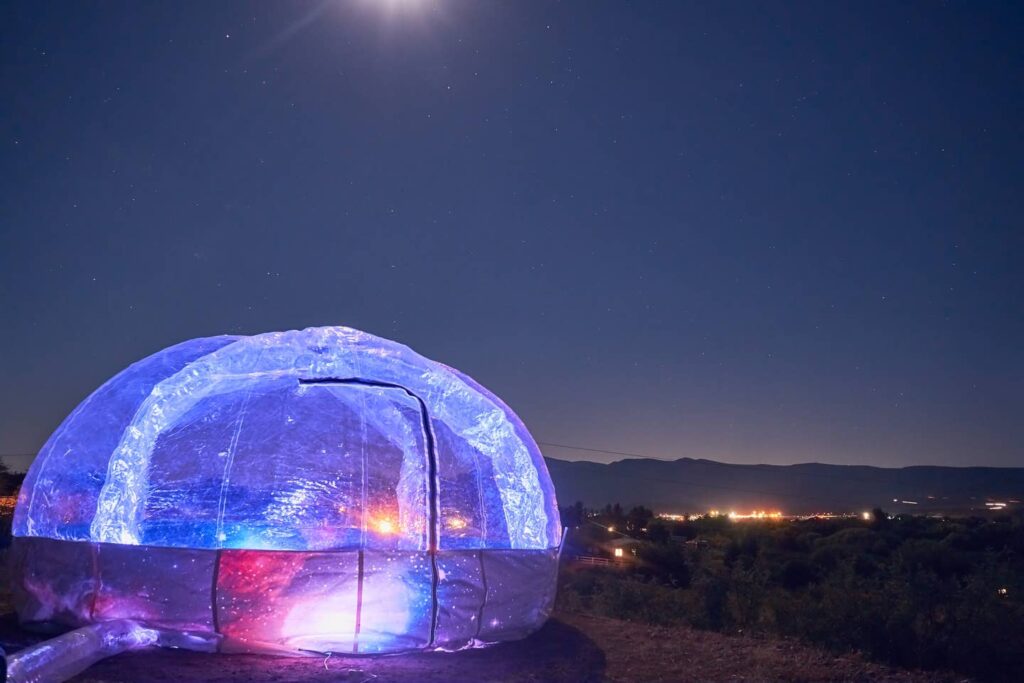 What a unique experience it would be to stay in a dome house while visiting Arizona. This Airbnb dome sleeps four people in total with a double bed in the bedroom and another double bed in the living area.
It is only 25 minutes from Sedona and less than two miles from the scenic meeting point of the Verde River and Oak Creek. Despite its rural location, this rental home has modern amenities like a smart TV and steady Wi-Fi.
During their stay, visitors are welcome to camp inside the dome and make use of the surrounding patios and their own private bathroom.
---
2. Sage Yurt – A Cozy Nature Getaway, Flagstaff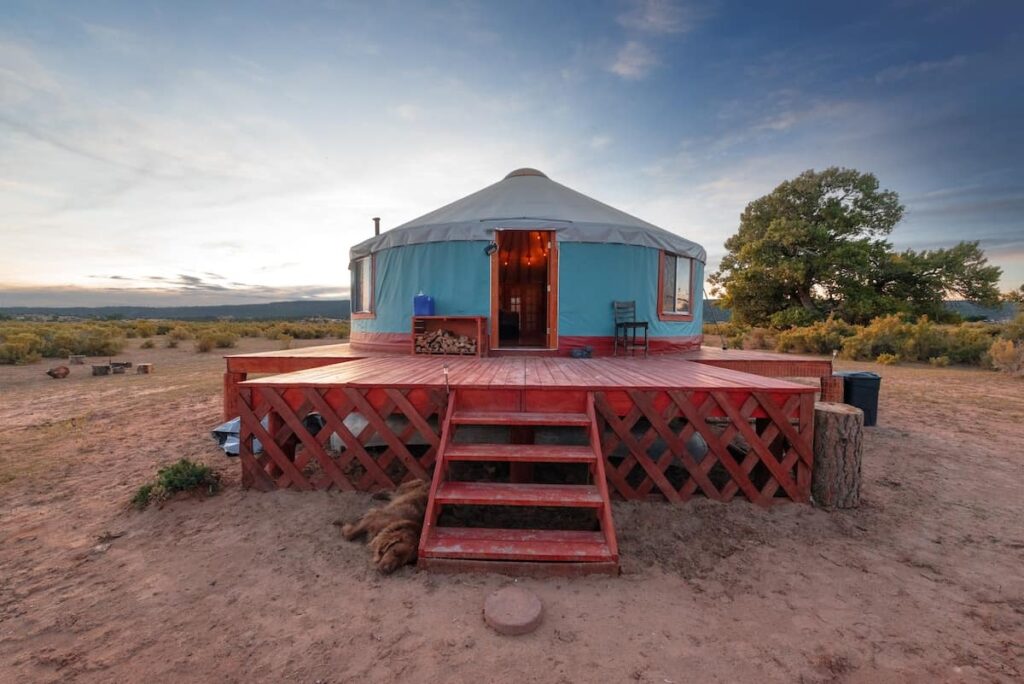 Here is another fantastic yurt for your glamping trip in Arizona. This one offers off-grid wilderness living for up to four visitors. The neighboring Nordic Village Lodge provides running water and power for your convenience.
A 35-mile network of trails in the area are ideal for cross-country skiing and snowshoeing. Two twin-size sleeping pads are included inside.
Bring your own blankets, pillows, and sleeping bags. Couples and small families like to stay here. A porta potty, food storage container, folding chairs, small table, picnic table outside, wood-burning fire, and gas BBQ grill with grilling gear are some other yurt facilities that your host provides.
---
3. One-of-a-Kind Underground Kiva, Cave Creek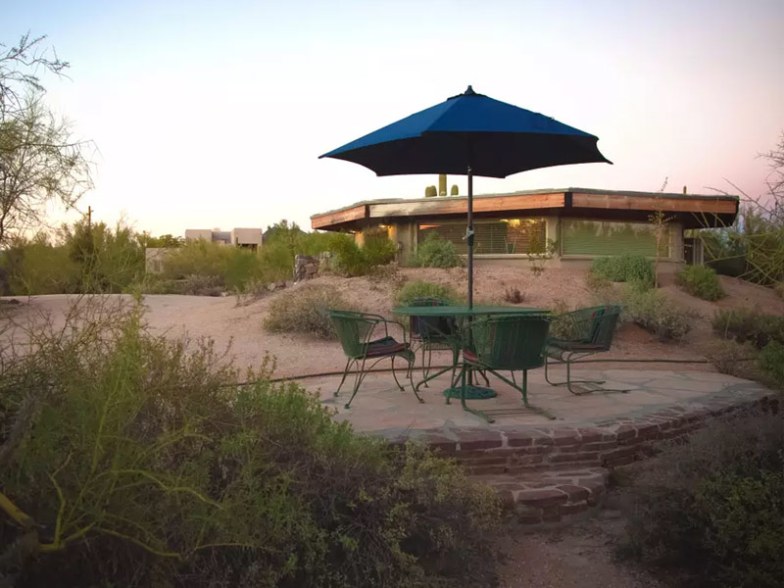 This underground kiva is situated on a private quarter-acre land and is for rent on Airbnb. It boasts a private driveway, a sleeping loft, a smart TV, and 10-foot ceilings.
The outdoor space has a fire pit, a BBQ, and strolling paths. You'll have a terrific position and plenty of outdoor living space amidst the Sonoran Desert's stunning natural surroundings.
There is room for up to four guests at this Airbnb.
---
4. Peaceful Yurt on Hippie Soil, Tucson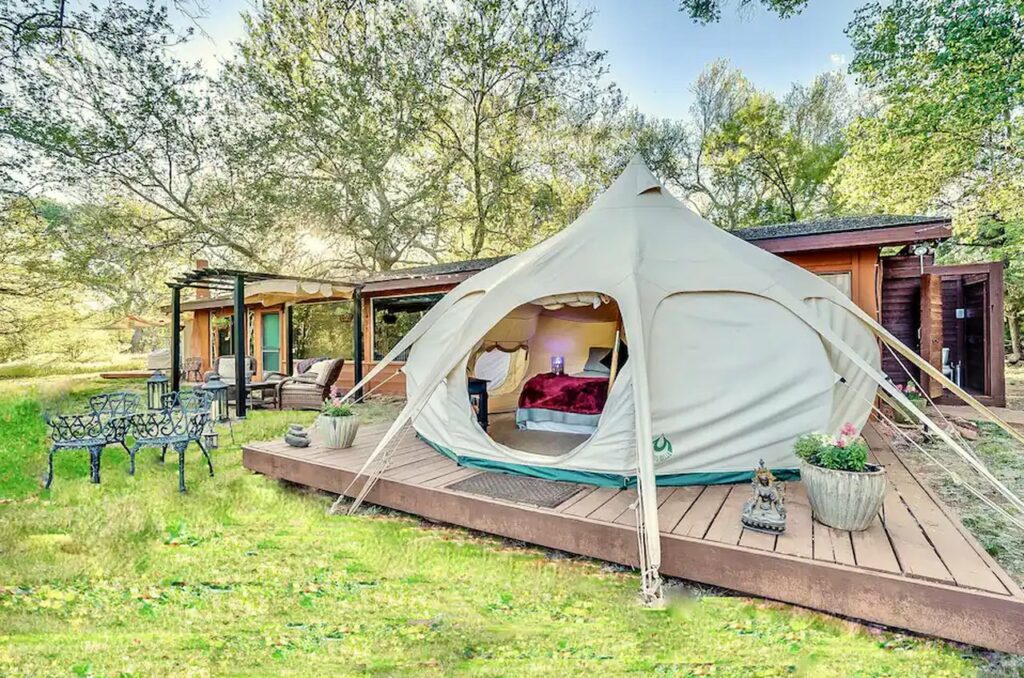 This Tucson two-person yurt is another entertaining glamping option. A queen-size bed, a full kitchen, lots of sunlight, and 360-degree views of the landscape make it the perfect place to unwind.
You are welcome to use the shared shower and sauna while you are staying here. Although there is no restroom within the yurt, visitors can use the nearby outhouse.
Stay here to soak up the natural atmosphere and go hiking in the area. You are welcome to bring your pets with you.
---
5. Oljato-Monument Valley's Chee Ranch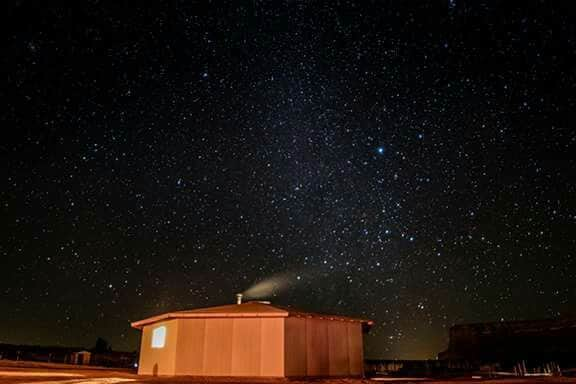 The Chee Ranch is an earthen house that can accommodate up to six people and is for rent on Airbnb. It is in a beautiful, inspirational setting that serves as a portal to ancient civilization.
Stay here if you want a rural experience and a sense of adventure. On a family ranch where you may learn about Navajo culture, you can rent a traditional hogan.
Although there is no running water in the hogan, visitors can use the outhouse and kitchen. Two queen-size beds and two single beds are available for sleeping in the communal area.
---
6. Prescott's Treehouse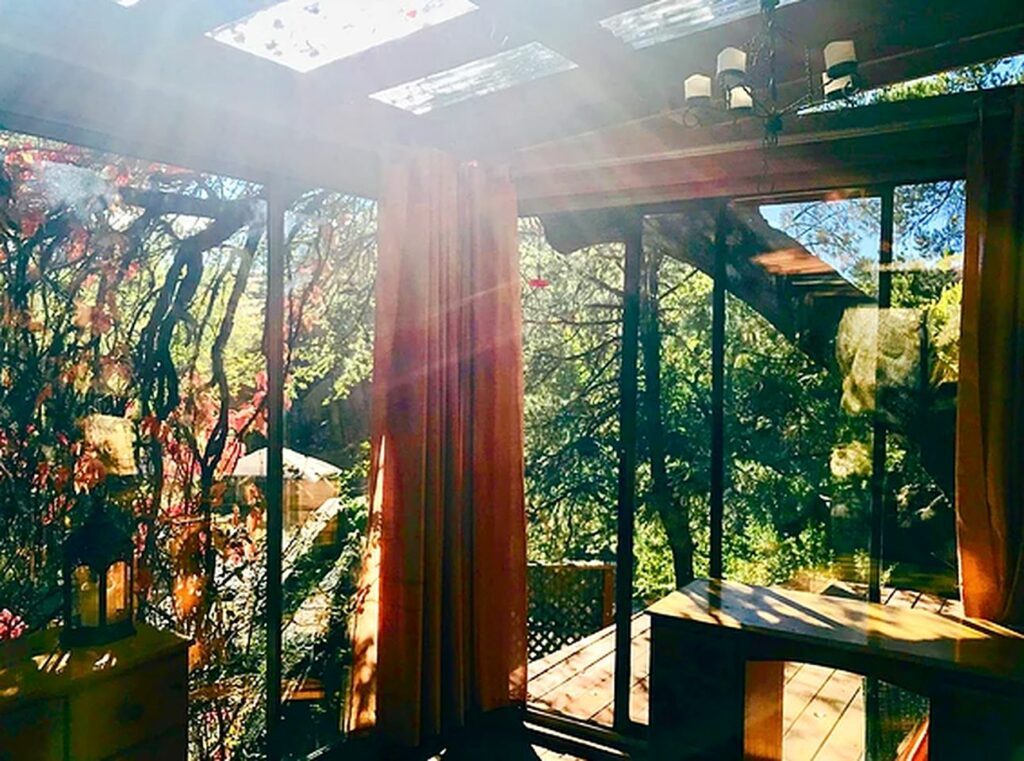 For a glamping trip in Arizona, you can stay in this treehouse that is listed on Airbnb. The double bed, desk, dresser, space heater, kitchen, Wi-Fi, laundry room, two bathrooms, living room, and eating area are all included in this treehouse, which is perfect for two people.
The main house, which houses the kitchen, bathroom, and laundry room, is open to visitors around-the-clock. Fruit, coffee service, and snacks are all free.
A 15-foot ladder must be climbed in order to reach the treehouse. It includes WiFi indoors, and there is free parking available nearby.
---
7. Entire Unique Camper with 4 Private Sleep Pods, Mohave County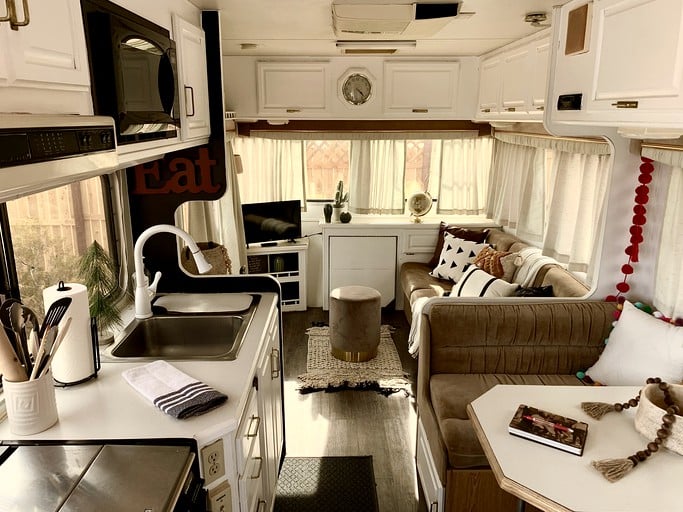 For your glamping trip to Arizona, it's great to stay in a chic camper, like this available Vrbo rental. There are four sleeping pods inside, which allows it to comfortably accommodate four to seven people.
The lodgings in the rental have bunkhouse-style beds and a boho interior design. There is a café on site where you may eat and a shared bathhouse for guests to use.
You get use of a mini-fridge, microwave, outside barbecue, coffee and tea supplies, and this is a farm-stay experience.
---
8. Airstream Trailer, Near Tucson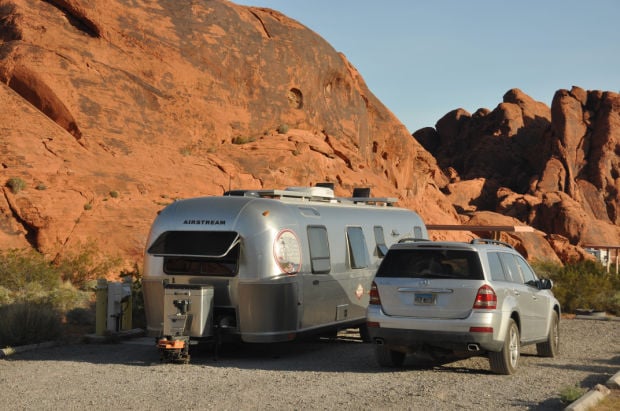 Staying in an Airstream trailer while glamping is another fascinating option! Have you ever imagined what it might be like to travel the country in an RV that you own and call home? Just outside of Tucson, with stunning mountain views, you can get a taste of that experience.
Queen-size bed in a separate bedroom, pull-out foam sofa for one person in the dining area, stainless steel appliances, retractable awning, patio with outdoor eating space, and grills for cookouts. Can accommodate up to three people.
Additionally, there is Wi-Fi inside as well as a TV and DVD player. Pets are acceptable, but smoking is not permitted and a two-night minimum stay applies.
---
9. Navajoland Hogan Glamping, Page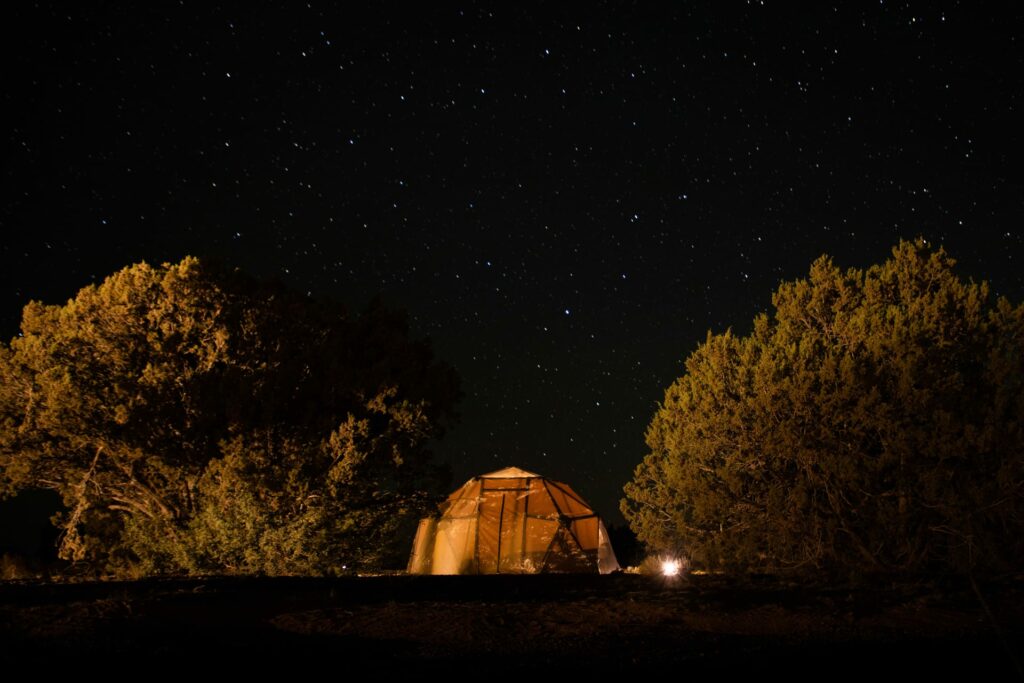 Consider renting this rambling house on Airbnb for your vacation if you want to see Arizona the way the locals do. A great basecamp for exploring Antelope Canyon, Horseshoe Bend, the Grand Canyon, and Lake Powell, it is a glamping eco-retreat.
On the Navajo reservation, this is a typical Navajo hogan. You'll be on land owned by Native Americans and a functioning, off-grid sheep ranch.
A cabin, conventional hogans, canvas bell tents, and covered wagons are among the seven lodging options available here. Although the hogan lacks running water and electricity, it is furnished with a number of other basic necessities to keep you comfortable.
---
10. The Cliffs & Trees' Healthy Treehouse Paradise, Prescott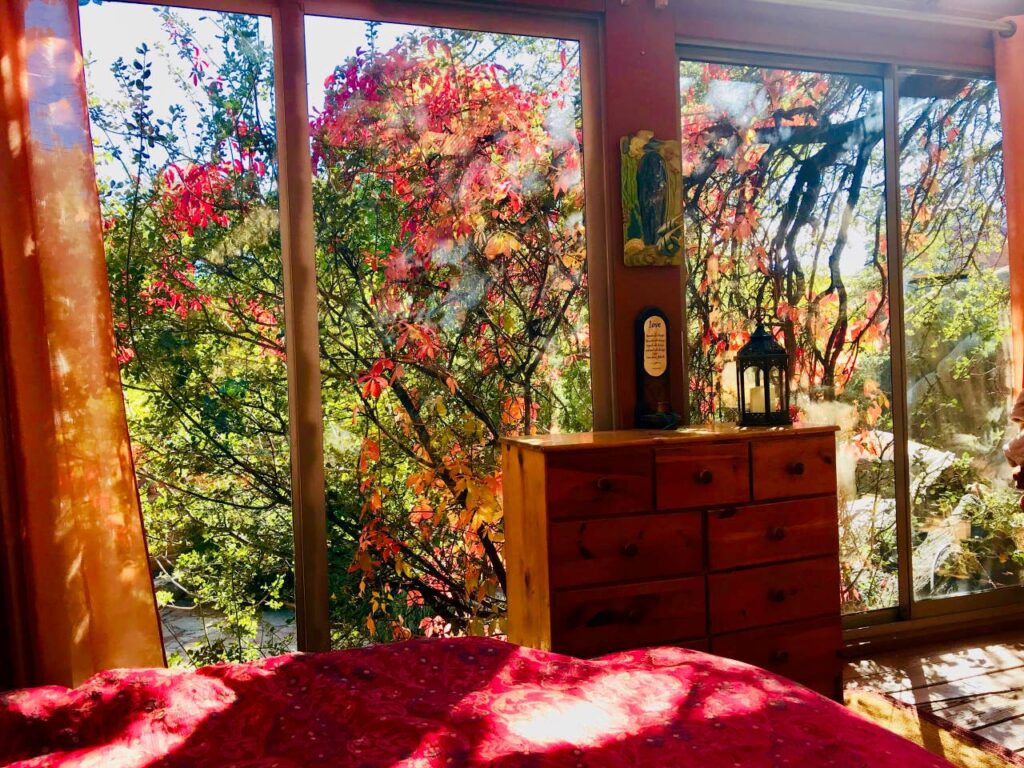 Book this treehouse for two people for your trip to the Prescott, Arizona, region. This three-room treehouse constructed into a cliff is an Airbnb unit located in the Granite Dells. Between April 15 and November 15, you can make reservations.
A queen futon bed, desk, chairs, dresser, and a shared bathroom are included in the treehouse rental's amenities. You can utilize the adjoining common restroom, indoor shower, and outdoor shower beside the outdoor kitchen.
Check out the trampoline, outdoor hot tub, swimming pool in the plexiglass solarium, and walking route as well.
---
11. Romantic Chalet in the Forest, Gila County
This cabin, which is 900 square feet in size and has two bedrooms and one bathroom, is a fantastic glamping choice in Arizona.
You'll get a wood-burning stove, an outdoor deck, and a quiet setting just beside the national forest. Despite having a queen-size bed in the loft master bedroom and a double bed in the second bedroom, this is a beautiful getaway for couples.
Except for your food, the cabin's kitchen is equipped with everything you need to create meals.
---
12. Airstream in Central Location, Catalina Foothills Estates
You can go glamping in Arizona by renting this lovely Airstream trailer from Vrbo. The Airstream has a living space of roughly 150 square feet and can accommodate three persons. It's a tidy and comfortable 2006 Airstream Safari trailer.
There is a full kitchen, Wi-Fi, sound system, microwave, oven, refrigerator, and outside barbecue in addition to a queen-size bed in the bedroom and a pull-out foam sofa in the dining area.
You'll have lots of seclusion, be parked in the lower Catalina Foothills, and enjoy stunning views in every direction. Even though city conveniences are only eight miles away from here, you'll still feel like you're in a remote desert getaway.
---
13. Grand Canyon Under Canvas, Williams
The well-known Grand Canyon is one of the most significant and fascinating places to visit in the entire state of Arizona. And fortunately, there are some incredible glamping options close to this legendary site.
On 56 acres in Williams, close to Route 66 and a magnificent wooded environment, is where you'll find Under Canvas. It takes around 40 minutes to get from the South Rim of the Grand Canyon to Williams, which is regarded as the town that serves as the entrance to the canyon.
Luxury safari tents are available at Under Canvas, with double occupancy pricing. Pets are welcome for a $25 per pet, per stay, extra cost.
Up to four people can sleep in each of the Suite Tent, Deluxe Tent, and Stargazer Tent. Each tent has a separate bathroom with a flushing toilet, sink, and shower.
---
14. Shash Dine Eco-Retreat, Page
An ideal location for landscape photographers, Antelope Canyon, located close to the town of Page in Arizona. And when you travel, there are few experiences that can compare to sleeping in something unusual, perhaps a real sheep wagon on Navajoland.
The Shash Dine Eco-Retreat's glamping experience includes a night spent in the wilderness beneath a clear starry sky. The hosts offer beds, candles, lanterns, flashlights, books, snacks, beverages, and basic toiletries at this family-friendly glamping location.
There are really seven different lodging options here, including an off-the-grid B&B and a working sheep ranch managed by Native Americans.
For overnight visitors, there are also canvas bell tents, a lodge, and a traditional Hogan available. A typical Dine' breakfast is served, consisting of blue corn porridge, fruit, nuts, coffee, and tea.
---
15. Glamping Experience with Breathtaking Views, Page
This Navajo Nation RV Vrbo property, which has received excellent reviews, provides a wonderful glamping experience in Arizona.
From here, you may take a tranquil holiday, get to hiking trails with ease, and see breathtaking sunrises and sunsets. For an extra fee, visitors staying here can also get Navajo meals and massages.
The RV features a bathroom and can accommodate up to six people. The kitchen includes a refrigerator, a stove, an oven, a microwave, a sink, and counters.
To assist you in planning your next journey, it is located 3.5 miles south of Page and close to Lake Powell and Horseshoe Bend.
15 Best Places to Go Glamping in Arizona 2023 – Newshub360.net
Related Post

Credit: www.Newshub360.net