The Top 7 Video Game Bars in Florida 2023: There are a few bars in Florida where you may revisit your childhood memories with pinball machines, arcade games, and even an old-school Nintendo.
Even better, you can now enjoy adult beverages like artisan beer and delectable cocktails while playing Sonic the Hedgehog.
Gather your money for the perfect evening of competition at one of these best game bars in Florida for a great night out.
Top 7 Video Game Bars in Florida 2023
1. Player 1 Video Game Bar, Lake Buena Vista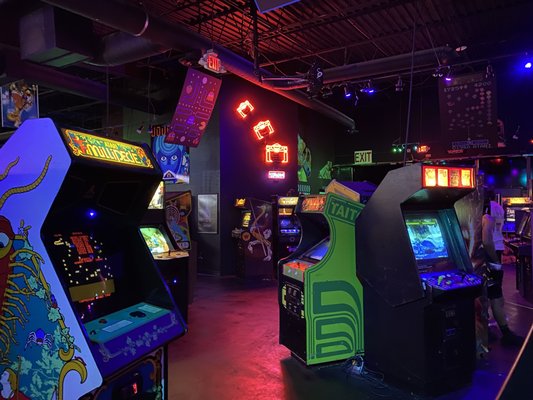 Player 1 Video Game Bar in Lake Buena Vista takes your gaming to the next level with just about every gaming system you can imagine.
Along with a selection of action-adventure and arcade games, you'll also find PS4, 3DO, XBox One, and Wii. You can participate in a variety of exciting tournament competitions there, where bartenders will welcome you costumed as video game characters.
You may sip on beverages like Rekorderlig Pear, Motorworks Midnight Espresso, and Cigar City Marshal Zhukov's Imperial Stout on a ladies night, among other drink specials.
2. Fire Betty's Arcade Bar, Tallahassee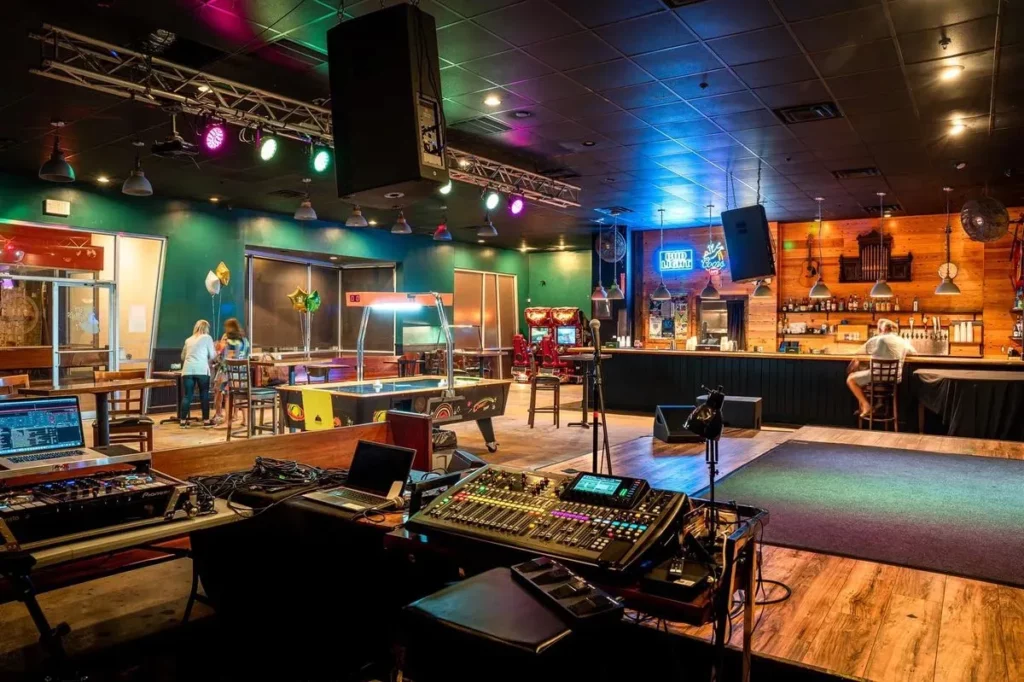 Fire Betty's Arcade Bar in Tallahassee offers a variety of arcade games, including life-size Jenga, Pac-Man, and classic pinball, to add some excitement to your night out.
On the main stage, there is live music, entertainment, and shows. Sweet drinks like Fire Betty with coconut rum and Sweet Fighter with moonshine will blow your mind.
Additionally, you may select from a variety of specialty beers, including the locally created PROOF 8-5-0, and when you get hungry, there are wings to chow down on.
3. Right Around the Corner Arcade Brewery, St. Petersburg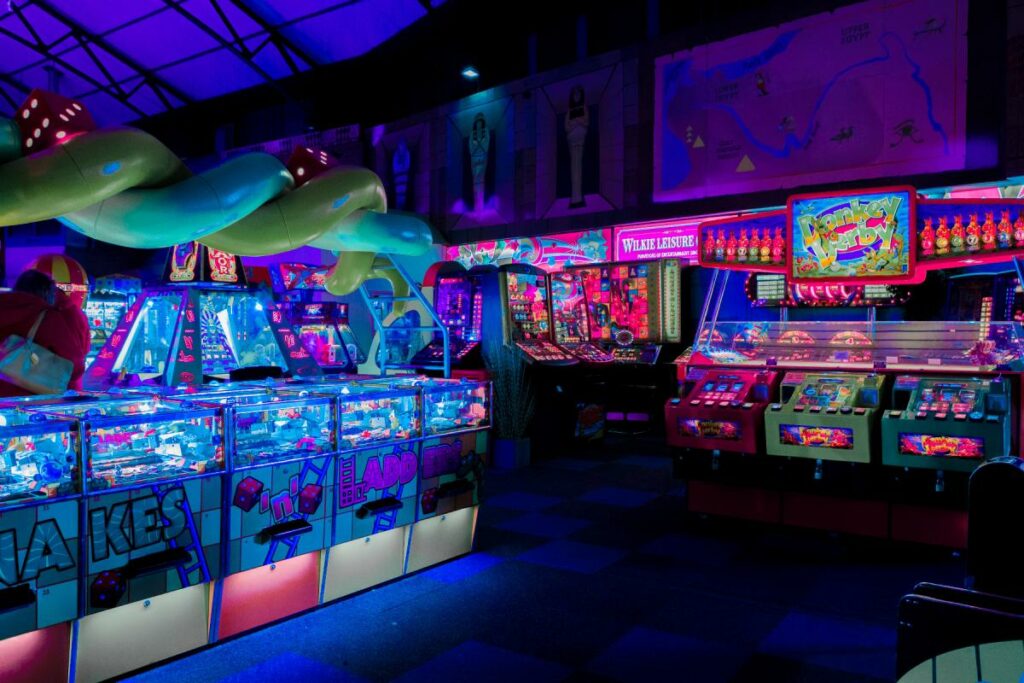 Right Around the Corner Arcade Brewery in St. Pete is the place to go for some retro nostalgia, bringing old-school fun to the Grand Central District.
You can play indoor shuffleboard, vintage N64 and SNES games, video golf, pinball, Street Fighter II, and other games while having fun competing.
Enjoy local beers on tap from Cycle, Green Bench, Cigar City, and 81Bay as you brush up on your long-forgotten video game skills.
4. Cloak and Blaster, Orlando

You'll feel as though you've been transported into a another universe when you enter Cloak and Blaster in Orlando, which is tucked away in the Waterford Lakes shopping center.
This "Gaming Pub for Geeks" boasts a unique menu of "elixirs and liquid courage" and plenty of gaming tables, and it is decorated to resemble a Middle-Earth tavern.
There is a sizable tabletop gaming collection, including board, card, and party games, as well as the option to bring your own.
You can enjoy drinks like "Hogwarts After Dark" with butterscotch beer or "Ron Swanson" with a side of thick-cut bacon here for hours of entertainment. You can also choose from menu dishes including burgers, fish and chips, and shepherd's pie.
5. Arcade Bar, Gainesville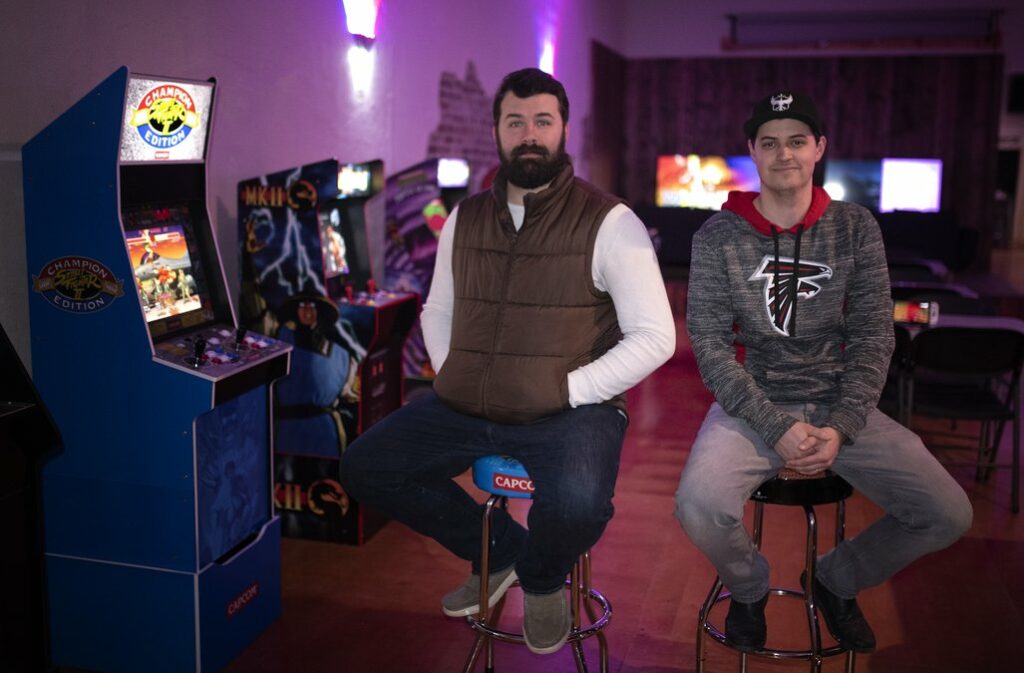 Gainesville's Arcade Bar, which has three storeys of hand-picked arcade games and two full-service bars, has a friendly ambiance.
You can find everything here, including a Game of Thrones game, Tekken 3, Zombie Buck Hunter, and NBA Jam.
The second floor is lined with vintage arcade games and bubble hockey, while the bottom level is devoted to pinballs, shooters, and fighters and features a tiki-themed bar with many TVs playing the newest sports games.
The largest level is the third, where there is ample area to play pinball machines, beer pong, skeeball, foosball, and other vintage multicade games.
6. Lowry Parcade & Tavern, Tampa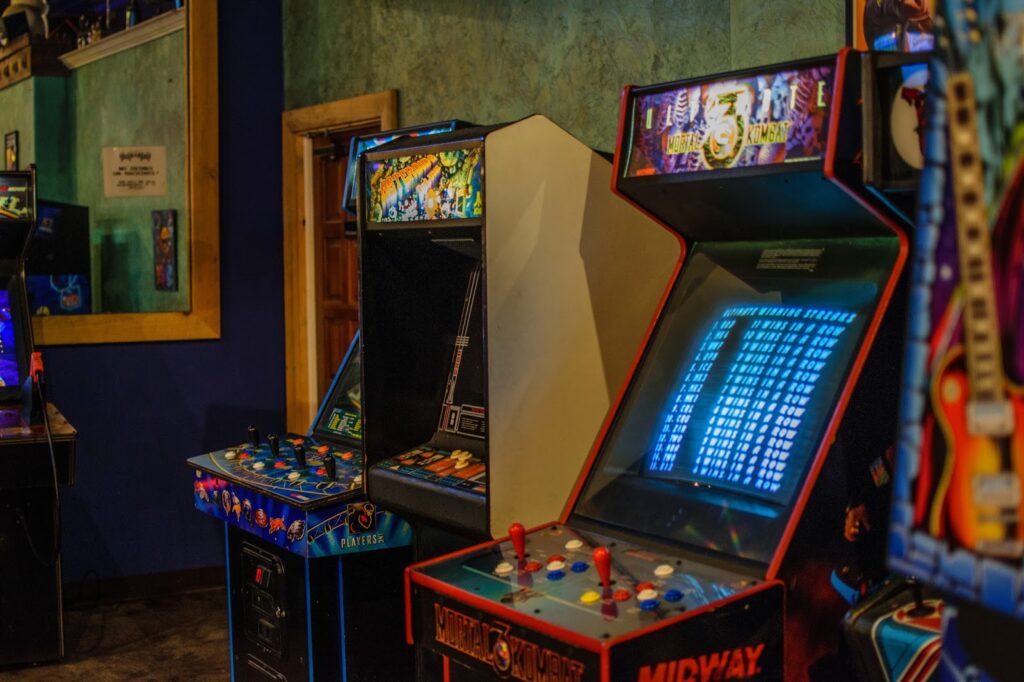 The Lowry Parcade & Tavern in Tampa is the ideal spot to bring a bag of quarters and put off grownup duties for a few hours because it combines craft beer, video games, and loads of live events.
As they have been accumulating arcade and pinball machines from the 1980s and 1990s for years, the arcade, which has been open since 2016, is packed of classic games like Galaga, Donkey Kong, and X-Men.
Both the games and their draft beer menu, which features some of Florida's top regional breweries, are routinely rotated. Numerous events are also available, such as the weekly "Church of Nintendo," "Nerdy Burlesque," and "NerdBrew Trivia."
7. GameRoom Sawgrass Restaurant & Arcade, Fort Lauderdale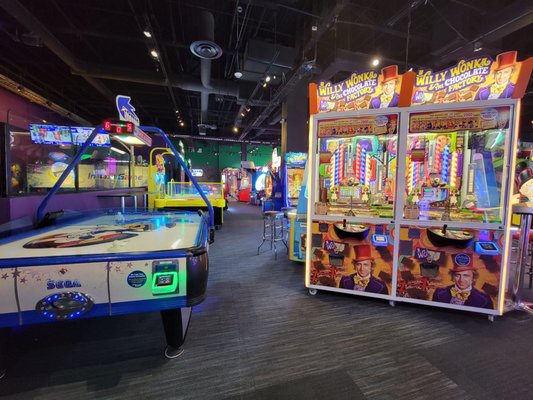 At the Fort Lauderdale establishment GameRoom Sawgrass Restaurant & Arcade, you may immerse yourself in a selection of both traditional and modern games.
Play a game of mini bowling, check out the virtual reality experience, or feel the rush of the 3D coaster simulator game.
There is a Johnny Rockets on-site that serves burgers and shakes when you need to refuel, and the sports bar is where you can get 2-for-1 happy hour discounts and watch the big game.
Top 7 Video Game Bars in Florida 2023 – Newshub360.net
Related Post

Credit: www.Newshub360.net